Cherry Chocolate Chip Cheeseball
A delicious, sweet Cheeseball filled with Maraschino Cherries and mini Chocolate Chips! Perfect for Valentine's Day!!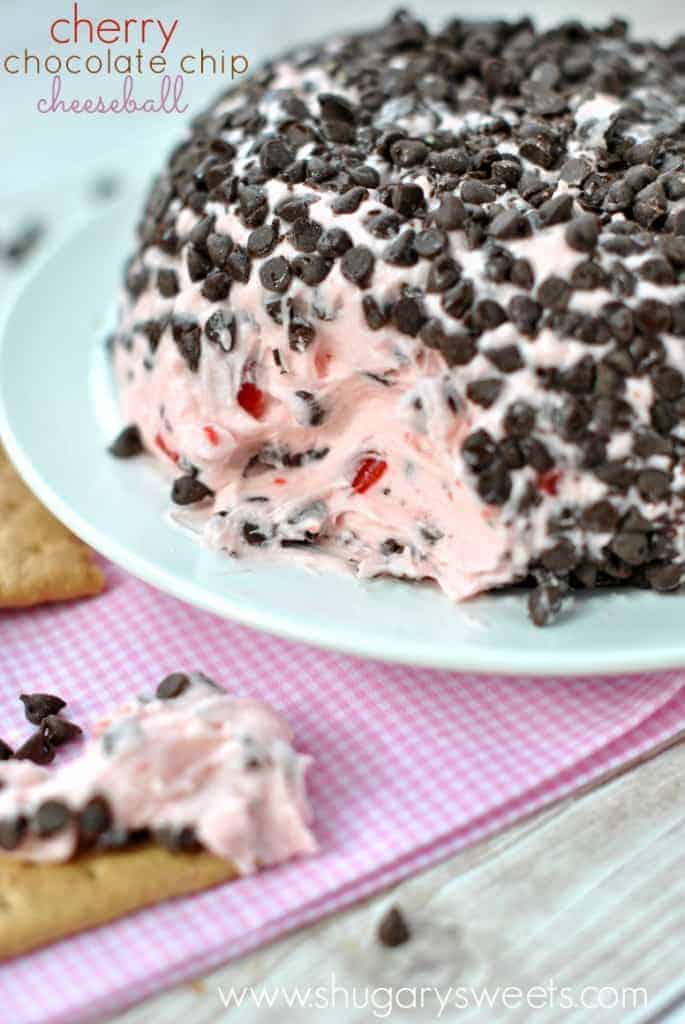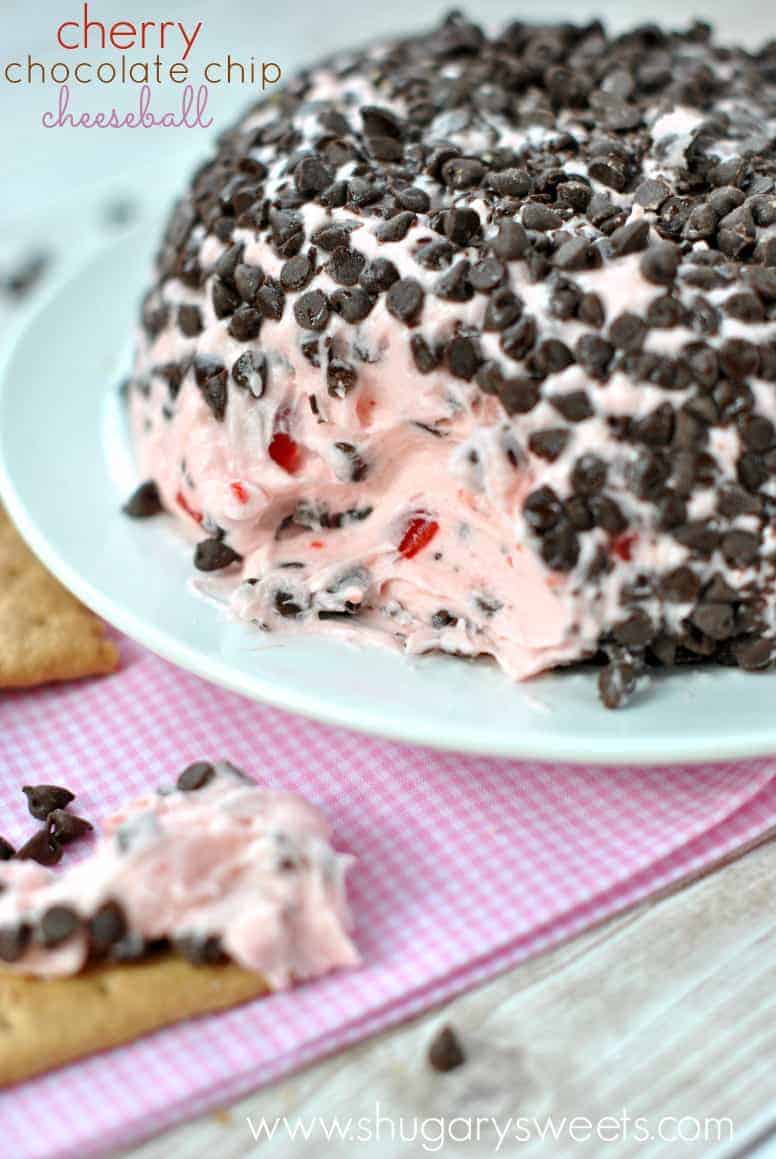 I'm obsessed with maraschino cherries. Always have been! Actually my whole family is obsessed with those sweet cherries.
As I planned out some new Valentine's Day treats, cherries always came to mind. If you scroll to the end of this post, you will see some of the delicious cherry flavored treats I've shared in the past!
Some people are crazy about peanut butter, or chocolate, or even mint…for me, it's cherries. Sweet red maraschino cherries. I seriously snack on them right out of the jar!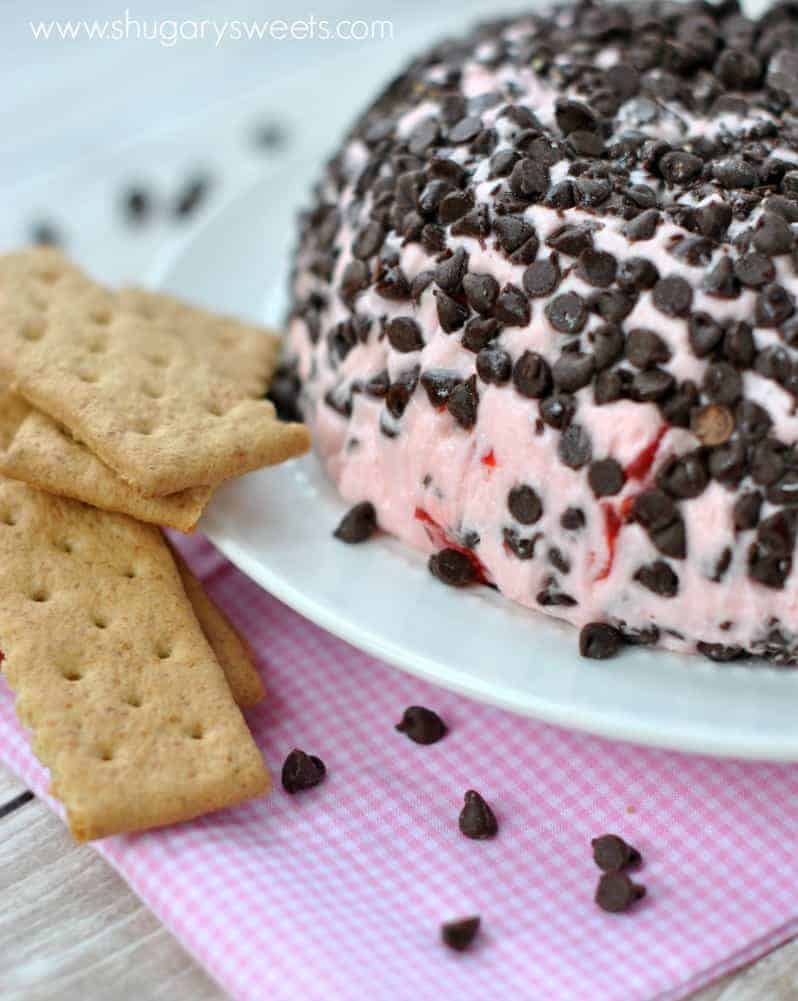 This dip is incredibly easy to make. You can serve it one of two ways. Whip it up, don't coat it in mini chocolate chips, and just serve immediately in a bowl with crackers, pretzels, fruit, etc. OR, if you have a little time, make it the night before allowing it to firm up some so it can be rolled in mini chocolate chips. It's still soft, but presentable!!
A few days ago I was chatting with my friend Jocelyn. She mentioned she made an incredible cherry pecan dip, and we realized we both had once again made similar recipes! So if you don't know Jocelyn, head over to her blog today to see HER cherry chocolate chip dip!!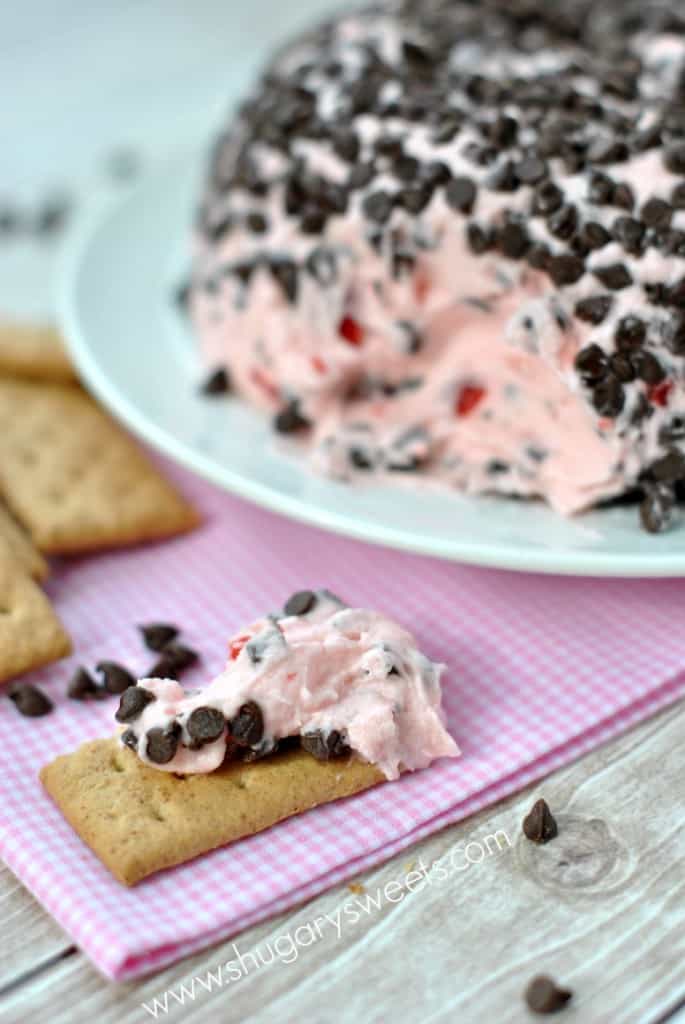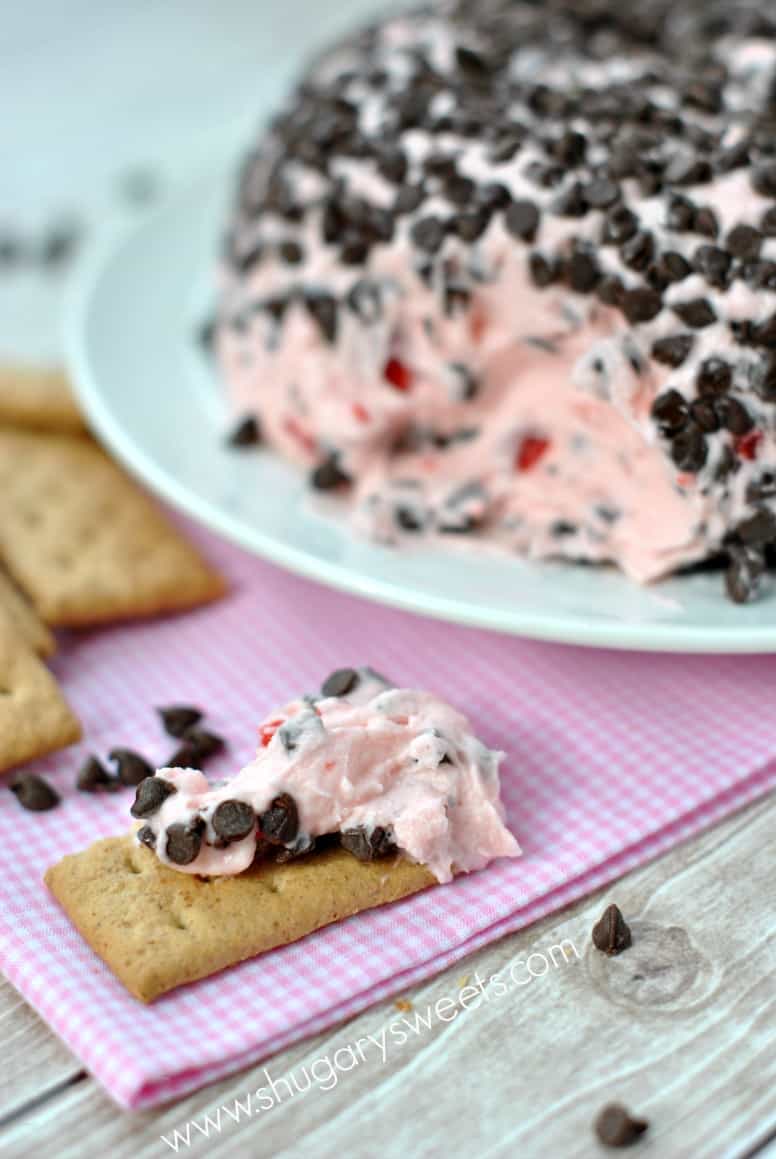 Connect with Shugary Sweets! Be sure to follow me on my social media, so you never miss a post!
Pinterest | instagram | Bloglovin'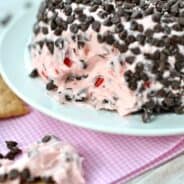 Cherry Chocolate Chip Cheeseball
Ingredients:
8oz cream cheese, softened
1/4 cup unsalted butter, softened
1/4 cup maraschino cherry juice
2 1/4 cup powdered sugar
1/4 cup chopped maraschino cherries
1 cup mini chocolate chips, divided
Directions:
In a large mixing bowl, beat cream cheese and butter until combined. Add cherry juice and powdered sugar until fully blended. Fold in chopped cherries and 1/2 cup mini chocolate chips.
At this point you can either serve immediately...or continue on to make as a cheeseball.  For the cheeseball, line a rounded bowl with plastic wrap. Pour mixture into bowl, bringing up sides of plastic wrap to cover the top. Refrigerate overnight.
When ready to serve, invert cheeseball onto serving plate and press remaining 1/2 cup mini chips into the cheeseball. Serve with graham crackers, animal cookies, apple slices, pretzels, etc!!
Having made this several times, it occasionally comes out too soft to set up. I have yet to figure out the rhyme or reason why sometimes it's soft, and sometimes it sets up fine. When it it too soft, rolling it in chocolate chips does help! Or putting it in a bowl and serving as a dip works too!
MAKING THIS RECIPE? Share it with me on Instagram using the hashtag #ShugarySweets so I can see what you're cooking up in the kitchen!
Love CHERRY desserts? Here are a few of my favorites…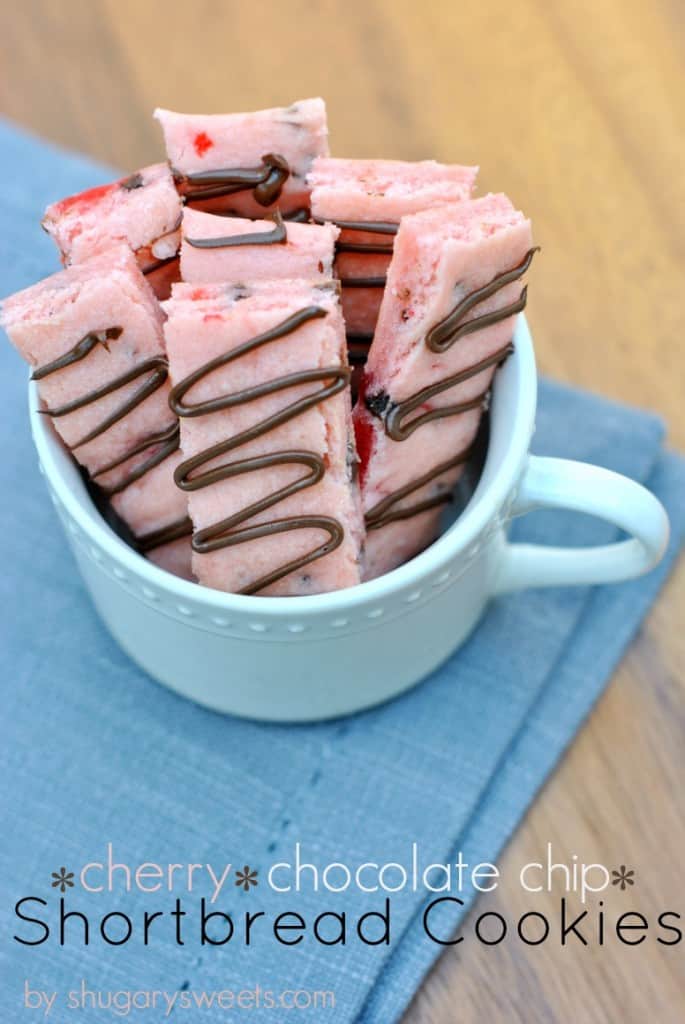 Cherry Chocolate Chip Shortbread Cookies: great use for those maraschino cherries!!
Thumbprint Cookies with Cherry Buttercream…these melt in your mouth!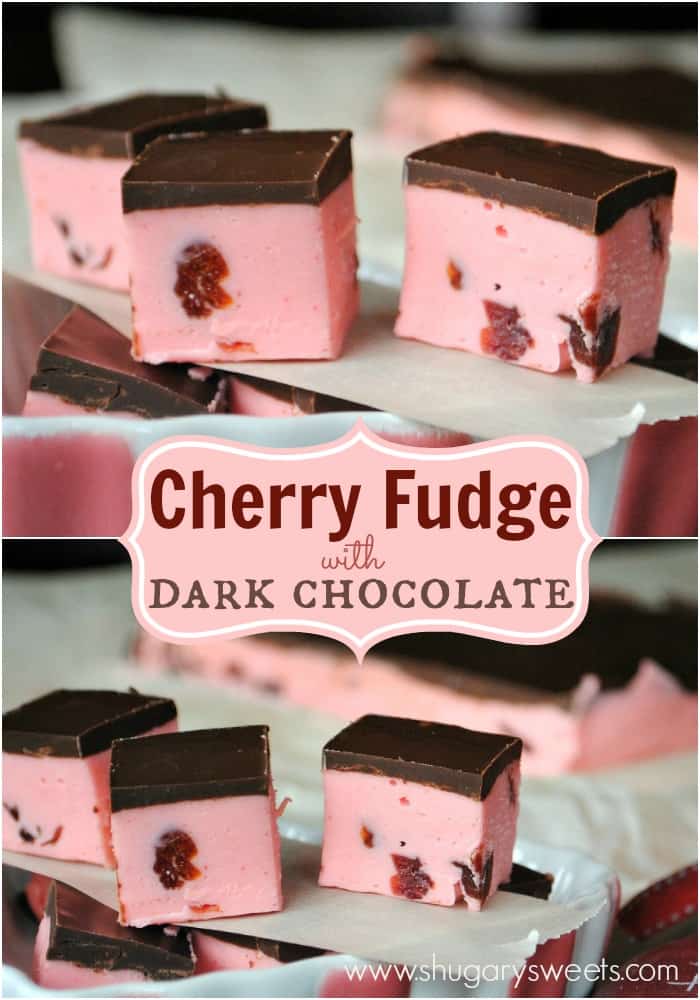 Cherry Fudge with Dark Chocolate: this is a hit every time I make it!