Looking for a unique Valentine's Day snack? Cherry Puppy Chow puts a smile on everyone's face. Pink and red sprinkles make this tasty treat extra fun to eat!
Puppy Chow makes a perfect party snack or gift. You'll love this Peppermint Puppy Chow for the holidays! Or give our Valentine Brownies a try this holiday!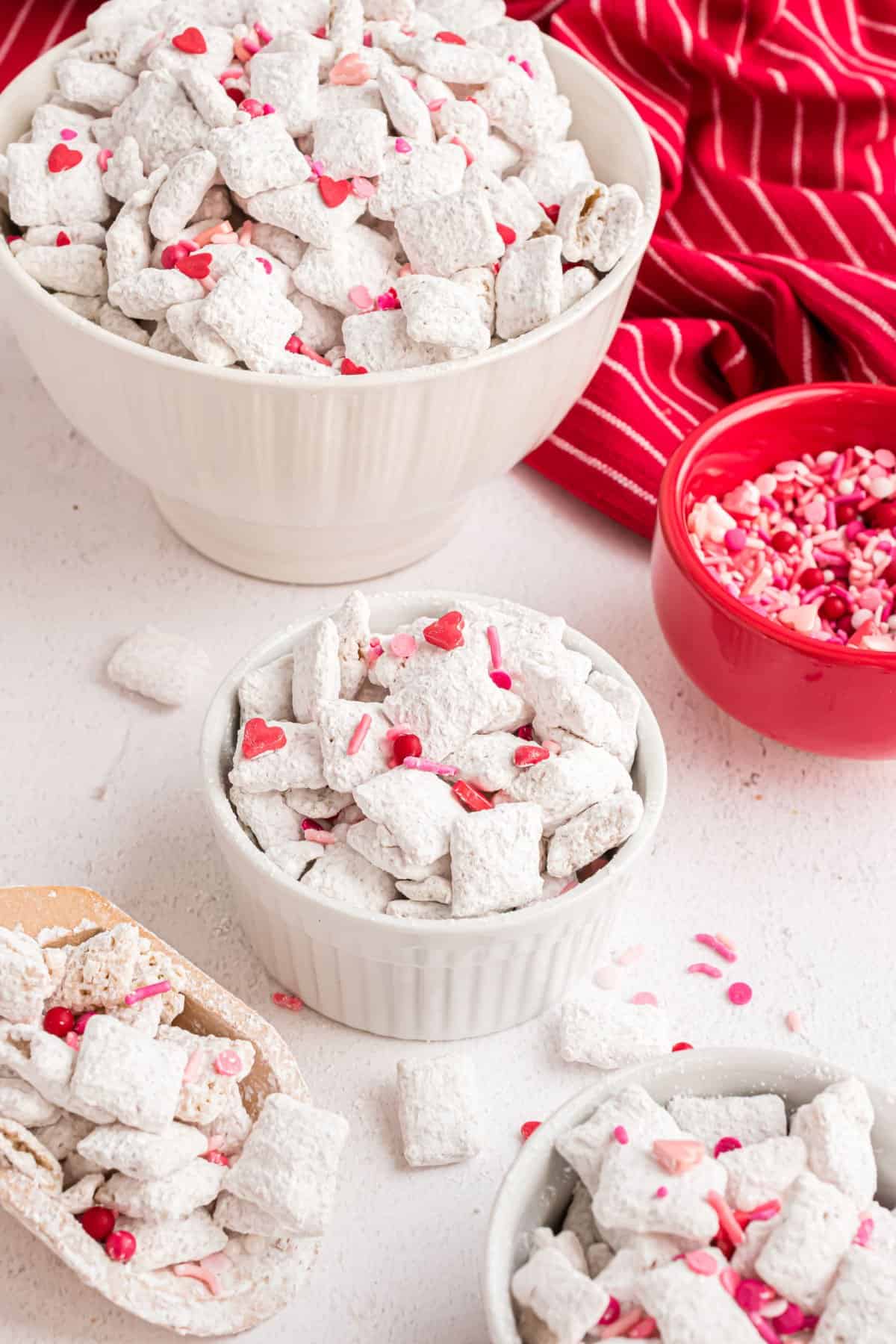 Puppy Chow or Muddy Buddies
Many of us grew up eating this sweet snack: cereal coated in melted candy or chocolate tossed with powdered sugar.
It's known as Puppy Chow or Muddy Buddies, depending on who you ask! Whatever you call it, it's insanely delicious.
We love our classic Puppy Chow Recipe, but today's version gives it a cherry vanilla twist!
Using instant gelatin for cherry flavor and melted almond bark, it's a breeze to make.
You only need a few minutes and five ingredients!
This Cherry Puppy Chow was such a hit, it disappeared almost as soon as the bowl hit the snack table. Make it for Valentine's Day or ANY day!
Love puppy chow? Try our other fun flavors:
Chocolate Cherry Puppy Chow
Ingredient Notes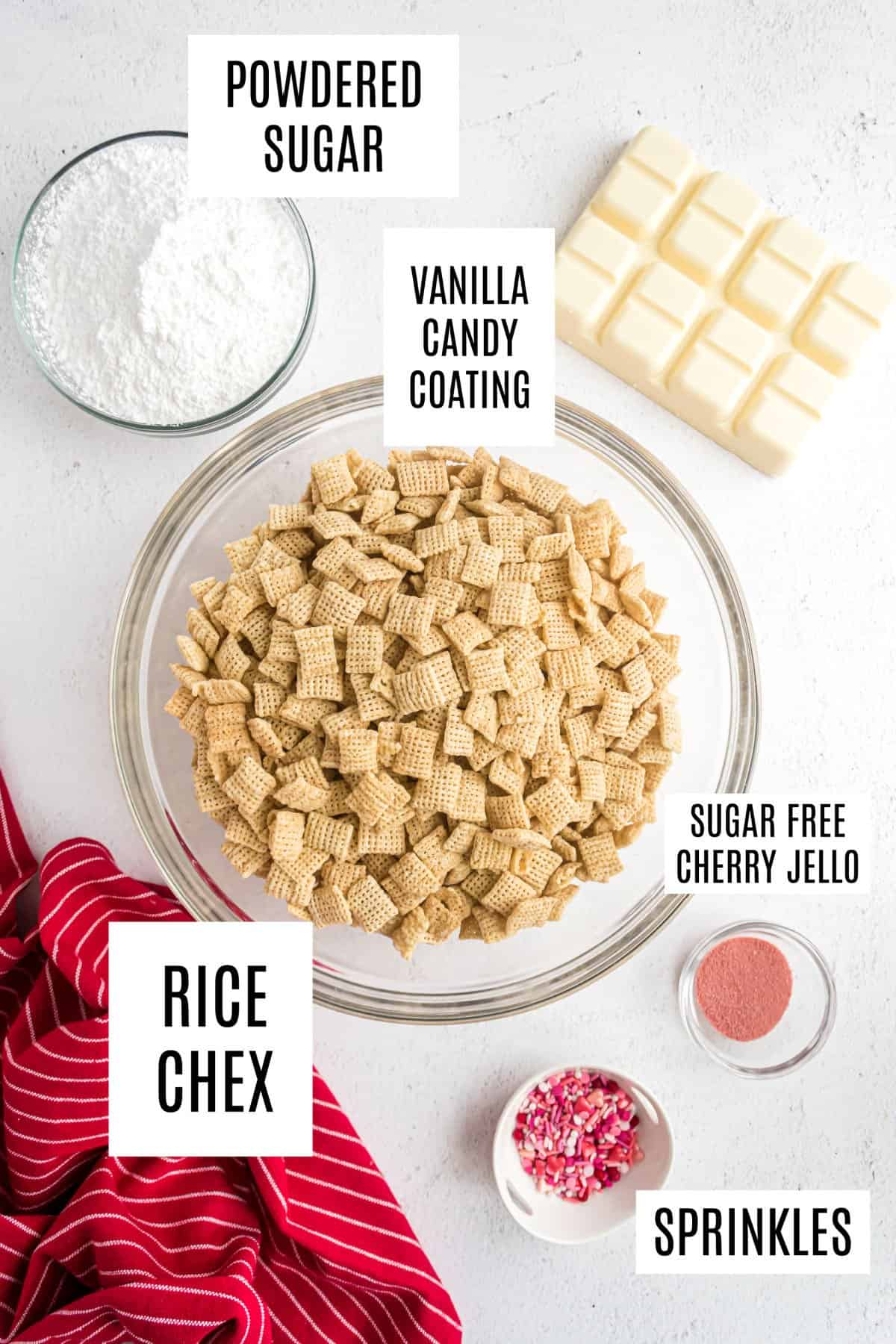 Sugar Free Cherry JELL-O. I use sugar free because the powdered sugar already makes the puppy chow plenty sweet. You will add the gelatin powder right to the recipe.
Vanilla Bark. This is also sold as "almond candy coating" in the baking aisle. Ghirardelli white chocolate wafers are also a delicious choice!
Rice Chex cereal. Or use any other favorite variety of Chex cereal squares.
Powdered sugar.
Sprinkles.
Tips and Tricks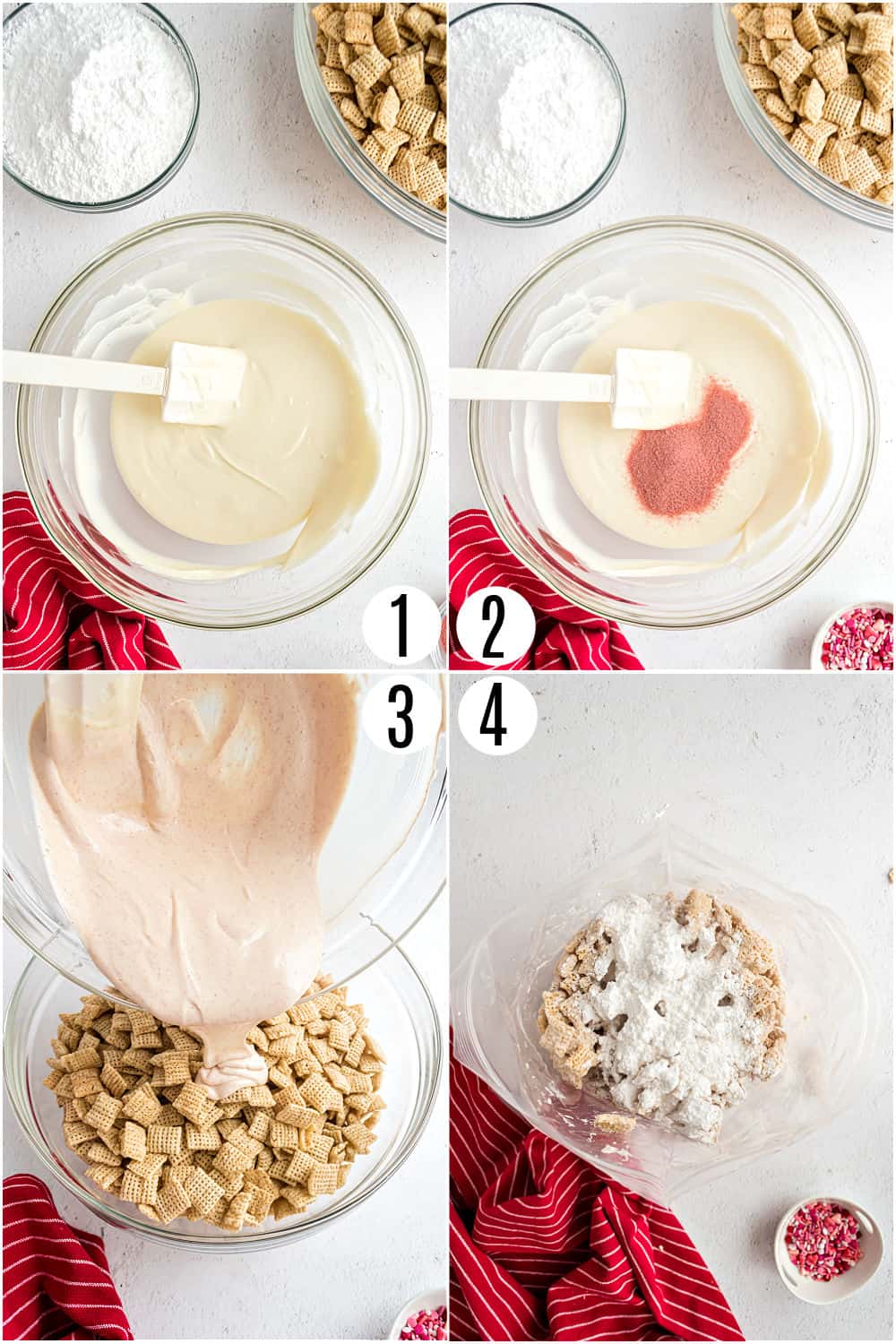 Melt the vanilla bark in the microwave. Heat it for 1 minute, then stir. Microwave for another 30 seconds, if needed, and stir until it's fully smooth.
Stir in the JELL-O Mix. Sprinkle the gelatin right into the melted candy and stir.
Coating the cereal: Pour the melted candy coating right over the cereal. Transfer the coated cereal to a gallon sized zip bag. Add the powdered sugar and shake well until all the cereal is coated.
Sprinkles: I used heart shaped Valentine's sprinkles. Feel free to use different sprinkles or change them up for different occasions!
Storing. Keep Cherry Puppy Chow in a sealed container at room temperature. It'll stay good for about 2 weeks (but good luck not eating it all long before then!).
Recipe FAQs
Can I make Cherry Puppy Chow with regular JELL-O instead of sugar free?
Yes, you can, but do not use a whole box. If using regular JELL-O mix, add just half the box to start.
Can I make this with different flavors of JELL-O?
Go for it! One of the best parts about using gelatin mix for flavoring recipes is that it's so easy to change it up. Strawberry JELL-O would be delicious in this recipe too.
Where do you find vanilla bark?
I get mine at the grocery store or superstores like Walmart and Target. If your local store doesn't carry it, you can order almond candy coating online.
Are muddy buddies the same as puppy chow?
Yep, they're two names for the same kind of food. So feel free to call this "Cherry Muddy Buddies" if you prefer!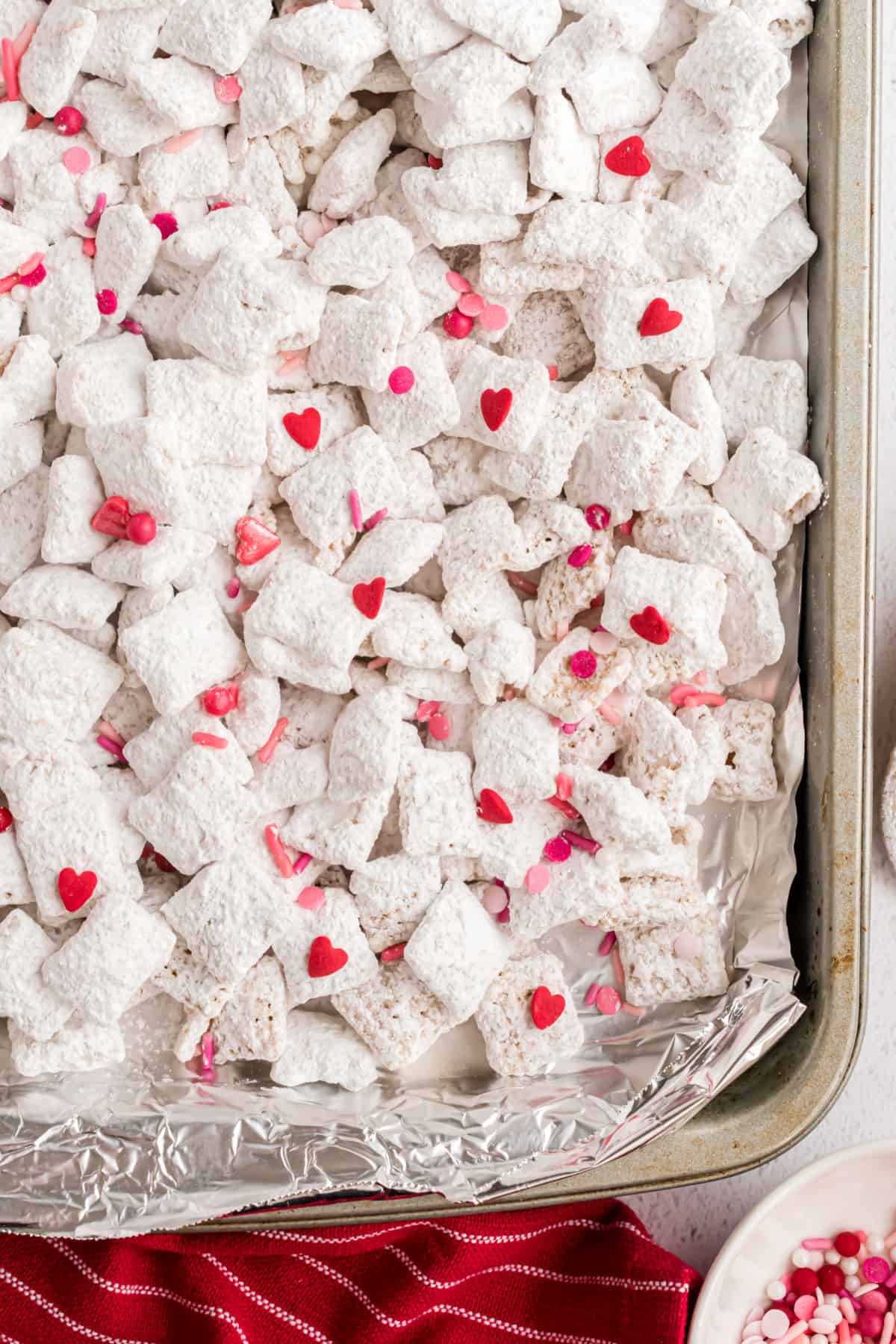 More Recipes with Gelatin