Whether you call it Puppy Chow or Muddy Buddies, this delicious snack got a holiday makeover, peppermint style.
Love Peppermint? Be sure to bake up a batch of these soft and chewy Chocolate Peppermint Cookies this holiday season! Or give our peppermint cheesecake a try next!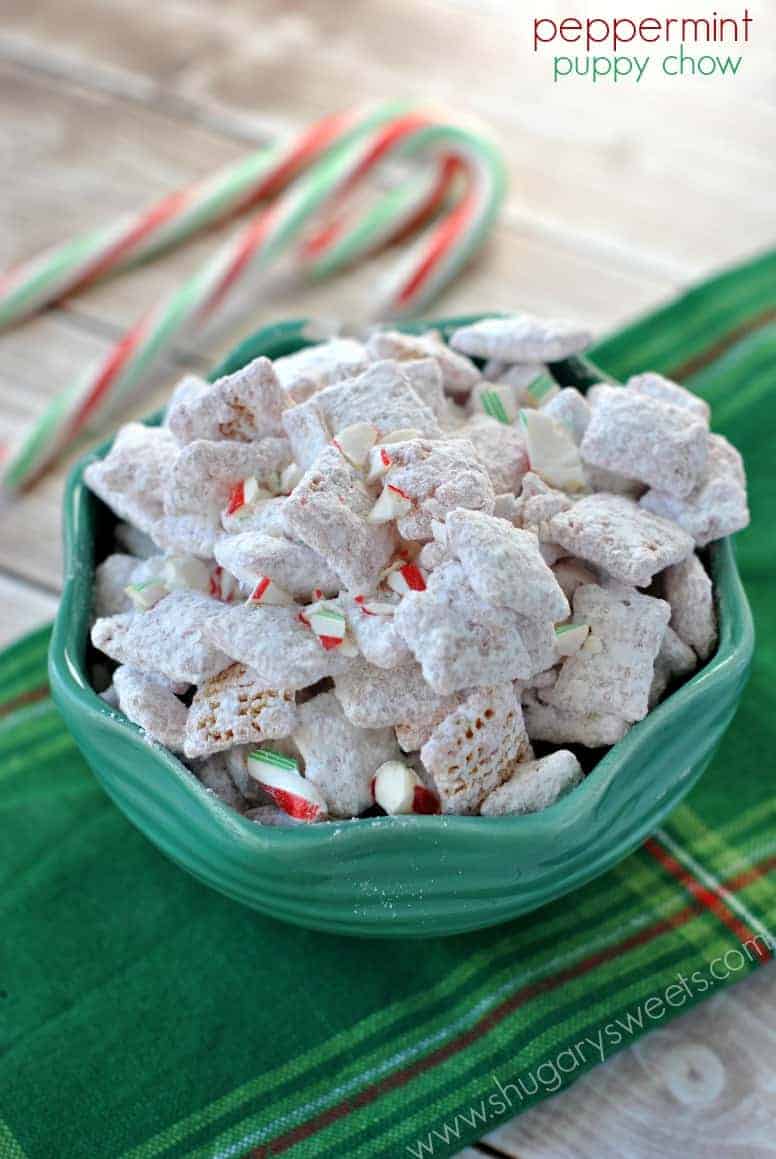 Puppy Chow or Muddy Buddies?
Readers seem to love holiday peppermint recipes as much as I do. If you loved the Peppermint Brownie Bites and Peppermint Cracker Toffee, you need to add Peppermint Muddy Buddies to your "to-make" list ASAP!
This treat has two different names, depending on who you ask: puppy chow or muddy buddies.
I've always called it puppy chow but whatever you prefer is fine by me
Both names refer to a treat made from Chex cereal that's covered in some kind of melted chocolate and powdered sugar. In short: no matter what you choose to call this it's bound to be borderline addiction creating! You can't stop at just one handful of the stuff.
That's okay though, because it's perfect for dividing into colorful plastic bags, wrapping with a bow and giving away to friends! I've been making Hot Cocoa Muddy Buddies around the holidays for a while and I'm excited to add this new twist to the mix to change things up.
This is also similar to the Peppermint Chex Mix you can buy in grocery stories now. I believe they call it Peppermint Bark Muddy Buddies Chex Mix and they go for around $4 per bag.
At my house, one bag = one serving. So, instead I make my own and have a giant ziploc bag full to munch all week long. Bonus? I save a few extra bucks for Christmas shopping!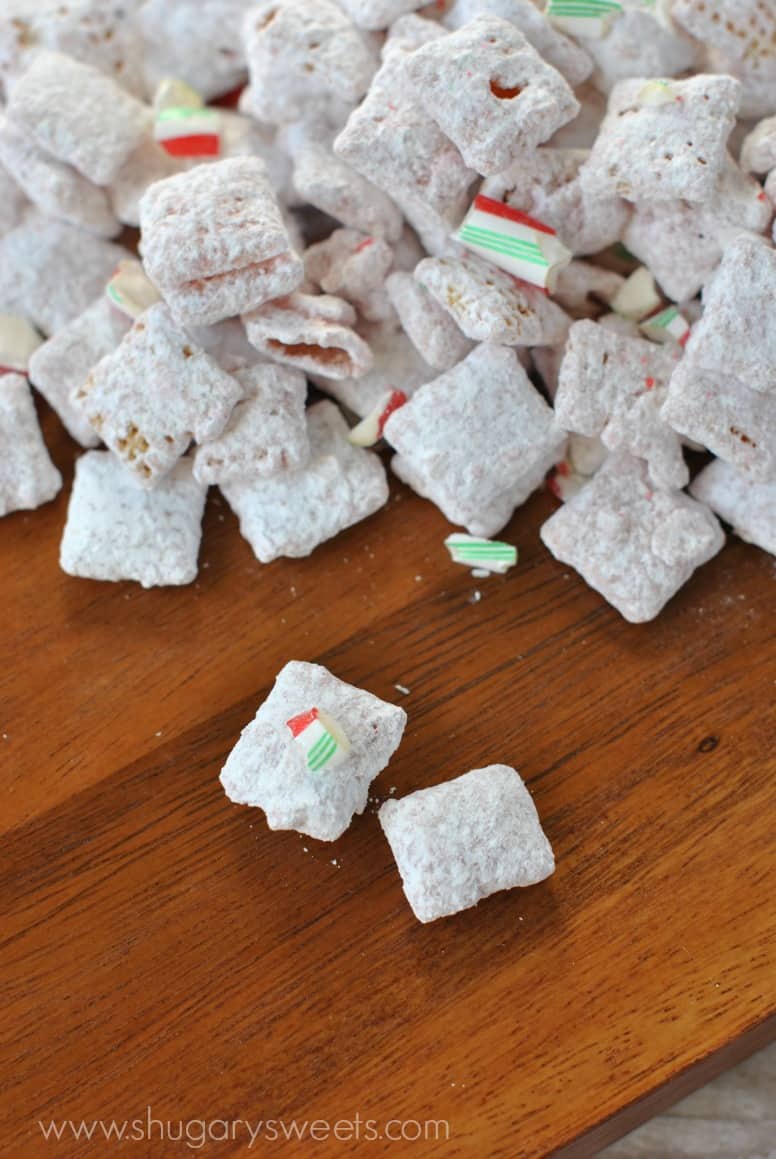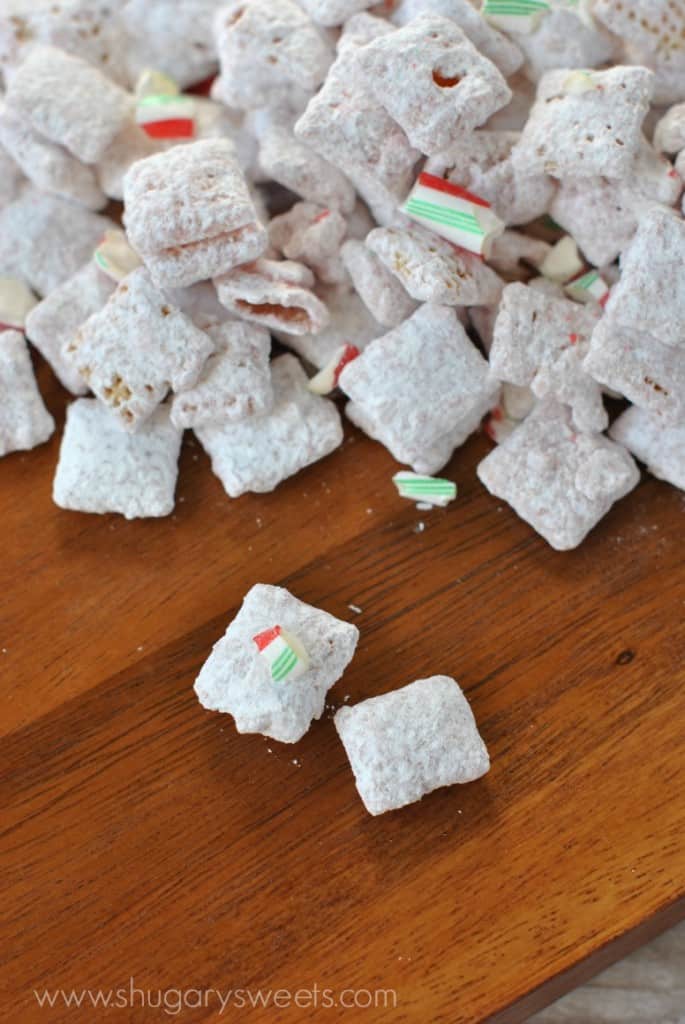 Ingredient Notes
Chex cereal – Rice or corn varieties will work or do what I did and use a combination.
Vanilla candy coating – Candiquik works great here. Ghirardelli white chocolate melting wafers could also be used. For a chocolate variation, substitute chocolate candy coating.
Andes peppermint crunch baking chips – Substitute another peppermint baking chip, like Nestle's peppermint chocolate morsels, if you can't find the peppermint crunch ones.
Crushed candy canes – Make sure they're peppermint flavored. Mini candy canes or other hard peppermint candies can be substituted.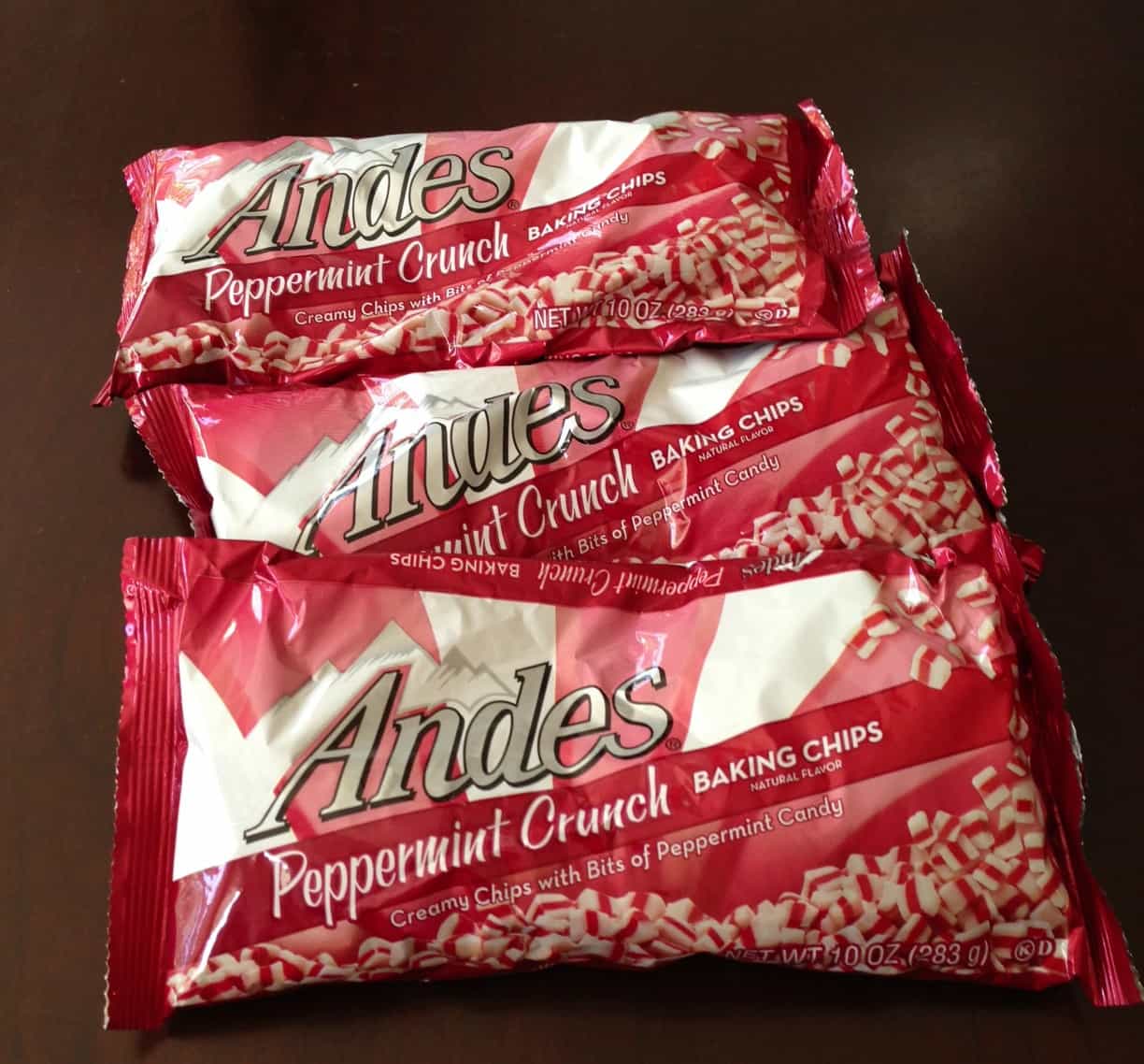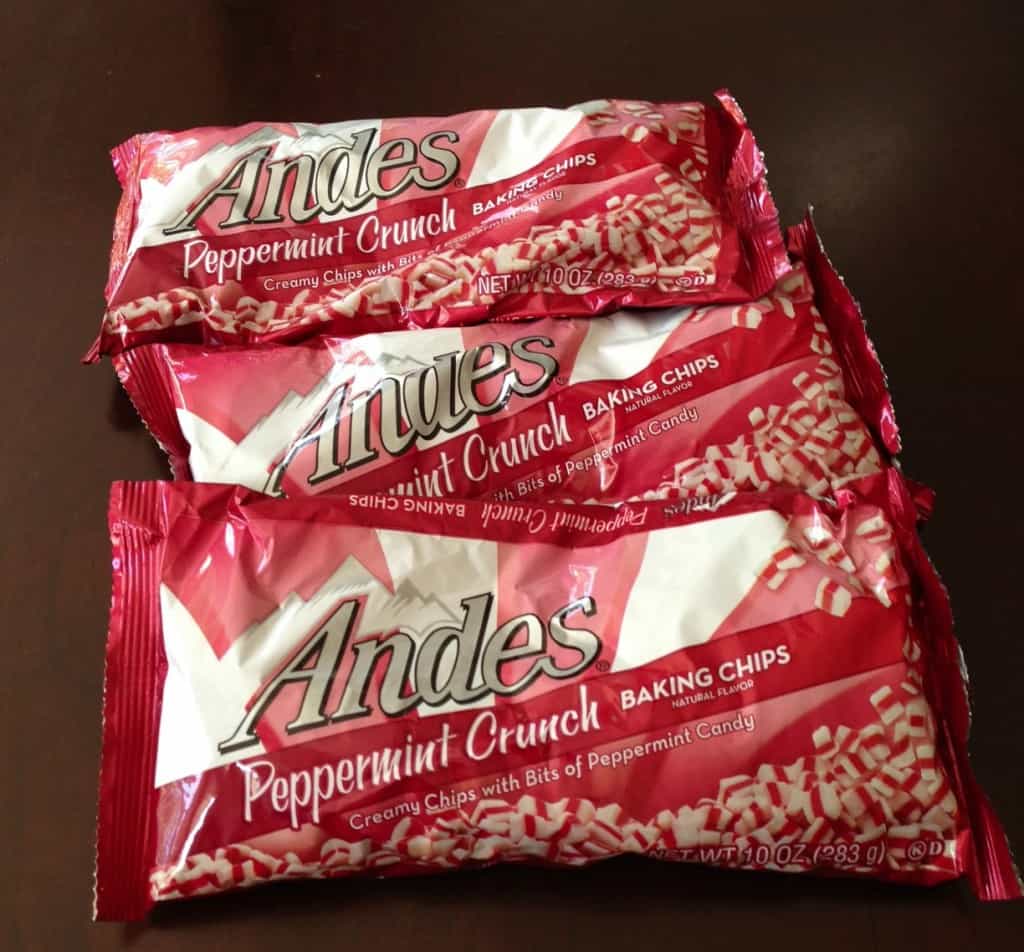 Easy Instructions
To make peppermint puppy chow, start by melting the candy coating and peppermint crunch chips together in a large bowl. I microwaved it for about 2 minutes, stirring every 30 seconds.
Pour this melted candy mixture over a large bowl of Chex cereal. Add 2/3 of the crushed candy canes and stir everything together until the cereal and candy cane pieces are all coated with chocolate.
Add powdered sugar to the bowl and toss until everything is coated with it. Sprinkle in the remaining candy cane pieces and serve or transfer to an airtight container to store.
Tips & Tricks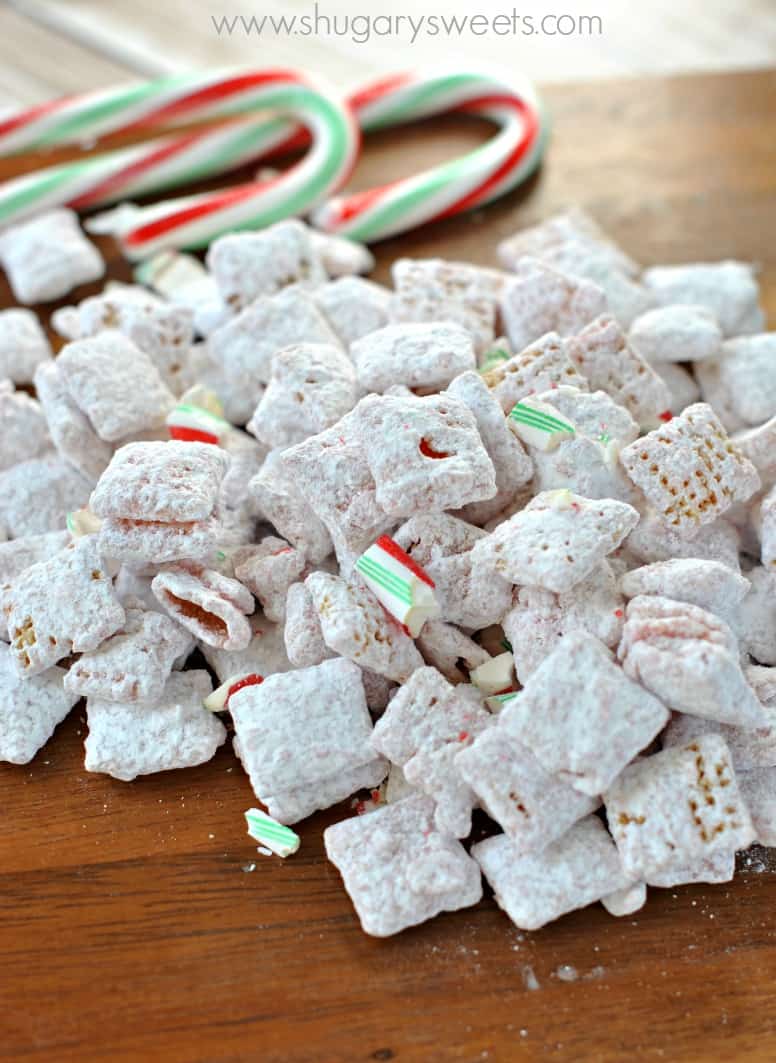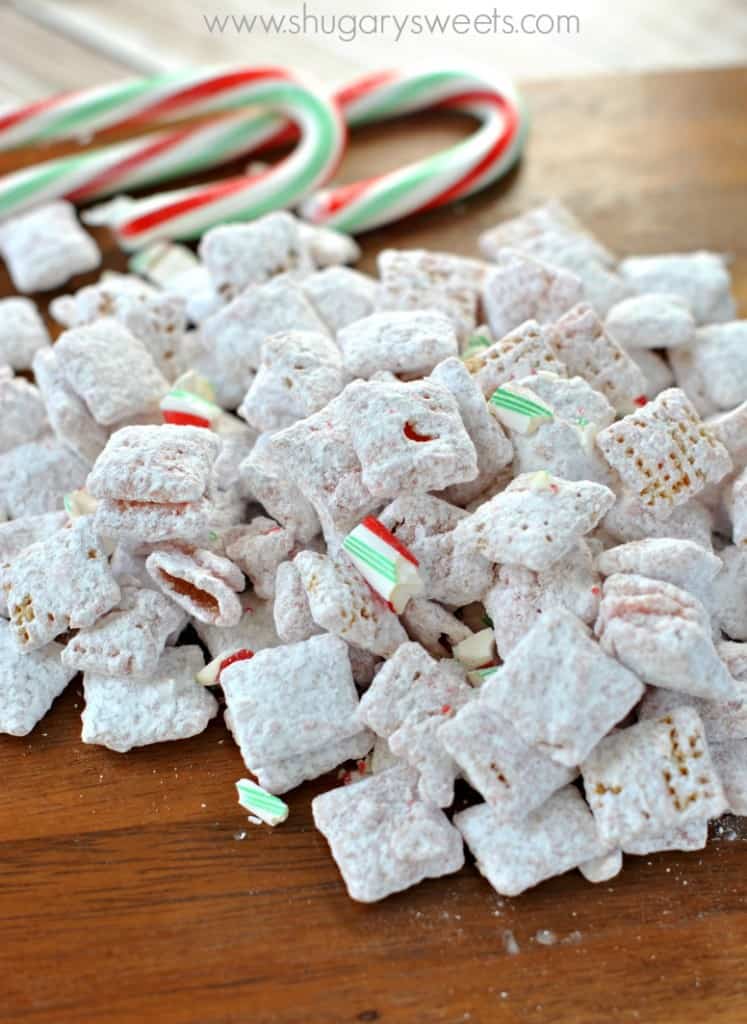 Making muddy buddies is a messy business! Expect to get at least a little (or a lot) of powdered sugar on you when tossing the cereal. Wear an apron and put a sheet of parchment paper under the mixing bowl to catch any stray sugar for easy clean-up.
The candy canes don't need to be fine crumbs. I like to have a few bigger pieces left to add in at the end for extra color. That little extra makes puppy chow LOOK at good as it tastes.
Make sure to keep the bag or container sealed when you're not eating the puppy chow. There's nothing sadder than scooping up a handful of peppermint puppy chow to find out it's gone stale.
Recipe FAQs
What's the best way to store Muddy Buddies/Puppy Chow?
We keep ours in a gallon sized ziploc bag. If you're worried about the cereal getting crushed (especially if you're transporting it), keep it in a Tupperware style container or glass jar with a lid.
How long will the muddy buddies keep?
They taste best if eaten within a week.
What are Andes baking chips?
This is a new product that I've loved baking with! They taste like Andes 3 layer mint candies but shaped into morsels that are perfect for baking. If you can't find them at your local store, you can order some online.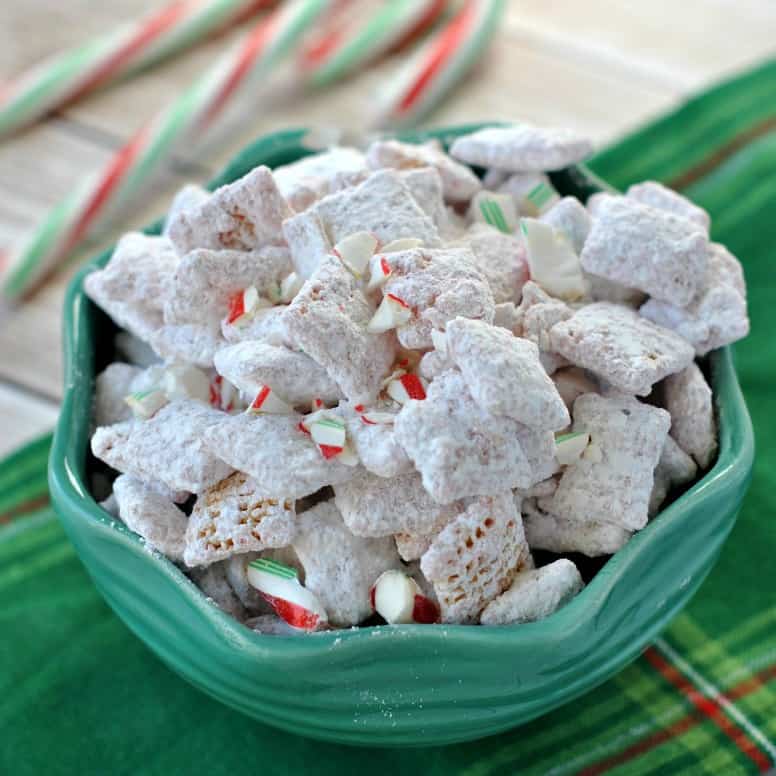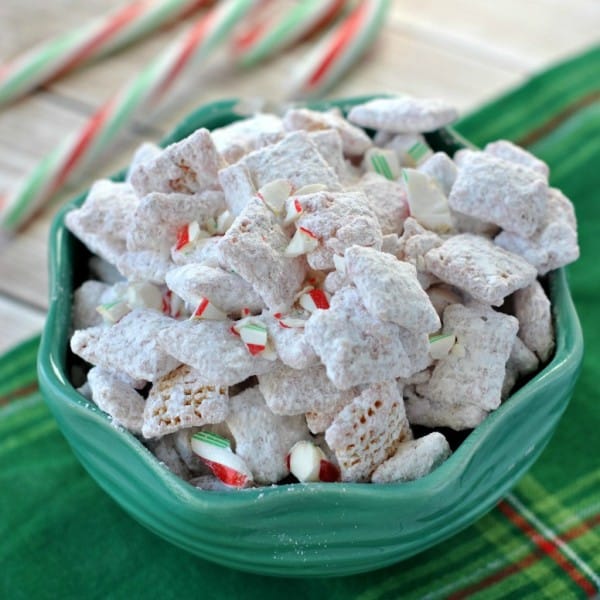 More Easy Dessert Recipes
Classic Puppy Chow sweetness with a cool peppermint twist! Everyone will rave over your homemade Peppermint Muddy Buddies!