Dark Chocolate Brownie Bites paired with a fluffy Peppermint Frosting and topped with a Peppermint Hershey Kiss!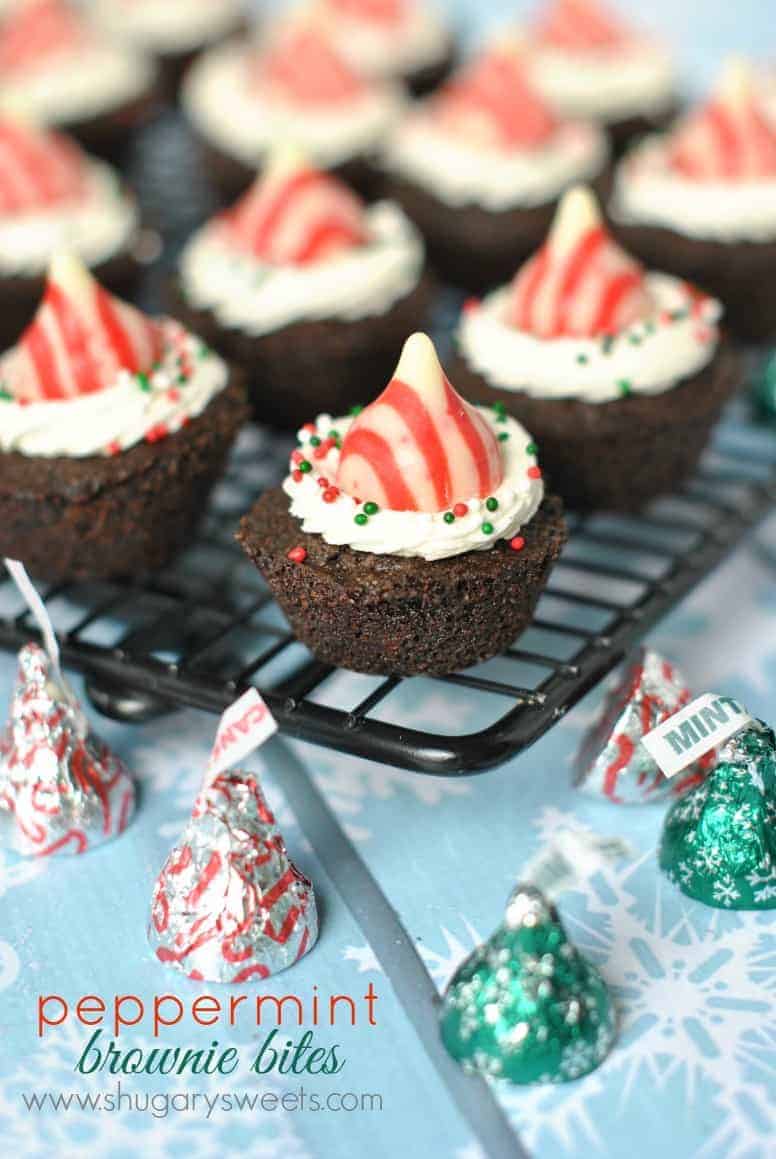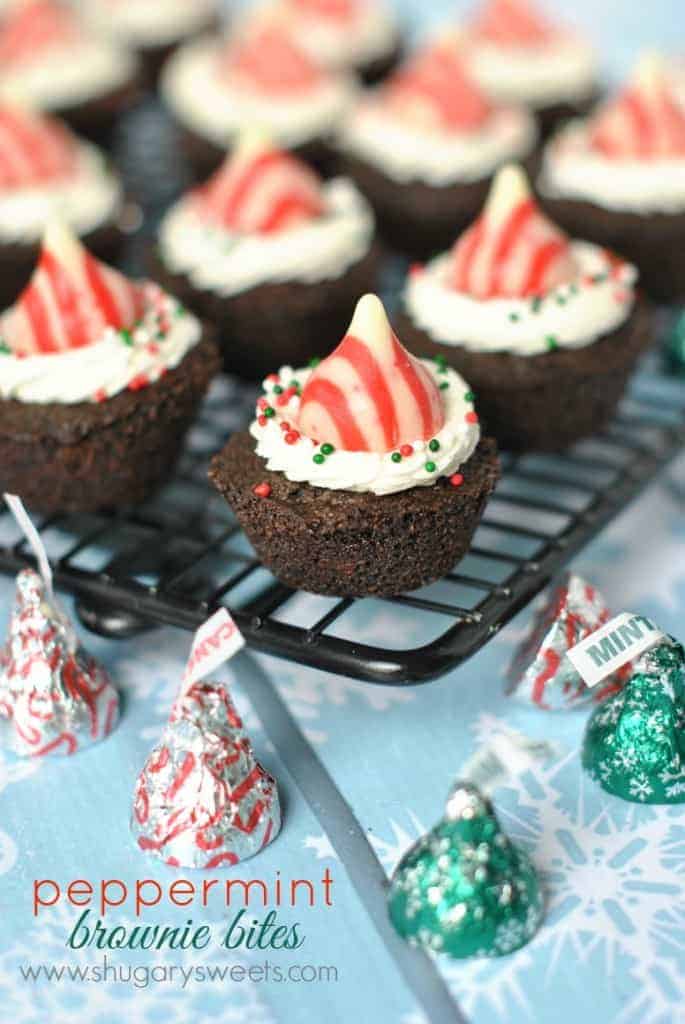 Click HERE to save recipe to Pinterest
Yesterday I had a couple hours to "waste" while my daughter was at swim practice. So of course, I chose to go to Target. The perfect place to spend time, wandering aimlessly.
It was actually pretty nice. I wandered up and down almost every aisle in the store. Talked with a few people I knew. Read the backs of movies. The inside covers of books. Grabbed a cup of Starbucks Peppermint Mocha. Filled my basket with several hundred dollars of goods. I was cozy. I was comfortable. I was relaxed. (there is a point to this story…bear with me!)
By the time I got outside, it was raining. Ran to the car, loaded it…and wondered why when I started my car my feet were kinda cold.
OMG guys, I realized for the past two hours I had been wandering the store in SLIPPERS. I drive a lot of carpools, and many times I grab my slippers or a pair of slides and run them where they need to be, never having to get out of the car.
This day, however, I did get out of the car. And walked around Target (it wasn't walmart….) then ran to my car in the rain in slippers. Who does that?
Apparantly I do. No wonder I was so relaxed…I had slippers on my feet!!
It's okay though. I'm a confident 40 yr old women who doesn't care what people think of me. Much. Well, at least that's what us old ladies who shop in our slippers are supposed to say!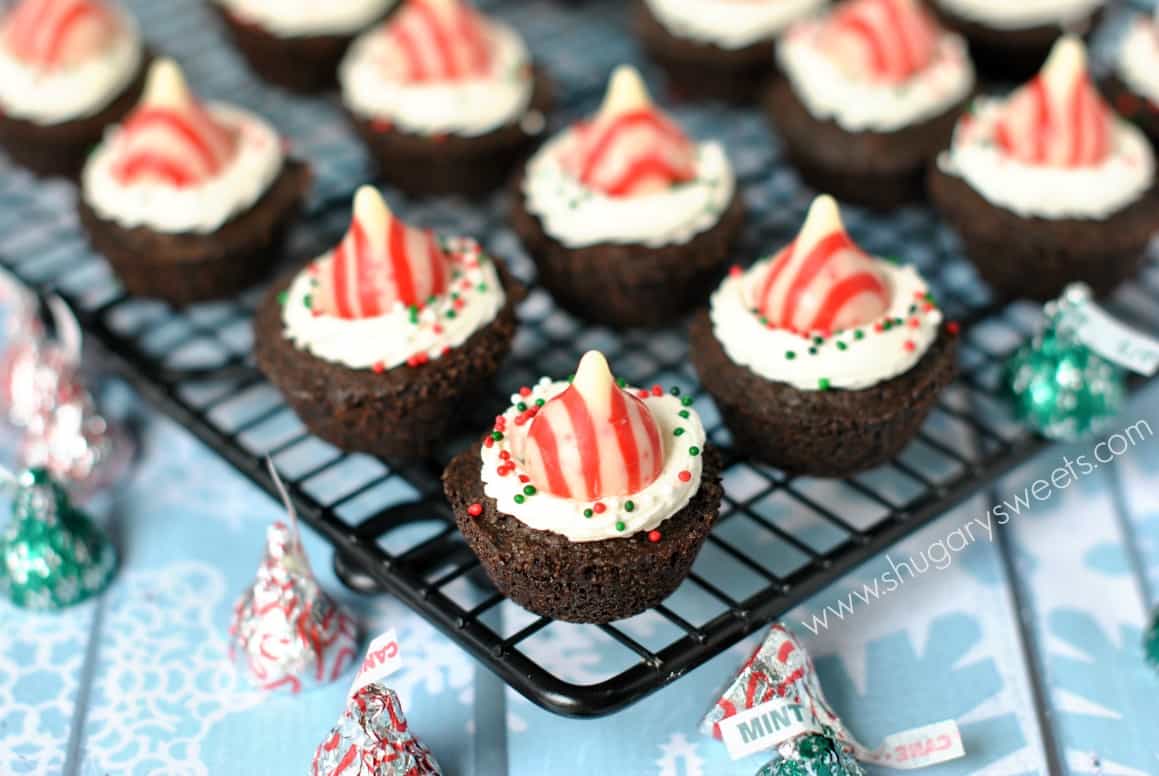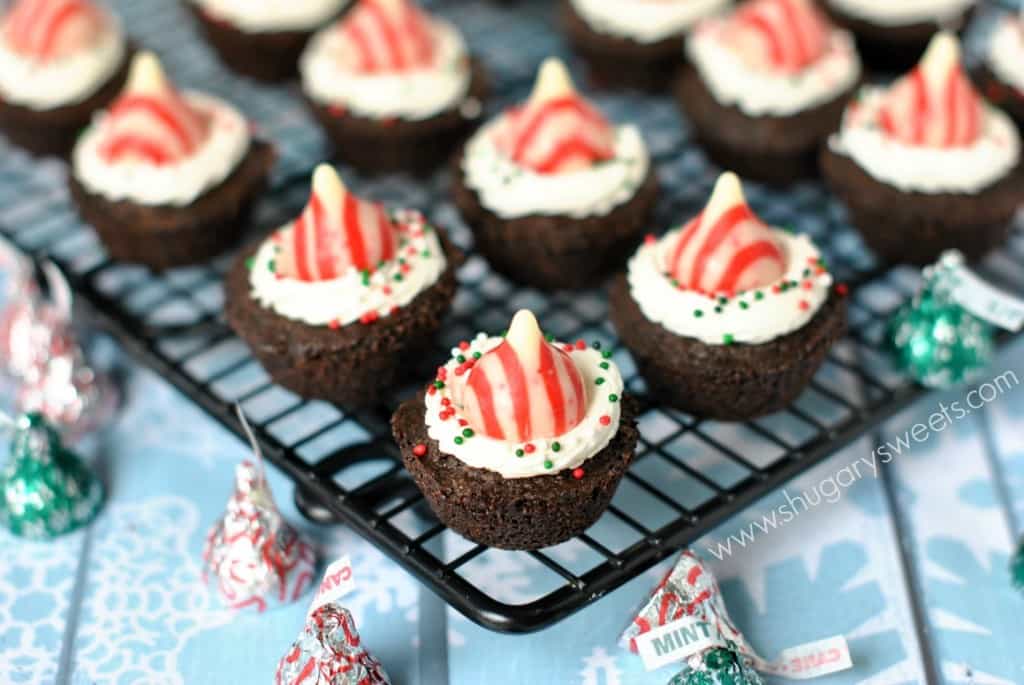 When I got home, I had the leftovers of these brownies to make me feel better. That totally helped.
These brownies are my favorite, one bowl, from scratch recipe! Seriously, stop buying boxed mixes, these are so easy to whip up! Look at how dark and fudgy they are!
While they cooled I made a quick batch of peppermint buttercream frosting. I pressed a Candy cane kiss into each brownie and added some extra sprinkles for fun!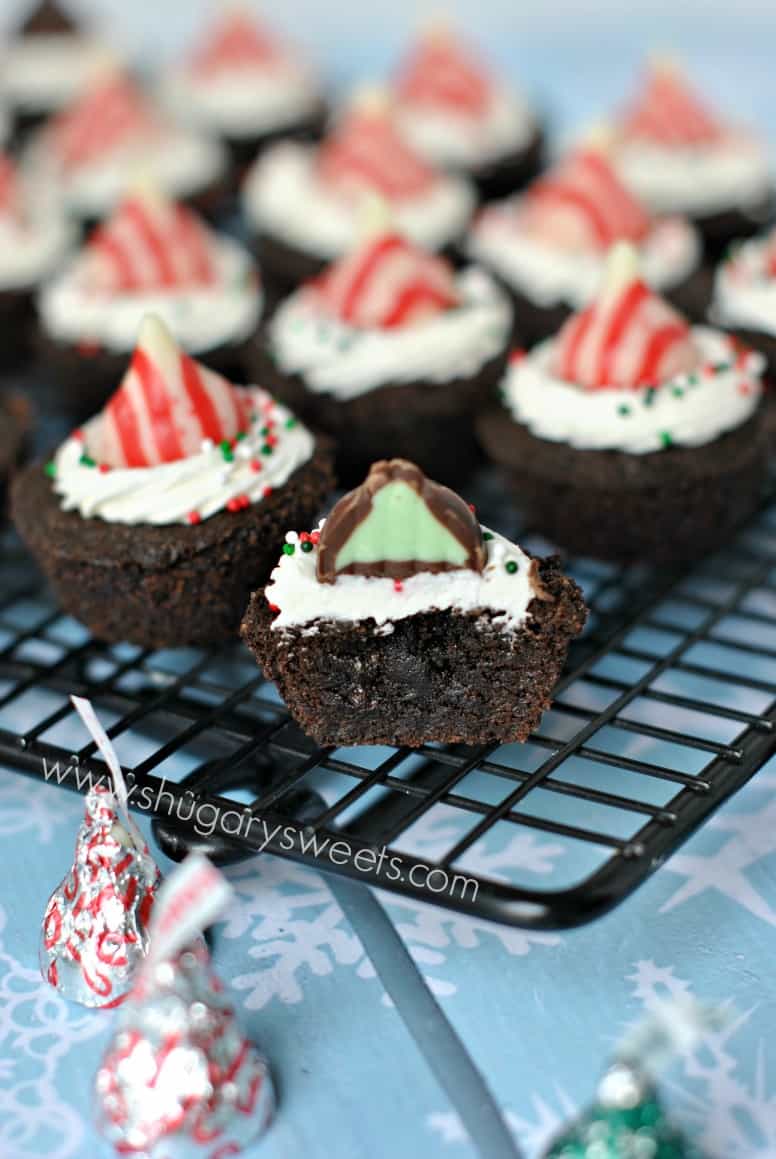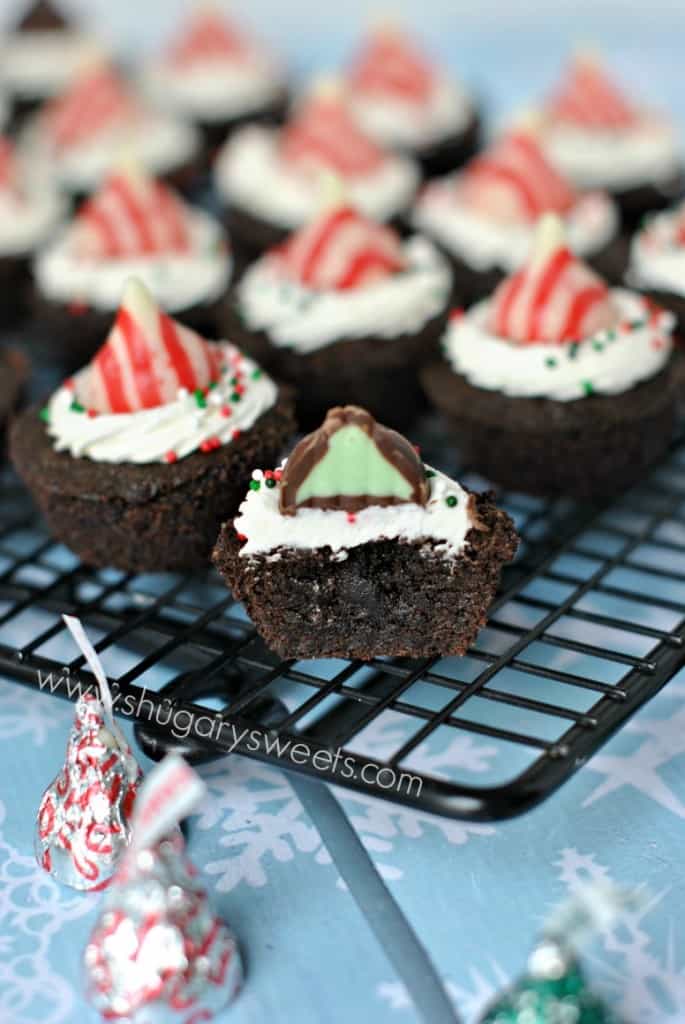 I also tried using the Mint Truffle Hershey Kiss chocolates. Guess what? Those were amazing with the dark chocolate brownies too!!
ENJOY. Happy Holidays. Wear shoes….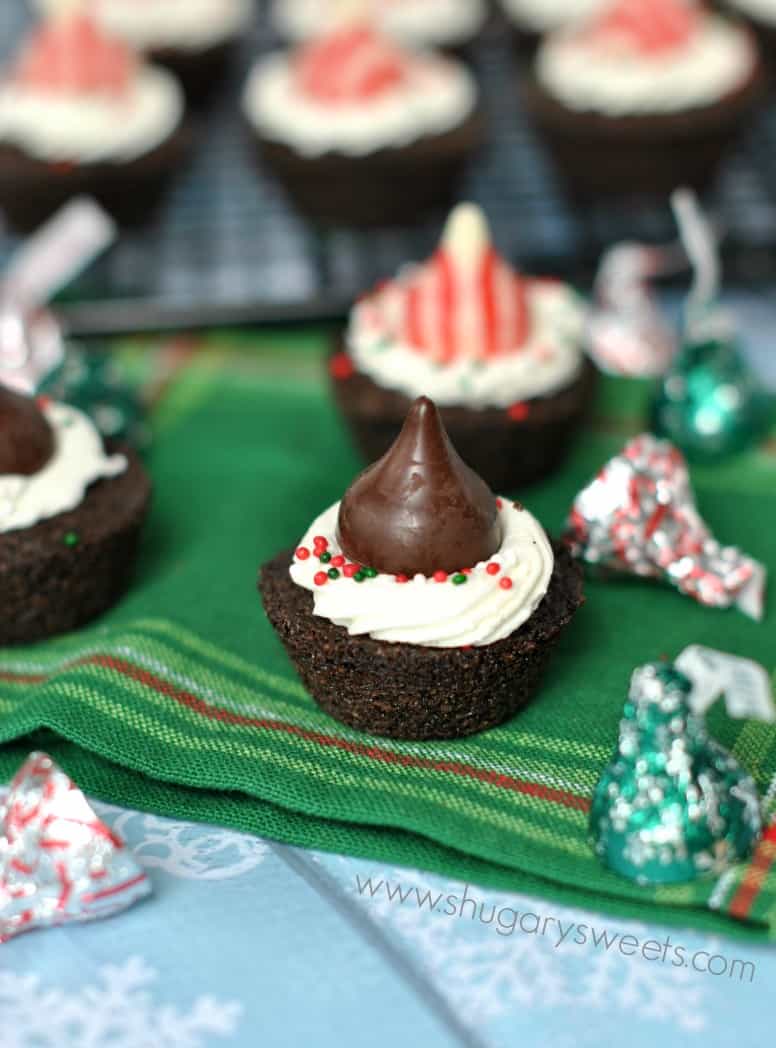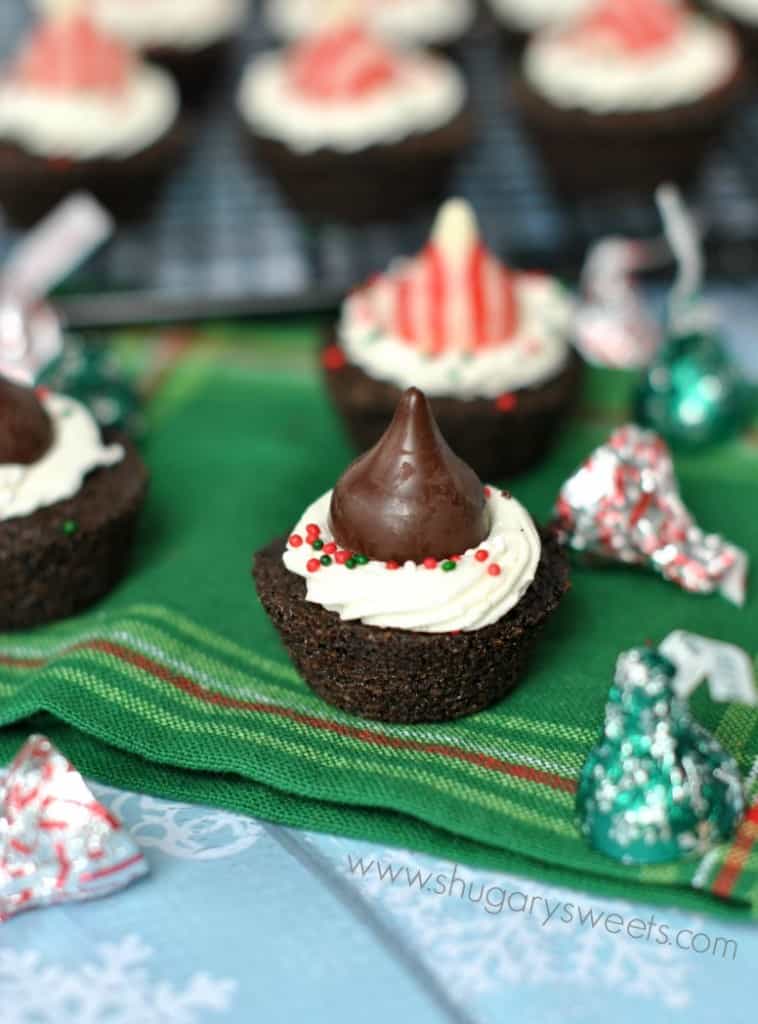 More Easy Dessert Recipes
Yield: 3-4 dozen
Peppermint Brownie Bites
Dark Chocolate Brownie Bites paired with a fluffy Peppermint Frosting and topped with a Peppermint Hershey Kiss!
Ingredients
For the brownies:
3/4 cup unsalted butter
1 1/2 cup granulated sugar
1 cup all-purpose flour
3/4 cup dark chocolate unsweetened cocoa powder
3 large eggs
For the Frosting:
1/2 cup unsalted butter, softened
1 1/2 cup powdered sugar
1 Tbsp milk
1/4 tsp peppermint extract
36-48 Peppermint Hershey Kiss Chocolate candies
sprinkles
Instructions
In a large, microwave safe bowl, heat butter until melted (about 1 minute).
Add sugar, flour, and cocoa. Mix with a wooden spoon until fully combined, about 2 minutes. Add eggs and blend completely!!
Spray mini muffin tins with non-stick baking spray. Scoop a large tablespoon into each muffin cavity. Bake in a 375 degree F oven for 9-11 minutes. Allow brownies to cool in pans about 10-15 minutes, then remove and cool completely on a wire rack, before frosting.
For the frosting, beat butter, powdered sugar, milk and peppermint extract for 4 minutes on high until fluffy. Spoon into a decorating bag with a tip (any tip is fine). Pipe one circle of frosting onto each cooled brownie. Top immediately with sprinkles and a Hershey Kiss.
Store in a covered container at room temperature for 3-5 days. ENJOY.
Nutrition Information:
Yield:
36
Serving Size:
1
Amount Per Serving:
Calories:

162
Total Fat:

9g
Saturated Fat:

5g
Trans Fat:

0g
Unsaturated Fat:

3g
Cholesterol:

33mg
Sodium:

11mg
Carbohydrates:

20g
Fiber:

1g
Sugar:

16g
Protein:

1g
*Nutrition facts are an estimate and not guaranteed to be accurate. Please see a registered dietitian for special diet advice.
Recipe originally published December 9, 2013
Dark Chocolate Brownie Bites paired with a fluffy Peppermint Frosting and topped with a Peppermint Hershey Kiss!