Peppermint Bark gets a chocolate graham cracker boost! These holiday treats covered in chocolate and peppermint are easy enough for the kids to make.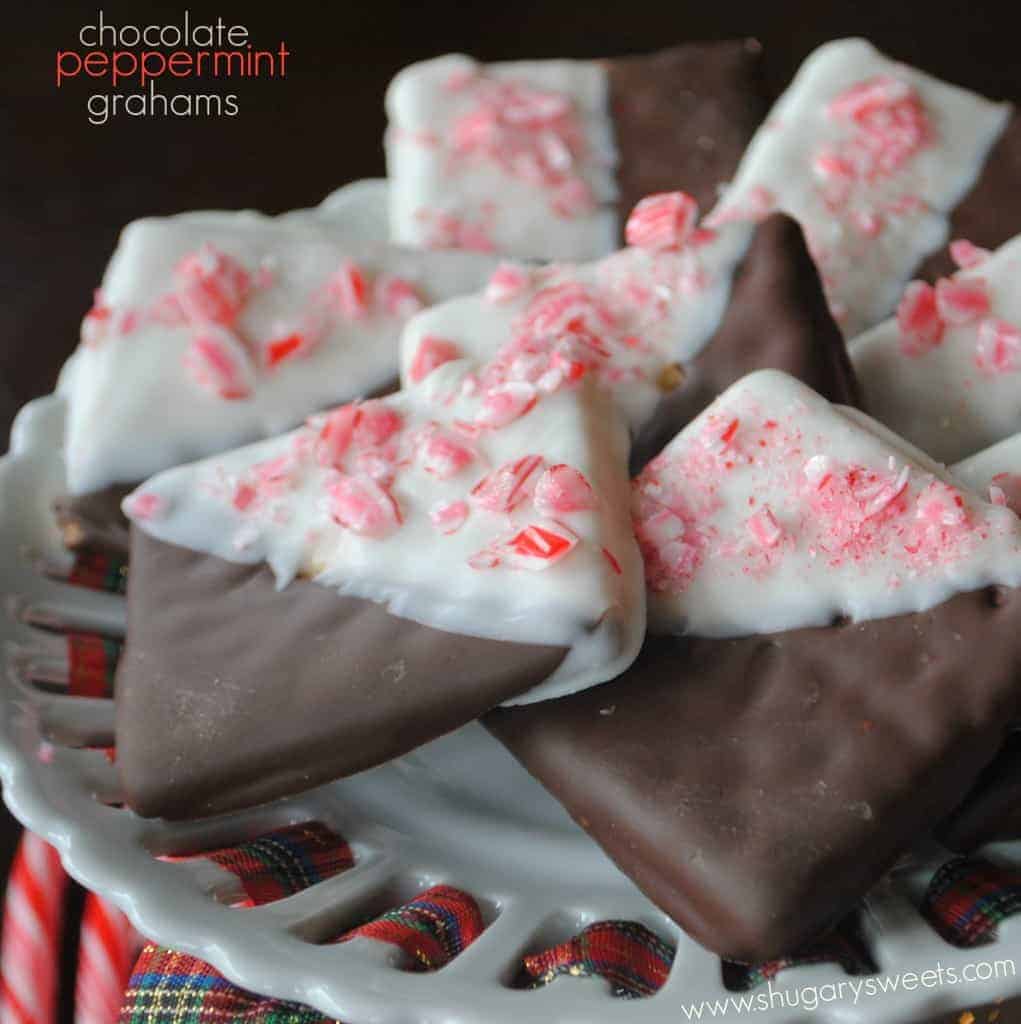 Peppermint Bark
I'm extra excited about sharing this recipe with you today. After sharing a lot of eggnog flavored treats in preparation for Christmas, I've gotten a few requests for some holiday desserts that AREN'T eggnog themed.
How about Peppermint? Even better: Chocolate peppermint bark? 
These chocolate dipped pieces are not your everyday homemade Chocolate Bark. This time, I used chocolate graham crackers as the base and dipped them in two kinds of melted chocolate.
Some crushed peppermint candies on top turned these simple grahams into a festive holiday delight! You could use regular graham crackers here but I especially love the chocolate version.
Easy No Bake Dessert
Did I mention yet that this is an entirely no bake dessert?
If your oven is as busy as mine this time of year, you're breathing a huge sigh of relief right now. I feel like all I do in November and December is take things in and out of the oven.
This recipe lets you make your homemade peppermint bark while other Christmas favorites like White Chocolate and Cranberry Cookies and Caramel Frosted Sugar Cookies are baking in the oven simultaneously.
For those of you with young kids at home, this recipe is ideal for a first Christmas candy recipe to make together. They'll have so much fun dipping the ends of the grahams into the melted chocolate!
How to Make Peppermint Bark
Start by melting a bar of milk chocolate and a bar of white chocolate in separate bowls.
Cut or break your graham crackers into squares and line a large cookie tray with parchment paper.
Dip one end of the graham cracker into the milk chocolate so it coats half off the cracker square. Place it on the parchment paper and repeat with the remaining graham cracker squares. Let set until firm.
Dip the remaining end into the melted white chocolate and sprinkle with crushed candy canes. Let set at room temperature or in the fridge until the chocolate is firm.
Enjoy right away or transfer to an airtight container, jar or ziploc bag.
Tips for working with melted chocolate
I know some of you out there with little ones at home are cringing when you think about the potential messiness of letting your kids work with melted chocolate. Believe me, I get it!
I've been there. And I HATE messes, especially when they involve sticky hands and chocolate covered faces to wipe clean.
To keep clean up easy, cover your work surface with parchment or wax paper first. Then, no matter how much the chocolate drips, you can remove it from your counter top in one step.
Another method for reducing chocolate splashes and drips is to make sure to tap the excess chocolate off of each graham cracker square on the side of the bowl. You can also use a fork or spoon to level off any excess chocolate.
Chocolate Graham Cracker Substitutes
Chocolate grahams are my favorite in this recipe. If you can't find them, plain graham crackers taste great in this no bake peppermint bark too.
I can also see this method working with chocolate and vanilla wafer cookies, although I haven't tested it out yet.
More Tips & Tricks
Want the chocolate to set more quickly? Place the dipped graham crackers in the fridge for about 15 minutes.
How to store: Once set, transfer these to an airtight container or jar and keep covered at room temperature. If you like the texture cold, you can also store these in the fridge.
Crushing candy canes: I crush my candy canes by placing them in a plastic bag and running my rolling pin over them a few times. Kids get a big kick out of this!
Chocolate substitutes: Dark chocolate fans can easily substitute it for the milk chocolate in this recipe.
More Easy Dessert Recipes
Make this delightful holiday treat with the kids this year! Homemade Peppermint Bark with graham crackers makes a wonderful Christmas gift or addition to your season's cookie trays.