Add merriment to your holiday table with these Peppermint Cheesecakes! Mini no bake cheesecakes are filled with crunchy bits of peppermint candy and topped with whipped cream in this festive and easy dessert.
If you like peppermint and chocolate together, you'll love this Chocolate Peppermint Mousse Pie too. After that, give our Chocolate Peppermint Cheesecake Cake a taste for ultimate Christmas decadence!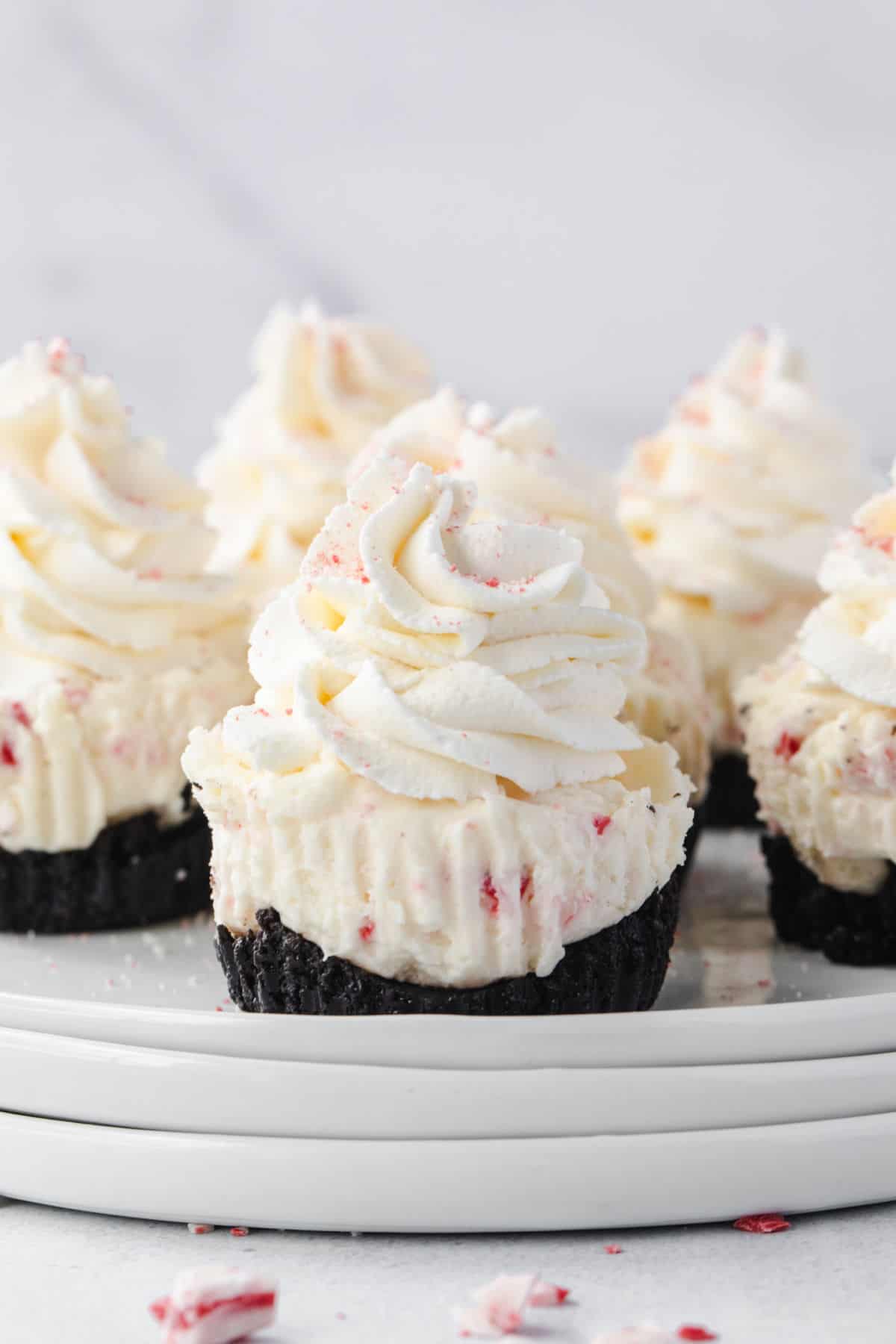 Why this Recipe Works
These mini Peppermint Cheesecakes look impressive, but don't be intimidated. They're surprisingly easy to make!
No-bake peppermint cheesecakes are a perfect make ahead dessert! No worries about cracked tops or water baths!
Zesty mint flavor meets sweet Oreo pie crust.
Easy to serve cheesecake. No slicing required!
Whipped cream gives these a beautiful and delicious finishing touch.
We used our favorite mini no bake cheesecake recipe as a starter.
Ingredient Notes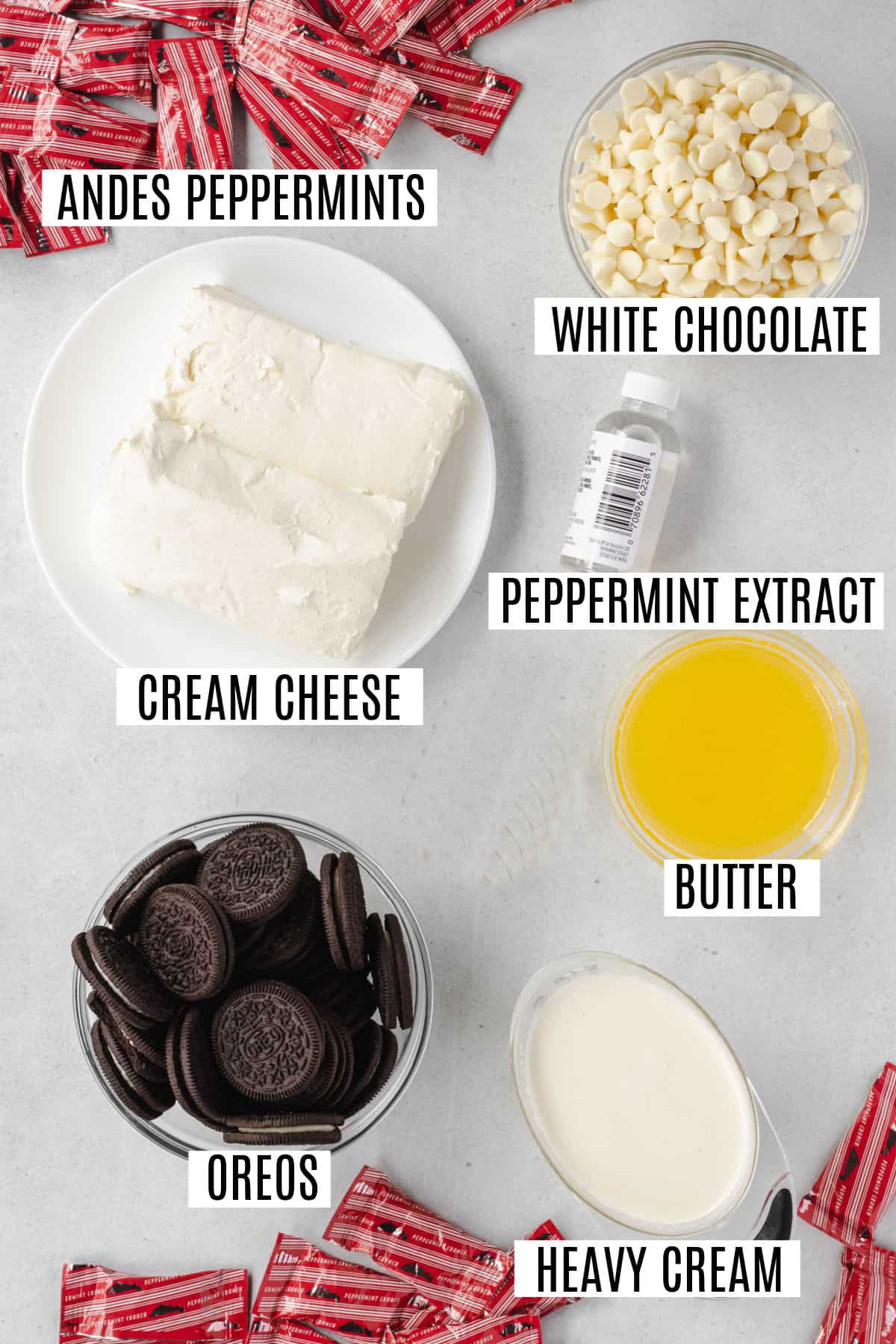 Oreo cookies – We use these to create the chocolate cookie crust. You'll pulse them in the food processor to create fine crumbs.
Andes Peppermint Crunch – These add great peppermint flavor plus a bit of texture to the creamy cheesecake filling. Chop the candies into fine pieces and be sure to set some aside for the topping. Some stores carry the candies already chopped in a bag…those work great too!
Peppermint Extract – The best way to add instant minty taste to any dessert. For best flavor, use pure extract rather than imitation flavoring. And be sure to NOT choose mint extract, which will give you a spearment flavor like toothpaste!
Easy Instructions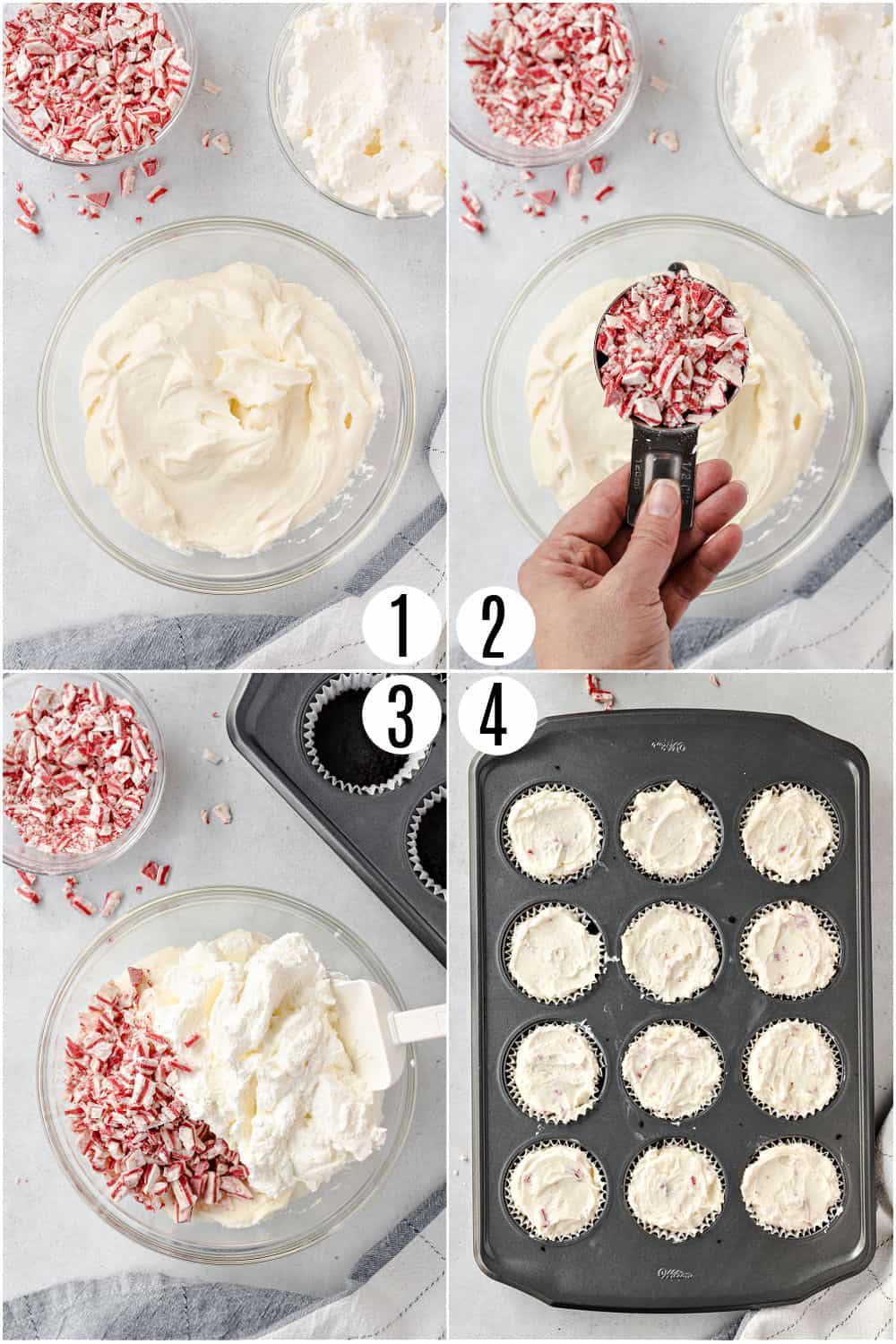 Start by combining your Oreo cookie crumbs with melted butter. Press this mixture into cupcake liners in a muffin tin to make the crust.
Now beat together the cheesecake filling ingredients and fold in Andes Peppermint Crunch pieces.
Spoon a quarter cup of cheesecake filling into each mini cookie crust. (I use a large cookie scoop). Refrigerate until the cheesecakes are set.
Before serving your mini peppermint cheesecakes, top each one with a dollop of whipped cream and some extra peppermint candy pieces!
Tips and Tricks
Make ahead. I like to make these mini cheesecakes the night before serving, but you can make them as far as 3 – 5 days in advance and keep them in an airtight container. Store them without topping, and top with whipped cream when ready to serve.
Substitutions. This cheesecake crust can be made with graham crackers, Nilla wafers or even golden Oreos too. For an extra minty treat, try this recipe with candy cane Oreos!
Use a cold bowl. I like to place a metal bowl in the freezer for a few minutes before adding the heavy cream. Using a cold mixing bowl ensures that the cream forms stiff fluffy peaks as you beat it!
MORE: We love these oreo cheesecake bites as a unique twist.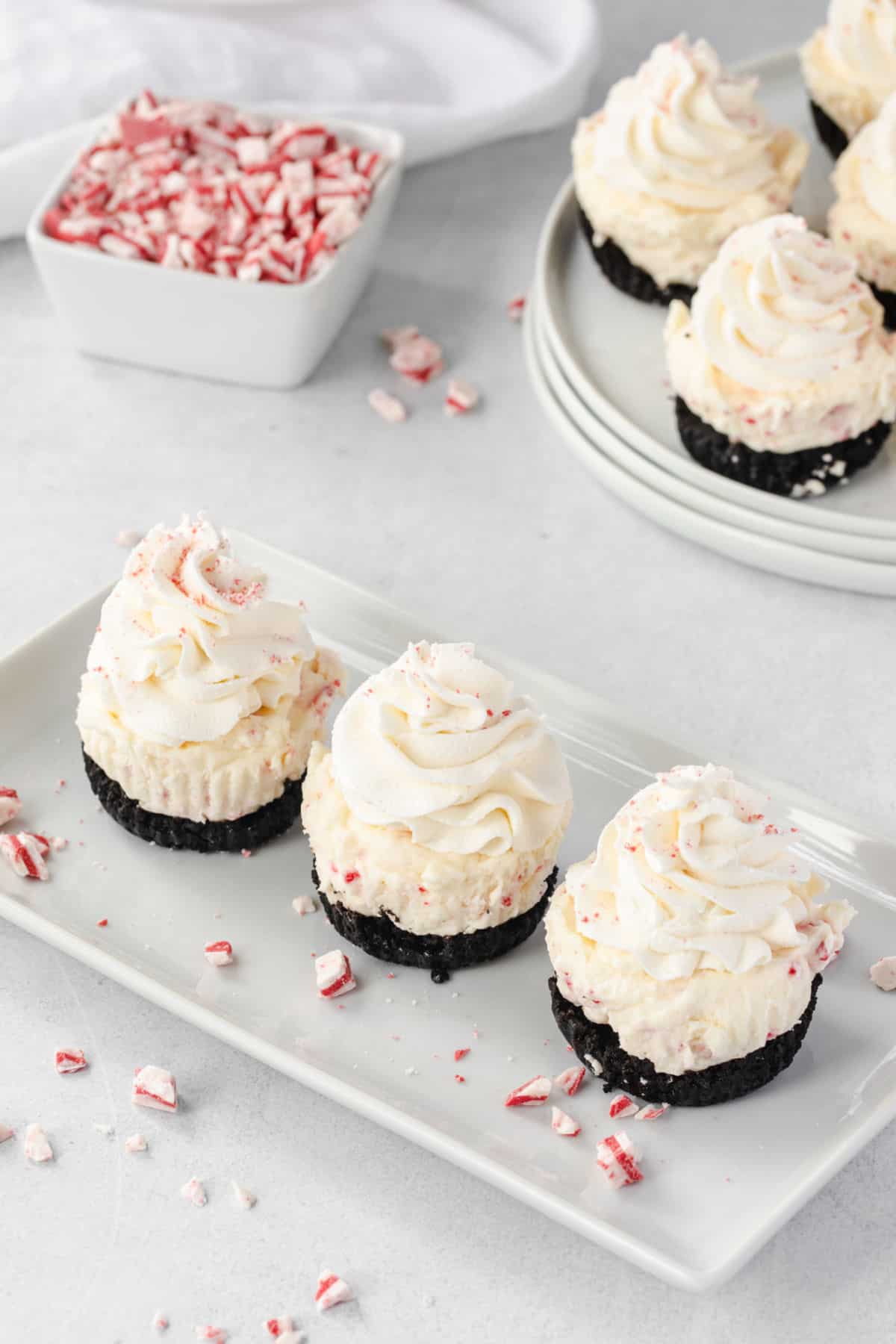 Recipe FAQs
How do you melt white chocolate chips?
You can melt the white chocolate chips in either the microwave or a double boiler. If you use the microwave, heat the white chocolate chips for 30 seconds at a time, stirring after each increment until melted and smooth. To melt the white chocolate without a microwave, use a double boiling method. Heat one inch of water in a saucepan on medium high heat. Place a double boiler or glass bowl over the saucepan. Add white chocolate chips, then stir until melted.
Can you freeze these peppermint cheesecakes?
Yes, these cheesecakes can be frozen. Freeze them on a sheet of parchment paper for about 30 minutes, or until solid. Then, wrap each one individually with plastic wrap. Place them in freezer bags or wrap with foil and keep in the freezer for up to 3 months.
Let frozen peppermint cheesecakes thaw in the fridge before serving.
Is peppermint extract the same as mint extract?
No, it is not exactly the same. Mint extract is made from a blend of both spearmint and peppermint. Peppermint extract is made purely from a peppermint plant which makes the flavor a little zestier.
Can I use peppermint candy canes in this recipe?
While candy canes CAN be used, I prefer the softer texture of the andes peppermint candies. Candy canes will also get a little chewy as they sit in the cheesecake.
More Cheesecake Recipes
Creamy cheesecake meets vibrant peppermint in these easy Peppermint Cheesecakes. This easy make ahead dessert is the perfect finish to a holiday meal!