Rich, decadent Chocolate Peppermint Mousse Pie. This is the holiday dessert you were waiting to indulge in!
Love this recipe? Sign up for Shugary Sweets email subscription and never miss out again!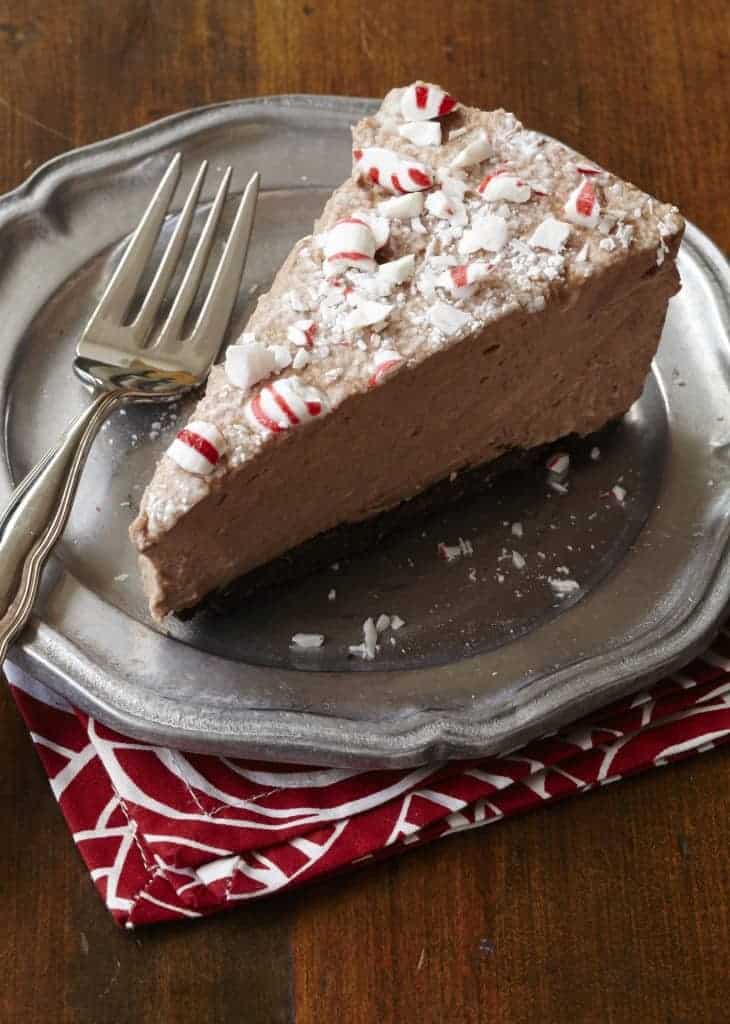 You guys are going to LOVE this recipe. Remember a couple weeks ago I shared these Peppermint Cream Bites?
Well, thank you all for voting, because I made it to the final round! I had the opportunity last week to go to the Better Homes and Gardens test kitchens and to create my own, original recipe.
Nope. Not nerve wracking at all. I'm used to having cameras and video recorders on me at all times. Getting my hair and makeup done professionally, no biggie. And working in their kitchen, being interviewed, not stressful at all.
Okay, notice the sarcasm?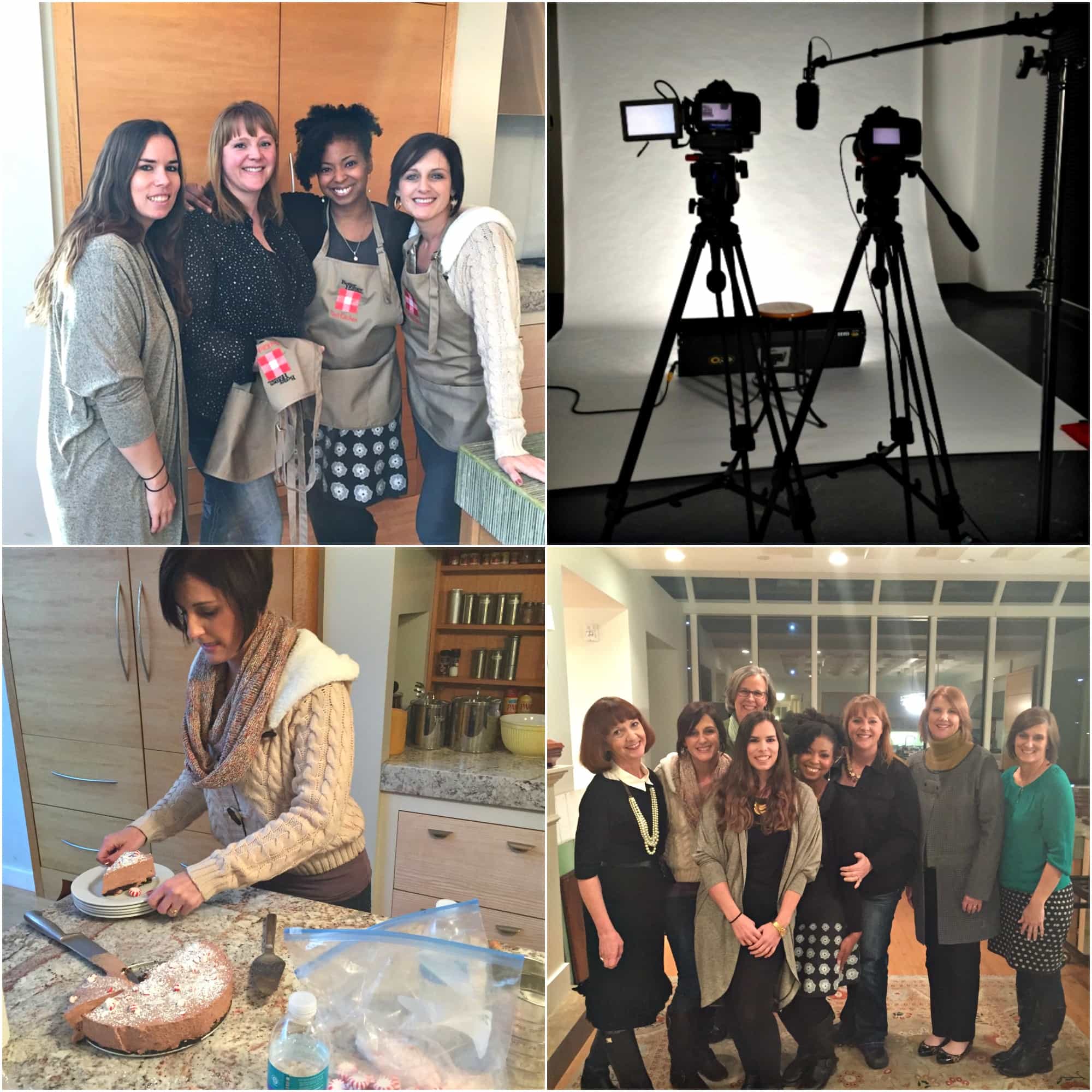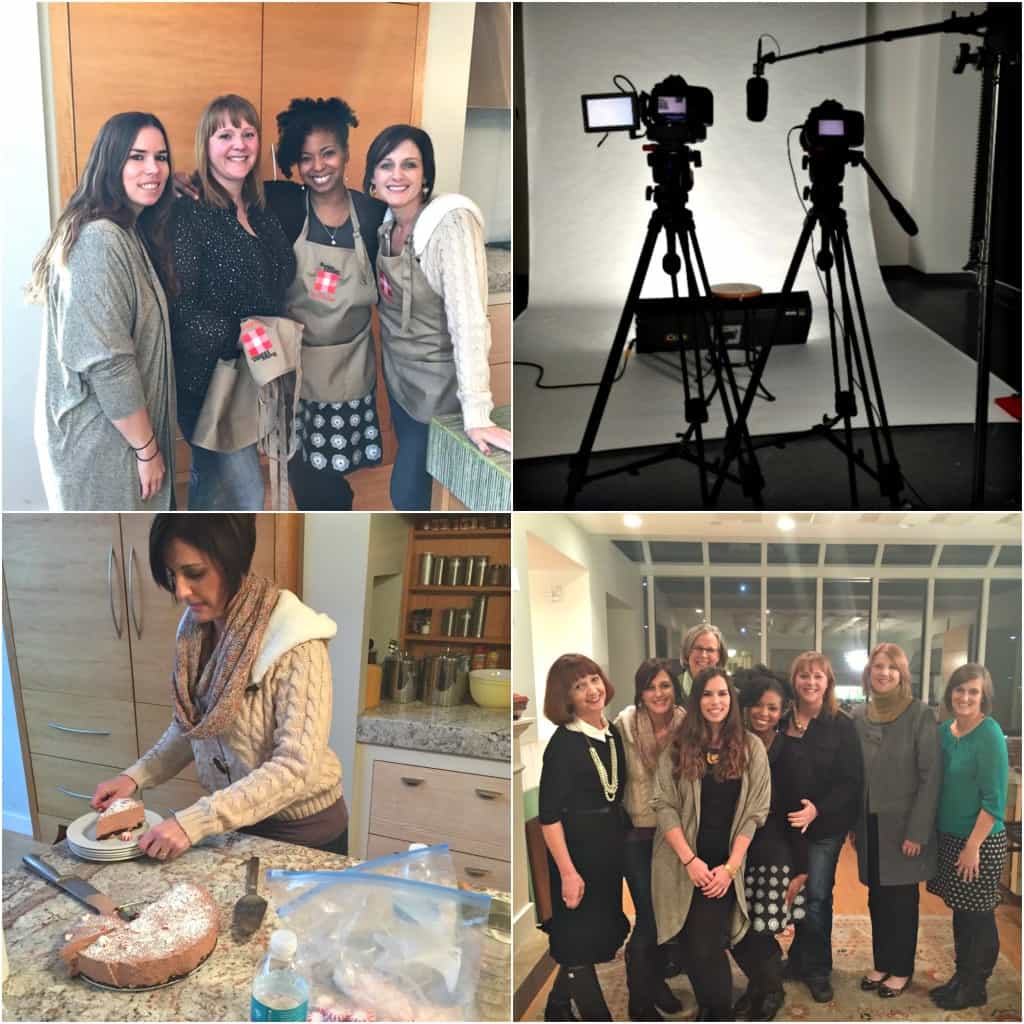 In all seriousness, I had a fantastic time. The team at BHG was so sweet and kind, and of course hanging out with some of my favorite bloggers was the highlight of my trip!
So today's recipe is what I made in their kitchen. The crust is made with hazelnuts, chocolate, butter and sugar, then baked! It's then topped with a light (yet incredibly rich) homemade chocolate, hazelnut, and peppermint mousse. A little dusting of powdered sugar and crushed candy canes give it a festive touch!
Want the recipe? (please say yes!!) Head on over to BHG!
And while you're there, please vote one last time. It doesn't have to be for my pie (although I appreciate any votes I receive)….just vote for your favorite holiday dessert, deal?
(If you don't want to vote, but just want the recipe, go here!)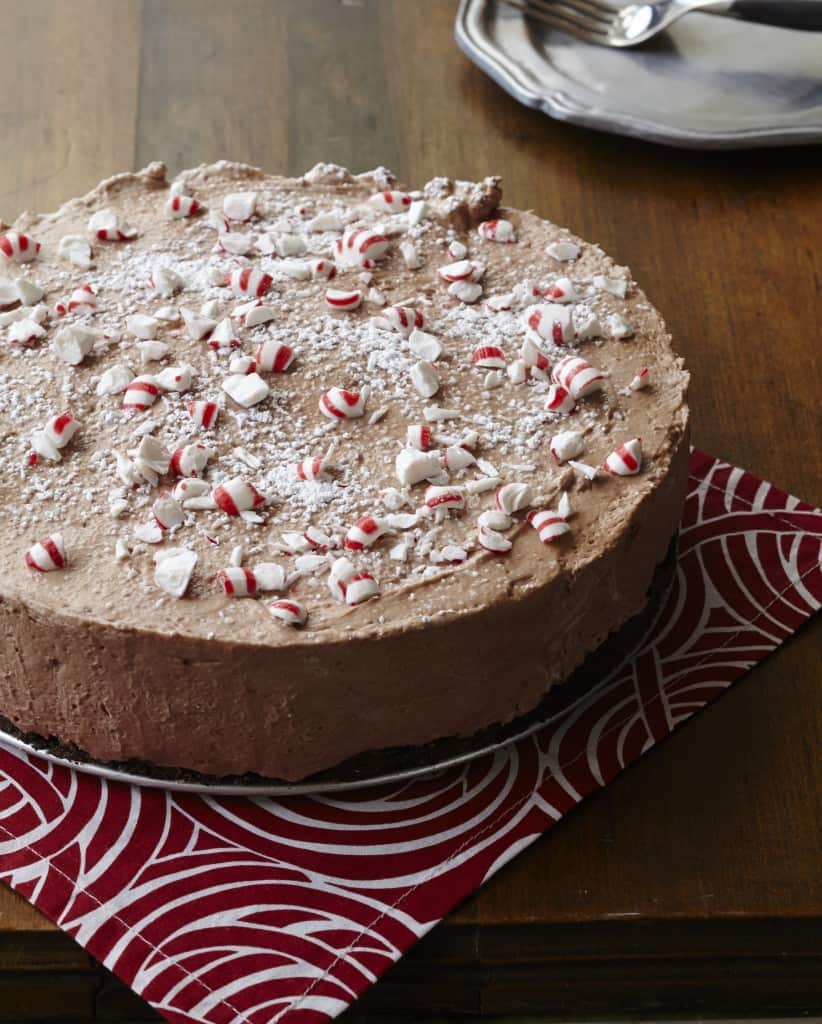 Chocolate Peppermint Mousse Pie
Ingredients
1 tablespoon unsalted butter
1/2cup hazelnuts, chopped
1/4cup granulated sugar
3/4cup all-purpose flour
3tablespoons unsweetened dark cocoa powder
6tablespoons unsalted butter, softened
1/4teaspoon kosher salt
1/2cup cold water
1envelope unflavored gelatin
1cup chocolate hazelnut spread
8ounces cream cheese, softened
1 1/2teaspoons peppermint extract
3cups heavy whipping cream
2/3cup granulated sugar
3tablespoons powdered sugar
1/4cup crushed peppermint candy canes
Instructions
Grease a 9-inch springform pan with 1 tablespoon butter; set aside.
In a food processor, pulse hazelnuts with granulated sugar until finely ground. Add flour, cocoa powder, softened butter, and salt. Continue to pulse until well blended. Press into bottom of pan. (Mixture may be crumbly; use hands to press into pan in an even layer.) Poke with fork.
Bake in a 375 degree oven for 18 to 20 minutes. Cool completely.
In a small saucepan, add cold water to pan. Sprinkle with gelatin and allow to bloom (absorb water) for 2 minutes. Heat saucepan on low and whisk gelatin water for several minutes until completely absorbed and dissolved. Remove from heat.
In mixing bowl, beat chocolate hazelnut spread, cream cheese, and peppermint extract. Add gelatin to cream cheese mixture. Beat on medium high for 2 to 3 minutes, scraping down sides of bowl as necessary. Set aside.
In a cold mixing bowl, beat heavy cream with sugar until soft peaks form. Fold in cream cheese mixture. Pour over cooled crust and refrigerate for 3 hours or overnight.
To remove springform pan, use plastic knife and run along edges. Remove sides of pan.
When ready to serve, sprinkle with powdered sugar and crushed candy canes.