Rich and decadent Chocolate Peppermint Mousse Pie is the holiday dessert of your dreams! A creamy nutella mousse filling is served over a chocolate hazelnut crust with a crushed candy cane topping. Every bite is better than the last!
If you like chocolate and peppermint together, give these Peppermint Dark Chocolate Meringue Cookies a try this winter too. Our readers love this easy chocolate peppermint shortbread cookie!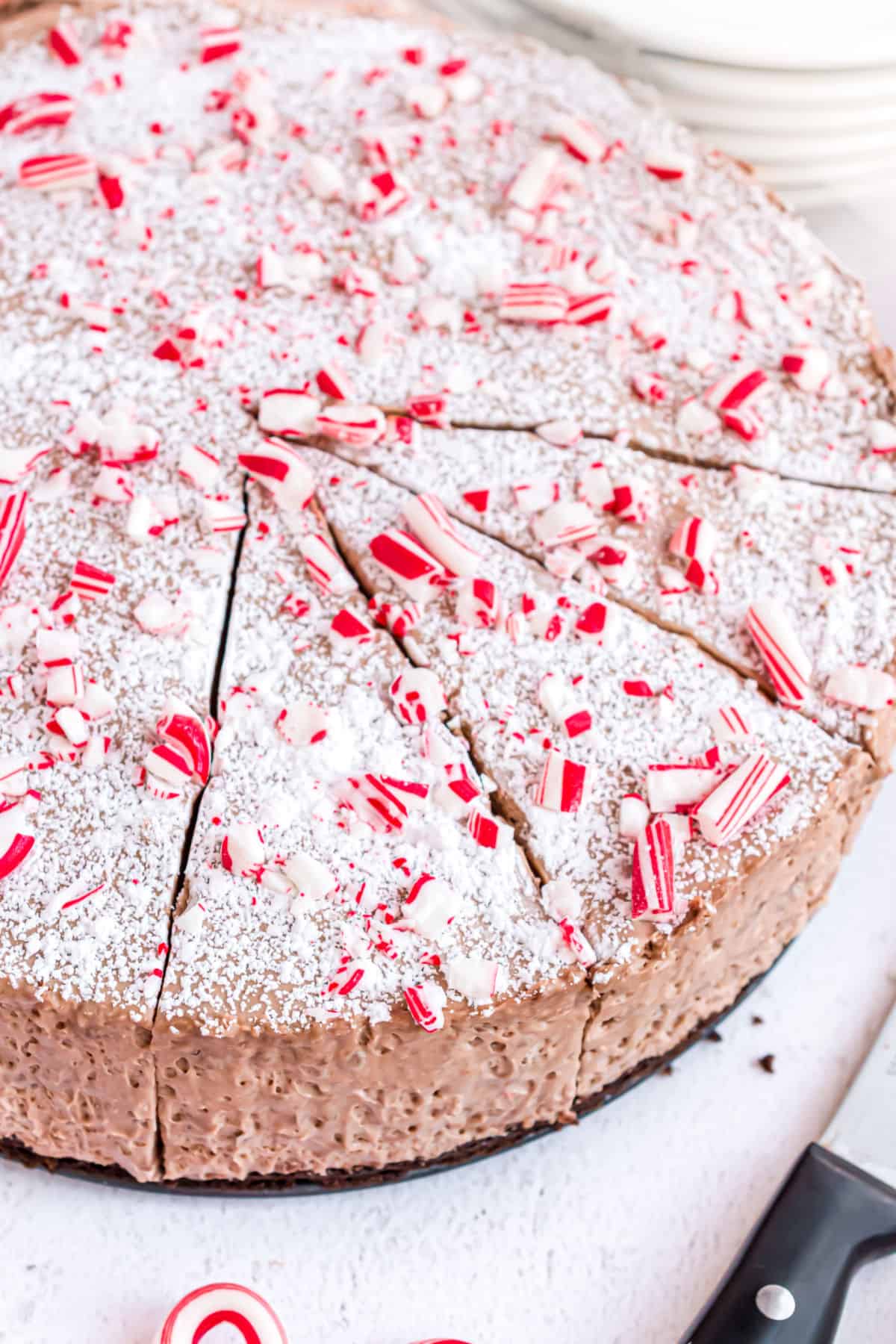 Why This Recipe is Best
When it comes to making desserts for the holiday, it's hard to resist classic Christmas cookies and Christmas candy.
However, sometimes you want something impressive, that is so flavorful and worth the time to make it!
Chocolate and peppermint. We can't enough of this flavor pairing especially at Christmas time! Hint: our chocolate peppermint grahams are amazing too.
Easy mousse pie. The hardest part of this recipe is the patience you need wait for the mousse to chill!
Festive and fun. This candy cane covered pie stands out from the crowd of the usual holiday dessert suspects.
Make ahead dessert. It stores well in the fridge or even the freezer!
Love peppermint? Use our easy no bake recipe for peppermint krispie treats for a festive dessert without the fuss.
Ingredient Notes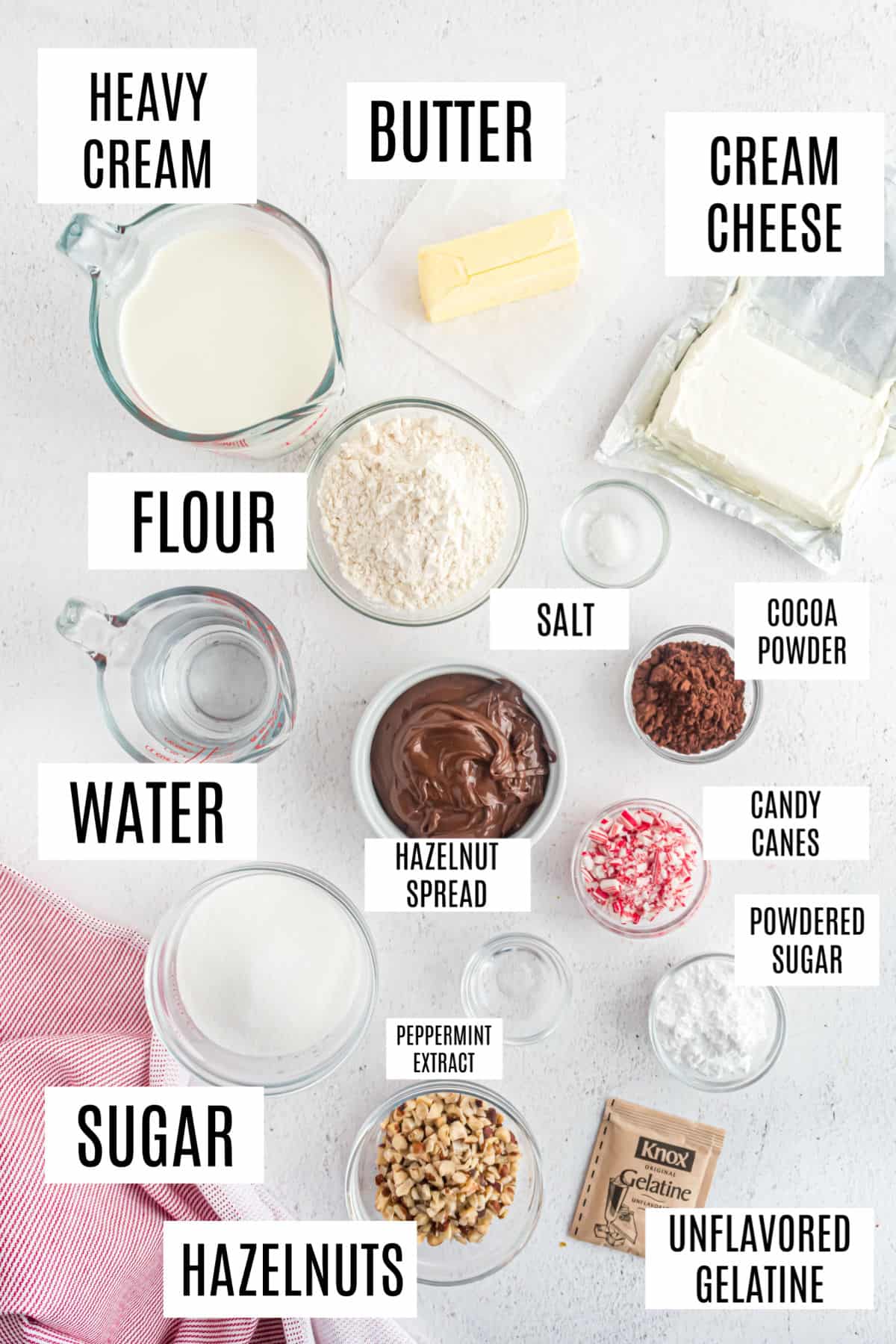 Dark cocoa powder – For best flavor, we recommend using the best quality cocoa you can. Ghirardelli and Hershey's Special Dark are two great options. Cheaper brands don't deliver nearly the same depth of chocolatey flavor without leaving a bitter taste.
Chocolate hazelnut spread – Blending a spread like Nutella into the mousse makes it twice as rich and decadent!
Unflavored Gelatin – You'll add it to cold water to "bloom" before incorporating it into the filling. Gelatin gives this soft pie filling its structure and shape.
Peppermint Extract – We recommend pure peppermint extract (not imitation flavoring) to give this chocolate pie a minty touch.
Step by Step Instructions
Combine the ingredients for the crust.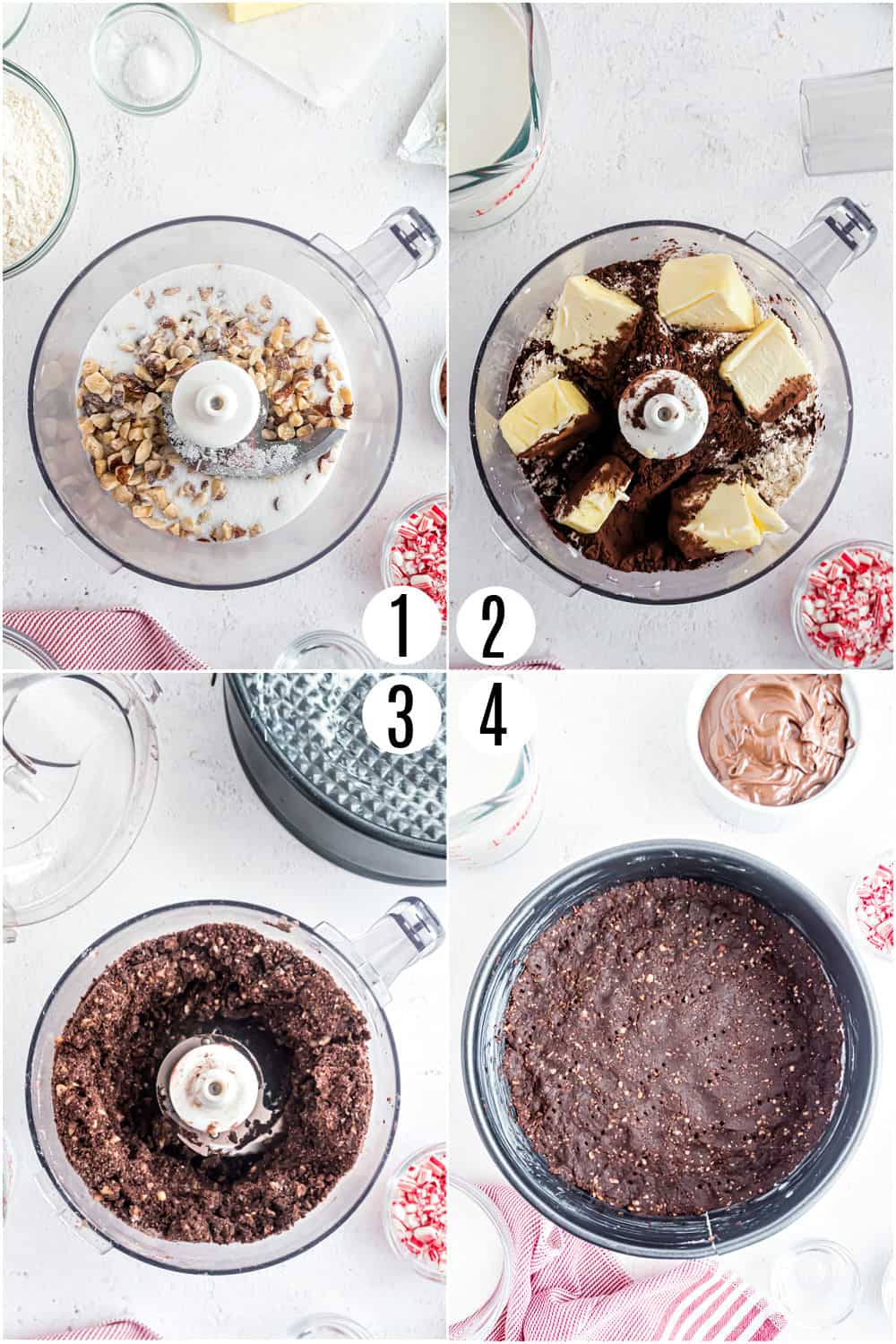 Use a food processor to finely grind hazelnuts with granulated sugar. Now add cocoa powder, flour, kosher salt and softened butter. Pulse until the ingredients are well blended.
Bake the crust.
Press the crust mixture into the bottom of a spring form pan. Bake for about 18 minutes. Let the crust cool completely.
Bloom the gelatin.
While the crust is cooling, sprinkle gelatin powder over a sauce pan of cold water. Let it "bloom" for 2 minutes, then bring the sauce pan to low heat, whisking the gelatin until it's completely dissolved into the water.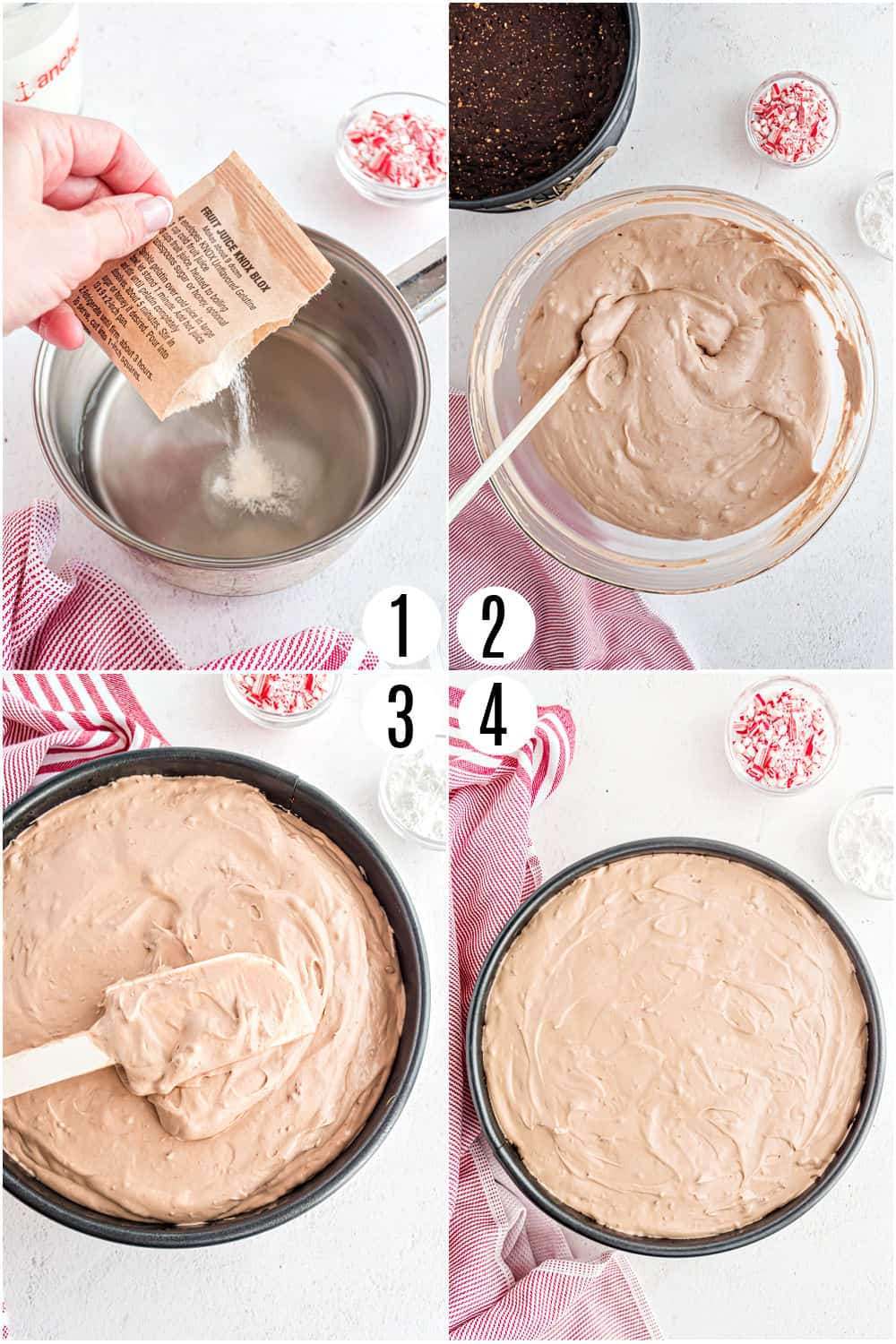 Make the chocolate mousse filling.
Now it's time for the best part! Beat together your chocolate hazelnut spread, cream cheese, and peppermint extract. Add the gelatin and continue to beat well with an electric mixer until the mixture is smooth and combined.
In a separate bowl, beat heavy cream with sugar to form soft peaks. Fold in the cream cheese mixture to form a mousse.
Assemble.
Pour the mousse over the cooled hazelnut crust. Refrigerate the chocolate peppermint mousse pie for at least 3 hours.
Sprinkle the top of the chilled pie with crushed candy canes and powdered sugar before serving.
Tips and Tricks
Removing pie from the pan: Run a plastic knife around the inside edges of the spring form pan before sliding off the sides.
Use a cold bowl: Heavy cream will form peaks much more efficiently and consistently if you whip it in a cold metal bowl. I like to place the bowl in the freezer for a couple of minutes before making this mousse filling.
Grease your pan: Rub about 1 tablespoon of butter along the bottom of your spring form pan to prevent the crust from sticking.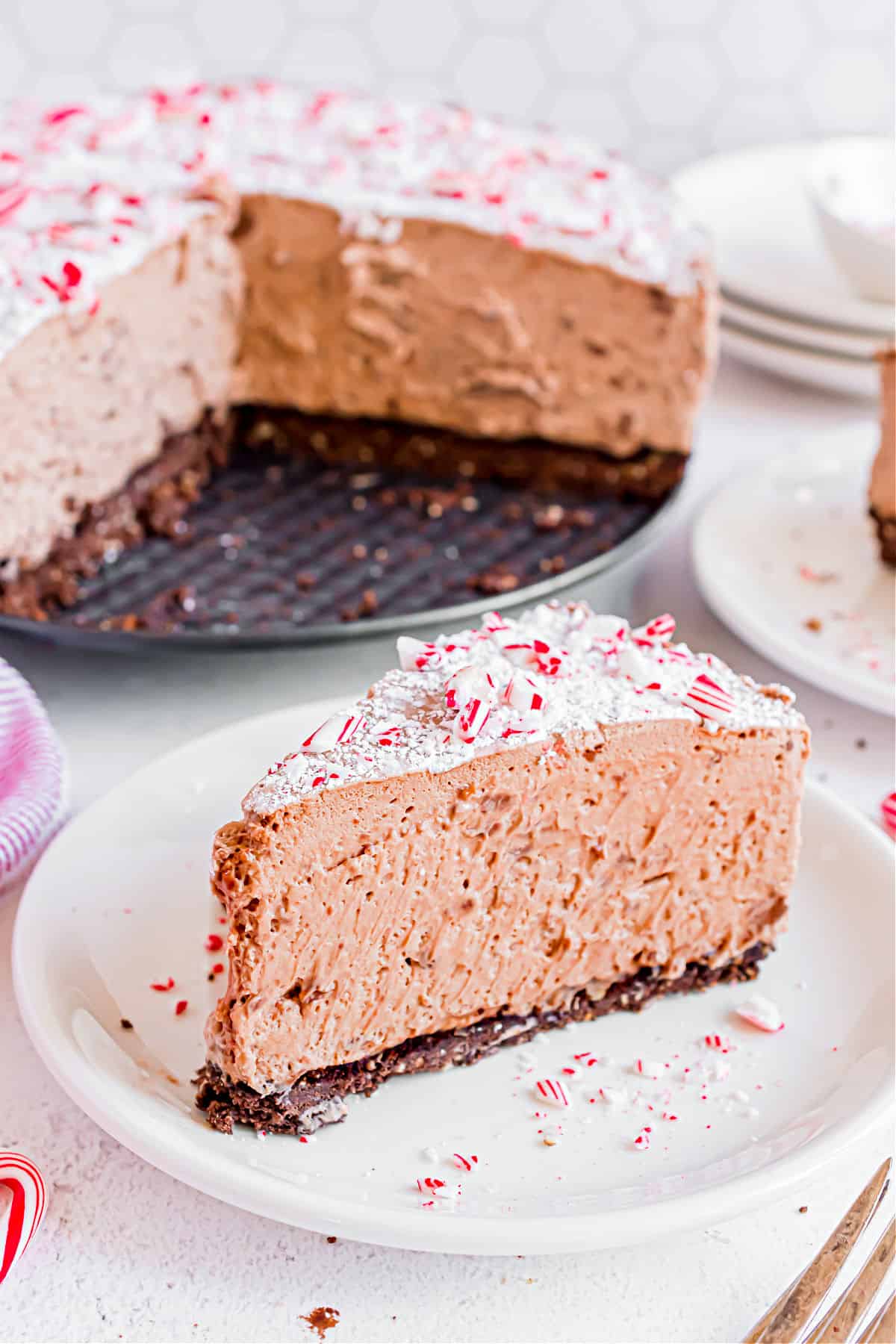 Recipe FAQs
How far in advance can I make Chocolate Mousse Pie?
This chocolate peppermint mousse pie can be prepared up to 2 days before serving, if stored in the refrigerator. Stored in the freezer, this pie stays good for 4 weeks! Thaw frozen mousse pie in the fridge before serving.
I don't have a spring form pan. Can I still make this mousse pie?
Yes, you can use a standard 9-inch round pan to make this recipe. You can slice and serve it right out of the pan, it will just be a little trickier.
What does it mean to "bloom" gelatin?
Blooming is an essential step for many recipes incorporating gelatin. To "bloom" gelatin, you add the powder to cold water and let it sit for several minutes. The powder will begin to increase in size as it absorbs the water. The blooming step helps the gelatin dissolve more easily as its heated.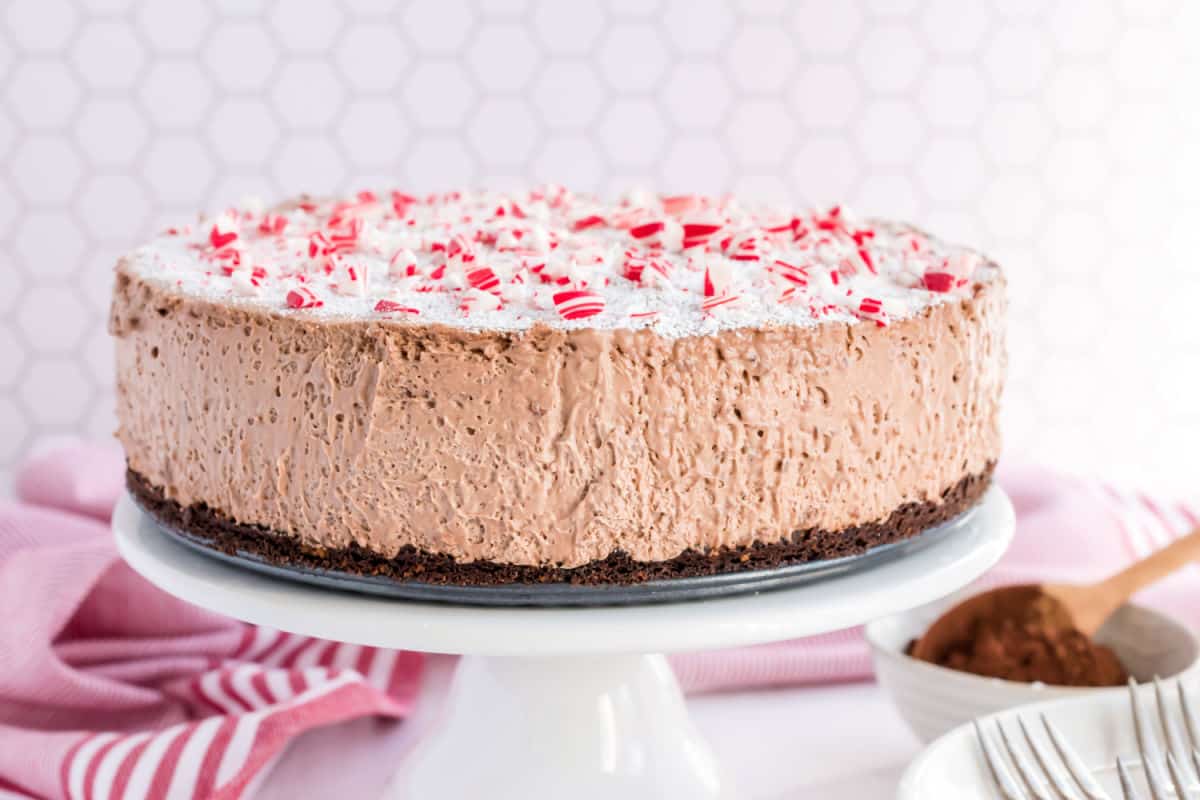 More Holiday Pies and Cakes
This Chocolate Peppermint Mousse Pie makes a perfect finish to any holiday meal or special occasion!