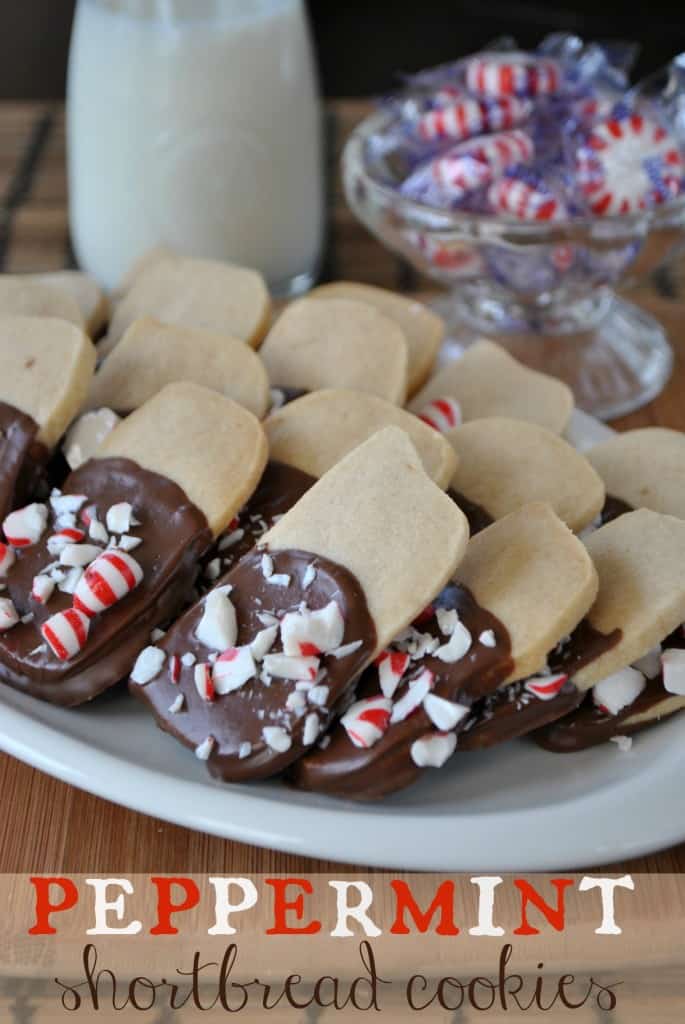 Hey Friends! I'm sharing one of my delicious cookie recipes over on Katrina's site, In Katrina's Kitchen. She is hosting a fun cookie series on her blog this month, "I'll Bring the Cookies." Tons of wonderful recipes shared by some of the most talented bloggers around (not sure why she asked me, but I'm quite honored)!!
Chocolate Peppermint Shortbread Cookies
Ingredients
1 cup unsalted butter, softened
1/2 cup powdered sugar
2 cup all purpose flour
1/4 tsp kosher salt
1 1/2 tsp vanilla extract
1 1/2 cup dark chocolate, melted
 20 peppermint candies, crushed in large pieces
Instructions
Cream butter and powdered sugar for 2-3 minutes until thoroughly combined. Add in flour, salt and vanilla. Mixture will be crumbly. Use hand to combine crumbs into one large dough ball (may take a few minutes).
Lay out a large piece of plastic wrap. Drop dough onto plastic, roll plastic wrap over dough. Shape dough into a log (about 2 1/2 inches diameter...rolling it on your countertop with the palms of your hand). Place wrapped dough in refrigerator for at least 30 minutes.
Slice into 1/4 inch cookies and place on a parchment paper lined baking sheet. Bake in a 350 degree oven for 10-13 minutes. Cool completely on wire rack.
Dip one end of cookie into melted chocolate, sprinkling immediately with peppermint pieces. Lay on parchment paper to set up (about one hour). Makes about 50-60 cookies! Store in air tight container. ENJOY!
Now. Go on over to Katrina's. And be sure you get a good look around, she has some amazing food over there.