Turn a simple shortbread cookie into a holiday delight! This Chocolate Peppermint Shortbread recipe features a buttery cookie dipped in melted dark chocolate and sprinkled with crushed peppermints. Make a batch of these for Christmas and watch them disappear!
Love Christmas Cookies? Try our whipped shortbread cookies for a more airy texture. Or give our Chocolate Crinkle Cookies a try this holiday!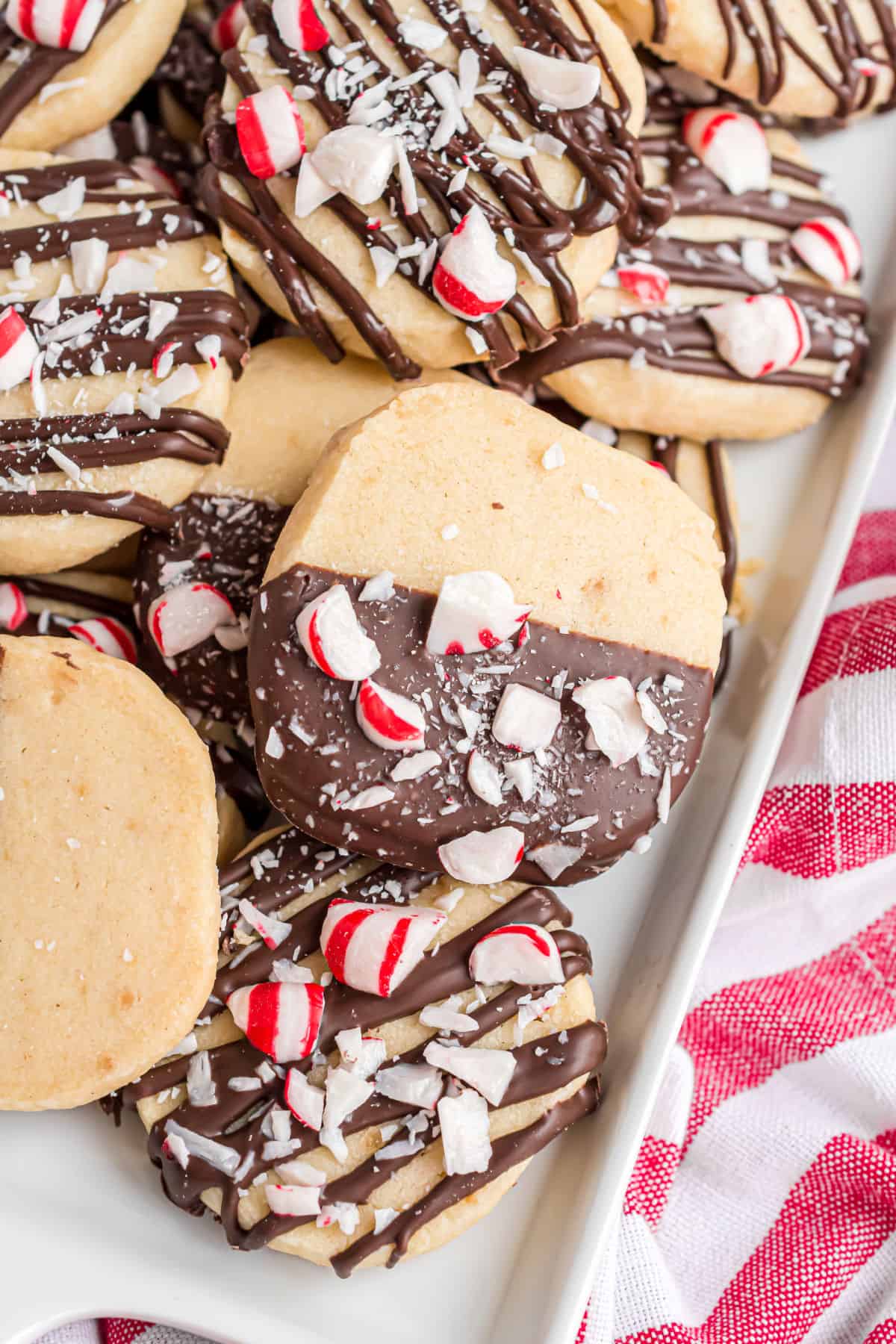 Why this Recipe Works
What is it about shortbread cookies that makes them so darn enticing? I can't get enough of that buttery flavor with the light crispy crumb that melts in your mouth.
They are one of the simplest cookies out there! With a dough that's made primarily of just butter, powdered sugar and flour, they're a cinch to make and dress up in all kinds of fancy ways.
To give my Shortbread Cookies a festive upgrade, I dipped them in smooth melted dark chocolate and topped them with crushed candy canes.
The rich cocoa flavor and cool peppermint are a dream together!
Taste them on a shortbread cookie and . . . well, let's just say you might want to make a double batch of these cookies.
Chocolate and peppermint go together so well. Have you tried our Chocolate Mousse Pie with crushed candy canes? SO GOOD.
Ingredient Notes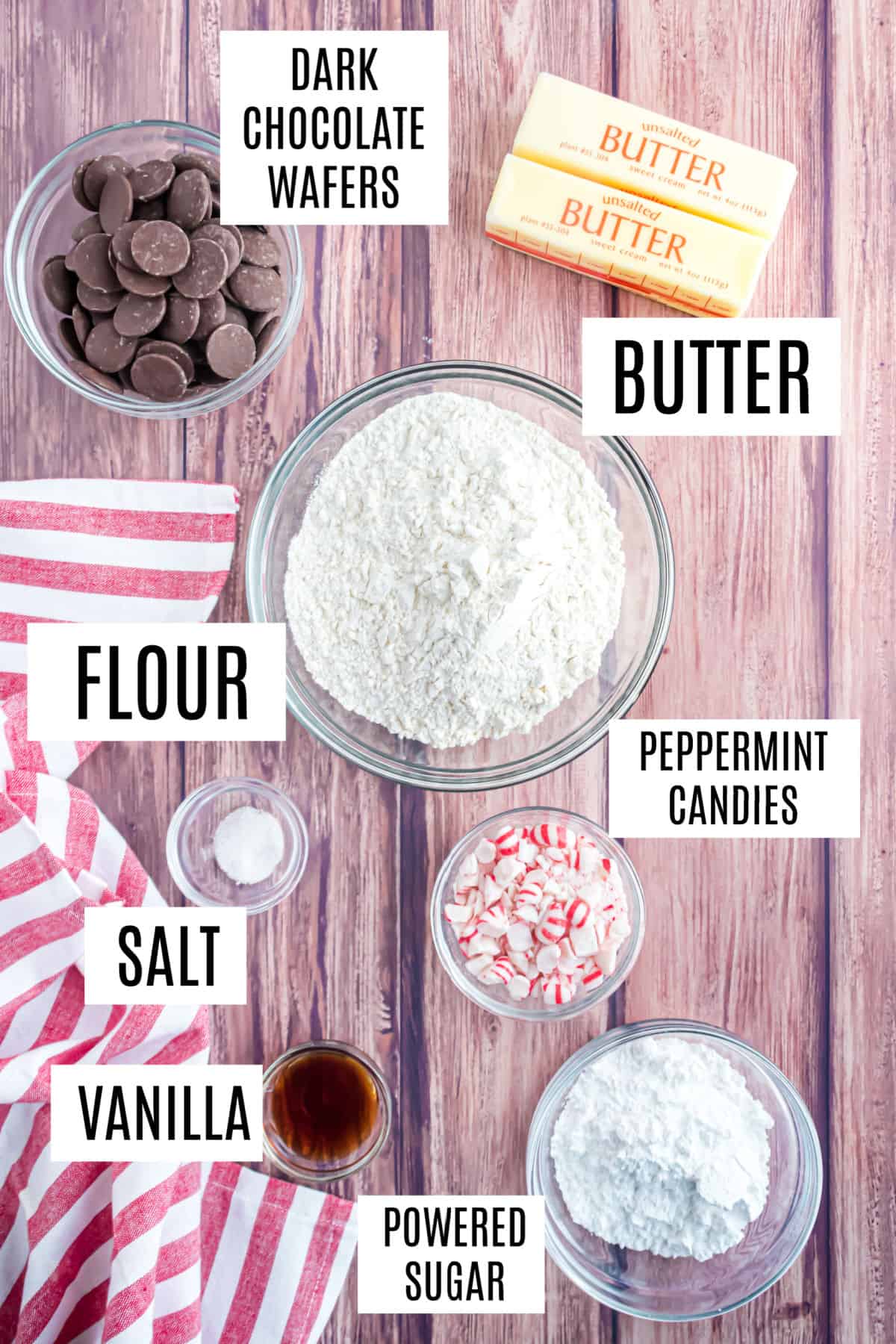 Unsalted Butter – If using salted butter, omit the added kosher salt from the recipe.
Vanilla extract – Make your own vanilla extract for even better flavor!
Dark chocolate – Use a good quality dark chocolate here. I love Ghirardelli melting wafers, they taste great and melt smooth.
Peppermint candies – Round hard candies or candy canes work perfectly. Place the candies in a bag and crush into large pieces before adding them to the shortbread.
Easy Instructions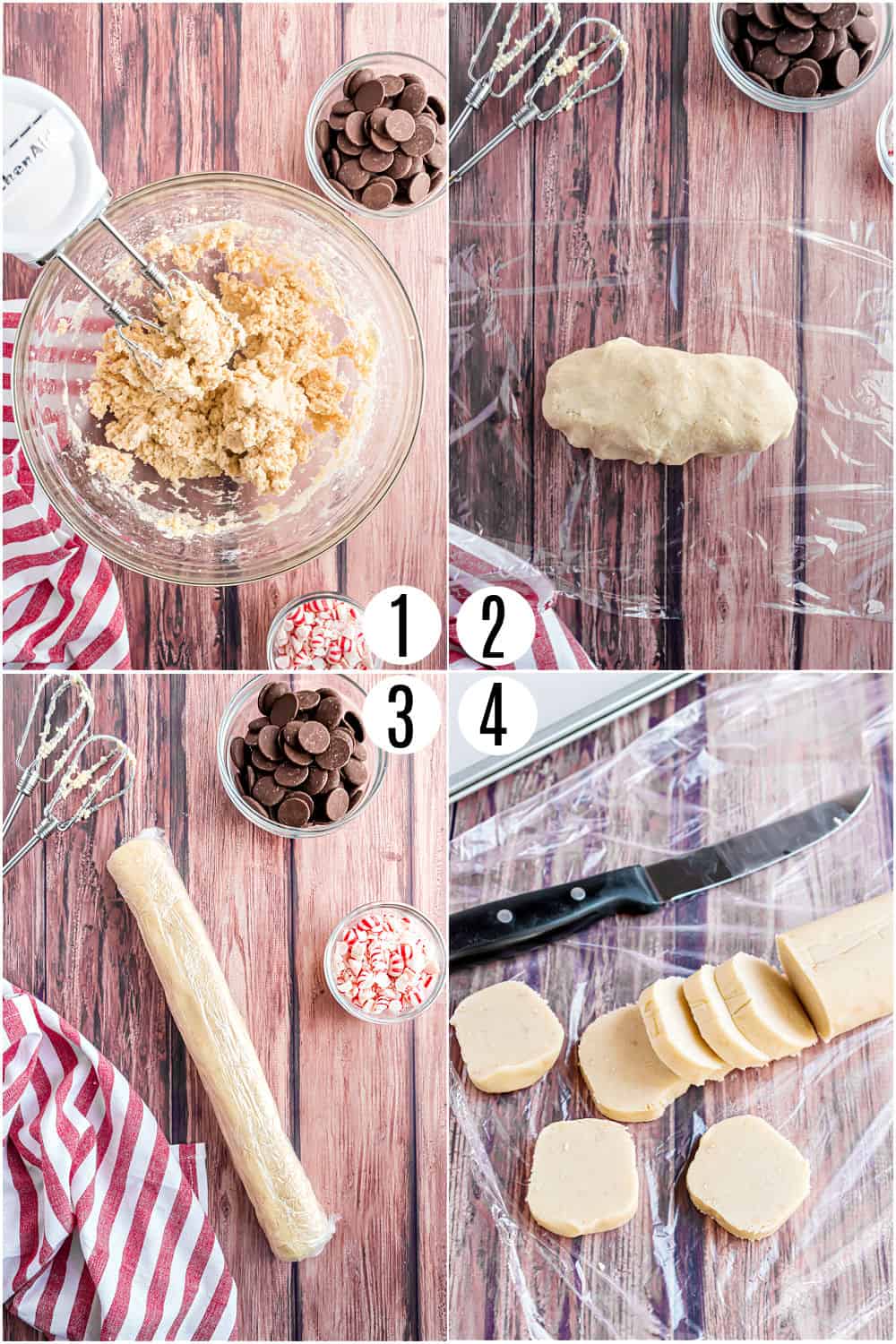 Make the dough.
Mix together the ingredients for the shortbread to form a crumbly dough. Using your hands, shape the dough into one large ball, then drop it onto a piece of plastic wrap.
Shape the dough into a log, wrap with plastic wrap, then chill in the fridge. Slice into cookies. Try to keep the slices about 1/4-inch thick.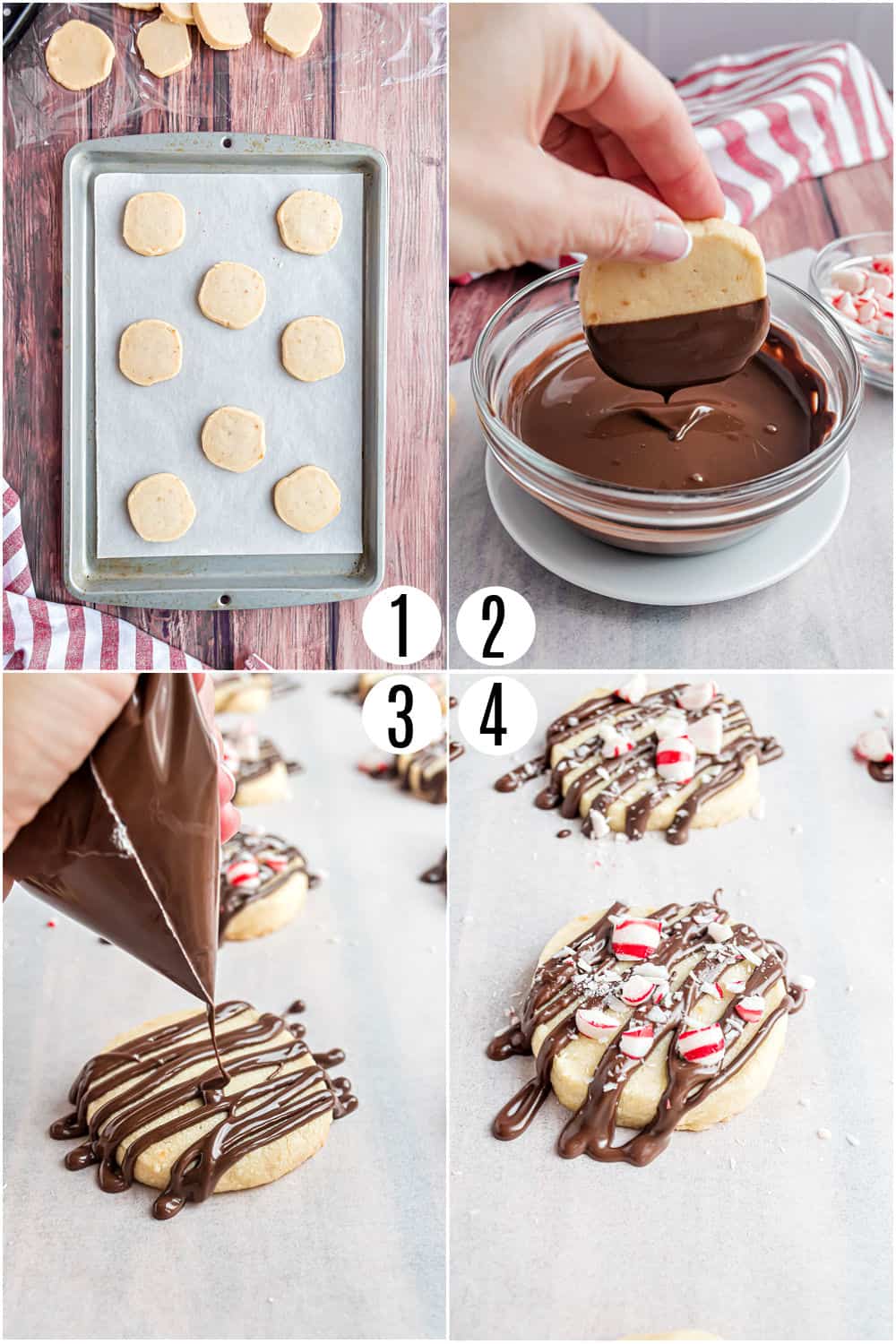 Bake and decorate.
Bake the cookies for 10-13 minutes or until the edges are golden.
When the cookies are completely cool, dip one end of each into melted dark chocolate. Place dipped cookies on parchment paper and immediately sprinkle with crushed peppermints.
Or add the melted chocolate to a ziploc bag, snip off the corner and drizzle over cooled cookie. Sprinkle with crushed candy.
Let the cookies set up for about an hour or until the chocolate is firm.
Tips & Tricks
Year round shortbread cookies. You can make these all year long by substituting other colored starlight peppermints for the red and white peppermints.
Use your hands. Using your hands to roll the dough into a ball, then shape it into a log helps the crumbly mixture hold together. Without the warmth of your hands, the dough will not hold together enough to chill and slice.
Don't over bake. The shortbread may still look a little soft in the center when you take the cookies out of the oven. This is okay–it'll continue baking as it cools on the cookie sheet. Shortbread burns quickly, so keep a close eye on these if you leave them in the oven longer then 10 or 12 minutes.
Freeze Cookies. Use my tips on how to freeze cookie dough for later.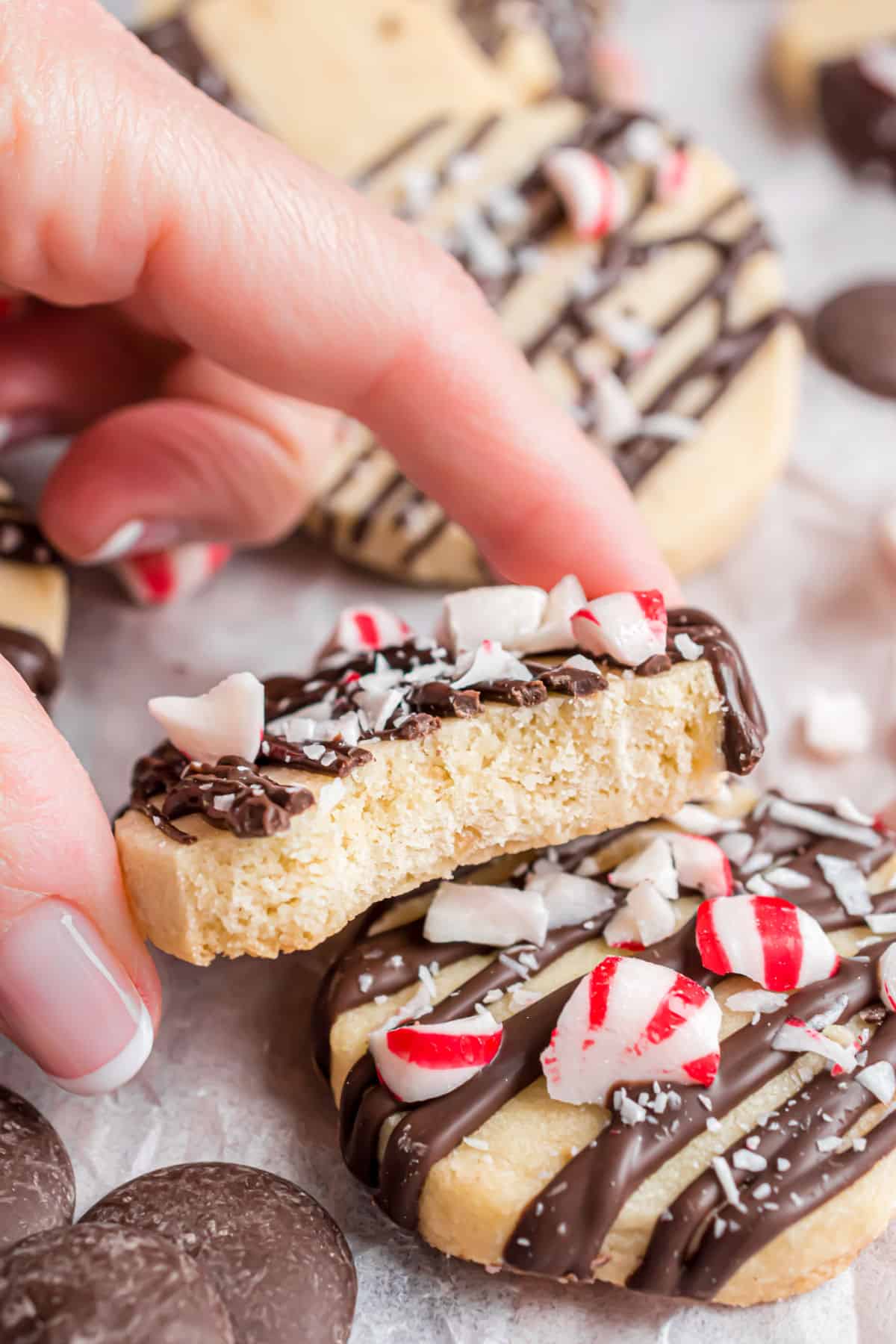 Recipe FAQs
How many cookies does this recipe make?
Cutting the cookies into 1/4 inch slices, I get about 36 shortbread cookies.
How do you store these cookies?
Once set, transfer the shortbread to an airtight container and store at room temperature. No need to refrigerate unless your home runs very warm.
Can you freeze shortbread?
Yes, both the baked cookies and the dough keep well in the freezer for about 3 months. If you freeze the cookies after baking, do it before dipping them in chocolate. When you're ready for Chocolate Peppermint Shortbread, let the frozen cookies thaw and dip in fresh melted chocolate!
Does this recipe work with milk chocolate?
You can totally make this with milk chocolate if you prefer the flavor! White chocolate would be a delicious and festive choice for the holidays, too.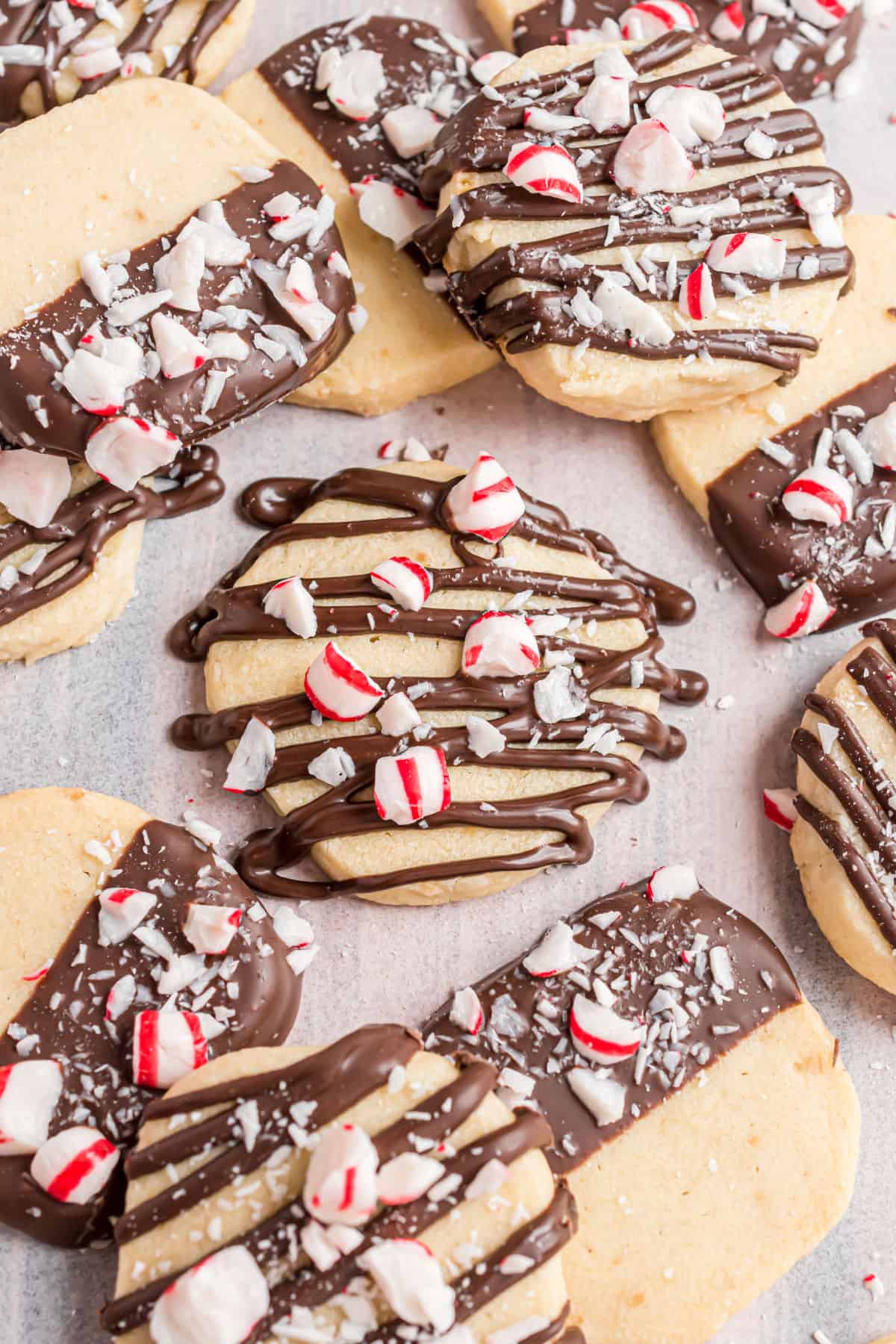 More Holiday Dessert Recipes
Why not dress up your shortbread for the season? Chocolate Peppermint Shortbread brings Christmas cheer to your table in the form of a perfect chocolate-dipped cookie!