Guaranteed to bring holiday cheer to your taste buds, Chocolate Cookies with peppermint topping are a festive addition to your Christmas Cookie trays!
If you love peppermint desserts, you'll enjoy a big bowl of this easy, no bake Peppermint Puppy Chow! Or try a batch of delicious Peppermint Toffee (made from saltine crackers)!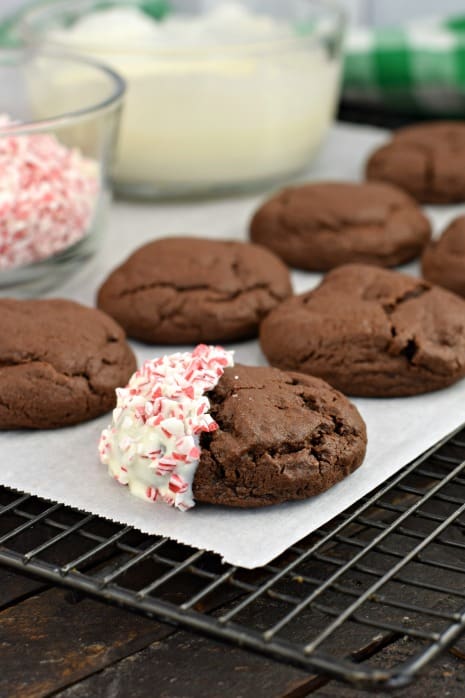 Table of Contents
Christmas Cookies
It's almost Christmas and there's one thing on my mind: cookies.
Okay, there are other things on my mind too. Having the family together, shopping, decorating, getting my ducks in a row before the holidays, etc. etc. . . . but cookies are occupying a lot of my mental real estate.
Every year, I make Christmas Cookie and treat trays to share with friends, family and teachers.
I try to make a nice balance of old favorites (like Chewy Sugar Cookies) and some novelties. I like adding a few squares of Christmas Fudge or pieces of Orange Peel Candy to the treat trays, too.
The cookies we're talking about today are the ideal balance of novelty and tradition. The classic holiday candy cane flavor, added to a soft chocolate sugar cookie gets me in the Christmas spirit for sure!
Chocolate Sugar Cookies
If you know me at all, you know that I believe adding chocolate is always a good idea. So, I thought: If regular sugar cookies are good, how great would CHOCOLATE sugar cookies be?
The answer, my friends, is pretty darn spectacular. Truth be told, I could have eaten a tray of these chocolate cookies without adding a single garnish or decoration.
They are a classic sugar cookie with the addition of rich cocoa flavor. These are not your typical "cut out" cookies, just rich, chocolate chewy cookies.
Give me a couple of these and a mocha latte and I need nothing else to feel tidings of comfort and joy.
But, when it came to giving these to others, I knew they needed a little punch up in the appearance department. Dipping them in white chocolate and crushed peppermint candy canes made the cookies look eye-catching and extra festive!
Easy Instructions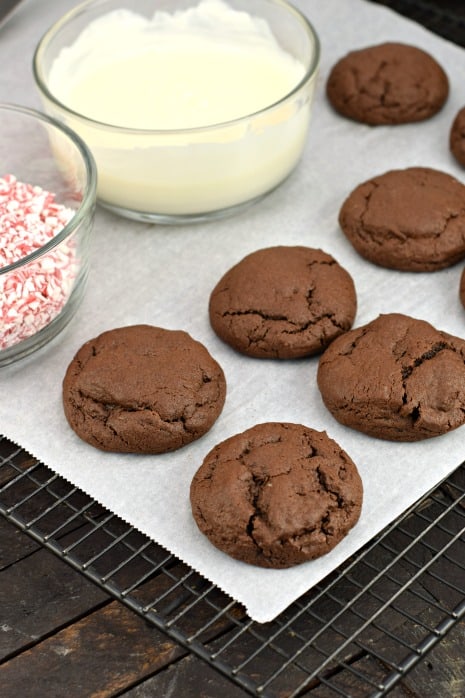 If you don't have the time to spend meticulously frosting and decorating cookies, this recipe is the one you need! Just bake, dip, set and serve!
STEP 1. Make the cookie dough
In a large mixing bowl, beat butter with brown and white sugars until light and fluffy. Add the eggs, one a time, mixing well after each addition. Add in vanilla extract and espresso powder.
In a spearate bowl, combine flour, cocoa powder, baking soda, and salt. Slowly add in to the butter mixture, being careful not to over beat.
STEP 2. Chill and bake
Cover dough with plastic wrap and refrigerate for about 30-45 minutes.
Meanwhile, preheat your oven to 350 degrees and line a baking sheet with parchment paper.
Using a 2 Tbsp cookie scoop, scoop dough and place on prepared baking sheet.
Bake for 10 minutes. Lightly press the cookie dough if it is still domed on top. Then, remove the cookies from the pan and let them cool completely on a wire rack.
STEP 3. Dip in white chocolate and peppermint
While the cookies are cooling, melt white chocolate wafers in the microwave or a double boiler according to the package directions.
Crush peppermint candy canes by placing them in a ziplock bag and rolling over them with a rolling pin several times.
When the cookies are cooled, dip one end of each in the melted chocolate and then roll in the candy canes pieces. Return the cookies to a sheet of parchment paper and let set for about 15 minutes.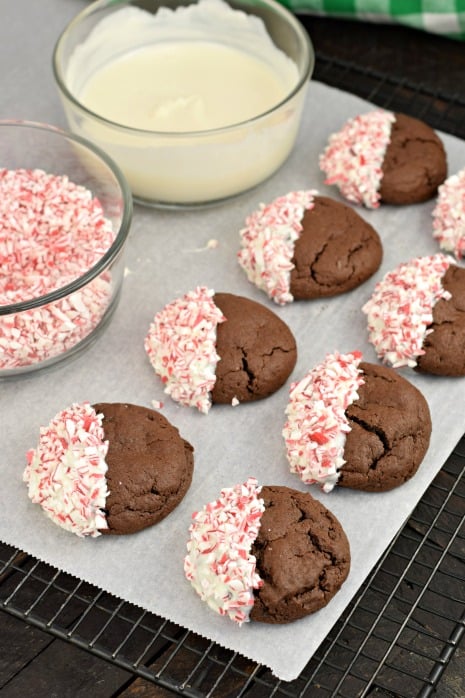 Recipe FAQs
How do you store chocolate sugar cookies?
Store chocolate sugar cookies in an airtight container at room temperature for up to one week.
Can you freeze chocolate cookies?
Yes you can freeze chocolate cookies, without the garnish of peppermint and white chocolate. Store in airtight freezer container for up to 30 days.
What kind of baking cocoa should I use in chocolate cookies?
An unsweetened baking cocoa is best for chocolate cookies. Choose one that will give a great flavor, like Ghirardelli!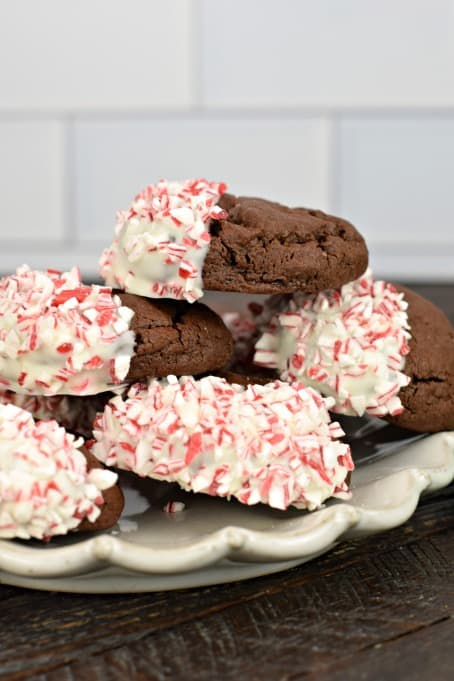 Substitutions
Use crushed hard peppermint candies instead of candy canes if that's what you have available!
White chocolate morsels (chips) will work as an alternative to the melting wafers, but I find they make the chocolate layer a little harder.
Instant coffee can be substituted for the espresso powder. Choose a strong dark roast flavor for best results.
More Cookie Recipes
Don't forget to save a few Peppermint Chocolate Sugar Cookies for Santa!