Bake up a batch of these easy Chocolate Whoopie Pies just in time for the holiday season. Soft chocolate cookies sandwiched together with a thick frosting filling and covered in sprinkles make a delicious addition to your cookie tray!
For more fudgy holiday treats, be sure to try our Chocolate Peppermint Cookies! Or, whip up a batch of these delicious Cranberry Bliss bars for a festive dessert.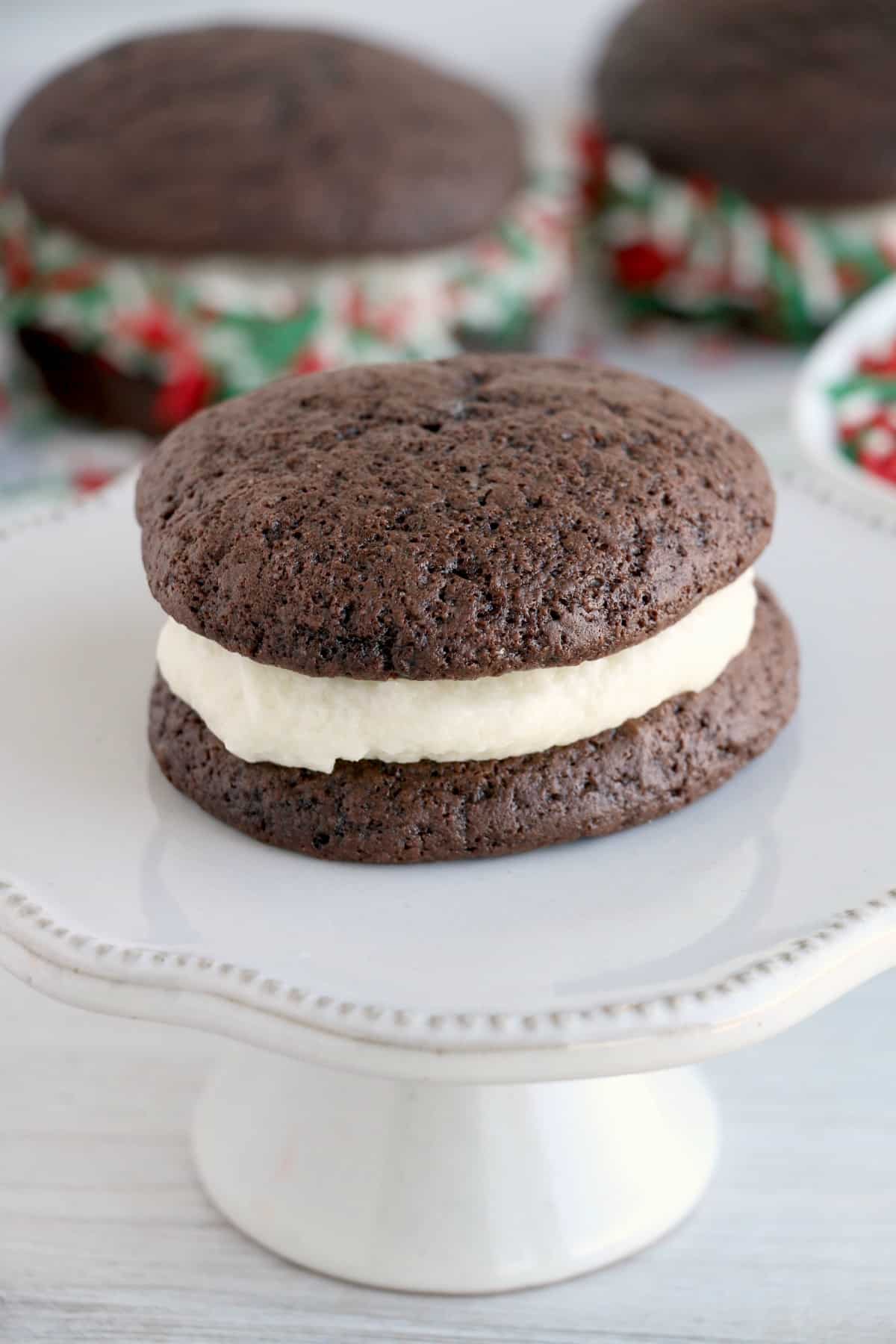 Holiday Whoopie Pies
Whoopie Pies might not be the first dessert that comes to mind when you think about holiday baking, but there are plenty of reasons you should make a batch of two this season.
Whoopie Pies are soft cake-like cookies with a layer of cream filling between them. They were a childhood favorite of mine! (They remind me of this delicious Ding Dong Cake)!
Now I love making them with all kinds of different combinations of flavors like these Mint Chocolate Chip Whoopie Pies and these Lemon Poppy Seed Whoopie Pies. These Pumpkin Whoopie Pies are incredible!
This recipe creates classic Chocolate Whoopie Pies that I dressed up with sprinkles for the holiday season.
The filling isn't too sweet and reminds me of the cream center in a Hostess cake. You don't need a special whoopie pie pan to make this recipe and I even used a box cake mix for even more convenience.
You could also try these Chocolate Chip sandwich cookies if you love the combo of cookie and frosting!
Ingredient Notes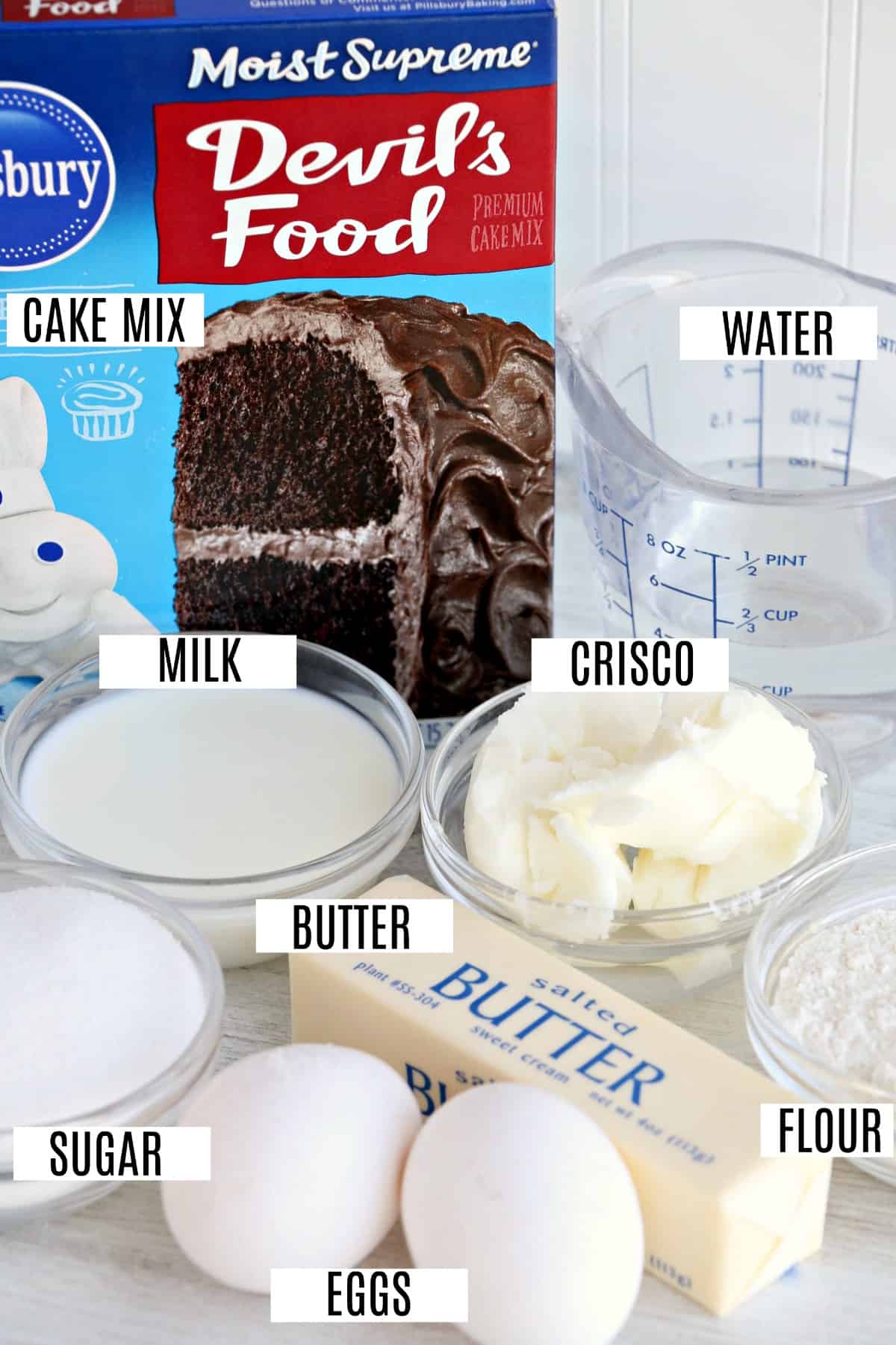 Devil's Food Cake Mix – Chocolate cake mix can be substituted but the whoopie pies don't bake up quite as thick. You can also substitute your favorite from-scratch Chocolate Cake batter.
Sprinkles – These are optional for making the pies more festive! I recommend the jimmies type of sprinkles for best results. This time, I used red and green for Christmas. You could use blue for Hannukah, pink and red for Valentine's Day or mix and match your favorite colors.
Step by Step Instructions
STEP 1. Make the cake batter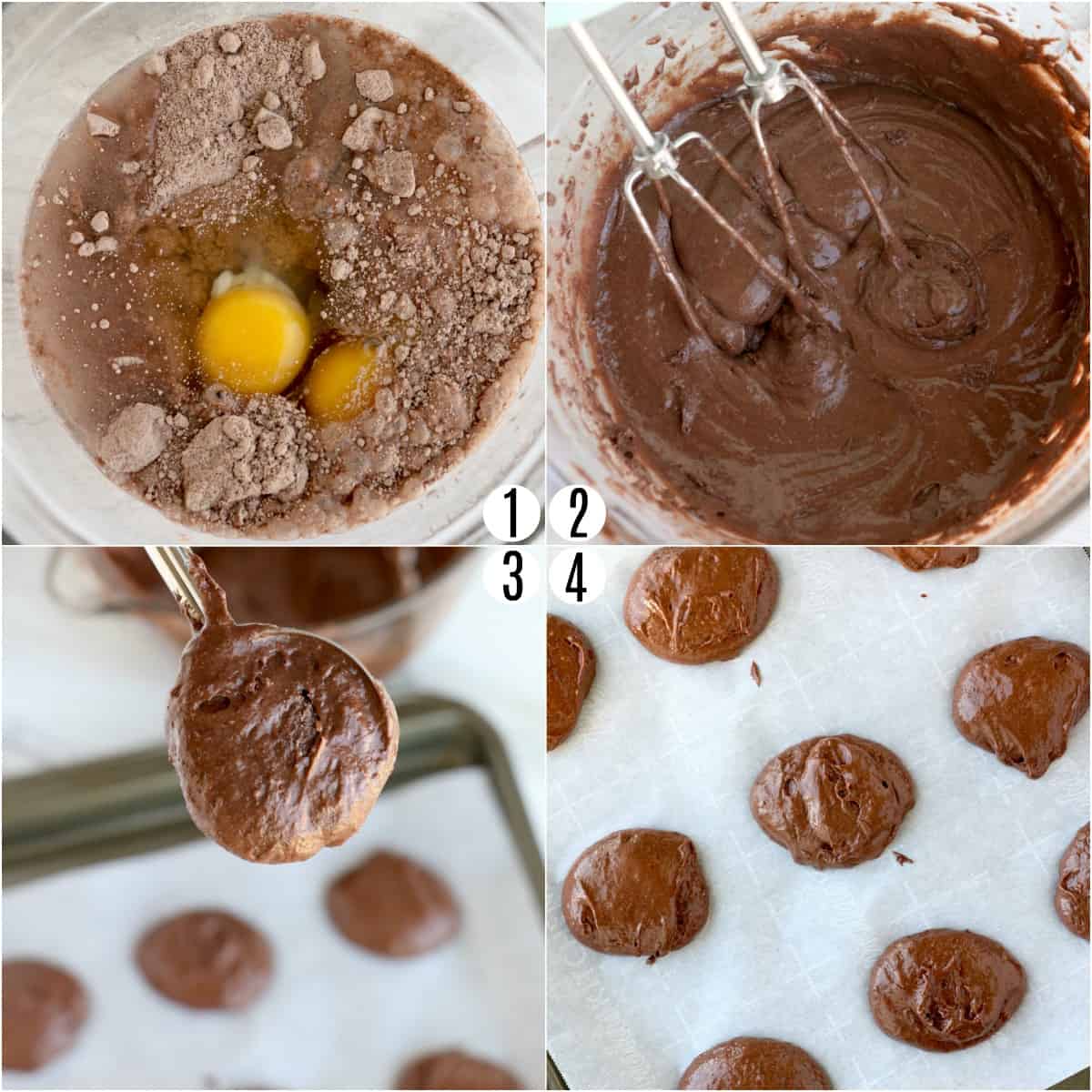 Mix together the cake mix, eggs and water until combined. Use a cookie scoop to drop tablespoons of batter onto a baking sheet lined with parchment paper. Make sure to leave several inches of space between the disks of batter.
STEP 2. Bake
Bake the cookies for 12 – 15 minutes or until the centers of the cookies are set. Let them cool completely while you make the filling.
STEP 3. Prepare the filling
Heat the milk and flour in a small sauce pan on the stove, stirring constantly until the mixture gets thick. Remove the pan from heat and let the mixture cool.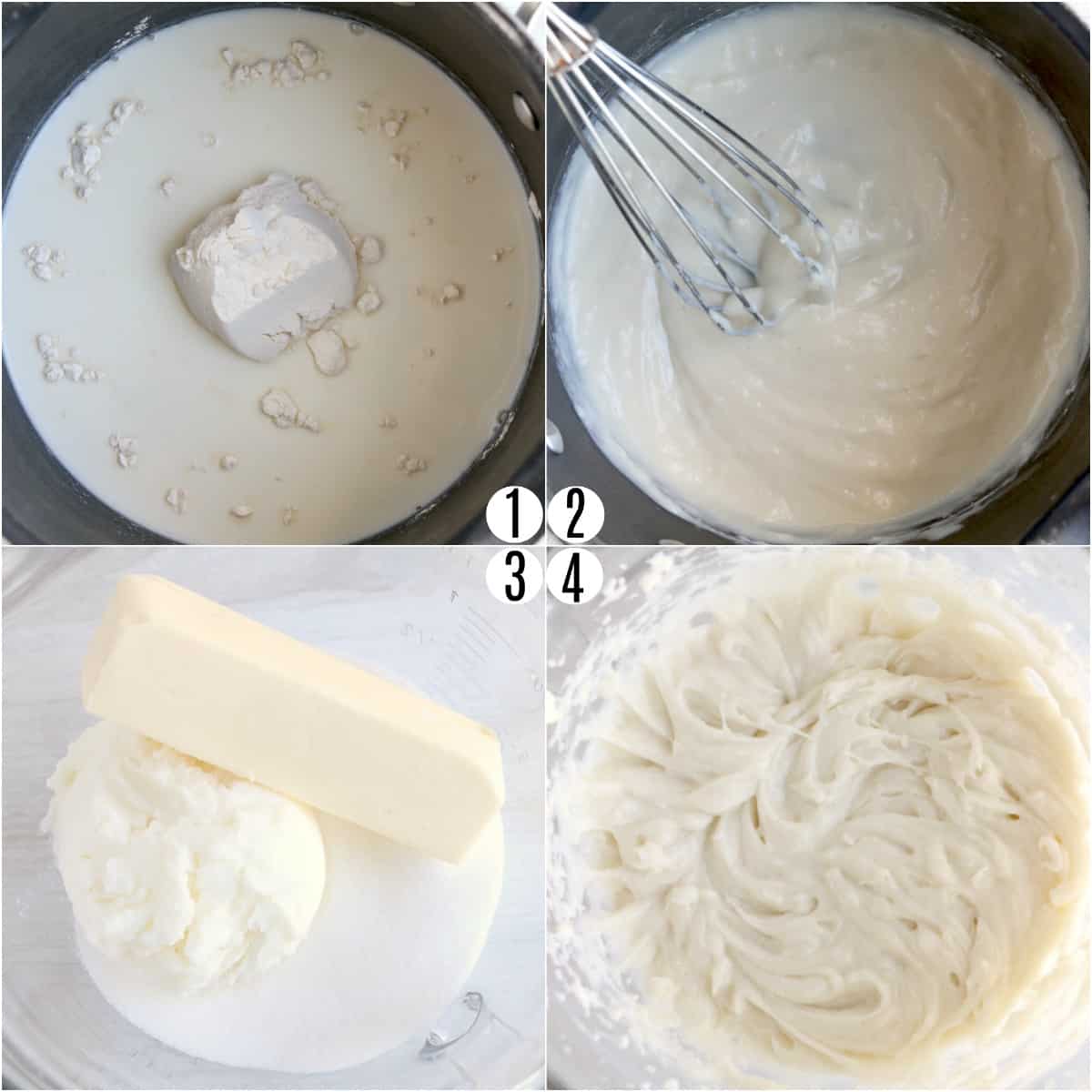 Meanwhile, beat butter with shortening and sugar in a large bowl. When the milk mixture is cooled, add it to the bowl with the butter mixture and beat to combine.
STEP 4. Assemble the whoopie pies
On the flat side of one cookie, place a tablespoon full of filling. Top the filling with another cookie and repeat with another pair of cookies until all the whoopie pies are assembled.
Roll the whoopie pies in a bowl of sprinkles, then place them on a plate or wire rack to set.
Recipe FAQs
How do you store Whoopie Pies?
I prefer to store whoopie pies in an airtight container in the refrigerator and enjoy them cold! If you like, you can let the whoopie pies come to room temperature before serving.
Can you freeze whoopie pies?
Yes, whoopie pies hold up well in the freezer for 2 -3 months. Be sure to wrap them well in freezer bags and let them thaw in the refrigerator for several hours (or overnight) when ready to enjoy.
How many cookies does this recipe make?
The recipe should yield 20 individual cookies that you put together to form 10 whopie pies.
Why is my filling runny?
There are plenty of reasons the cream filling might be too runny to spread onto the cookies at first. Be sure to let the milk and flour cool down to room temperature before you add it to the butter and sugar. If your filling is still runny, chilling it for a few minutes should thicken it up.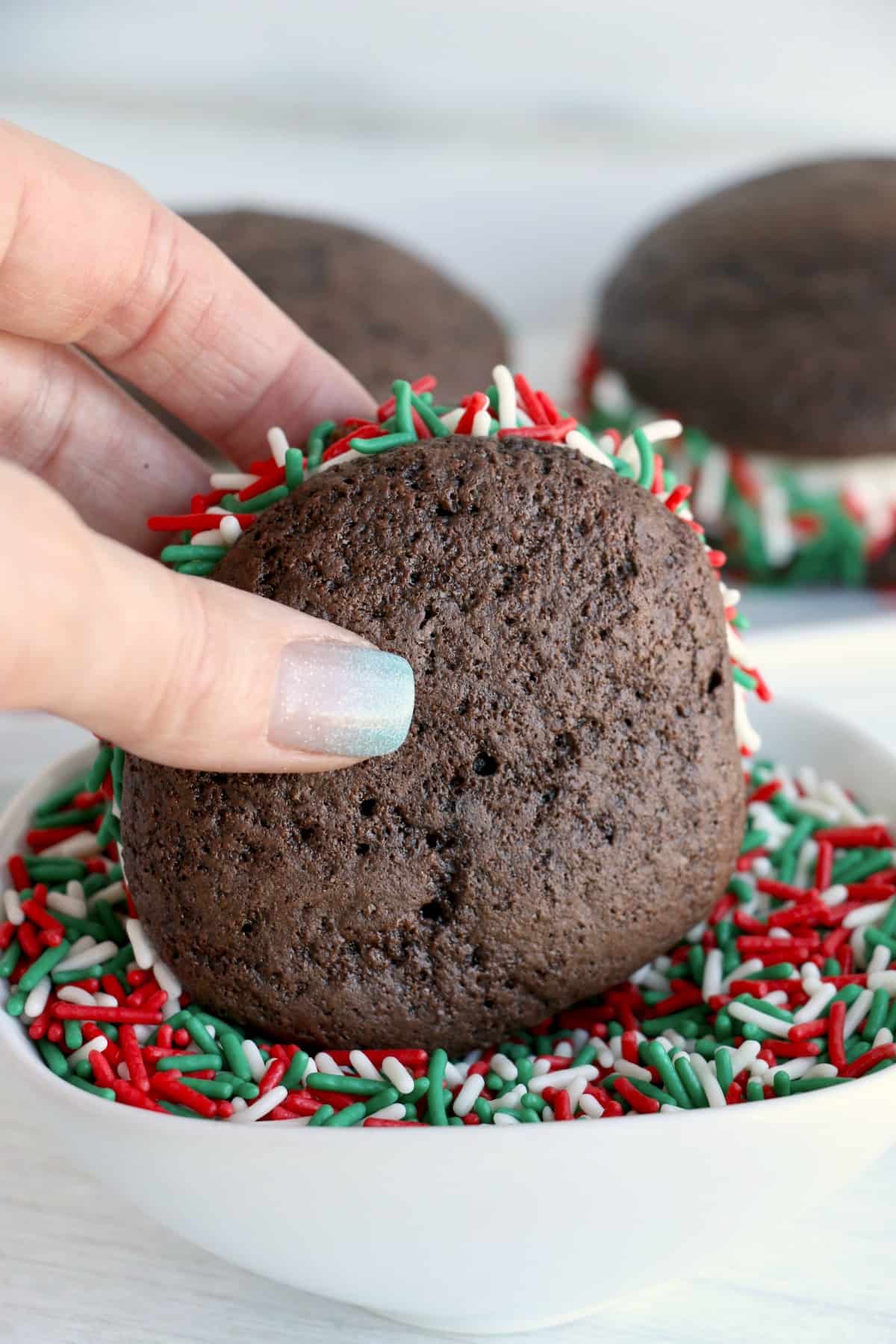 Tips & Tricks
This filling is not super sweet. It's more cream flavored like you'd expect in a ding-dong or Swiss cake roll.
If you prefer a sweeter buttercream filling for your Whoopie Pies, pipe my sugar cookie frosting between two cookie layers!
If your filling is still runny after beating in the milk and flour, place it in the refrigerator to chill for a few minutes before spreading it on the cookies.
Use a measuring spoon or scoop to ensure that all the cookies are the same size or as close to the same size as possible.
Use colorful sprinkles (like below) to make these chocolate whoopie pies for birthdays or year round celebrations.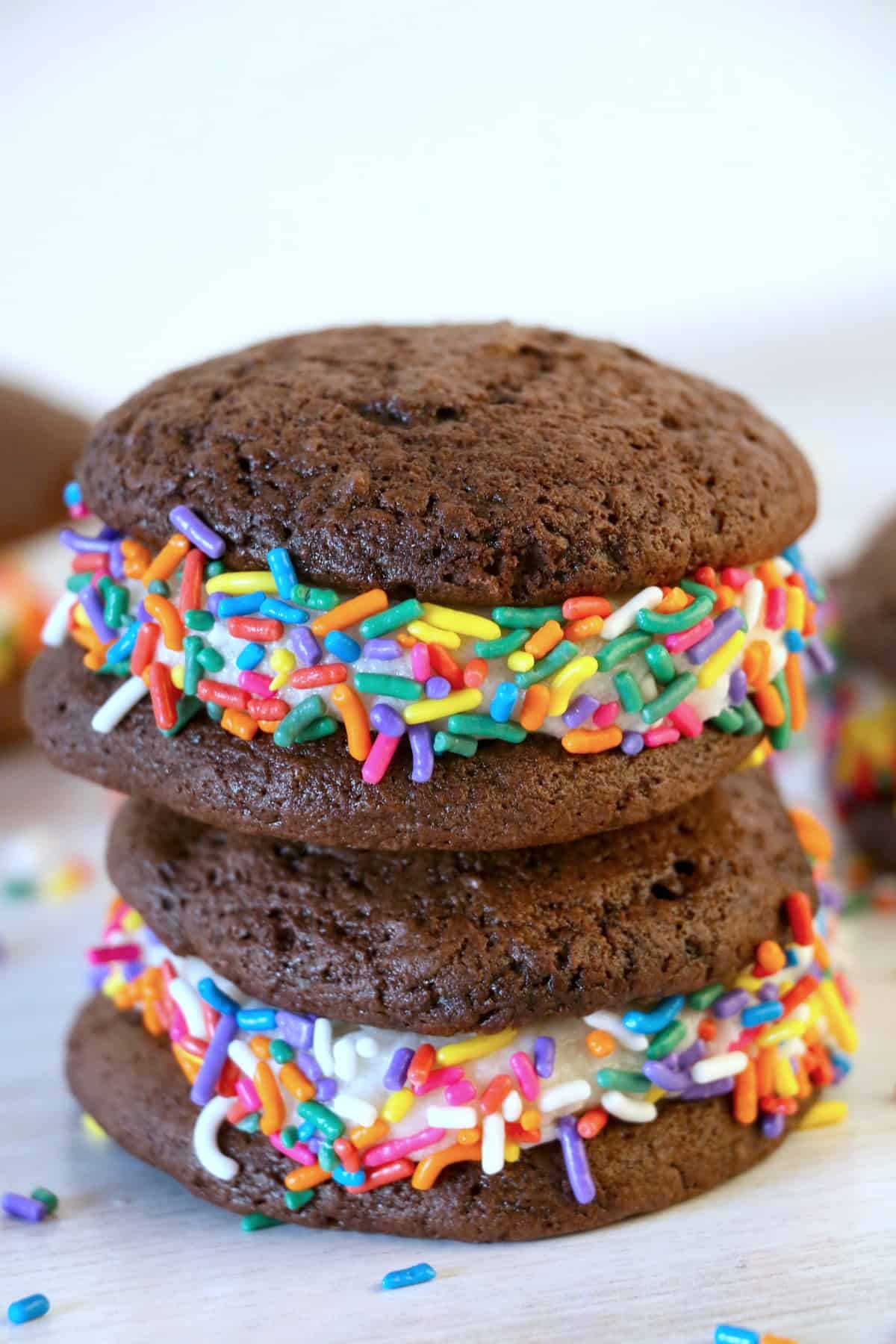 More Holiday Recipes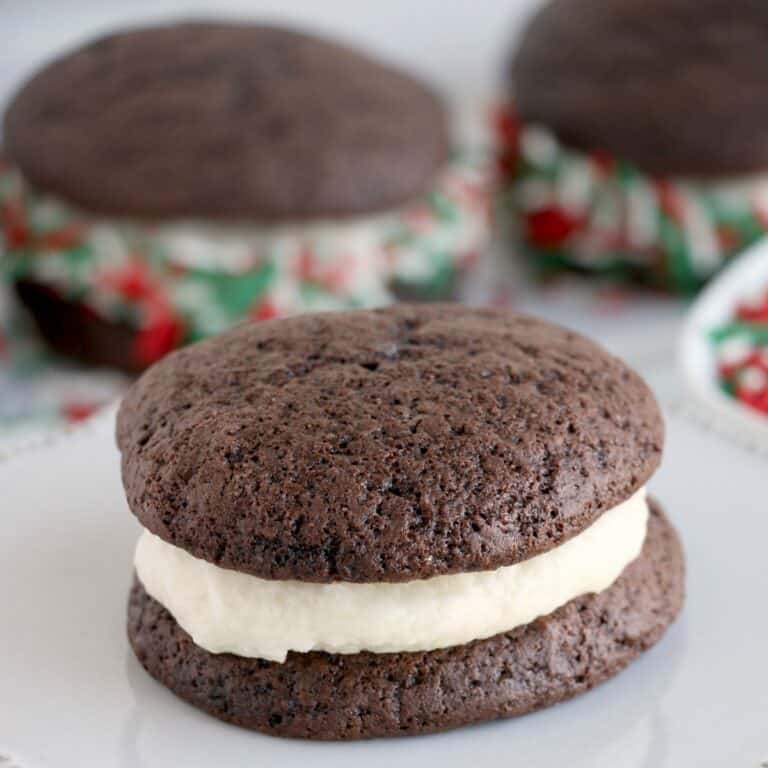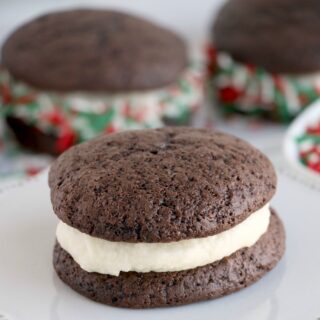 Chocolate Whoopie Pies
Bake up a batch of these easy Chocolate Whoopie Pies just in time for the holiday season. Soft chocolate cookies sandwiched together with a thick frosting filling and covered in sprinkles make a delicious addition to your cookie tray!
Ingredients
1

box

Chocolate Devil's Food cake mix

2

large eggs

½

cup

water
For the filling:
2

Tablespoons

all-purpose flour

½

cup

milk

¼

cup

unsalted butter

softened

¼

cup

vegetable shortening

Crisco

½

cup

powdered sugar

sprinkles

optional
Instructions
Preheat oven to 350ºF. Line a baking sheet with parchment paper, set aside.

In a mixing bowl, blend dry cake mix, eggs, and water together until well blended.

Using a metal cookie scoop, drop batter onto parchment paper, leaving several inches between whoopie pies.

Bake for 12-15 minutes or until centers are set. Allow to cool before making sandwiches.

To prepare filling, place milk and flour in a saucepan over medium heat. Stir continuously until it thickens. Remove from heat and cool.

In a large mixing bowl, beat butter, vegetable shortening, and sugar together until fluffy.

Next, beat in milk/flour mixture. If filling is a bit runny, chill before using.

Make whoopee pies by using two cookies and filling with cream.

If you choose to add sprinkles, place them in a bowl and roll the pies in them before setting.
Notes
The filling tastes like what you would expect in a Hostess ding dong or swiss cake roll. Not overly sweet.
If you prefer a sweet buttercream filling, beat 1/4 cup softened butter with 2 cups powdered sugar, 1/2 tsp vanilla, and 2 Tbsp milk until fluffy. Pipe between two chocolate cookies.
Nutrition
Calories:
336
kcal
,
Carbohydrates:
51
g
,
Protein:
4
g
,
Fat:
13
g
,
Saturated Fat:
6
g
,
Polyunsaturated Fat:
6
g
,
Cholesterol:
53
mg
,
Sodium:
404
mg
,
Fiber:
1
g
,
Sugar:
29
g
You'll have so much fun making–and eating– these festive Chocolate Whoopie Pies!