Mint Chocolate Chip Whoopie Pies are just the right amount of green to make them perfect for St. Patrick's Day.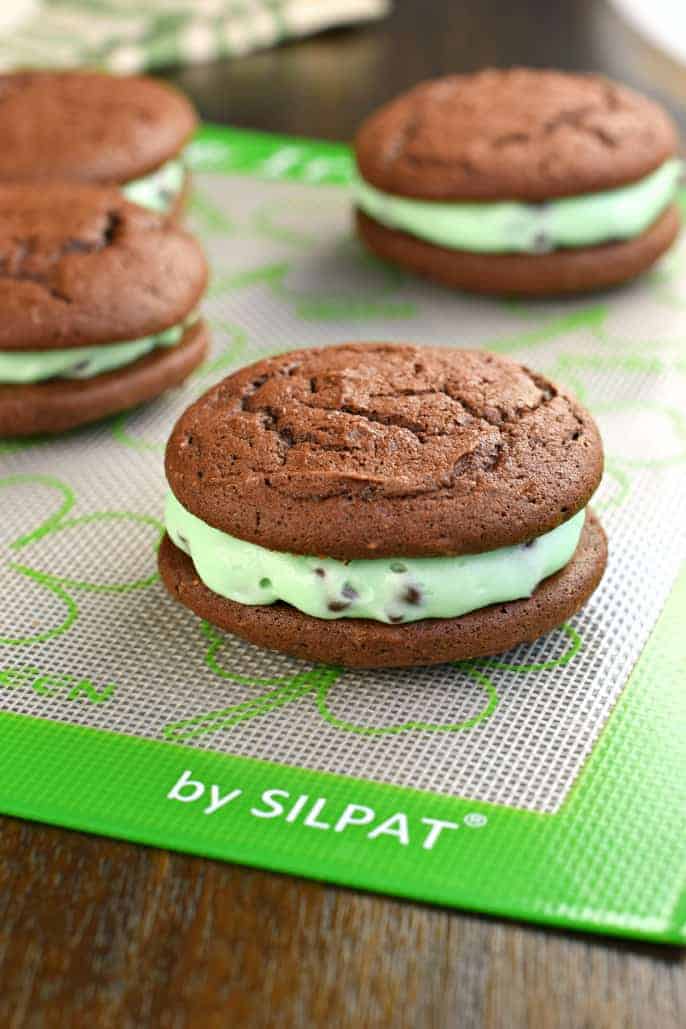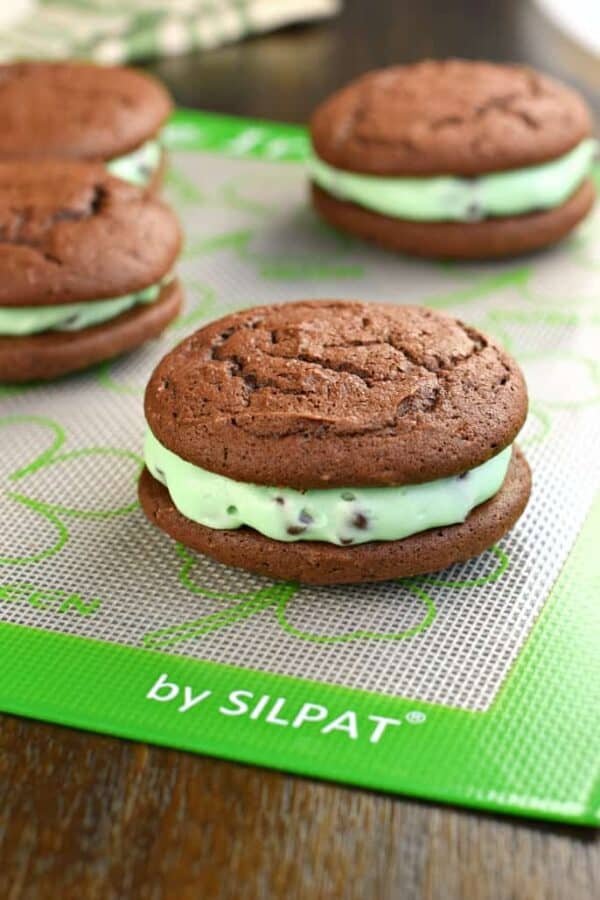 When I think about what to make for St. Patrick's Day I always lean towards chocolate mint. Forget about the Corned Beef and Cabbage, Shepherd's Pie, and Irish Stew. I'm all about the desserts!
When my kids were younger I asked if they wanted to help me bake some whoopie pies. When they asked what they were, my best description would be a handheld cupcake. No liner or special baking pan needed!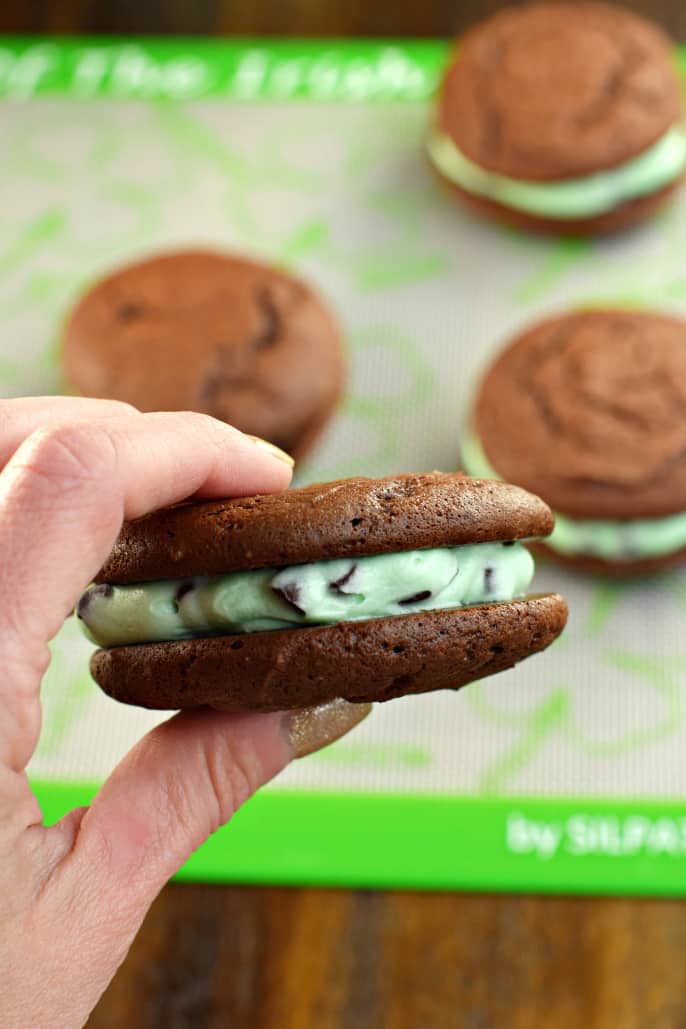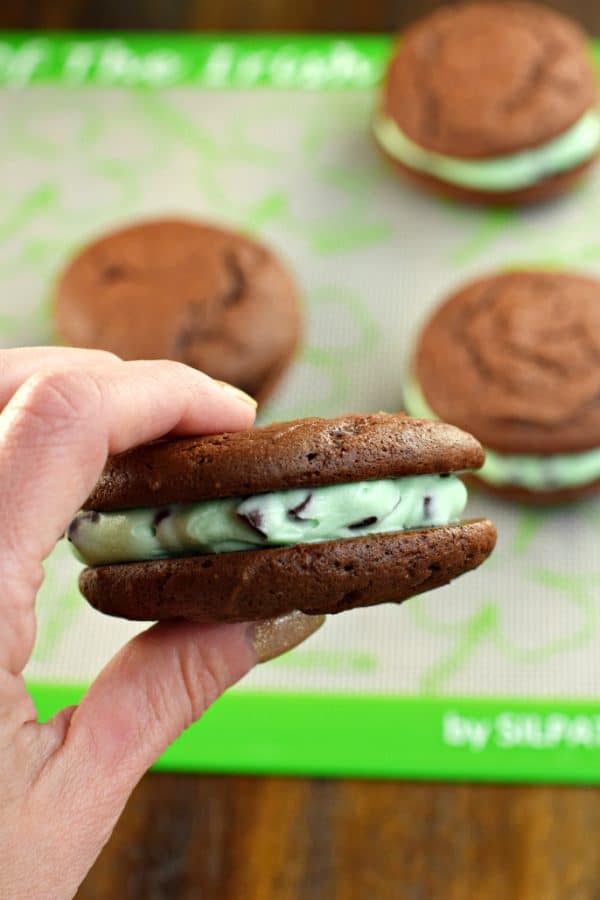 But you know what IS helpful? A Silpat silicone baking mat! If you've never used one, you should try it! They are non-stick baking mats that are perfect for today's recipe. The original creators of non-stick baking mats, and the quality is incredible. They're perfect for today's recipe.They are also great to use when rolling out dough (they don't slide around on your counter top), perfect as a placemat for kids (easy clean up), and amazing when used for baking cookies.
Your dough doesn't stick, and these clean up so easily. A lot of people think you need a special pan for making Whoopie Pies, but you don't. All you need is a Silpat.
It's got a fiberglass mesh inside that produces the best heat transfer in baking, which means we're going to get the best whoopie pies, without the need of some silly uni-tasking pan.
Silpat even has fun holiday versions of their original baking mats…I love this St. Patrick's Day mat! (be sure to stop over at Food Fanatic to enter the giveaway for a free mat and $75 giftcard!)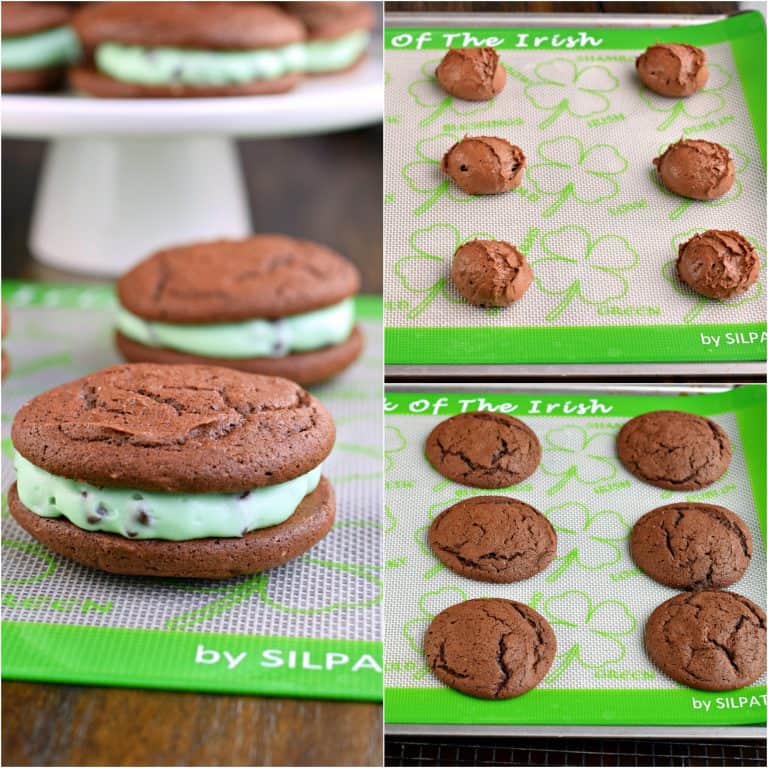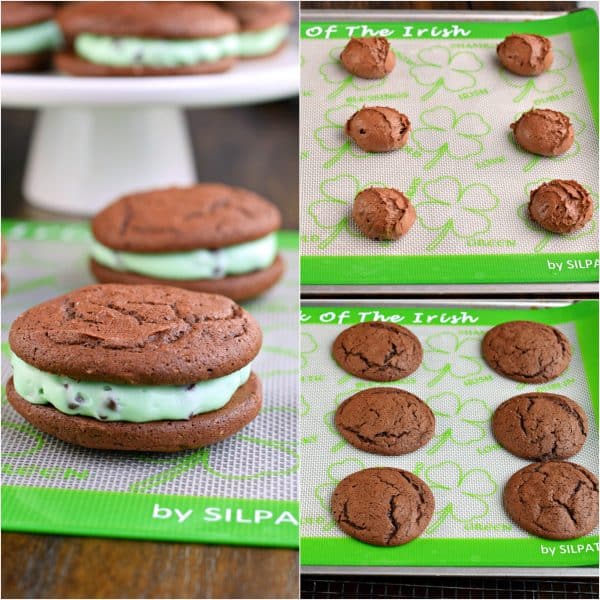 I've got a few important tips about baking these Mint Chocolate Chip Whoopie Pies:
First, make sure your butter is softened before beating it into the cake mix. I use unsalted butter so that I can control some of the excess salt in my recipes.
Make sure you use PEPPERMINT (not MINT) extract. Unless of course you like the taste of toothpaste and spearmint gum 🙂
Use a 2 Tbsp scoop to portion out your whoopie pie batter onto the Silpat. This will help keep your whoopie pies the same size and shape when pairing them to make the "sandwich."
Allow your whoopie pies to cool completely on the Silpat before removing them. By not scooping them off the mat, they will keep a more rounded dome on top (instead of falling completely flat like a cookie). However, if they flatten, they still taste amazing, so EAT THEM!
Make sure your whoopie pies are COMPLETELY cooled before adding your mint chocolate chip filling. You don't want that to melt and ooze out.
The milk in the frosting is optional to obtain your desired texture. I prefer my filling to be a little thicker, so I don't use any milk. However, some people prefer a softer buttercream, so feel free to add 1-2 Tbsp of milk to achieve this!
Finally, I love these served cold and prefer to store them in an airtight container in my refrigerator. However, you can bring them to room temperature before serving if you prefer. ENJOY!
Check out some of my other favorite truffle and candy recipes! Be sure to stop over at Food Fanatic to print the Mint Chocolate Chip Whoopie Pies Recipe!