Pillowy-soft Mint Chocolate Chip Whoopie Pies sandwiched with peppermint cream cheese buttercream. With just the right hint of green, they're a great pick for St. Patrick's Day or the Christmas season.
When I think about what to make for St. Patrick's Day I always lean towards chocolate mint. Forget about the Corned Beef and Cabbage, Shepherd's Pie, and Irish Stew. I'm all about the desserts!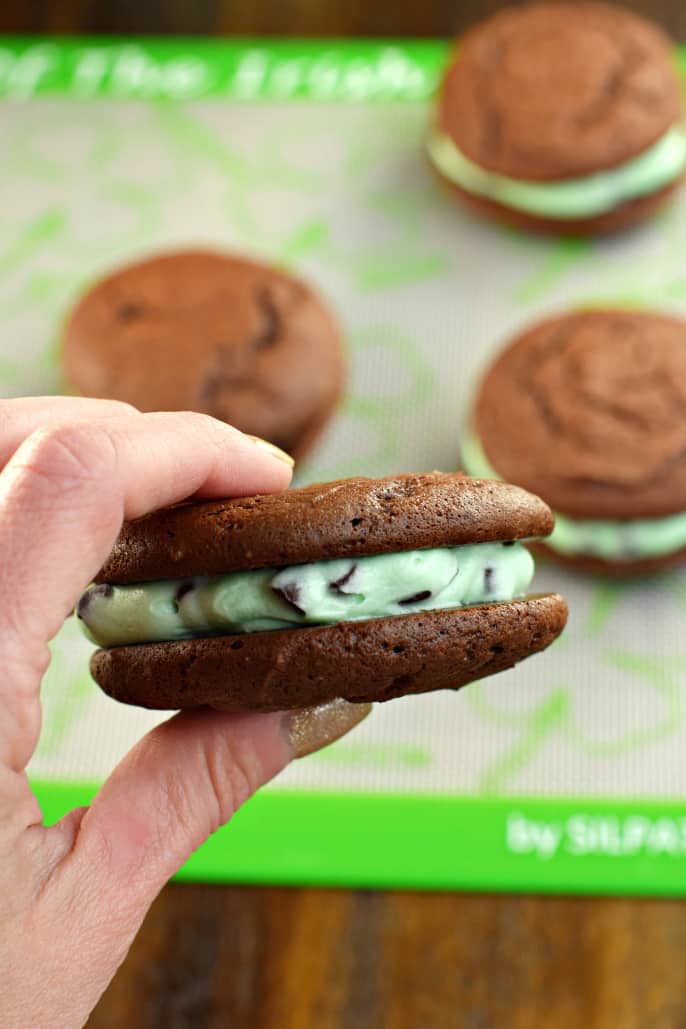 Why This Recipe is a Keeper
Everyone loves a good chocolate whoopie pie. Soft like a chocolate cake, but firm enough like a chocolate cookie.
Using boxed mixes makes the whoopie pie batter super easy, so the pies only take about 35 minutes!
Mini chocolate chips give a textural contrast to soft buttercream and chocolate cake.
They're freezer-friendly and can be made in bulk ahead of time! 
A delicious treat that can be served ice-cold that's reminiscent of an ice cream sandwich.
Ingredient Notes
Chocolate cake mix – Boxed chocolate cake mix creates a light, chocolatey whoopie pie. Buy an extra box to make a batch of cake mix cookies.
Instant chocolate pudding mix – This adds more chocolate flavor and structure to the batter. 
Cream cheese – Soft cream cheese makes a creamy, tangy filling. 
Powdered sugar – Powdered sugar sweetens the filling and helps it to keep its shape.
Peppermint extract – Adds minty-fresh flavor to the buttercream.
Green food coloring gel – Green food coloring matches the color of the filling to its minty flavor.
Mini chocolate chips – These add more chocolate, texture, and a mouthwatering appearance to the filling.
Unsalted butter – Using butter without salt allows you more control of the final flavor. Make sure your butter is soft at room temperature before using it. Use our tips and tricks showing how to soften butter quickly.
Eggs – Eggs help bind the light and fluffy cake together and add moisture and richness.
Water – The main liquid to moisten the whoopie pie batter.
Milk – This optional ingredient can help make your buttercream a little softer and not so thick. 
Easy Instructions
Make your batter. In a large mixing bowl, beat the cake mix, pudding mix, softened butter, eggs, and water until well-blended. This will take about 3 minutes. Scrape down the sides of the bowl as needed.
Scoop the batter. On a baking sheet lined with a Silpat, use a 2-tablespoon scoop and drop the cookies 3-4 inches apart.
Bake and cool. Bake for 14 minutes at 350°F. Then let the cookies cool completely on the baking sheet.
PRO TIP: By letting them cool on the sheet, they'll keep a more rounded dome on top (instead of falling flat). But if they do flatten, they're delicious anyway!
Prepare your filling. Combine the cream cheese, butter, powdered sugar, peppermint, and food coloring in a bowl. Beat until fluffy and smooth.
Add the chocolate chips. Fold the mini chocolate chips into the filling with a rubber spatula.
Pair the sandwiches. Sort the whoopie pies by pairing the closest matches together.
Fill the pies. Use a piping bag or a Ziploc bag with the corner snipped off to fill the pies.
PRO TIP: For easy and even filling, start piping at the center of the inside of a cookie. Draw a tight spiral outward from the center. Stop just before the edge of the cookie, top with the other half, and enjoy!
Tips & Tricks
Make sure your whoopie pies are completely cooled before adding the filling. This will prevent the filling from melting or smooshing the delicate cookie.
If you have one, use a 2-tablespoon scoop to portion your whoopie pie batter onto the Silpat. This will help keep your whoopie pies the same size and shape when pairing them to make the "sandwich."
Make sure your butter is soft for both the batter and the buttercream. This will help them to be lighter and fluffier.
Serving Suggestions
Crazy about mint chocolate? Me, too! I love brightening up my holiday snack spread with Thin Mint Puppy Chow and Chocolate Peppermint Grahams.
Try a twist on the perfect chocolate chip cookie with my Andes Mint Cookies. Or consider a more elegant wintry dessert! Chocolate Peppermint Mousse Pie with Nutella mousse will have everyone asking for seconds.
Recipe FAQs
Do I need to store whoopie pies in the refrigerator?
Yes, it's best to store these whoopie pies in an airtight container in the refrigerator. They'll last about one week. I love them served cold, but you can bring them to room temperature before serving if you prefer. 
Can I make and freeze these whoopie pies ahead of time?
Yes! To make these ahead of time, wrap the filled pies individually in plastic wrap. Then, freeze in a single layer on a baking sheet before stacking them in an airtight freezer container. They'll last up to 3 months. Serve cold or let them thaw first.
Can I use full-sized chocolate chips if I don't have minis?
Mini chocolate chips are best for this recipe since the filling is piped. Regular-sized chocolate chips may be too large for piping. You can also try chopping up regular-sized chips or a bar of dark chocolate instead.
Can I use a fancy piping tip to pipe the filling?
Yes, if you'd like a prettier whoopie pie filling, use a piping bag fitted with a large star tip. Follow the same technique of spiraling from the center outward for beautiful pies.