Hot Cocoa Muddy Buddies are easy to make with rice cereal and hot cocoa mix! Toss in some marshmallow bits and you have a sweet snack perfect for sharing.
Make sure to try my Sweet Holiday Chex Mix next! You'll love this Holiday Puppy Chow recipe too.
Why This Recipe is Best
If your favorite hot chocolate transformed into a crunchy snack, it would taste a lot like these Hot Cocoa Muddy Buddies!
Five minutes and five ingredients are all it takes to make Hot Cocoa Muddy Buddies!
It really tastes like hot chocolate–complete with marshmallows!
Dangerously tasty. It's difficult to stop at just one handful of these muddy buddies!
Quick and easy. This recipe takes just 5 minutes with 5 ingredients.
Ideal for holiday gift giving and parties. I love to package it in mason jars tied with a ribbon, or red and green cellophane bags.
Did you know you can do more with hot cocoa mix than just make cocoa? It makes it so easy and convenient to turn regular muddy buddies (aka "puppy chow") into an extra special treat!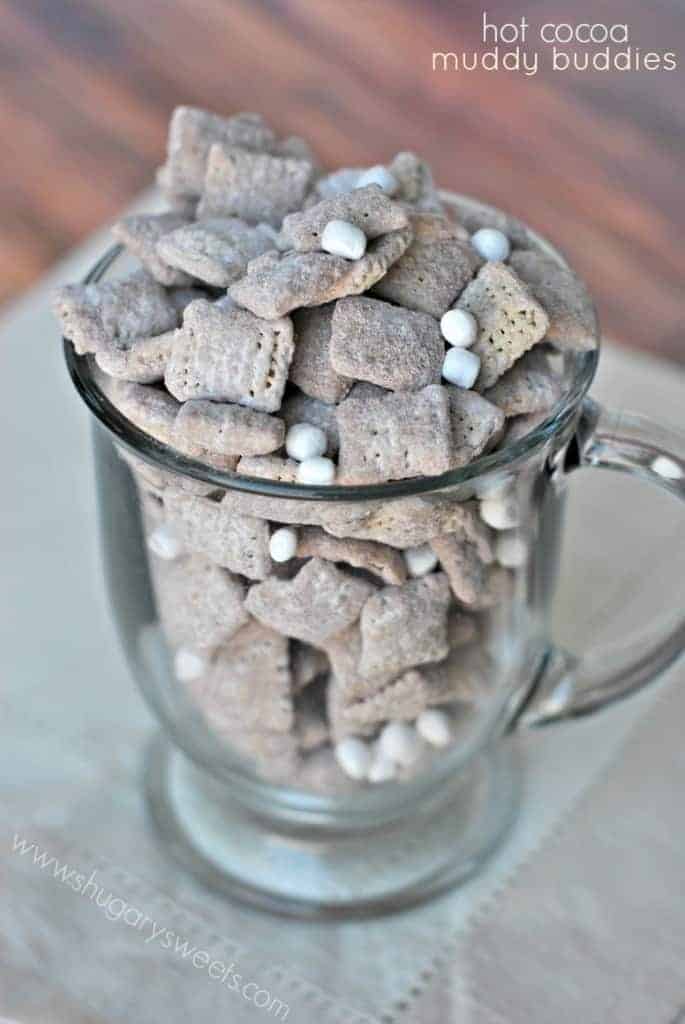 Ingredient Notes
Here are the five ingredients you need to make this delicious sweet snack mix.
Rice Chex cereal – The classic base for muddy buddies!
Vanilla candiquik – For melting and coating the cereal. You can also use almond bark or any vanilla melting wafers.
Instant hot chocolate mix – Use the sweetened, powdered mixes (NOT unsweetened cocoa). I use Swiss Miss.
Powdered sugar – Adds more sweetness to the cocoa coating and lightens the color.
Marshmallow bits – These are tiny marshmallow pieces, smaller than mini marshmallows. You can usually find them in the baking aisle sold in jars or tubs.
Tips and Tricks
Stir gently when coating the Chex with the melted vanilla candiquik to avoid crushing the rice squares.
You can change up the flavor by using different hot cocoa mix flavors. Dark chocolate and salted caramel are two Swiss Miss flavors that would taste great in this recipe!
Want it to be chocolatier? Substitute milk chocolate melting wafers for the vanilla candiquik. Warning: the muddy buddies will be RICH if you choose this option!
Recipe FAQs
How do I store homemade muddy buddies? How long do they stay good?
Store these hot cocoa muddy buddies in an airtight container at room temperature. They keep well for up to 1 week, if you can resist eating them all before then!
Can I use hot cocoa mix with marshmallows to make this recipe?
You could, but the dehydrated marshmallow bits may add an odd texture. When you add cocoa mix to water or milk, the marshmallows soften. In this recipe, there is not much liquid for the marshmallow bits to absorb.
I can't find marshmallow bits. Can I use mini marshmallows instead?
Again, you could, but I don't recommend it. The larger size of the marshmallows will change the overall texture of the snack, with the soft marshmallow being more prominent than the crunchy cereal.
If you only have mini marshmallows, I would chop them up into tiny pieces before adding them to the muddy buddies.
Are muddy buddies the same as puppy chow?
Yes! Muddy buddies and puppy chow are two common names for the same powdered sugar dusted treat!
You can totally call this recipe Hot Cocoa Puppy Chow if that's what you like. Just remember it's for humans only!