Sweet Holiday Chex Mix is the perfect homemade gift idea! Turn a few simple ingredients into a tasty snack mix with this easy recipe.
Who doesn't love edible Christmas gifts? If you have a little bit more time on your hands, try these homemade Hot Cocoa Bombs this holiday season too. Or give this easy chocolate fudge a try!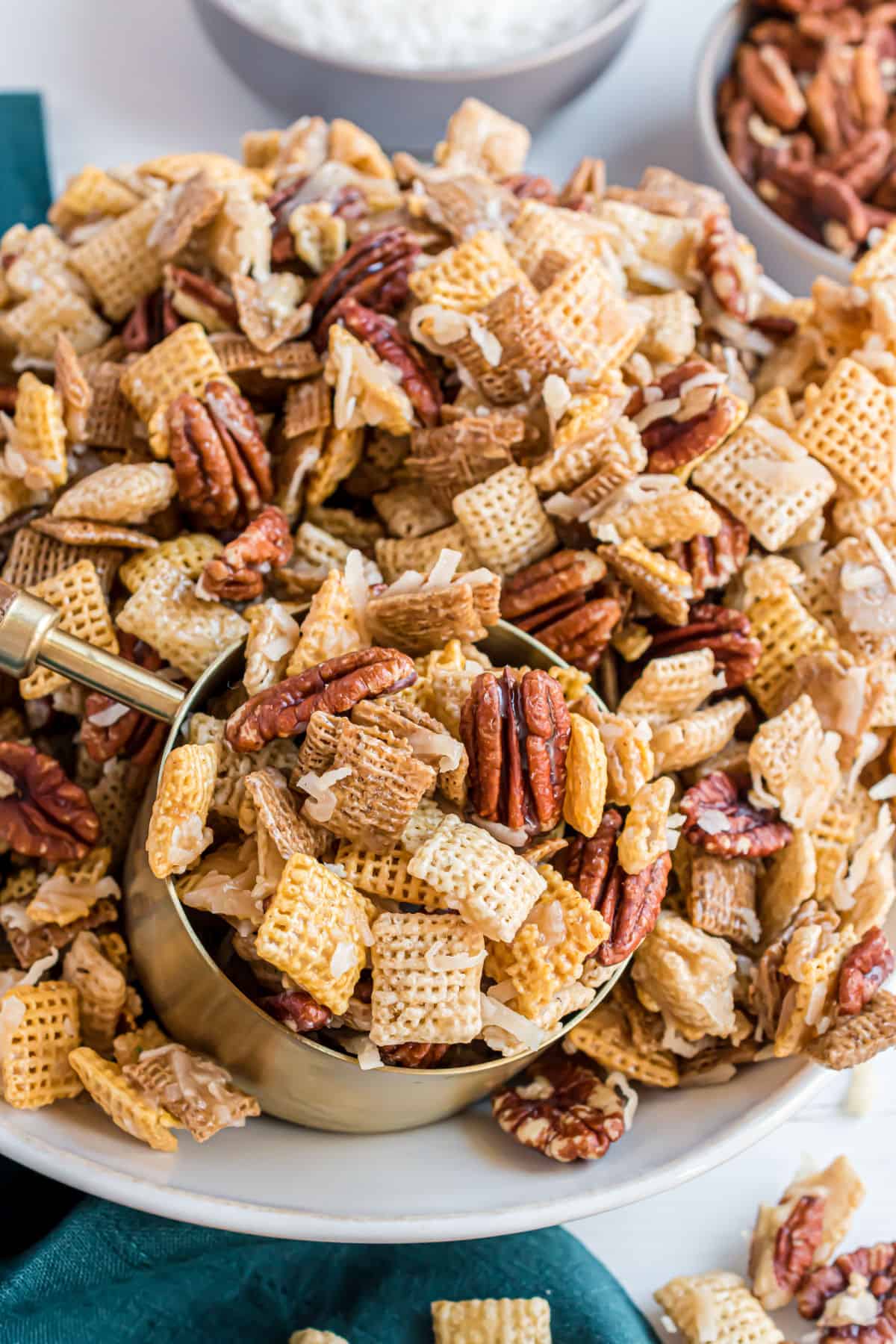 Why this Recipe Works
Whether you need a gift idea or a quick snack for the holiday party, this Sweet Holiday Chex Mix recipe fits the bill!
Don't confuse this mix with the classic, savory chex mix…but instead enjoy the sweet glaze with the salty nuts!
Super quick and easy. It takes less than 15 minutes to make this chex mix from start to finish.
No baking or oven needed! This snack mix comes together on the stove top instead.
Makes wonderful holiday gifts. My favorite ways to package it include mason jars, cellophane bags, paper cones, or even red and green ziploc containers.
If you love this sweet chex mix, you might want to try or fun taco chex mix. Or give this caramel chex mix a try next! Of course you also can't go wrong with the classic puppy chow recipe!
Ingredient Notes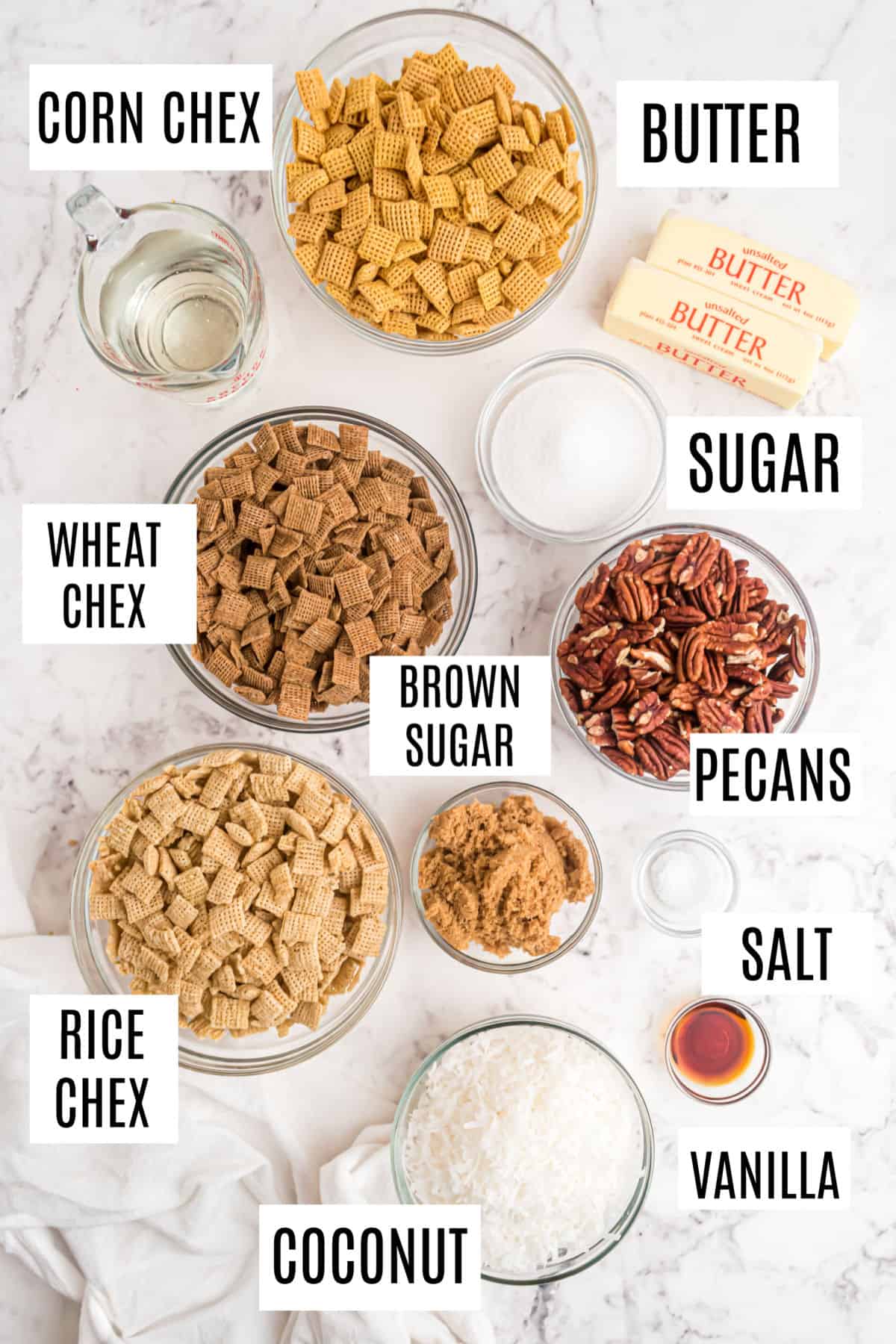 See the recipe card for full information on ingredients and quantities.
Chex cereal – I use a mixture of corn chex, rice chex and wheat chex. Not only does it give great flavor, but a little color too.
Pecan halves – The size of these nuts makes them a great choice. You can swap them out for another favorite nut or even use a mix of different nuts if desired.
Shredded coconut – Adds a great texture and coconut flavor to the sweet chex mix. I used sweetened flakes in this recipe.
Candy- for a pop of holiday color, feel free to fold in some holiday m&m's!
Easy Instructions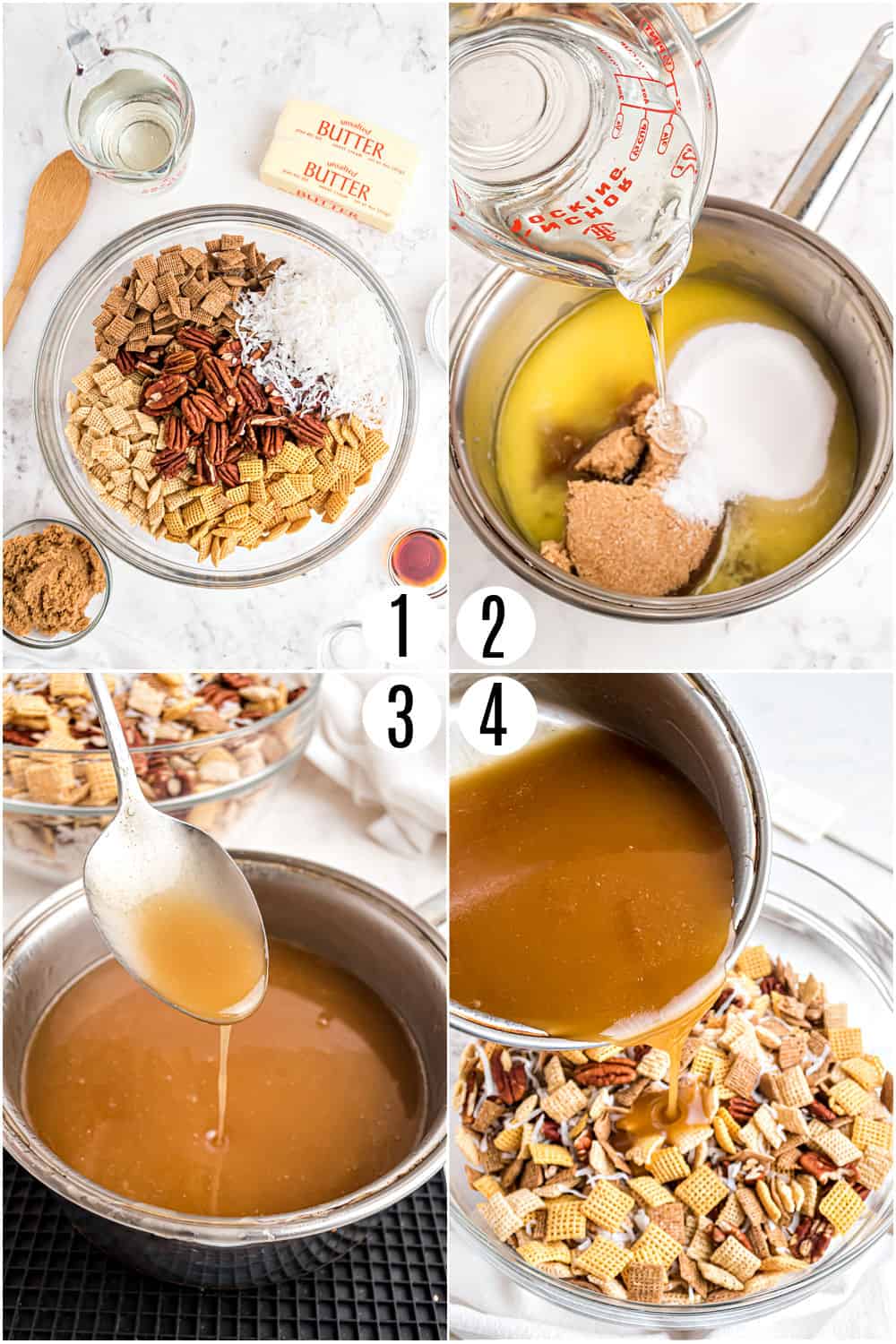 The Sweet Holiday Chex Mix Recipe starts by bringing melted butter, corn syrup and brown sugar to a boil. After adding vanilla extract, you pour the mixture over a bowl of nuts, coconut and chex cereal.
Once the mixture is cooled, you break it into bite size pieces before serving.
I wasn't kidding when I said it's super quick and easy!
Tips and Tricks
The syrup in this Holiday Chex Mix is pretty forgiving. Unlike some recipes that turn hard as the syrup sets up, this one stays soft, even after cooling.
It's normal for the chex mix to stick together when you store it. Simply break it apart again with your hands for easy snacking.
Store this sweet snack mix in an sealed container at room temperature. It stays fresh for about 5 days.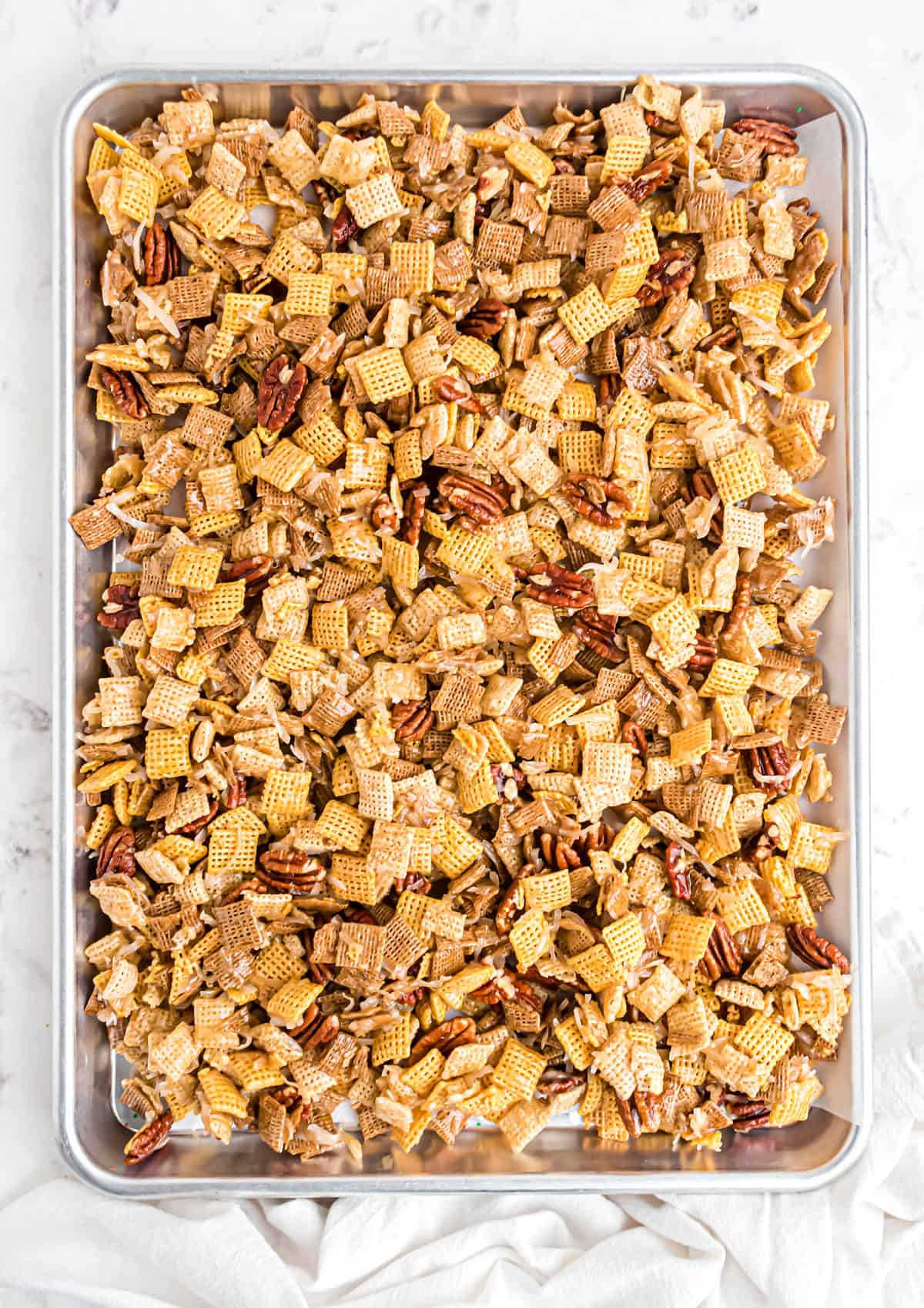 Recipe FAQs
What's the purpose of boiling butter and syrup?
The boiling brings the mixture to a higher temperature, which alters its consistency. Heating the mixture until just below the soft ball stage creates a syrup that is soft but not sticky. It also gives the chex mix a lovely shine.
Can I make Chex Mix without nuts?
If you're making this recipe for someone who can't have nutsu002du002dor simply don't like themu002du002dpretzel pieces make a great substitute!
Does the Holiday Chex Mix taste like coconut?
This snack mix does have a mild coconut taste but it's definitely not overpowering. If you really don't like coconut at all, go ahead and leave it out.
Can I use salted butter?
Yes, salted butter works just fine. Omit the added salt in the recipe and you're good to go!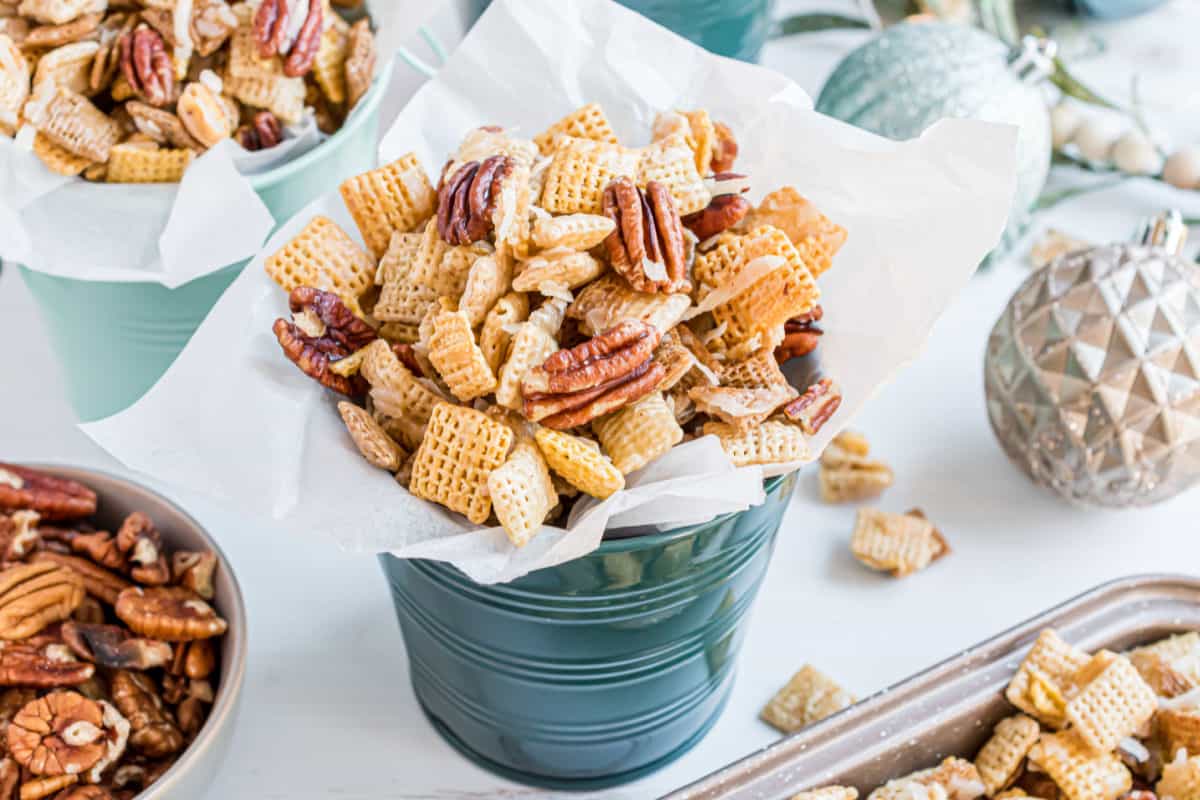 More Holiday Treats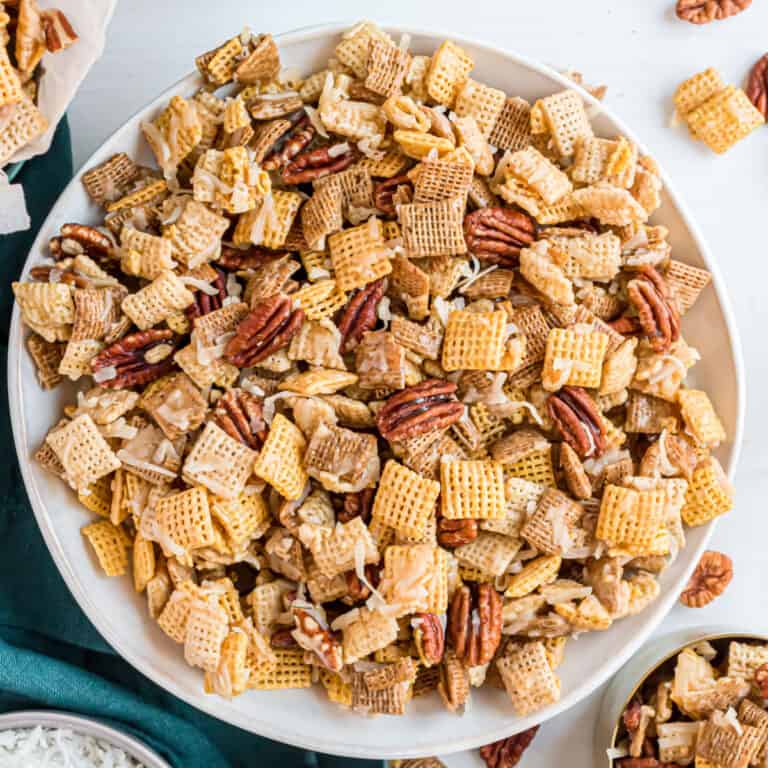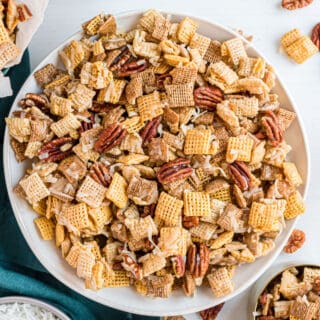 Sweet Holiday Chex Mix
Sweet Holiday Chex Mix is the perfect homemade gift idea! Turn a few simple ingredients into a tasty snack mix with this easy recipe.
Ingredients
4

cups

corn chex

4

cups

rice chex

4

cups

wheat chex

2

cups

sweetened shredded coconut

2

cups

pecan halves

1

cup

unsalted butter

1

cup

light corn syrup

½

cup

granulated sugar

½

cup

light brown sugar

packed

½

teaspoon

kosher salt

1

teaspoon

vanilla extract
Instructions
In an extra large mixing bowl, combine the Chex cereal with coconut and pecan halves. Set aside. Line counter with large sheet of parchment paper.

In a medium saucepan, melt the butter over medium-low heat. Add corn syrup, granulated sugar, brown sugar and salt to the saucepan.

Bring to a boil over medium heat. Once mixture comes to a rolling boil (which means bubbles appear across the entire surface), boil for 3 minutes, stirring constantly.

Remove from heat and stir in pure vanilla extract.

Pour the hot syrup over the dry Chex mix and toss to evenly coat.

Spread the chex mix out on parchment paper and allow to cool.

After cooling, break into bite-sized pieces. Store in an airtight container at room temperature.
Notes
STORAGE: Stays fresh in an airtight container at room temperature for about 5 days.
The boiling of the syrup is important. Boiling for 3 minutes heats the syrup to just under the temperature for soft ball stage. This allows the syrup coating to remain soft, but not runny and too sticky.
Any nuts can be used. Other good choices would be cashews, almonds or peanuts.
Don't like nuts or making it for someone with a nut allergy? Pretzels are a great substitution for the pecans. And they will achieve that sweet and salty mix. The coconut can be omitted, even though the flavor isn't overpowering in this recipe. Add in some holiday colored M&M's for a pop of color!
Salted butter can be used. Omit the additional kosher salt.
As the mixture sits, it tends to stick together, even after being separated. This is normal and it can easily be separated again for easy snacking.
Nutrition
Serving:
0.5
cup
,
Calories:
260
kcal
,
Carbohydrates:
35
g
,
Protein:
2
g
,
Fat:
14
g
,
Saturated Fat:
6
g
,
Polyunsaturated Fat:
7
g
,
Cholesterol:
17
mg
,
Sodium:
163
mg
,
Fiber:
3
g
,
Sugar:
20
g
This Sweet Holiday Chex Mix is perfect for munching on while you watch Christmas movies or as an easy homemade gift. The combination of sweet and salty flavors in this crunchy snack makes it hard to eat just one handful!