Taco Snack Mix is a spicy chex mix that'll take your snacking game to new heights! Perfect for a party, movie night or munching on throughout the day, this chex mix is inspired by taco flavors.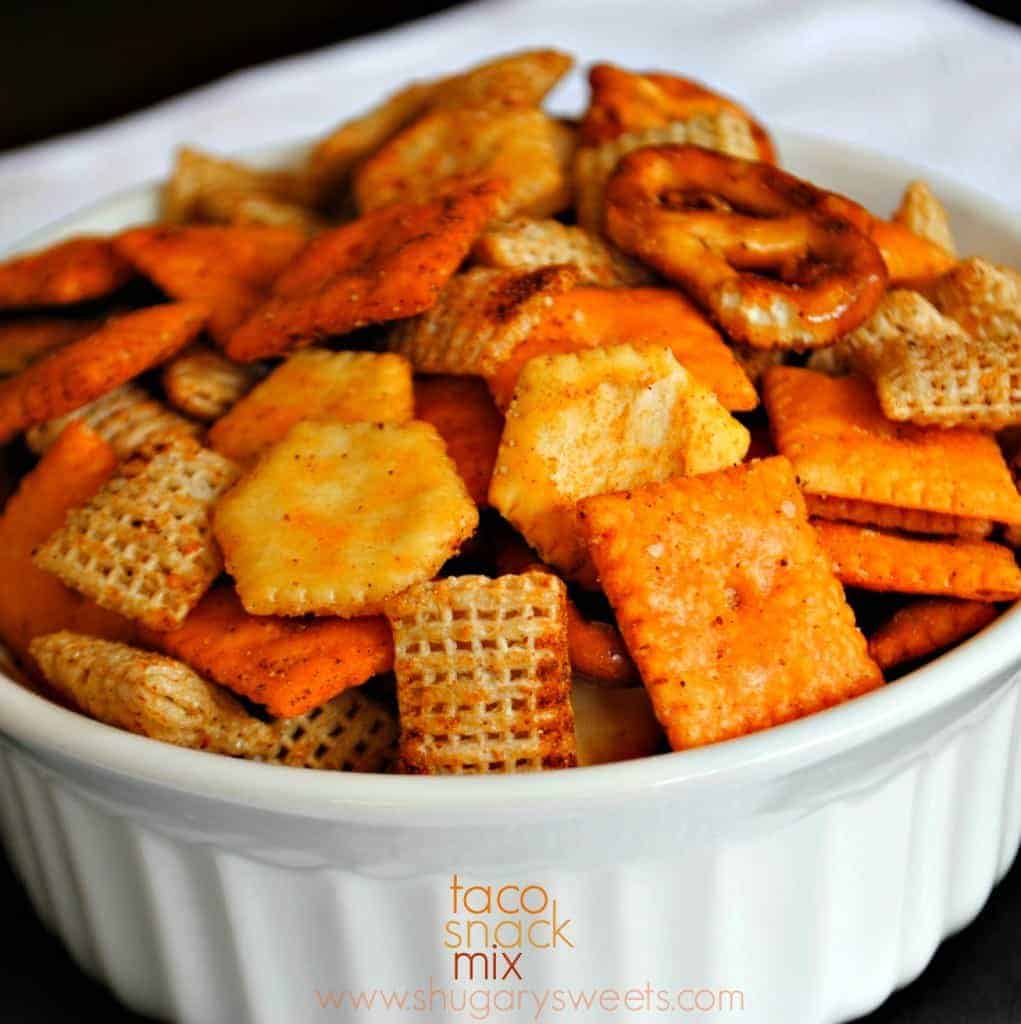 I love a good snack mix. This Taco Snack Mix isn't just good. . . it's AMAZING.
Don't you ever get sick of buying chips and crackers? I must spend a fortune on cheese crackers, tortilla chips and all the other packaged snacks my family seems to go through like water.
Spicy Chex Mix
Making homemade snack mix is a great way to cut costs. You can buy the expensive cheese crackers and mix them with pretzels, oyster crackers and inexpensive chex cereal. It stretches the good stuff further and also makes a fun change from your typical snack time go-tos.
And this recipe is even more affordable when you use generic or store brand crackers and cereal in place of the brand name!
Taco Chex Mix
Remember back when everyone made homemade chex mix? Now, they sell it ready made at the grocery store, but you used to have to get all the ingredients, season them and bake them in the oven at home.
Don't get me wrong. I love the convenience of ready made snack foods (see above comment about how much we seem to spend on them) but you can beat the fresh taste of homemade.
This recipe is even better than a traditional chex mix, in my opinion.
Why? Because it has TACO SEASONING! You can make your own taco seasoning or use store bought for this recipe. It instantly transforms plain chex mix into a spicy salty snack that'll make your taste buds dance with happiness.
How to make Taco Snack Mix
The other reason I like this more than original homemade chex mix? You don't have to turn on the oven.
For real.
Here's what I put in my snack mix:
Chex cereal
Oyster crackers
Cheese crackers
Canola oil
Mini pretzel twists
Taco seasoning
Just dump all the ingredients in a paper bag, shake it to distribute the pil and seasoning and let it sit for a few hours. This allows the canola oil to drain down to the bottom of the bag.
The paper bag will get greasy so I highly recommend putting it a sheet of foil or wax paper to avoid an oily counter top.
Serve this mix right away or transfer to an airtight container.
Substitution Ideas
This combination of crackers and pretzels makes a tasty combination but there's no reason you couldn't mix it up!
Peanuts or pecans would be a delicious addition to this if you like some nuttiness in your spicy chex mix. Instead of pretzel twists, try using mini pretzel sticks or pretzel nuggets!
Want even more spice in your Taco Chex Mix? Add a pinch of cayenne pepper to the bag along with the taco seasoning. On the flip side, if it's a little too much heat for your taste, reduce the amount of taco seasoning to your liking.
What chex cereal to use
Both rice chex and corn chex taste great in Taco Snack Mix! Wheat chex would work as well. You could also mix two different kinds to add some variety of flavor to your snack mix.
Because rice and corn chex cereals are naturally gluten free, it's easy to adapt this to make it safe for your friends who can't eat gluten. There are so many delicious gluten free pretzels available these days and you can also find gluten free crackers at most grocery stores.
If you are making the gluten free adaption, just make sure your taco seasoning is also gluten free (or make your own!). Some have additives or preservatives that contain gluten.
How to store and serve
Keep Taco Snack Mix in an airtight container at room temperature. Most of the time, we just eat this straight out of the container!
Pour it into bowls to serve at a party! This is a great snack for all kinds of gatherings from casual drinks with friends to a holiday celebration. No one will bug you about when dinner is going to be ready when they have homemade spicy chex mix to snack on.
Save money on packaged snacks when you make this easy homemade spicy Taco Snack Mix!