This easy Spinach Artichoke Dip recipe creates the best hot spinach dip you've ever tasted! Packed with garlic, cheese, and artichokes, you'll love this game day snack.
You can also find our Instant Pot Spinach Artichoke recipe is equally delicious. Or give this BLT Dip a try for a tasty twist on a classic sandwich.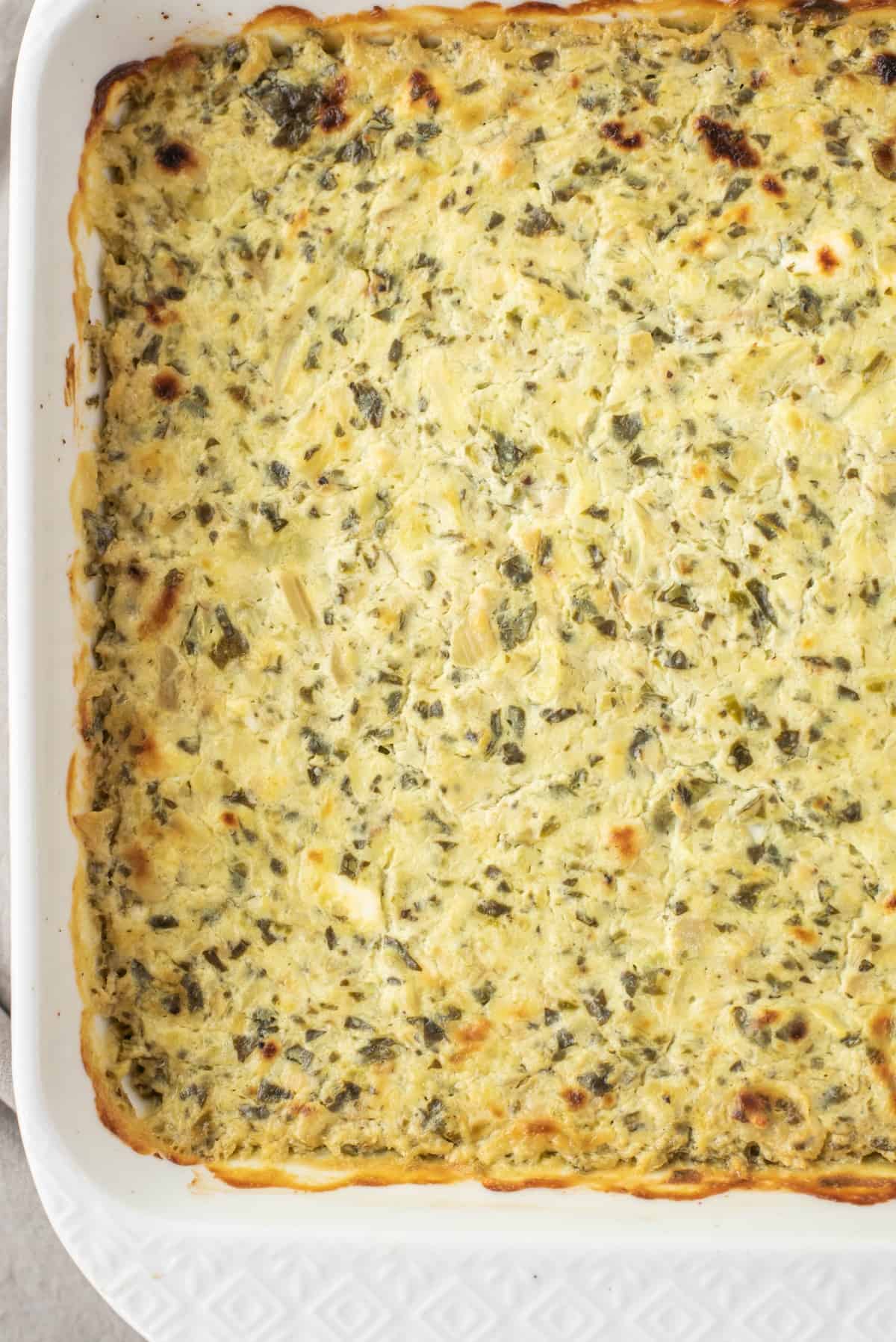 Spinach Artichoke Dip
If we're at a party together and you can't find me, here's a tip: follow the dips. When you find the table with all the chips and dips, I'm not likely to be far away. Especially if there's any kind of creamy hot spinach dip in sight!
It's just not a party without a bowl of Spinach Artichoke Dip, am I right? This recipe makes some of the best hot spinach artichoke dip I've ever tasted.
Scooped with slices of toasty baguette or tortilla chips, I can't get enough of this cheesy creamy dip. I readily admit I have spoiled my appetite for dinner on more than one occasion by filling up on spinach artichoke dip.
This dip is flavored with garlic and made with the perfect balance of cheese, artichoke hearts and spinach.
With Greek yogurt instead of sour cream or mayonnaise, it's also a bit better for you than your everyday dip, without sacrificing an ounce of great taste.
FAVORITES: Artichoke Hummus | Slow Cooker Buffalo Chicken Dip
Why this Recipe is Best
The best hot spinach dips have a creamy texture along with lots of cheese that pulls away from the bowl when you scoop it with a chip or bread. Artichoke hearts provide a vinegary tang that brings out the best of the cheesy flavor.
The other "must" for making spinach dip that'll have everyone scraping the bowl, is to serve it piping hot!
After baking and broiling the dip until it develops a bubbly brown top, I cool the dip for just about 10 minutes so no one will burn their mouth and all the flavors will meld together even more.
Place the dip on the table with plenty of options for dipping, like pita chips, bread and veggie sticks and dig in!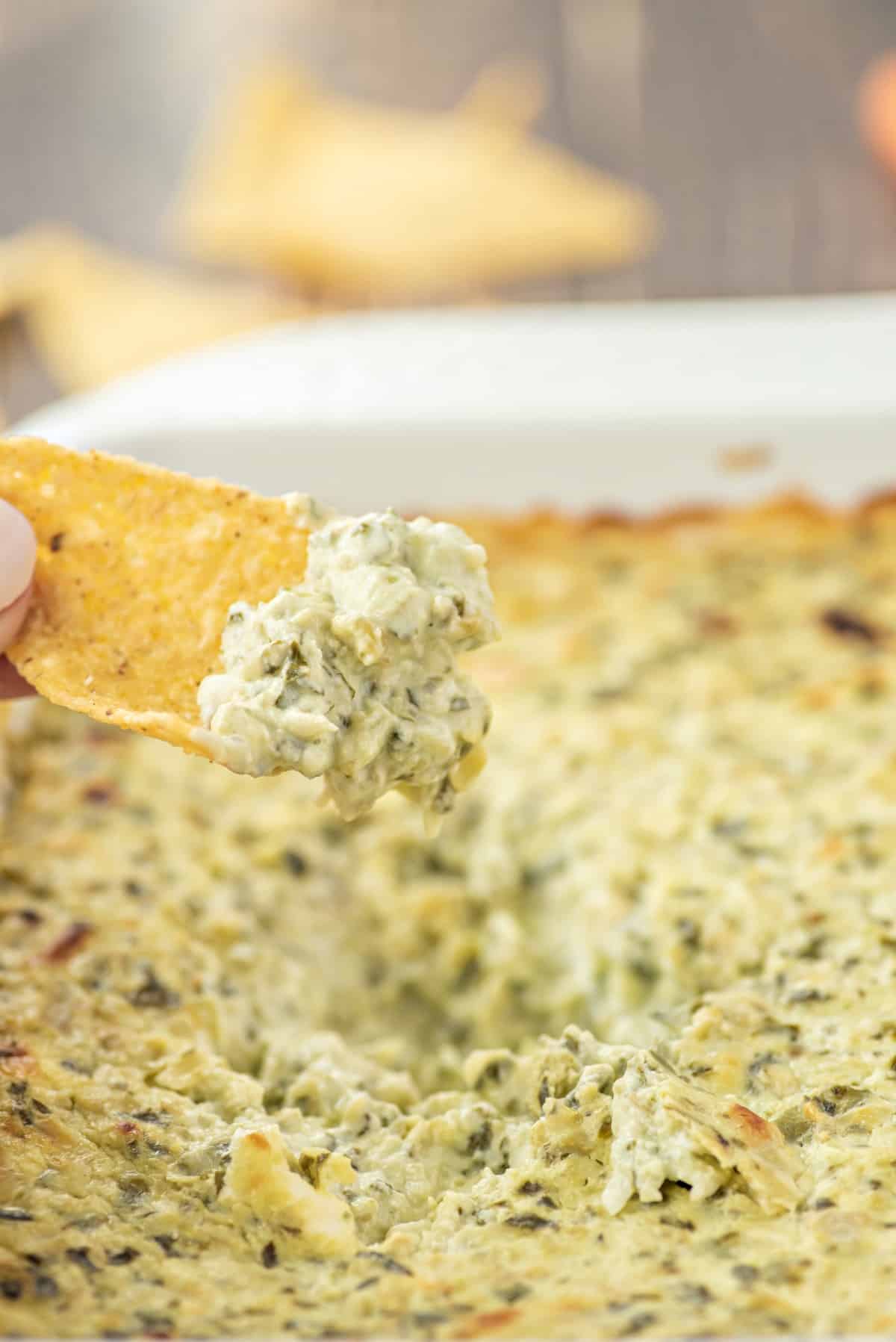 Ingredient Notes
Here are the ingredients you need for this hot spinach dip:
Artichoke hearts – The jarred or canned variety, drained before using.
Fresh spinach – You can use frozen if you absolutely have to (see notes below), but I prefer fresh whenever possible.
Cream cheese – Leave it at room temperature for a few minutes to soften
Greek yogurt – Plain, unsweetened (use sour cream if needed)
Garlic – Finely minced
Parmesan or Romano cheese – Fresh grated, not the kind from a shaker!
Salt & Black pepper
How to Make Spinach Artichoke Dip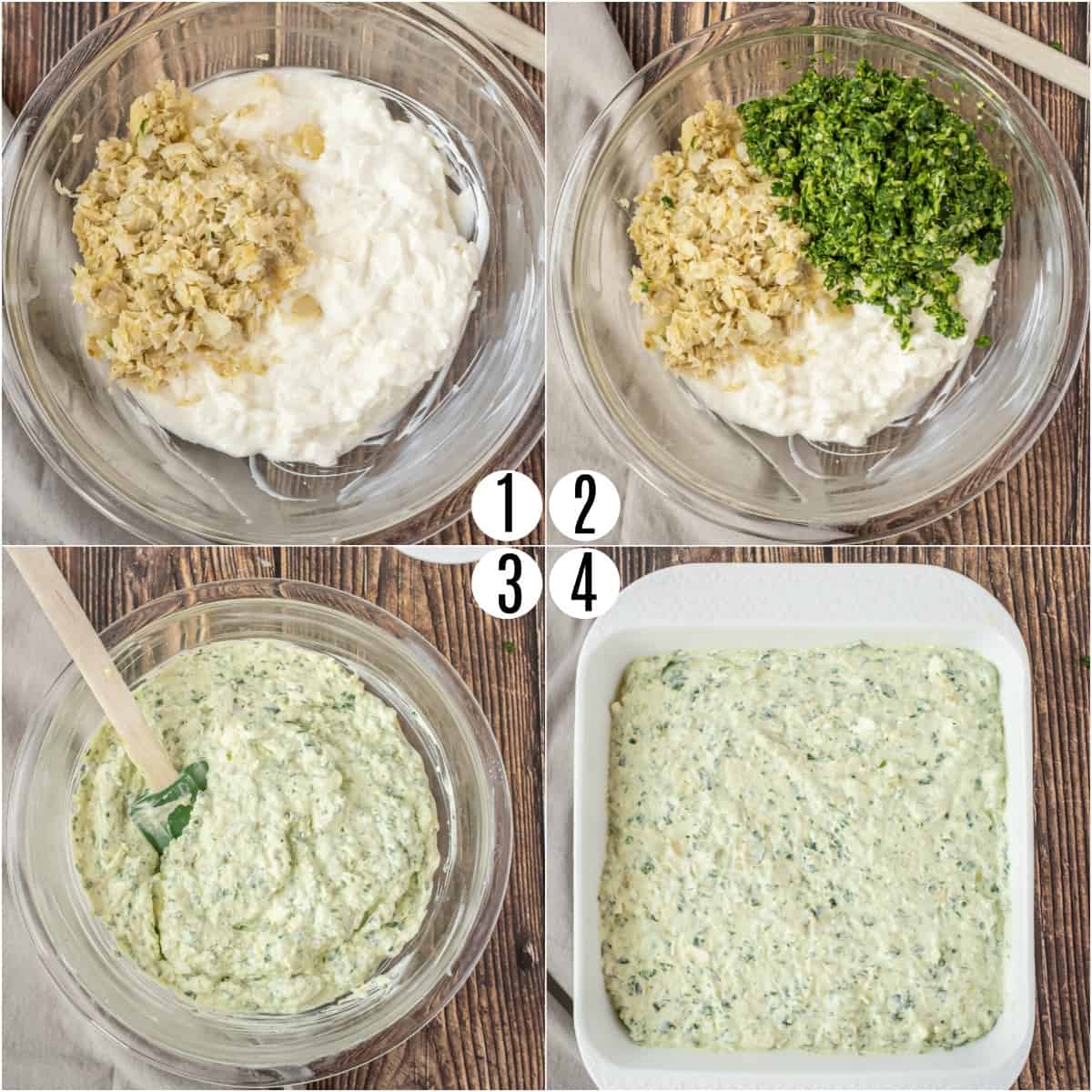 STEP 1. Chop the vegetables
Use a food processor to chop artichoke hearts, onion, and spinach. You could also do this by hand with a knife, but the processor makes it much easier and quicker!
If your processor is big enough, you can throw in the onion, artichoke and spinach all together to chop and mix before adding to the cheese mixture. If your processor is smaller (like mine) chop the onion and artichoke together first. Add that to the cheese mixture, then chop the spinach with a few pulses before adding it to the cheese mixture.
STEP 2. Mix the cheeses
To a large bowl, add the cheeses, yogurt, and garlic. Mix well to combine. Add in the artichoke, onion and spinach. Mix well, then add salt and pepper.
STEP 3. Bake
Transfer mixture to a greased 8 x 8 " baking dish. Place in a preheated 375 F oven for 25 minutes, or until bubbling and just starting to brown on edges.
Broil for 2 to 3 minutes, until browning on top. Remove from oven and allow to cool for about 10 minutes.
Serve warm with chips, bread, carrot and celery sticks, or your favorite dippers.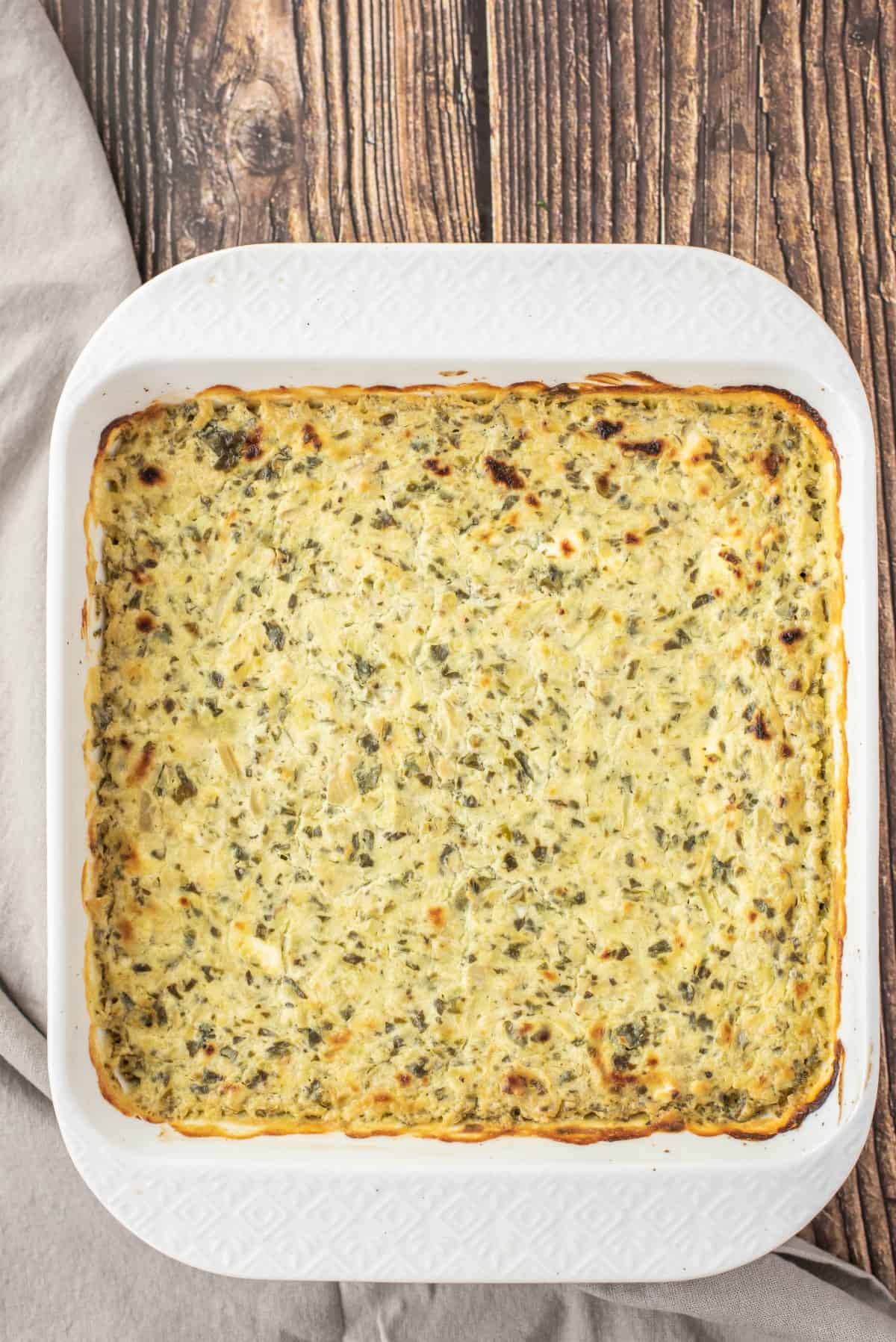 Serving Suggestions
Just a few of my favorite things to dip into this hot spinach dip:
Pita chips
Tortilla chips
Carrot sticks
Celery sticks
Crackers – Sturdy crackers that can hold up to this thick and creamy dip are better than thin entertaining crackers. I like woven wheat crackers (triscuits) and townhouse crackers.
Recipe FAQs
Can you use frozen spinach in artichoke dip?
If you want to use frozen spinach in artichoke dip, just be sure to thaw the spinach and drain very well before adding it to the dip recipe. I happen to prefer the taste when this recipe is made with fresh spinach leaves, but it still tastes good with frozen spinach if you thaw and drain! If you don't have any spinach but you still want an irresistible warm dip to share, check out this Easy Baked Artichoke Dip.
Do you need a food processor for spinach artichoke dip?
You can use a knife to chop up the vegetables for this dip if you prefer or you don't have a food processor. I just find the food processor makes it so much quicker and easier!
How do you store spinach artichoke dip?
Spinach Artichoke dip keeps in the fridge for up to 5 days. I prefer to make and serve it fresh for best flavor. You can reheat leftovers in the microwave or in the oven for a few minutes until hot and melty.