With just four ingredients, Hidden Valley Ranch Oyster Crackers are an easy way to shake up snack time! Perfect for parties.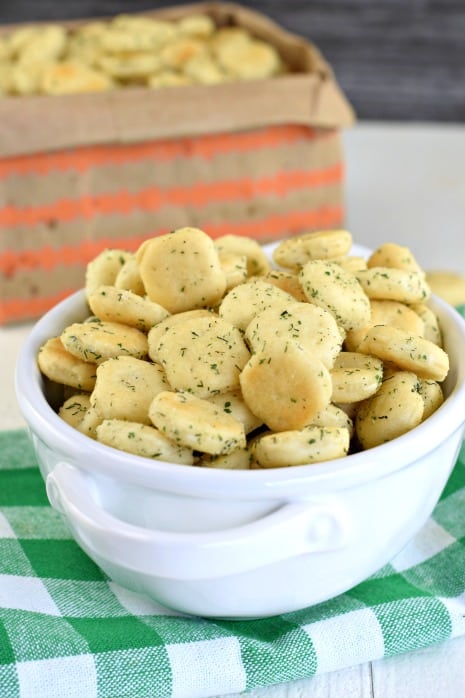 Good snacks are an essential part of a good life. Or at least in MY life, they are.
I have no qualms about enjoying a bag of crackers or chips from the store, but it's also fun to put my own spin on it. With just a couple of extra steps you can take an ordinary cracker or chip and turn it into something extra special!
What are homemade ranch oyster crackers
This recipe for Ranch Oyster Crackers has been one of my go-to homemade snacks for several years. Made with Hidden Valley ranch DRY dressing mix, these crackers are surprisingly flavorful!
Whenever I know I'll have company over hanging out in the living room for a bit, I like to put out bowls of snacks for everyone to enjoy while we chat.
Every time these Ranch Oyster Crackers are on the coffee table, they're the first snack to disappear.
"What's IN these?" everyone asks, taking handful after handful. Or, "Where did you find these?"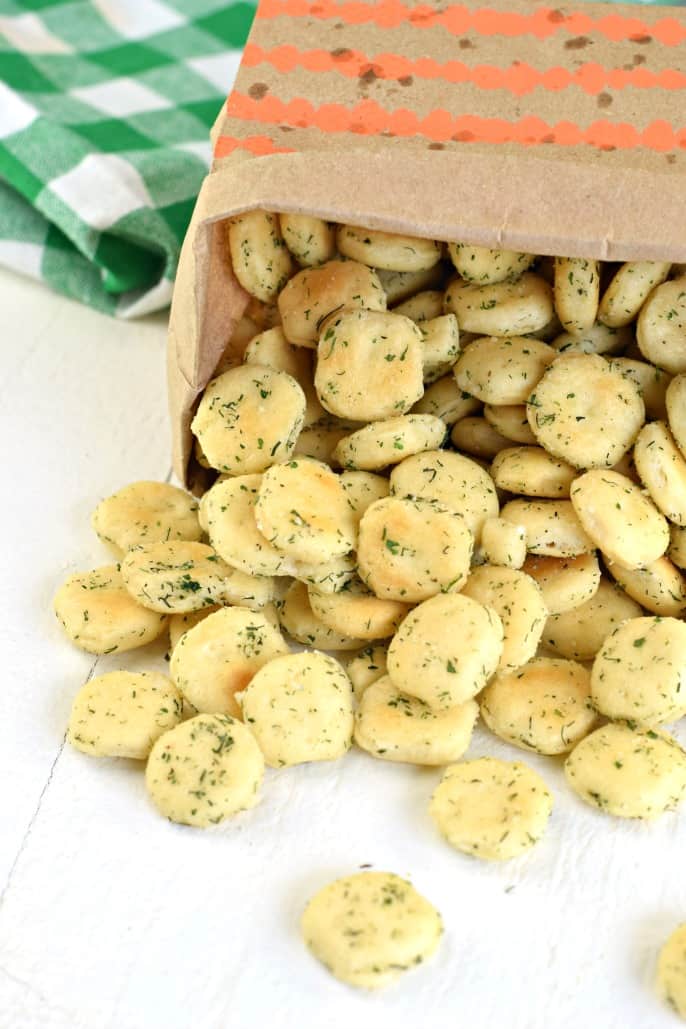 My friends are always surprised when they learn how easy it is to make this snack mix at home.
Making this recipe requires nothing more than mixing a few ingredients together. Packed into snack bags for school lunches or served in bowls to munch on throughout the afternoon, these crackers make everyone happy.
I have also made a Taco Cracker Mix which is easy and delicious too!
How to Make Ranch Oyster Crackers
I've seen some recipes for similar crackers that require you to bake the crackers after tossing them with the seasonings.
This recipe is for Ranch Oyster Crackers with no baking required!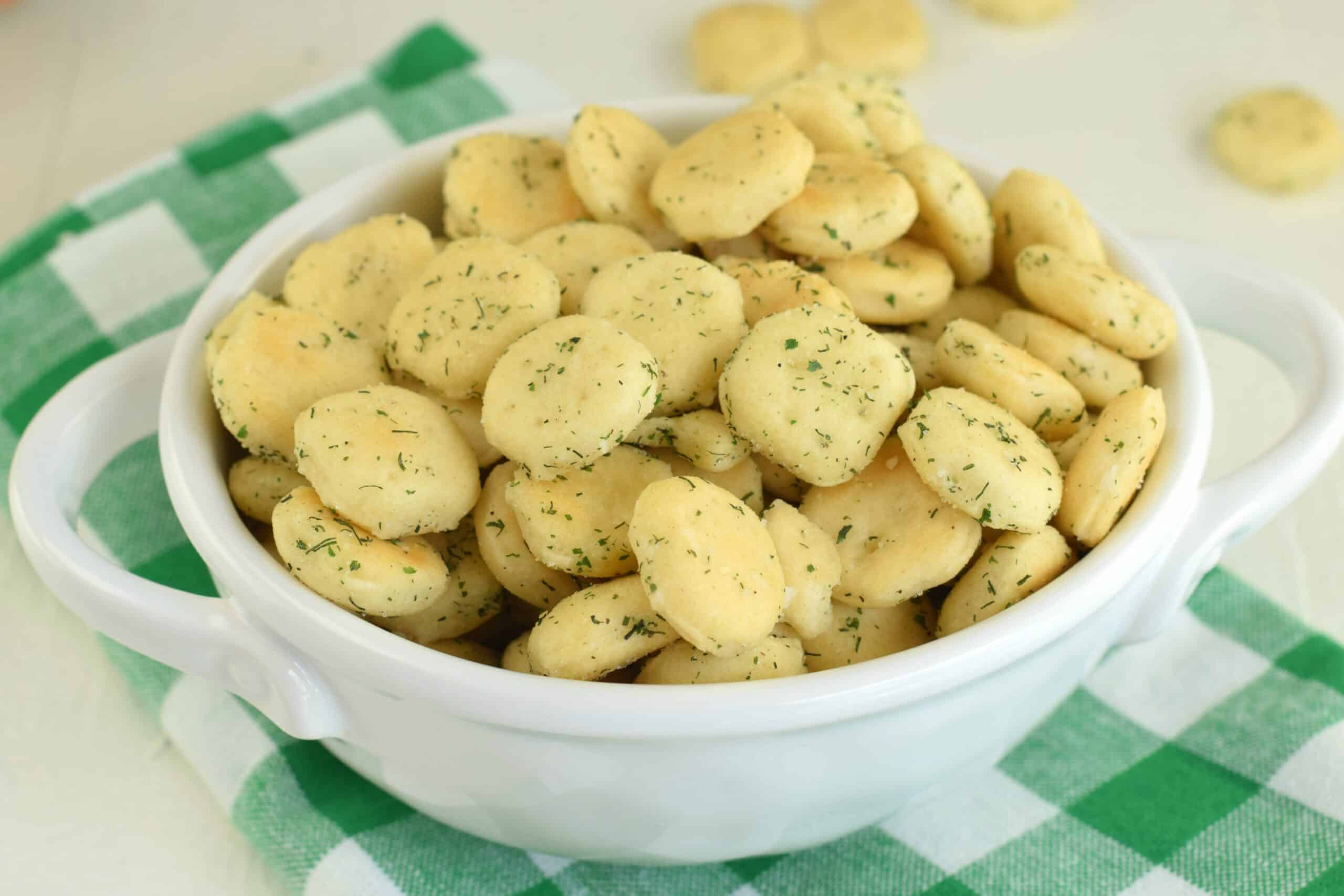 You do need to plan ahead with enough time to let the crackers sit for a while before eating.
Other than that, it takes just a minute or two of preparation to make these tasty snack crackers.
To make this homemade snack, you start with a bag of oyster crackers. Any brand will do. I usually buy the generic store brand or whatever happens to be on sale.
Put two brown paper bags together, and pour the oyster crackers inside. Add a packet of powdered ranch dip mix along with dill, garlic salt and oil.
Mix everything together then let the oyster crackers sit for a couple of hours to dry out before storing in ziploc bags or an airtight container.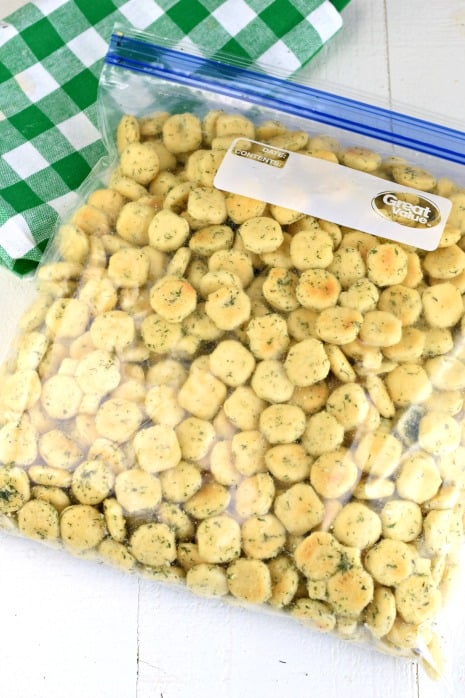 Tips and Tricks
A few tips for making this ranch oyster cracker recipe:
I used Hidden Valley Ranch packets to make these crackers. If you have another favorite powdered ranch dip or dressing mix, that should work just as well. Just be sure it's a dry, powdered mix!
Canola oil or another mild flavored vegetable oil works best; I've also used olive oil in this recipe and it's turned out well. Avoid oils with pungent and strong aromas like coconut oil!
Do not skip the drying out step! If you don't let the crackers sit for a bit, they'll get greasy and soggy in storage. Letting them sit in the brown paper bags for about 2 hours results in a crisp cracker lightly coated in the delicious ranch seasoning.
Most of the time, when I make these crackers we end up eating them on their own as snacks. They're a fantastic salad topper, too.
Sprinkle ranch crackers on any green salad to add a satisfying crunch and a kick of ranch flavor.
They're also delicious on chili or a in a bowl of Chicken Noodle Soup!
Over the years, we've also liked tossing them in a bag with pretzels and nuts for a homemade snack mix.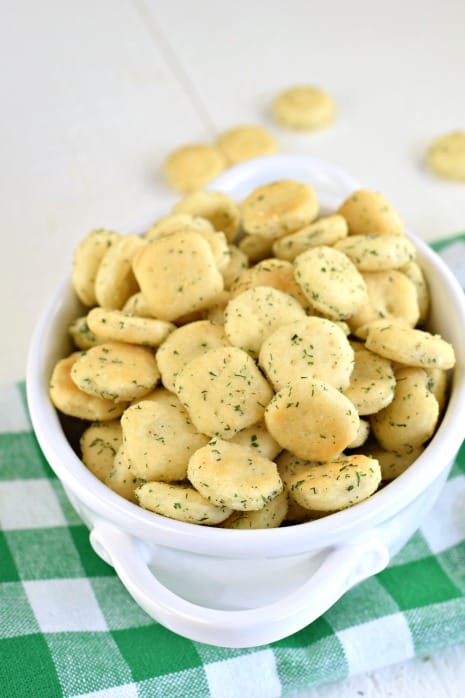 Yield: 12 servings
Ranch and Dill Oyster Cracker Snack
Total Time
2 hours
5 minutes
With just four ingredients, Hidden Valley Ranch Oyster Crackers are an easy way to shake up snack time! Perfect for parties.
Ingredients
2 bags oyster crackers
1 package Hidden Valley Ranch dip mix
1 tsp garlic salt
2 tsp dill
¾ cup oil
Instructions
Mix in a double bagged brown paper bag. Let sit in bag until dry, a couple of hours.
Pour into ziploc bag to store.
Nutrition Information:
Yield:
12
Serving Size:
1
Amount Per Serving:
Calories:

132
Total Fat:

15g
Saturated Fat:

1g
Trans Fat:

0g
Unsaturated Fat:

13g
Cholesterol:

0mg
Sodium:

148mg
Carbohydrates:

1g
Fiber:

0g
Sugar:

0g
Protein:

0g
*Nutrition facts are an estimate and not guaranteed to be accurate. Please see a registered dietitian for special diet advice.
With just four ingredients, Hidden Valley Ranch Oyster Crackers are an easy way to shake up snack time! Perfect for parties.