Snack time just got tastier with this homemade M&M'S® Peanut Butter Caramel Corn! Make a batch today!
**This post is sponsored by M&M'S®. I am excited to partner with them in creating delicious recipes, all opinions are 100% my own***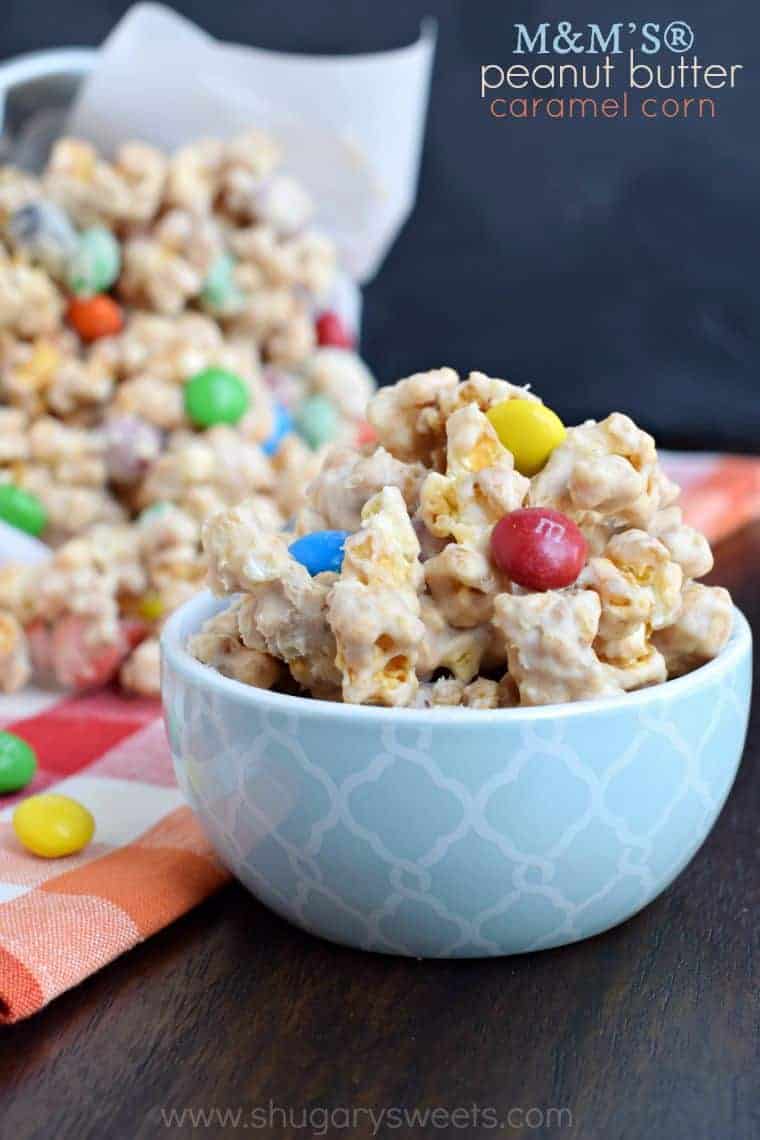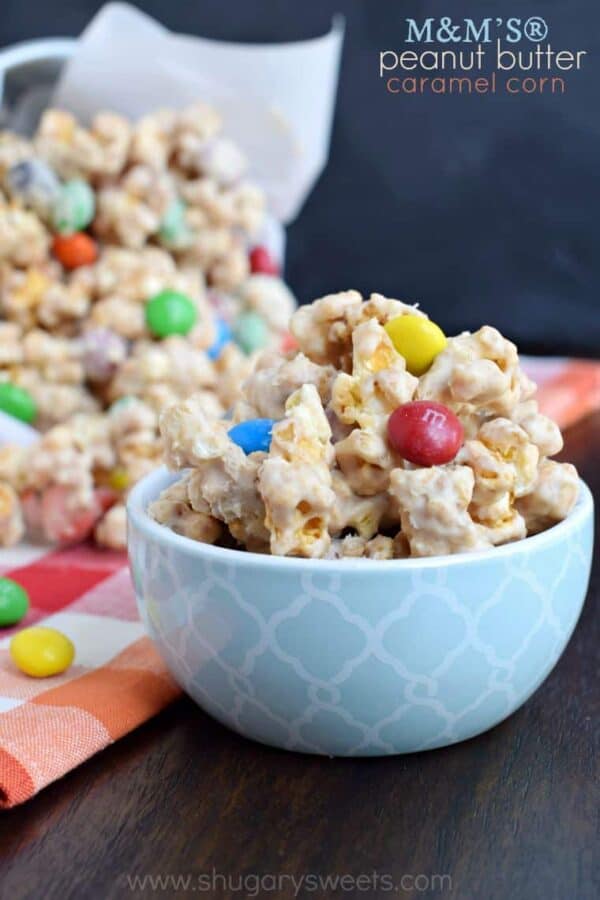 My husband and I had an interview last week. We were invited to join in a group of friends who make regular dates at a local theater. However, while one of the couples is one of our best friends…we didn't really know the other people going.
Here's where the "interview" came into play! We had dinner at our friends house and the other people were there. The criteria of acceptance was all based on what kind of snack I bring.
Obviously, I'm kidding. Sorta. I mean, they did want to "meet us" and they did know that I have a dessert blog. But I'm pretty sure that we were "in" without the interview.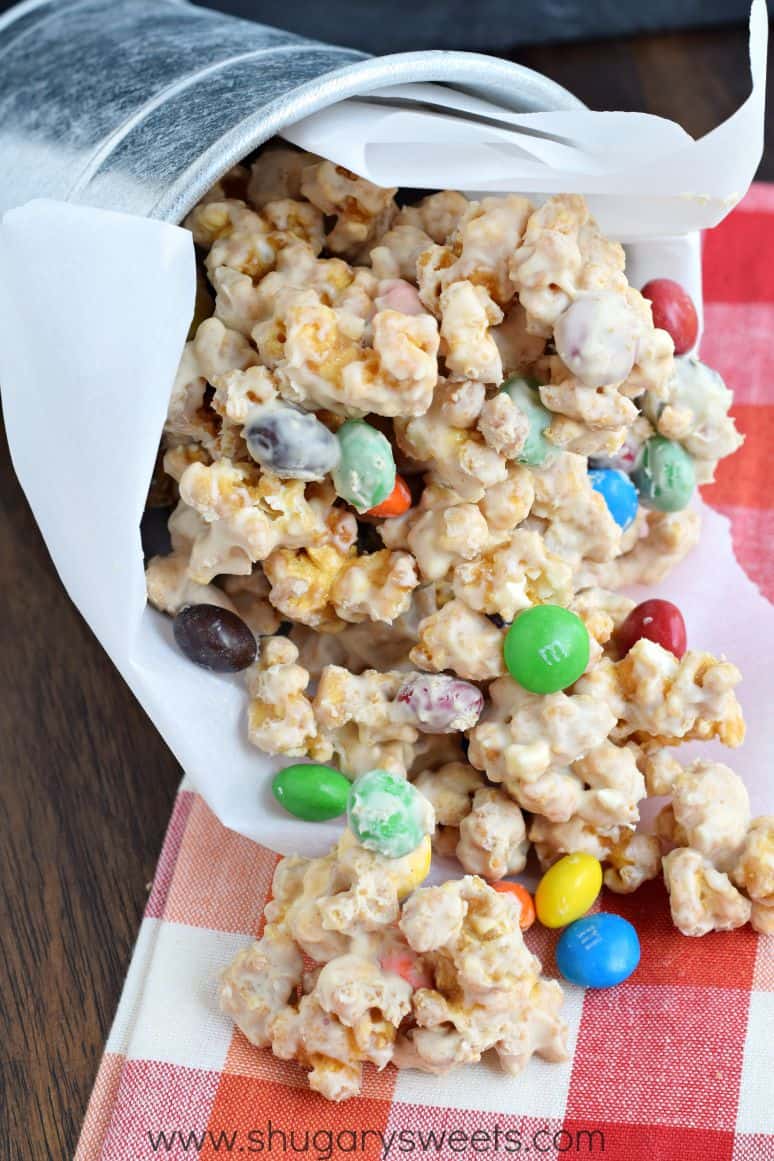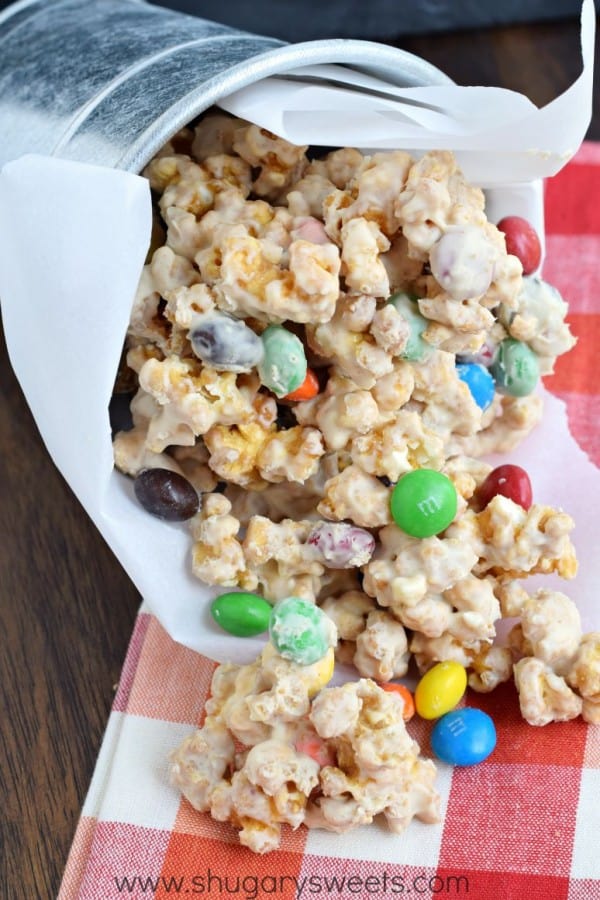 Either way, I made a batch of this M&M'S® Peanut Butter Caramel Corn for dessert. There's no way they would kick us out after trying this treat.
It starts with my favorite homemade caramel corn recipe as a base. But I take it a step further by coating the crunchy caramel corn with a white chocolate and peanut butter coating. I then folded in some M&M'S® Peanut Butter candies and this treat had all the makings of a great snack.
It would be perfect for game day get-togethers, picnics, potlucks, and lunches!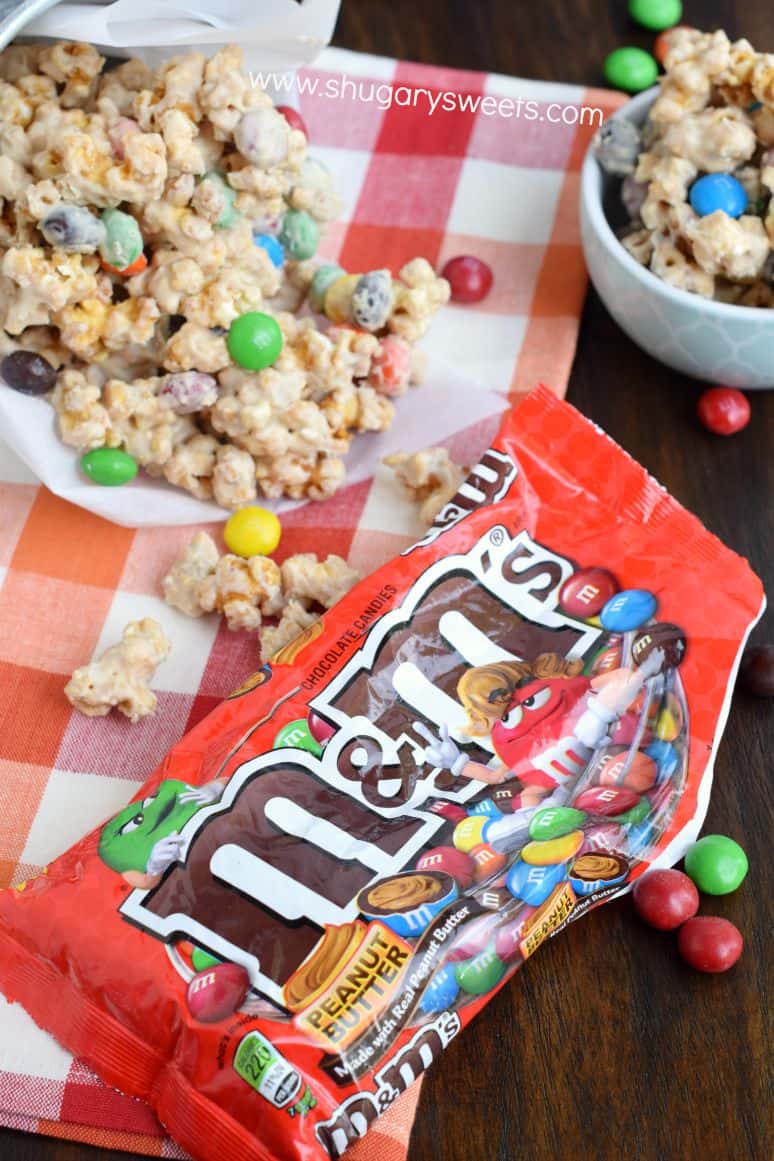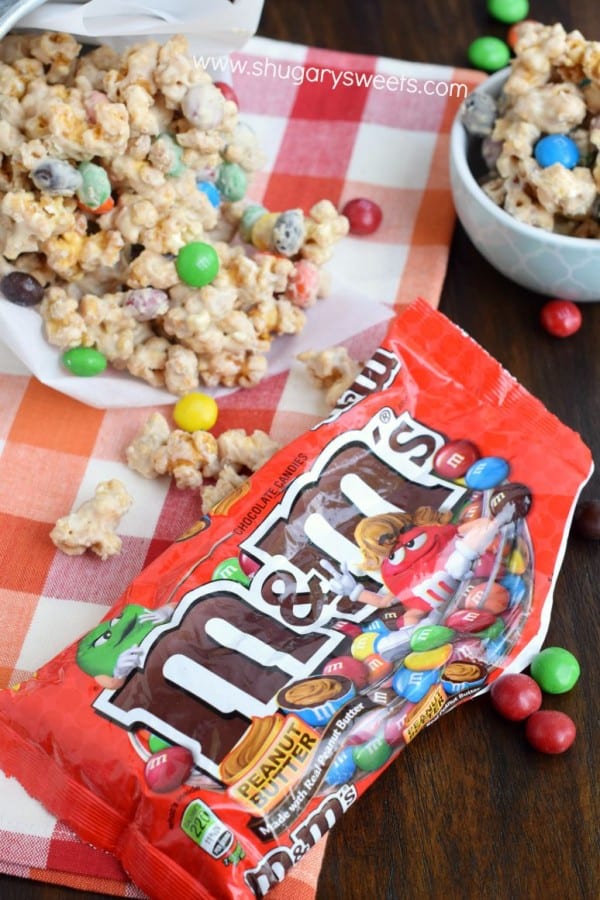 I've partnered up with M&M'S® to help create delicious content for their new Pinterest page! If you have some great cookie or pie (or any dessert) recipe and you want to kick it up a notch, consider adding M&M'S® to your recipe!
In the meantime, whip up a batch of this homemade caramel corn for dessert tonight. Here are a few tips:
When making the popcorn, whether it be air popped or bagged, make sure after you have popped it all (about 18 cups) you want to remove any seeds!
You're going to bring your butter, sugar, corn syrup and salt mixture to a boil on the stove top. Let it boil for a full minute, remove from heat, THEN add the baking soda and vanilla. This will turn the mixture into a frothy light brown color. You want to immediately pour this over the popped popcorn and fold it gently until all the kernels are covered in caramel.
I prefer to line my broiler pans with foil. You can also use 15x10x1 inch pans or disposable lasagna pans. You're going to need TWO pans. Pour your caramel corn onto the two pans and spread it out so it's mostly in a single layer.
Bake for an hour, but after every 15 minutes, remove the pans and stir gently, spooning up the excess caramel on the bottom so it coats the popcorn.
After baking, remove from the oven and pour caramel corn into a VERY LARGE BOWL. Or several bowls. To this you are going to add your melted white chocolate (or almond bark) and your creamy peanut butter mixture. Stir until everything is coated evenly. Add Peanut Butter M&M'S and dump mixture onto a wax paper (or parchment paper) lined counter top. This allows you to spread it out and it will set up quickly.
Once it's all set up (meaning the chocolate peanut butter mixture has dried) break into chunks and store in a couple gallon sized plastic bags. ENJOY!!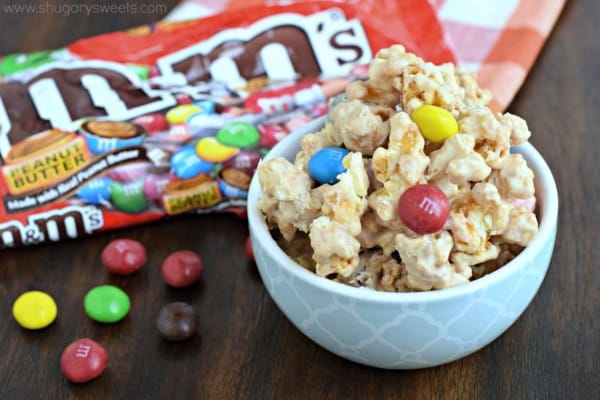 Connect with M&M'S®:
website | pinterest | facebook | twitter
Love adding M&M'S® to dessert? Here are a few more ideas…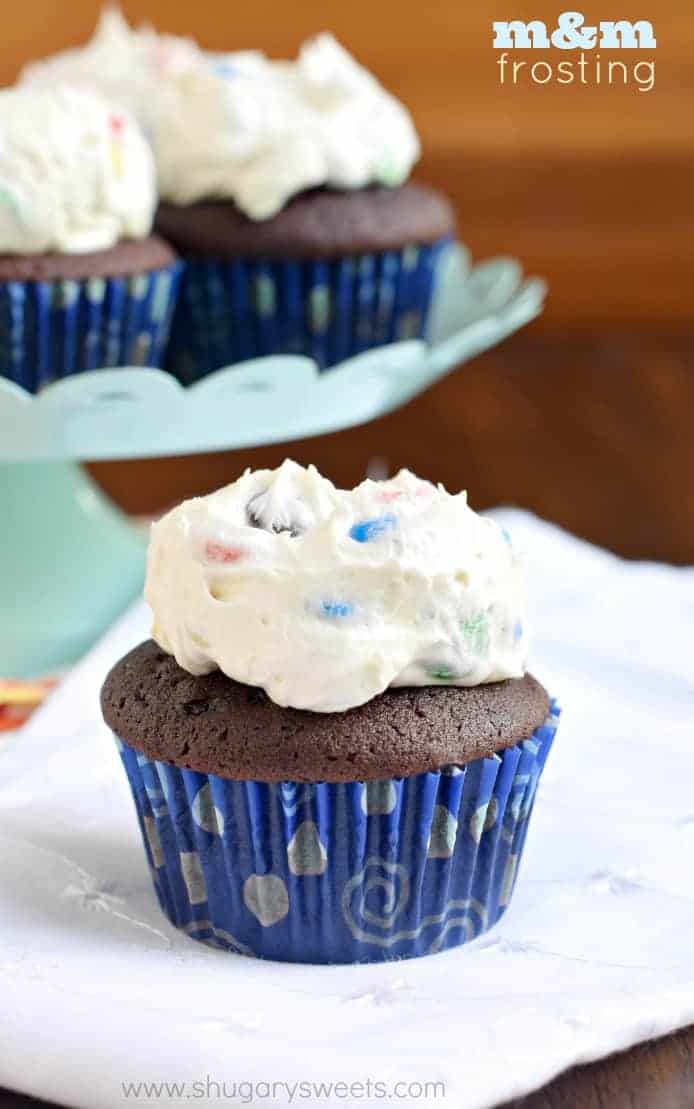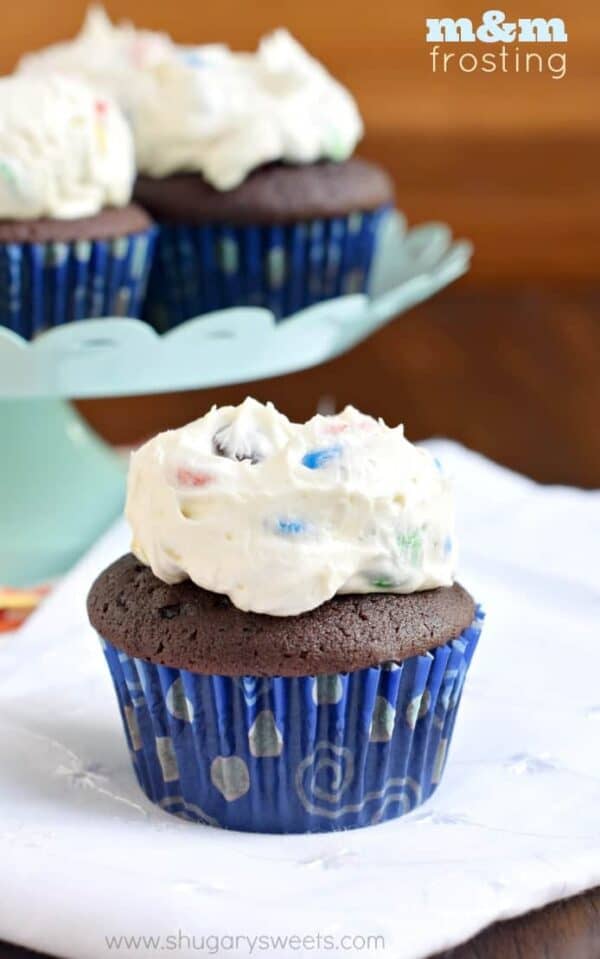 Chocolate Cupcakes with M&M Frosting: you'll love the crunch in the frosting from the candy!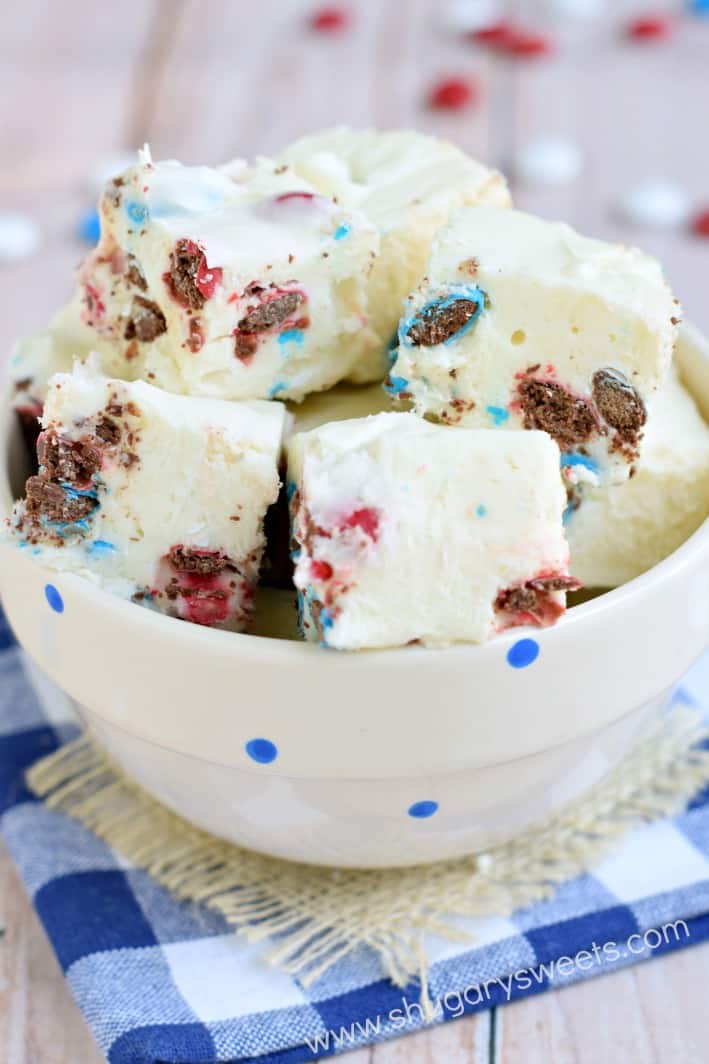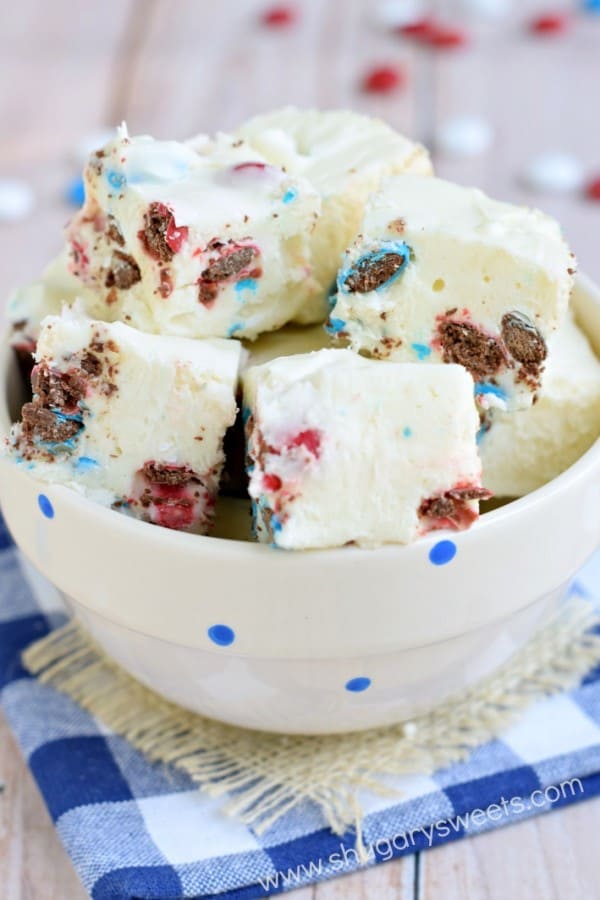 M&M Fudge: creamy vanilla fudge loaded with delicious holiday M&M'S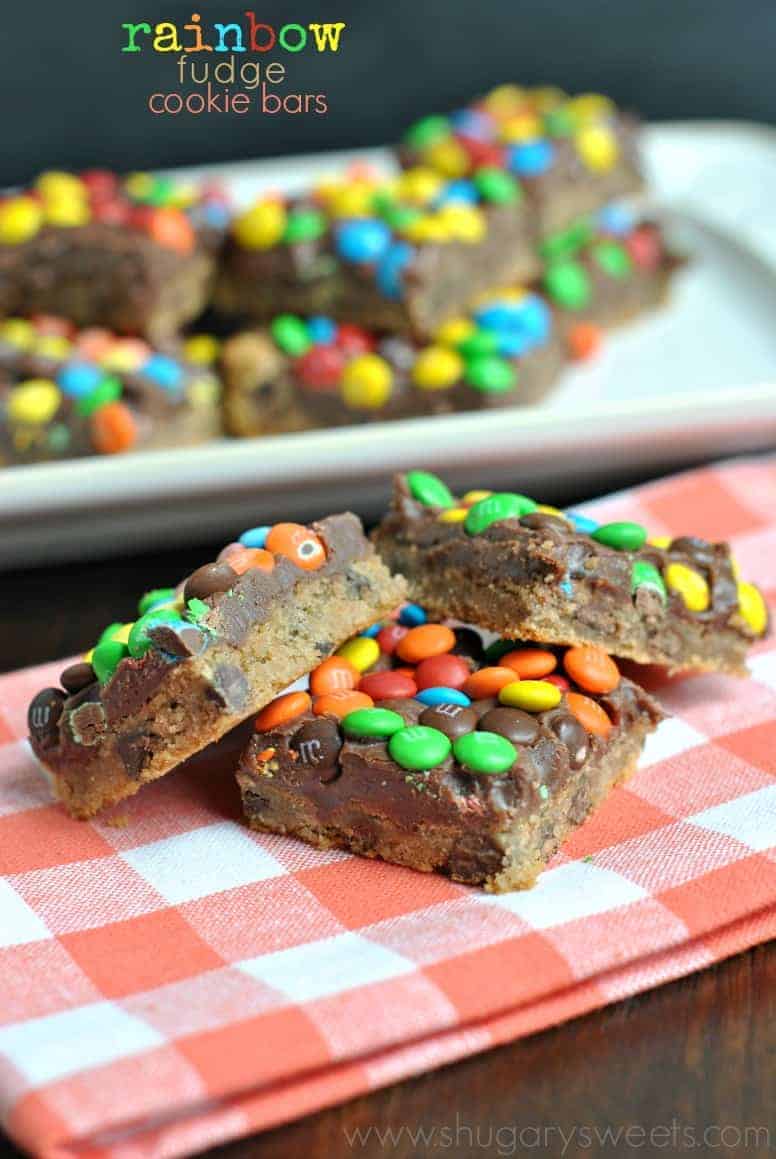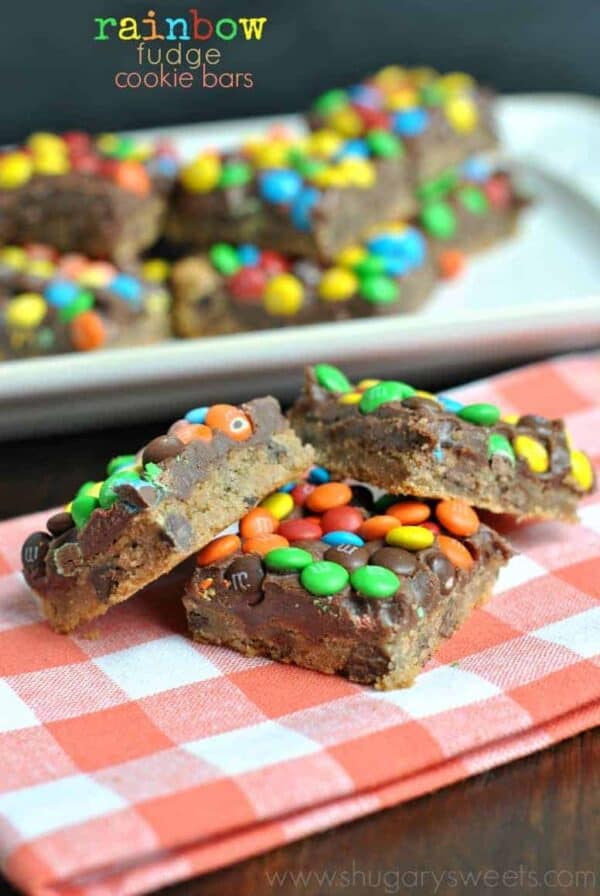 Rainbow Fudge Cookie Bars: only a few ingredients and you can have a batch of these today!

Disclaimer: This post is in partnership with M&M's. All thoughts and opinions are 100% my own. Thank you for supporting the brands that make Shugary Sweets possible.