Rosemary Chipotle Roasted Nuts are a sweet and spicy snack mix you'll want to nibble on all day long. Mixed nuts are tossed with a signature blend of seasonings then oven roasted to perfection in this easy recipe.
If you love sweet and salty, give our holiday chex mix recipe a try next! Or go all sweet and whip up an easy batch of puppy chow!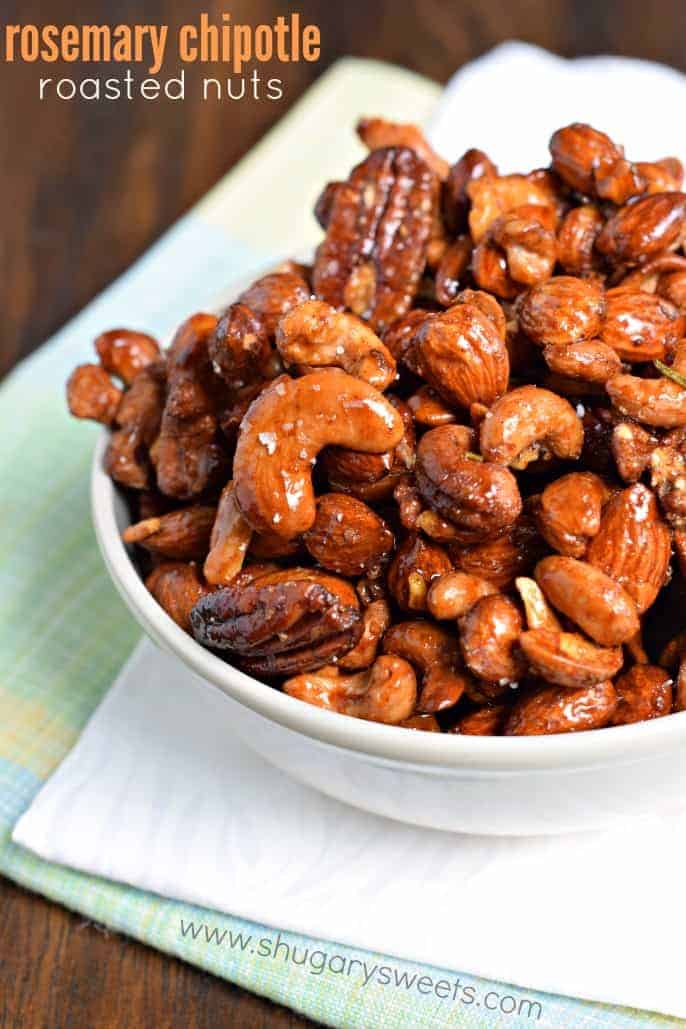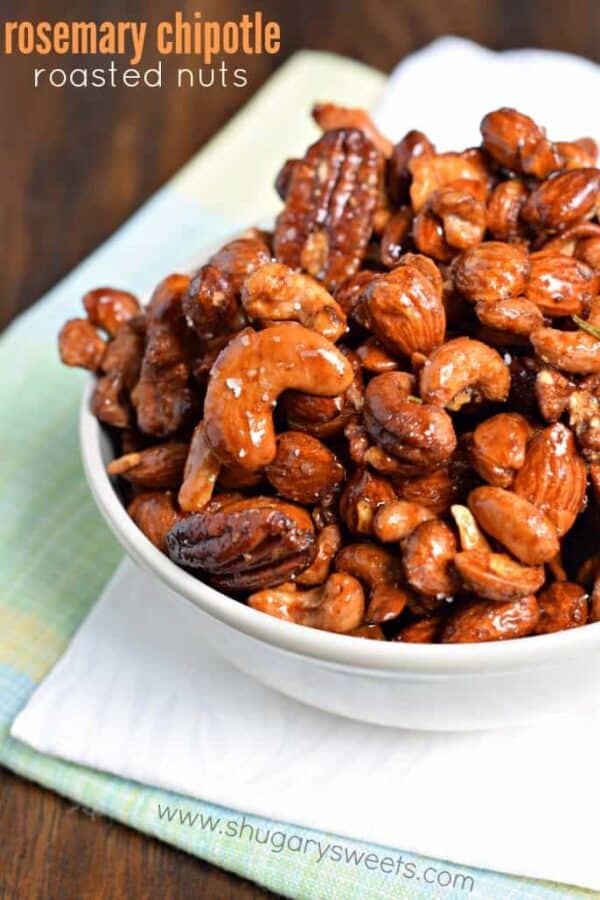 Why These Roasted Nuts are Best
Have you ever roasted nuts at home before? It's surprisingly easy and the results taste so much better than store bought!
Salty, sweet and spicy nuts.
Easy to make.
Perfect party snack.
Addictively good!
This recipe starts by coating the nuts in sweet mixture of orange juice and agave syrup. As the nuts roast in the oven, they develop an almost caramelized exterior that tastes even better when you add some spicy heat to the mix.
Ingredient Notes
Nuts – I use a blend of cashews, almonds, walnuts and pecans in this snack mix. With the exception of the cashews, the nuts should be raw and unroasted.
Agave nectar – This is a natural sweetener similar to honey but with a milder flavor. If you can't find it, use real maple syrup instead.
Orange juice – Mixed with agave and brown sugar, it provides the sticky sweet coating for the spices to stick to.
Chipotle powder – Made from ground dried chipotle peppers, this spice has a smoky heat unlike any other.
Fresh rosemary – A few sprigs of finely minced leaves bring an aromatic, almost peppery element to roasted nuts.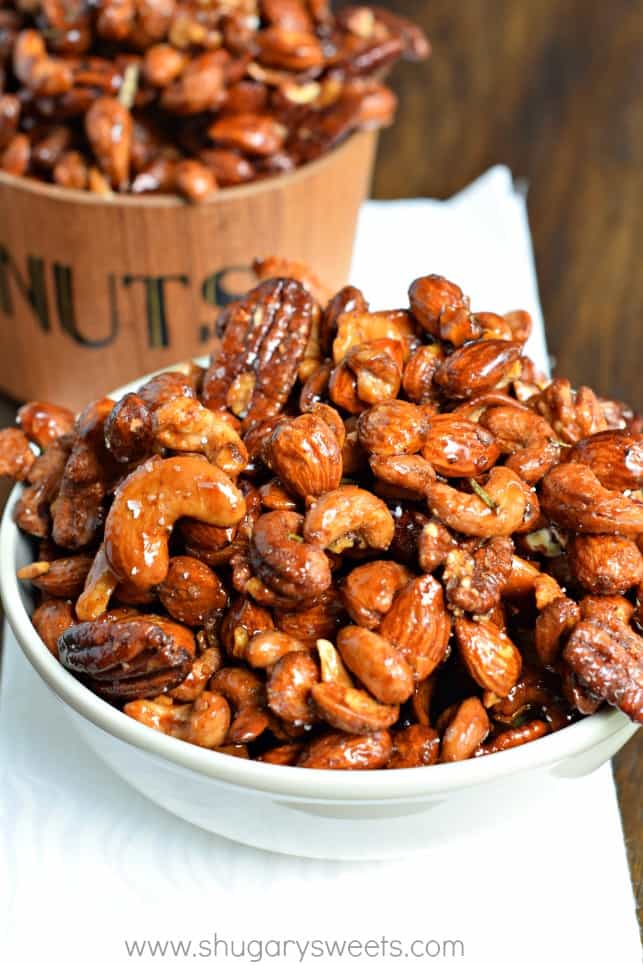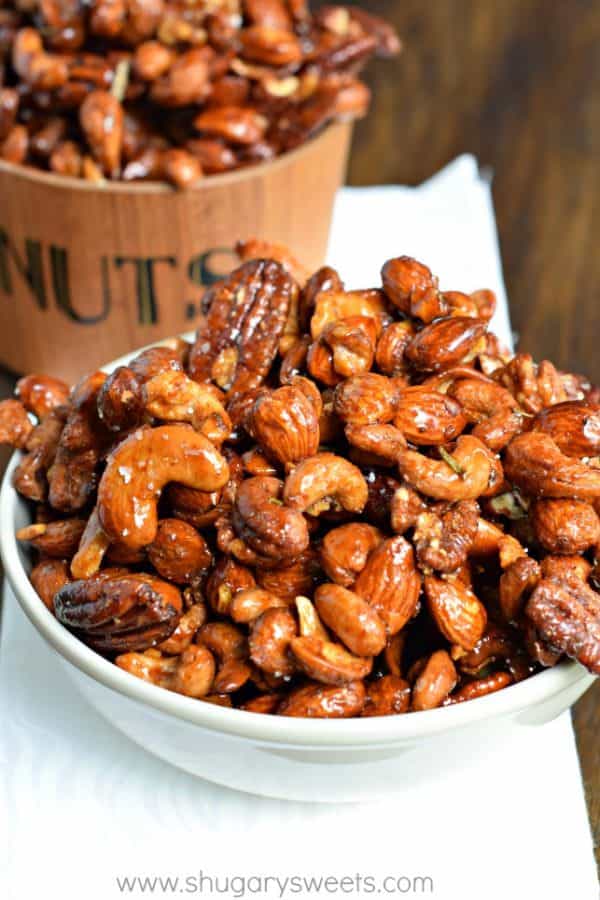 Tips and Tricks
Feel free to use different combination of nuts in this recipe. It would also taste great made with all of one kind of nut, like almonds or cashews.
Stir and flip the nuts over every 10 minutes during roasting. This ensures they roast evenly.
While the nuts are cooling, continue giving them a stir every few minutes to keep them from getting stuck together.
Rosemary Chipotle Roasted nuts make a great homemade gift! This mix is also perfect for a road trip or on-the-go snack.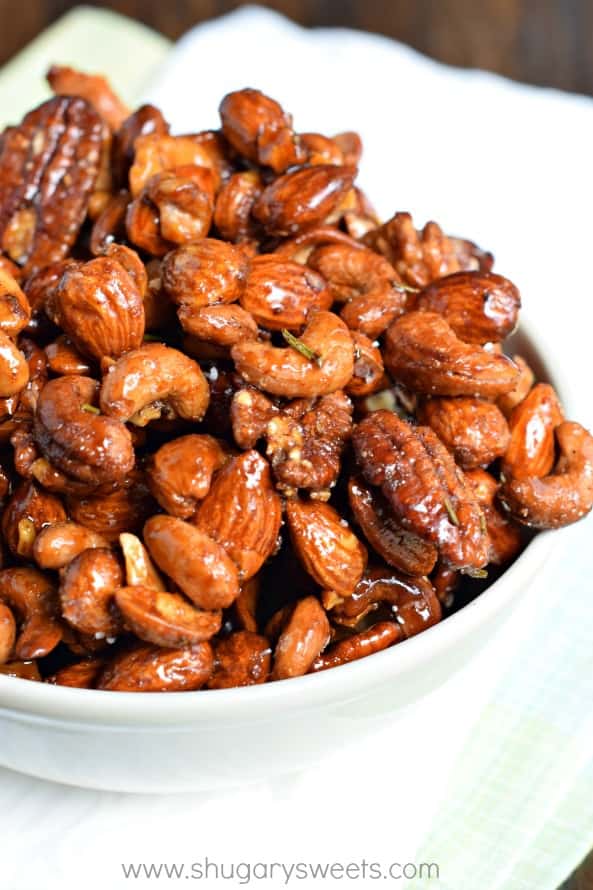 Recipe FAQs
Should I use salted or unsalted nuts?
I use unsalted nuts in this roasted nuts recipe but either would work. If you opt for salted nuts, cut the amount of added salt in the recipe in half.
How do you store roasted nuts? How long do they keep?
Once cooled, these nuts can be stored in an airtight container at room temperature. They stay good for about 1 week.
How can I keep nuts from burning?
It's common for some nuts to start to overbrown before others are done roasting. To prevent this, try to use evenly sized nut and make sure to stir them every few minutes as they cook.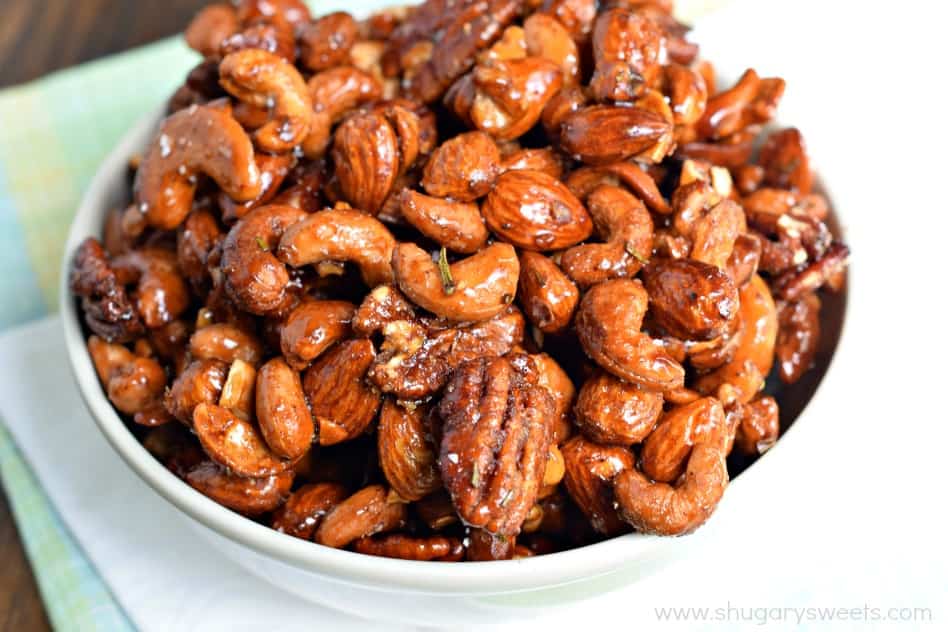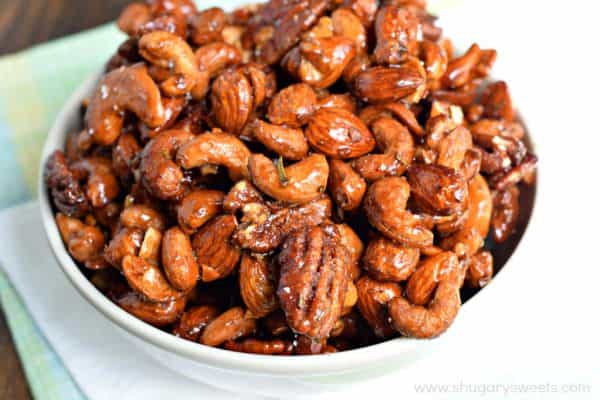 Holiday Recipes
Rosemary Chipotle Roasted Nuts – Perfect sweet and spicy flavor in every handful!