These Valentine Brownies look amazing and taste even better. Homemade brownies are drizzled with melted chocolate and garnished with sprinkles. The perfect sweet treat for February 14th!
It's not Valentine's Day without lots of chocolate. These Valentine's Day Hot Cocoa LOVE Bombs are an ideal gift for that someone special. Or give our perfect chocolate cake with chocolate buttercream a try this year!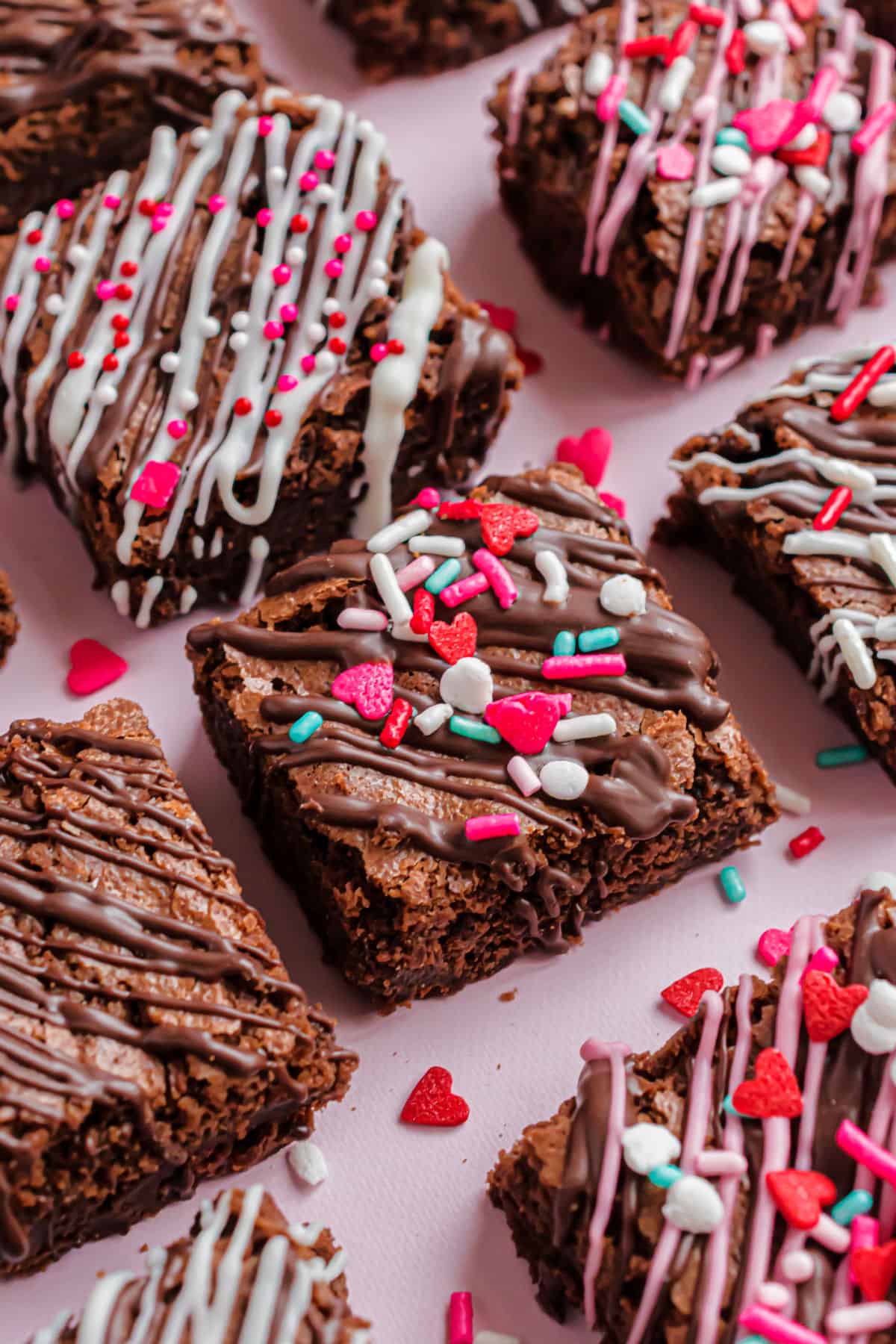 Why this Recipe is Best
This recipe is based on my classic fudgy brownies. I added the melted chocolate and Valentine's sprinkles for a festive touch!
Homemade brownies made in one bowl!
Topped with chocolate drizzle and sprinkles.
Pink, white and red for a fun presentation.
Easy to make and decorate!
You'll love how easy these are to decorate with impressive results. No matter how you decorate them, they taste spectacularly rich, fudgy and chocolatey. Just what I want for Valentine's Day!
Don't forget to whip up a batch of chocolate covered strawberries too for the occasion!
Easy Decorating Instructions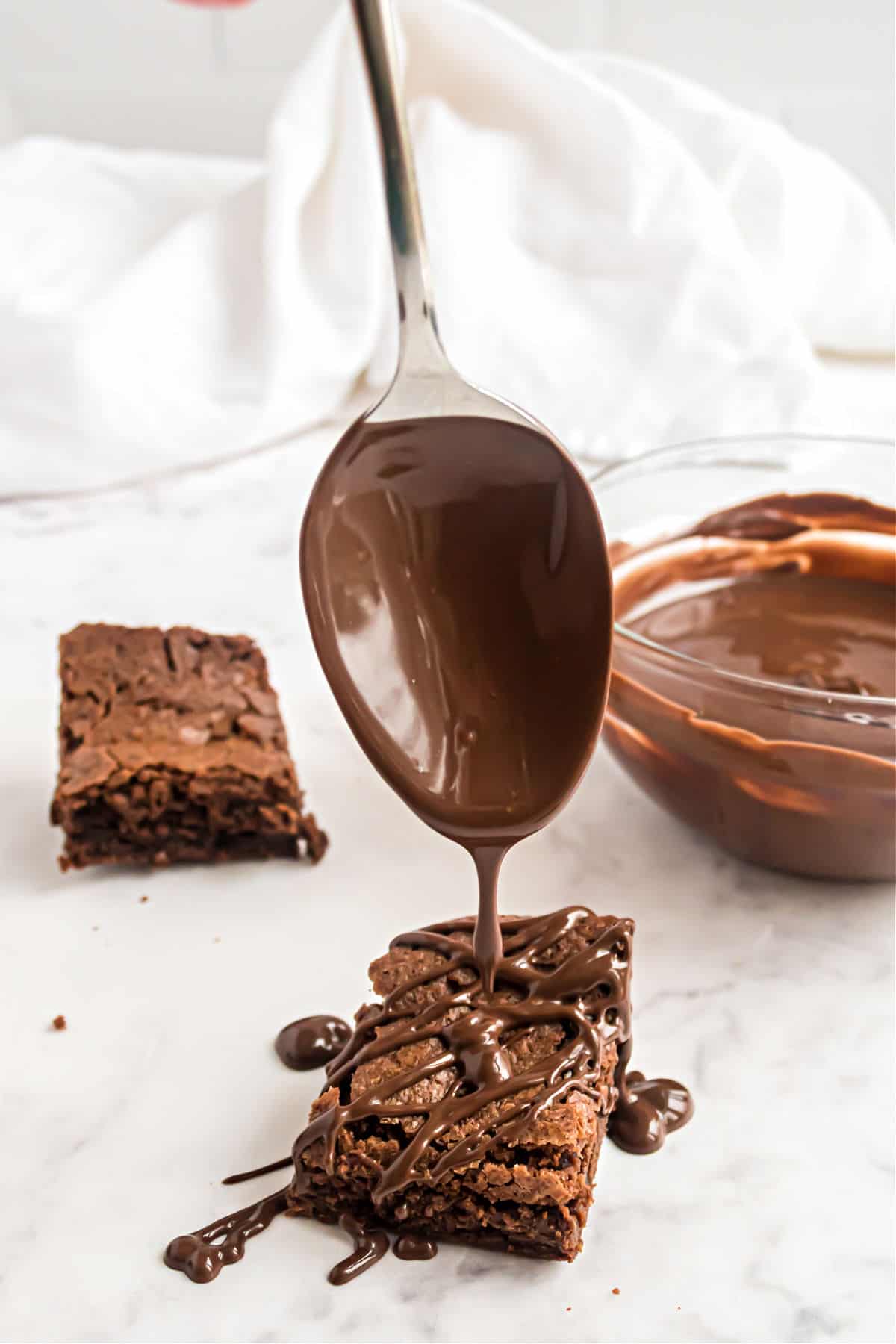 After the brownies are baked and cooled, it's time for the fun part: decorating!
PRO TIP: After brownies have cooled, use a plastic knife to cut perfect squares.
STEP 1. Melt chocolate wafers
Melt milk or dark chocolate in the microwave. Stir until smooth.
STEP 2. Drizzle
Use a spoon or a ziploc bag (see my tips below) to drizzle the chocolate over cooled brownies. You can make any kind of design or pattern you like here. Get creative!
STEP 3. Sprinkles
Immediately decorate the tops of the brownies with sprinkles. Then let the chocolate set for a few minutes to firm up before cutting the brownies.
Tips and Tricks
Drizzling melted chocolate: The easiest way to add the drizzle is by transferring the melted chocolate to a Ziploc bag. Snip off the top of one of the corners and gently squeeze as you move it across the brownies. It gives you so much more control than trying to use a spoon!
Candy melt options: Add more Valentine's color by drizzling the brownies with melted white, pink or red candy melts too! Mix and match to create your favorite combination of colors and styles. Or use Ghirardelli white chocolate wafers and just add festive sprinkles.
Use parchment paper. Lining your brownie pan with parchment paper makes it easy to remove the baked brownies from the pan. Just lift up the edges of the paper and the brownies will slide out in one piece!
Let the chocolate set: After decorating the brownies, immediately move them to a clean cool sheet of parchment paper so the chocolate sets more quickly.
Leftover melted chocolate? Make some chocolate covered Oreos with your leftover chocolate and sprinkles!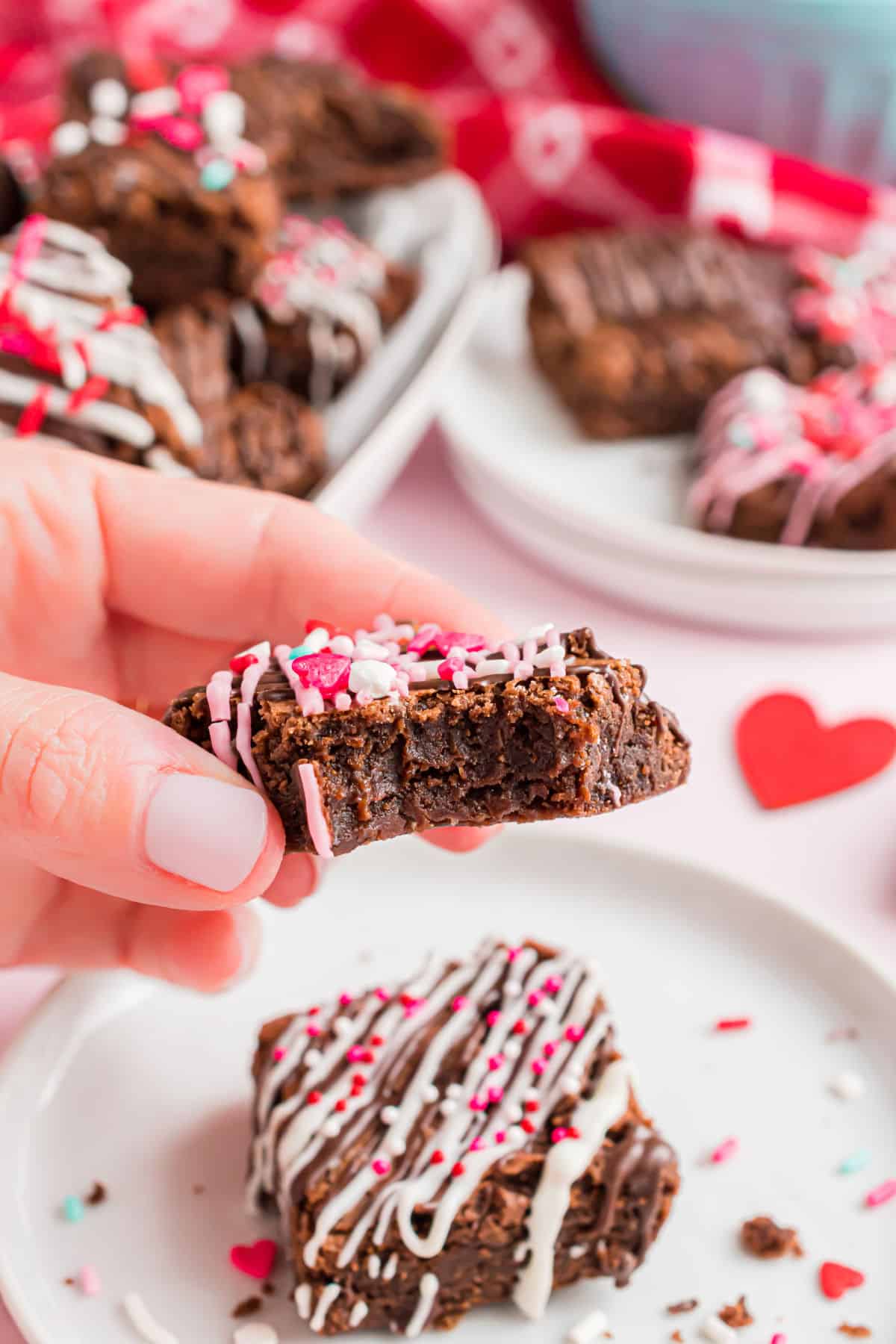 Recipe FAQs
Should these brownies be served chilled or warm?
These brownies taste delicious served at any temperature! Make sure to let them cool completely before slicing in so they don't fall apart. After that you can store them in an airtight container at room temperature or in the fridge if you like them cold. We also love them warmed up with a scoop of vanilla ice cream on top for a Valentine's Day brownie sundae!
How can I make brownies cool faster?
If you just can't wait to get that first glorious fudgy bite, stick the brownies in the refrigerator to help them cool down more quickly. They'll be even easier to cut after they've chilled too.
What chocolate chips are best?
I use semi-sweet or dark chocolate morsels. Milk chocolate chips are delicious too. Feel free to use whatever you have on hand.
Can I use melted chocolate chips instead of melting wafers for the topping?
Melted chocolate chips will give you the same results, however, melting wafers are tempered for melting so the chocolate has a smooth, velvety appearance and texture when it sets.
What sprinkles are best for decorating?
Any combination of pink, white and red sprinkles looks amazing on these Valentine's Brownies! Heart shaped candy sprinkles would be perfect too, naturally.
Make the chocolate lovers in your life extra happy with a batch of these Valentine's Brownies! Easy to make and fun to decorate, these fudgy brownies are the perfect way to show someone you care.