Cherry Chip Cupcakes
Cherry Chocolate Chip Swiss Meringue Frosting, Dark Chocolate Cupcakes and a Chocolate Covered Cherry. Need I say more?
Be sure to follow me on Bloglovin'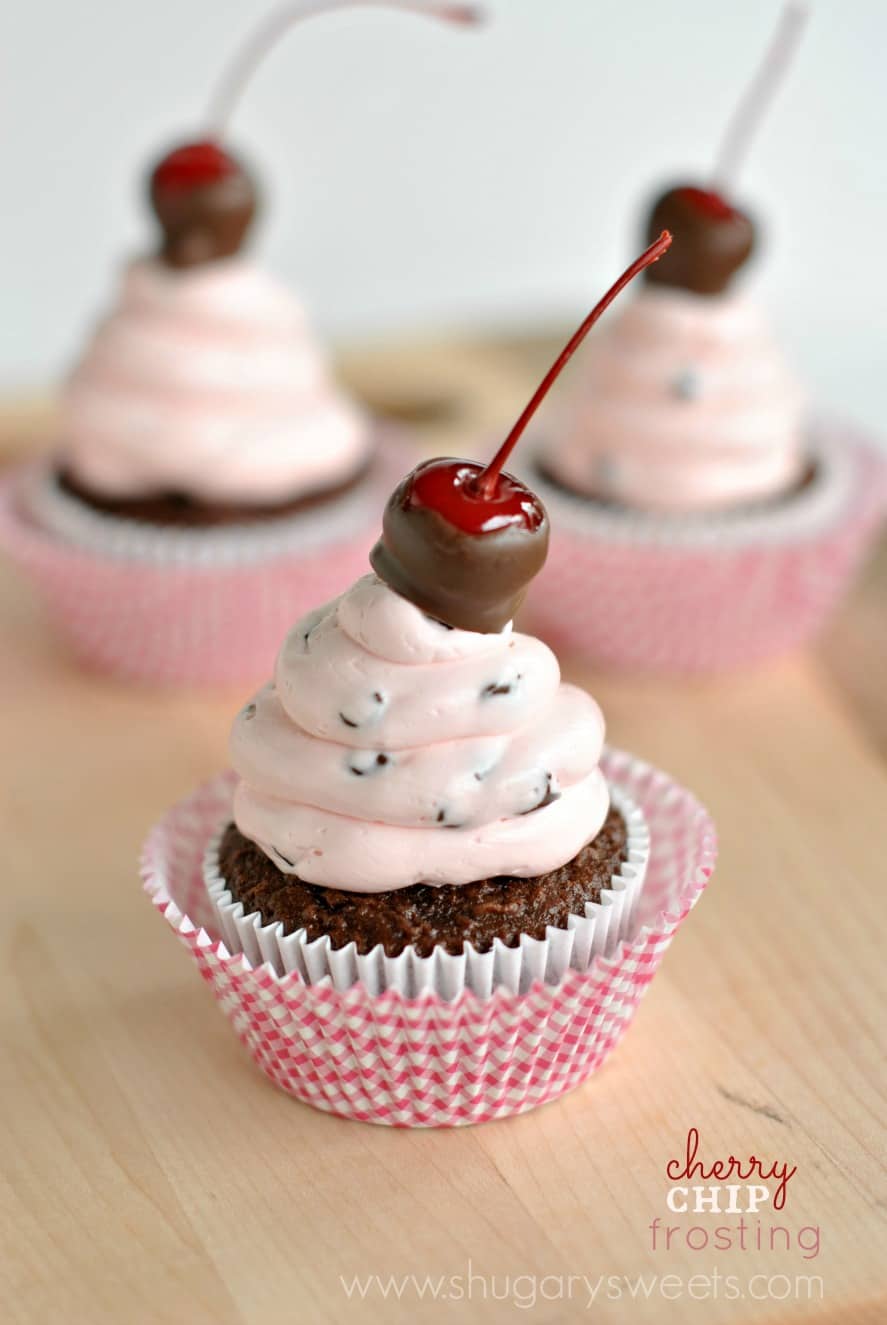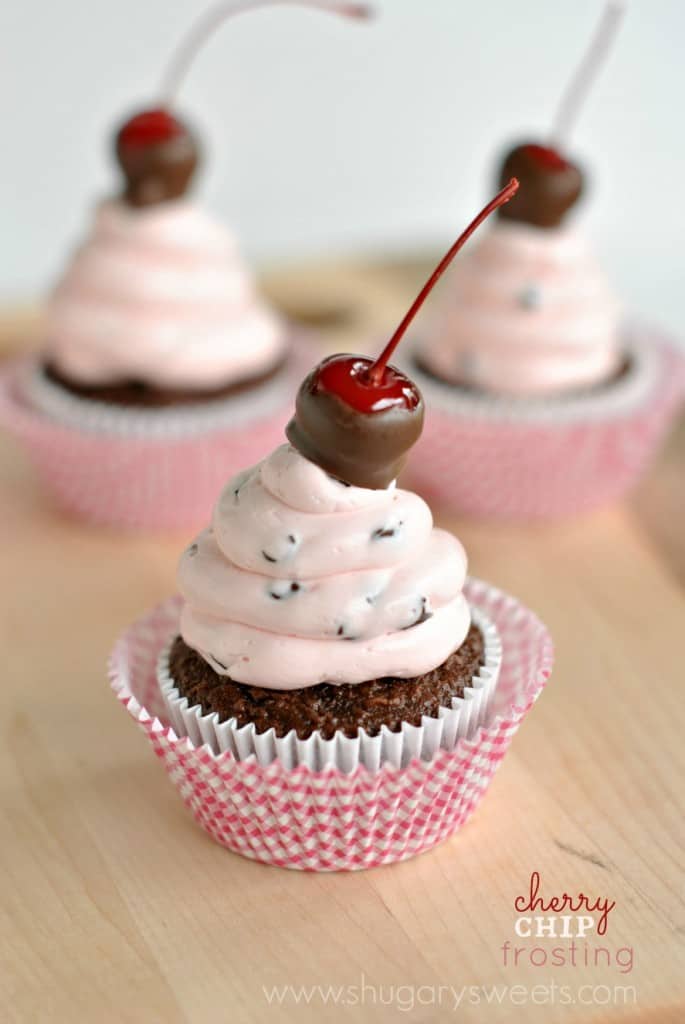 Do you have any idea how long it's been since I shared a cupcake recipe? September 2013.
I'm sorry. That is completely unforgivable on my part. I hope I can make it up to you all. Will this Cherry Chocolate Chip Cupcake help?
I've actually been keeping a bit of a secret for the past year. Nearly one year ago I wrote a cookbook proposal. A cookbook all about FROSTING. I wrote over 70 delicious, mouth watering frosting recipes. Sent my proposal to my agent. And several weeks later….sweet Courtney from Pizzazzerie announced her cookbook. The most beautiful cookbook…called FROSTINGS.
So my friends, one year later, my agent and I came to the decision that we don't want to compete, obviously, and we cancelled the contract. Which I feel slightly relieved. I had no idea Courtney had been in the works creating a cookbook with the same topic, and I didn't want to release one with the same topic, so soon after hers hit the shelves! This my friends, is great news for all of you.
Great news because I now have 70+ frosting recipes to share here on Shugary Sweets, hehe!!!! I promise to space them out some and not send you all into a sugar coma!
I've been crazy excited the past couple days, trying to decide which frosting recipe to share first. I finally closed my eyes and drew a name.
Cherry Chocolate Chip Swiss Meringue Frosting.
If you're new to Swiss Meringue style frosting, don't be afraid. It may seem intimidating, but read through the directions before starting.
It's such a smooth, buttery frosting and it's perfect with the cherry and chocolate. You may remember this Salted Caramel Swiss Meringue frosting from awhile back. Both are awesome.
I used my favorite dark chocolate cupcake recipe as the base for this delicious cupcake! ENJOY!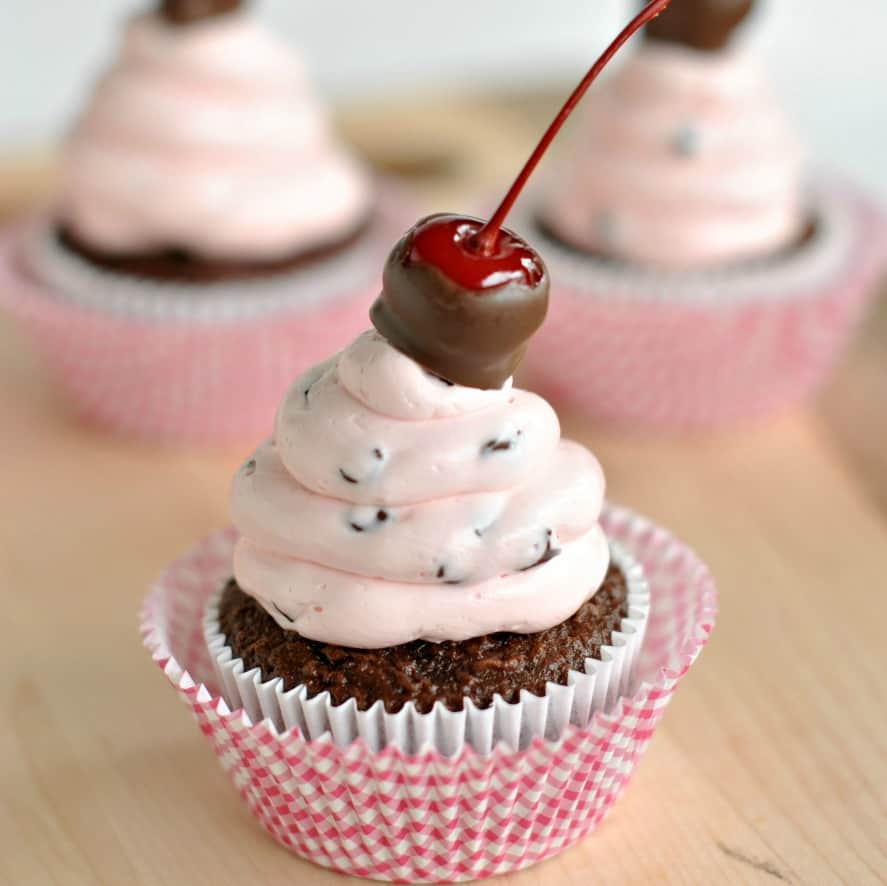 Connect with Shugary Sweets! Be sure to follow me on my social media, so you never miss a post!
Pinterest | instagram | Bloglovin'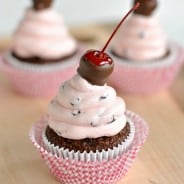 Cherry Chip Cupcakes
Yield: 24 cupcakes
Prep Time:30 minutes
Ingredients:
5 egg whites
1 1/2 cup granulated sugar
2 cup unsalted butter
1/2 tsp kosher salt
1/2 cup maraschino cherry juice
3/4 cup mini semi-sweet chocolate morsels
24 maraschino cherries, with stems
2 oz chocolate Candiquik
Directions:
Prepare 24 chocolate cupcakes (either from scratch using the recipe in THIS post, or use a boxed mix). Cool completely.
Heat a small saucepan with one inch of water, bring to a boil. Once boiling, turn down to a low simmer. Place a heat safe mixing bowl over the simmering water. Add egg whites and sugar to bowl, whisking until combined. Attach a candy thermometer and continue whisking over simmering water until temperature reaches 145 degrees F.
In a clean, dry mixing bowl, attached to a stand mixer with whisk  attachment, beat egg white mixture on medium speed until doubled in size and cooled. This process takes 6-10 minutes.
Slowly beat in butter, 1-2 Tbsp. at a time. Keep mixing until all butter has been added. It may appear curdled, keep mixing. Add salt slowly and add cherry juice. This process takes an additional 8-10 minutes for the addition of butter and juice. Fold mini morsels into frosting.
Pipe onto cupcakes and enjoy!
To pipe onto a cupcake like the photo, use tip 1A. Pipe in circles, swirling upward like an ice cream cone.
To make chocolate cherry garnishes, use maraschino cherries with stems attached. Melt 2oz chocolate candy coating in microwave in 30 second intervals until smooth. Dry the cherries on a paper towel and holding the stem dip each cherry into the melted chocolate. Place upright on a piece of parchment paper. After frosting each cupcake, top with a chocolate covered cherry.
Recipe makes enough frosting for 18-24 cupcakes, or a 2 layer 9inch cake.
MAKING THIS RECIPE? Share it with me on Instagram using the hashtag #ShugarySweets so I can see what you're cooking up in the kitchen!
Love FROSTING?
Here are a few of my favorite recipes….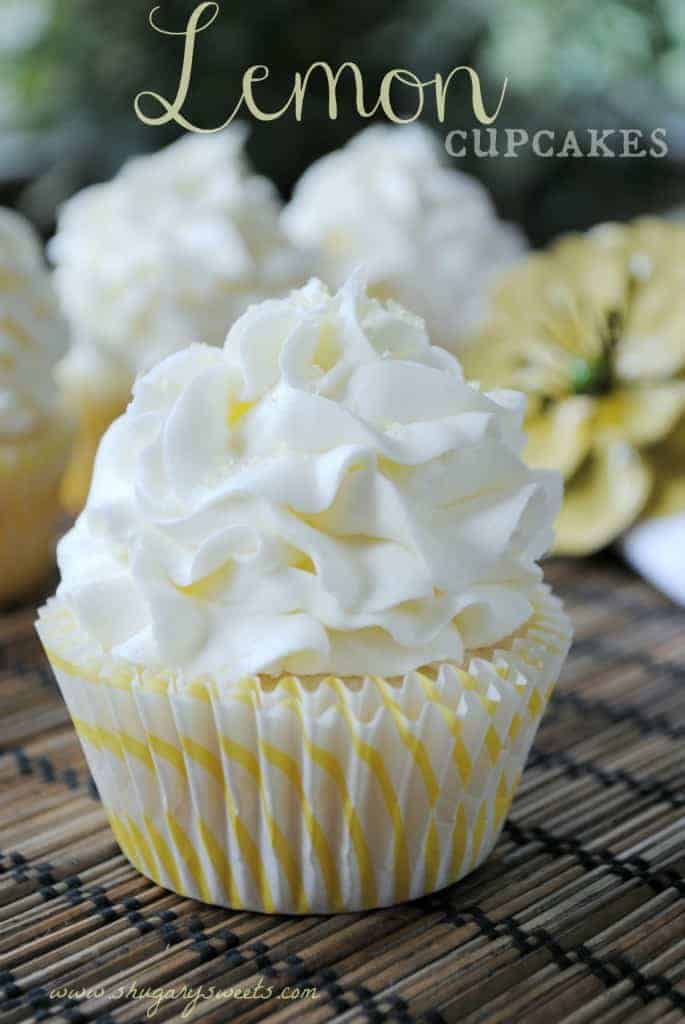 Lemon Cupcakes with Lemon Buttercream. One of my most popular recipes. One bite and you'll understand!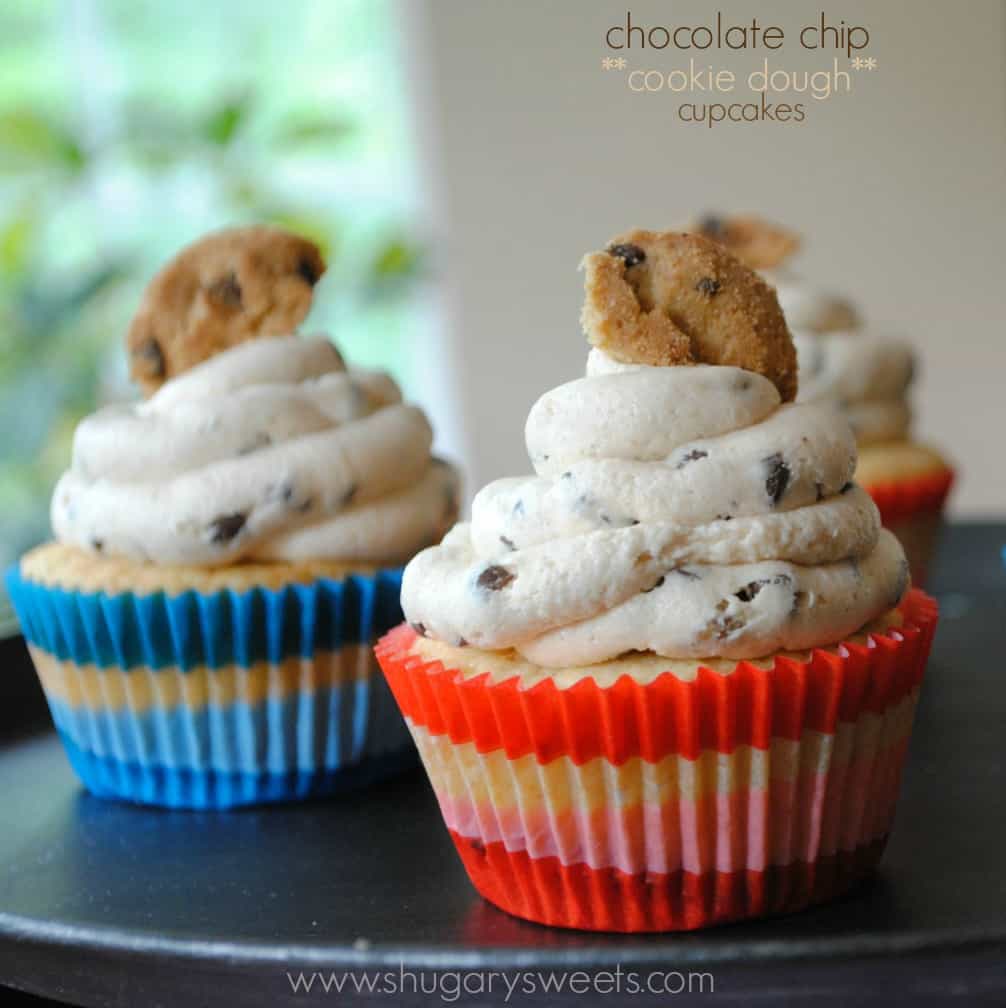 Chocolate Chip Cookie Dough Frosting…yes, frosting that tastes like cookie dough!!!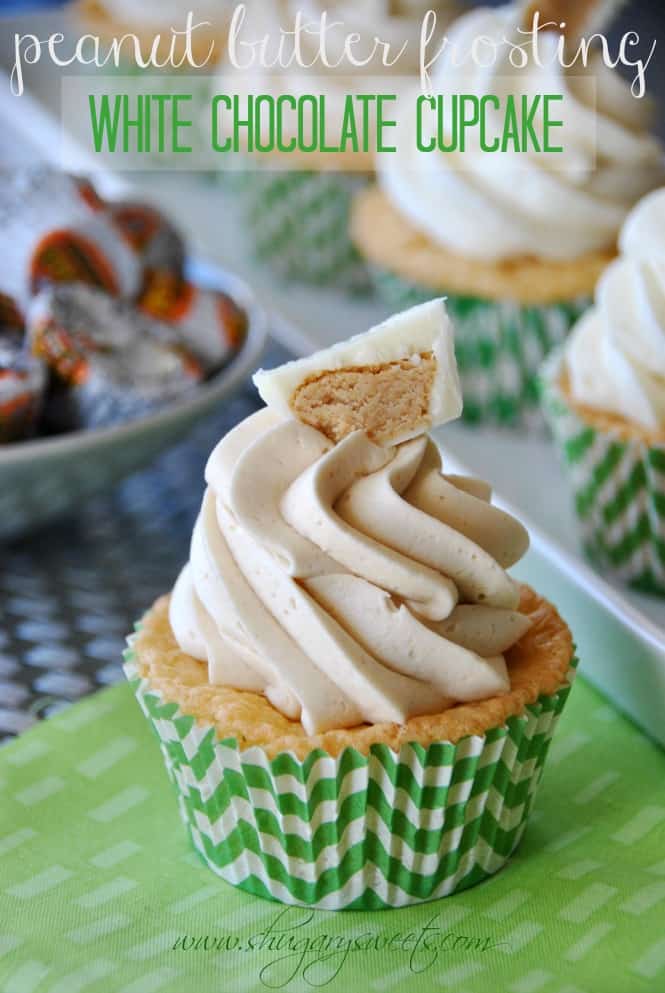 White Chocolate and Peanut Butter Frosting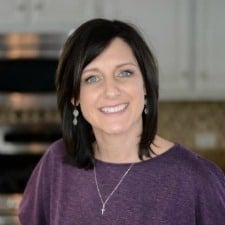 Aimee is a dessert lover (specifically rice krispie treats), workout enthusiast, self-taught foodie, and recipe creator. Her recipes have been featured in over 15 magazines, and her passion is to share her love of cooking with the everyday home cook! Learn more about Aimee.