Cherry Chocolate Chip Cupcakes – Covered in Swiss meringue frosting and topped with a chocolate covered cherry, these dark chocolate cupcakes are simply irresistible.
We love all frosting in our house. From simple chocolate buttercream frosting, to a classic cream cheese frosting! Today's recipe is a new favorite.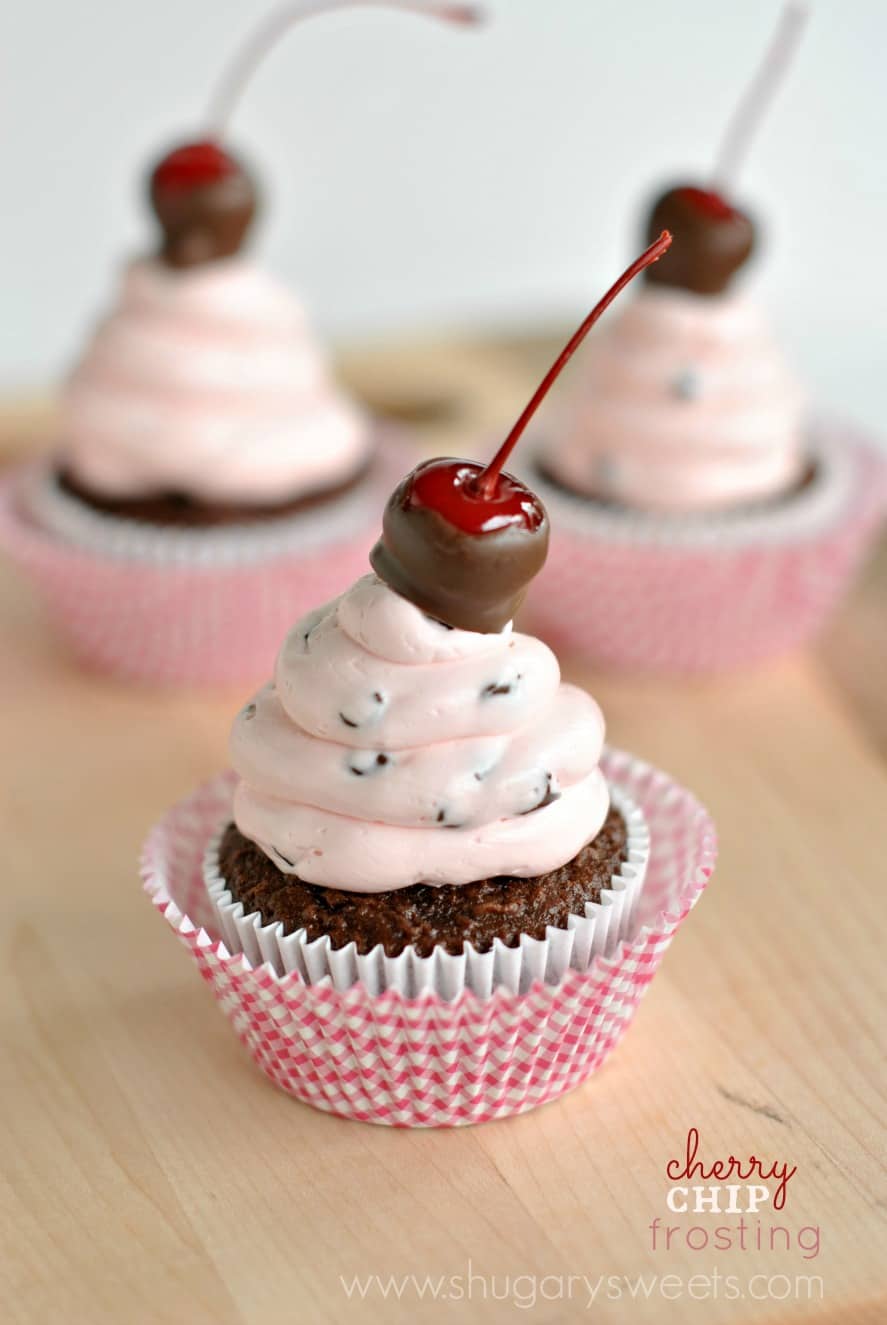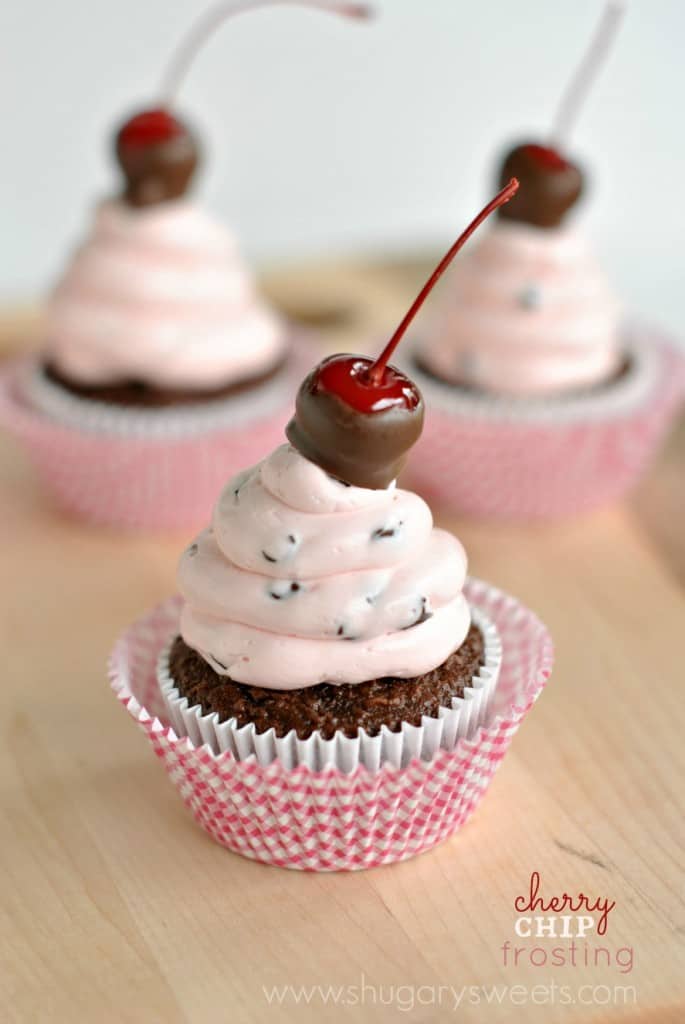 What is Swiss Meringue Frosting
If you're new to Swiss Meringue style frosting, don't be afraid!
While it takes a little more effort than your everyday vanilla buttercream, Swiss Meringue frosting is well worth it.
Egg whites get warmed with sugar, beaten to form the stiff peaks that make meringue so good, then combined with butter.
For these cupcakes, you'll also add a little cherry juice to your Swiss Meringue Frosting to the perfect touch of flavor and color.
It's such a smooth, buttery frosting and it's perfect with the cherry and chocolate.
Once you try this cherry version, you may want to revisit my Salted Caramel Swiss Meringue frosting from awhile back too. Both are awesome.
I used my favorite dark chocolate cupcake recipe as the base for this delicious cupcake and was not disappointed. These would be great Valentine's Day desserts or for any occasion when you want to make a chocolate lover happy!
Ingredient Notes
Dark cocoa powder – Unsweetened dark chocolate cocoa powder gives these cupcakes the richest chocolate flavor. If needed, you can substitute regular unsweetened cocoa powder.
Buttermilk – Homemade buttermilk substitute works great here.
Coffee – Make a little extra coffee in the morning and set it aside to add deeper chocolate flavor to your cupcakes.
Marachino cherries – Keep the stems on! Set aside the cherry juice to add to your frosting.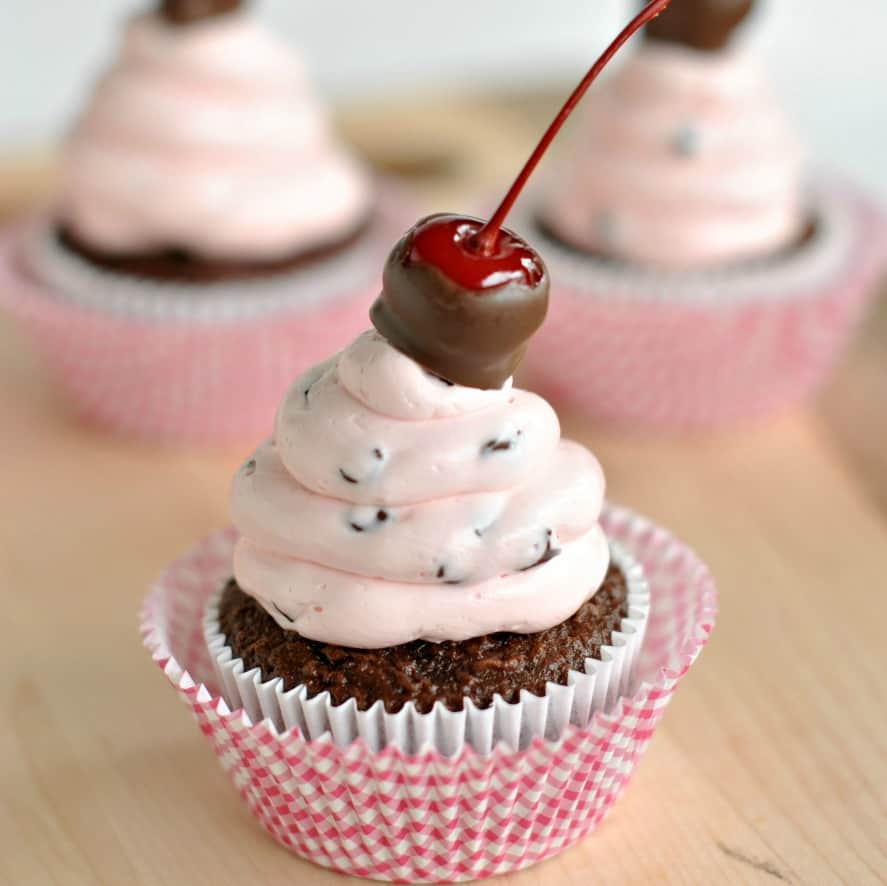 Step by Step Instructions
First, make your cupcakes:
STEP 1. Combine the dry ingredients in one bowl and the buttermilk and coffee in another.
STEP 2. Beat the butter, sugar and eggs in a large mixing bowl, then alternate adding the dry ingredients and the coffee mixture until a smooth batter forms.
STEP 3. Fill the lined cavities of a cupcake pan with batter, then bake for about 15 minutes.
Let the cupcakes cool completely while you make the Swiss Meringue Frosting.
To make the frosting:
STEP 1. Bring an inch of water to a boil in a small sauce pan, then reduce the heat to a simmer.
STEP 2. Add sugar to a heat safe bowl and place it over the water. Whisk the egg whites with sugar until the mixture reaches 145 degrees.
STEP 3. Transfer the egg whites to the bowl of a stand mixer. Beat until the meringue is doubled in size.
STEP 4. Gradually beat in the butter, then add salt and cherry juice. Fold in mini chocolate morsels.
Pipe the frosting on to your cupcakes, then dip marachino cherries into melted dark chocolate and place them on top of each cupcake. So pretty and delicious!
Tips and Tricks
The frosting needs a LOT of time in the mixer to achieve the right consistency. Add the butter very slowly to the meringue and beat beat beat!
If the butter appears to curdle when you add it to the egg whites, that's okay. Just keep mixing and it'll all smooth out.
I used frosting tip 1A to make swirls on top of the cupcakes. Pipe on in spirals, like an ice cream cone.
Recipe FAQs
Can you make the frosting without a candy thermometer?
No. This is one time when you need to get the ingredients to a precise temperature to have good results.
Why does my frosting look curdled?
You probably didn't mix it for long enough. It needs a full 8 – 10 minutes in the stand mixer on medium speed to get all the butter and cherry juice fully incorporated.
Can this be made as a layer cake instead?
Yes. It makes a beautiful layer cake too. Divide the batter into two 9 inch baking pans sprayed with baking spray and add baking time as needed until a toothpick inserted in the center of the cakes comes out clean.
There's no day like today for trying your hand at making Swiss Meringue Frosting! Paired with sweet cherry flavor and piped on to rich dark chocolate cupcakes, this heavenly frosting is a must-try.
Who's ready to bite into a Cherry Chip Cupcake?
More Cupcake Recipes