These Lime Swirled Icebox Cookies are here to add some zest to your sweet snacking! Flecked with green and kissed with lime flavor, Ice Box Cookies are a spring and summertime favorite.
Love Icebox recipes? Our S'mores Icebox Cake is so easy, and a no bake favorite! Or give these red, white, and blue icebox cookies a try for the holidays!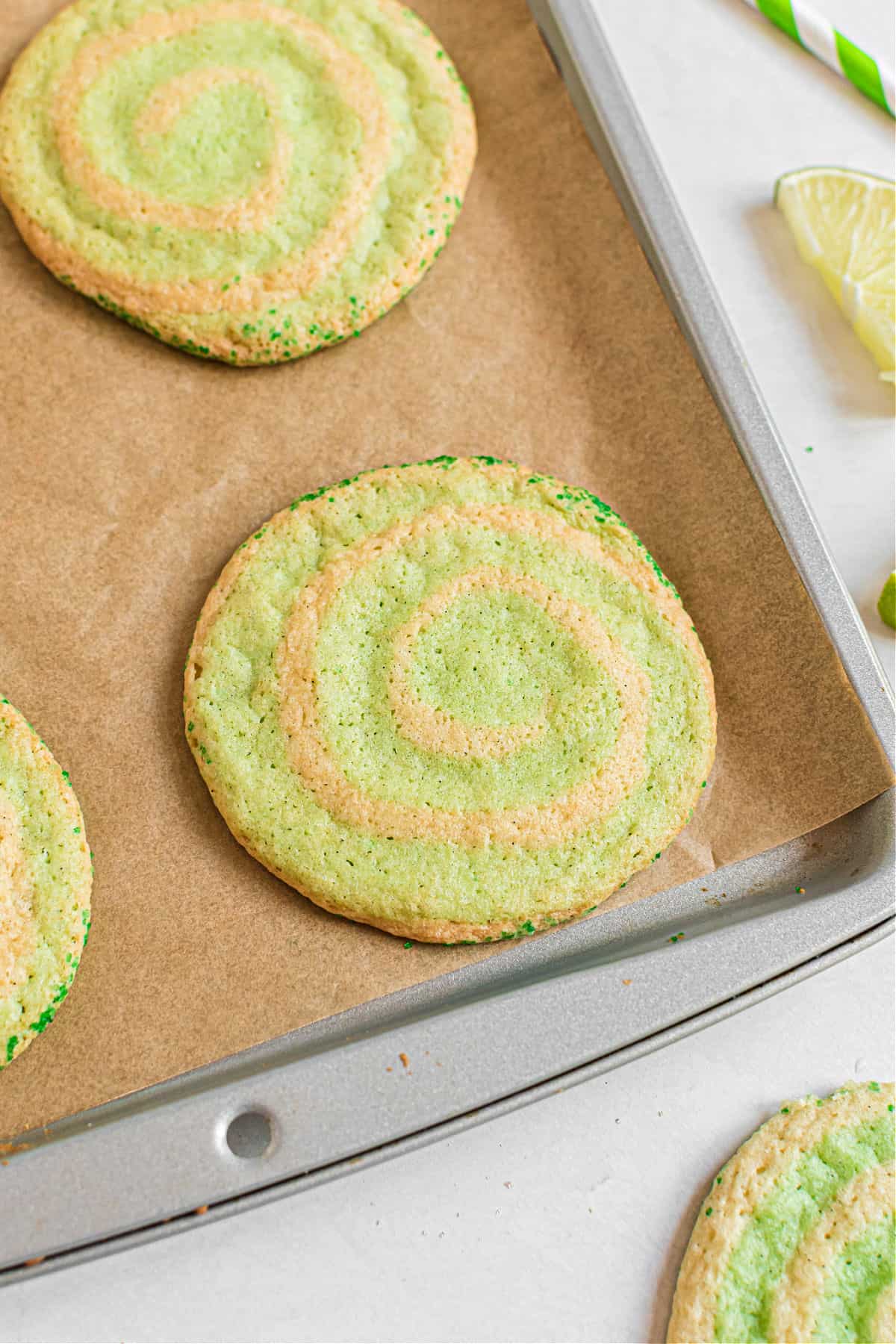 What are Icebox Cookies
Icebox cookies get their name from the fact that you make ahead of time and keep the cookie dough in the refrigerator or freezer until ready to bake.
Modern names for icebox cookies are refrigerator cookies or slice and bakes.
If your kids like these as much as mine do, may I suggest making a few batches of ice box cookie dough at once so you always have some ready to go in the freezer?
Then, you're never more than a few minutes away from delicious homemade cookies.
Why these icebox cookies are BEST
These have a nice citrus taste thanks to the Lime flavored JELL-O.
Paired with the vanilla sugar, you get a satisfying balance of sweet and citrusy flavors.
The swirled white and green colors together made these look extra fancy even though they're very simple to make.
If you love this technique of slice and bake cookies, you've got to try our cinnamon roll cookies next. Swirls of cinnamon sugar baked into every cookie.
Ingredient Notes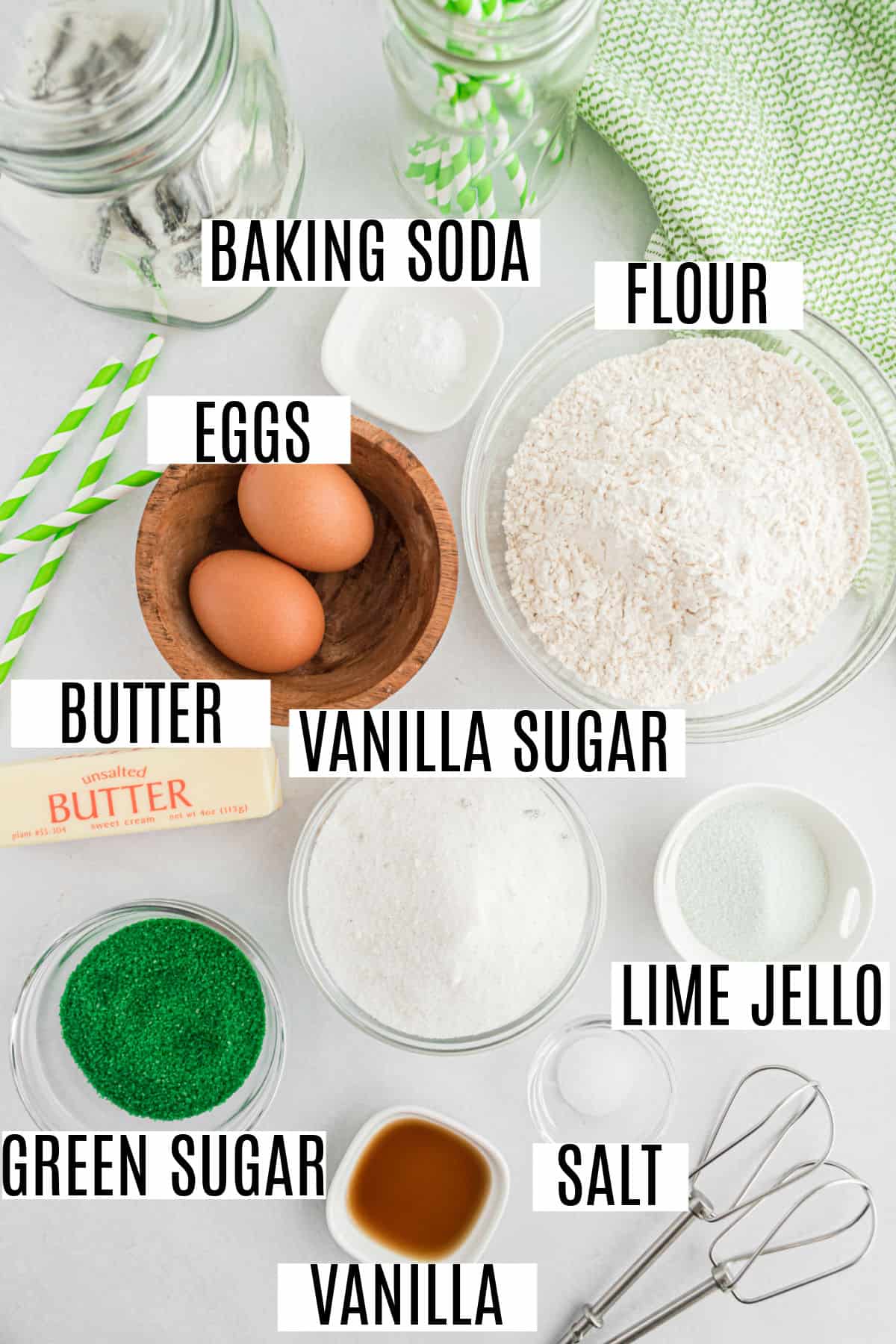 Flour
Butter
Eggs
Baking soda
Baking powder
Salt
Lime JELL-O
Green food coloring
Vanilla sugar – Homemade or store bought. If you don't have vanilla sugar, you can make a substitute by scraping a vanilla bean into regular granulated sugar.
Green sprinkles – Sugar sprinkles for decorating the Ice Box cookies
How to Make Ice Box Cookies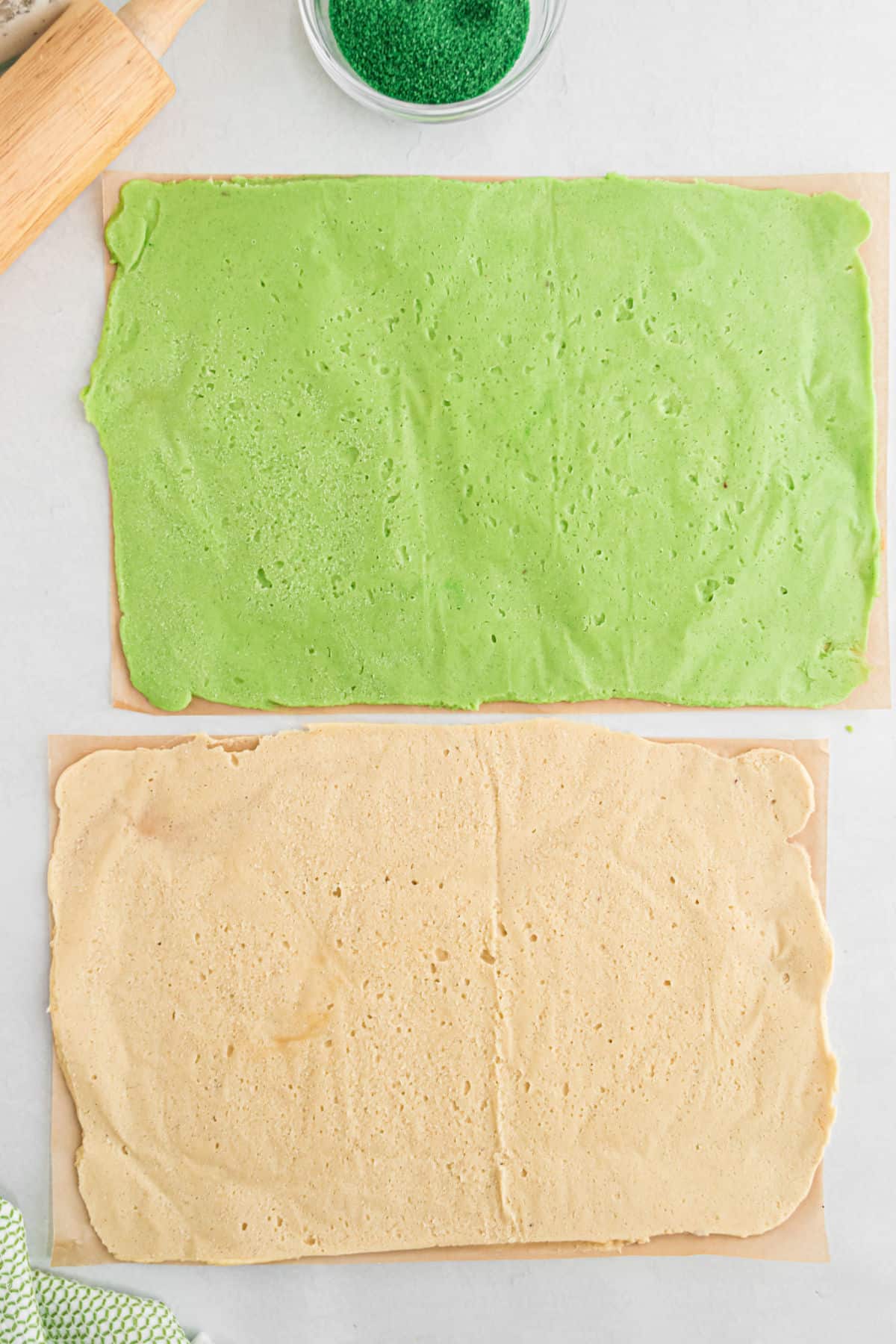 STEP 1. Make the cookie dough
In a mixer, beat butter with vanilla sugar until fluffy, about 3-4 minutes. Add eggs. In separate bowl, mix flour with baking soda and salt. Gradually add to butter mixture. Divide dough in half.
STEP 2. Make the lime swirls
Add in vanilla extract to one half of the dough. Lay dough on large sheet of parchment paper. Lay a second sheet of parchment on top of dough. Roll dough to form a 12 inch x 8 inch rectangle. Freeze dough for about 15 minutes.
Meanwhile, with second half of dough add in gelatin and food coloring. Lay dough on parchment paper, with a second sheet on top. Roll dough to form a similar sized rectangle. Freeze dough 15 minutes.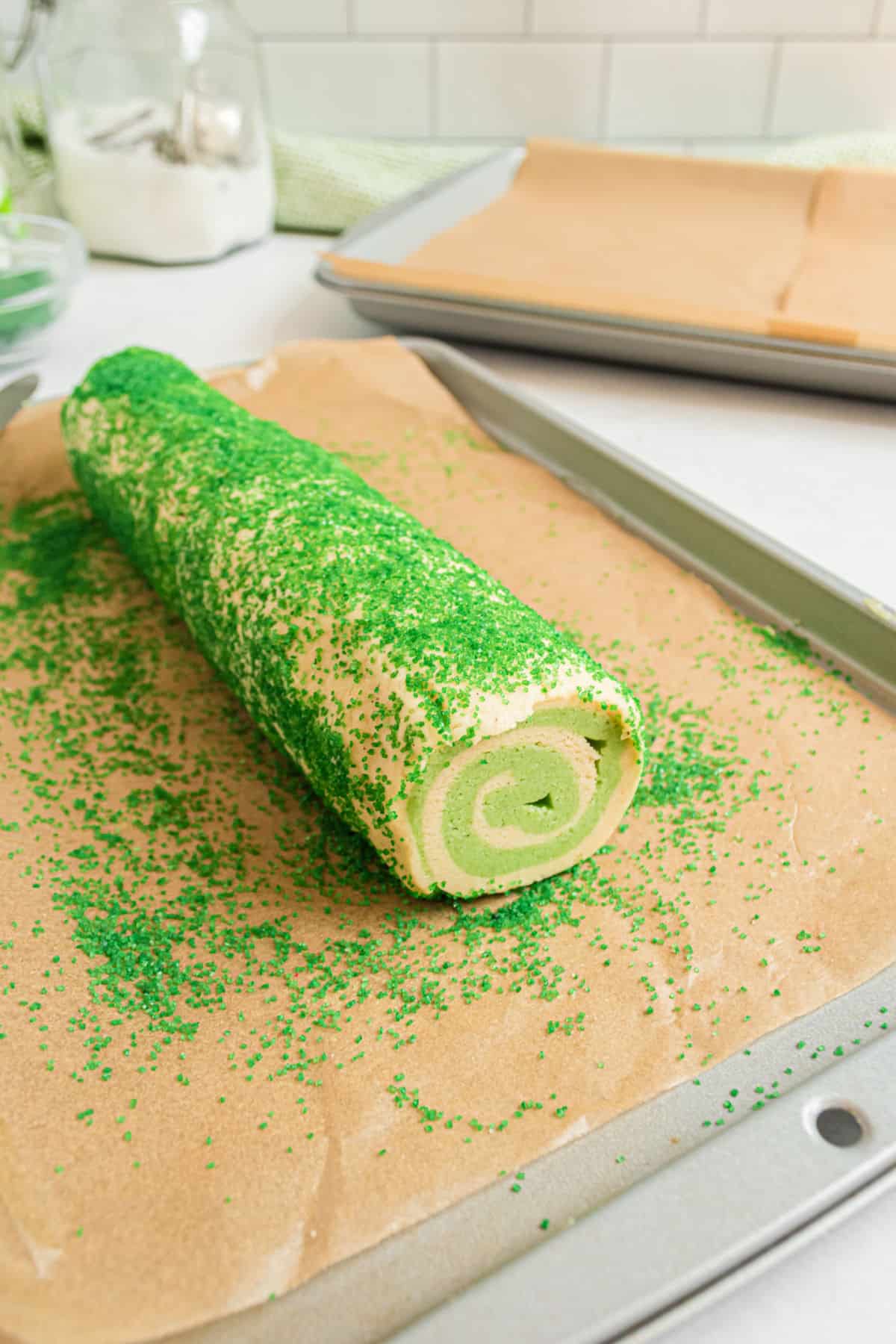 STEP 3. Roll and freeze
Remove both sheets of dough from freezer. Remove top layer of parchment paper for each rectangle. Lay sheets of dough together (with parchment on outside). Remove one sheet of parchment paper so the dough has one sheet remaining at the bottom.
Slowly peel the dough from bottom parchment by rolling up the long end. You are going to form a log of dough. Tightly roll this dough and rewrap in parchment. Freeze until ready to use!
STEP 4. Bake
When ready to bake, wet fingertips with water. Roll the whole log of dough in sprinkles. Slice 1/4inch thick and bake on a parchment lined baking sheet for about 7-9 minutes at 350 degrees.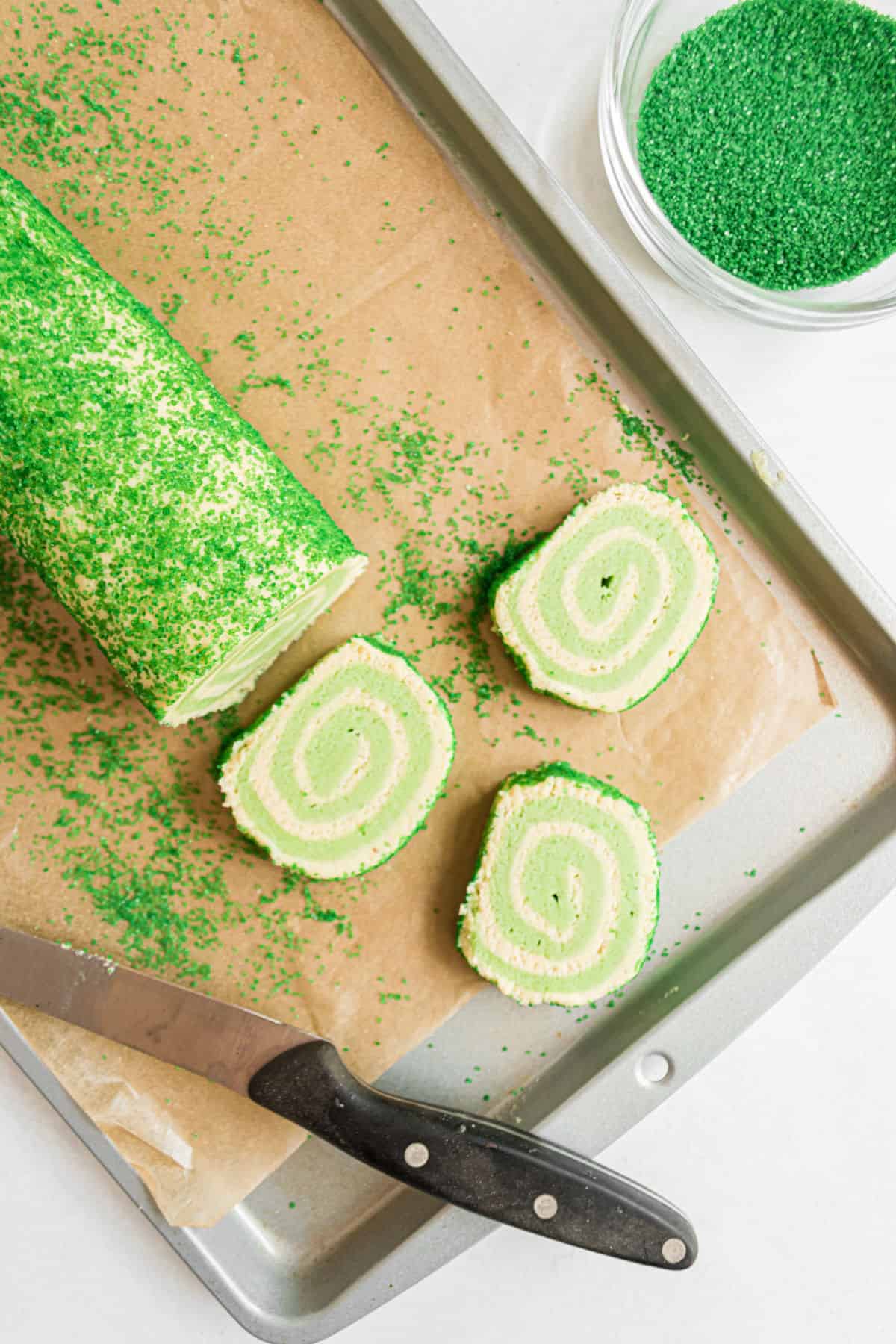 Tips and Tricks
How long to keep ice box cookie dough in the freezer: If you want to enjoy these cookies right away, I recommend letting the dough freeze for at least 30 minutes before baking. The dough can also stay wrapped in the freezer for up to 3 months!
Do you have to thaw icebox cookie dough? Nope, no need to let the log of dough thaw or soften at all. You slice the frozen cookie dough and bake right away! So convenient.
To keep the dough from sticking: Get your fingers a little damp before you roll the two sections of dough together. I also do this before rolling it in the sprinkles to make sure nothing sticks to my hands.
How to store lime cookies: Once baked, these Lime Ice Box Cookies will keep well at room temperature in an airtight container for up to 2 weeks. Good luck resisting them for that long, though!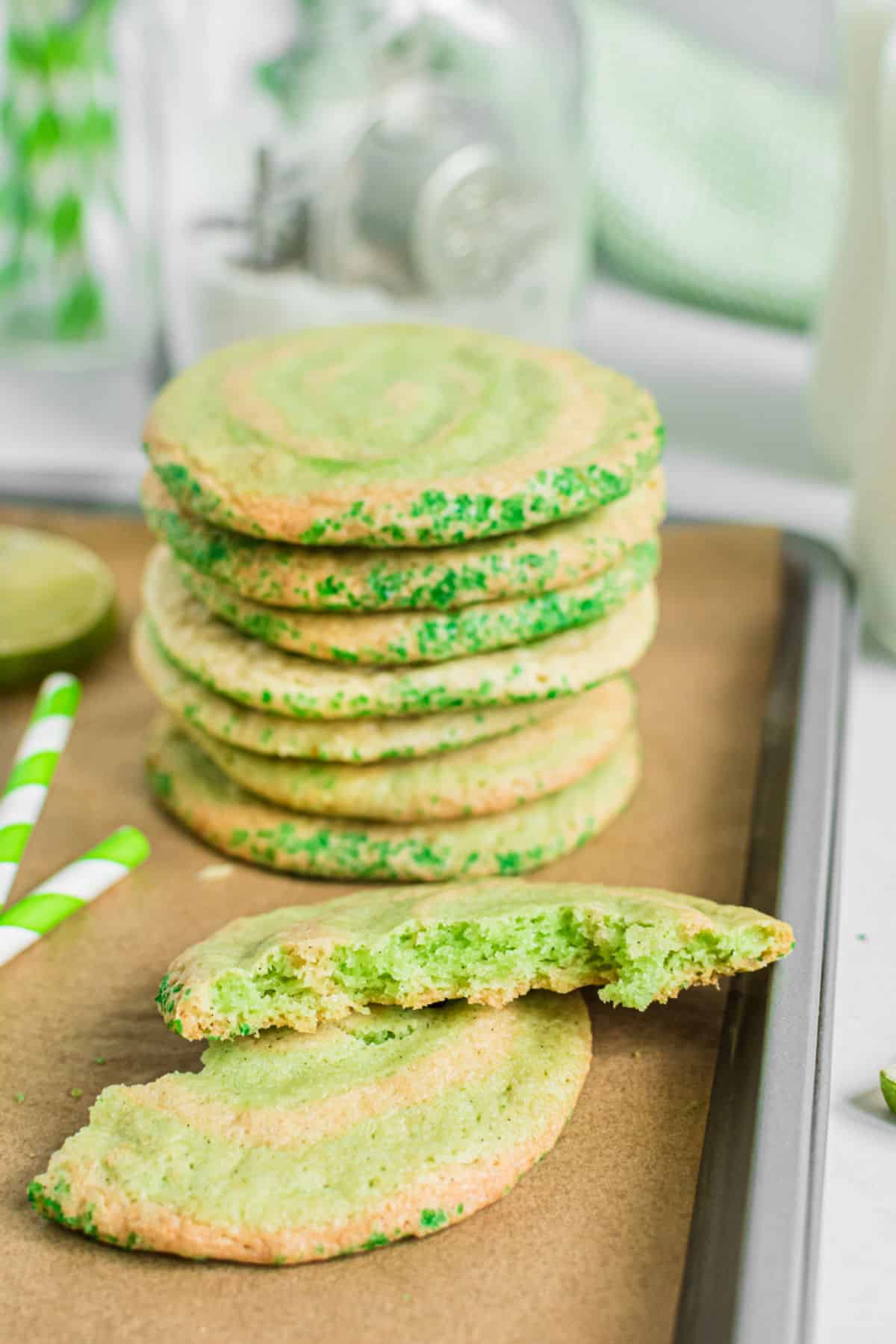 Recipe FAQs
How long can you keep icebox cookie dough in the refrigerator?
Refrigerator cookie dough stays fresh, if tightly wrapped for up to three days.
How long can you freeze icebox cookie dough?
You can freeze cookie dough for up to three months. Be sure it's in an airtight container to maintain freshness and flavor.
Can I make the swirls in icebox cookies a different flavor?
Swap out the lime gelatin in ice box cookies for any flavor. Pair it with matching sprinkles and you've got a new cookie flavor!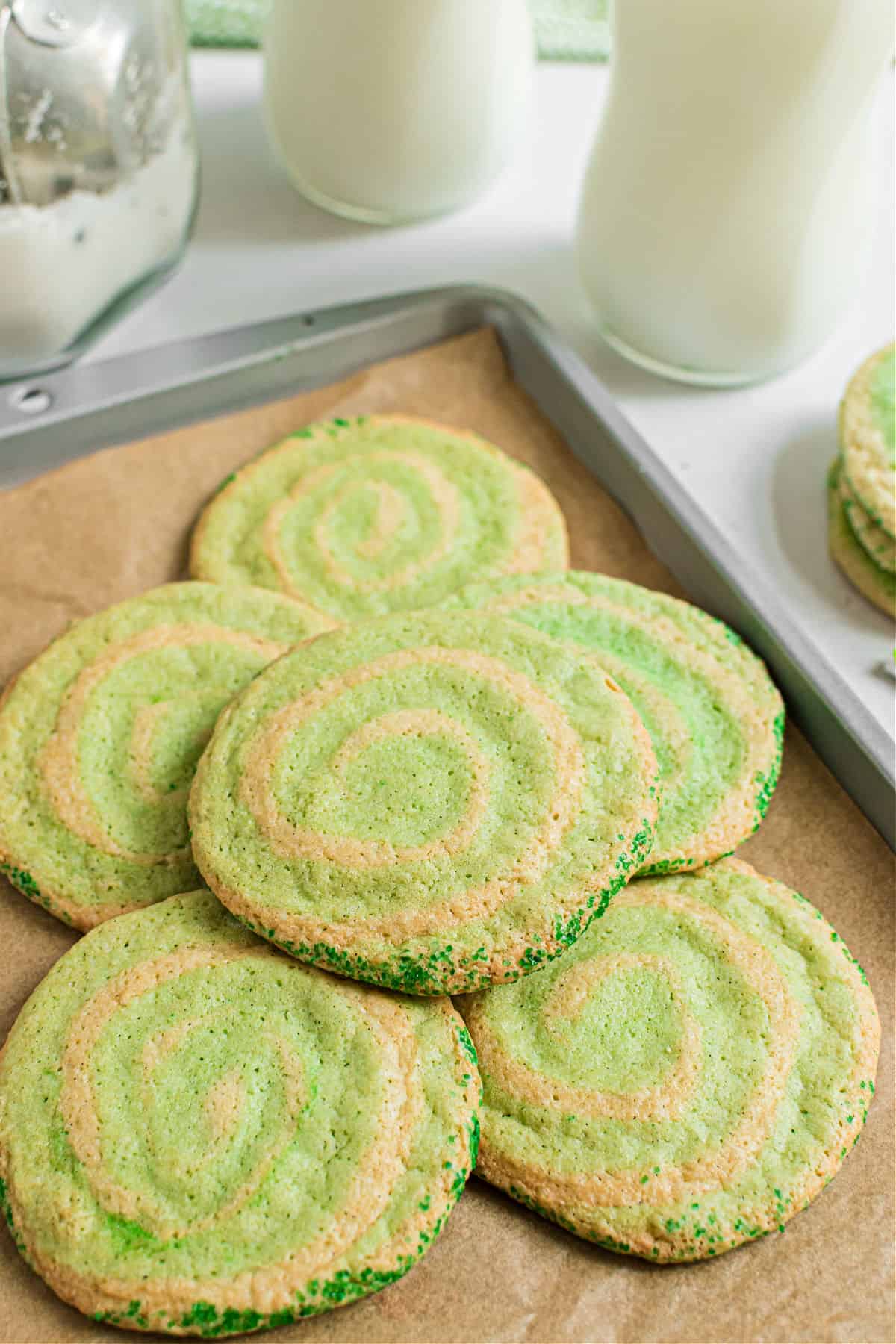 More Easy Cookie Recipes
With swirls of bright green lime and vanilla, Ice Box Cookies are a pretty and delicious addition to your spring time and summer dessert tables!