Lime Swirled Icebox Cookies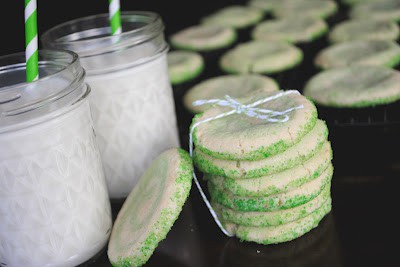 Remember these Valentine's cookies? Yeah, I tricked them out for St.Patrick's day. Such an easy cookie to make and keep in the freezer until you are ready to bake!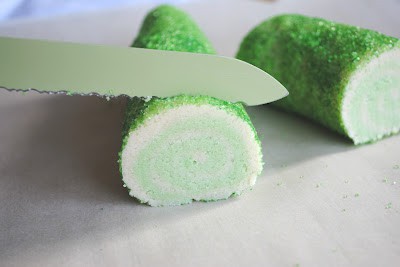 These have a nice citrus taste thanks to the Lime flavored Jello. You could totally add in some lime zest too. I had no fresh limes in the house at the time. But I totally would have done it.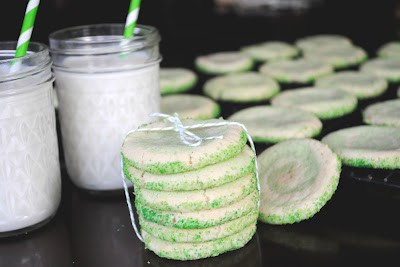 I'm sure in the next couple weeks I'll have some more "green" treats to share, so stay tuned! Also, make sure you check out my social icons to the right.
Lime Swirled Icebox Cookies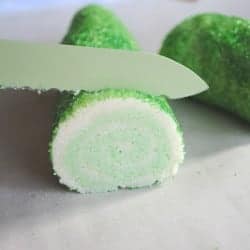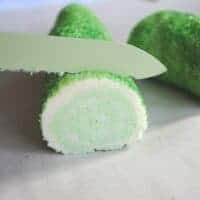 Ingredients
2 cup flour
1/2 tsp baking soda
1/4 tsp salt
1/2 cup butter, softened
1 1/2 cup vanilla sugar
2 eggs
1 tsp vanilla extract
2 Tbsp lime gelatin powder
1/4 tsp green gel food coloring
1/4 cup green sugar sprinkles
Instructions
In mixer, beat butter with vanilla sugar until fluffy, about 3-4 minutes. Add eggs.
In separate bowl, mix flour with baking soda and salt. Gradually add to butter mixture. Divide dough in half.
To one half add in vanilla extract. Lay dough on large sheet of parchment paper. Lay a second sheet of parchment on top of dough. Roll dough to form a 12 inch x 8 inch rectangle. Freeze dough for about 15 minutes.
With second half of dough add in gelatin and food coloring. Lay dough on parchment paper, with a second sheet on top. Roll dough to form a similar sized rectangle. Freeze dough 15 minutes.
Remove both sheets of dough from freezer. Remove top layer of parchment paper for each rectangle. Lay sheets of dough together (with parchment on outside). Remove one sheet of parchment paper (dough should have one remaining on bottom). Slowly peel dough from bottom parchment by rolling up the long end. You are going to form a log of dough. Tightly roll this dough and rewrap in parchment. Freeze until ready to use.
When ready to bake, wet fingertips with water. Roll log of dough in sprinkles. Slice 1/4inch thick and bake on a parchment lined baking sheet for about 7-9 minutes (in a 350 degree oven).
Notes
**note** See my recipes for vanilla sugar. If you don't have vanilla sugar, scrape one vanilla bean into your granulated sugar and continue the recipe as written.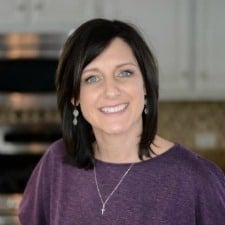 Aimee is a dessert lover (specifically rice krispie treats), workout enthusiast, self-taught foodie, and recipe creator. Her recipes have been featured in over 15 magazines, and her passion is to share her love of cooking with the everyday home cook! Learn more about Aimee.