Scrumptious pecan filled butter cookies made even better with a crackly sugar topping! Try this melt in your mouth cookie recipe for classic Pecan Sandies. You'll want to keep a tin of these cookies handy all year long!
Love Pecans? Pecan Pie can be a favorite holiday treat…but year round we make these delicious Pecan Pie Truffles. Store in the freezer for a quick, popable treat!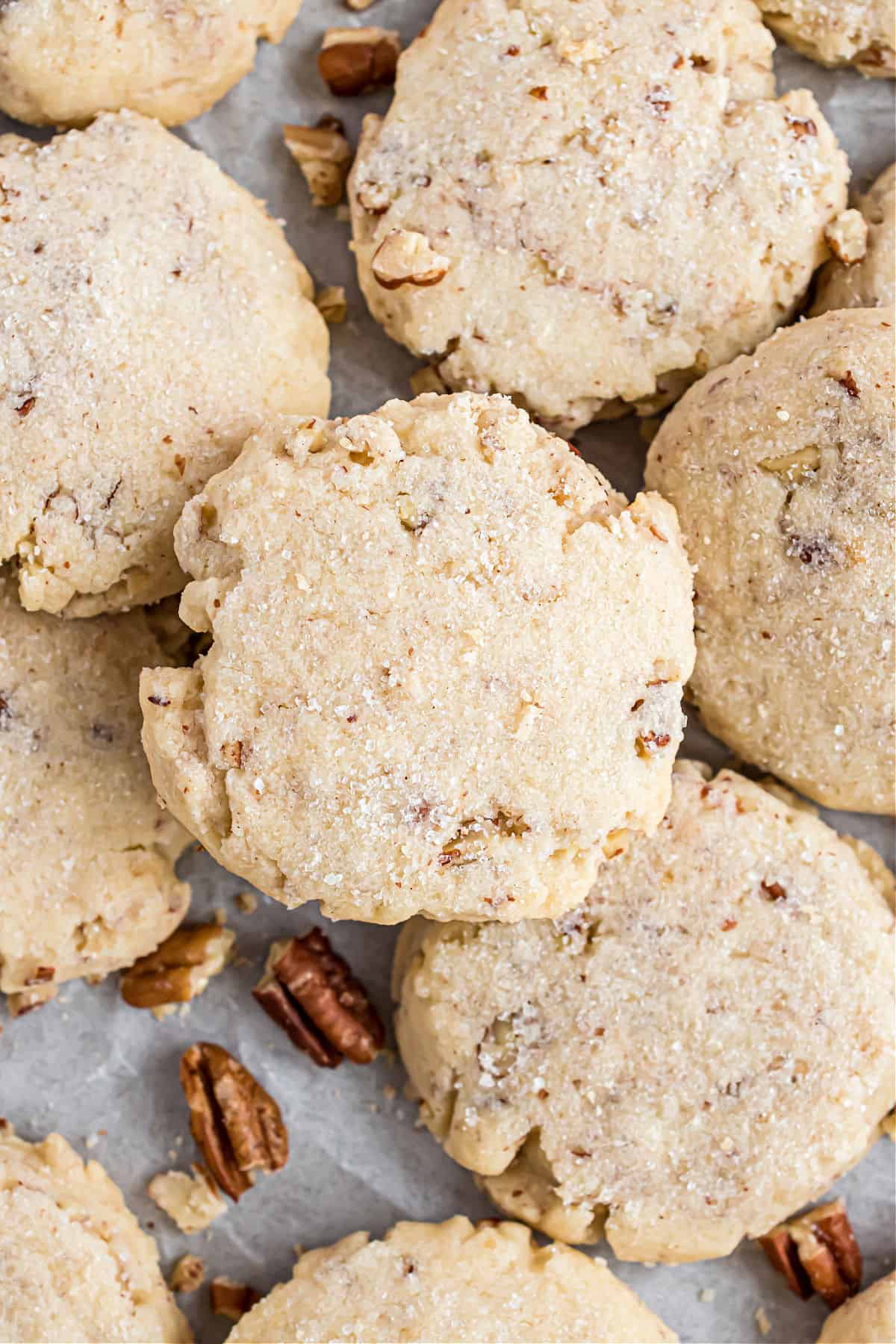 Why these Cookies are Amazing
Pecan Sandies are deceptively delicious. At first glance, they seem like your typical butter cookie.
You know, the generic kind you get in those big holiday cookie tins at any supermarket or drug store. Good, but not earth shattering.
These cookies? They're the absolute perfect pecan cookie!
Made with real butter and powdered sugar, Pecan Sandies have a fine crumb, toasty nut flavor and a delicate crunch, similar to a shortbread cookie.
This cookie is crispy when you bite into it with a soft buttery taste that almost melts in your mouth.
Whether you call these snowball cookies, Mexican wedding cookies, or pecan sandies, just be sure to make a double batch today!
Ingredient Notes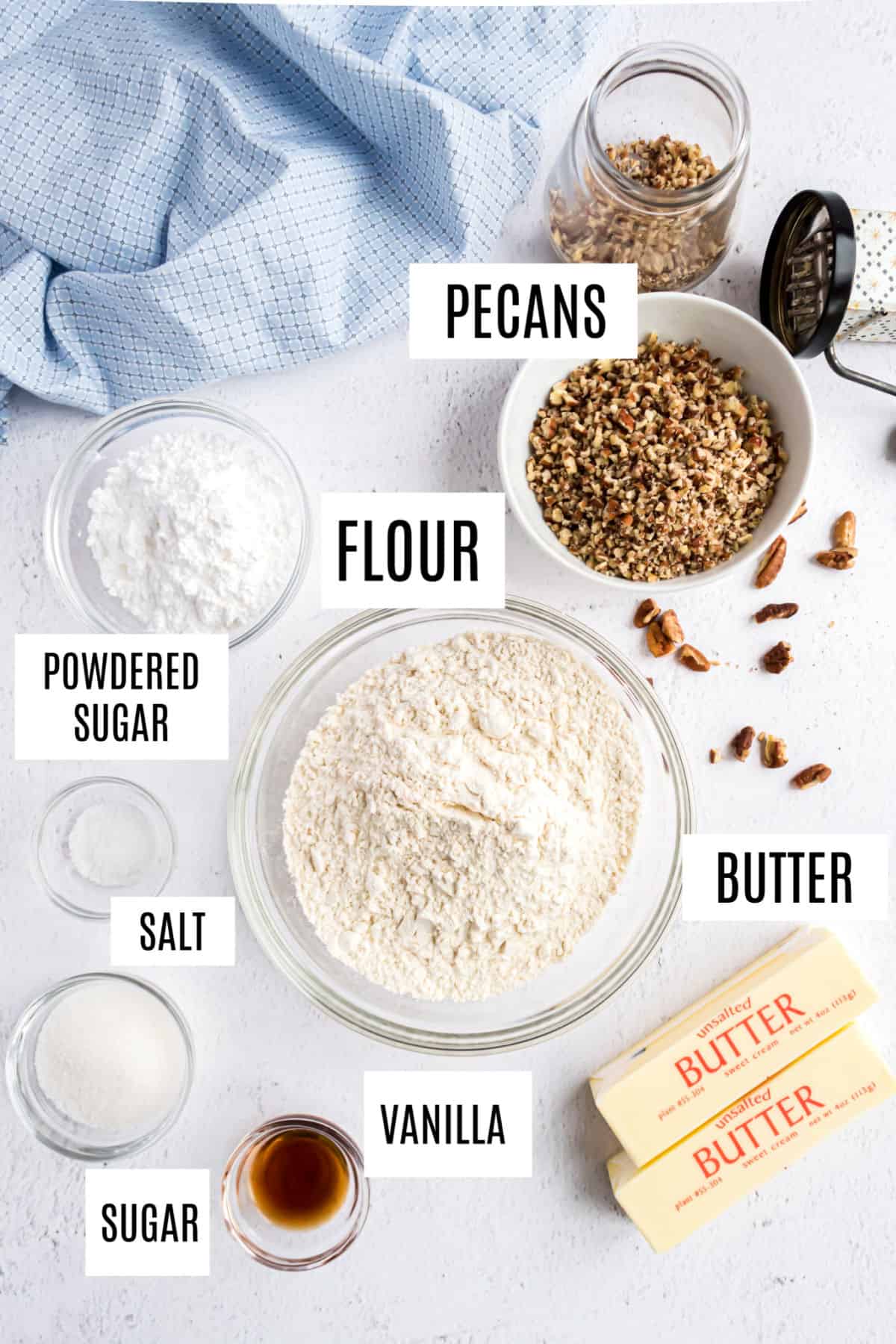 Unsalted Butter – Real butter is essential for these cookies and I prefer unsalted so I can control the amount of salt in the cookies.
Vanilla Extract – Homemade Vanilla Extract is especially delicious!
Pecans – Chop the nuts finely (but not into powder) before using in the recipe.
Powdered sugar – Using powdered sugar (or confectioner's sugar) gives the cookies that light crispy texture. Do NOT sub for granulated sugar!
TOPPING– use a glass dipped in granulated sugar to smash these cookies before baking (like I do in my Swig sugar cookie recipe). Or skip that step and dust with powdered sugar after cooling.
Easy Instructions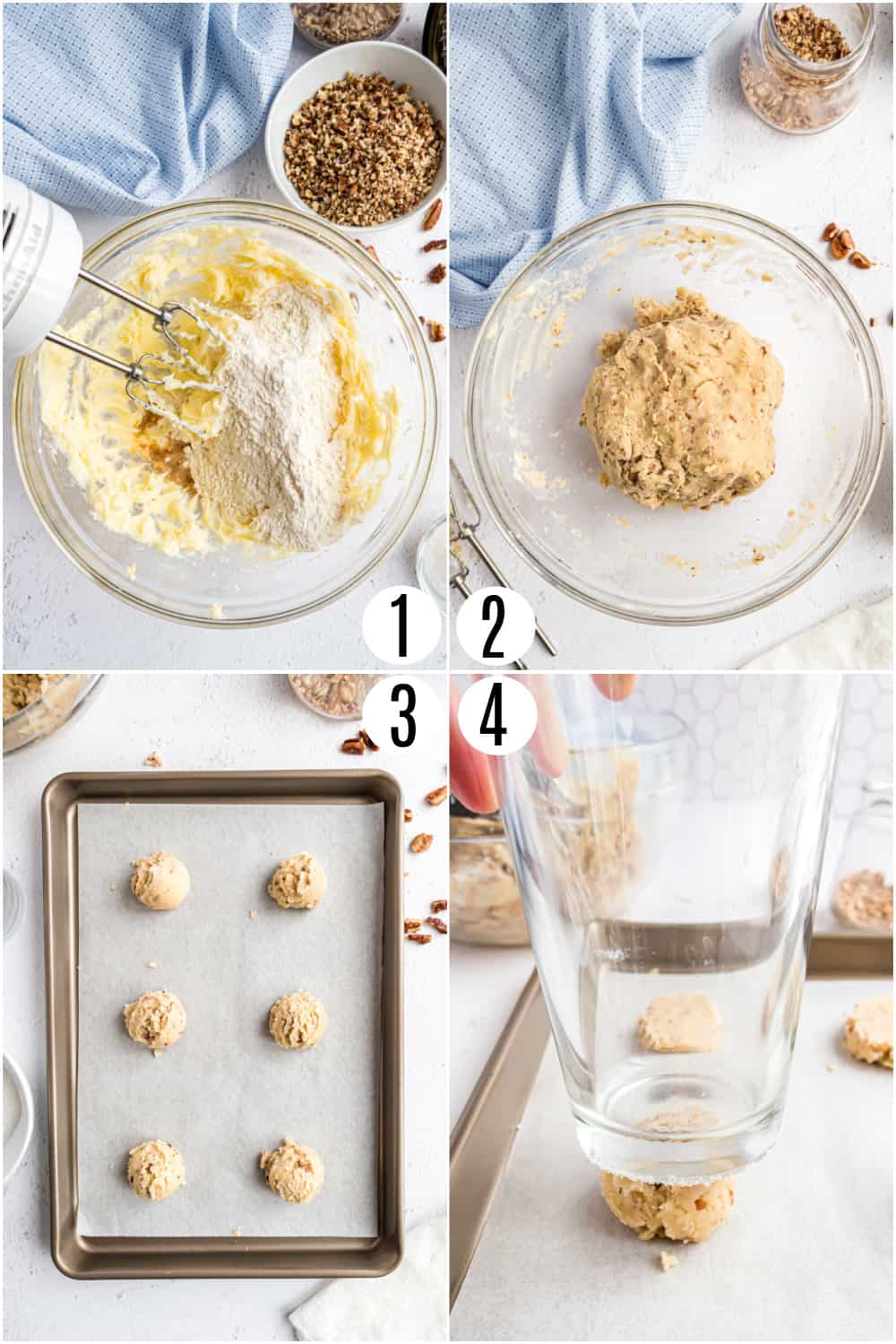 Make the cookie dough.
First, you'll make a crumbly dough by combining the powdered sugar and butter, then adding the vanilla, flour and kosher salt. From here, use your hands to incorporate the pecans into the dough.
The warmth of your hands will help the dough stick together and form a ball. Scoop the dough by the spoonful onto a cookie sheet.
Flatten the cookies and bake.
Dampen the rim of a drinking glass then press it into a plate of granulated sugar. Use the sugared glass to flatten the cookies into disks then bake until the edges of the cookies are light brown.
Tips and Tricks
Use soft butter: If you forget to let your butter sit at room temperature for a bit before making the cookies, you can speed up the softening process in the microwave. Place unwrapped sticks of butter in the microwave at 50% power for 5 seconds at a time until it's soft enough to work with.
Bake time: As written, this recipe will make a light and crumbly cookie. If you want a harder crunchier cookie, you can leave them in the oven for another minute or two. Just keep a close eye on them because these delicate treats can burn quickly!
Topping: My family likes the taste and texture of the granulated sugar topping. If you prefer, you can skip it and add more powdered sugar to the tops of the cooled baked cookies instead.
Chai: add some homemade chai spice into the cookies to make a delicious chai cookie instead!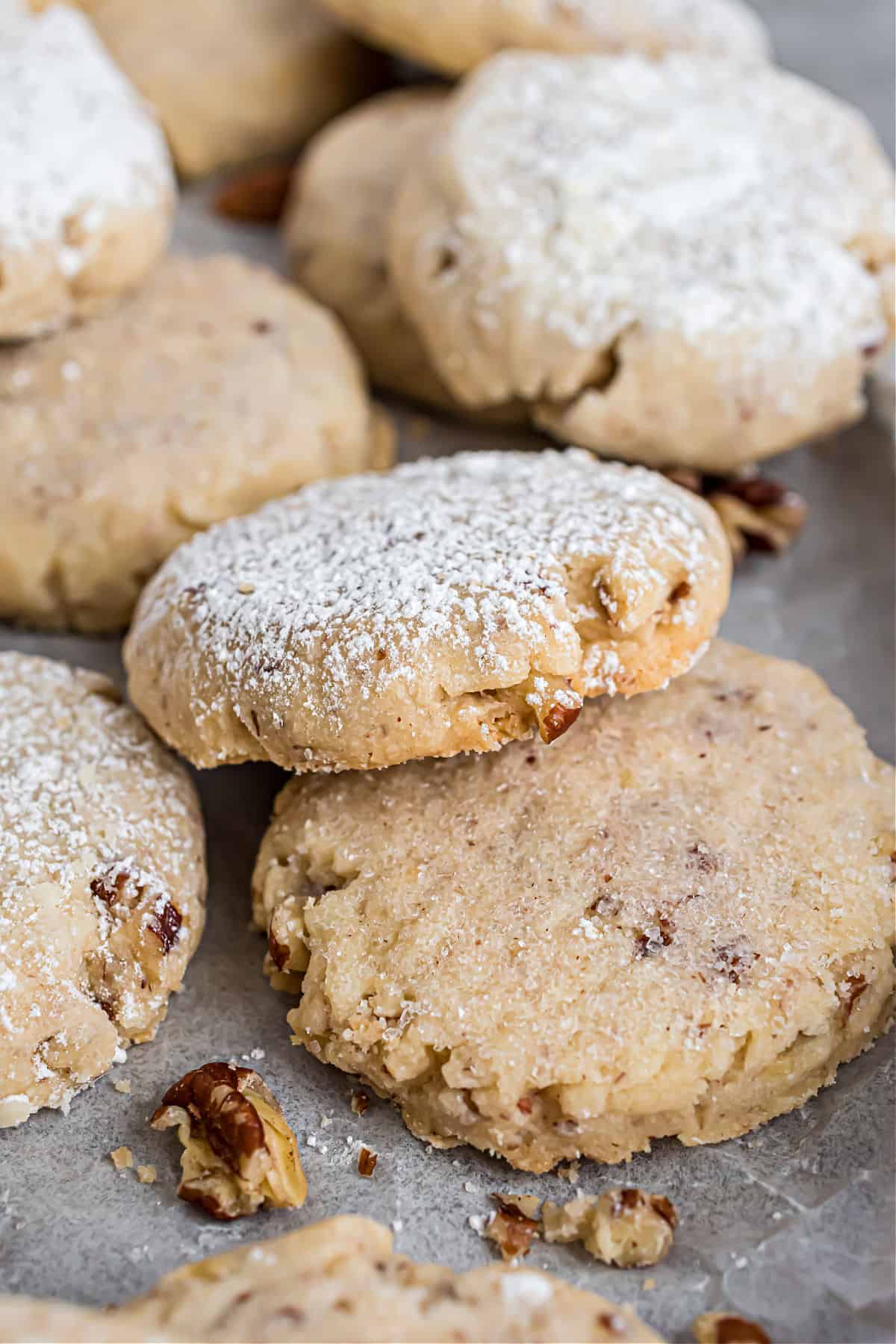 Recipe FAQs
How finely chopped do the pecans need to be in Pecan Sandies?
For Pecan Sandies, the pecan pieces should be small but not pulverized into powder. I use the bags of pecan halves and pieces and chop them until they're small but not crumb-like. It's okay if you have some different sized pieces of nuts–they don't need to be uniform in this recipe as long as the pieces are small enough to combine into the dough.
How do you store Pecan Sandies?
Store Pecan Sandies in an airtight container at room temperature. You can store them in ziploc bags, but they break and crumble easily so be careful when transporting them!
Can you freeze Pecan Sandies?
Yes you can freeze pecan sandies. The high butter content makes these great for freezing. Let thaw completely at room temperature before serving.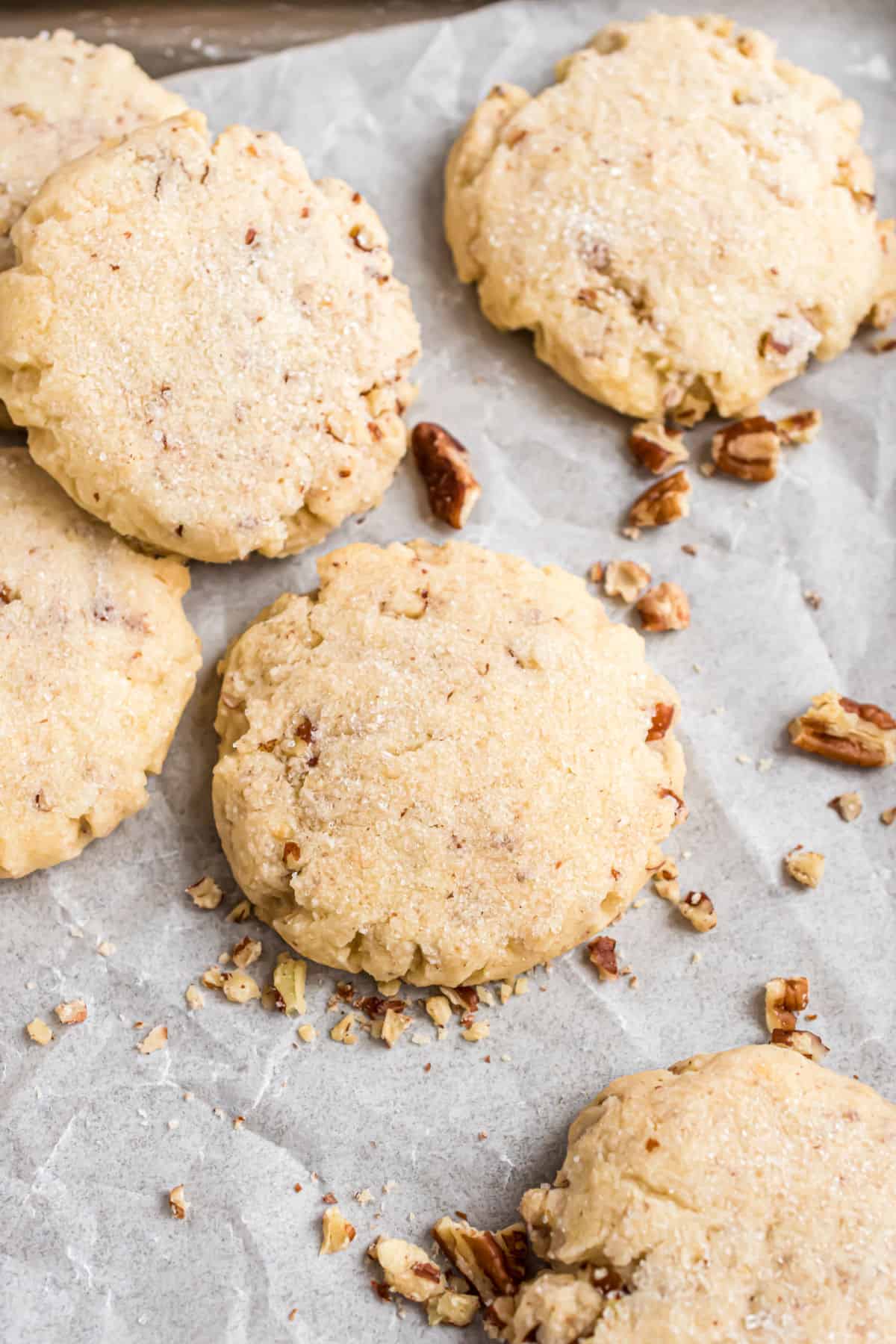 More Easy Cookie Recipes
Light and crumbly Pecan Sandies may look simple but don't let that fool you; these easy-to-make cookies are filled with irresistible buttery pecan flavor. You won't be able to eat just one!