Cinnamon Roll Cookies turn the cinnamon sugar goodness of the gooey breakfast treat into easy-to-eat dessert! Drizzled with sweet cream cheese icing, these cinnamon cookies are an instant new favorite.
This cookie recipe is the latest in a long line of desserts inspired by my love of cinnamon rolls. Try my Cinnamon Roll Rice Krispie Treats and this Cinnamon Roll Cheesecake Cake too!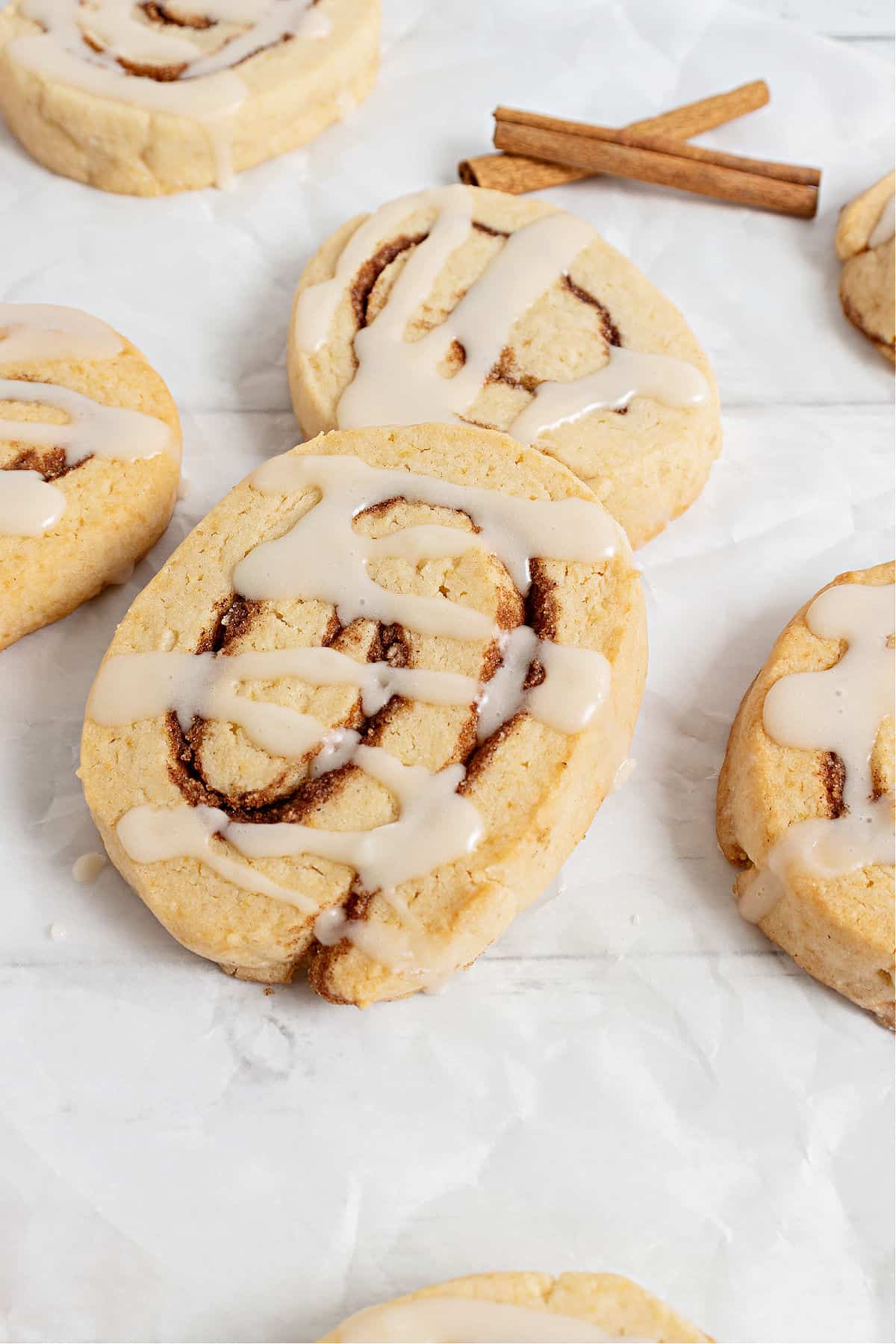 Why These Cookies are Best
These cookies were a huge hit! I love how pretty the spirals look; just like cinnamon rolls but even neater because the cookies don't puff up as they bake.
Beautiful spirals of cinnamon sugar.
Soft cookies made from scratch.
An easy twist on your everyday roll out cookie recipes!
Extra delicious topped with cream cheese icing.
That buttery cinnamon sugar filling is sweet enough that the cookies almost don't even need the icing.
But I firmly believe that anytime you can put cream cheese frosting on a dessert you absolutely should.
Ingredient Notes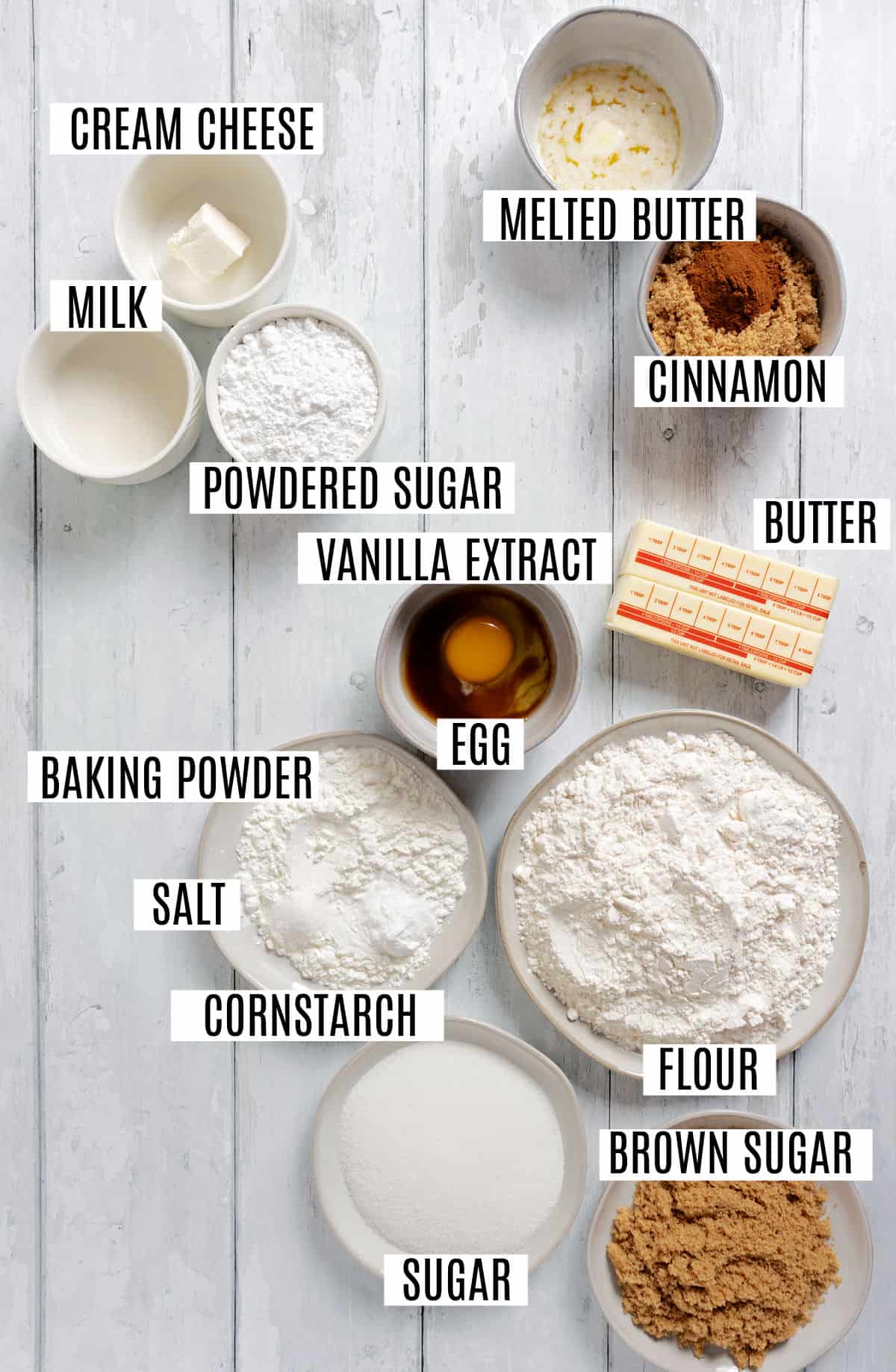 The cookie dough is made from a familiar combination of butter, sugars, egg and flour. A few additional ingredients give it the perfect soft texture and incredible cinnamon roll cookie flavor!
Cornstarch – Keeps the cookies soft and chewy as they bake.
Cinnamon – We add a bit of extra cinnamon to the cookie dough itself for added flavor.
Filling – The combination of melted butter, brown sugar and lots of cinnamon makes the cookies taste just like cinnamon rolls!
Vanilla extract – Elevates and complements the taste of the cinnamon and brown sugar. Use our homemade vanilla extract for great flavor.
Cream cheese icing – Cream cheese gets blended with powdered sugar and milk to create a pourable icing perfect for drizzling over the baked cookies.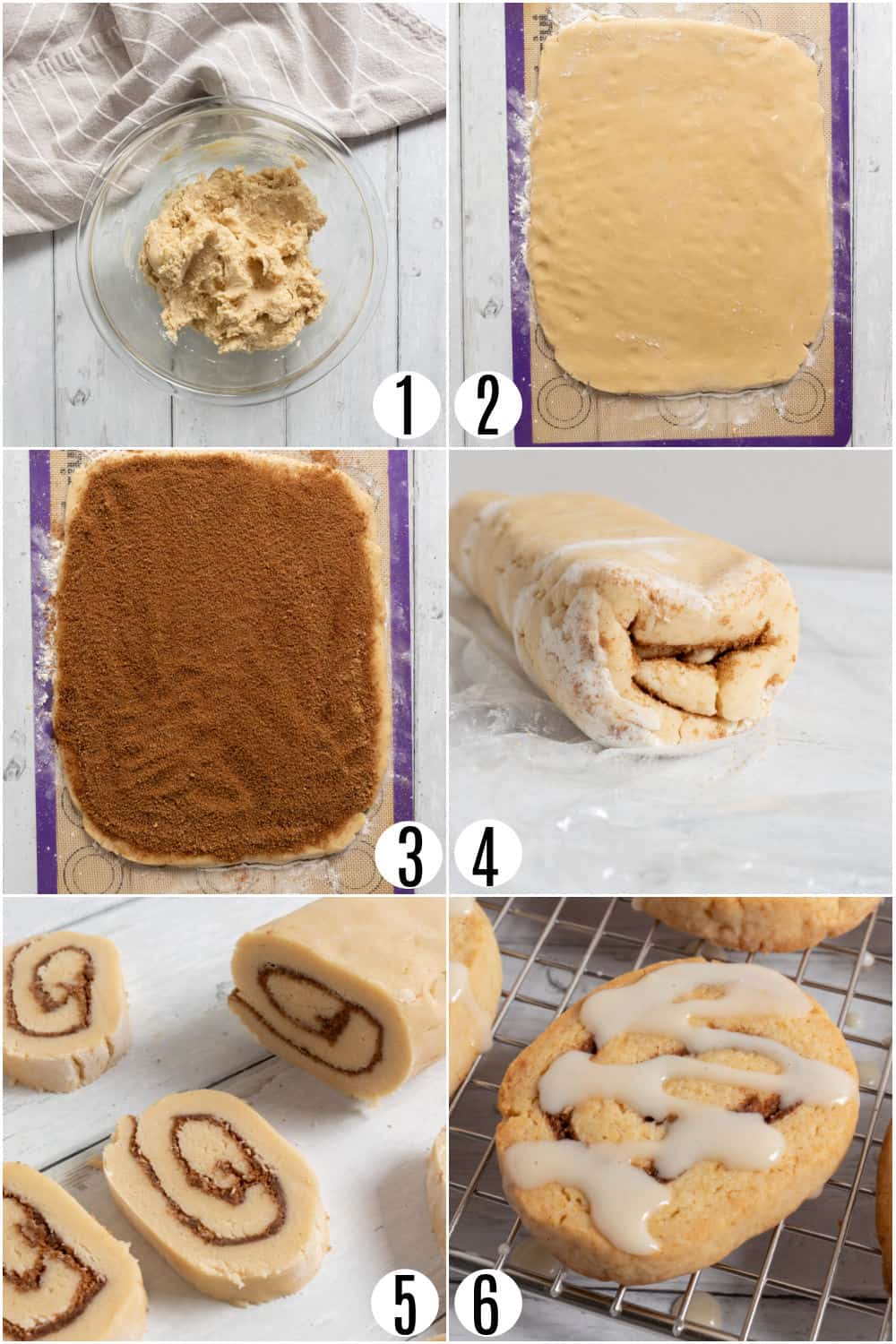 Tips and Tricks
Once you learn how to make cinnamon roll cookies, you'll want to make them all the time!
The method is easy enough, but I have found there are a few key steps that make a big difference.
Chill the dough! This helps the cookies hold their shape so you can see the tight cinnamon pinwheel spirals after baking. In this recipe, you will chill the dough both before AND after adding the filling.
Let cold dough warm up slightly. If the dough is still super cold it will likely break and crack when you try to roll it. Take the dough out of the refrigerator a couple of minutes before you plan to roll it out and add the filling.
Use a silicone mat to roll the cookie dough into a tight log. Parchment paper works too if you don't have a silicone mat.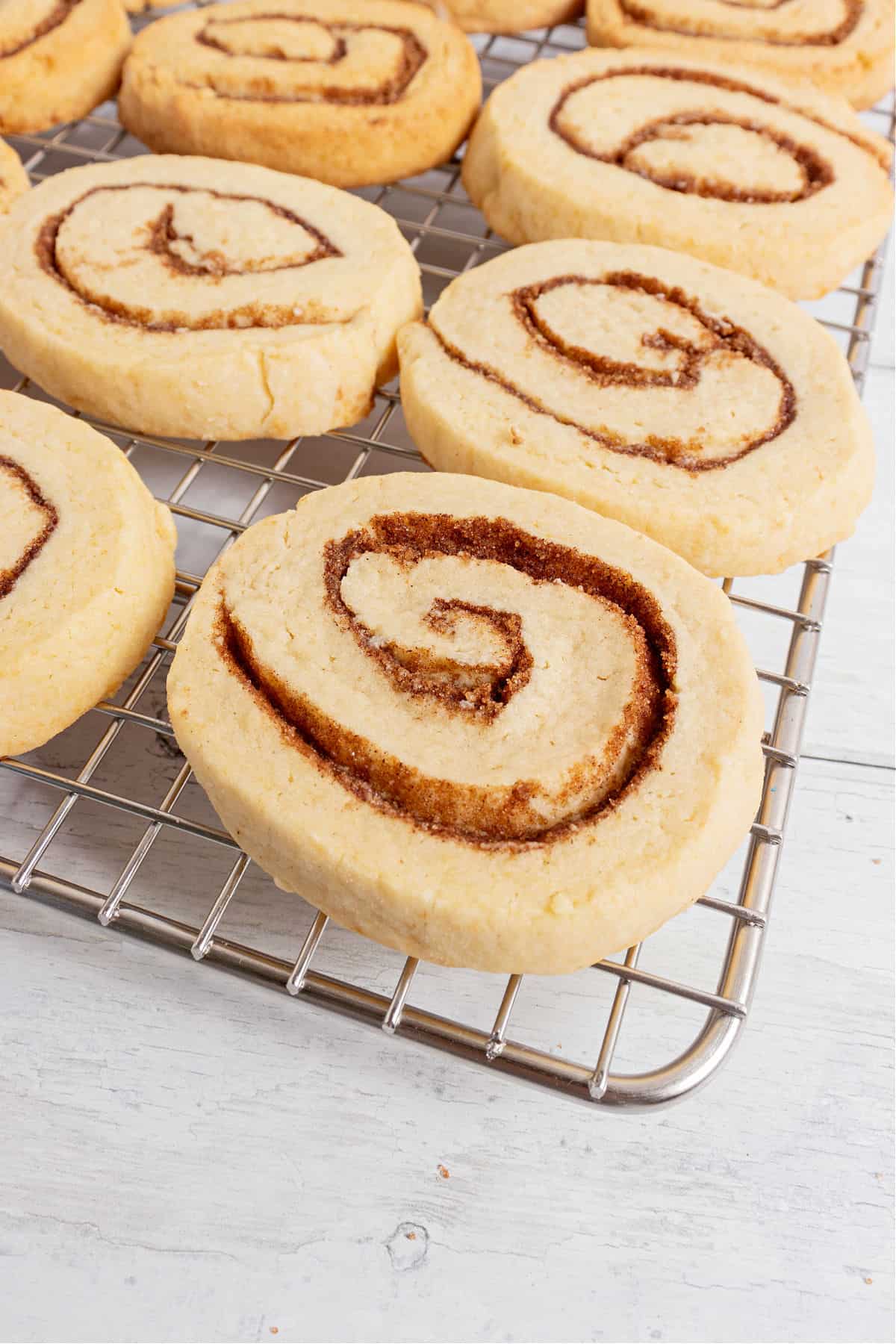 Recipe FAQs
What should I do if the dough cracks when I roll it up?
If the dough cracks or breaks, you can use your fingers to to smooth it out. A few cracks in the dough are okay. They will fix themselves when the cookies expand slightly in the oven!
How should I store cinnamon roll cookies?
Store the cookies in an airtight container in the refrigerator. You can also store them at room temperature without the cream cheese icing.
Can I make the dough ahead of time and freeze it?
You sure can. The dough stays good in the freezer for a couple of months. Let the frozen dough thaw in the refrigerator for a few hours before slicing and baking.
Can I freeze the baked cookies?
Yes, once baked cinnamon roll cookies hold up well in the freezer for about 3 months! I prefer to freeze them without the icing, then add the icing fresh before serving.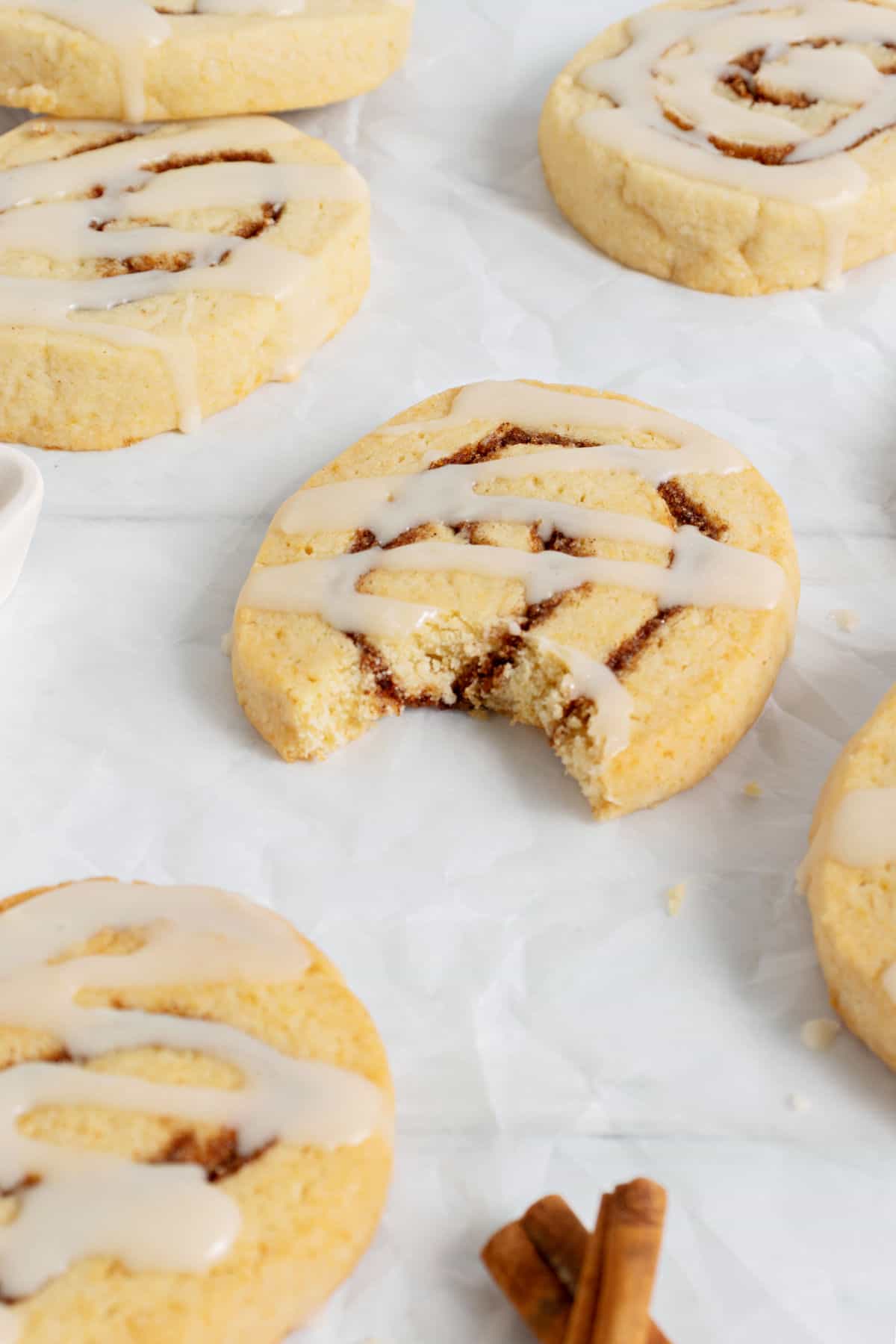 More Easy Desserts
Beautiful appearance, impressive flavor and perfect soft chewy texture: these cinnamon roll cut out cookies have it all!