Take your Rice Krispie Treats up a notch by adding Cinnamon Roll flavor! You can't keep your hands off these.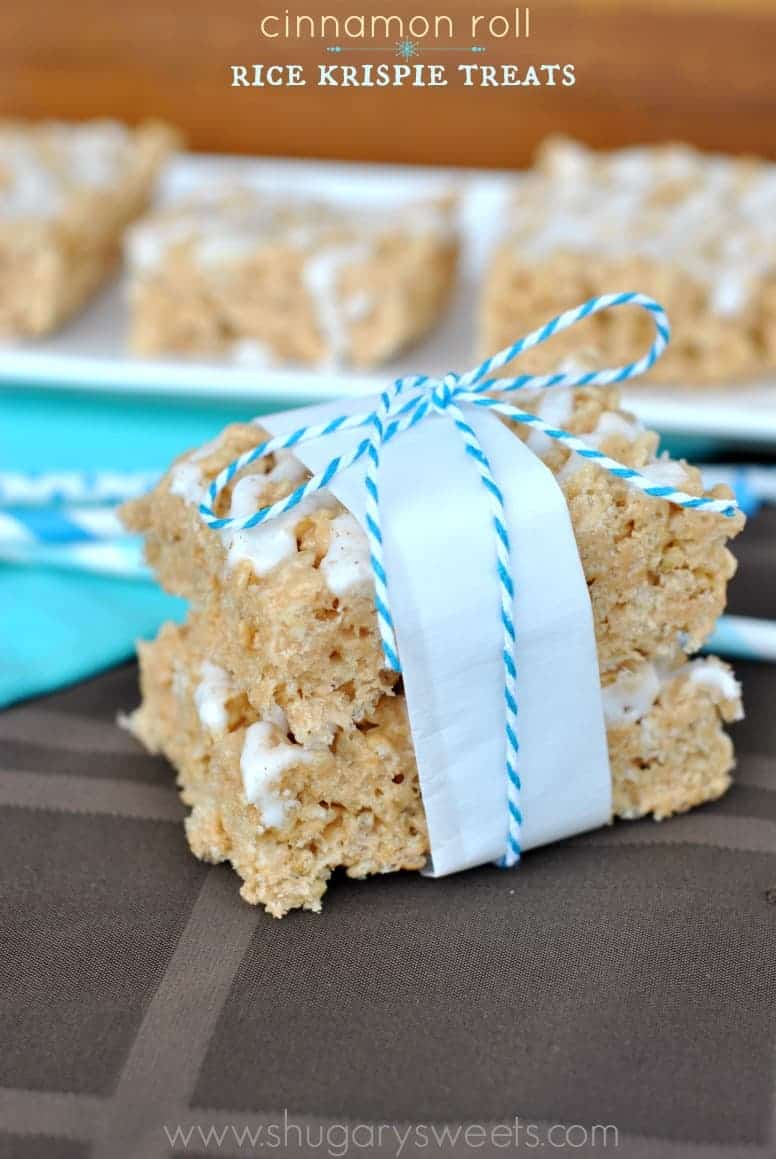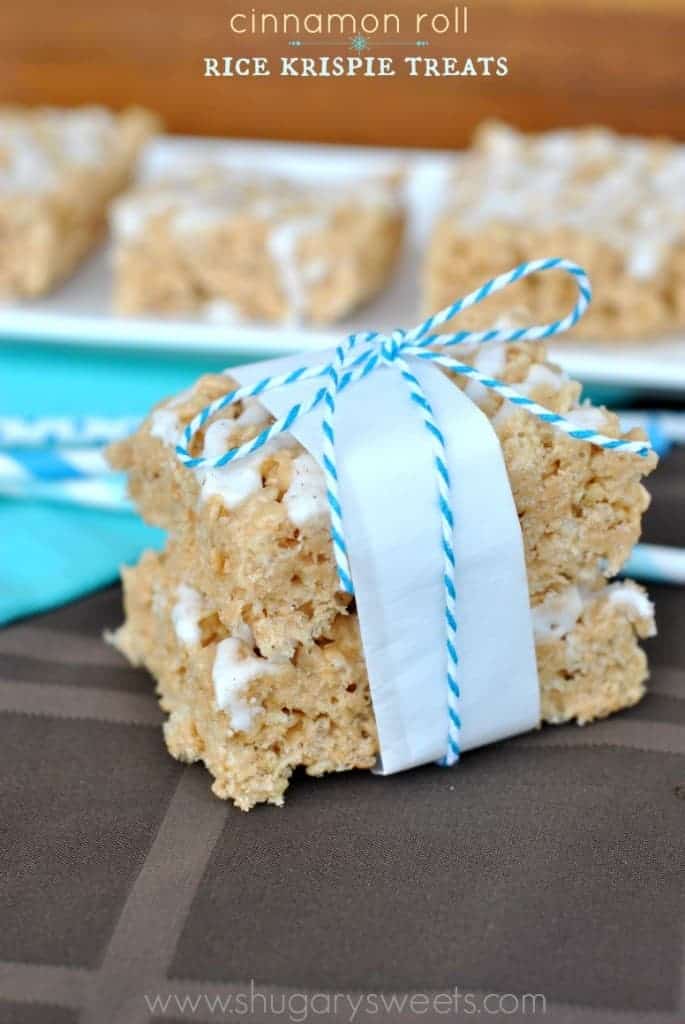 Okay, so maybe YOU can keep your hands off Rice Krispie Treats, but I cannot. I have zero willpower when it comes to those little homemade treats.
And don't even try to give me one wrapped in a blue packaging…those are just gross. In my humble opinion of course. This blue twine is about all the packaging I need!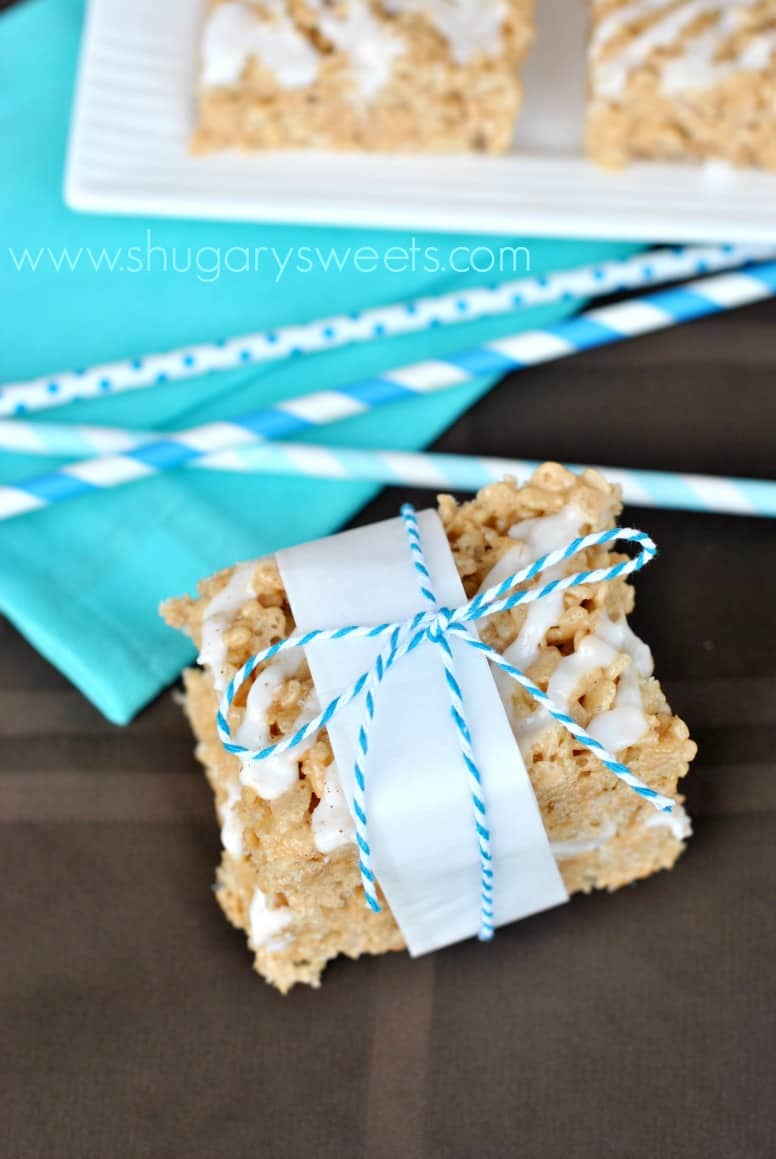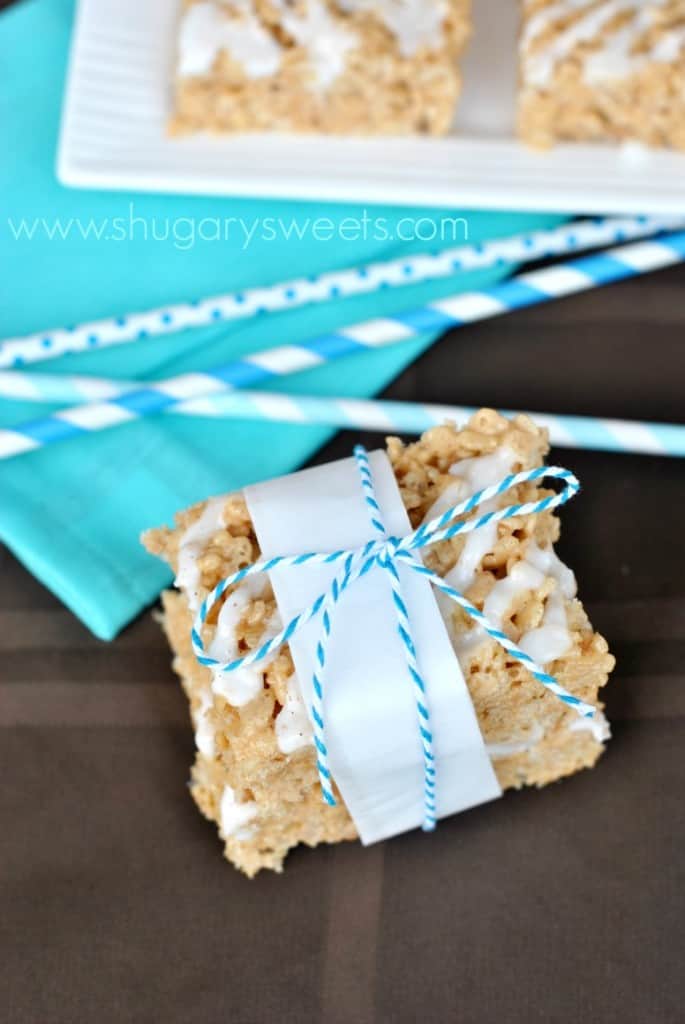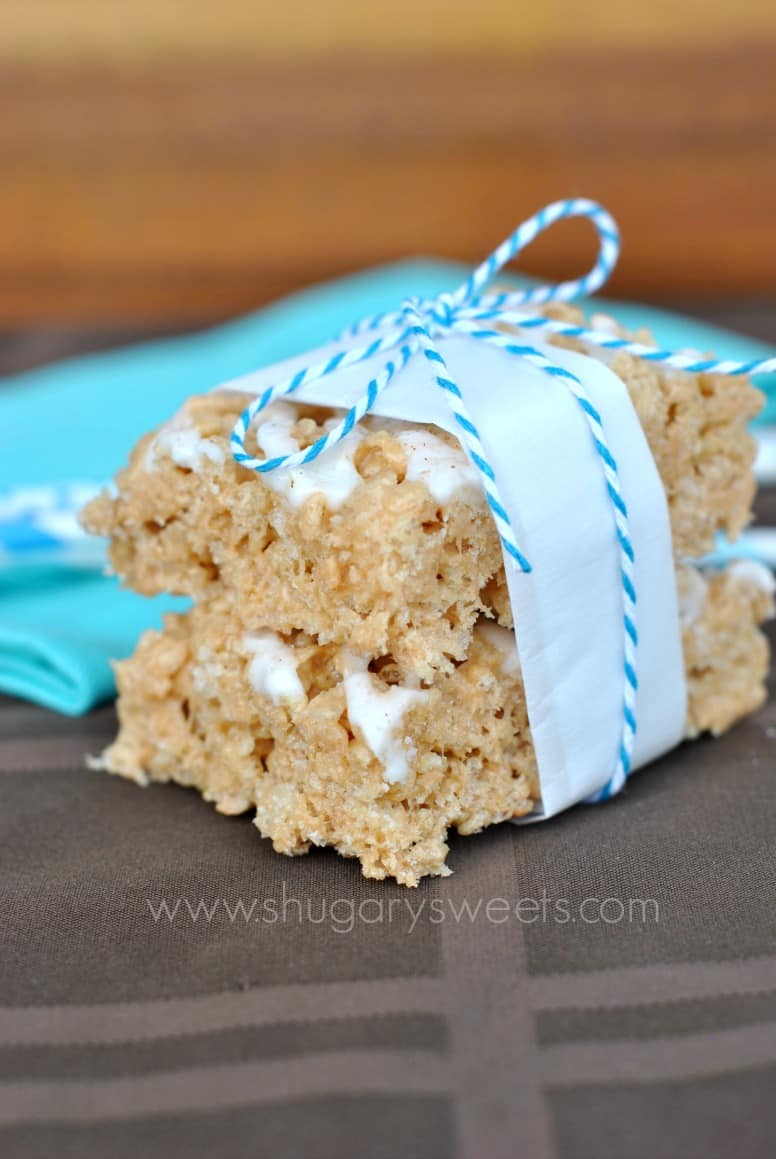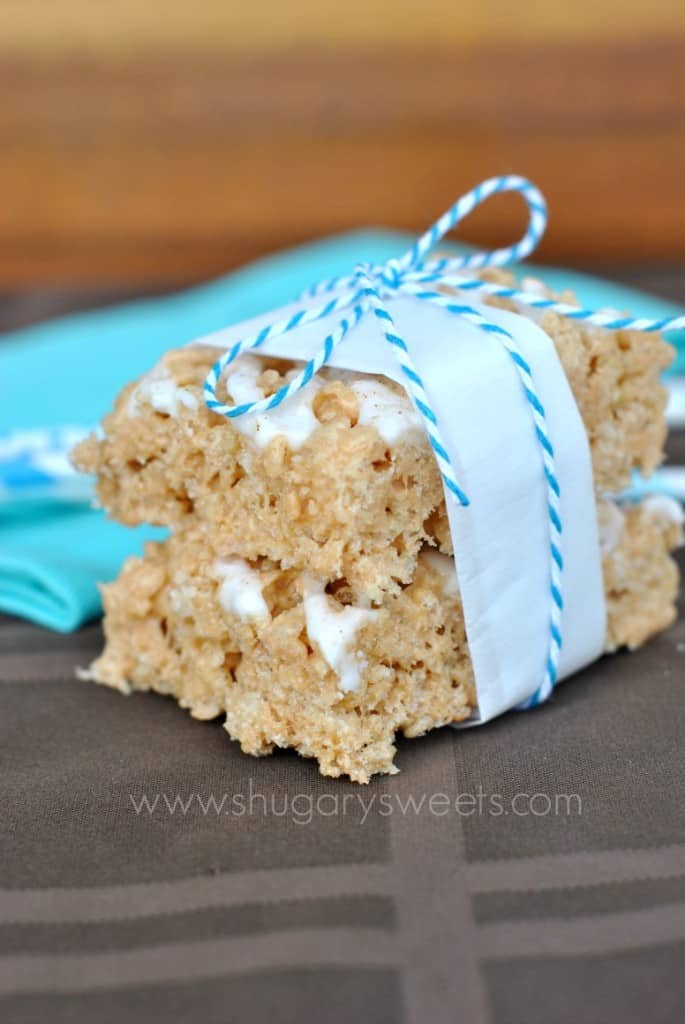 Today's recipe uses Duncan Hines Frosting creations flavor packets. The Cinnamon Roll flavor. You could totally just add in some cinnamon sugar blend, but I think the packet is a little more concentrated somehow. It really has more of a cinnamon roll taste. But, either way is absolutely delicious.
You could add in a Bubble Gum flavor packet…wonder what that would taste like. I used the Bubble gum in these pretzel bites, and it really tastes like chewing gum. No kidding. Hmmm…ideas….
Anyways, back to THESE treats.
One tip about making rice krispie treats is to NOT press your mixture too hard in the pan. They will end up being dry and crunchy, instead of chewy and delicious. Keeping the treats chewy is a key in knowing how to make rice krispie treats!
Also, lining your pan with parchment paper is awesome. Keeps the pan clean, plus you can just lift it out and cut your squares! ENJOY!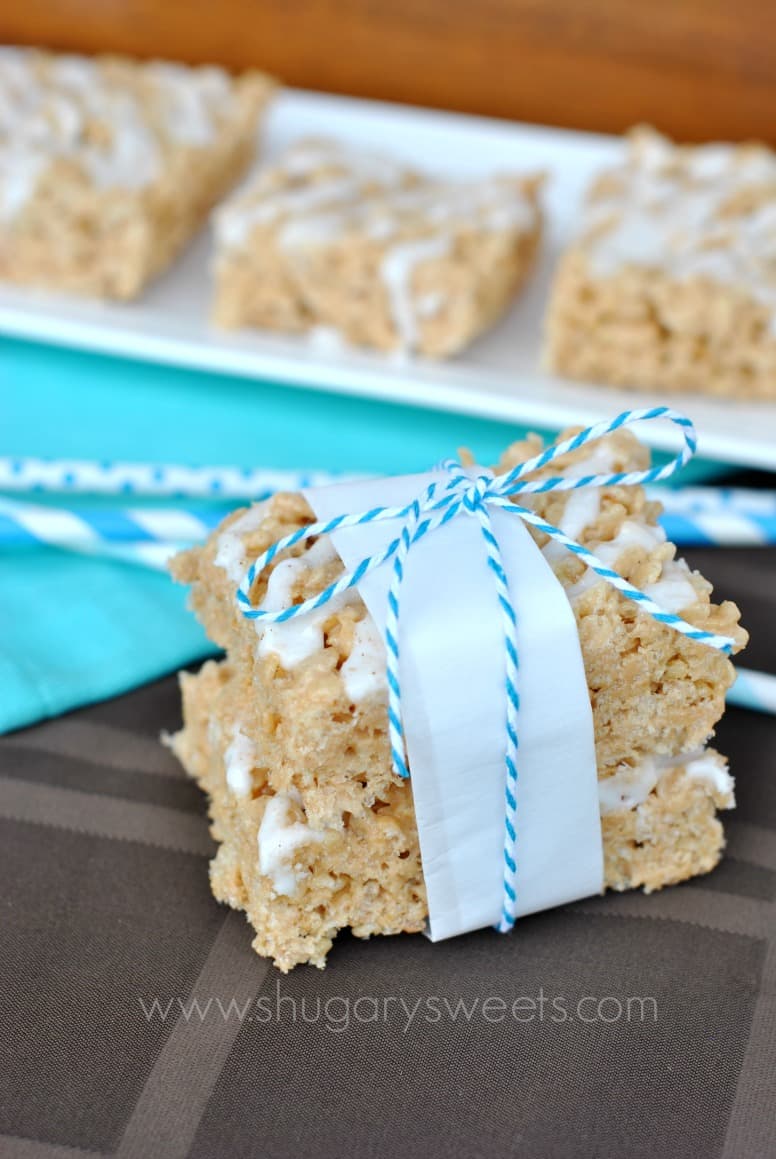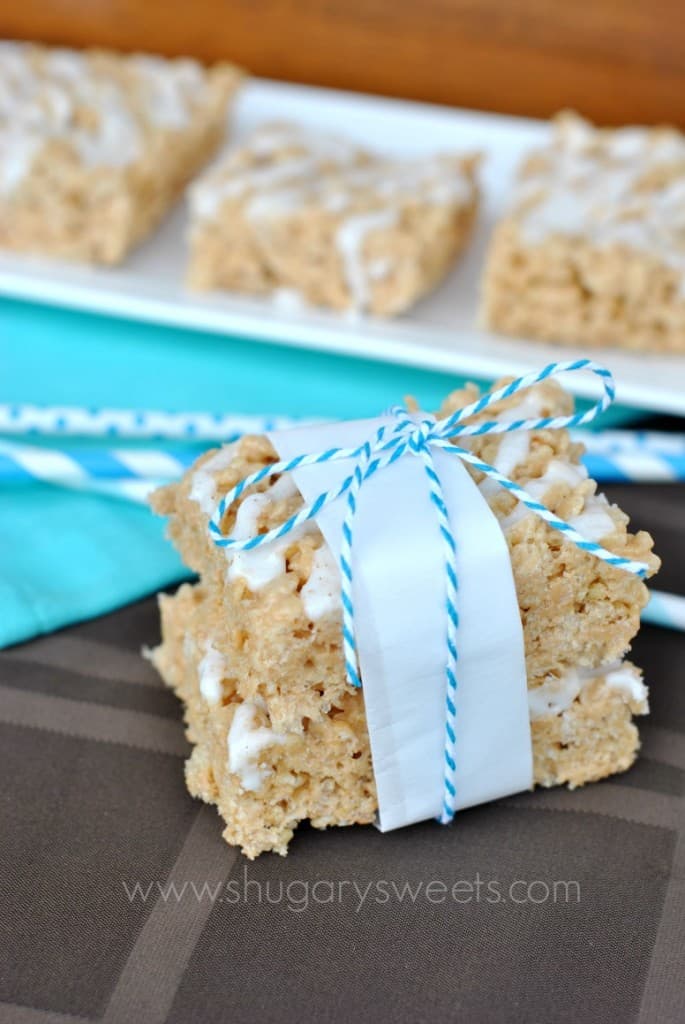 Connect with Shugary Sweets! I know you want to see behind the scenes…check out my instagram!
Facebook | Twitter | Google+ | Pinterest | Bloglovin'
Yield: 12 bars
Cinnamon Roll Rice Krispie Treats
Take your Rice Krispie Treats up a notch by adding Cinnamon Roll flavor! You can't keep your hands off these.
Ingredients
For the krispie treats:
1/4 cup unsalted butter
10oz bag marshmallows
5 cup crispy rice cereal
1 pkg (0.10oz) Duncan Hines Cinnamon Roll Frosting Creations flavor mix
For the glaze:
1 cup powdered sugar
2 Tbsp milk
1 Tbsp cinnamon/sugar blend
Instructions
In a large saucepan, melt butter over medium heat. Add marshmallow and stir with a spoon until completely melted. Remove from heat.
Whisk in the cinnamon roll flavor packet. Add cereal.
Press mixture into a parchment paper lined 9inch square baking dish. Cover with plastic wrap and allow to set, about one hour.
For the glaze, whisk sugar and milk together. Drizzle over krispie treats and sprinkle immediately with cinnamon sugar blend. Remove treats from pan by lifting parchment paper. Cut into desired sized bars and enjoy!
Store in an airtight container at room temperature for up to 5 days.
I am obsessed with cinnamon roll flavor. This Cinnabon Fudge is soft and smooth and perfect for the cinnamon lover!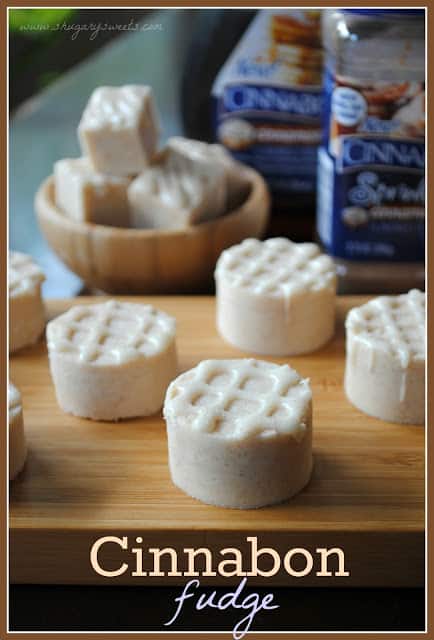 Cinnamon and breakfast go hand in hand. Especially in this Cinnabon Cinnamon Cake!!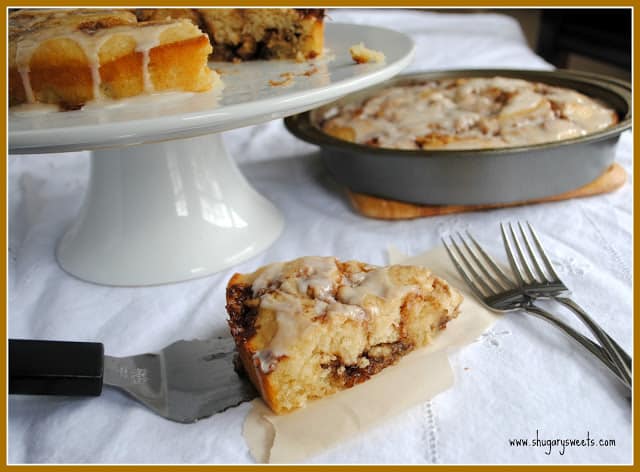 I love biscotti with my coffee. It's a perfect treat to serve guests too! This Snickerdoodle Biscotti is a cinch to whip up!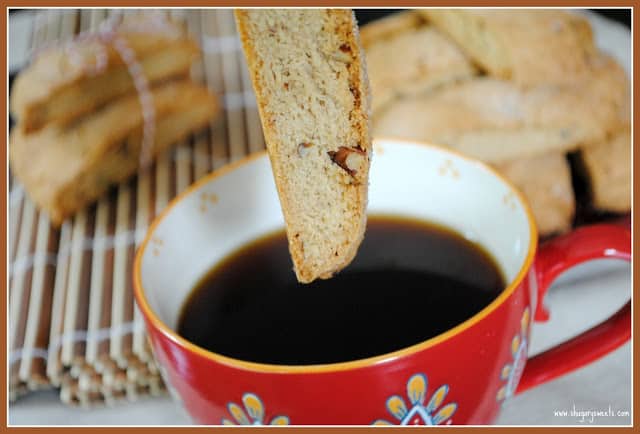 Looking for more Cinnamon Roll recipes?
Cinnabon Sugar Cookies from Inside BruCrew Life
Cinnamon Rolls from Something Swanky
Cinnamon Roll Bread Pudding from Spicy Southern Kitchen