Take your Rice Krispie Treats up a notch by adding Cinnamon Roll flavor! You can't keep your hands off these easy-to-make treats with plenty of sweet cinnamon spice.
Obsessed with cinnamon treats? Give our no bake churro bars a try soon, so easy to make. Or bake a batch of cinnamon muffins for breakfast.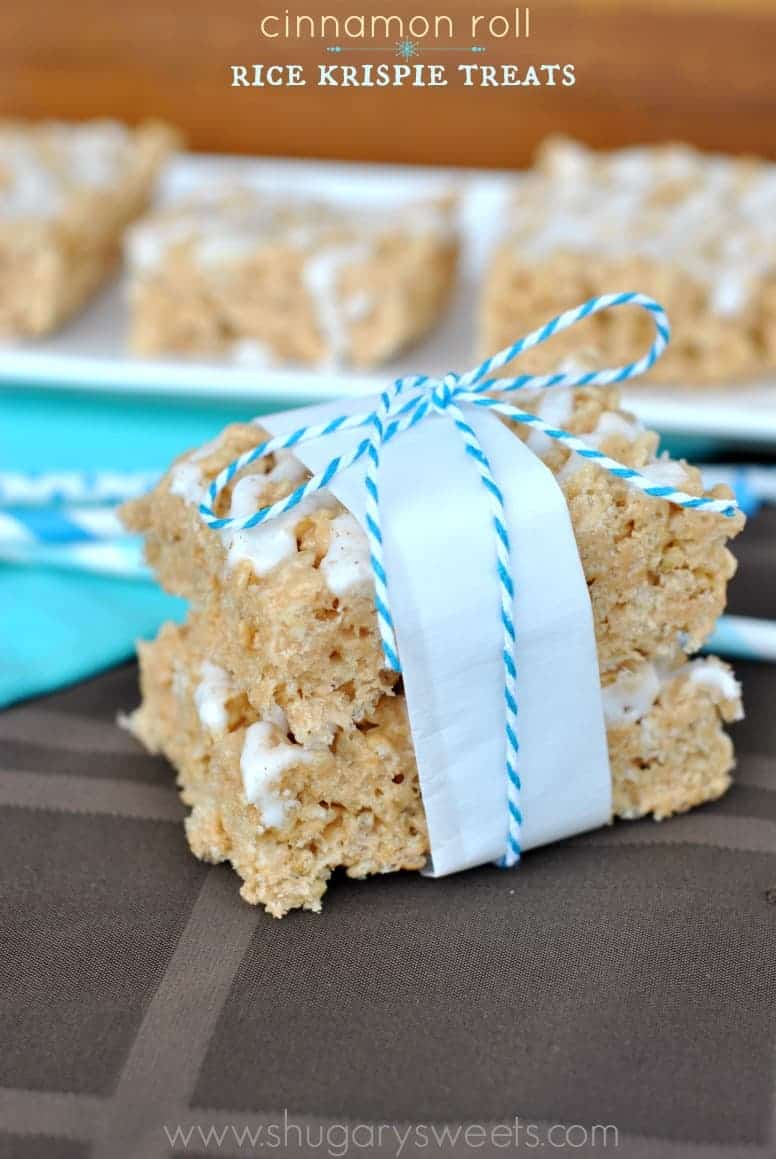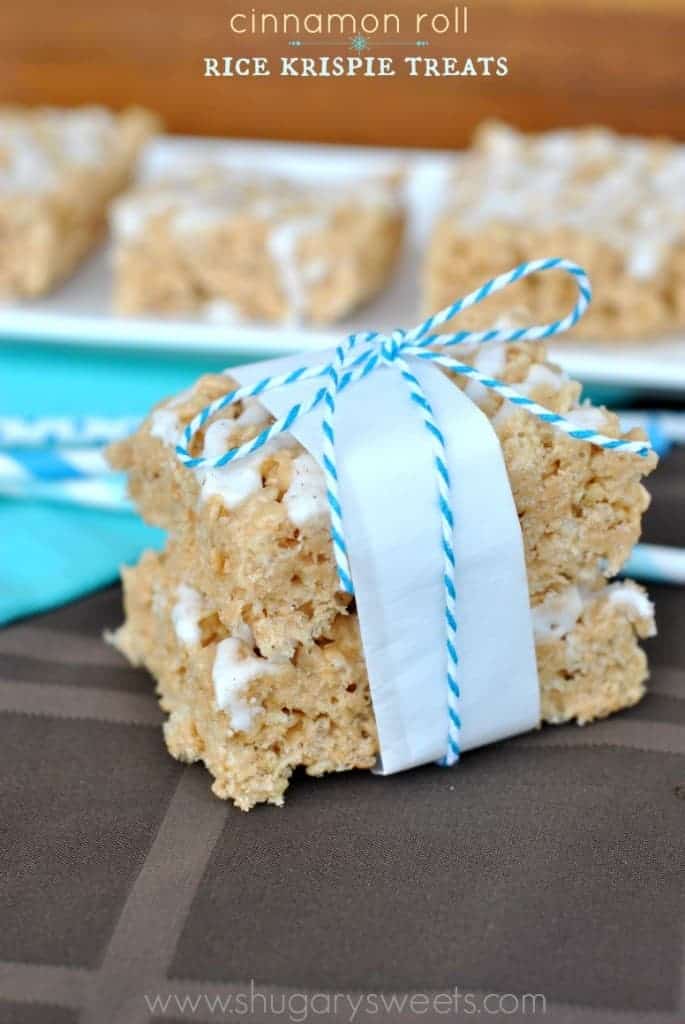 Easy Krispie Treat Recipe
Okay, so maybe YOU can keep your hands off Rice Krispie Treats, but I cannot. I have zero willpower when it comes to those little homemade treats.
But don't even TRY to hand me one of those treats in the blue foil package. They don't count. I have high standards when it comes to my favorite treat and because they're so easy to make at home, I can't resist making all kinds of variations on the classic recipe with different flavors and toppings.
So it made perfect sense to combine all the great flavors of Cinnamon Rolls with the ease of a Rice Krispie Treats recipe. These have a touch of cinnamon sugar folded into the cereal plus a simple glaze with even more cinnamon!
The results were phenomenal. Soft and sticky treats that smell like a fresh baked cinnamon bun and taste like heaven. Try this Cinnamon Roll Rice Krispie Treat recipe for yourself to understand just how wonderful they are!
Ingredient Notes
Rice Cereal – You can substitute other cereal varieties too. I've had great success making treats with Chex and Cheerios.
Marshmallows – Both regular sized and mini marshmallows will work.
Cinnamon Sugar – I make my own blend of cinnamon sugar to use in my baking.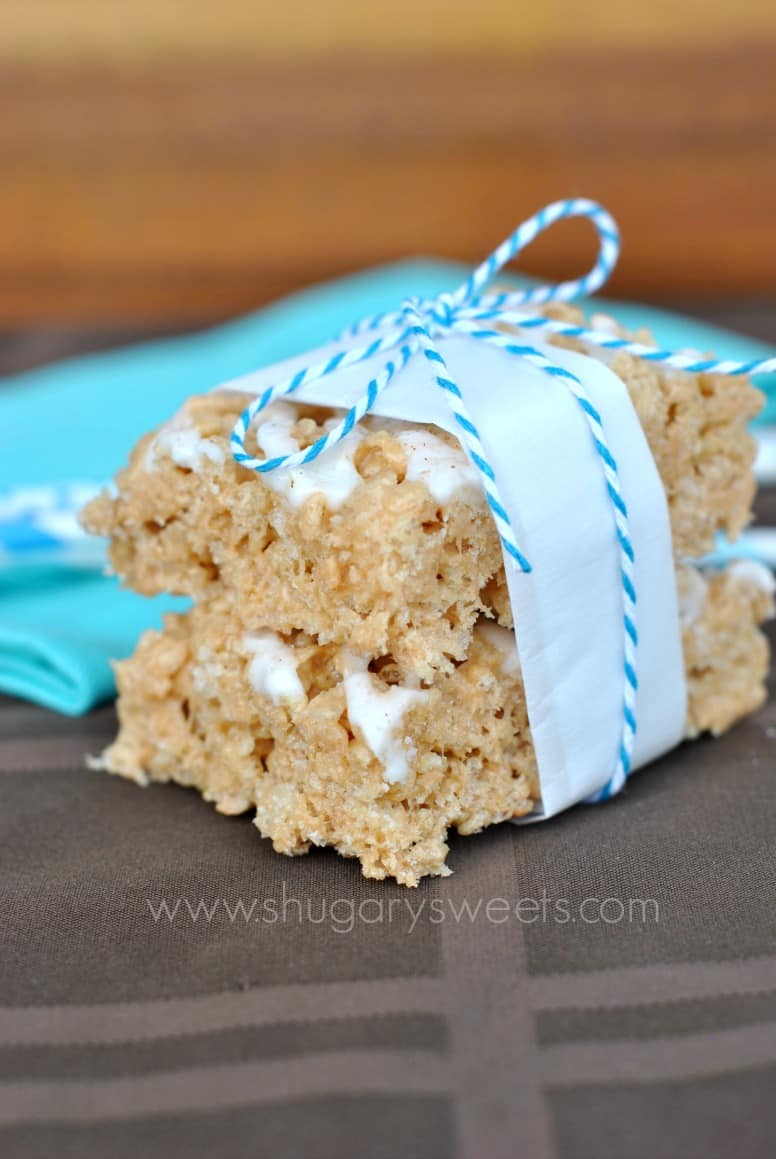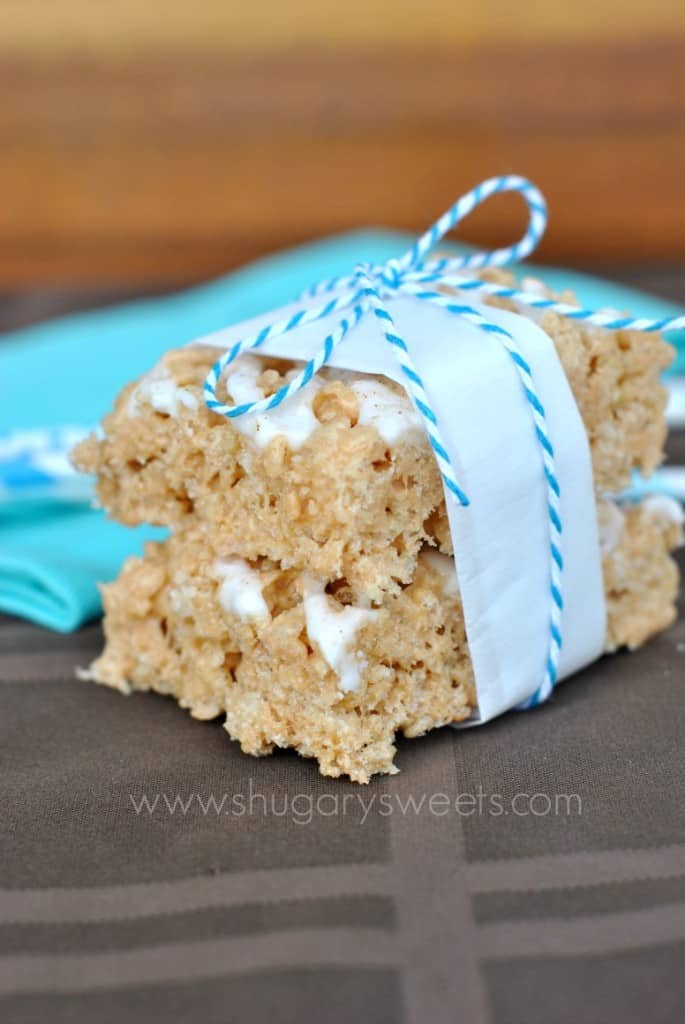 Tips and Tricks
I start all my Rice Krispie Treats recipes by melting butter on the stove, then mixing in the marshmallows until melted and combined. For the cinnamon roll flavor, folded in the cinnamon sugar along with the cereal after removing the marshmallow mixture from the heat.
Important reminders for making the best treats possible:
When pressing the treats into the baking pan be sure to press GENTLY. The harder your press, the harder the finished treats will be.
Cover the pan with plastic wrap while letting the treats set so they don't dry out. Add the glaze before cutting into bars.
You can add more or less milk to the glaze to get the consistency you prefer. As written, I find the glaze to be thin enough to easily drizzle onto the Rice Krispie Treats but thick enough that it won't drip off the bars and get all over your hands when you eat them!
Store Rice Krispie Treats in an airtight container at room temperature for up to 5 days.
I tied my bars with some blue twine for a pretty touch since these don't have much color. A tin filled with these would make a great gift for anyone on your list!
Recipe FAQs
Can you freeze these?
I don't recommend freezing any Rice Krispie Treats. Time in the freezer makes these taste less spectacular–and life's too short to eat a Krispie Treat that's anything short of spectacular!
Can I substitute a different cereal for the Rice Krispies?
Sure! Make sure to choose a cereal that's on the plainer side flavor wise. You want the cinnamon sugar taste to stand out. Cheerios, Rice Chex or Corn Flakes would all be good options.
How do you make Cinnamon Sugar?
I add 2 tablespoons of cinnamon for every half cup of sugar for a strong cinnamon flavor. You can check out my full guide to making a perfect cinnamon sugar mixture to suit your tastes here. You're welcome to use a store bought cinnamon blend too!
Everything you love about cinnamon rolls and rice krispie treats combined in one easy dessert recipe. These Cinnamon Roll Rice Krispie Treats are simply impossible to resist!