Easy No Bake Churro Bars with only 3 ingredients. Perfect for any time of year!
If you love homemade Churros, today's treat is an easy dessert that replicates the flavor. Or give our churro toffee treat a try next.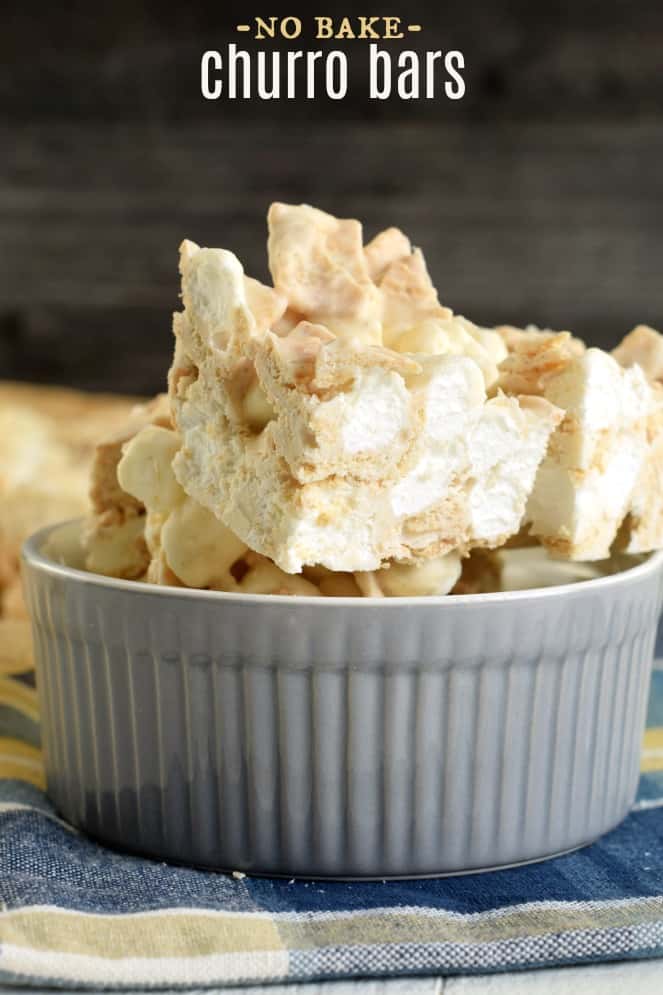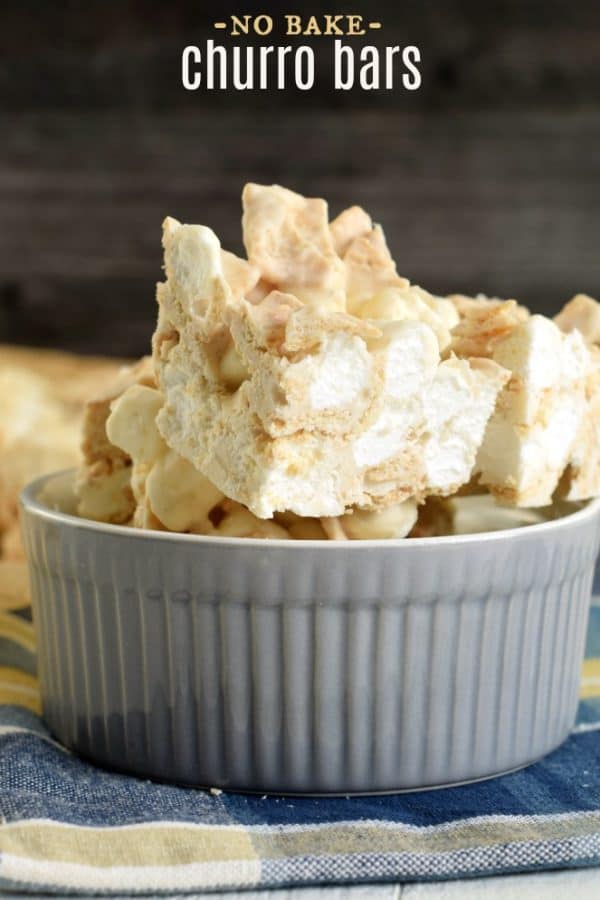 Why this Recipe is Best
I really was torn on what to call these bars. While they aren't exactly the Disney Park Churros, they are packed with a delicious cinnamon sugar filling.
Do I call them churro bars or snickerdoodle bars?
I opted for Churro because Cinco de Mayo is coming soon and thought maybe you'd like a quick and easy dessert idea?
In no way is this an authentic mexican treat though, just so we're clear, haha!
If anything, they mostly resemble these Indoor S'mores I made many years ago. With just 3 ingredients, you'll love the simplicity.
How to Make No Bake Churro Bars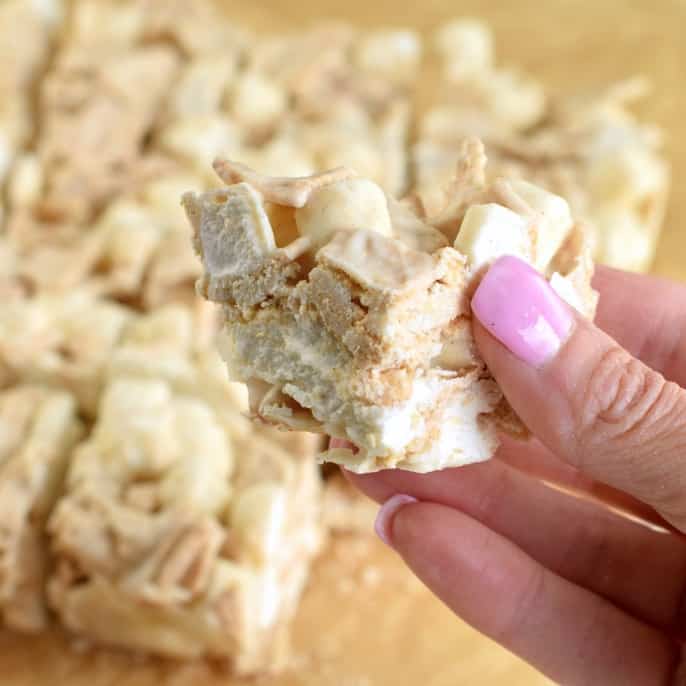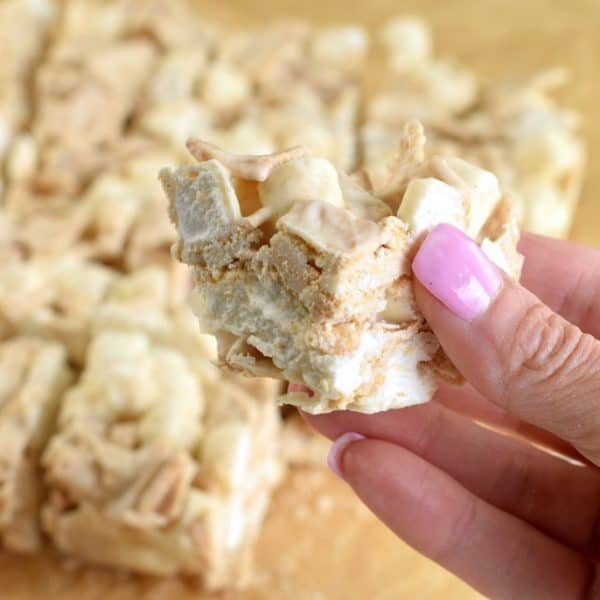 Line an 8-inch square baking dish with parchment paper.
PRO TIP: Use binder clips (or mini clothespins) to secure the parchment paper to the side of the pan. This keeps the parchment paper in place.
In a large mixing bowl, add the Cinnamon Toast Crunch cereal and marshmallows. Set aside.
In a medium glass bowl, add Ghirardelli white chocolate melting wafers. You can also substitute vanilla bark (Candiquik) if you'd like, but I love the taste of the Ghirardelli.
Heat melting wafers for one minute in microwave, stir and heat an additional 15-30 seconds. Stir until smooth.
Pour over cereal and marshmallows and mix until fully coated.
Spoon mixture into baking dish, pressing down gently with the back of the spoon. Refrigerate for 15 minutes.
Remove from pan and cut into squares. ENJOY.
Store in airtight container at room temperature. If it's too warm, pop in refrigerator to keep the chocolate from melting.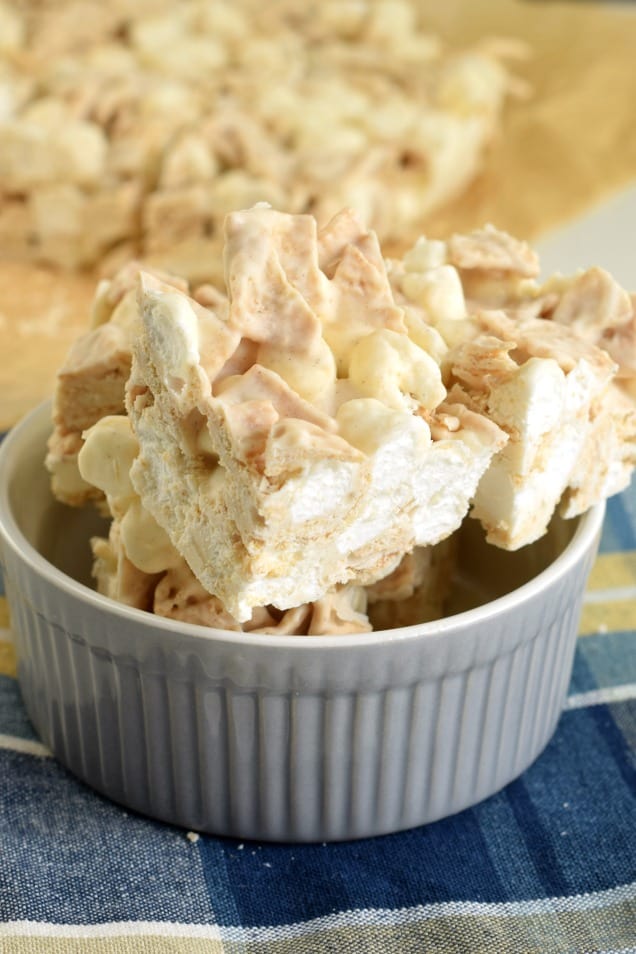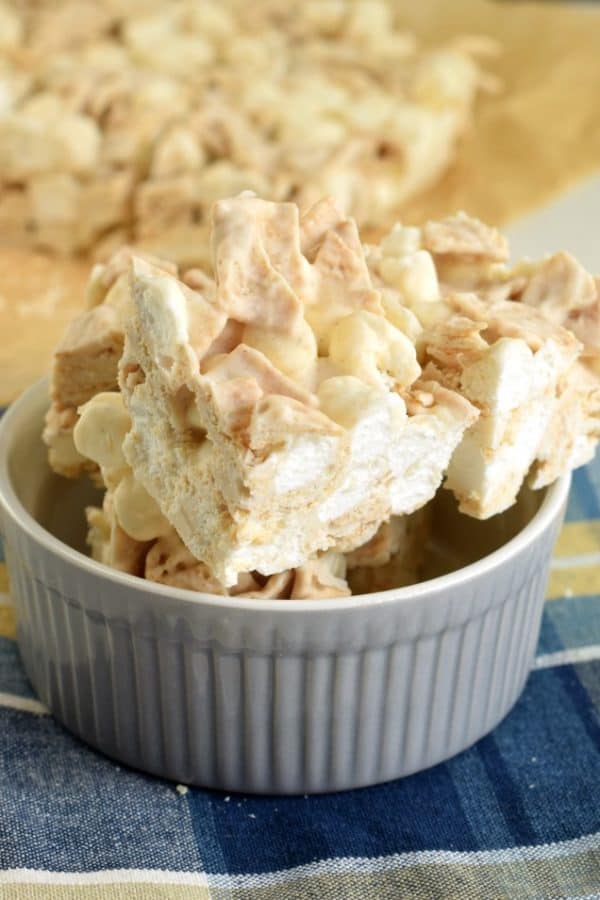 More Cinnamon Sugar Treats
Looking for a snack that makes the whole family smile? This Snickerdoodle Muddy Buddies recipe is just what you need. Sweet cinnamon muddy buddies with a little extra help from Cinnamon Toast Crunch cereal!
Take your classic banana bread recipe to the next level! This Snickerdoodle Banana Bread recipe has a crunchy top coating of cinnamon and sugar, a real crowd pleaser!
Classic chewy Snickerdoodle Cookie recipe. One of my family's favorites!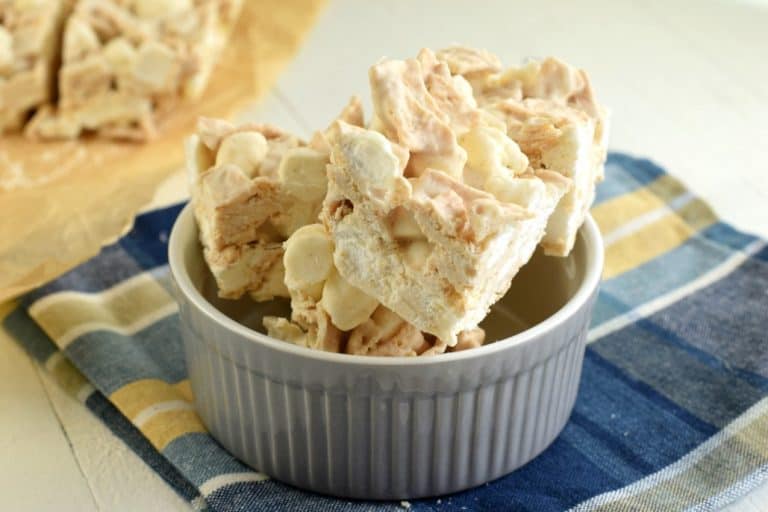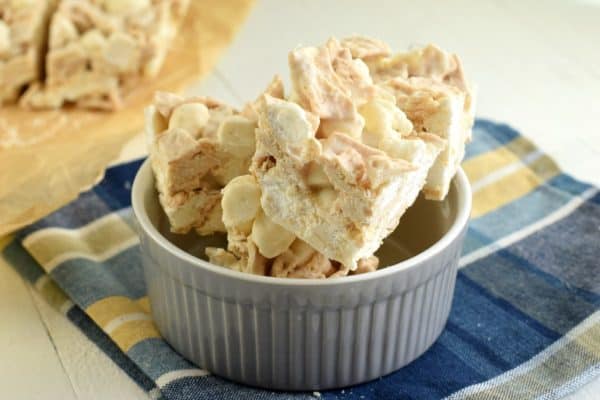 No Bake Desserts
With summer approaching quickly, the last thing I want to do is turn on my oven on a hot sunny day.
The solution (because we all still need a sweet treat after a long day) is to whip up some no bake desserts.
One of our favorites would be these No Bake Chocolate Cookies. A classic from childhood. And you can change up the flavor easily by making No Bake Peanut Butter Cookies (packed with Reese's Pieces), No Bake Nutella Cookies, and No Bake Oatmeal Scotchies (possibly my personal favorite).
Looking for pie? This Pistachio Pie is ridiculously good AND easy! You could also make a chocolate treat with this tasty No Bake Oreo Cheesecake Pie recipe.
Speaking of chocolate, have you ever tried chocolate lasagna? Layers of cookies, pudding, whipped cream, and chocolate. But this No Bake Chocolate Peanut Butter Lasagna gives the original a run for it's money!
No Bake Peanut Butter S'mores Bars are a delicious 4 ingredient no bake treat!