The search for the best Strawberry Frosting recipe is over! This homemade buttercream is made with freeze dried strawberries for natural berry flavor. Pipe onto cupcakes, roll into cake balls, spread over a cake, or just eat with a spoon. Strawberry heaven!
Why limit strawberries to the spring and summer? I get my strawberry fix all year long with desserts like Strawberry Streusel Bars and Strawberry Shortcake Ice Cream Bars.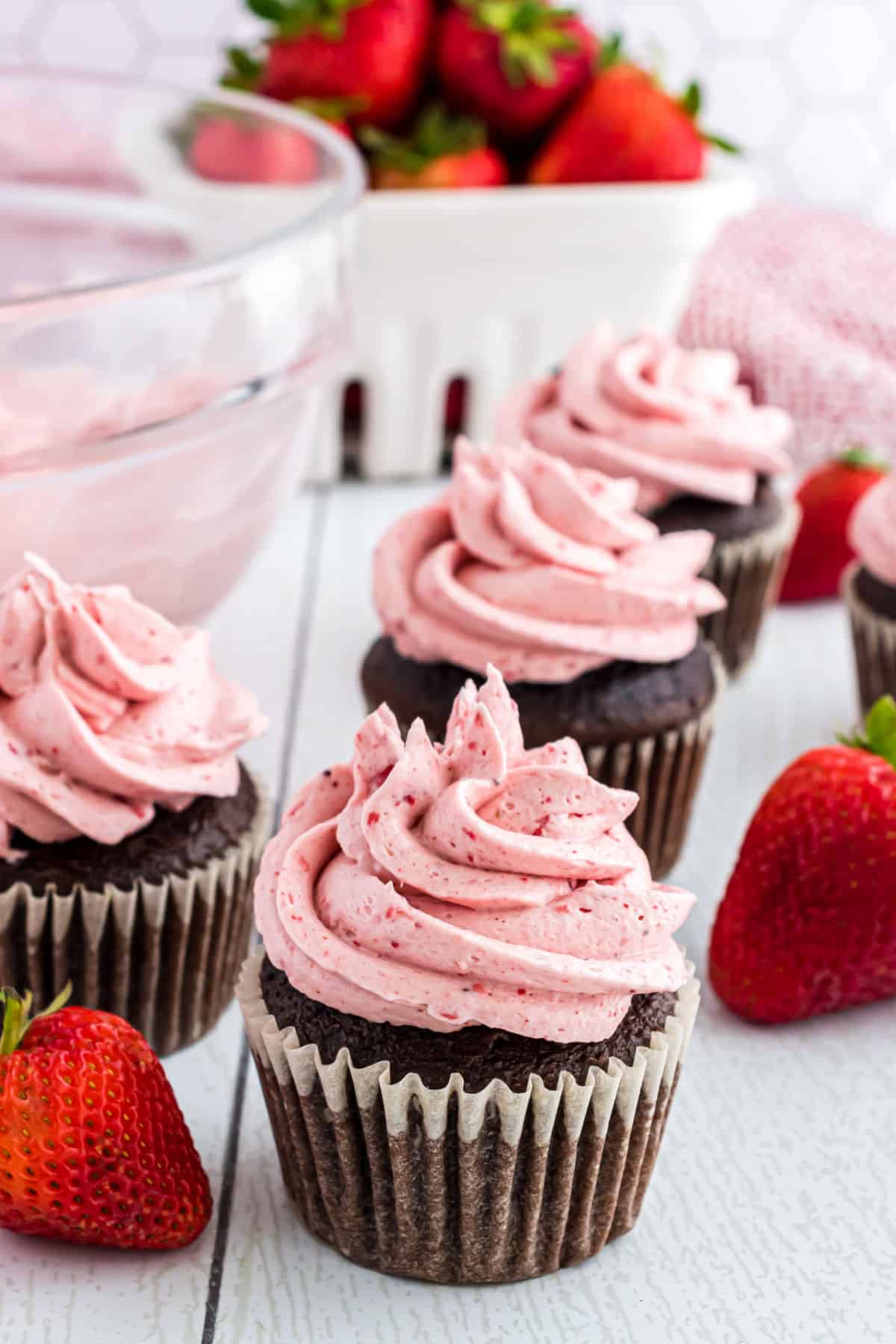 Why this Recipe Works
It's made with real strawberries in convenient freeze dried form. No artificial colors or flavors!
You only need five ingredients to make homemade strawberry buttercream.
It's easy to adapt the consistency for different uses. Add more milk for a thinner frosting or less to make it extra thick!
Makes enough to generously cover a two layer cake or 24 cupcakes! The recipe doubles easily for a crowd too.
I know many people will wonder if they can use fresh or frozen strawberries in this recipe, and my answer is no. Fresh and frozen berries add too much moisture for the little flavor they infuse.
By choosing freeze dried berries you can add a TON of flavor without affecting the final frosting results!
You'll see we paired this incredible strawberry frosting with our homemade strawberry cake recipe. The perfect duo.
Ingredient Notes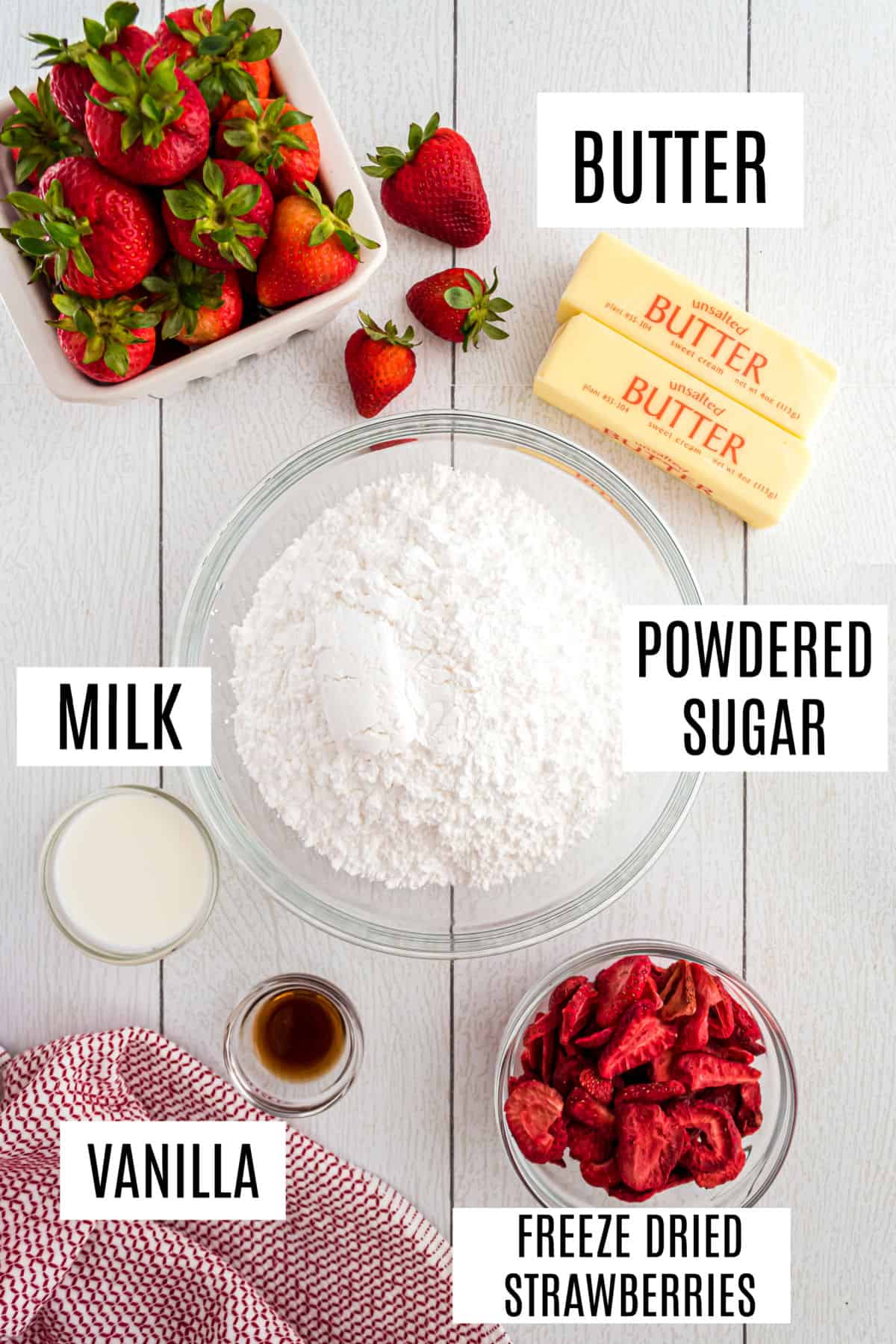 Freeze dried strawberries. These dehydrated berries are sold in 1 ounce packages. You can find them in the dried fruit aisle at the grocery store or online.
Vanilla extract. A good quality store bought or homemade vanilla adds a lovely dimension to the strawberry flavor.
Unsalted butter. Using unsalted butter yields most consistent results and gives the strawberry frosting best flavor.
How to Use Strawberry Frosting
The sky is the limit for homemade strawberry buttercream!
My favorite way to enjoy this fruity frosting is on a classic Strawberry Layer Cake.
Here are a few more ideas to get you started:
Cakes – Strawberry pairs well with so many flavors. Slather strawberry frosting on White Cake, Yellow Cake or Chocolate Cake.
Cupcakes – Pipe it onto Chocolate Cupcakes, Banana Cupcakes or Vanilla Bean Cupcakes. White Chocolate Cupcakes are a delicious match for strawberry icing too.
Cake balls. Bake up a boxed white cake mix, combine it with this frosting and scoop into delicious Strawberry Cake Balls.
Spread and dip. For an extra fun kids' snack, spread strawberry frosting onto chocolate graham crackers or serve with animal crackers for dipping.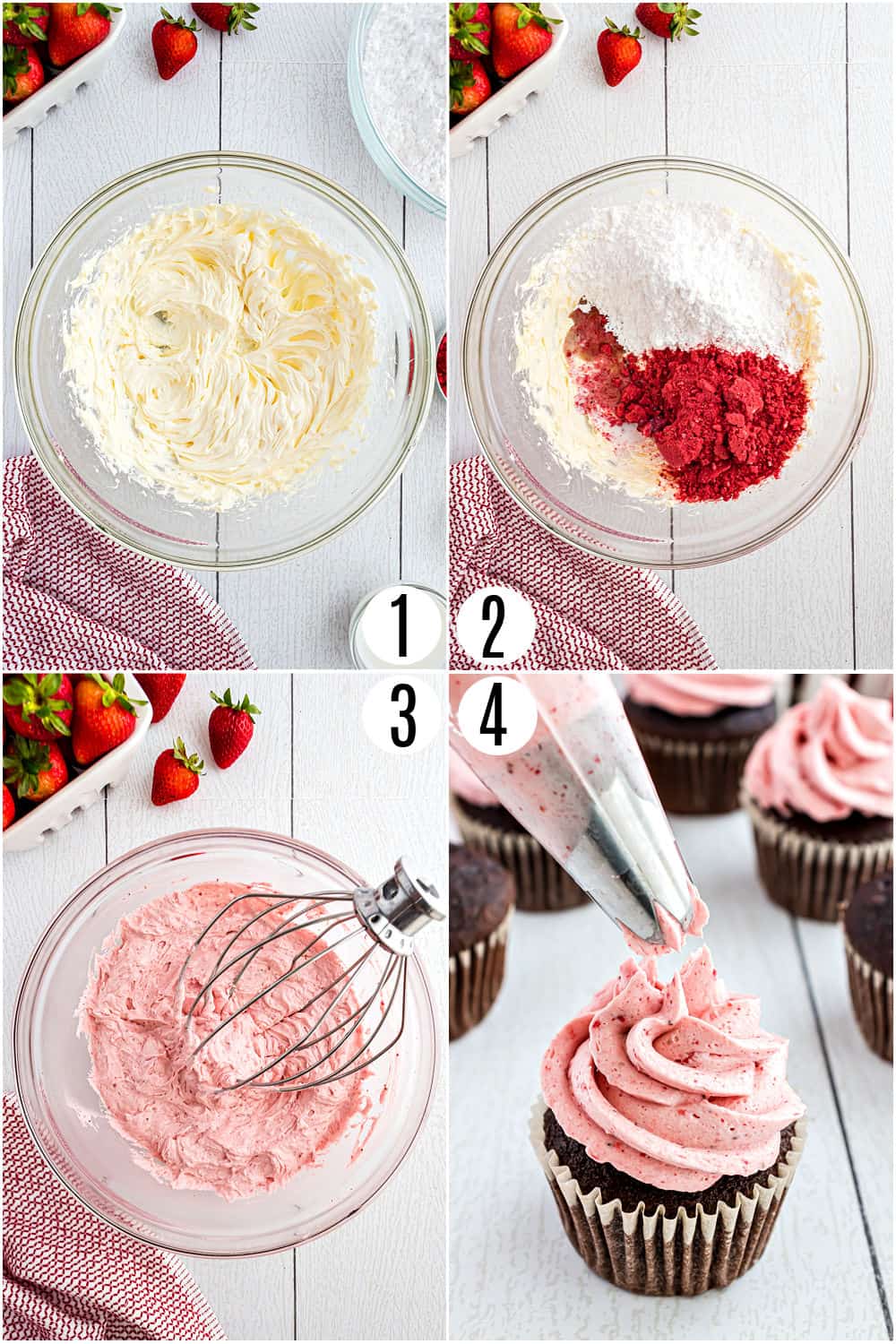 Tips and Tricks
Beat butter first. Before adding the powdered sugar, beat the butter on its own until pale and fluffy. This will help the frosting get fluffier and creamier.
Add milk a little at a time. This way you can adjust the frosting to your desired consistency. I like mine spreadable but still nice and thick!
Storing. If not using right away, store this strawberry frosting in an airtight container in the fridge.
Add some tang. Use the freeze dried strawberries in our cream cheese frosting or add them to our vanilla sour cream frosting for a tangy strawberry treat.
You'll see this gorgeous frosting again in my Strawberry Almond Cake with fresh berries too!
Raspberries. Use freeze dried raspberries for a flavor twist on this easy frosting. Then top your dessert with these delicious sugared cranberries. The tart fruit goes great with raspberries!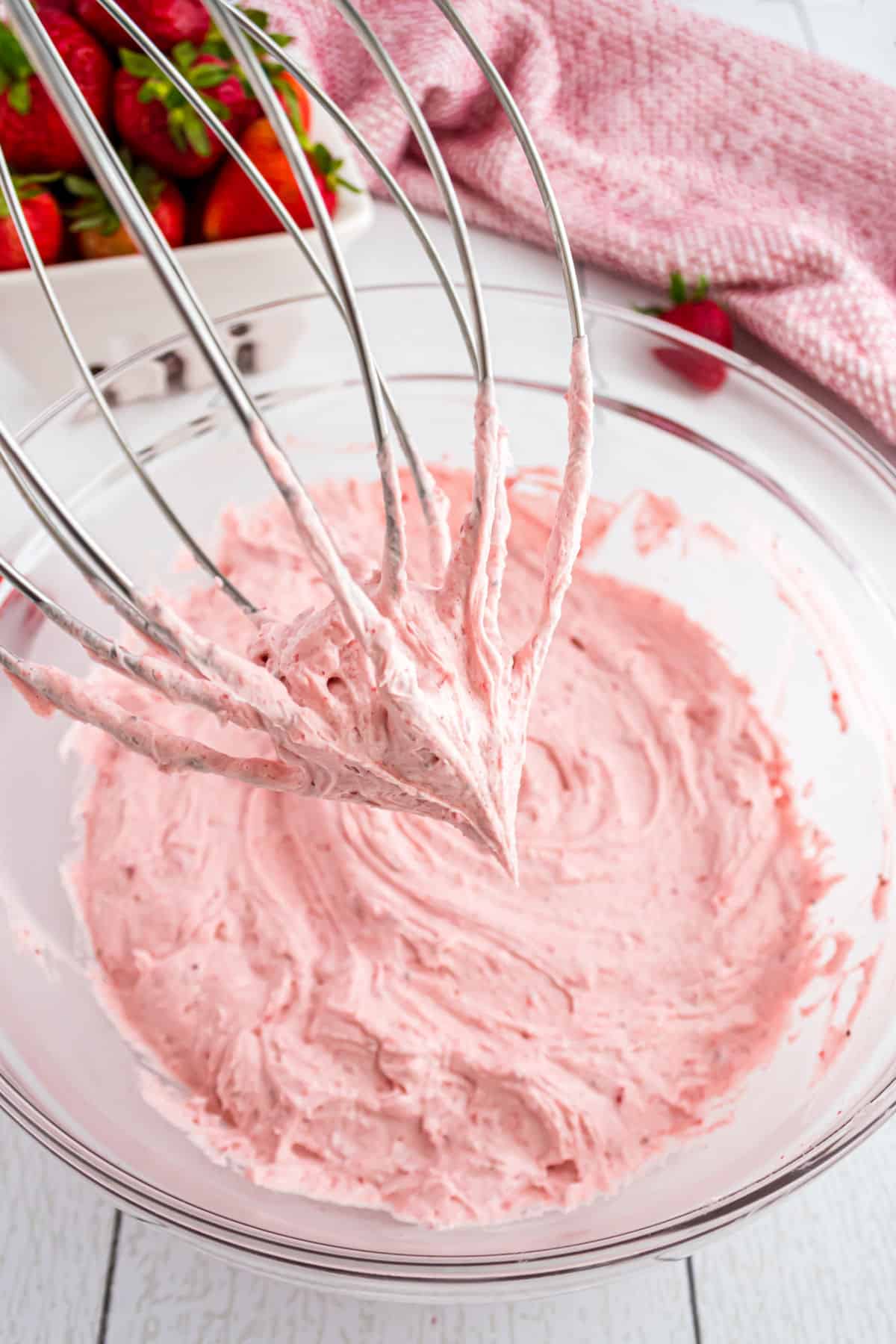 Recipe FAQs
Can I make this recipe with salted butter?
Yes, salted butter can be used if that's all you have! The frosting will (of course) just have a very slight saltiness to it.
Can I substitute frozen or fresh strawberries for the dried ones?
Unfortunately, fresh and frozen strawberries don't work in this frosting. Because they still have all their natural water and juices, they'll make the frosting runny. They also won't add nearly as much strawberry taste, as the flavor will be so diluted.

How long does homemade strawberry frosting keep?
If kept refrigerated, your frosting will stay good for about 1 week.
Can you freeze homemade frosting?
Yes, this homemade buttercream can be frozen for up to 3 months. Let thaw overnight in the fridge before adding to your cupcakes or cakes.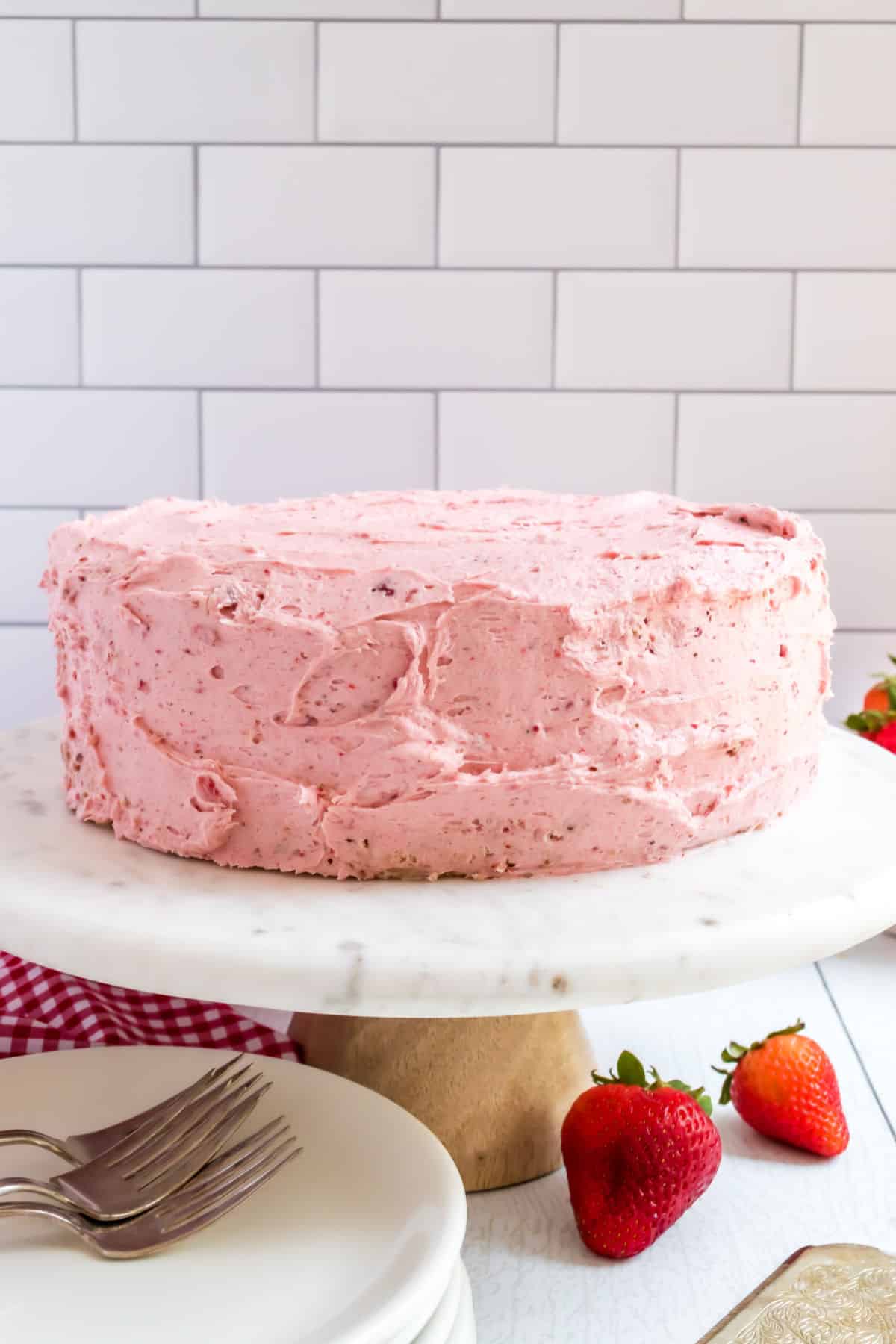 More Frosting Recipes
If you love strawberry desserts, this strawberry frosting recipe is a must make! With real berry flavor and perfect sweetness, it's the only strawberry buttercream you'll ever need.