Strawberry Brownies are two desserts in one. Fudgy chocolate brownies smothered in a layer of strawberry frosting and topped with chocolate ganache. Get ready to become the designated dessert person for every gathering.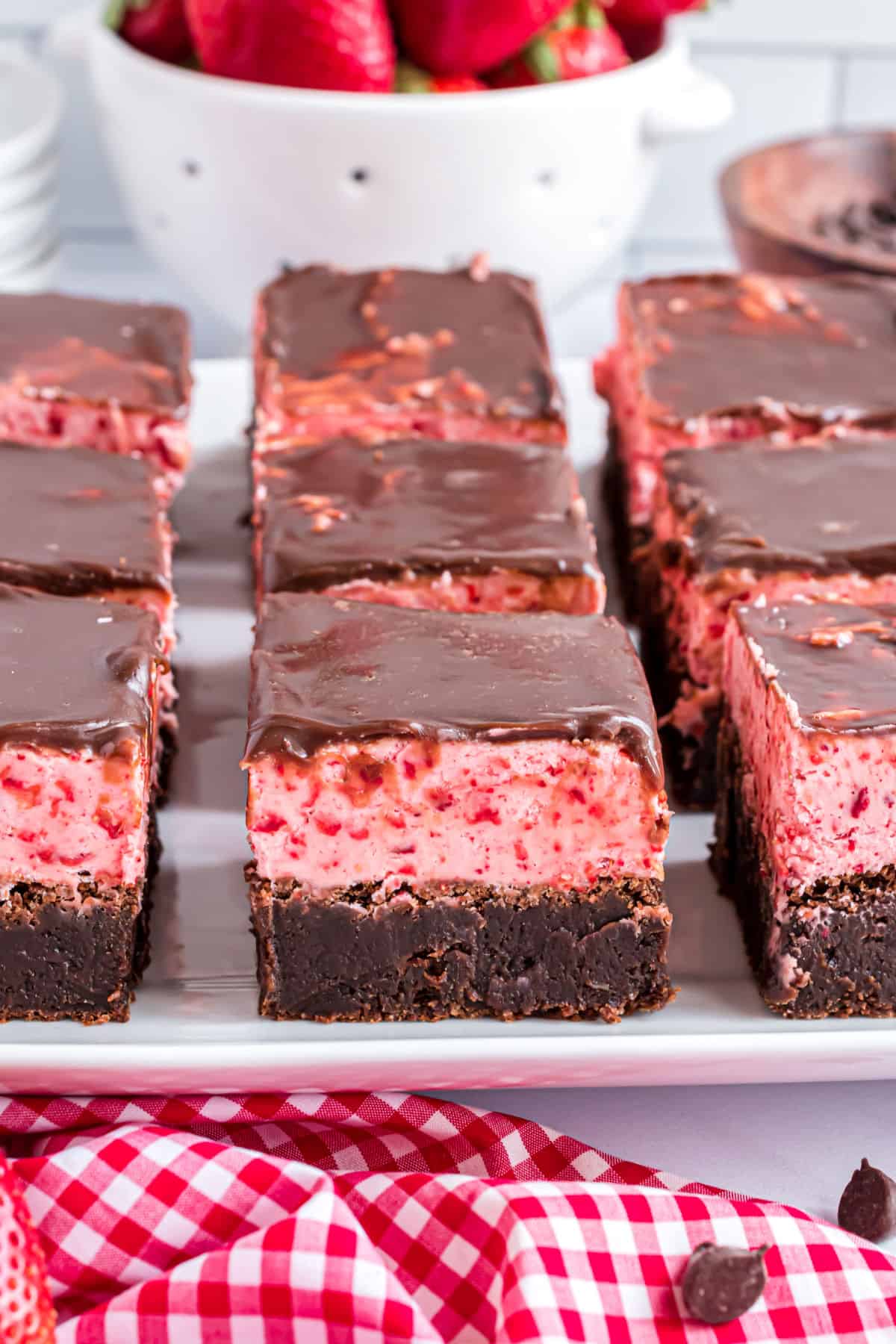 Why Strawberry Brownies Works
With this brownie recipe, I wanted to keep strawberries as the centerpiece without compromising on the fudgy texture of the brownies. And I think it delivers.
You'll get the best of both worlds, without feeling overpowered by the chocolate. Move over chocolate covered strawberries, there's a new decadent dessert in town!
Here are a few reasons why I think you should try it,
It's 100% homemade. Most strawberry brownie recipes on the internet use boxed cake mix, and as a result, the brownies turn out cakey and not tasting like actual brownies. But this recipe is made from scratch, which gives us control over its texture and taste.
Three layers of goodness. A thick, fudgy brownie topped with a layer of strawberry frosting finished off with a light, airy milk chocolate ganache. You're welcome!
A treat for all seasons. Since this recipe calls for freeze-dried strawberries, you don't need to wait for berry season to enjoy these strawberry brownies.
Be sure to stock up on those freeze dried strawberries, you'll need them for our delicious strawberry cheesecake too! Our strawberry cookies are a take on our iced oatmeal cookies, with a strawberry makeover!
Ingredient Notes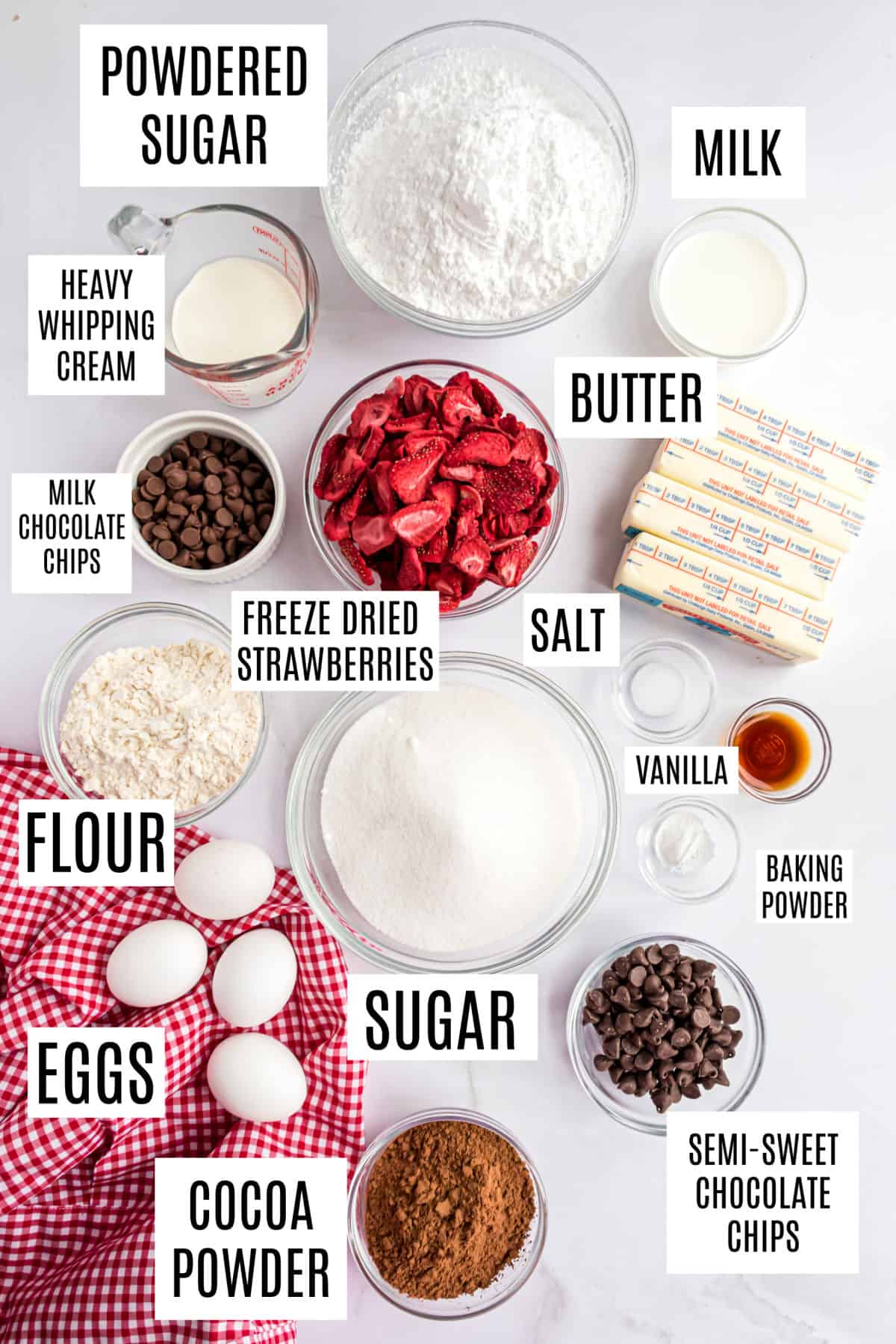 See the recipe card for full information on ingredients and quantities.
Butter – Reach for unsalted butter to control the salt in the recipe. Butter is essential to give the brownies their chewy texture.
Chocolate Morsels – I use semi-sweet chocolate for these brownies, but you can also use dark chocolate chips.
Granulated Sugar – Sugar locks in moisture, ensuring the brownies are moist and soft.
Eggs – Use room temperature eggs. They bind all the ingredients together and give the brownie its height.
Vanilla Extract – Use pure vanilla extract to elevate all the flavors. My homemade vanilla extract is perfect here.
Unsweetened Cocoa Powder – Adds more chocolatey goodness to the brownies without adding extra sugar.
Baking Powder – This leavener prevents the brownies from turning out dense while retaining their fudgy texture.
Freeze-dried Strawberries – Substitute unsweetened strawberry preserves or jam if you can't find freeze-dried strawberries. Buy a few extra bags so you can make a batch of our strawberry rice krispie treats too!
Powdered Sugar – Don't skip it. This makes the mixture smooth and easy to spread.
Whipping Cream – Makes the ganache light and airy.
Easy Instructions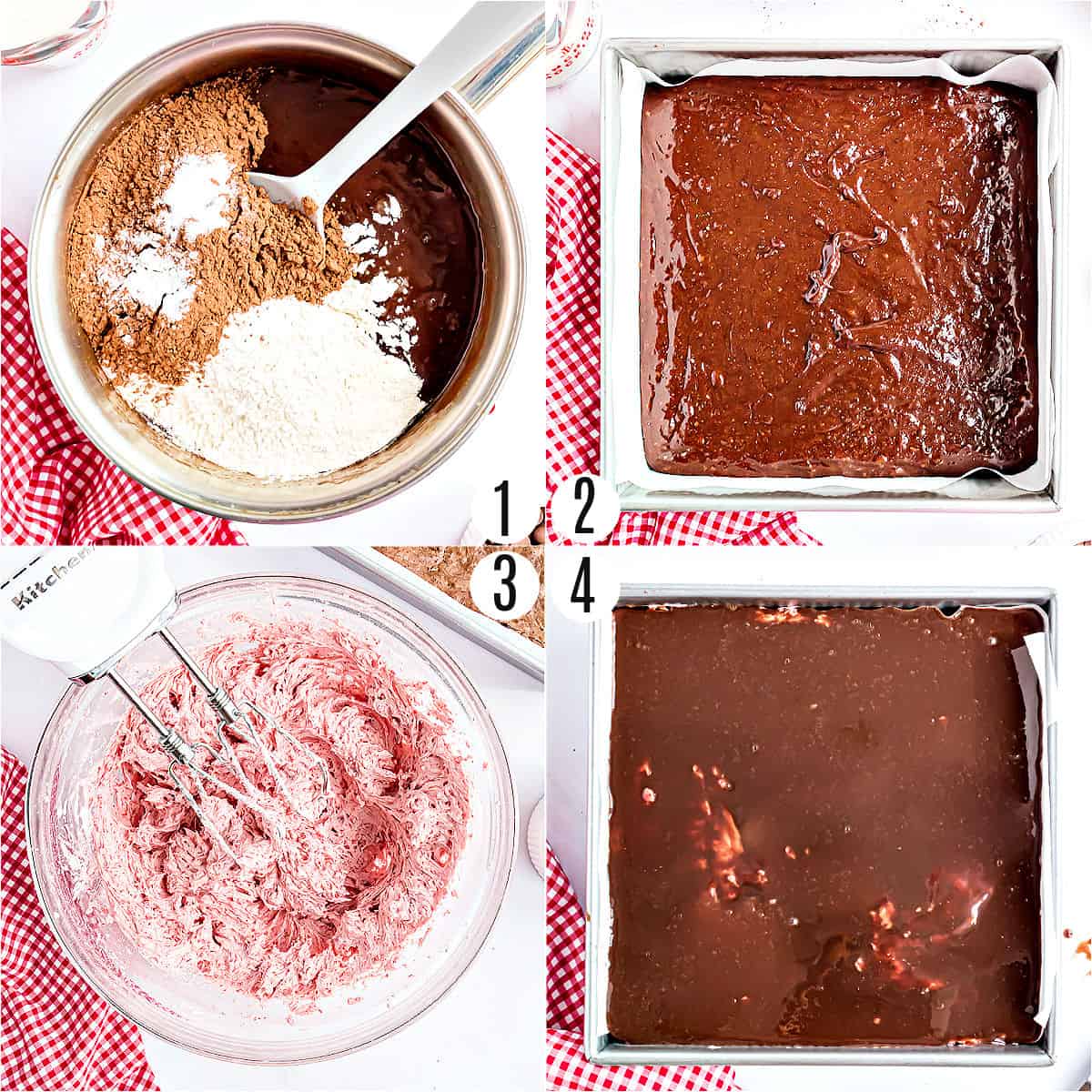 Make the brownie batter. Melt butter in a saucepan. Then mix in the chocolate chips and sugar. Add the eggs one at a time, followed by vanilla extract. Then incorporate the dry ingredients until no dry spots remain. Don't overmix, though!
Bake and cool them. Pour the batter into a lined baking dish. Bake at 350°F for 35 minutes. Let them cool.
Make the strawberry layer. Crush the freeze-dried strawberries into fine crumbs and mix with the other ingredients until fluffy. Spread it over cooled brownies and refrigerate.
Make the ganache. Heat cream and whisk in the chocolate chips until smooth. Pour it over the strawberry layer and spread. Refrigerate for an hour.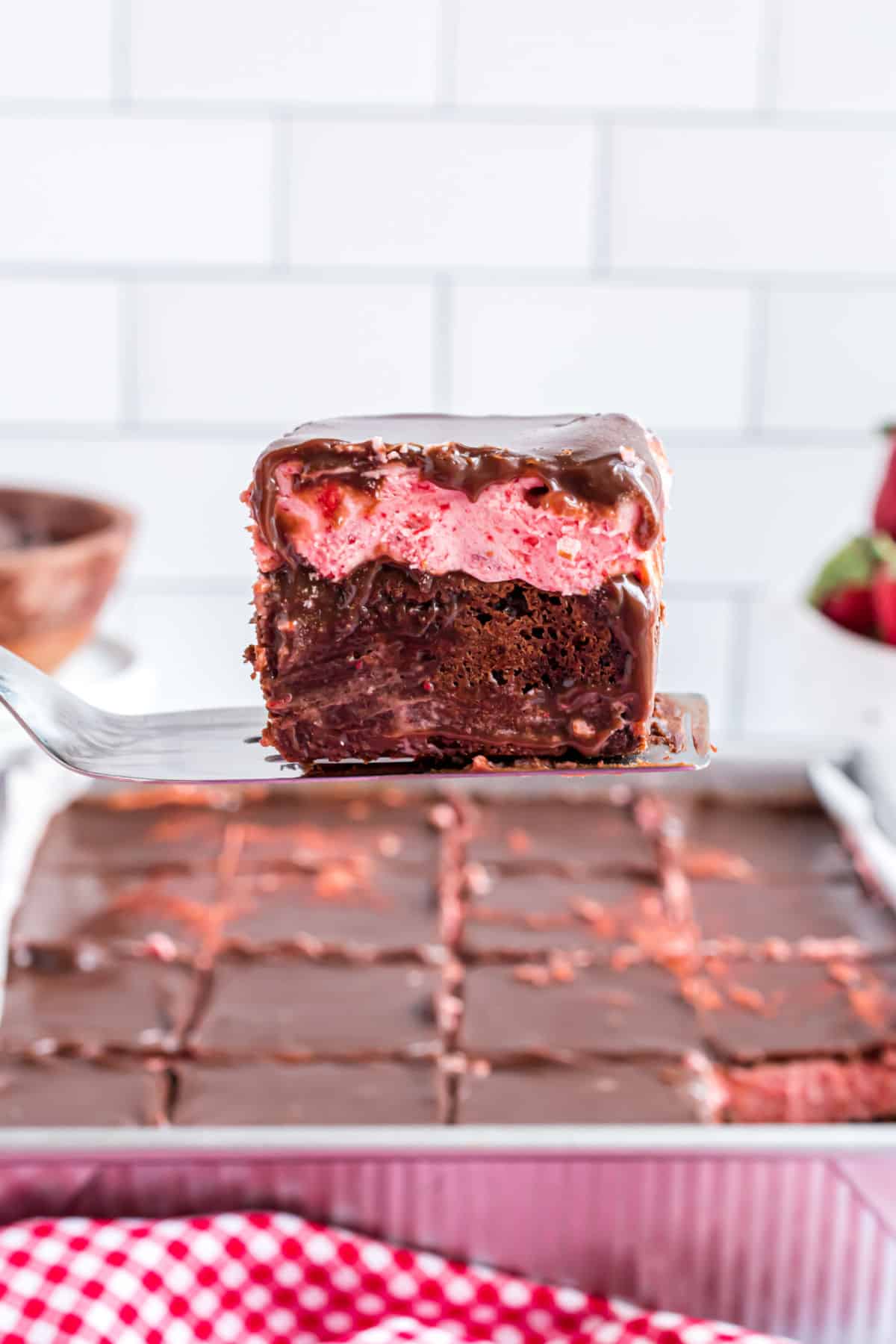 Tips and Tricks
Cool the butter mixture before adding eggs. Adding eggs to the butter mixture while it is hot will cook and split the eggs making the mixture lumpy. To avoid that, ensure the butter mixture has cooled down before adding the eggs.
Don't over-stir the batter. Mix the batter until you stop seeing spots of dry flour. Over-mixing means incorporating more air into the batter. As a result, the brownies will lose their fudgy texture and turn out cakey.
Add the strawberry layer to the cooled brownies. Make sure the brownies are completely cooled before adding the strawberry layer. Otherwise, the butter in the spread may melt and separate, making the end product very greasy.
Line your baking dish. It has two benefits. One, you won't have to scrub and clean your baking dish afterward. Second, you can easily lift the glazed brownies out of the dish and cut them.
Use an offset spatula. Spread and even out the strawberry layer and ganache using an offset spatula to ensure a neat finished look. If you don't have an offset spatula, use a silicone spatula or the back of a spoon instead.
Layered Brownies- if you love today's layered brownies, be sure to give our chocolate mint brownies a try next!!
Serving Suggestions
You can serve the strawberry brownies on their own. But they also go great as the base for a brownie ice cream sundae.
Try adding melted Nutella or our homemade chocolate syrup, whipped cream, chopped nuts, and scoops of homemade vanilla ice cream.
Recipe FAQs
How do I store Strawberry Brownies?
Store the strawberry brownies in an air-tight container at room temperature for up to 2 days. You can also store them in the refrigerator for up to 5 days.
How many brownies does this recipe make?
This recipe yields 9 large brownies when cut as 3-inch squares. Cut smaller pieces and get up to a dozen pieces. You can also cut bite-sized pieces to serve on a dessert board or party platter.
Can I make strawberry brownies in advance?
Absolutely. You can prepare the strawberry brownies a day in advance. Or make it over two days by baking the brownies on day one and finishing it off with the strawberry layer and ganache on day two.
Can I use fresh strawberries?
Unfortunately freshs strawberries won't give enough strawberry flavor without changing the texture of the frosting. Freeze dried strawberries add intense flavor, and are 100% strawberries!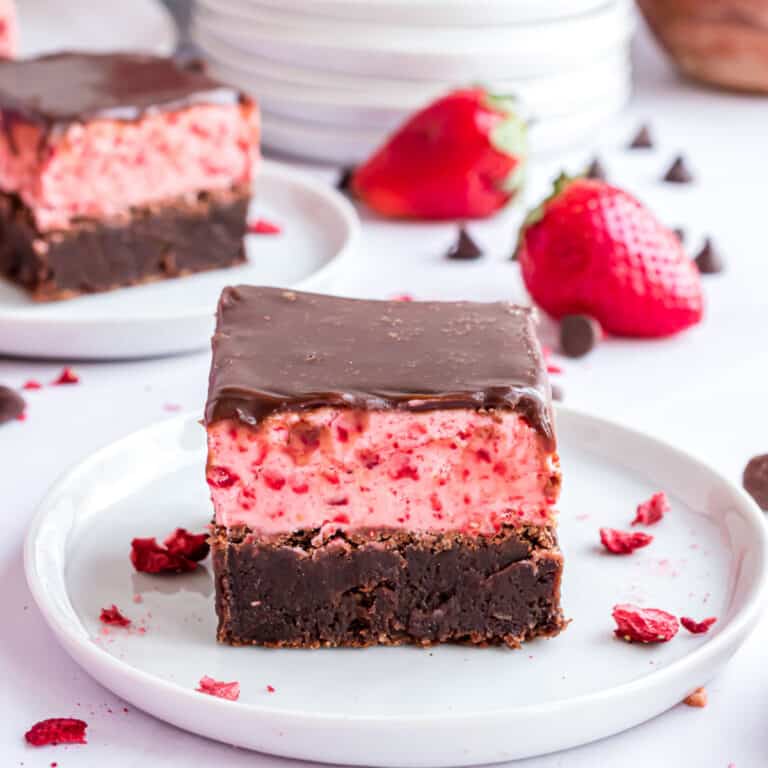 Strawberry Brownies
Strawberry Brownies are two desserts in one. Fudgy chocolate brownies smothered in a layer of strawberry frosting and topped with chocolate ganache. Get ready to become the designated dessert person for every gathering.
Ingredients
For the Brownies
1

cup

unsalted butter

½

cup

semi-sweet chocolate morsels

2

cups

granulated sugar

4

large eggs

1

teaspoon

vanilla extract

¾

cup

unsweetened cocoa powder

1

cup

all-purpose flour

½

teaspoon

kosher salt

½

teaspoon

baking powder
For the Strawberry Layer
2

bags

freeze dried strawberries

0.7 ounce each

1

cup

unsalted butter

softened

3

cups

powdered sugar

¼

cup

milk
For the Ganache
½

cup

milk chocolate chips

½

cup

heavy whipping cream
Instructions
Preheat oven to 350°F. Line a 9-inch baking dish with parchment paper. Set aside.

In a medium sized saucepan, melt butter over medium heat. Remove from heat and add in chocolate chips and sugar. Stir until chocolate is completely melted.

Add in eggs, one at a time, stirring completely after each addition. Stir in vanilla.

Add the cocoa powder, flour, salt, and baking powder. Using big strokes, stir in JUST until mixed and no longer see dry ingredients. DO NOT BEAT OR OVER STIR.

Pour batter into dish and bake for about 35 minutes. Remove from oven and cool completely before adding filling.

While the brownies are baking, crush the freeze dried strawberries into fairly fine crumbs.

For the filling, beat softened butter with powdered sugar, freeze dried strawberry crumbs, and milk. Beat for about 3-4 minutes, until fully combined and fluffy.

Spread over cooled brownies. Smooth the top with an offset spatula. Refrigerate while you make the ganache.

For the ganache, heat cream in small saucepan until warm (not boiling). Remove from heat and whisk in the chocolate chips until smooth.

Pour immediately over strawberry layer on the brownies and spread evenly with an offset spatula. Return to refrigerator for one hour.
Notes
Do not let the cream simmer or boil when making the ganache. Boiling or scalding the cream will ruin the consistency.
Be careful not to over stir the brownie batter. Use big strokes to mix in the dry ingredients just until you no longer see big lumps of flour. Over mixing will make your brownies tough.
Store brownies in airtight container at room temperature after they have set up. Can also be refrigerated.
Nutrition
Serving:
1
brownie
,
Calories:
525
kcal
,
Carbohydrates:
61
g
,
Protein:
4
g
,
Fat:
31
g
,
Saturated Fat:
18
g
,
Polyunsaturated Fat:
10
g
,
Cholesterol:
117
mg
,
Sodium:
85
mg
,
Fiber:
2
g
,
Sugar:
51
g