Root Beer Float Fudge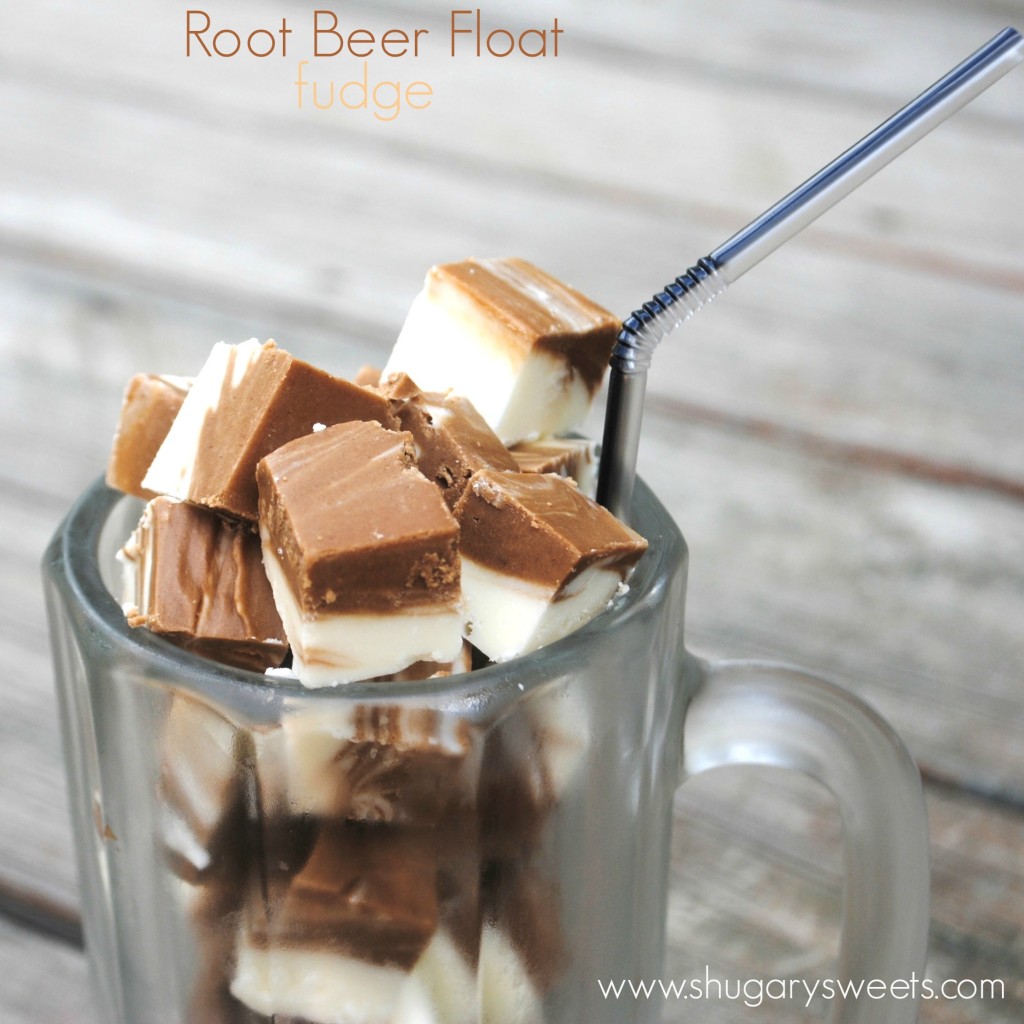 When I was pregnant with my first child I had an addiction to root beer floats. I was also addicted to gyros and fat french fries, but those I couldn't make at home every night! It's hard to believe that was over 14 years ago. Man, I'm old. Just the reality of that makes me want to grab another bite of these fudge pieces.
I can't even begin to describe how delicious these taste. One, because I'm a horrible writer…two, because you just have to try them to understand how unique they are! If you eat them cold you may even convince yourself, just a little bit, that you are eating the crunchy part of a root beer float (you know the ice cream with the frozen root beer crystals, yum)!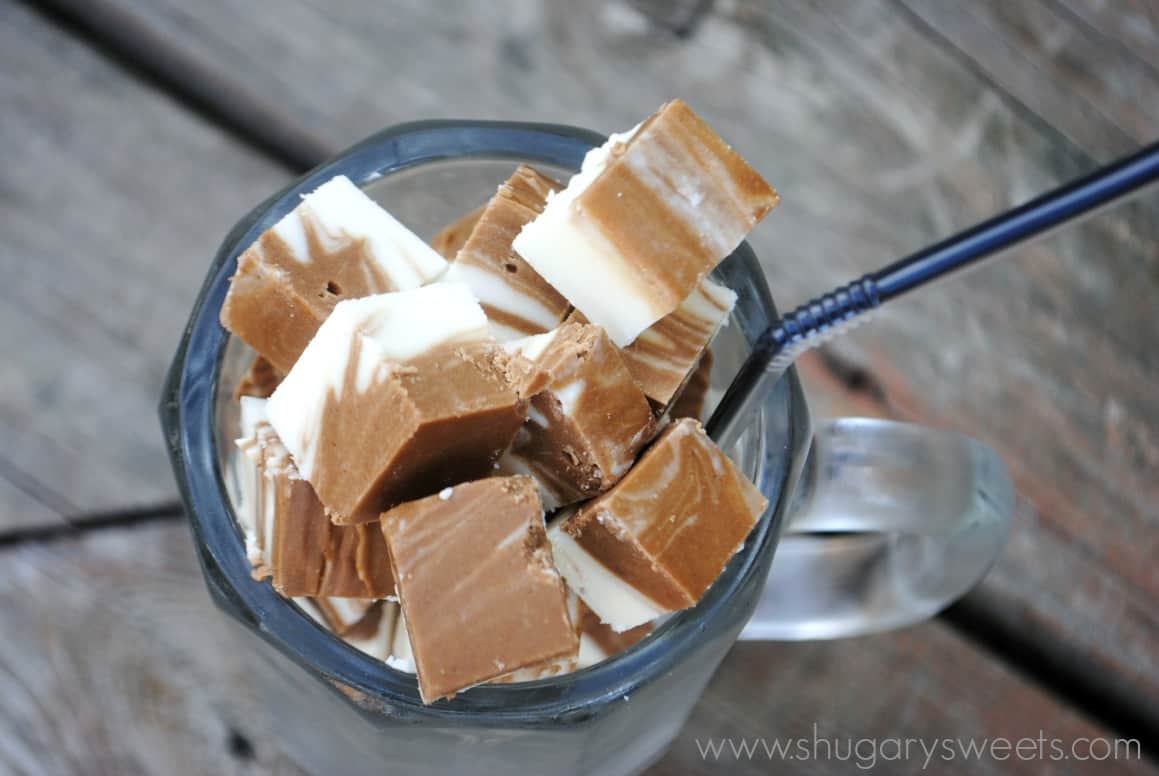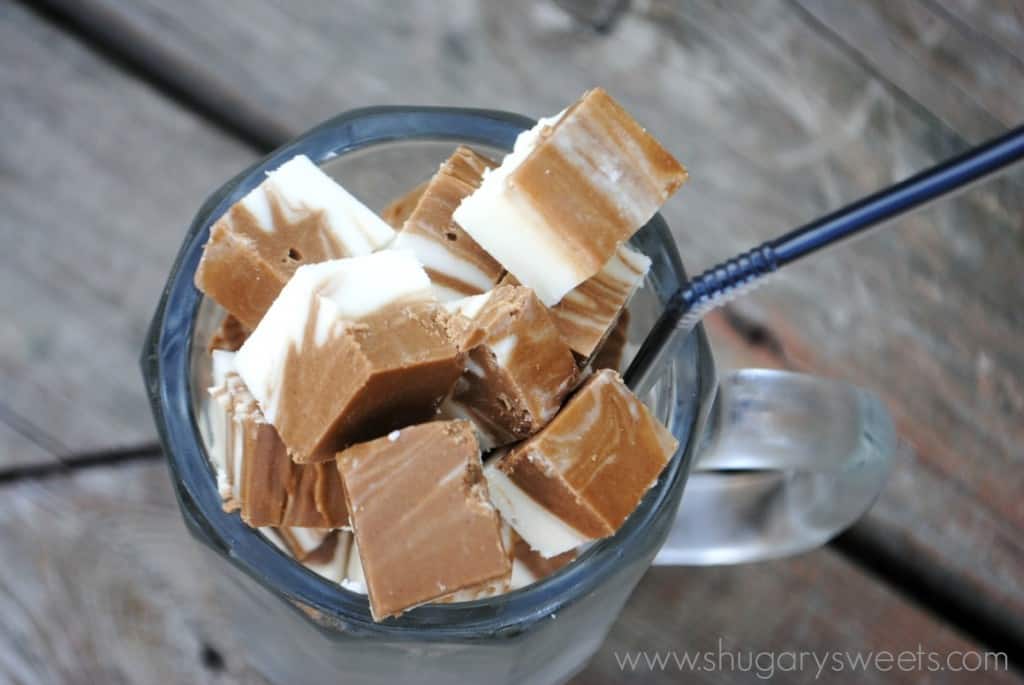 These were a huge hit in my family. So much so that I'm not sure I should ever make them again. I ate way more than my share, more than several people's share. Ahhh, but it was so good. And it brought me back to being pregnant with my oldest child. And for just a moment I felt young again. Until I opened my eyes and realized I had 8 loads of laundry to do, dog puke on the carpet to clean up, and 18 extra pounds on my hips.
Learn how to make fudge with my helpful guide, full of tips and tricks for you!
Root Beer Float Fudge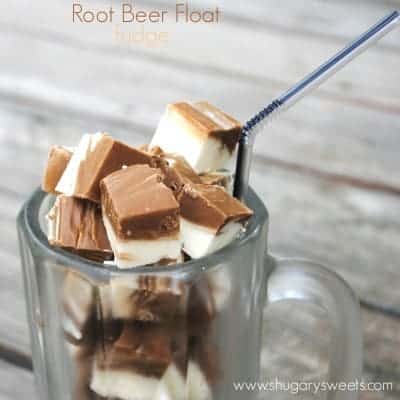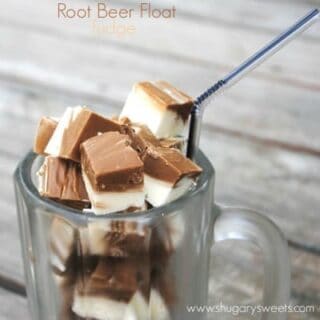 Ingredients
3 cup granulated sugar
¾ cup unsalted butter
1 cup heavy cream
pinch of salt
3 cup white chocolate morsels
1½ cup marshmallow cream
3 tsp root beer concentrate (I use McCormicks)
Instructions
In large saucepan, heat sugar, butter, salt and cream until combined. Bring to a boil and stir continuously for 4 minutes.
Remove from heat. Quickly stir in white chocolate and marshmallow. Whisk in vigorously until smooth, be patient this will take a couple minutes. Using an electric mixer yields best results.
Pour half of mixture into a parchment paper lined 13x9 baking dish. To remaining fudge, whisk in root beer concentrate. Stir until combined. Pour over white fudge. Using a knife, swirl the two together. Refrigerate 4 hours or overnight. Cut into bite size pieces and enjoy. Tastes great cold!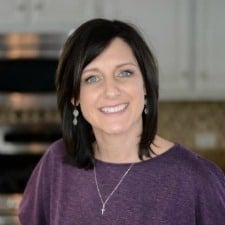 Aimee is a dessert lover (specifically rice krispie treats), workout enthusiast, self-taught foodie, and recipe creator. Her recipes have been featured in over 15 magazines, and her passion is to share her love of cooking with the everyday home cook! Learn more about Aimee.