This moist Lemon Poppy Seed Cake is speckled with poppy seeds and topped with rich cream cheese frosting. Fresh flavor from real lemon zest makes this cake irresistible to lemon lovers! Made in a 13×9 baking dish for easy assembly!
Can't get enough lemon desserts? Bake up a batch of these Lemon Crunch Cookies next! Or whip up a delicious loaf of our Starbucks Lemon Pound Cake!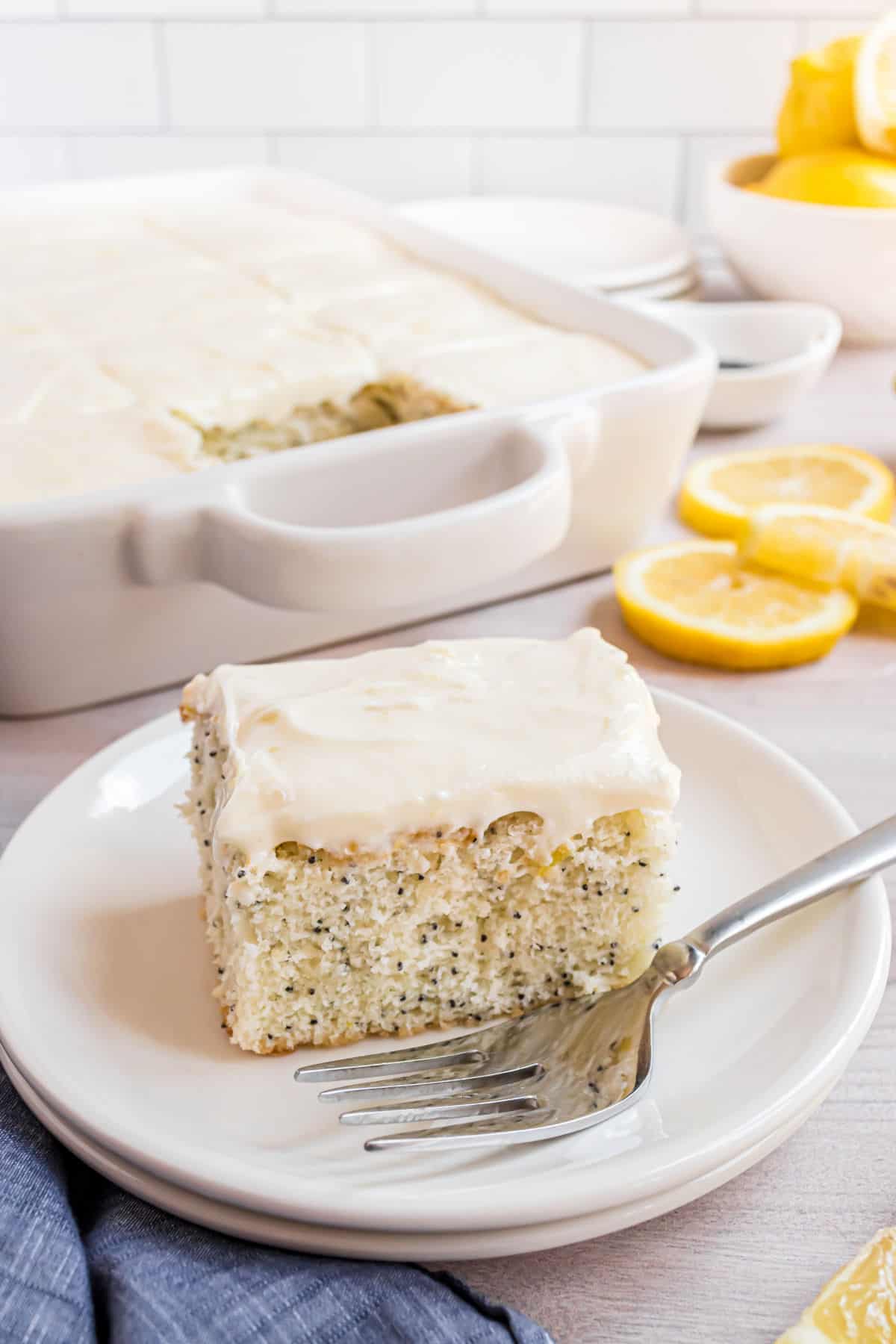 Why this Recipe Works
Everyone who knows me knows that lemon is one of my all time favorite flavors. This lemon cake recipe showcases lemon at its finest: paired with poppy seeds and a decadent frosting.
Delicious lemon flavor. We use both fresh lemon and lemon extract in this lemon poppy seed cake recipe.
Perfect balance of sweet and zesty.
Made in a single layer for easy frosting.
Cream cheese icing with a hint of lemon for more rich flavor.
Poppy Seeds make lemon cake look even prettier!
You'll fall head over heels for this easy Lemon Poppy Seed Cake! Try our lemon poppy seed bread recipe next!
Ingredient Notes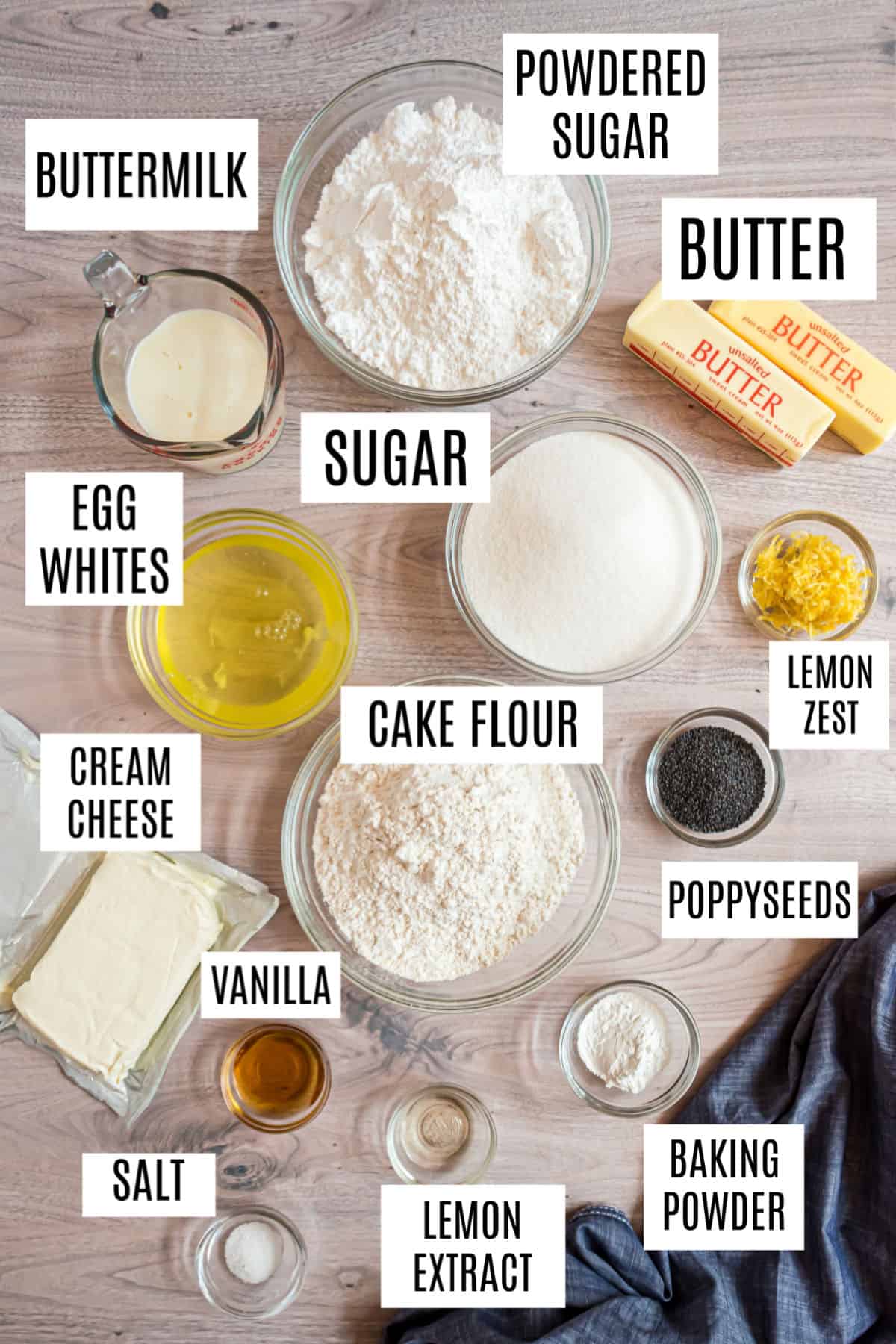 Cake flour. This kind of flour is finer than all-purpose and gives the cake its light consistency. Be sure to measure the flour properly too!
Buttermilk. Use my buttermilk substitute or store bought to make the cake super moist.
Lemon zest. Use a zesting tool or grater to remove the outer most layer of a lemon's rind.
Lemon extract. Highly concentrated, the extract enhances the lemon flavor in every bite of the cake.
Poppy seeds. These get baked into the lemon cake adding a touch of nuttiness to the sweet lemon treat.
Egg Whites. Much like my lemon layer cake you'll be left with a handful of egg yolks. Save them and whip up a batch homemade lemon curd (would even be lovely on this cake when cooled, under the layer of frosting)!
FROSTING. The lemon frosting is made using my cream cheese frosting recipe as a starting point!
Easy Instructions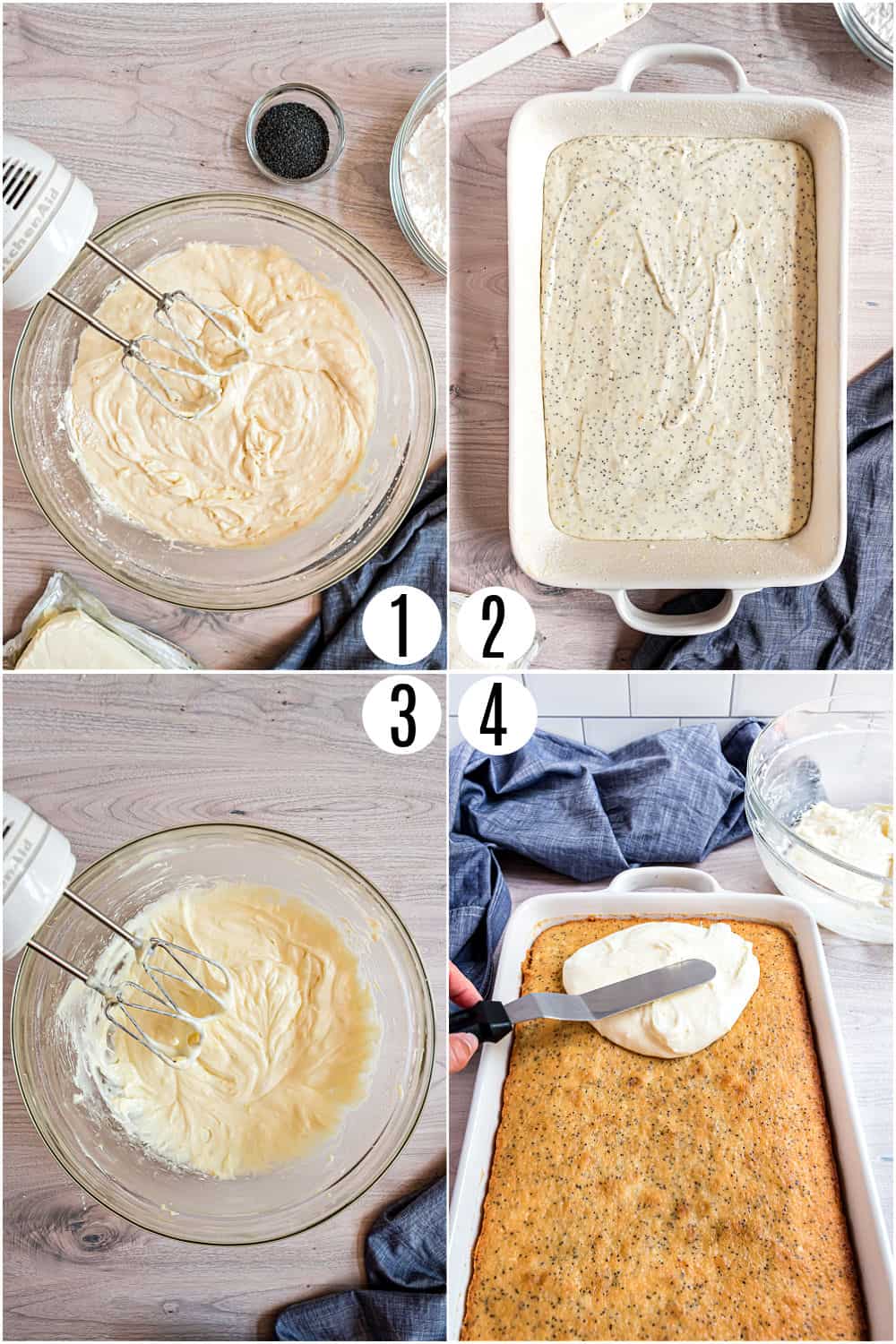 Prep the pan.
Preheat your oven and spray a 13 x 9 baking dish with baking spray.
Combine the dry ingredients.
Whisk the cake flour, baking powder and kosher salt together in a bowl.
Combine wet ingredients.
Cream the butter and sugar together in a separate large bowl. Beat in egg whites, vanilla extract, lemon extract and lemon zest. Add the flour mixture and buttermilk to the eggs and butter mixture in batches. Beat well. Fold in the poppy seeds.
Bake.
Pour the lemon poppy seed cake batter into the prepared baking dish. Bake until a toothpick inserted into the center comes out clean (about 35-40 minutes).
Let the cake cool completely while you make the frosting.
Frost.
Use an electric mixer to cream together butter and cream cheese. Beat in lemon zest and powdered sugar. Spread the frosting all over the top of the cooled cake with an offset spatula. Slice, serve and enjoy.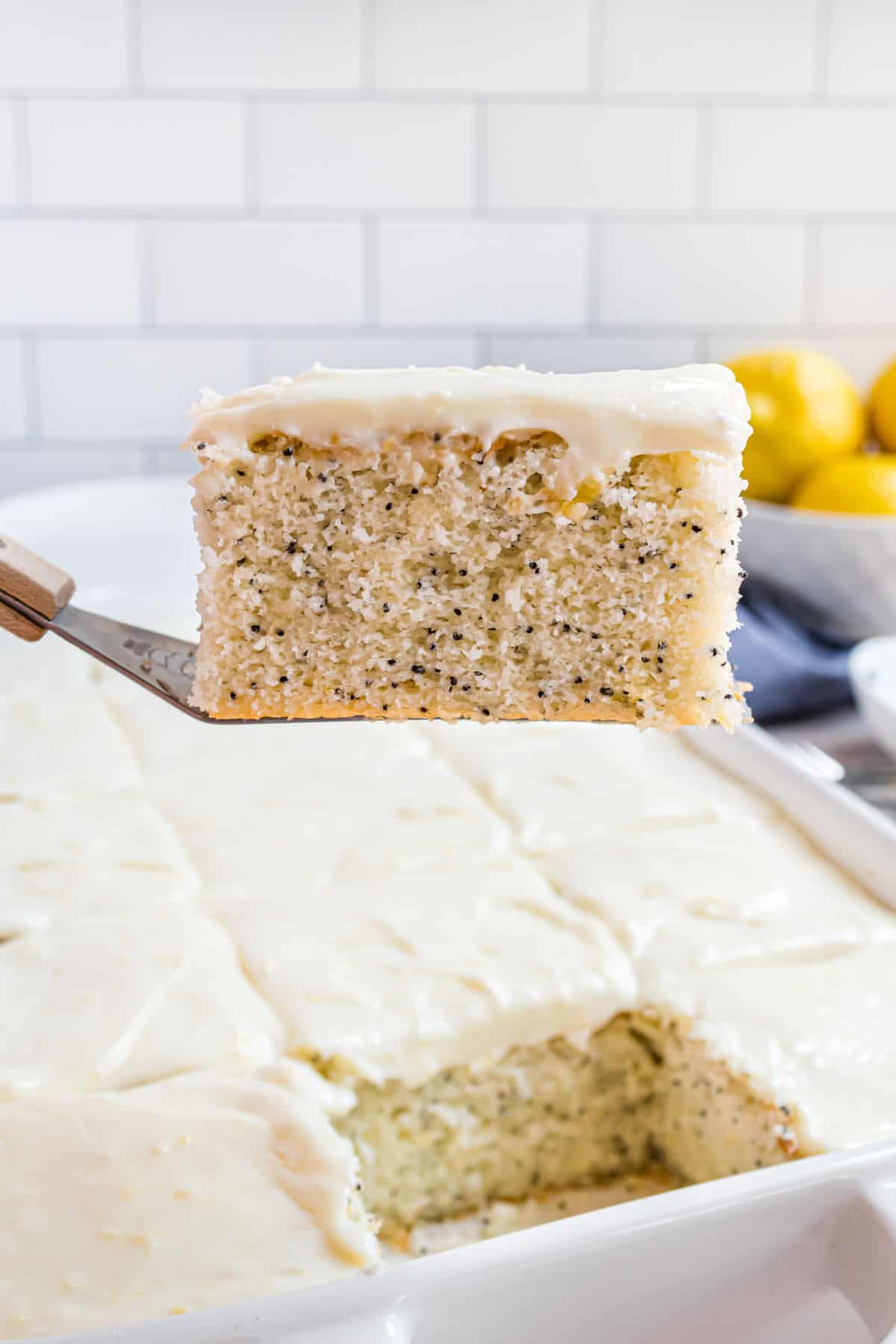 Tips and Tricks
What to do with leftover egg yolks. You'll have leftover yolks after removing the whites for this recipe. Put them to use with this Easy Homemade Lemon Curd Recipe!
Use room temperature ingredients. Plan ahead and let chilled ingredients like buttermilk, eggs and butter come to room temperature. This makes them easier to blend evenly.
Lemon frosting variation. Swap the cream cheese frosting with half a batch of my Lemon Buttercream Frosting for more intense lemon flavor!
More substitutions. You could also use our sour cream frosting as a finishing touch on today's cake recipe. Or skip the frosting alltogether and sprinkle with a dusting of powdered sugar instead!
Recipe FAQs
I don't have cake flour. Can I still make this recipe?
Yes, you can make a cake flour substitute to use in the lemon poppy seed cake. Measure 2 1/2 cups of flour into a bowl. Remove 5 tablespoons of flour from the bowl. Add 5 tablespoons of corn starch to the bowl. Mix to combine and use in the recipe as directed.
Can I make this cake without poppy seeds?
Feel free to leave out the poppy seeds for a simple lemon sheet cake.
How do you store this cake?
Keep the cake covered at room temperature for up to 3 days.
Can you freeze lemon poppy seed cake?
Yes, this cake can be stored in the freezer for about 1 month. I would freeze it before adding the frosting for best results.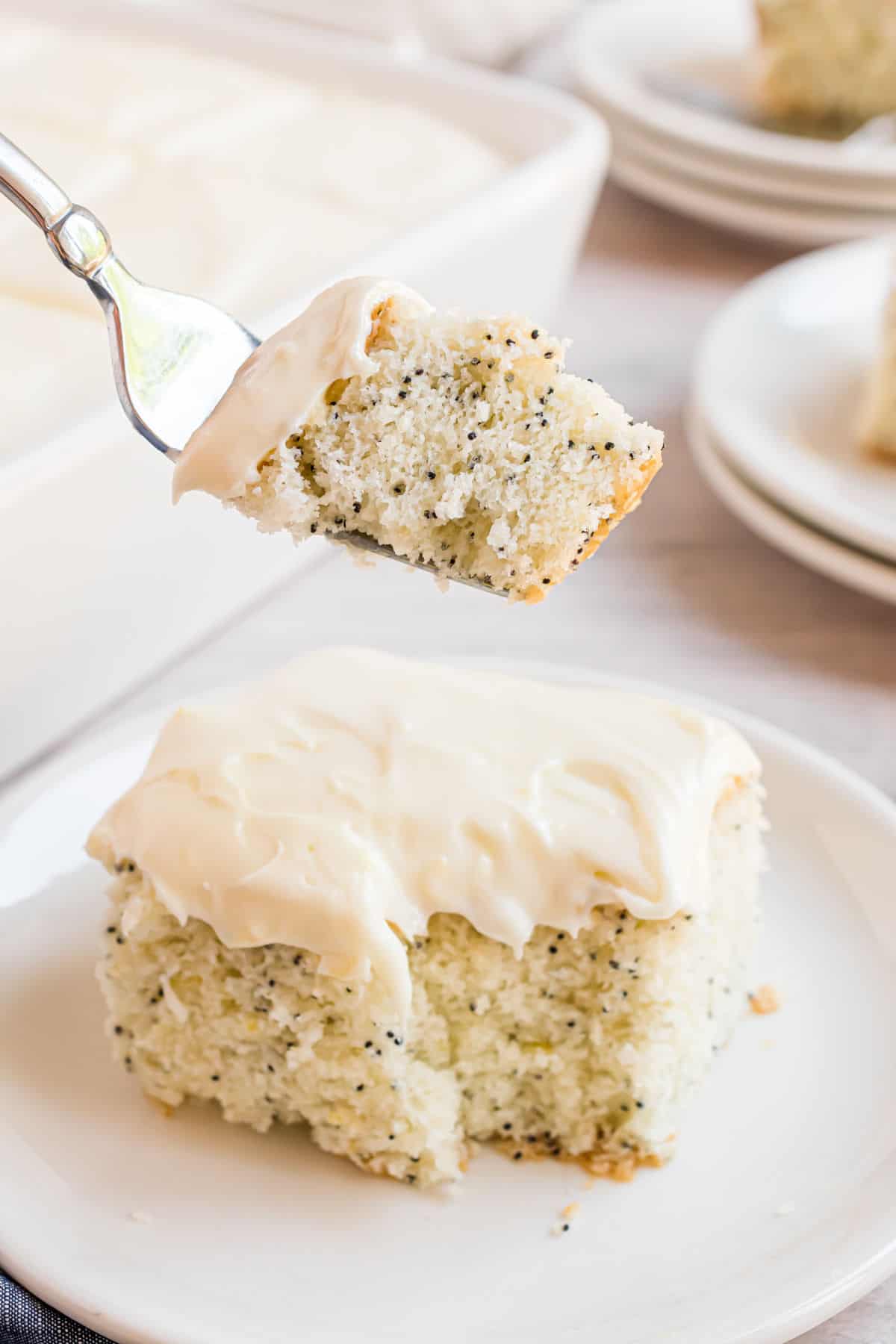 Bring more sunshine to your life with this picture perfect Lemon Poppy Seed Cake!