This Banana Split Cake has it all! Fresh pineapple and strawberry slices sandwiched between chocolate and banana cake. This recipe is perfect for a celebration!
Remember the joy of digging into a banana split as a kid? You can recreate the magic with all kinds of fun desserts, like this Banana Split Fudge and these No Bake Banana Split Cheesecake Bars.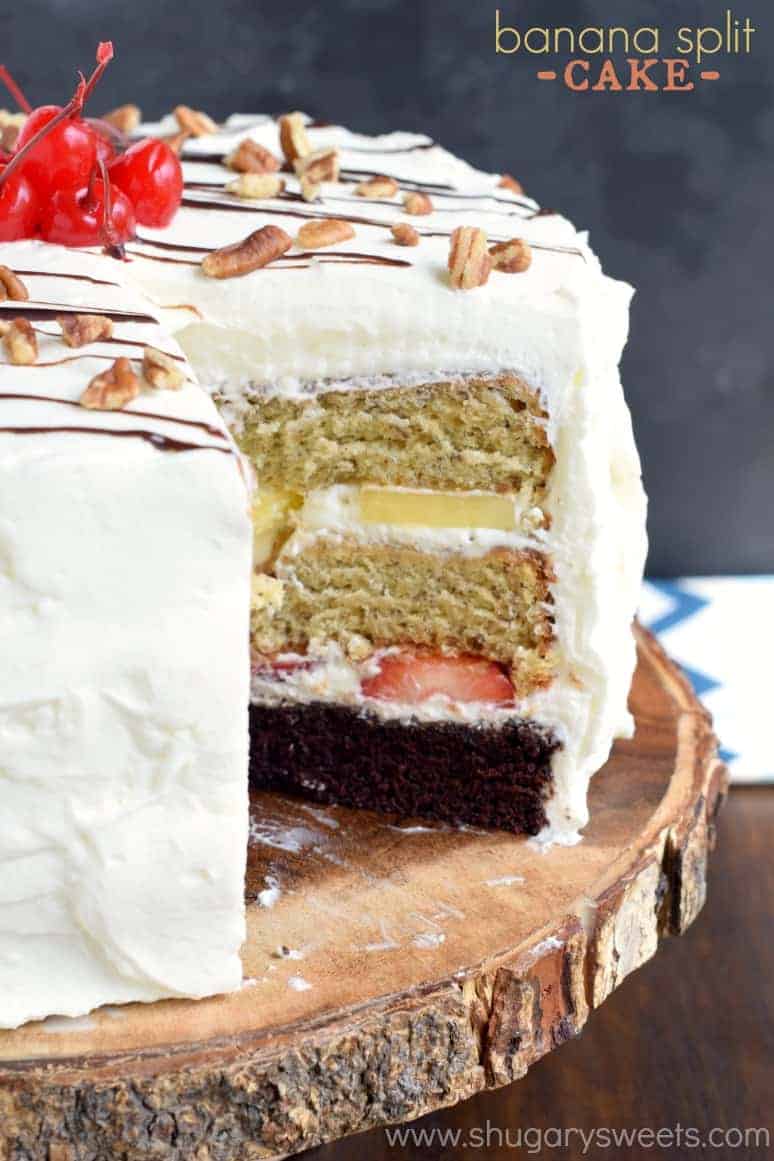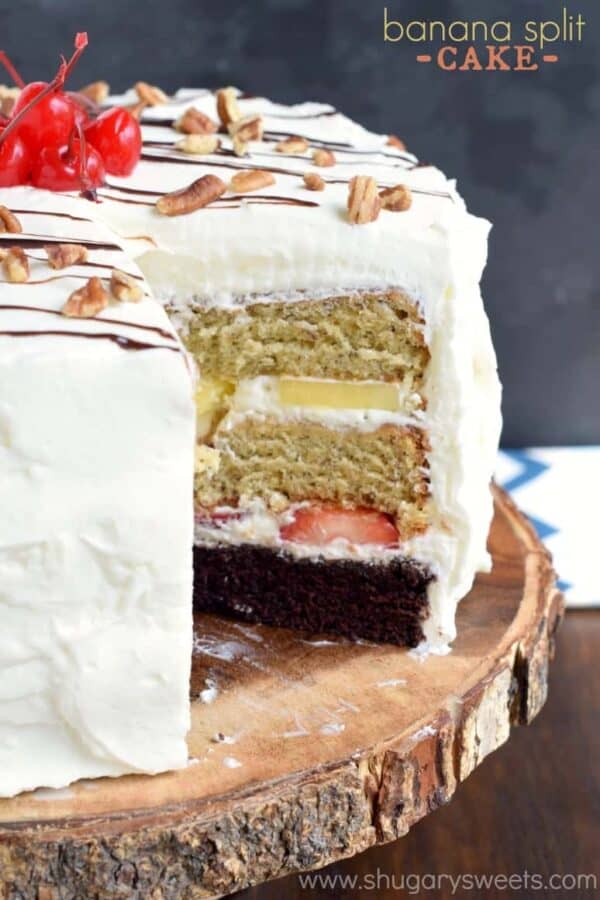 Why this Recipe Works
When I think of banana splits I think of decadence, color and, most of all . . . fun! This Banana Split Cake recipe has all of that and more.
This recipe includes layers of both banana cake AND chocolate cake. What's a banana split without chocolate, after all?
Fresh slices of strawberry and pineapple add an explosion of bright juicy flavor.
You can't beat the rich, creamy flavor of real whipped cream in the frosting.
A sundae topping of chopped nuts, chocolate syrup and cherries adds the perfect finishing touch.
In short: you're looking at the ULTIMATE Banana Split Cake recipe!
Ingredient Notes
Baking Cocoa. Use a good quality baking cocoa to get the best ever chocolate cake layers. I use Rodelle.
Brewed coffee. It doesn't make the cake taste like coffee! Using a small amount of brewed coffee in the cake batter gives the chocolate a richer, deeper flavor.
Bananas. Choose very ripe bananas for sweetest, moistest banana cake. A few brown spots are perfect. Check out our guide on how to ripen bananas in minutes.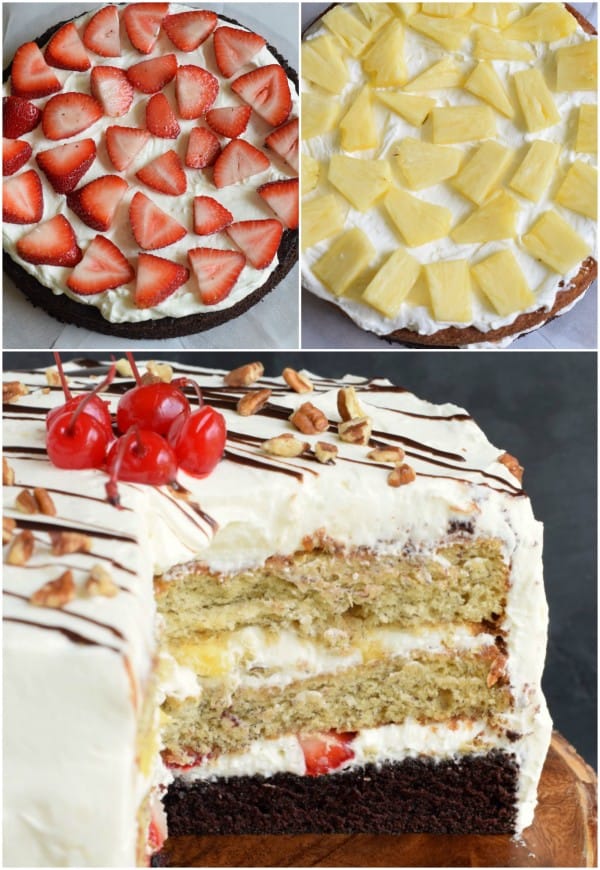 How to Assemble
Perfect banana split cake is all about the layers.
First, you'll make your cake layers.
Bake up one 9-inch layer of chocolate cake and two 9-inch layers of banana cake.
Now, add the fruit and whipped cream frosting.
Place the cooled chocolate layer cake on a serving platter. Top with the creamy frosting and slices of strawberries.
Place one of your banana cake layers over the strawberry layer. Cover this one with more whipped cream frosting and the sliced pineapple.
Top layer:
The second banana cake layer goes on top now. Spread a thick layer of frosting over the top and sides of the whole cake.
Finally, garnish the top with chopped nuts. Drizzle on chocolate sauce and arrange a few maraschino cherries on the top!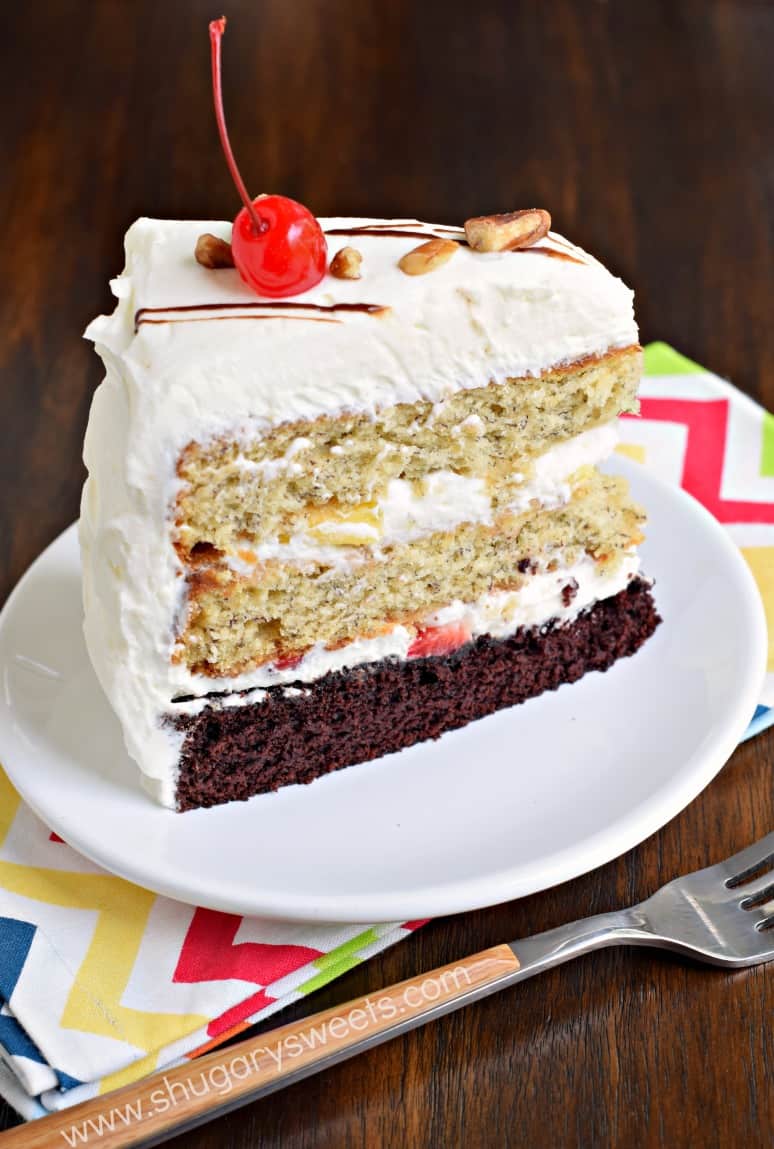 Tips and Tricks
Store the assembled Banana Split Cake in the refrigerator until just before serving.
Feel free to swap the sliced pecans with walnuts, peanuts or another favorite nutty topping.
Put the chocolate layer in the center if you prefer! It looks pretty both ways.
Love caramel or butterscotch? Feel free to drizzle it onto the top of the cake too. You can't go wrong!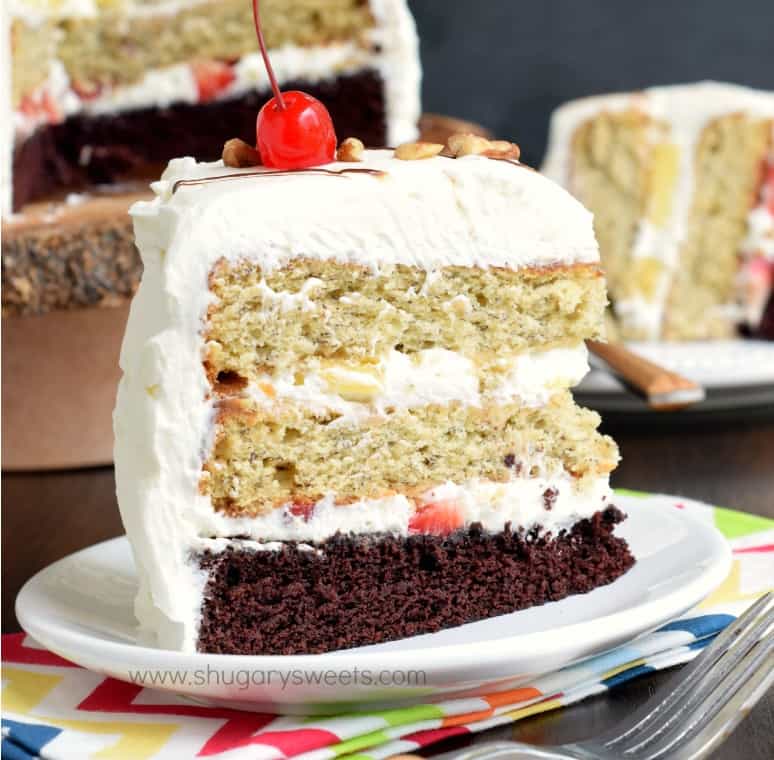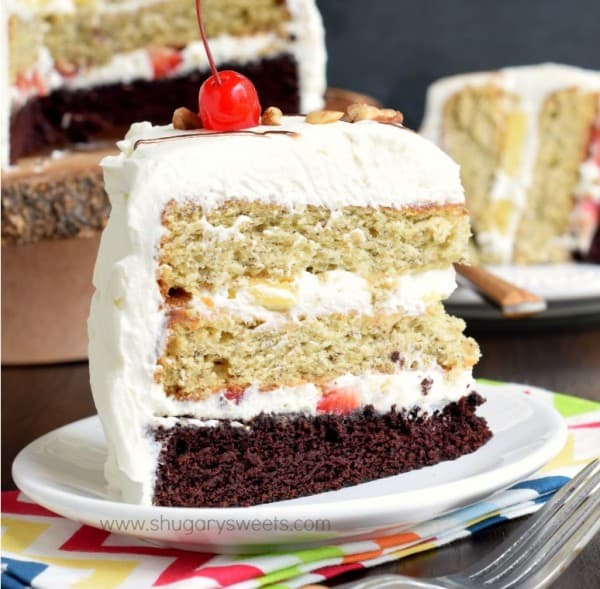 Recipe FAQs
Can I make the layers in advance and freeze them?
You can certainly bake the cake layers in advance. Wrapped tightly, they can be frozen for up to 2 months.
When ready to serve, just thaw the cakes and assemble according to the recipe instructions.
Can I use frozen strawberries and pineapple?
I don't recommend using frozen fruit. As frozen fruit thaws it releases a lot of moisture that will seep into the cake and may make it mushy.
Can I use canned pineapple slices?
Fresh tastes best, but yes, canned pineapple can be used. Make sure it's well drained before adding it to the cake layers.
More Banana Recipes
An impressive appearance and even more impressive taste make this Banana Split Cake a hit! Make it for a special occasion or "just because." There won't be one bite leftover!