Soft, chewy Banana Cookies are a family classic. Filled with a cinnamon cream cheese frosting, you'll love the banana flavor in these whoopie pies!
Love these cookies? Try our classic chocolate whoopie pie recipe. SO good. Or give these easy funfetti shortbread cookies a try for a sandwich cookie treat!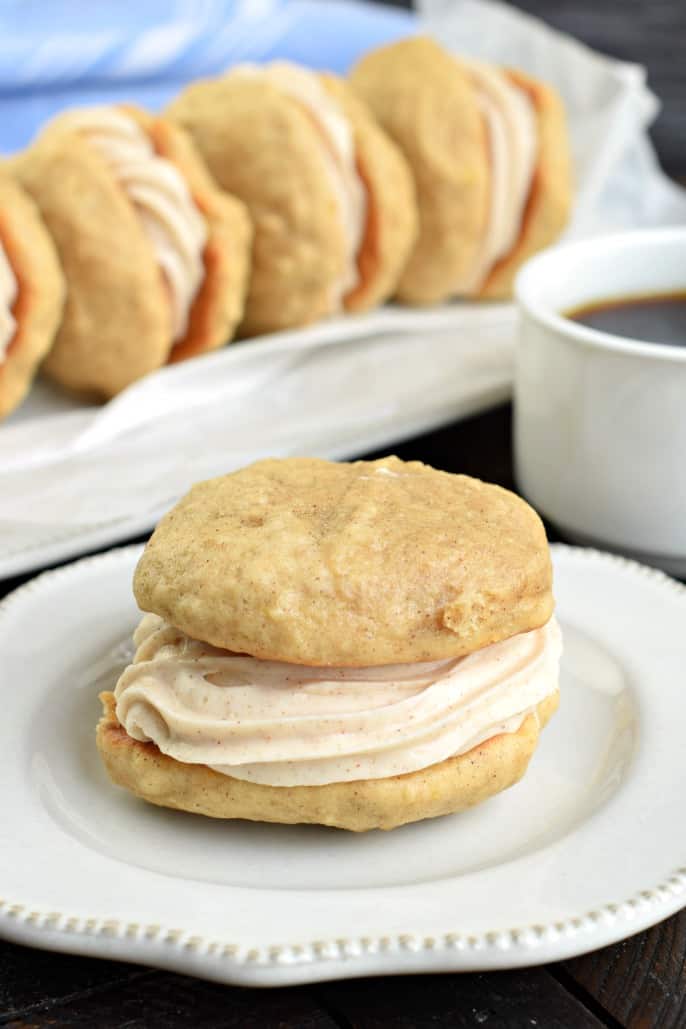 Banana Whoopie Pies
My family is either all in with bananas…or not.
It seems every week I pick up one bunch of bananas, and some weeks they are gone by Tuesday…and sometimes I'm left at the end of the week with over ripe bananas.
Not that it's something to complain about, as I have tons of banana recipes on the blog to help with this situation.
But honestly, most of them are banana bread recipes. (or my favorite Banana Pudding Recipe).
Today I whipped up some delicious, moist whoopie pies. Or Banana cookies!
Any way that I can add frosting to my desserts, I'm 100% on board with. I hope you'll join me.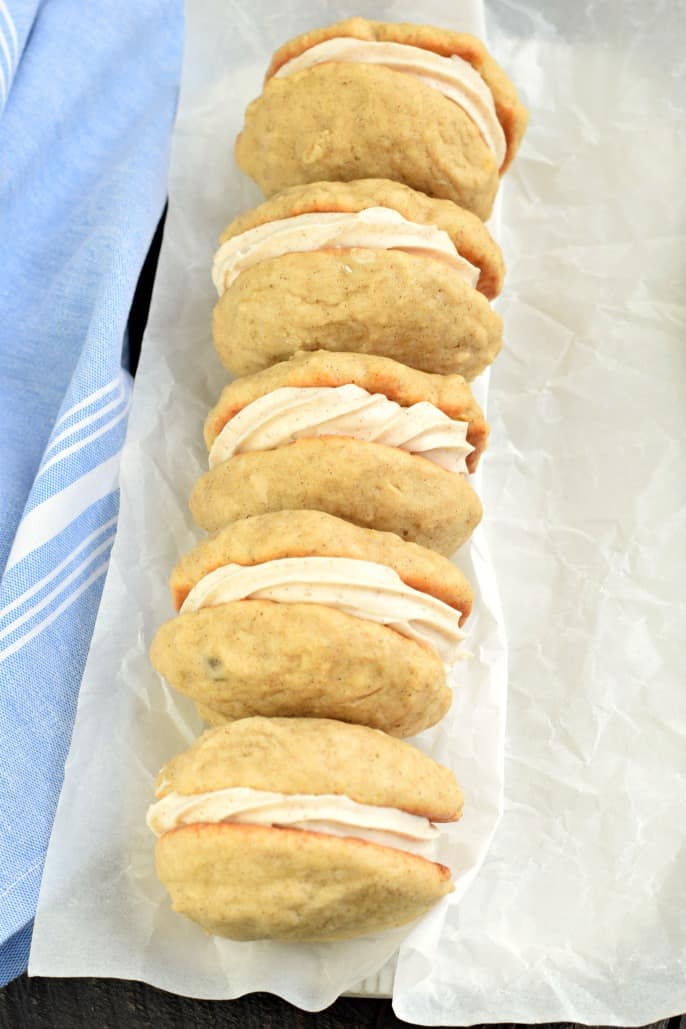 How to Make Banana Cookies
STEP 1: Preheat oven to 350 degrees F. Line a large cookie sheet with parchment paper. Set aside.
STEP 2: In a large mixing bowl, beat butter with brown sugar and granulated sugar until creamy. Add the sour cream, mashed bananas, vanilla extract, and egg into the butter and sugar mixture.
PRO TIP: You can swap out the sour cream for greek yogurt!
STEP 3: Add dry ingredients: flour, cinnamon, baking soda, baking powder, and kosher salt into the banana mixture and mix until fully blended.
STEP 4: Using a medium cookie scoop, drop dough onto prepared baking sheets. Bake for 10-12 minutes.
STEP 5: Remove from oven and cool completely on wire rack.
STEP 6: For the frosting, beat cream cheese with butter until fluffy. Add in vanilla, milk, cinnamon, and powdered sugar. Beat until light and fluffy.
STEP 7: To fill the banana whoopie pies, place half of the cookies upside down. Fill a piping bag with tip with the frosting. Pipe onto the cookies. Top with second cookie.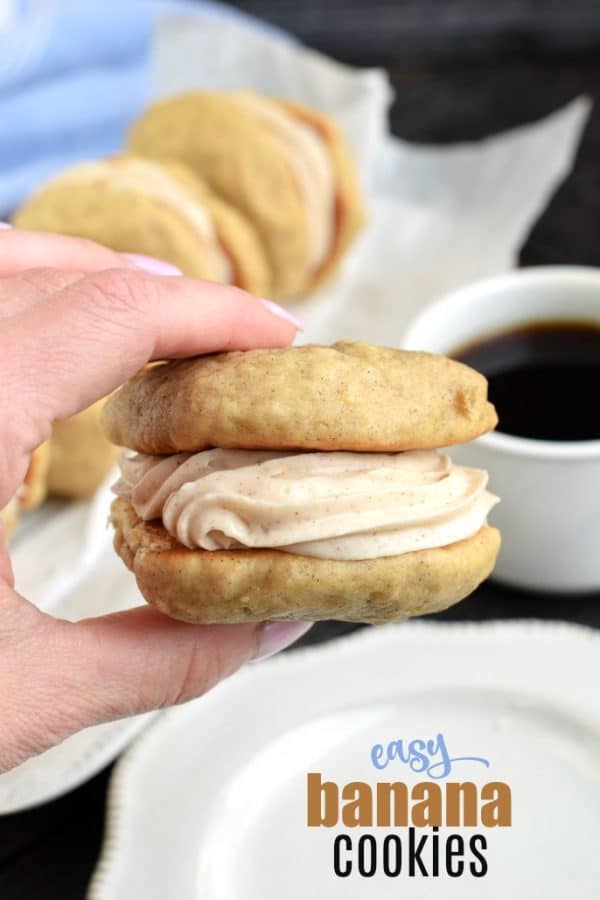 Can you Freeze Banana Cookies
Yes. Absolutely. After cooling the cookies (but before adding the frosting), slide cookies into a freezer ziploc bag.
Freeze for up to 3 months. Remove from freezer and thaw at room temperature. Add frosting to cookies after thawing.
Tips for Banana Cookie Recipes
Obviously you can skip the frosting and just enjoy these pillows of soft banana cookies as written.
Or instead of whoopie pies, just pipe a dollop of frosting onto the tops of each cookie.
You can also add in some chopped nuts (walnuts or pecans) to add a little texture and nutty flavor to these banana cookies.
Of course you also can't go wrong with adding chocolate chips. I think banana chocolate chip cookies sound incredible!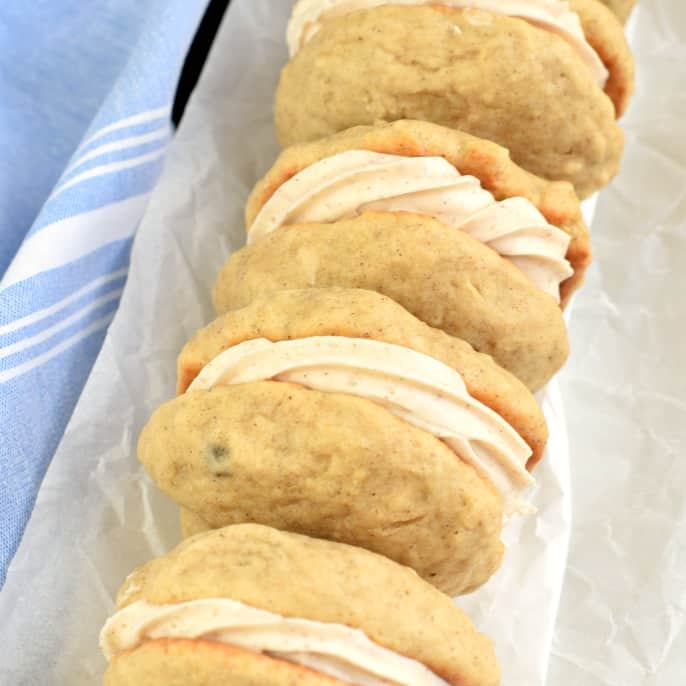 What is a Whoopie Pie
Whoopie Pies are a northeaster classic. They're made by combining TWO soft cookies (or tender cakes) with a creamy filling!
Are they brownies or cookies?
And technically, Oatmeal Cream pies can be classified as a whoopie pie. I've even got a chocolate oatmeal cream pie recipe too!