Turn your garden harvest into cookies! These Chocolate Chip Zucchini Cookies are perfectly chewy, with oats and a hint of fall spices. With plenty of semi-sweet morsels, this recipe can turn anyone into a zucchini fan.
Need a break from zucchini bread? You'll love these Chocolate Zucchini Brownies too! Or whip up a batch of this reader favorite chocolate chip zucchini cupcake recipe!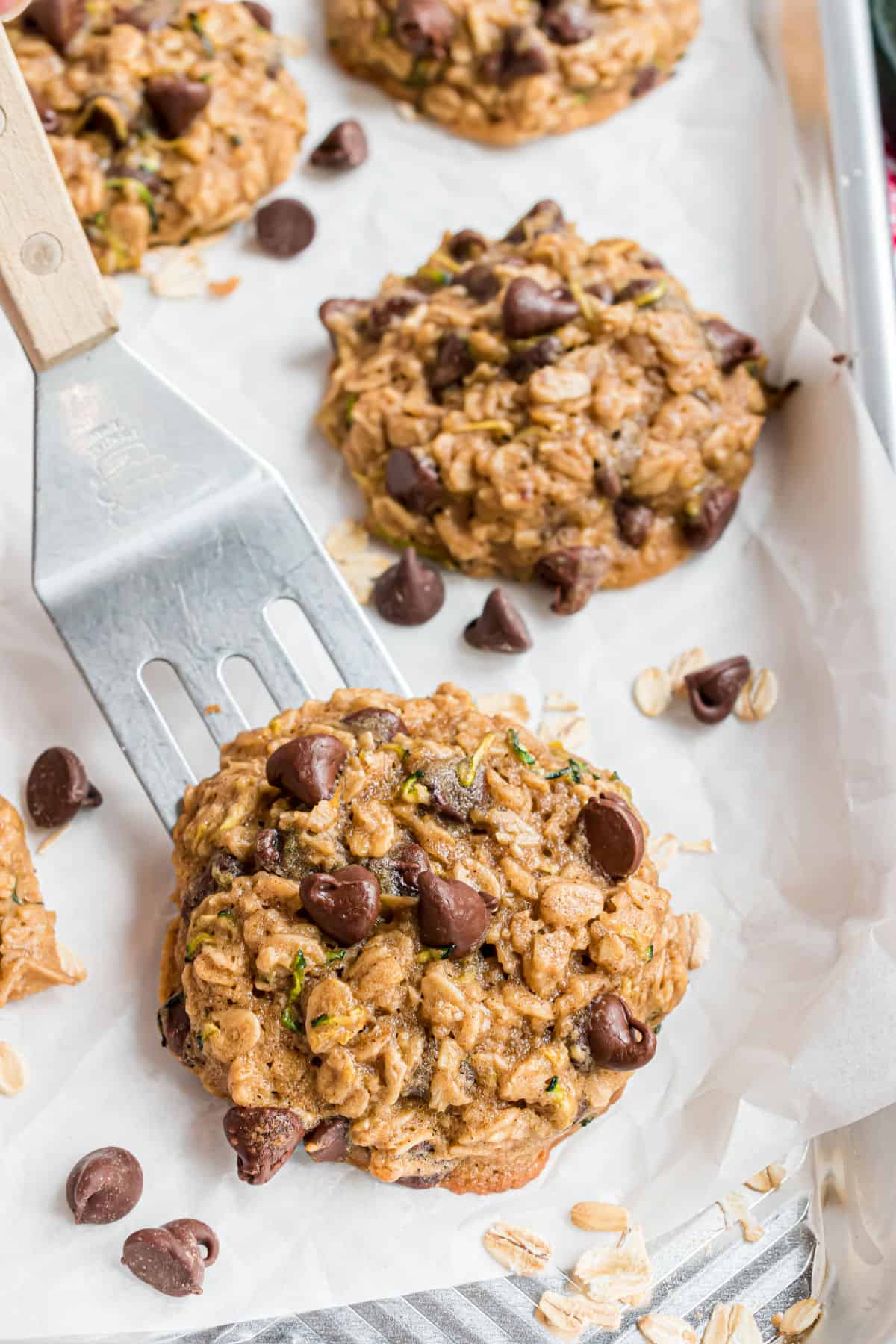 Why This Cookie is Best
If you've never put zucchini in cookies before, it's time to change that!
This recipe combines the garden harvest of late summer with the warming spices of fall, in the form of classic Oatmeal Chocolate Chip Cookies.
Pour yourself a glass of milk and get ready to enjoy some spectacular cookies.
If you love chewy zucchini cookies, today's is perfect. You can even add raisins like we did with our oatmeal raisin cookies.
Ingredient Notes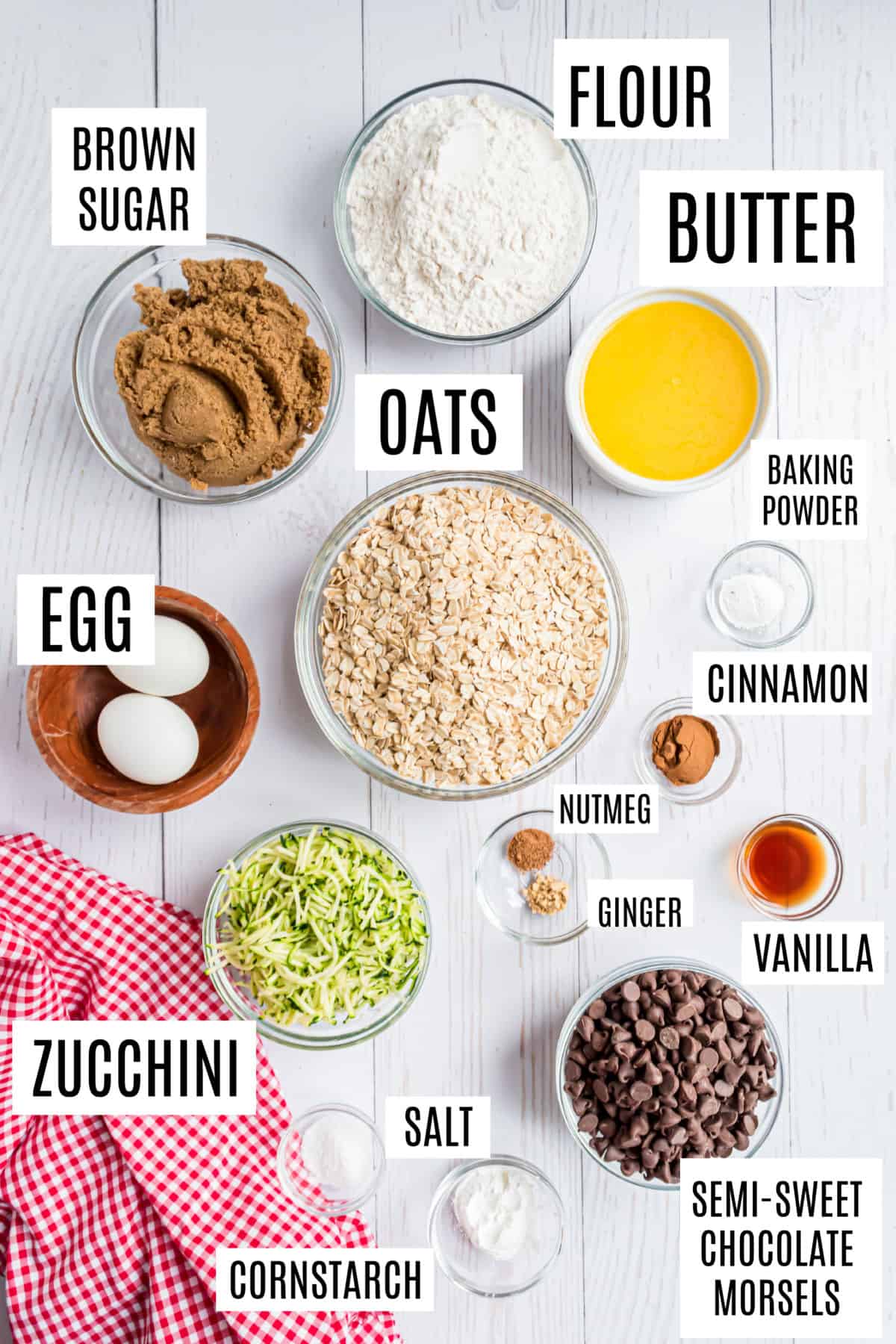 PRO TIP- We love making our own homemade vanilla extract, but if using store bought, be sure it's pure extract, not imitation (for best flavor).
Easy Instructions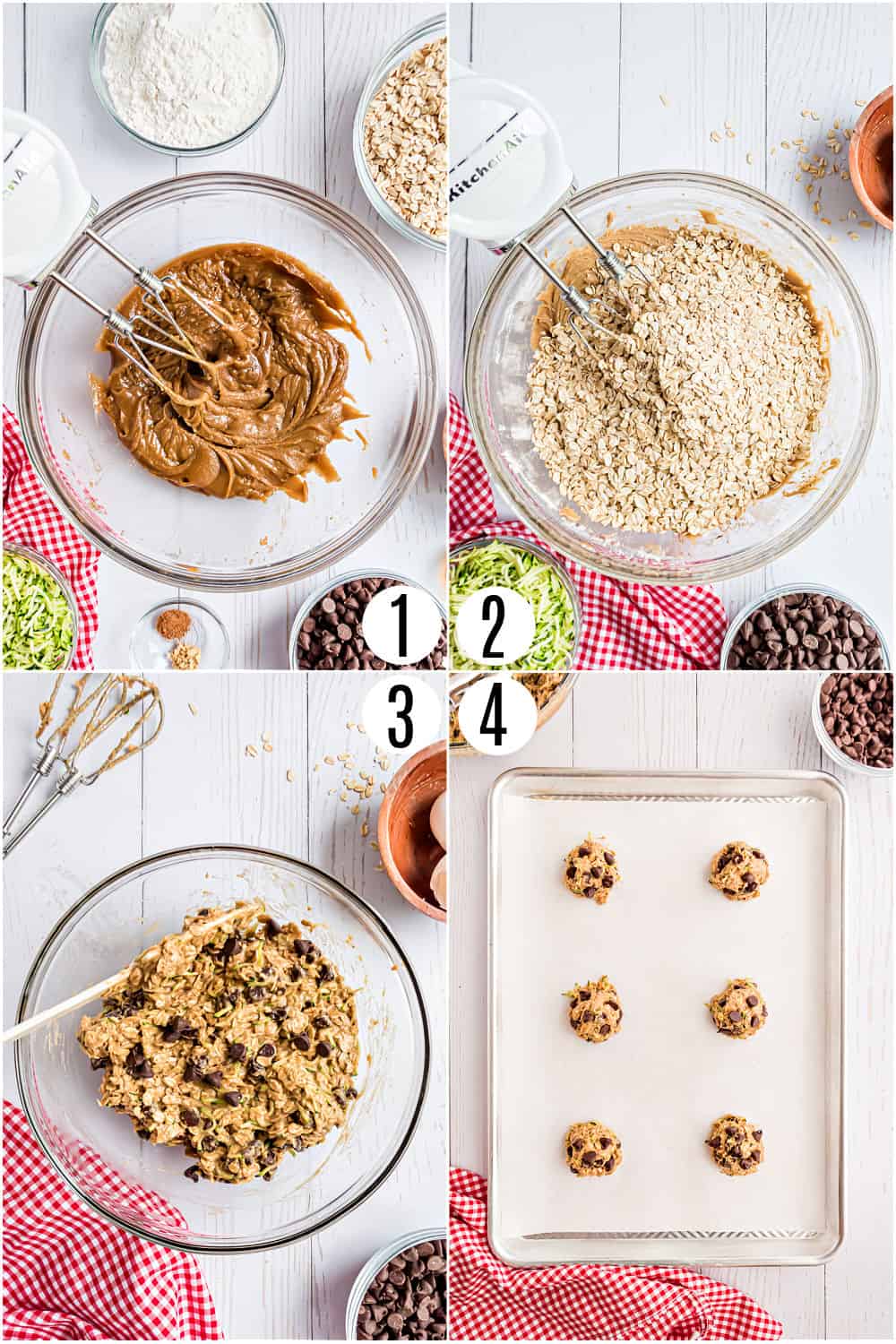 Make the cookie dough: Start by combining the wet ingredients, followed by the dry ingredients.
The mixture may be very dry. By allowing it to chill you not only combine everything well, but it allows some of the moisture from the zucchini to permeate through the cookie dough.
Chill: Cover the bowl of dough with plastic wrap. Place it in the refrigerator to chill for 1 hour.
Bake: Press a few of the reserved chocolate morsels onto each unbaked cookie.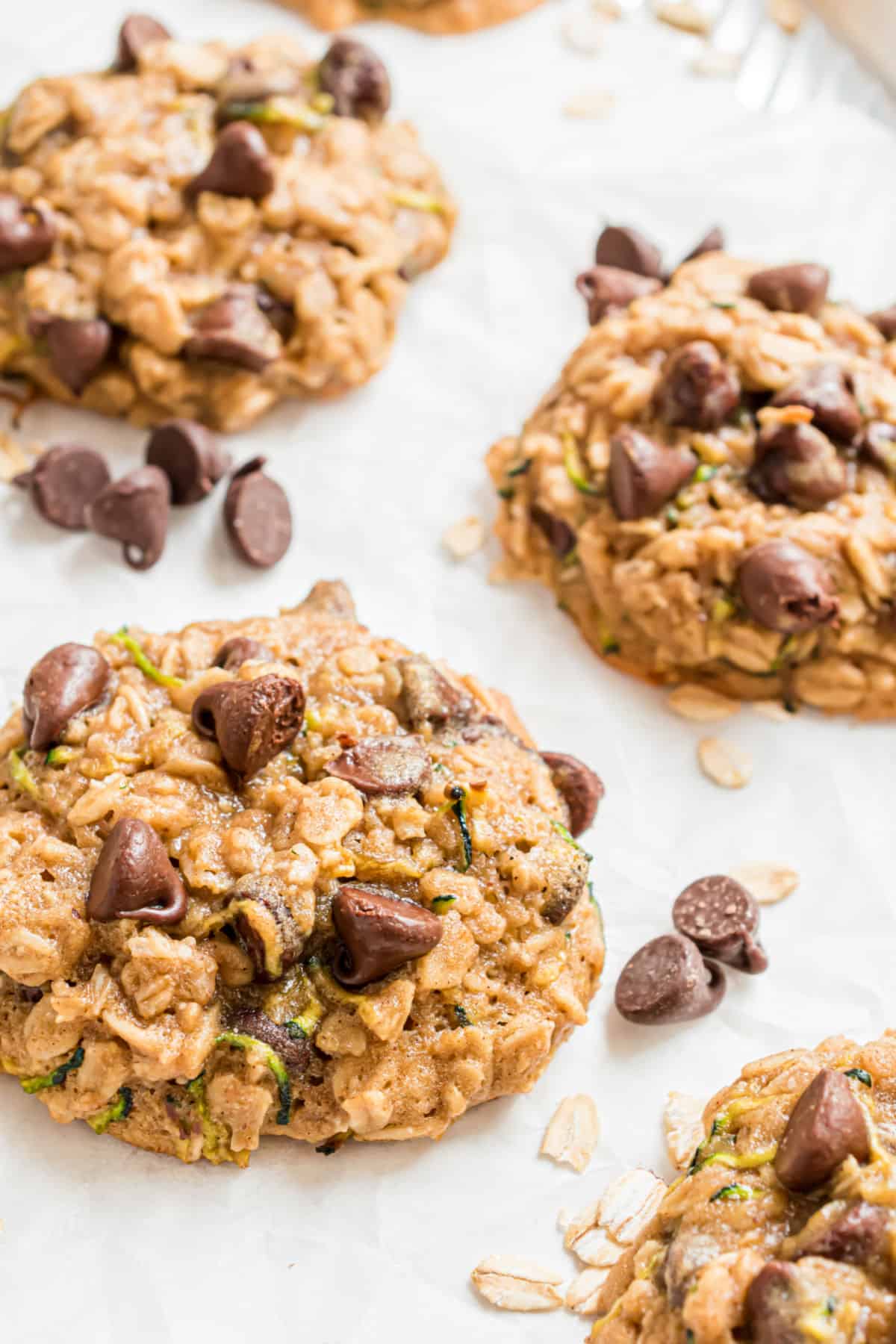 Tips and Tricks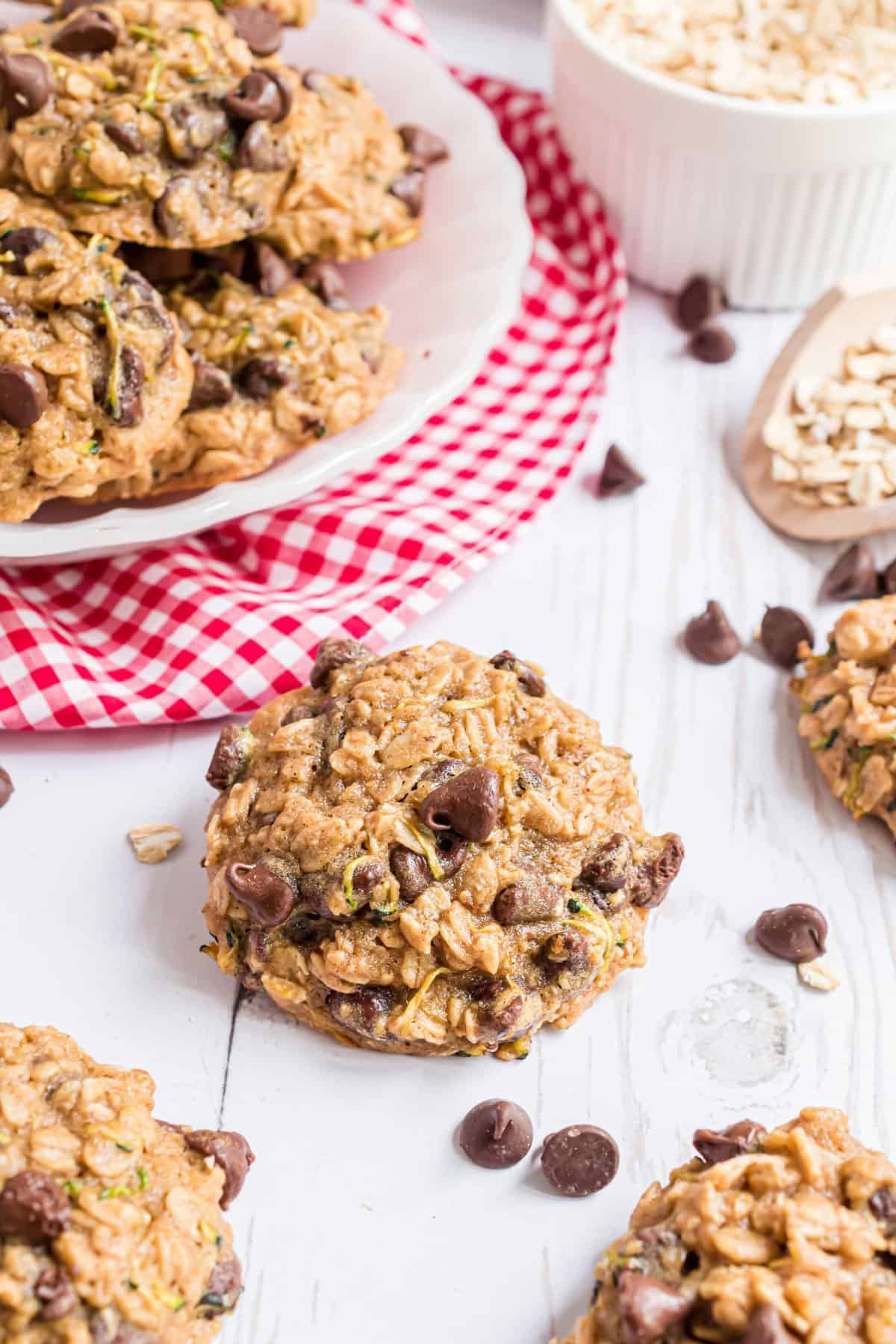 Recipe FAQs
Can I substitute quick oats?
Do not substitute quick oats or instant oats in this recipe. Quick oats absorb all the moisture, leaving cookies dry and crumbly.
Should I squeeze the water out of my shredded zucchini first?
If you are using frozen shredded zucchini, you should always remove excess water. Use a paper towel and give it a good squeeze over the sink. If you're using fresh zucchini, there's usually no need to drain out liquid, unless the zucchini appears extra watery and goopy.
Can I freeze the dough before baking?
Zucchini chocolate chip cookie dough freezes wonderfully. I recommend freezing balls of cookie dough. That way, you can just add them right to the baking sheet when you're ready for fresh homemade cookies. No need to thaw them first; just add an extra minute or two of bake time.
What's the best way to shred zucchini for baking?
I prefer to shred zucchini with a food processor fitted with a grater attachment. You can also use a box grater or hand grater. Hold the zucchini against the grater over a bowl. Draw the zucchini downward to create shreds.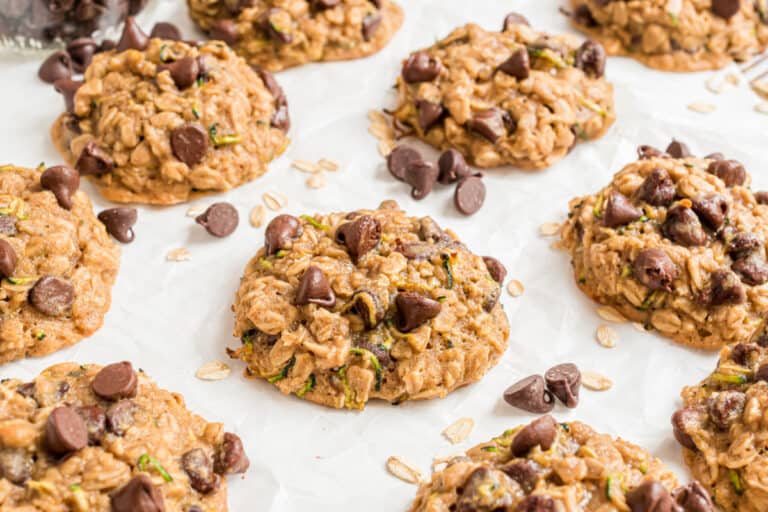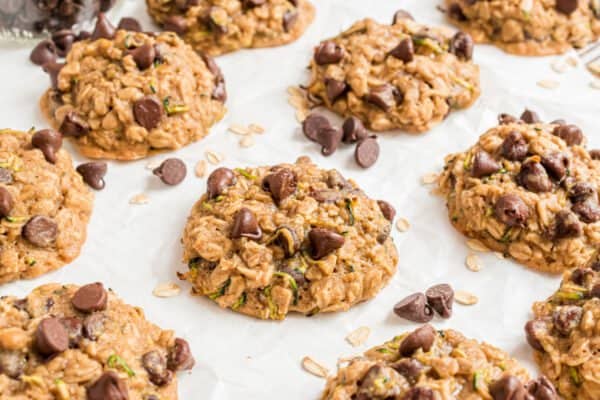 More Easy Cookie Recipes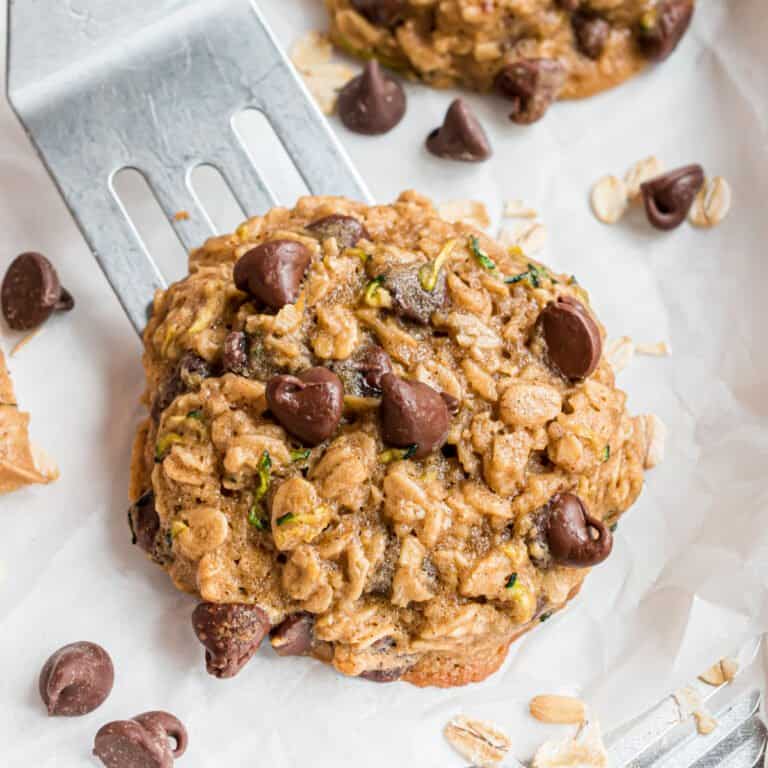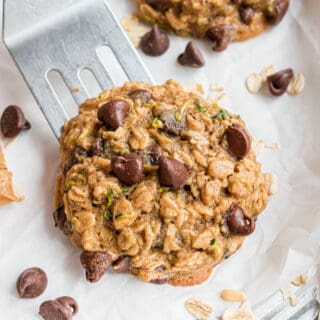 Chocolate Chip Zucchini Cookies
Turn your garden harvest into cookies! These Chocolate Chip Zucchini Cookies are perfectly chewy, with oats and a hint of fall spices. With plenty of semi-sweet morsels, this recipe can turn anyone into a zucchini fan.
Ingredients
1

cup

unsalted butter

melted

1 ½

cups

dark brown sugar

packed

2

large eggs

2

teaspoons

vanilla extract

1 ¾

cups

all-purpose flour

1 ½

teaspoons

cinnamon

¼

teaspoon

ginger

¼

teaspoon

nutmeg

1

teaspoon

baking powder

1

teaspoon

kosher salt

1

Tablespoon

cornstarch

3

cups

old fashioned oats

1 ½

cups

finely shredded zucchini

2

cups

semi-sweet chocolate chips

divided
Instructions
In a large bowl, combine butter and brown sugar together with a hand mixer on high speed for about 2 minutes. Scrape the sides of the bowl as needed. Add the eggs and vanilla and beat for another minute.

Add the flour, cinnamon, ginger, nutmeg, baking powder, salt, and cornstarch to the bowl and beat on low, just until combined. Add in the old-fashioned oats and combine on low speed. Fold in the shredded zucchini and 1 1/2 cup chocolate chips.

Cover the dough with plastic wrap and refrigerate for at least 1 hour.

Preheat oven to 350℉. Line a baking sheet with parchment paper. Set aside.

Drop cookie dough by about 2-3 Tablespoons of dough onto the baking sheet. Press a few of the remaining chocolate chips into the tops of each cookie.

Bake for 11-13 minutes. Don't overbake. The edges will start to brown first. The middle of the cookie may seem like it's underbaked, but it will continue to bake when it's taken out of the oven.
Notes
Larger zucchini tend to be drier and less moist than smaller zucchini. Either will work for this recipe. If using frozen zucchini, be sure to squeeze out ALL the excess liquid, THEN measure.
Add 1/2 cup chopped pecans or walnuts if desired.
STORAGE: Store cookies in an airtight container, in refrigerator for up to a week. Freeze baked cookies for up to 3 months. To serve, take cookies out of refrigerator for 15 minutes before serving. This keeps them cold and flavorful, but not hard.
FREEZING DOUGH: Dough can be frozen, unbaked for up to 3 months. I recommended rolling (scooping) the dough into balls before freezing. When baking, add an additional 1-2 minutes to bake time for the frozen cookie dough.
Do not sub quick oats. They will absorb all the moisture leaving a dry and crumbly cookie.
Nutrition
Calories:
226
kcal
,
Carbohydrates:
30
g
,
Protein:
3
g
,
Fat:
11
g
,
Saturated Fat:
7
g
,
Polyunsaturated Fat:
4
g
,
Cholesterol:
31
mg
,
Sodium:
74
mg
,
Fiber:
2
g
,
Sugar:
17
g
Grab some zucchini and mix things up with these easy Chocolate Chip Zucchini Cookies!