Looking for an easy way to bake with zucchini? This Instant Pot Zucchini Bread recipe makes a sweet and moist loaf without you ever needing to touch your oven.
We love using our Instant Pot for a variety of dishes, include breads! Be sure to give our Instant Pot Banana Bread a try, as well as this delicious Cinnamon Roll Bread recipe.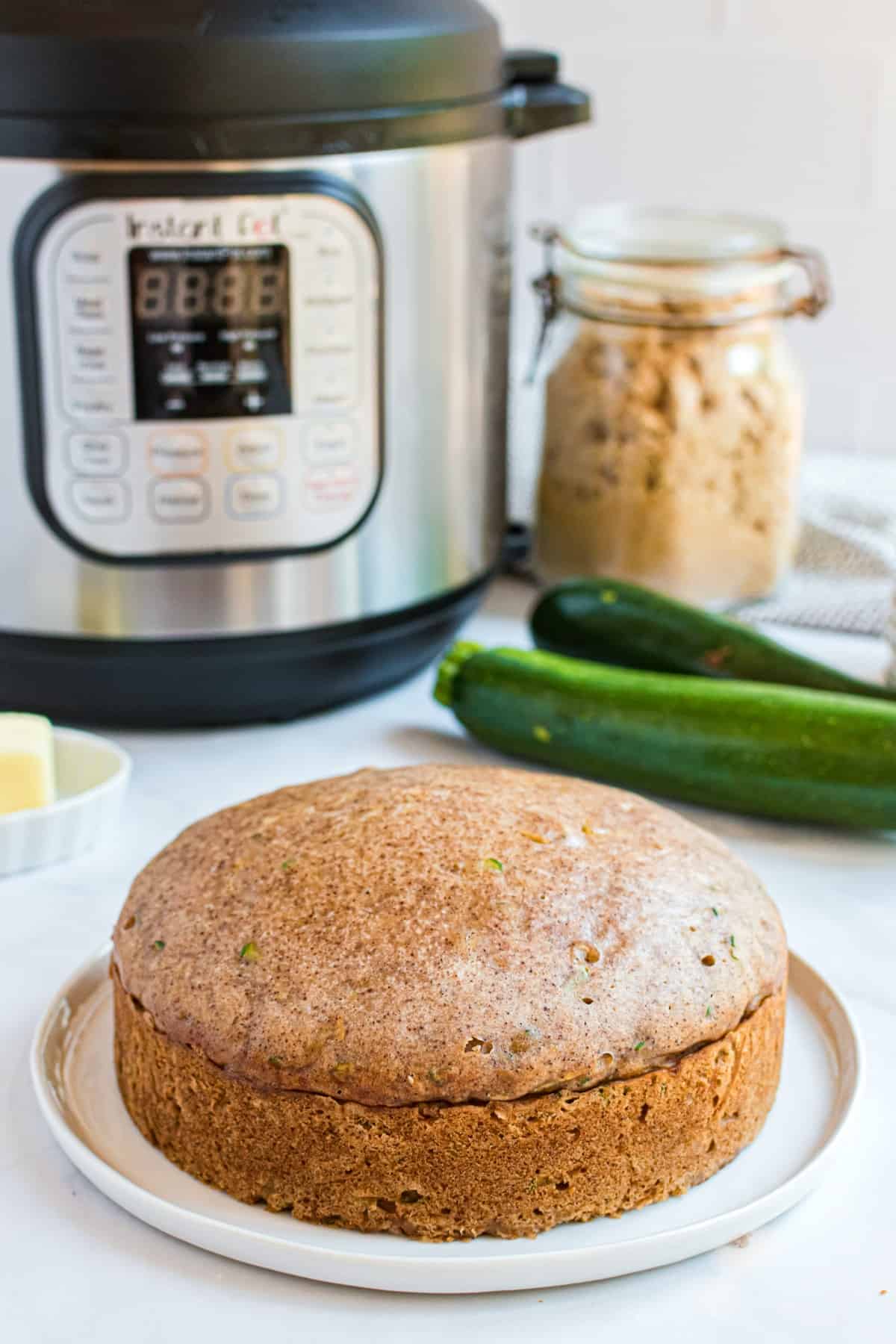 Why use the Instant Pot
Do you ever think about the first person to put zucchini into a loaf of bread? I wonder what made someone think, "Hey, I should shred up this green vegetable and turn it into a loaf of bread."
Whatever their inspiration, I am so glad they did. Zucchini bread has been a staple of my baking regimen for years.
Whether I get it from my garden, the farmer's market or the grocery store, I love having more zucchini than I can eat.
From homemade zucchini noodles, to zucchini roll ups, we love it in savory meals.
But, it also means I have an excuse to bake loaf after loaf of Chocolate Chip Zucchini Bread, Cinnamon Swirl Zucchini Bread and Pineapple Carrot Zucchini Bread.
With Instant Pot Zucchini Bread it's quicker and easier than ever to make a perfect loaf of this staple.
It's peak summer right now, which means peak "never wanting to turn on the oven if I can help it." Still, I had a ton of zucchini waiting to be eaten so I knew zucchini bread was inevitable.
Like many Instant Pot Recipes, it still takes time to pressure cook (and come to pressure), but the fact that my kitchen stays cool is a bonus!
Moist with just a hint of cinnamon, this bread is everything I wan a classic Zucchini quick bread to be. It's just as good as any zucchini bread I've baked the traditional way, but without affecting my air conditioning bill in mid-summer!
Step by Step Instructions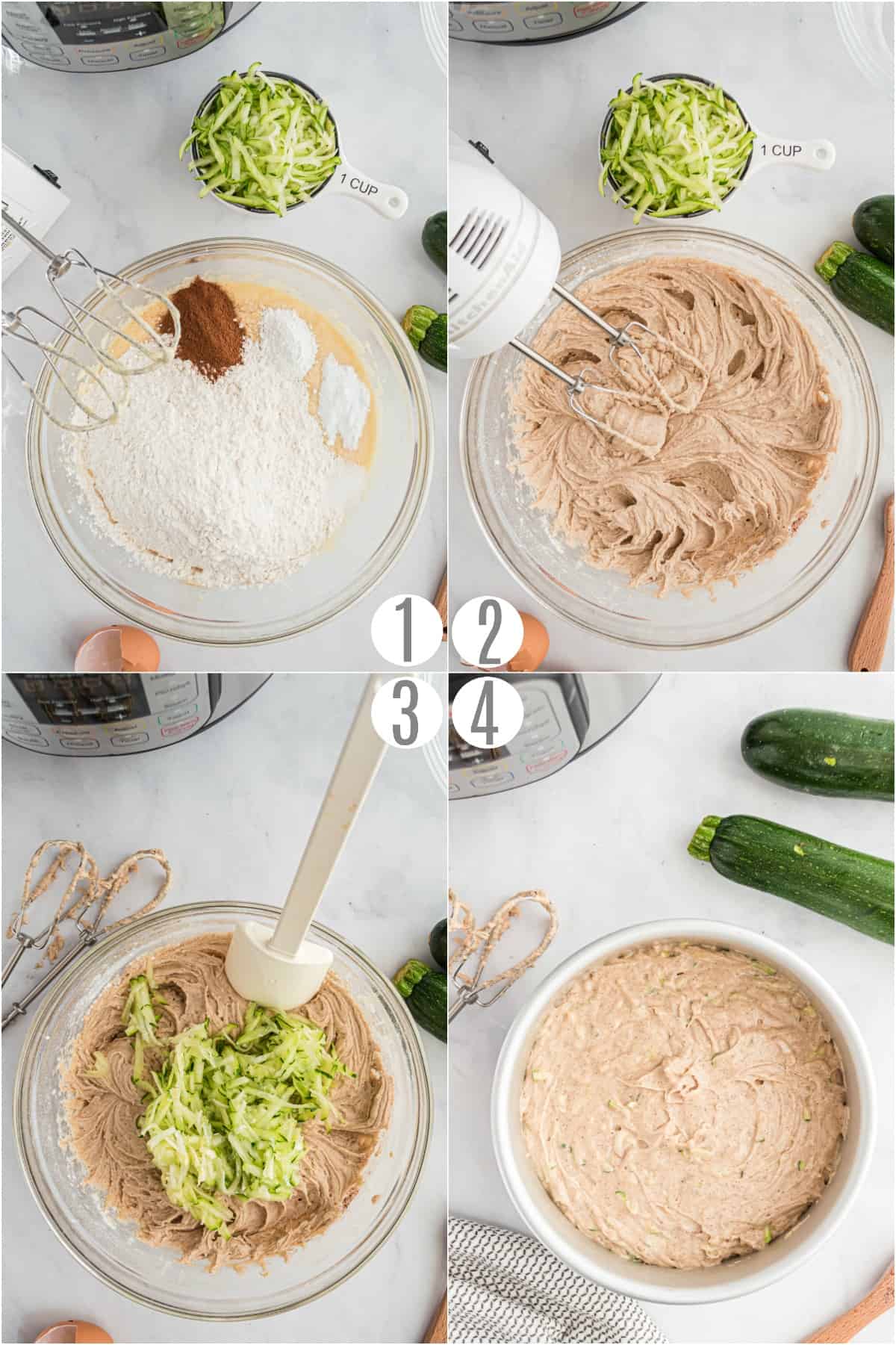 This recipe uses shredded zucchini. You can grate your zucchini using either a food processor with a grating attachment or a standard box grater.
First, make the batter:
Beat brown sugar and granulated sugar with butter in a mixing bowl. Add eggs, vanilla extract and sour cream. Mix in flour, baking soda, salt and cinnamon until just barely combined.
Be careful not to over mix the dry and wet ingredients together or your bread will be dense.
Finally, fold in the shredded zucchini.
Spray a 7×3-inch push pan with baking spray. Spoon batter into the pan, making sure the top is leveled. Cover completely with foil.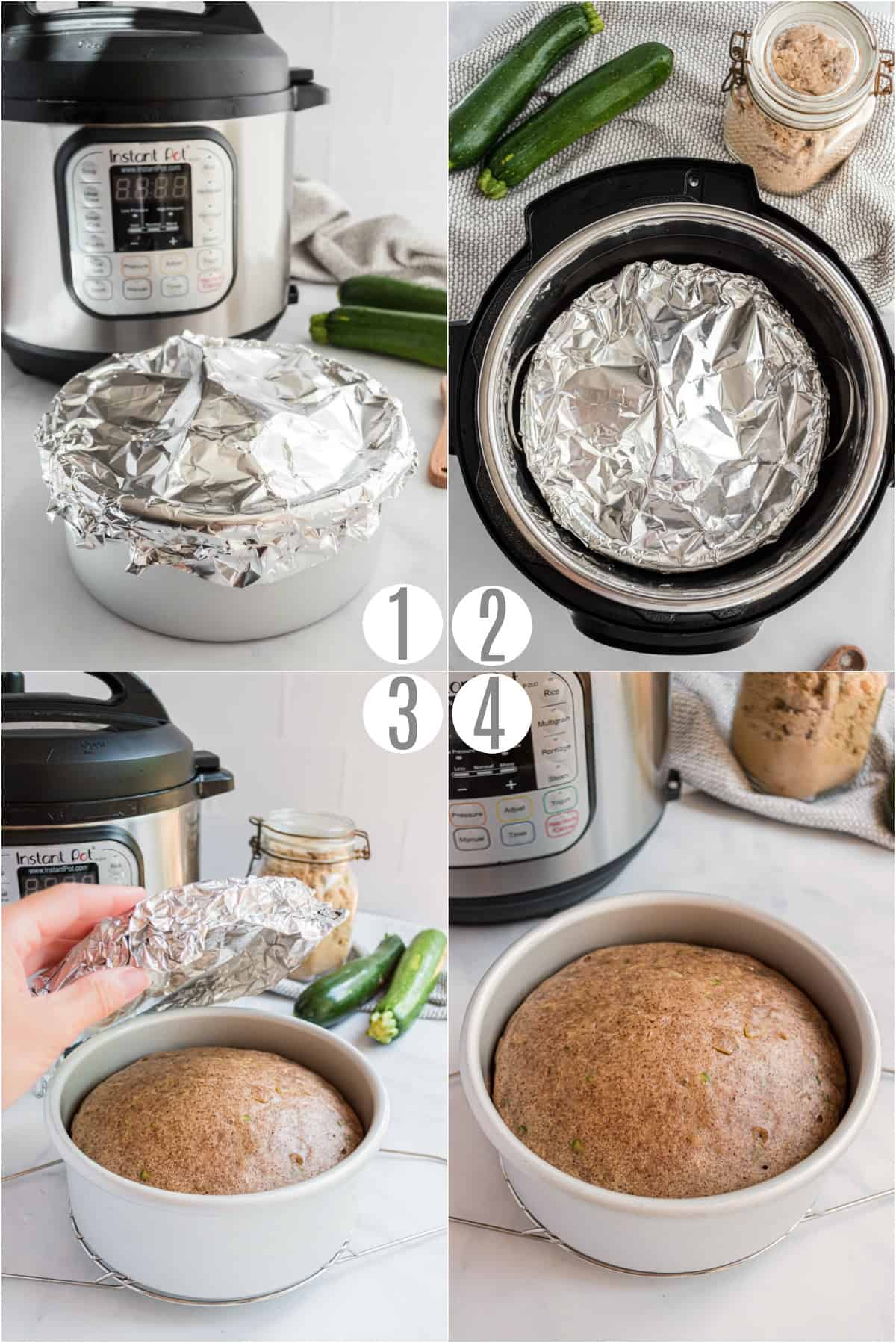 Pressure cook:
Add water to the bottom of the Instant Pot. Place push pan on trivet or sling and lower into the pot. Secure the lid and make sure the valve is set to SEALING.
Select HIGH PRESSURE for a cook time of 55 minutes.
Release pressure and cool:
After cook time ends, allow the pot to naturally release pressure for 15 minutes. Once the natural release is over, do a quick release of any remaining pressure.
Open the lid (away from your face!) and remove the pan using the trivet/sling.
Allow the bread to cool for 10 minutes in the pan before attempting to remove it.
How to remove bread from the pan
One of the trickiest parts of this Instant Pot Zucchini Bread recipe is removing it from the push pan in one piece. Here's how I do it to keep the bread intact every single time.
Put the push pan on the top of a sturdy glass jar or cup.
Push the plate upward to slide it out of the rims of the pan.
From here, gently slide the bread out on to a serving platter or just slice and serve right from the cake plate!
Storing
Keep the Zucchini bread covered or wrapped at room temperature for up to 3 days.
You can also freeze your zucchini bread for longer storage! Wrap it tightly in plastic wrap and foil and it'll stay good for about 3 months in the freezer.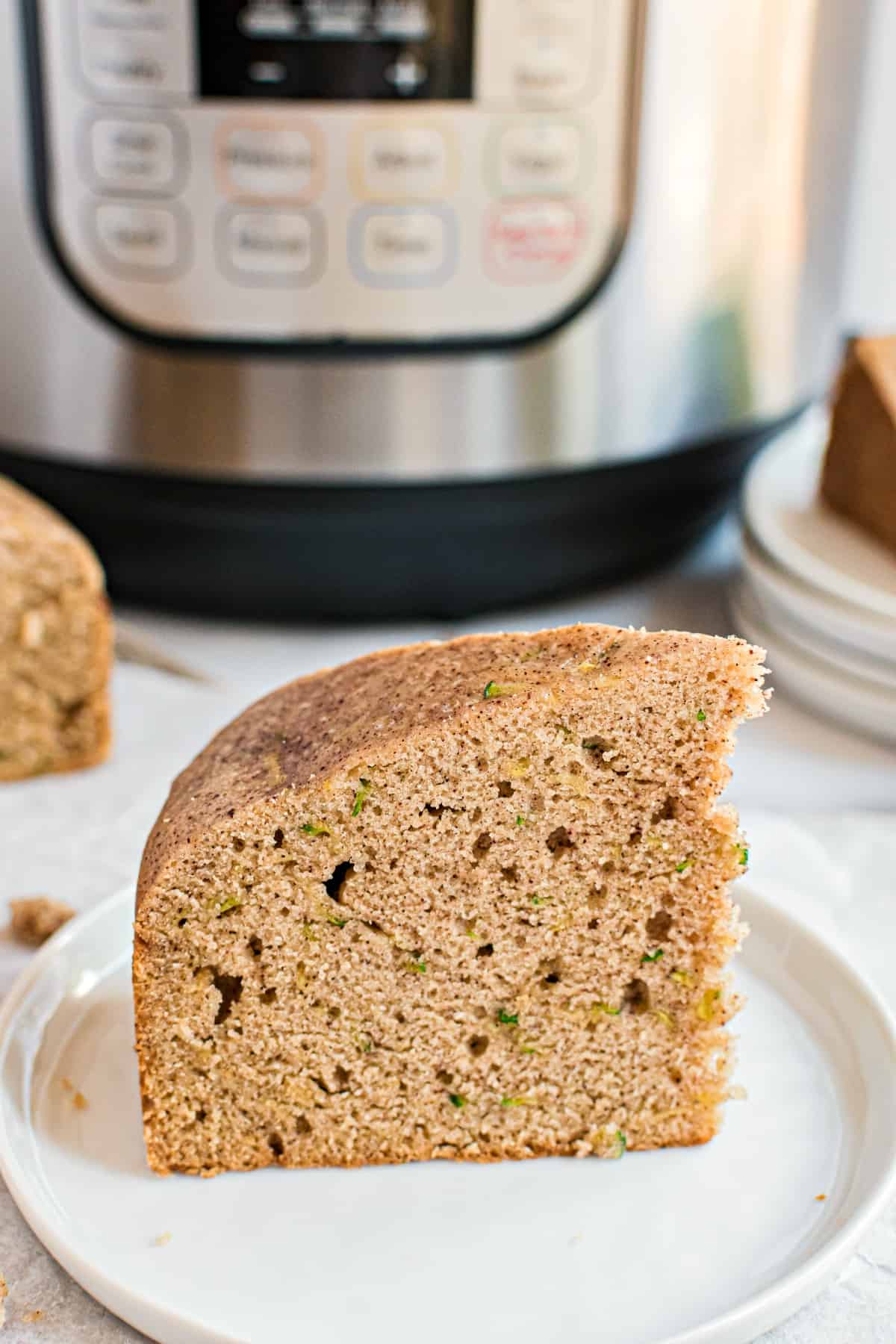 Zucchini Bread Bites
If you have an egg bite pan for your Instant Pot, you can use it to make cute mini bread bites with your zucchini bread batter!
Fill silicone egg bite pan about half full. Cover with lid or foil and lower it into the pot with the trivet.
Select HIGH PRESSURE for 14 minutes. Quick release of pressure and cool 5 minutes in pans before inverting onto a cooling rack.
This makes about 21 bites.
Variations
Want something a little different than a classic zucchini bread? Try some of my favorite mix ins to add a tasty twist. Add up to 3/4 of a cup of any of these–or mix and match for a total of 3/4 cup.
Chocolate Chips – Mini or full size
While chocolate chunks
Chopped nuts – pecans and walnuts are delicious
Raisins
Dried cranberries
Note: This recipe was tested in a 6 quart instant pot. I do not recommend making it in a different sized pot.
For breakfast or a snack anytime of day, you're going to love this easy Instant Pot Zucchini Bread recipe!