Cinnamon Roll Bread baked in the Instant Pot is the sweet indulgence to carry you through winter. Part French Toast casserole, part Cinnamon Roll, this bread leaves everyone asking for more!
Pair this cinnamon roll bread with a cup of pumpkin cream cold brew coffee and some savory egg bites for a complete breakfast!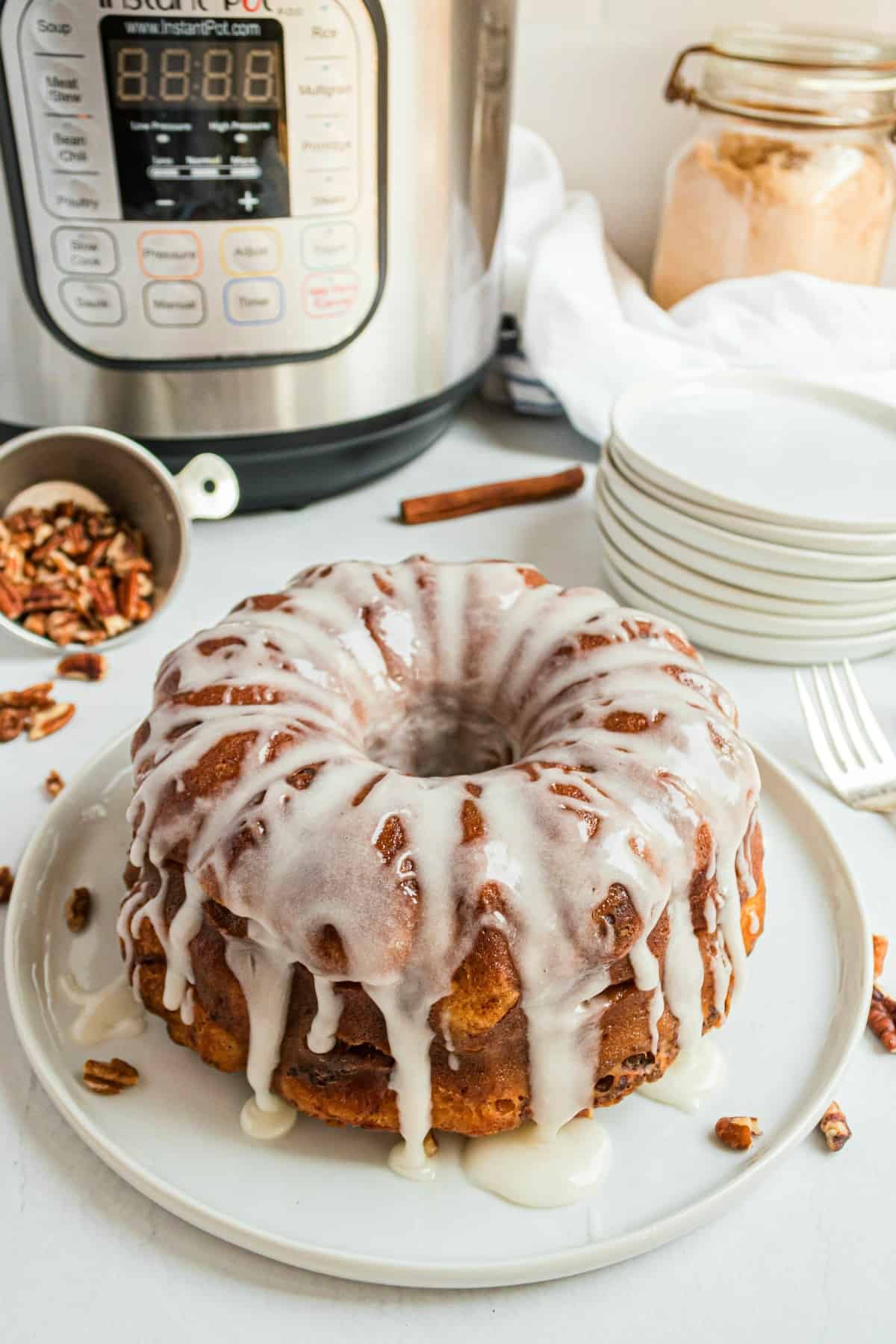 Cinnamon Roll Bread
As far as I'm concerned, cinnamon roll season starts as soon as the very first leaf turns orange, or as soon as the calendar switches over to September. Whichever comes first.
And it lasts at least until March. . . or whenever I say so. I know cinnamon-sugar baked goods are most associated with fall and the Christmas season, but I see no reason why we must limit our cinnamon spiced joy to just a few months of the year.
Is there any aroma in the world that will get you out of bed faster than the scent of freshly baked Cinnamon Rolls? I think not. (well, maybe Pumpkin cinnamon rolls)!
On the many occasions that I'm craving all the taste of a warm cinnamon bun but don't feel like rolling out, rolling up and cutting traditional cinnamon rolls, I make Cinnamon Roll Bread.
Specifically, I grab a can of refrigerated cinnamon rolls and bake them up in my Instant Pot! Some call it "cheating", I call it "innovation."
To be fair, it's not like I'm just popping open a can of Pillsbury rolls, heating them up and calling them "homemade." Oh no.
I'm popping open a can of Pillsbury rolls, tossing them with a maple-cinnamon egg mixture, cooking them in the Instant Pot and calling them one of the best inventions ever.
You can thank me later.
If you've ever made monkey bread–balls of yeast dough topped with cinnamon sugar and baked together in a bundt pan–this cinnamon roll bread will look familiar.
While it resembles the "look" of monkey bread, it has the texture of bread pudding.
The difference is that instead of bread, you use cinnamon rolls!
While this is baked in a bundt pan, and you can definitely CALL it a cinnamon roll cake…by giving it the name "bread" it becomes a breakfast treat, ha!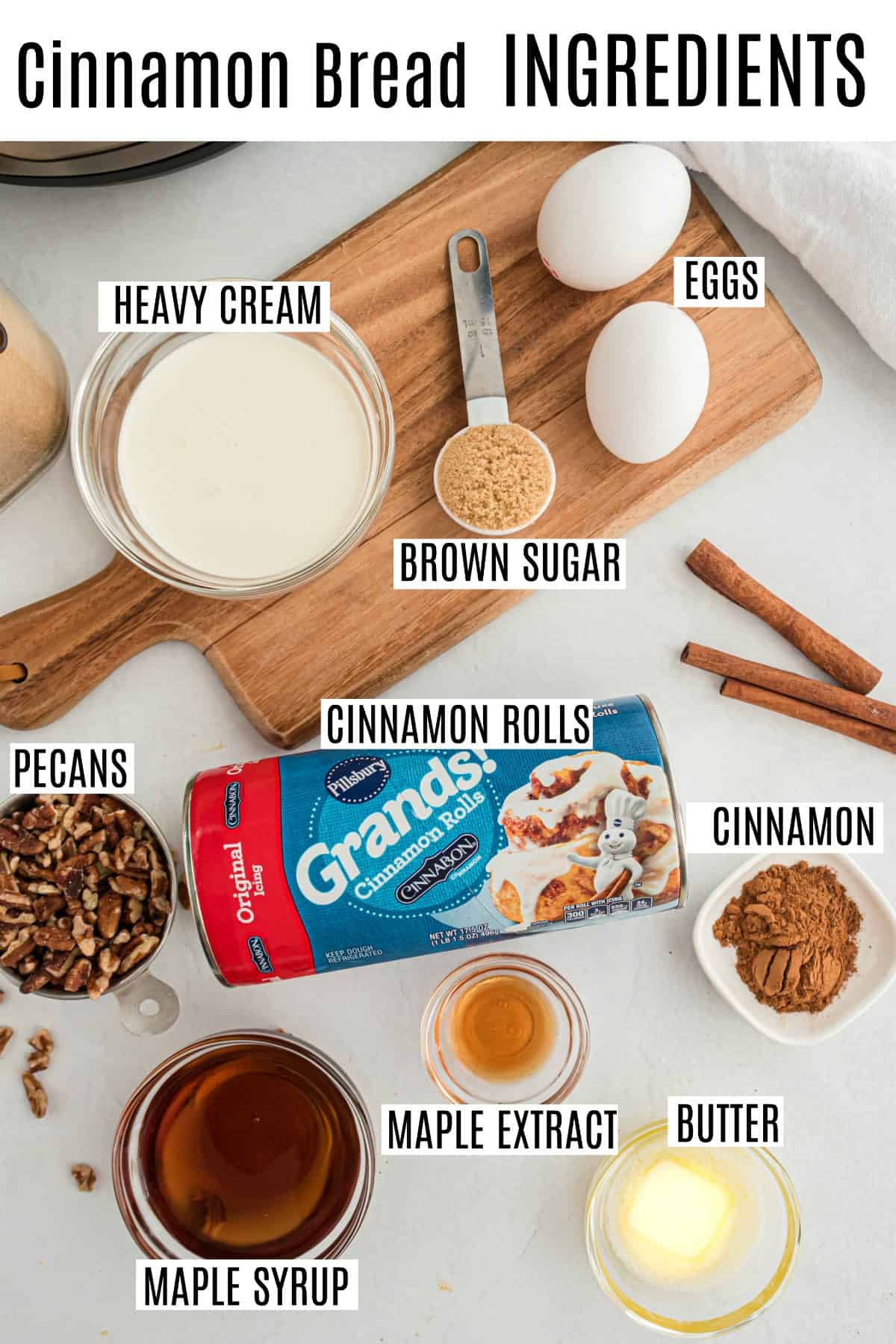 Spirals of yeast rolls filled with a buttery cinnamon sugar mixture are baked with the edges touching.
I also added chopped pecans to this recipe for a nutty flavor and plenty of crunch. Zero regrets.
One bite of this sticky, sweet and divinely cinnamony bread and I knew I had to share it with all of you.
This is perfect for a Christmas Breakfast but, per my year-round cinnamon bread philosophy, it's also a welcome sight at any time of year.
Favorites: French Toast Casserole | Caramel Bread Pudding
Step by Step Instructions
I used my trusty Instant Pot to make the Cinnamon Roll Bread and could not be more excited about how it came out.
Why make cinnamon rolls in the Instant Pot? Not only is this method quick and easy, it's also a huge oven space saver! Around the holidays, the oven is always in high demand in my kitchen. With this baking method, you can serve a freshly baked warm Cinnamon Roll breakfast without interrupting a roasting turkey!
Here's how to turn an everyday can of Pillsbury Grands Original Cinnamon Rolls into the most delicious cinnamon-y monkey bread you'll ever taste: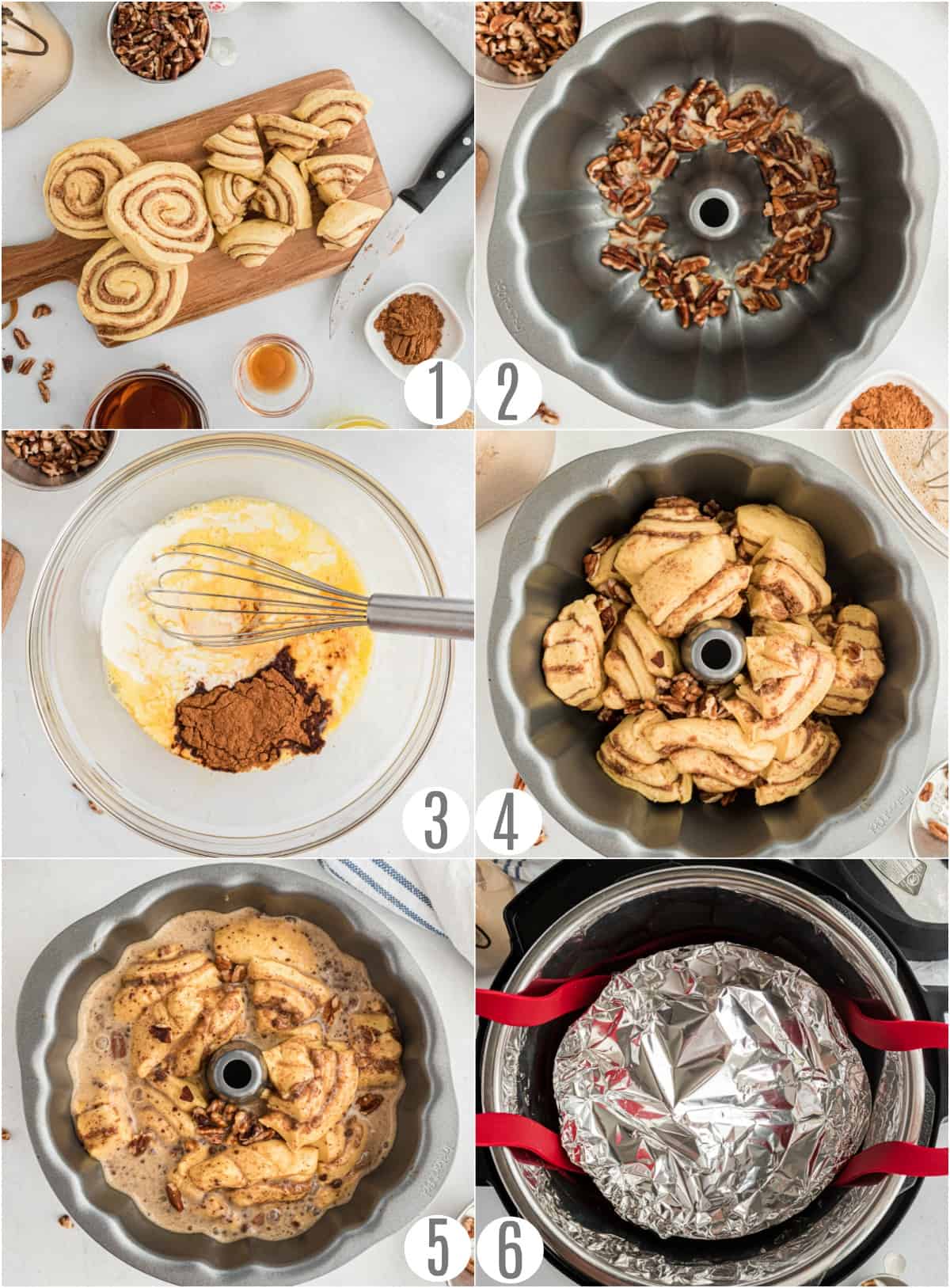 STEP 1. Cut up the rolls
Open refrigerated cinnamon rolls and cut into fourths on a floured cutting board. Set the frosting packet aside for later!
Pour a tablespoon of melted butter evenly into the bottom of a bundt pan (or springform pan). Add ¼ cup of chopped pecans.
STEP 2. Make maple cinnamon topping
Beat eggs with maple extract, brown sugar, cinnamon, heavy whipping cream, and maple syrup and whisk to combine.
One by one, add pieces of the cinnamon roll dough evenly throughout the bundt pan. Add the remaining 1/4 cup chopped pecans throughout this process.
Pour the cinnamon sugar egg mixture over the dough in the pan. Cover with a paper towel and foil.
STEP 3. Pressure cook
Add 1 ½ cups of water to the 6 qt Instant pot. Place the bundt pan on a trivet and lower it into the instant pot.
Seal the valve and cook on High Pressure for 25 minutes. Allow the pot to natural release for 10 minutes, then quick release the remaining pressure.
Open the frosting packet and drizzle it over the prepared cinnamon roll bread. Serve warm!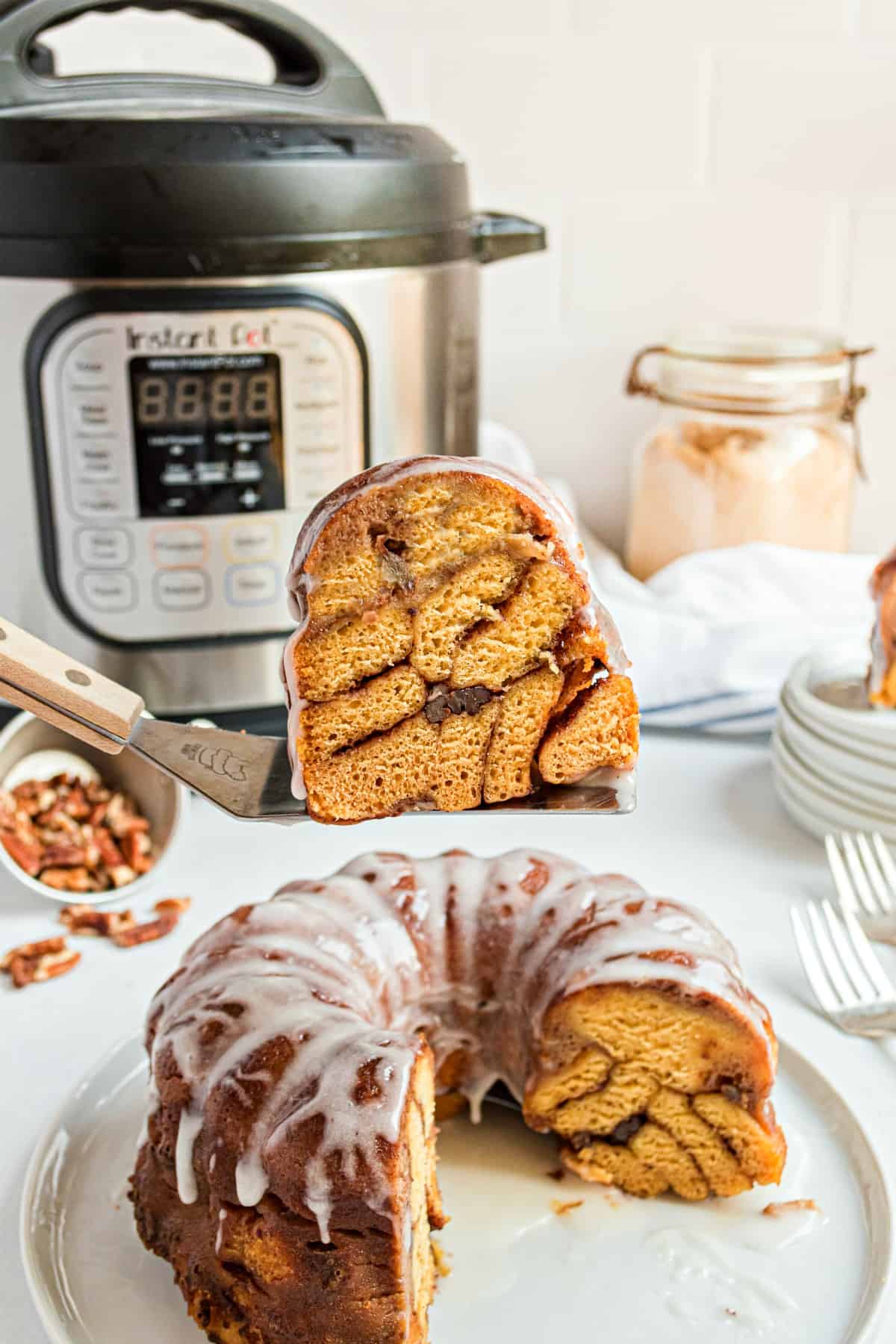 Substitutions
If you can't find refrigerated Pillsbury rolls, or prefer not to use them, there are plenty of delicious substitutions you can use in their place.
Brioche dough works beautifully in this recipe, too. You can make your own homemade brioche or purchase from a bakery. Using brioche makes this taste similar to a baked French Toast dish, which I have zero complaints about.
You can also make your own frosting to pair with your homemade Cinnamon Roll Bread. The cream cheese frosting from this recipe is heavenly drizzled over this warm bread.
Recipe FAQs
Can Cinnamon Roll Bread be made in the oven?
Yes! Place in a 350 degree oven and bake for at least 35 minutes, checking every 5 minutes after until fully baked.
Can I freeze cinnamon roll bread after baking?
Yes. To freeze cinnamon roll bread, wait until it has cooled completely. Wrap in airtight, freezer safe container (or use foil and ziploc bags) and freeze for up to 3 months. Thaw overnight in refrigerator.
What kind of cinnamon rolls should I use?
You can use any kind of cinnamon roll dough. Whether homemade or store bought refrigerated dough!
Oooey-gooey Cinnamon Roll Bread makes an irresistible breakfast or indulgence for any time of day. Enjoy with coffee or a glass of milk!