Pineapple Upside Down Cake is a delicious, buttery yellow cake with a caramelized brown sugar glaze. As tasty as it is beautiful!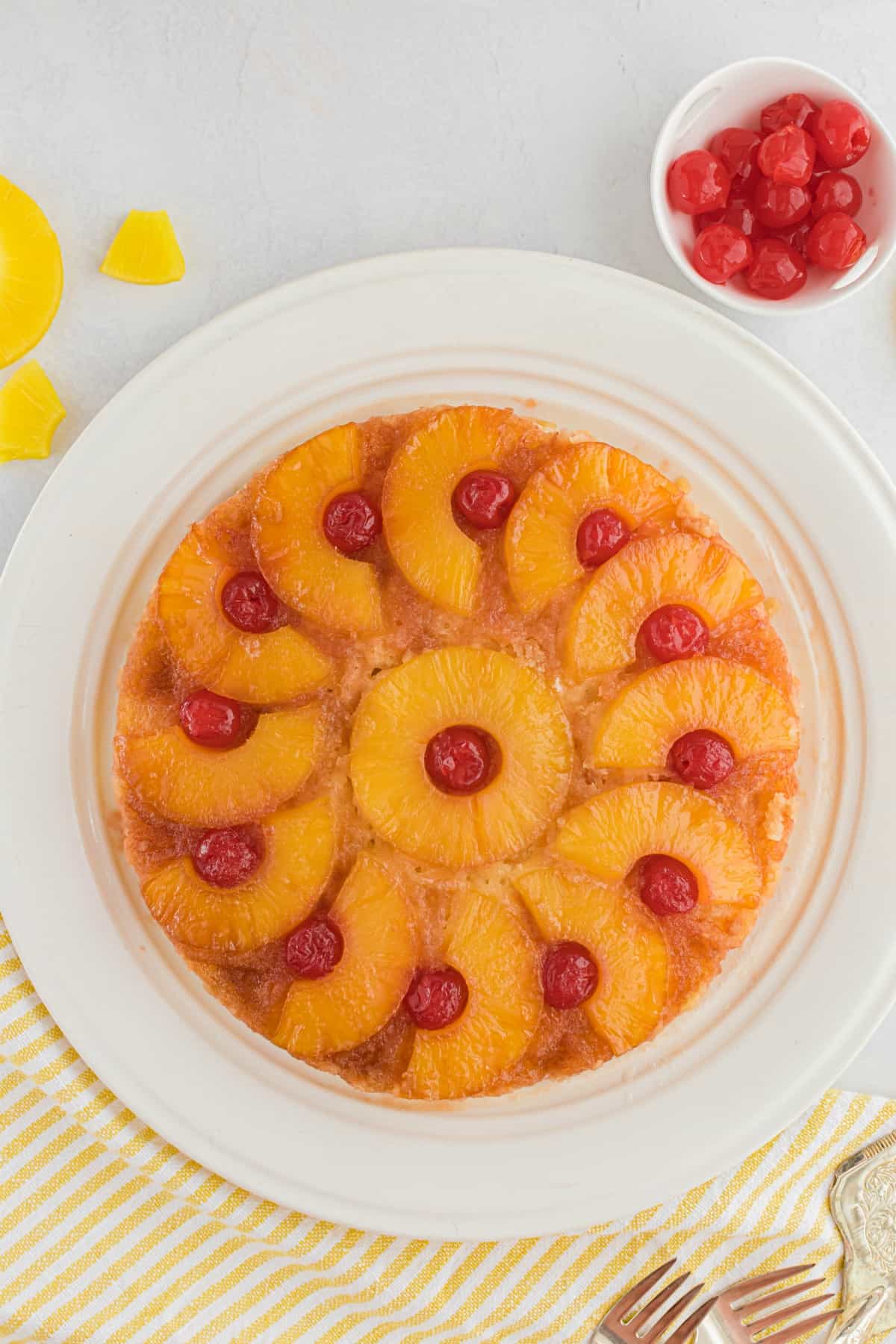 You all know how much I love frosting, right? So you know that if I'm making a cake without a single drop of chocolate buttecream or ganache in sight that it better be more than just "okay."
It has to be phenomenal. That's just how I'd describe this Pineapple Upside Down Cake.
Not just because of the buttery yellow cake or the sweet bites of pineapple on each slice (both of which are delicious).
What really MAKES this cake for me is the caramelized brown sugar glaze!
What is Pineapple Upside Down Cake?
If you've gotten this far in life without trying pineapple upside down cake, allow me to introduce you.
This pineapple cake starts with a layer of melted butter, brown sugar, canned pineapples and cherries on the bottom of a cake pan. You pour cake batter on top and bake everything together.
When the cake is done, you flip it out of the pan so the pineapple and brown sugar layer is on top! With the pineapple slices fanned out and a bright red cherry between each one, this pineapple cake looks as good as it tastes.
With most cake recipes, I have to remember to leave enough time to both bake AND decorate dessert. When I make Pineapple Upside Down Cake, the baking and decorating happen all at once.
Don't worry, I won't be giving up my beloved frosted cakes anytime soon. But it's nice to have another Pineapple Cake option that's even quicker and easier, without sacrificing one ounce of taste.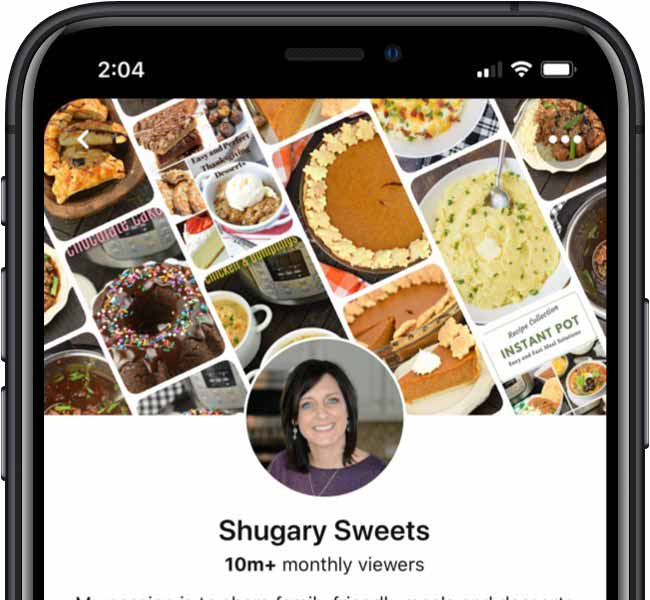 Cake from Scratch
I'm no stranger to using a box of cake mix when it's called for, but for this recipe I went all out. Making the cake batter from scratch is so satisfying and hardly more difficult than using a mix.
This recipe is based on my trusty Yellow Cake. No complicated steps or hard to find ingredients.
Once you know how to make a basic yellow cake from scratch, you can adapt it into all kinds of recipes, including this one.
Favorite Cake Recipes: Chocolate Cake | Coconut Cake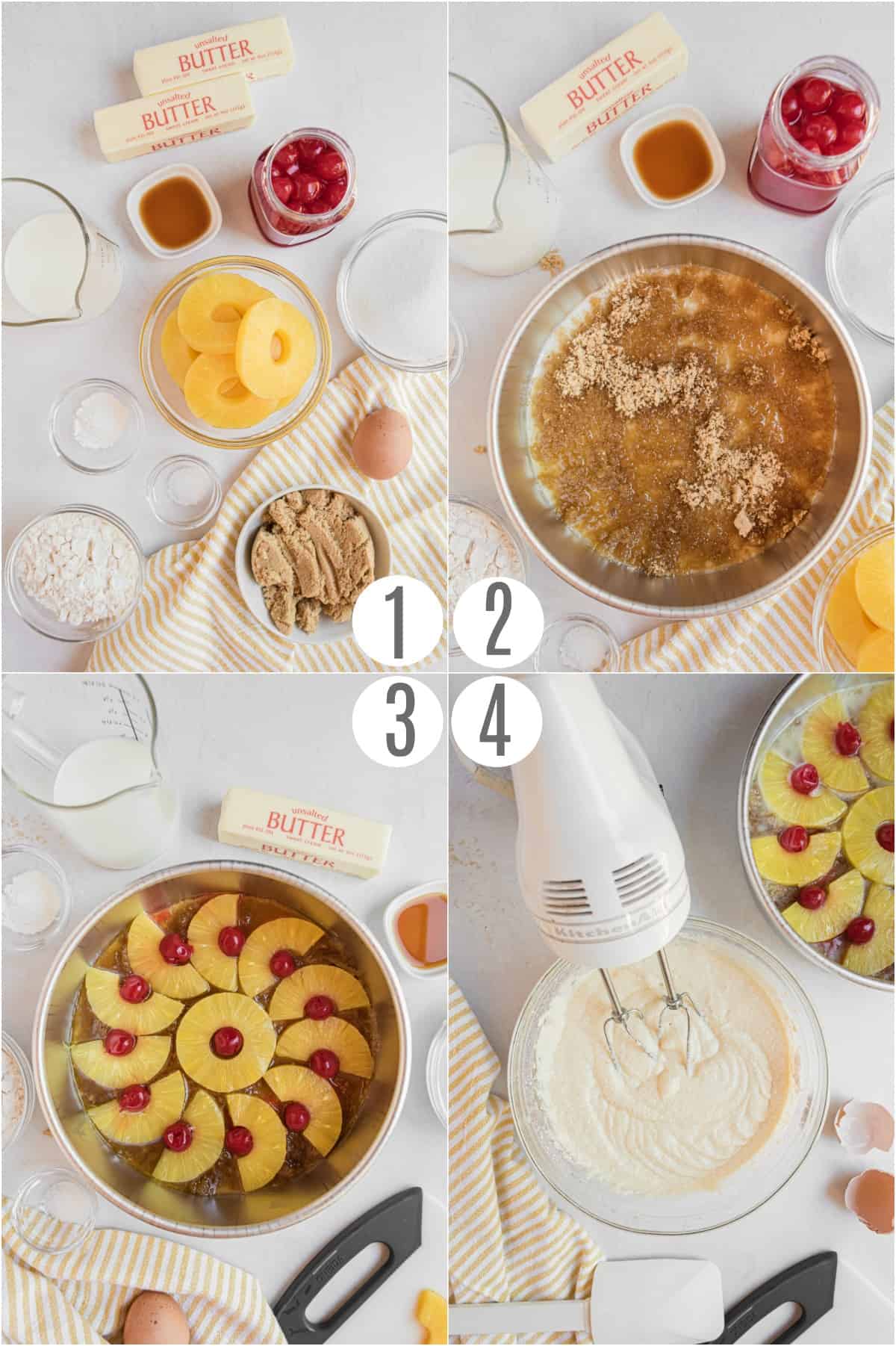 How to make Pineapple Upside Down Cake
To make this cake from scratch, start by preparing the bottom layer–this will become the top of the cake when you flip it out of the pan.
To make the pineapple layer:
First, put half a stick of butter into your cake pan. Stick the pan in the preheated oven until the butter melts.
Now, you add the brown sugar. Sprinkle your sugar evenly over the melted butter. (Yum.)
Open a large can of pineapple slices! Put a whole pineapple ring in the center of the pan.
Cut the remaining rings in half and arrange them in a fanned out shape around the center to cover the whole bottom of the pan as best you can. Place a maraschino cherry between each slice and one more in the center of the pineapple ring.
PRO TIP: I use slices instead of whole pineapple rings so that there is more pineapple per bite! And it still looks just as lovely.
Now it's time to make the cake batter!
To make the cake:
Beat butter, sugar, vanilla and eggs together and add flour, baking powder and salt, along with splashes of whole milk to reach the right consistency.
Pour this batter evenly into the pan, covering the full layer of pineapple and cherries.
Bake your pineapple cake for 50 minutes or until the top is browned. A toothpick inserted in the center of the cake should come out clean when it's ready!
Holiday TWIST: Bake this Cranberry Apple Upside Down Cake!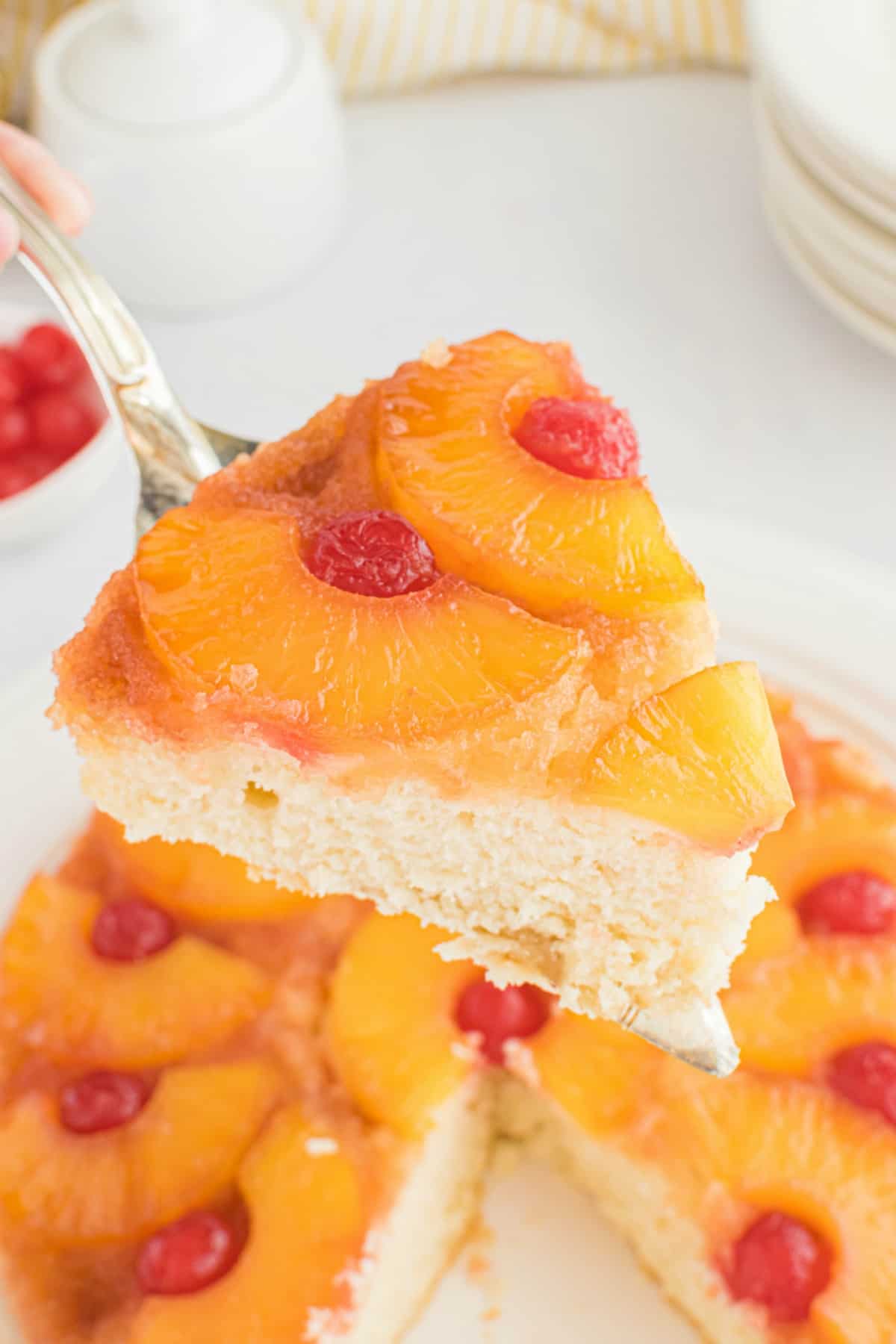 Best way to flip Pineapple Upside Down Cake from the pan
Now comes the moment of truth: flipping your cake upside down.
To do this without breaking the cake, place a large plate or cake batter over the pan immediately after removing it from the oven. Hold the plate in place as you flip the pan upside down.
PRO TIP: Make sure your plate is flat and doesn't bevel down or indent in the middle at all. This will make your cake sink.
Leave the pan and plate like this for a couple of minutes. This allows that delicious buttery brown sugar sauce to seep into the whole cake!
Remove the pan, leaving the upside down cake on the platter. Slice and serve warm!
What kind of pineapple to use
Use canned pineapple in its own juices for this recipe.
Don't use fresh or frozen pineapple, or pineapple with added heavy syrup.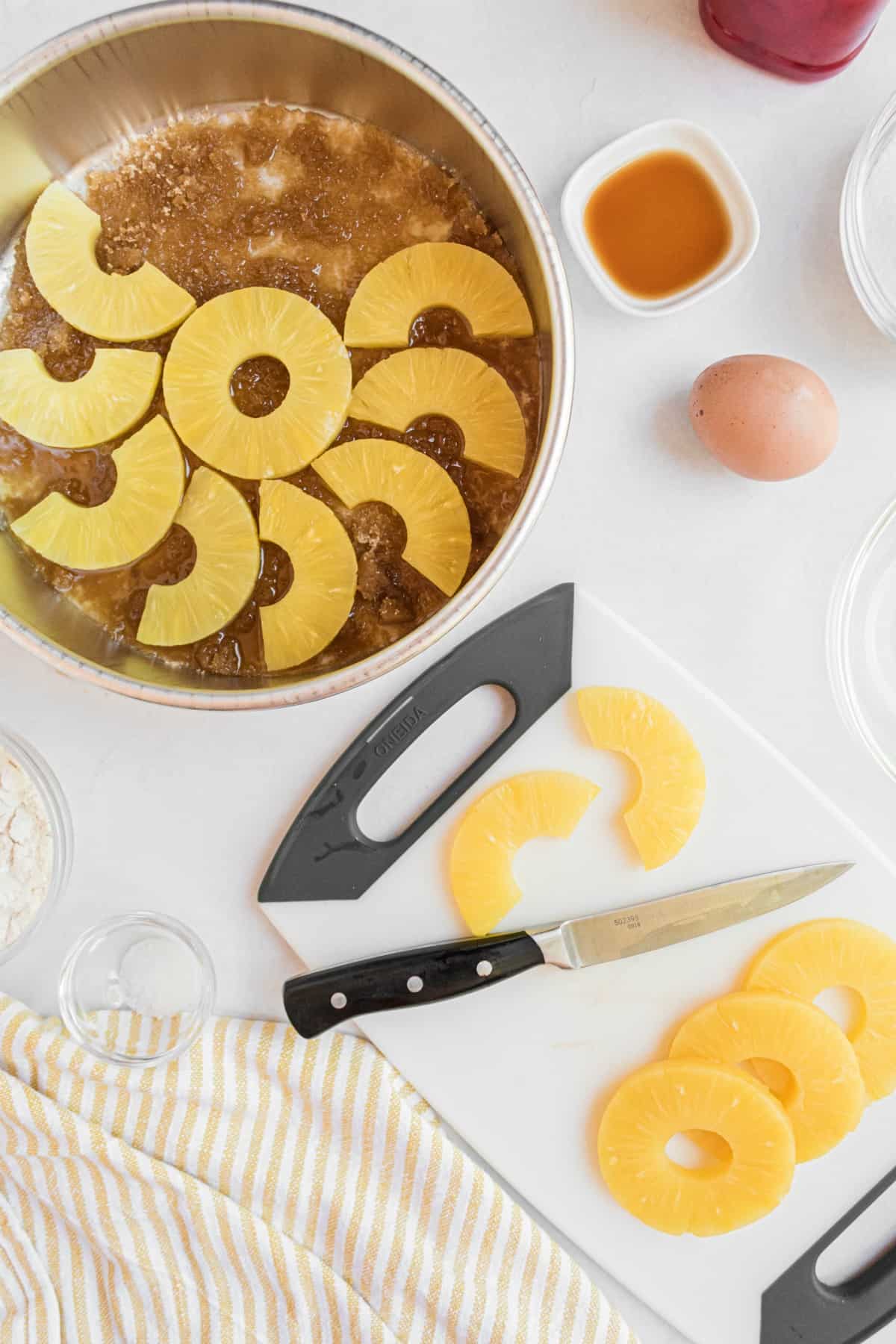 Tips and Tricks
Pineapple Slices: I like to cut my pineapple rings in half before arranging them in the pan. I find this gives you more pineapple taste per bite. If you prefer, you can also keep them in ring shape and arrange them however you like.
How to store: This cake keeps best stored in the fridge. Cover it loosely with plastic wrap, foil or a cake cover to keep it moist. I do not recommend freezing pineapple upside down cake.
Cake Pan: You'll need a round cake pan, that is deep enough to bake this treat. I bought mine on Amazon- THIS ONE IS PERFECT.
Find and shop my favorite products in my Amazon storefront here!
Pineapple cake dotted with cherries makes a lovely summertime dessert–and you'll never regret a cold slice of leftover cake for breakfast the next day.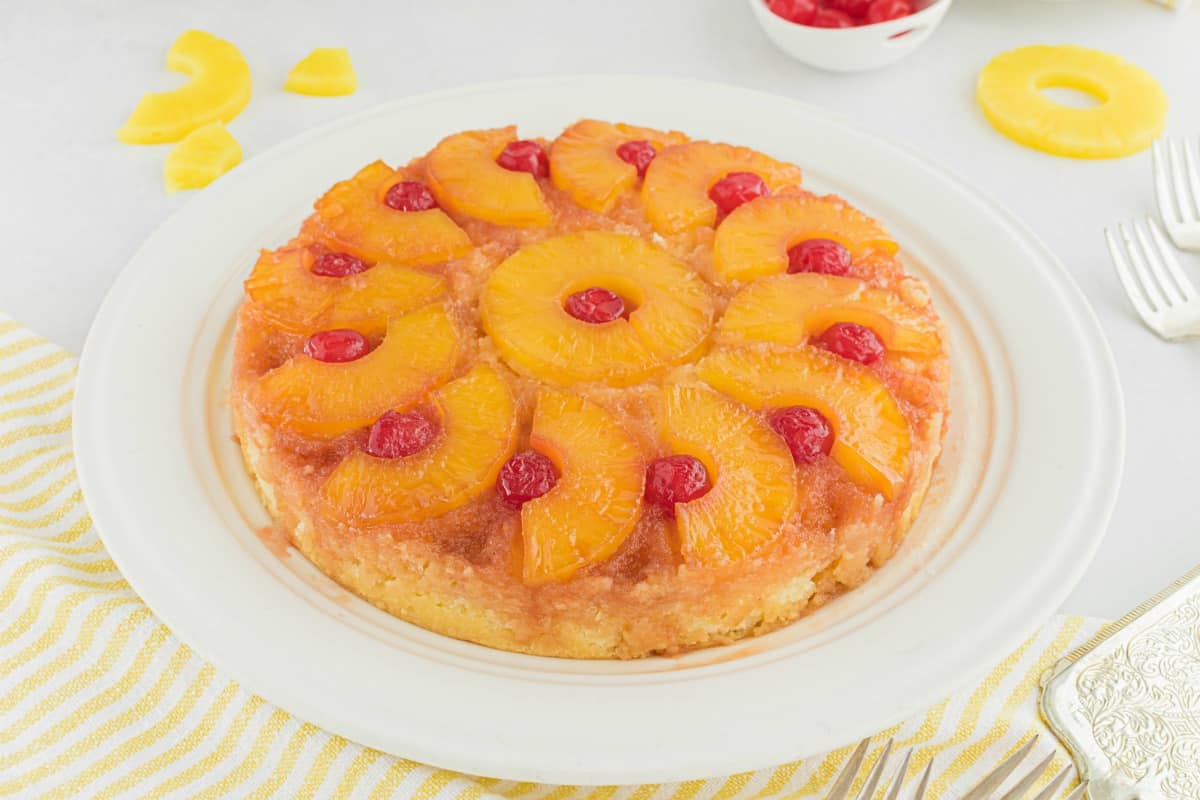 When you're in the mood for a sweet, rich cake made from scratch that requires no frosting or decorating, Pineapple Upside Down Cake is here to answer the call!