Welcome cooler weather with this Apple Cranberry Upside Bundt Cake. This recipe brings a new twist to a classic Christmas cake–just in time for the holidays!
Cranberry and apple are the perfect pairing for fall and winter baking. Start your day with homemade Cranberry Apple Muffins then make Apple Cranberry Crumble for dessert!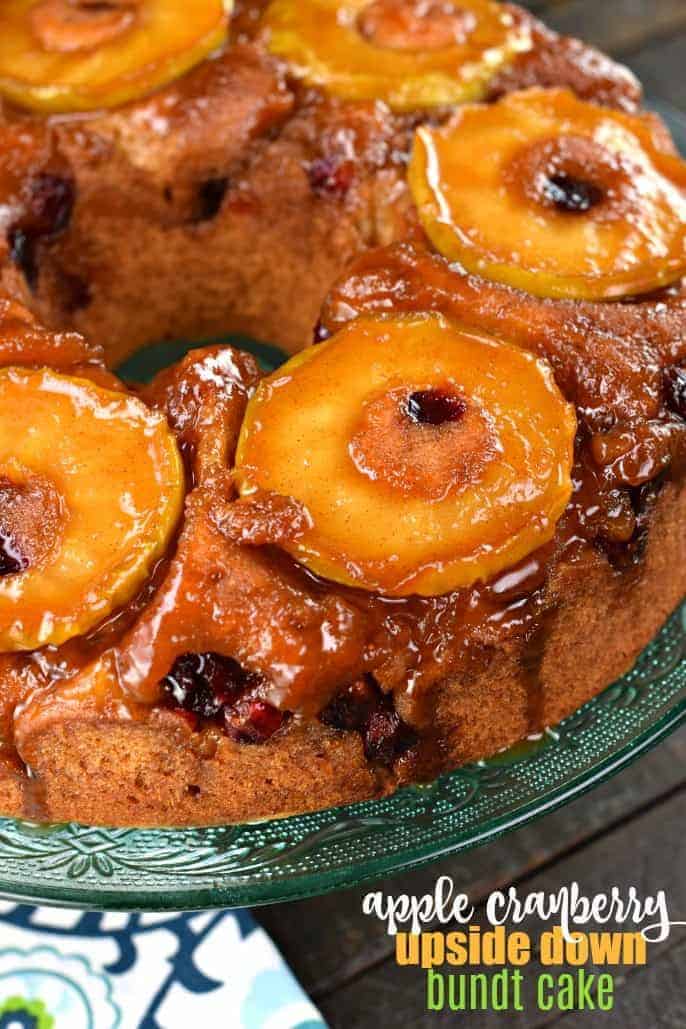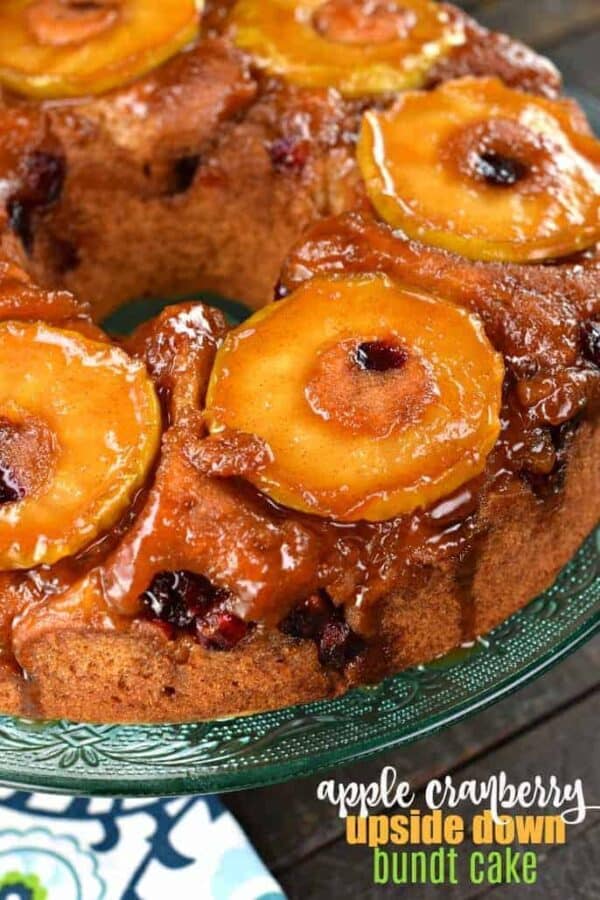 You know all about upside down pineapple cake, right? This upside down cake uses apples instead!
Why this apple cake is best
This bundt cake has a gooey brown sugar topping.
Apple slices caramelize with the brown sugar as the cake bakes.
Cranberries turn this apple bundt cake into a spectacular holiday treat!
With familiar seasonal flavors presented in a new way, this dessert is sure to turn some heads at the Christmas party.
Ingredient Notes
Apple rings – Find pre cut apple rings at the grocery store or slice your own.
Cranberries – These are sprinkled over the apple rings before adding the cake batter. Use fresh or frozen; both work well.
Unsalted butter – You will need melted butter for the topping and softened butter for the cake batter.
Light brown sugar – Mixed with butter and cinnamon, it coats the cake and apples with an gooey caramelized topping that's impossible to resist.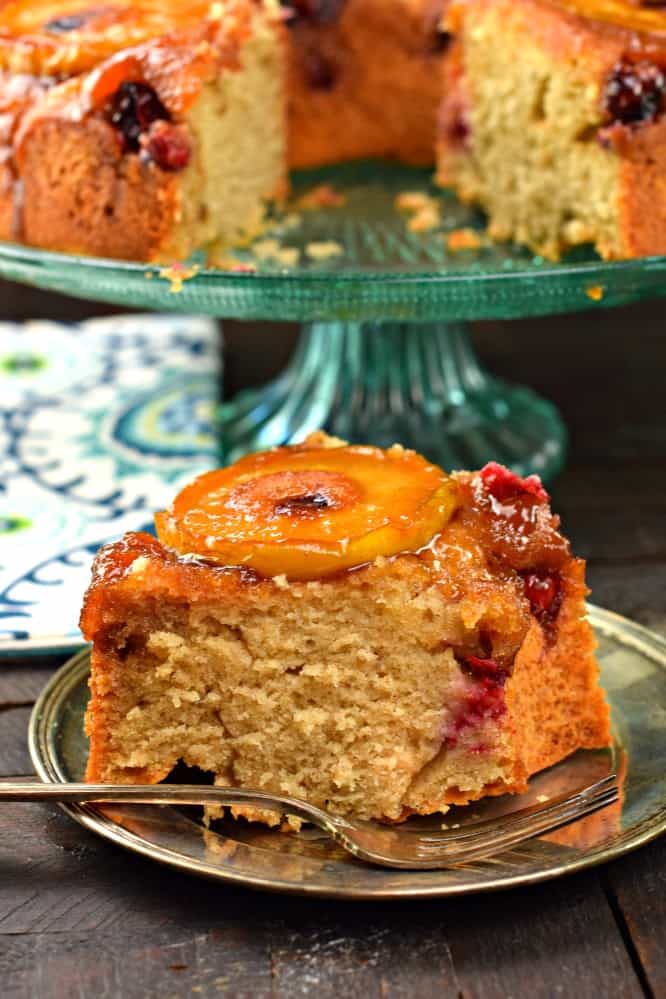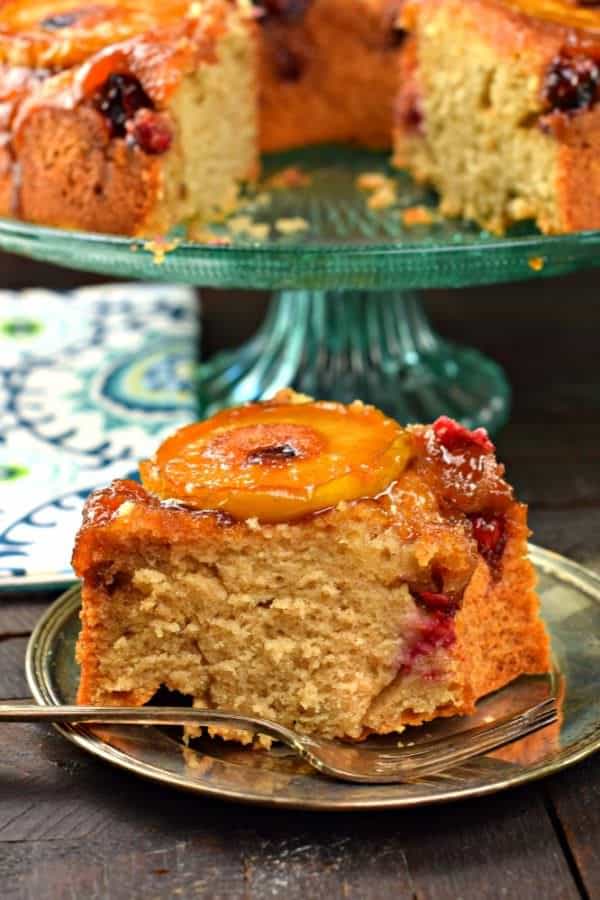 Easy Instructions
First things first: coat your bundt plan generously with baking spray.
Make the topping:
Combine melted butter with brown sugar and cinnamon. Line the bottom of the prepared bundt pan with apple rings.
Place the cranberries on top of the apples. Now, pour the brown sugar mixture over all of the fruit.
For the cake batter:
Mix together the dry ingredients in a large bowl. Beat in softened butter, followed by the remaining ingredients. Keep beating until the batter is smooth and fluffy.
Pour the batter into the bundt pan. Bake for 50 minutes, or until the cake is browned.
Cool and flip:
Let the apple cake cool in the pan for about 10 minutes. Then flip it out onto a cake plate to let it finish cooling.
Tips and Tricks
You can choose to lay the apples flat or place them vertically in the bundt pan grooves. Both ways look beautiful!

SPRAY your pan. Do not be skimpy. You are making a gooey brown sugar caramel sauce and unless you want to lose the entire top of your cake, spray the pan. And then spray it again. Or use my Homemade Cake Release!
Store this cake at room temperature, covered. It's delicious with a scoop of ice cream or some fresh whipped cream too! ENJOY.
Recipe FAQs
Why is it called upside down cake?
Upside down cake gets its name because it's literally served with the bottom side up! Placing the toppings on the bottom of the pan before adding the cake batter creates a delicious and beautiful layer of caramelized fruit.
How do you remove upside down cake from the pan without the cake breaking?
When your cake is done baking, let it cool in the pan for 10 minutes right side up. Then, plate a flat plate or cake stand on top. Turn the cake upside down and very slowly lift the pan to let the cake slide out on its own.
Have patience here and let gravity do the work. Don't try to force the cake from the pan with your hands. That's how you get broken cakes!
Is a bundt pan the same as a tube pan?
A bundt pan is a specific kind of tube pan that has fluted sides (also called a flute pan). If you don't have a bundt pan, a regular tube pan can be used.
Do you thaw the cranberries before adding them to the cake?
If you use frozen cranberries, there is no need to thaw them first. They will thaw and soften as the cake bakes.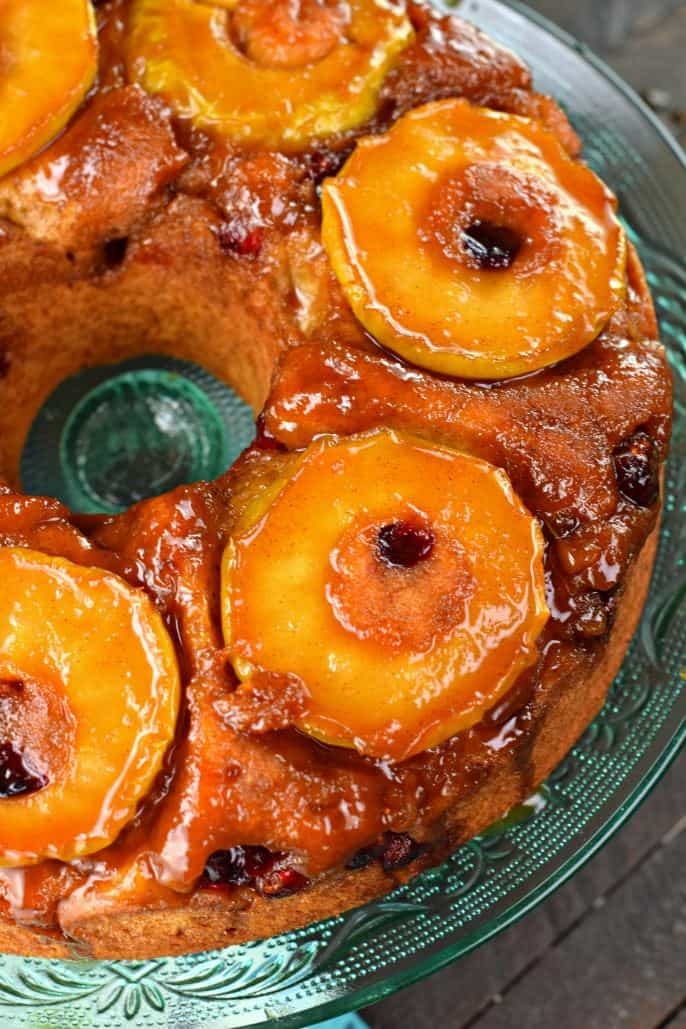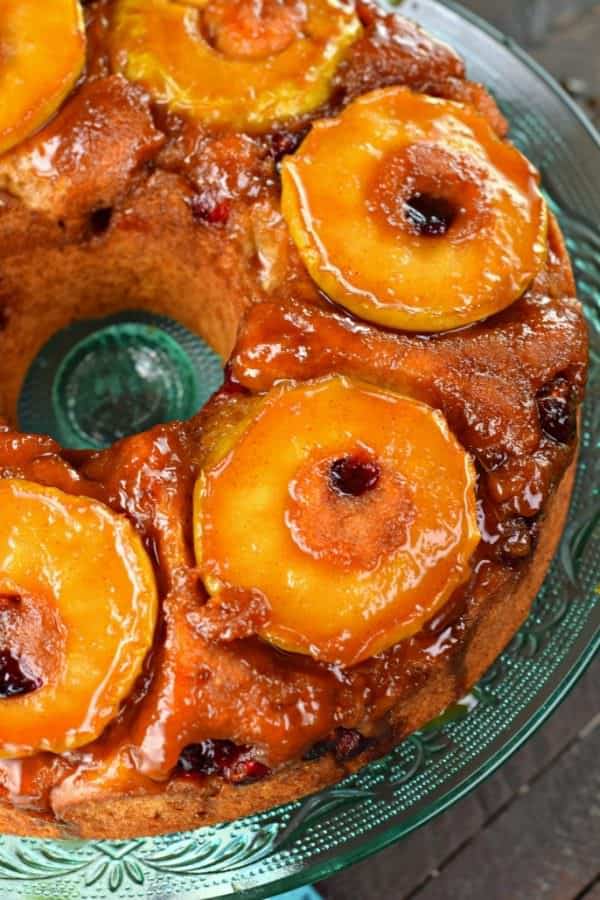 More Apple Recipes
Change up this year's dessert menu with an Apple Cranberry Upside Down Cake. This bundt cake is coated with a buttery brown sugar topping, cranberries and apples for a festive end to your holiday meal.