Our Pineapple Pie recipe is loaded with tangy pineapple, creamy coconut, and delicious rum flavoring. This is a no-bake recipe with only 20 minutes of prep time!
Love pineapple desserts? Our skinny pineapple cupcakes are the guilt free treat you've been looking for! Of course the classic pineapple upside down cake is a must make if you haven't tried our recipe yet.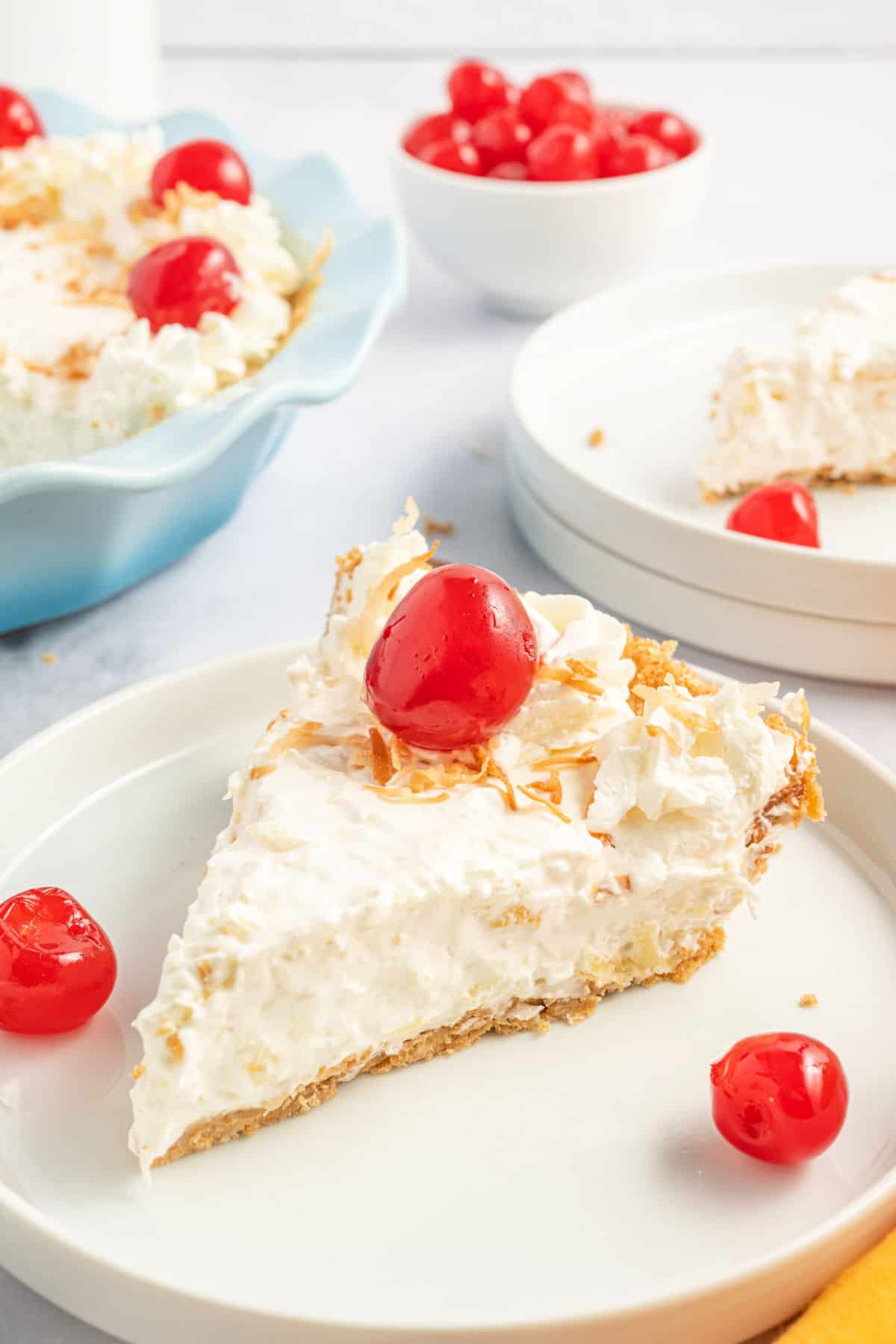 Why This Pineapple Pie Works
In the warmer months, hovering over a hot oven is the last way I want to spend my afternoon. This recipe is loaded with classic island flavors that are perfect for the beach or pretending like you're there.
Here are a few reasons I think you'll love it,
Minimum effort, maximum yum. It's only 20 minutes of hands-on time, and your refrigerator will do the rest. I like to use packaged ingredients which makes the entire process virtually effortless.
Great for any season. This pie is the perfect mix of tangy and creamy, which is an amazing way to cool down on a hot day. Or an easy solution to inject a taste of warmer weather into the cooler months.
It's a great stow-away dessert. Pineapple pie stays good in the freezer for up to 3 months, so next time you're craving something coconut or sweet, you'll have a slice on standby.
Love today's pie? Be sure to try our pistachio pie (packed with pineapple too)! A fun, green, twist.
Ingredient Notes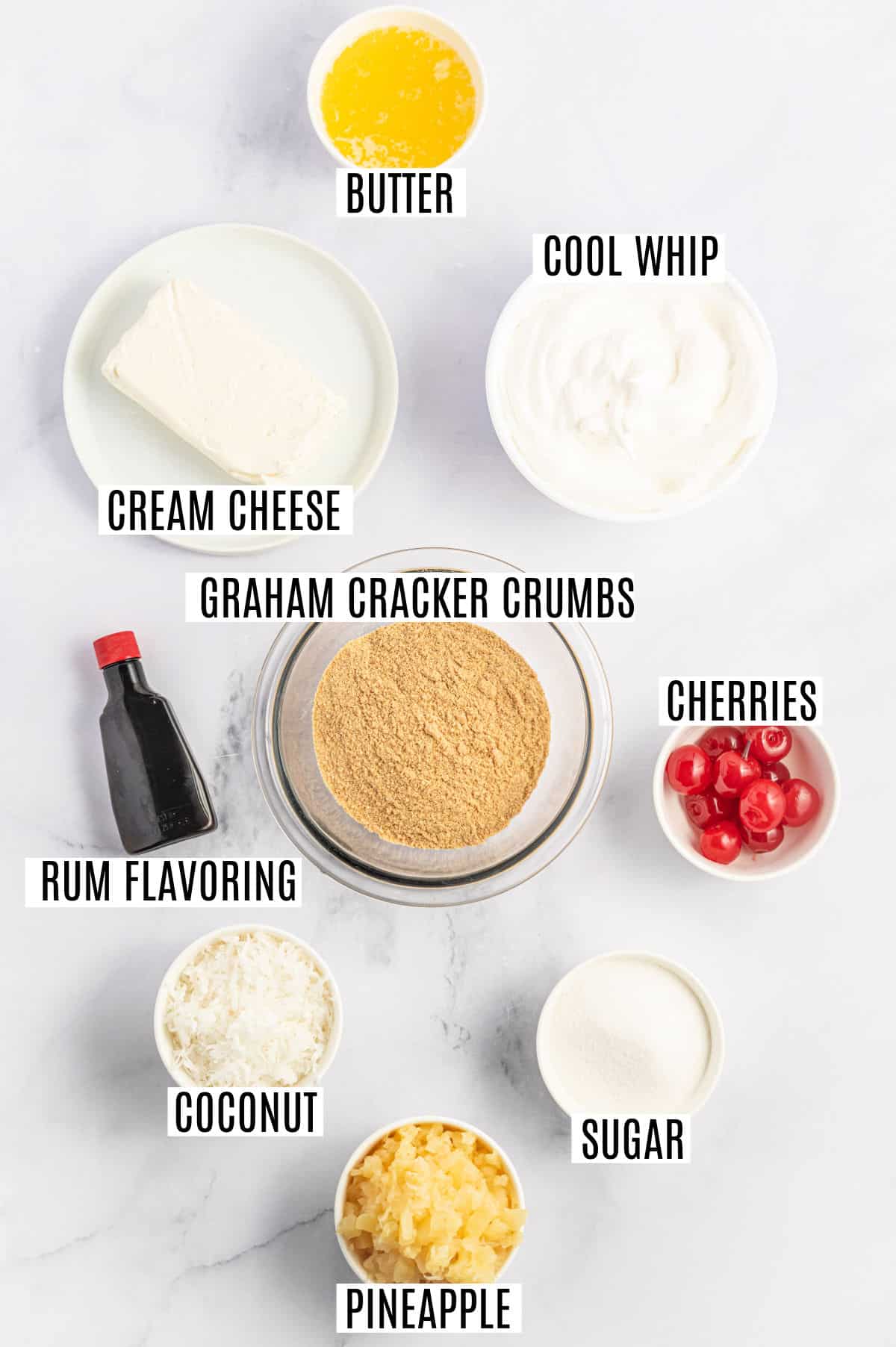 For the Crust– similar to our graham cracker crust recipe, but we added some coconut for delicious flavor.
Graham Cracker Crumbs
Coconut Flakes – Sweetened coconut flakes are softer and moister than unsweetened ones. The added flavor and moisture create the tastiest crust.
Butter – Unsalted butter is best in this recipe. You can melt it on the stove or microwave before beginning the recipe.
For the Pie Filling
Cream Cheese – Use full-fat, softened cream cheese for the best flavor and texture. Plus, room-temperature cream cheese is easier to incorporate with other ingredients.
Granulated Sugar
Rum Extract – Rum extract has a more concentrated flavor and less alcohol by volume than regular light or dark rum. This way, you can get all the rum flavor without the astringent burn of alcohol.
Sweetened Coconut Flakes
Pineapple – Crushed pineapple is the most convenient since there's no prep work involved. Drain off as much liquid as possible so you don't end up with loose filling.
Cool Whip – Store-bought cool whip is an effortless inclusion in this recipe. But if you're not a fan, try making your own stabilized whipped cream!
Toppings (Optional)
Easy Instructions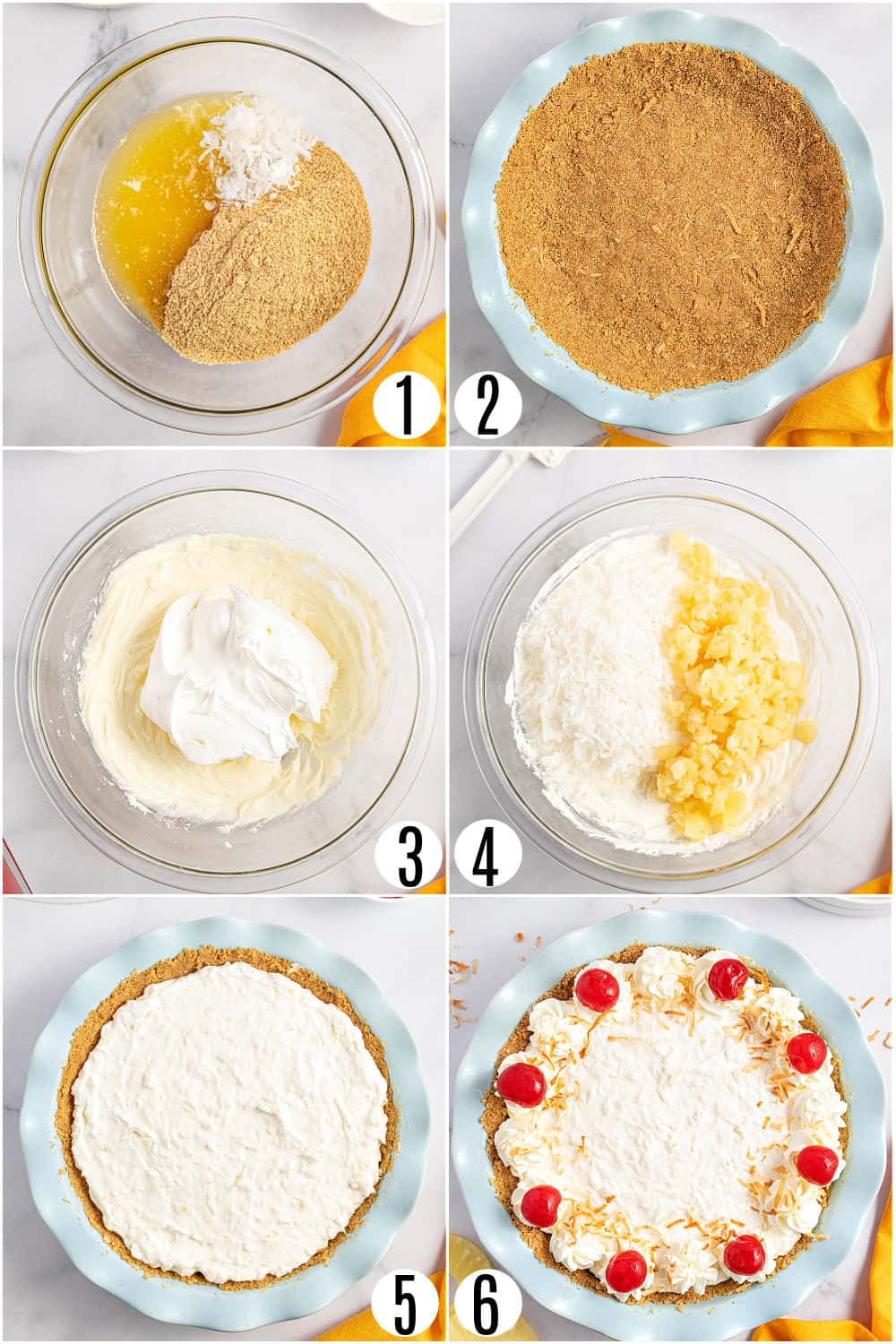 Create the crust. Combine all the crust ingredients in a bowl, and then press the wet-sandy mixture into a solid shell at the bottom of your pie pan. Freeze it for 15 minutes to solidify the crust.
Prep the filling. An electric mixer combines the cream cheese, sugar, and rum. Fold in the cool whip gently. And add the fruit last, so it's well distributed throughout the filling.
Fill, top, and freeze the pie. Fill your frozen crust with cream cheese mixture, smoothing it out. Freeze the finished pie for at least 4 hours before serving. Toppings are optional and should be added just before plating.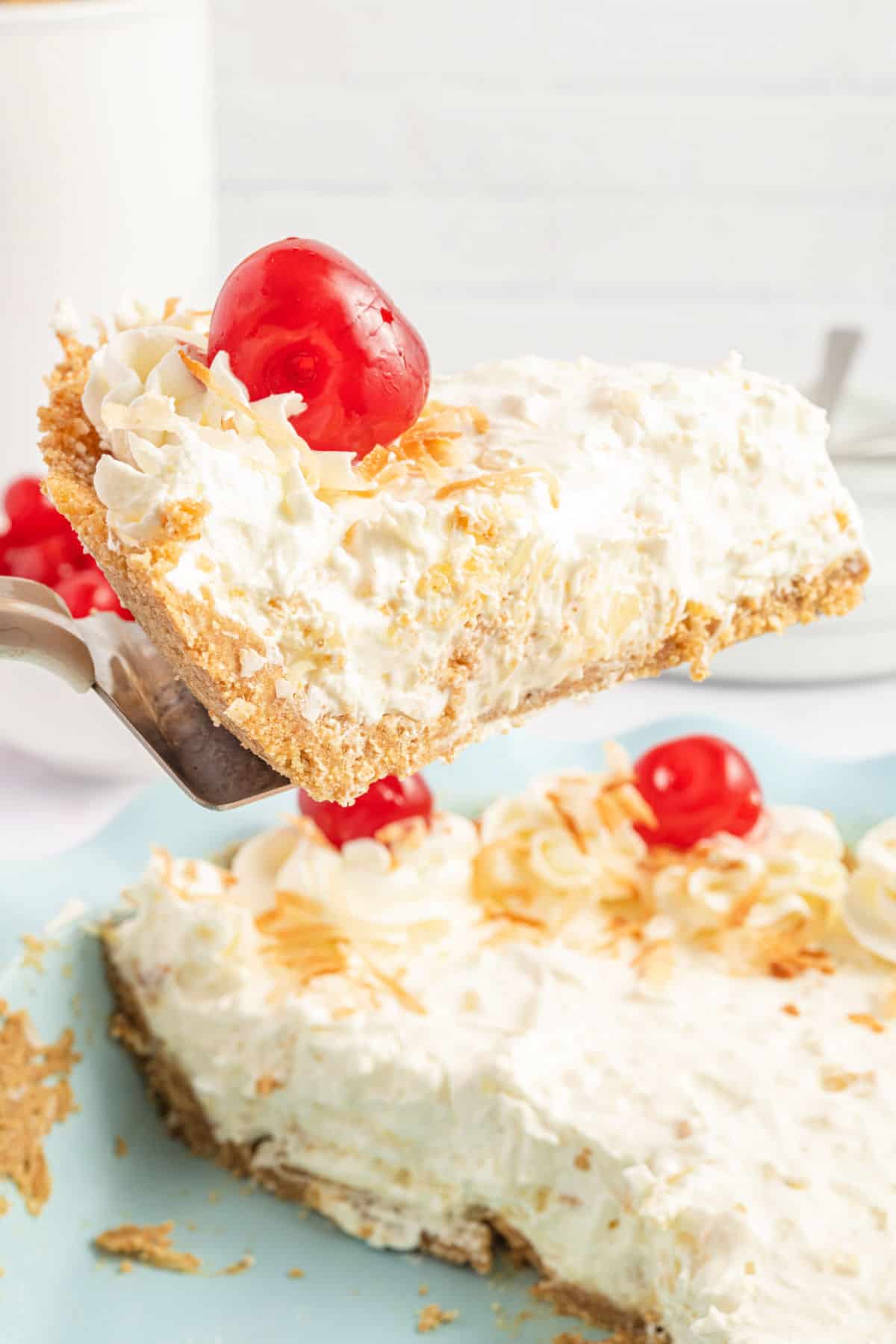 Tips and Tricks
When folding in the Cool Whip, do it gently. This helps maintain the fluffy, airy texture of the mixture. Overdoing it will knock some air out of the mix, meaning the pie will come out flatter than intended.
To avoid a mess, crush the graham crackers inside a Ziplock bag. Just ensure it's not fully zipped so that some air can escape. You can do this with your hands, but I like to use a rolling pin or heavy-bottomed pan. It speeds up the process and gives my hands a break.
Experiment with your crust. I love using graham crackers for this crust. The honey cinnamon flavor pairs nicely with the pineapple and cream, and the sweetness isn't overpowering. But you can substitute other crackers like Golden Oreos or Vanilla Wafers. This substitution can help you fine-tune the sweetness, crispiness, and crust flavor to match your palate.
Have fun with the toppings. This pie doesn't freeze well with toppings, so add them before serving. I love toasted coconut and maraschino cherries to achieve the classic flair of a piña colada. You could also try pineapple pieces, graham cracker crumbles, or whipped cream using the ingredients you already have. Or, if you're feeling artsy, add a few dots or a drizzle of rum glaze using a squeeze bottle.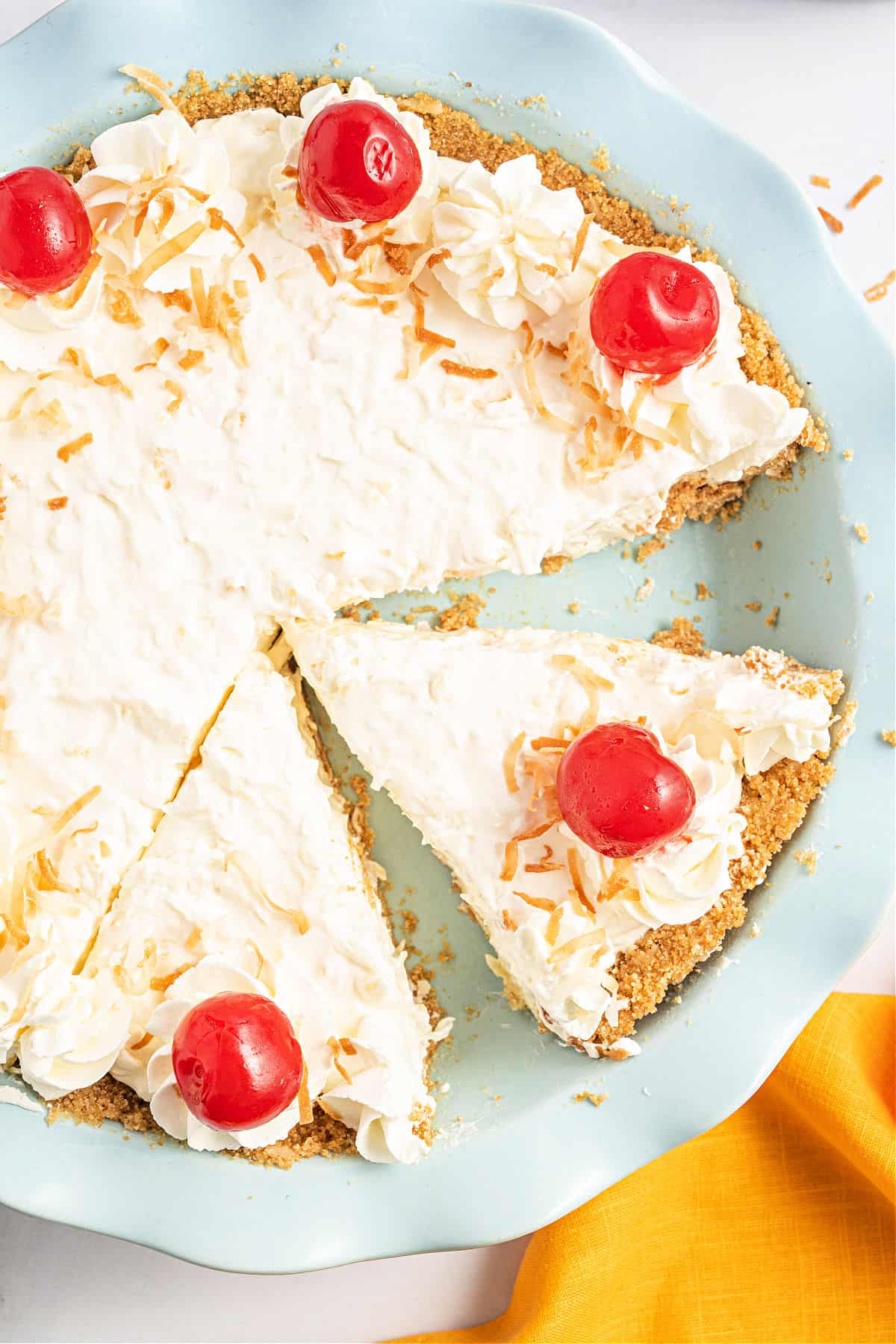 Recipe FAQs
What if I can't find rum Extract?
Rum extract is usually kept in your grocery or craft store's baking aisle. If you don't have any, you can substitute an equal amount of vanilla extract. Or, you can use 2 tablespoons of light rum, but expect the flavor to be much boozier.
What's the best way to store this pie or any leftovers?
Cover the pie with plastic wrap and store it in the refrigerator for up to 5 days.
Can I freeze this pie to eat at a later date?
If you plan to freeze the pie, hold off on adding any toppings until you're ready to serve. You can cover the pie with a few layers of plastic wrap and foil and store it in the freezer for up to 3 months. When ready to serve the pie, let it thaw in the refrigerator overnight.
More Pie Recipes
We've got over 40 pie recipes from fruit to chocolate. Be sure to check them out!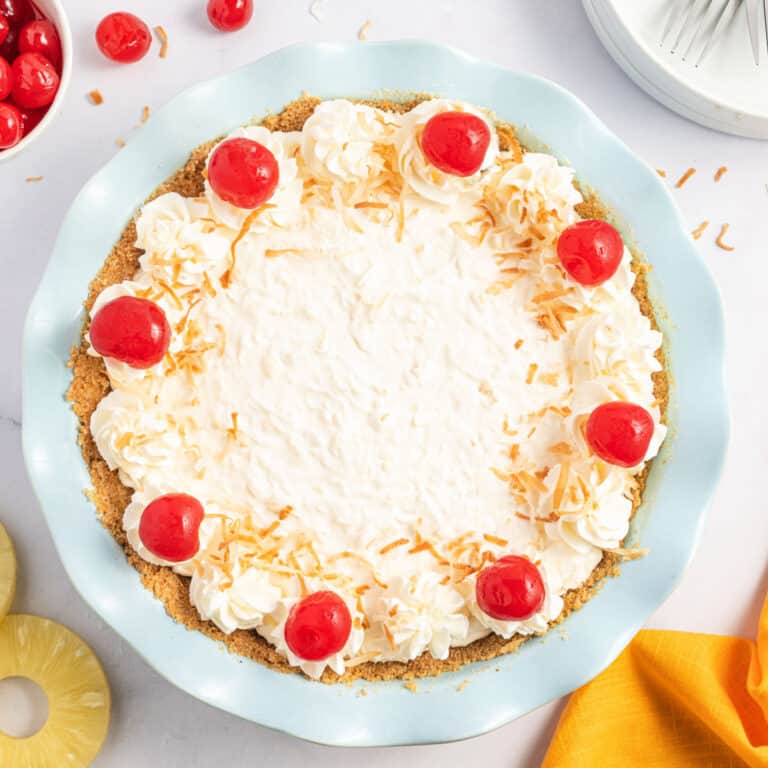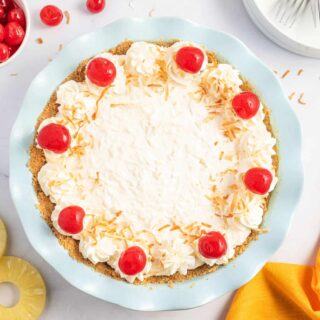 Pineapple Pie
Our Pineapple Pie recipe is loaded with tangy pineapple, creamy coconut, and delicious rum flavoring. This is a no-bake recipe with only 20 minutes of prep time!
Ingredients
For the Crust
3

cups

graham cracker crumbs

¼

cup

sweetened coconut flakes

½

cup

unsalted butter

melted
For the Pie Filling
1

package

cream cheese, softened

8 ounce

½

cup

granulated sugar

1

teaspoon

rum extract

1

cup

sweetened coconut flakes

1

cup

crushed pineapple

drained

1

container

Cool Whip, thawed

8 ounce
Optional Toppings
Whipped cream

Toasted coconut flakes

Maraschino cherries
Instructions
For the crust, in a small or medium bowl, combine the graham cracker crumbs, coconut flakes, and melted butter. Stir or mix with your hands until the butter is well mixed.]

Press the crumbs into the bottom and sides of a 9-inch pie plate, then freeze for 15 minutes, while you make the filling.

For the filling, beat the cream cheese, sugar, and rum extract in a large bowl with an electric hand mixer until smooth.

Fol in the thawed whipped topping until the Cool Whip is completely mixed into the cream cheese mixture.

Fold in the coconut flakes and crushed pineapple, then spread the filling into the pie crust and smooth out the top.

Cover the pie with plastic wrap and place in the refrigerator for at least 4 hours, but overnight is best.

Top with whipped cream, toasted coconut, or maraschino cherries, and serve chilled.
Notes
Not a fan of Cool Whip? Use our homemade stabilized whipped cream instead!
To give your pie a pina colada flair, top it with some toasted coconut and maraschino cherries when serving!
For a sweeter pie crust, use Golden Oreos or vanilla wafers instead.
Can't find rum extract? Use vanilla extract instead.
Storage: Cover with plastic wrap and store in the refrigerator for up to 5 days.
Freezer: Cover with plastic wrap and foil and store in the freezer for up to 3 months. Thaw in the refrigerator overnight before serving. It's best to freeze the pie before adding any of the optional toppings.
Nutrition
Serving:
1
slice
,
Calories:
431
kcal
,
Carbohydrates:
55
g
,
Protein:
4
g
,
Fat:
23
g
,
Saturated Fat:
15
g
,
Polyunsaturated Fat:
7
g
,
Cholesterol:
35
mg
,
Sodium:
238
mg
,
Fiber:
4
g
,
Sugar:
34
g