This delicious Strawberry Pie is packed with fresh picked strawberries and sweet flavor. A flaky pie crust, berries, gelatin, and whipped cream combine to create the ultimate summer dessert.
Love strawberries? Our strawberry pretzel salad has some of the same great flavor of today's pie, in a bar! Or give our moist and tender strawberry cake recipe a try next. Don't forget the strawberry buttercream frosting on top!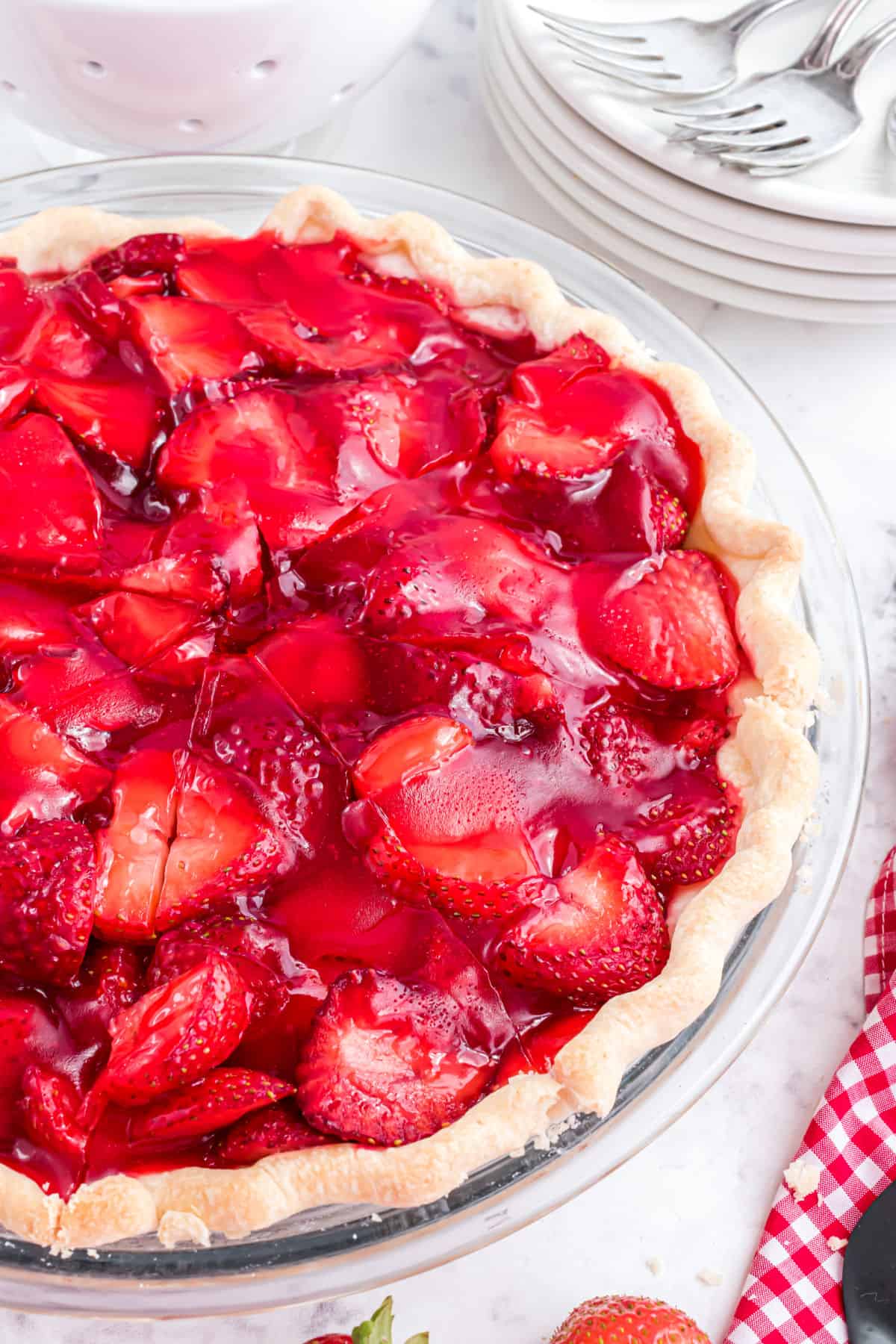 Why My Strawberry Pie Is The Best
This pie recipe is among my favorite ways to celebrate early summer without spending a lot of time and effort in the kitchen. Ripe, juicy strawberries simply know how to make a hot day feel fresh.
Here are a few other reasons you'll love this recipe,
It only has 6 ingredients, not counting whipped cream!
The pie crust is the only part that needs to be baked. Then you'll simply pour in the filling and chill until it's set.
You can use pre-made pie crust to save time.
Less time in the oven means a cooler kitchen on a hot day.
Tip: If you've ever had a berry pie that's runny and soggy, this recipe has a few tricks to help avoid that. Cornstarch and ruby-red strawberry gelatin come together to help the pie set up and slice cleanly!
Unlike our classic strawberry jello pie recipe, today's treat is loaded with fresh berries!
Ingredient Notes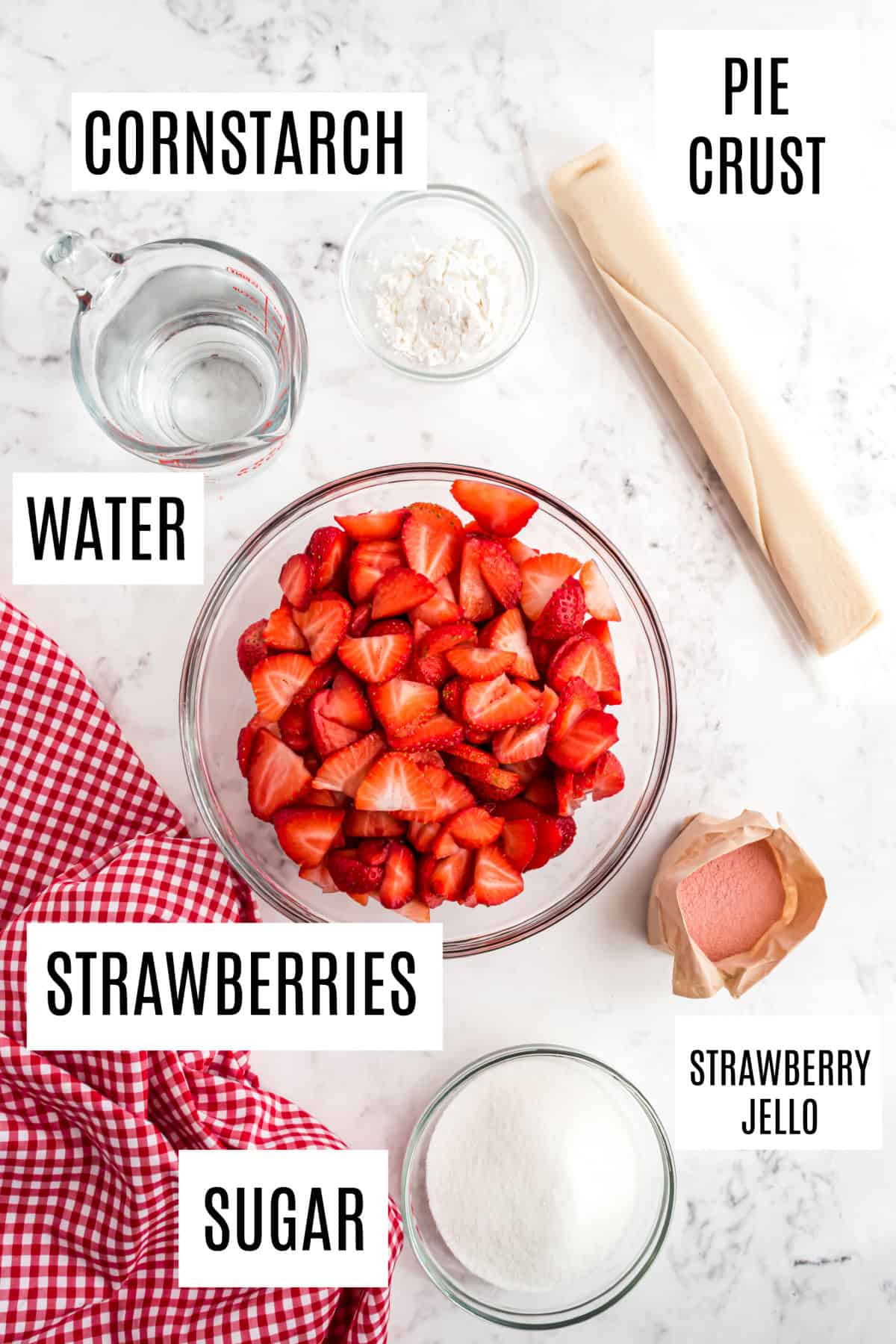 Pie Crust – For the fastest results, pick up a refrigerated 9" pie crust. Or whip up a homemade pie crust to take your dessert to the next level.
Granulated Sugar – Adding sugar helps to balance out any sourness in the berries.
Cornstarch – This is my secret to ensure the pie filling sets firmly, so it stays together when you slice it. 
Strawberry Gelatin – Gelatin helps fill in the space between the berries and sets the filling. It also adds color and shine to the pie.
Fresh Strawberries – The fresher, the better! Use strawberries of any size.
Pro Tip: Keep your strawberry slices should be on the thicker side – cutting a large berry into about 4 slices and a small one into 3 slices. Slicing the berries too thinly will result in the berries appearing shriveled after a day or two.
Easy Instructions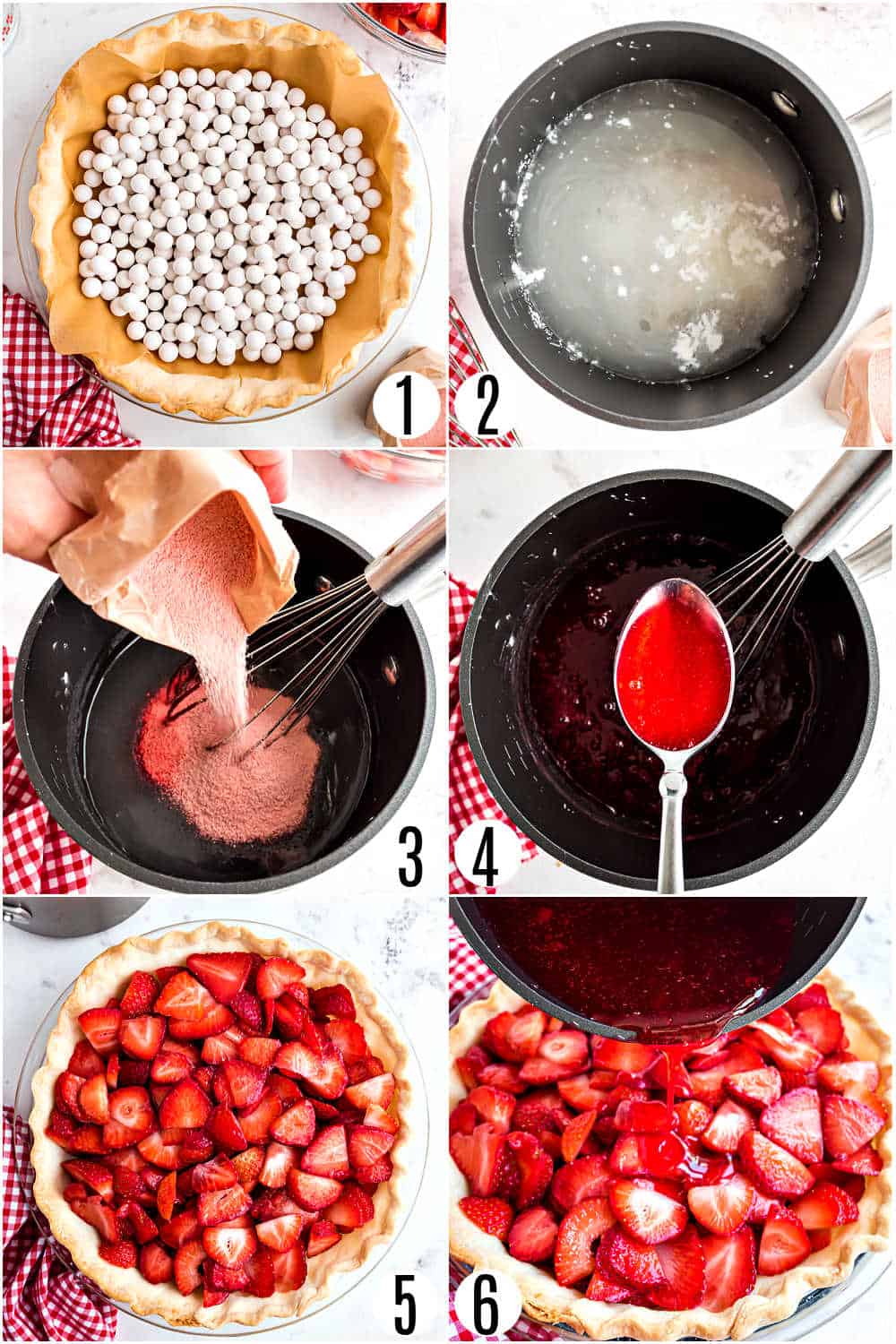 PRO TIP: Wash and prepare strawberries. Rinse and pat dry, remove the top stems, then slice.
Blind bake the pie crust: Once your pie crust is placed into the pie pan, cover it with a piece of parchment and place pie weights on top. Once it begins to brown, remove the crust it from the oven and set it aside to cool completely. The weights/beans can be removed with the parchment paper once the crust is baked.
Cook the glaze: Combine the sugar, cornstarch, and water in a saucepan and whisk constantly. Once it's boiling, cook for about 2 minutes, until the mixture has thickened and looks clearer.
Add the gelatin and chill: Whisk the strawberry gelatin powder into your finished glaze mixture. The powder should be totally dissolved. Then chill it in the fridge for 20 minutes.
Fill the pie crust: Once your crust is cool, fill it with the sliced berries. Pour the cooled gelatin mixture over the berries as evenly as possible.
Chill until set: Refrigerate for at least 5 hours, ideally overnight.
Slice and serve! (Ideally with whipped cream on top.)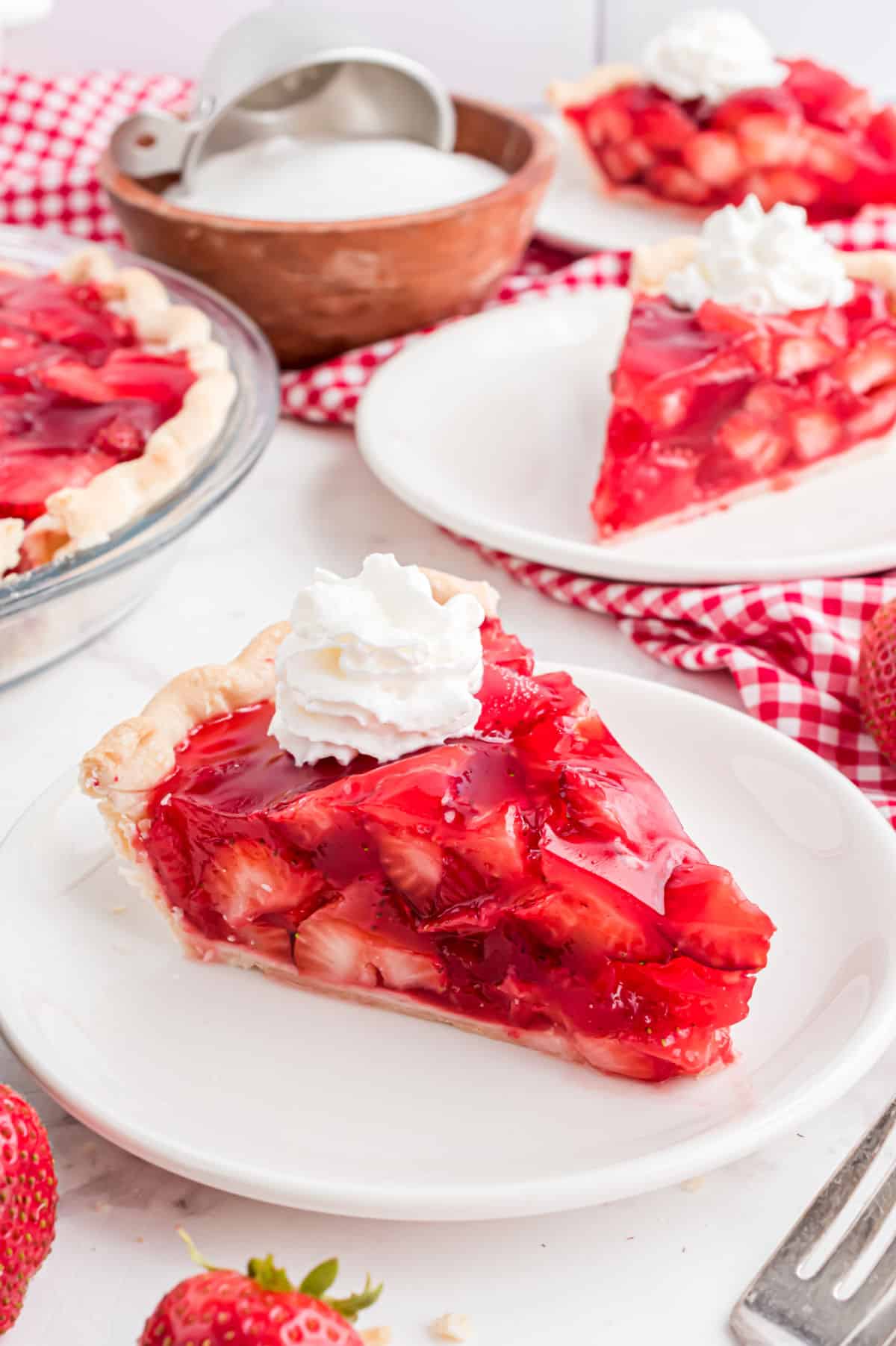 Tips & Tricks
PRO TIP: You can also use dry beans if you don't have pie weights. Be sure to put the parchment between layers. This keeps the crust from "puffing up" while baking.
While cooling the glaze, keep a close eye on it. At a certain point, it will "set," making it more difficult to spread and less effective at filling spaces between the fruit.
If the gelatin mixture is not transparent after cooling, don't use it! This can be another sign that the mixture wasn't boiled long enough and the cornstarch didn't get dissolved. This will lead to a runny pie filling and a soggy crust.
Graham cracker crust. While our graham cracker crust recipe is delicious, I wouldn't use one for this strawberry pie. In testing it, the mixture seeped into the pie crust before setting, causing the crust to be very soggy.
Plan ahead! We love making this pie in the evening and allowing it to set overnight in the refrigerator. Or make first thing in the morning to enjoy at dessert.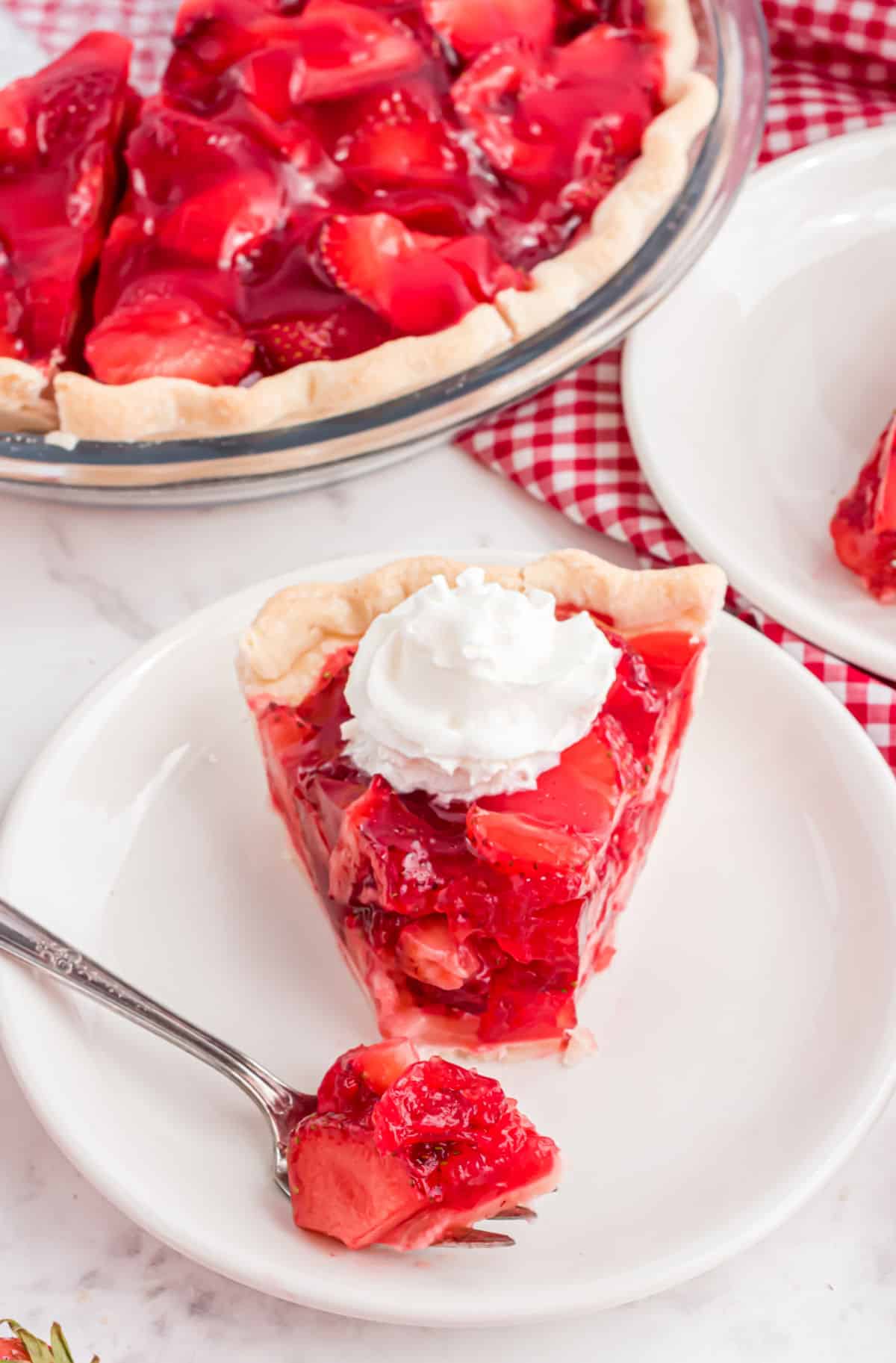 Serving Suggestions
Do you want to top or decorate this strawberry pie with fresh whipped cream?
This is a classic recipe for a soft Homemade Whipped Cream that you can use and eat right away. Or try my Stabilized Whipped Cream if you'd prefer a topping that holds its shape almost like icing.
On a hot summer day, a scoop of our vanilla ice cream would be the perfect pairing.
If you have berries left over, here are a few more strawberry recipes to dig into on hot days: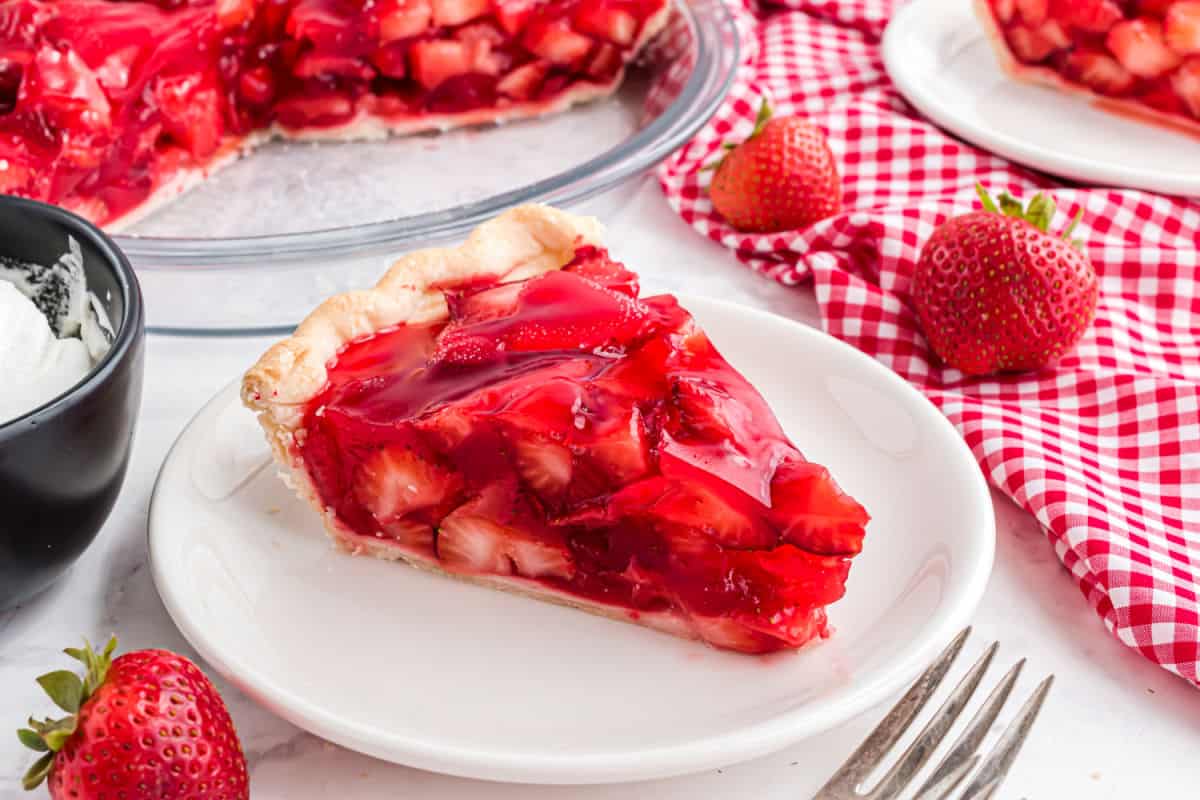 Recipe FAQs
How should I store strawberry pie, and how long will it keep?
A fresh strawberry pie will keep in the refrigerator, covered with plastic wrap or foil, for 3 days. After that, the filling starts to release juices and this can make the crust soggy.
Can I freeze strawberry pie?
After the pie has set in the refrigerator, wrap in plastic wrap then in an airtight container. It will store for up to 2 months. Thaw in refrigerator overnight. The crust may be slightly soft and less flaky after freezing.
When are strawberries in season?
Strawberry season begins in mid-June and usually lasts for 3-4 weeks.
Why is my strawberry pie runny? 
It's possible the sugar, water, and cornstarch mixture wasn't cooked for long enough, resulting in a strawberry pie that hasn't fully set. Make sure it comes to a boil, thickens, and looks significantly less cloudy before removing it from the heat. 
How soon can I eat the pie after refrigerating it?
Not letting the pie set up for long enough can also cause a watery filling. A bare minimum of 5 hours in the refrigerator is recommended for this pie.
More Easy Dessert Recipes