This Strawberry Eclair Cake is an easy no bake dessert with fresh berry flavor. A fluffy cream filling is layered with graham crackers and topped with chocolate frosting. If you love strawberries dipped in chocolate you'll love this eclair cake.
This treat reminds me of our favorite Chocolate Covered Strawberries! or give our homemade chocolate cupcakes with strawberry frosting a try next!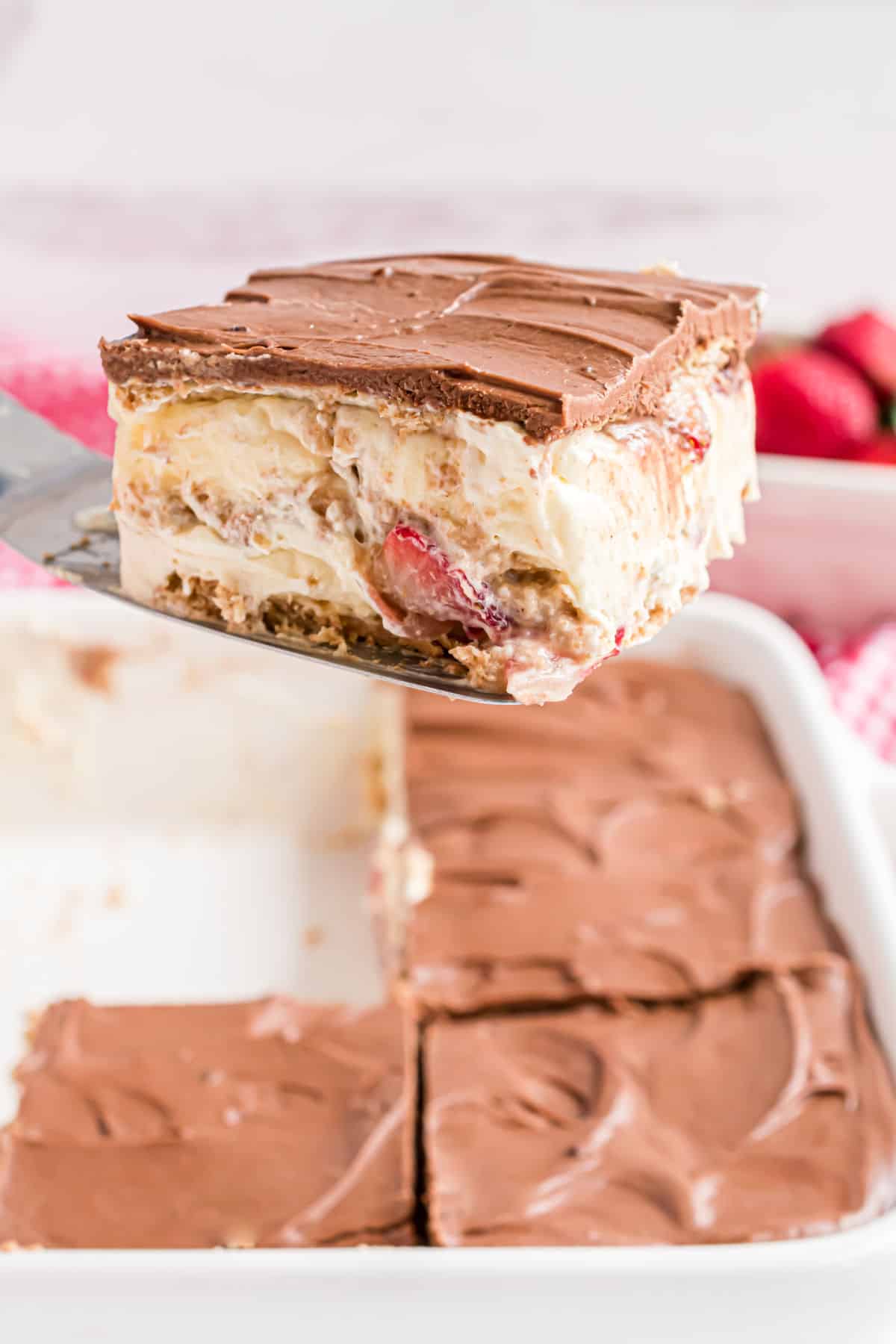 Why this Eclair Cake is Best
Chocolate Eclair Cake is one of my favorite desserts. It's so easy to make too, and it feeds a crowd!
If you've never made it before, it's just layers of graham crackers with a pudding filling and topped with chocolate frosting. Today's recipe is a variation on my original eclair cake, with the added bonus of strawberries!
Easy no bake recipe.
Made with fresh strawberry slices!
Delicious homemade chocolate frosting layer.
A light dessert with a decadent taste!
You'll love bringing this No Bake dessert to potlucks and parties! It makes a wonderful Valentine's Day dessert too.
This cake is sometimes referred to as an icebox cake. Because you assemble and store in your icebox (refrigerator).
Ingredient Notes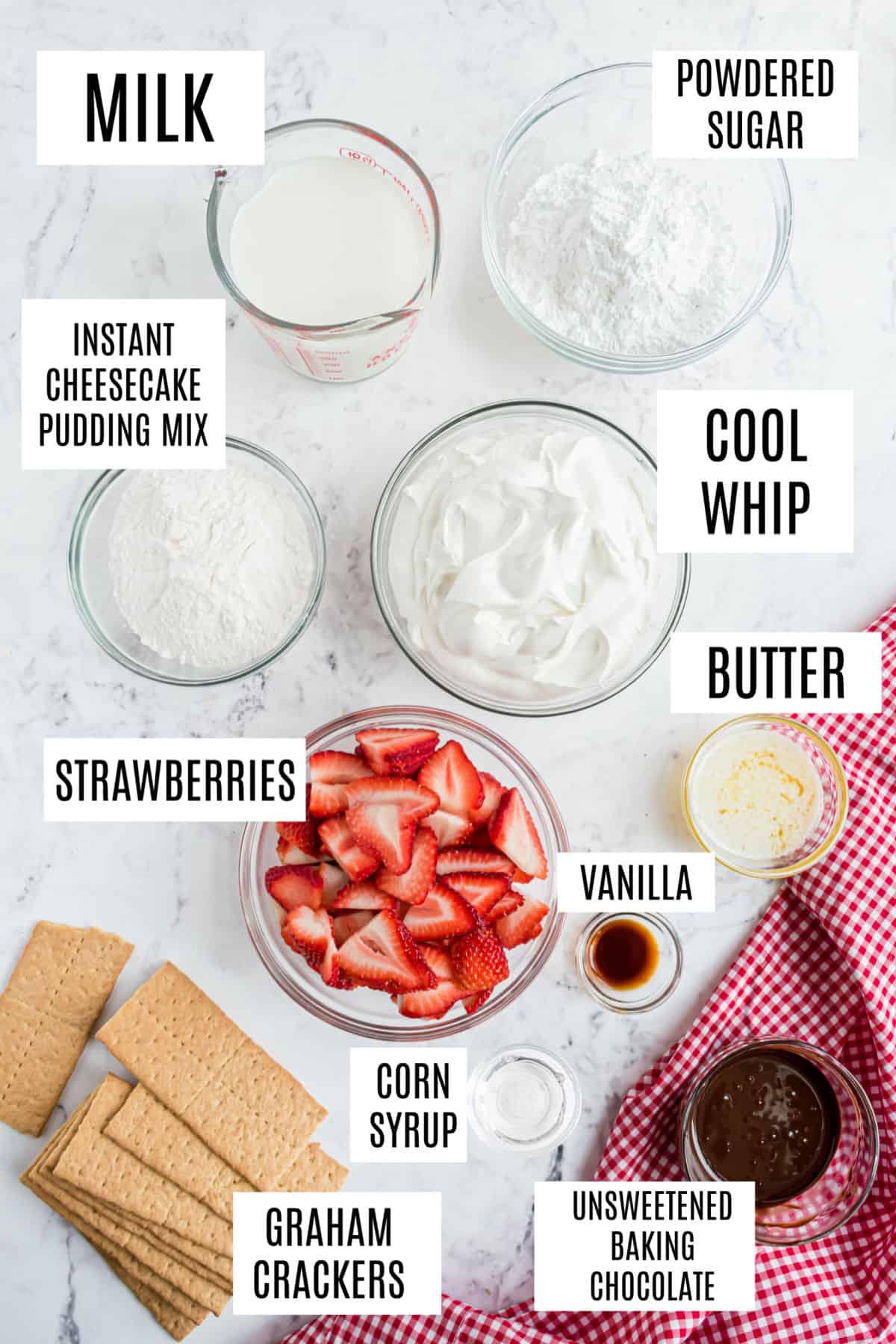 Our eclair cakes are so easy. Layers of graham crackers, pudding filling, berries, and frosting. We love making our own chocolate frosting, but you can also use store bought and melt in microwave and pour over dessert.
Instant Cheesecake Pudding Mix gives a tangy cream cheese flavor to the light pudding filling. If you can't find this flavor, use vanilla pudding instead.
Cool whip – Stabilized whipped topping is combined with the pudding mix to make the filling. While you CAN use real whipped cream, I like the taste and texture of the cool whip more for this recipe.
Chocolate frosting – This recipe includes directions for making a homemade chocolate frosting that sets up perfectly on top of the chilled eclair cake. If you're short on time (or energy!), you can use a store bought icing instead. Our chocolate sour cream frosting would also be delicious here.
How to Make Eclair Cake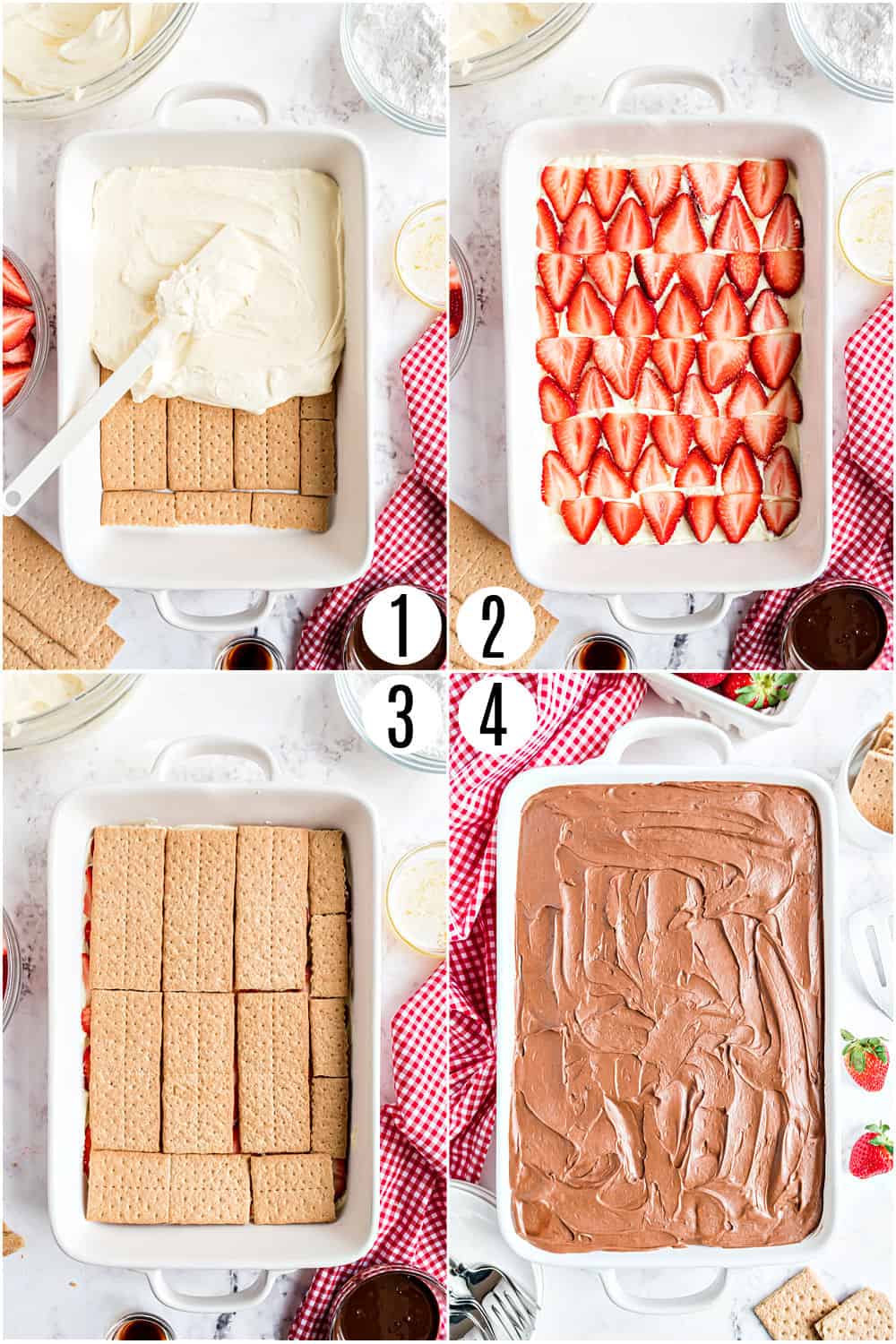 Make pudding filling. I start by combining the pudding with milk, then folding in the cool whip by hand.
Assemble. Line a sheet cake pan with graham crackers. Add half the pudding filling on top, then arrange half the strawberries on top of that. Repeat all layers again. Add one final layer of graham crackers to top it off.
Make chocolate frosting. Melt baking chocolate with corn syrup. Whisk in vanilla, powdered sugar, butter and milk until smooth. Spread the frosting on top of the cake.
Chill. Cover the Strawberry Eclair Cake and refrigerate for at least 4 hours. Slice and serve!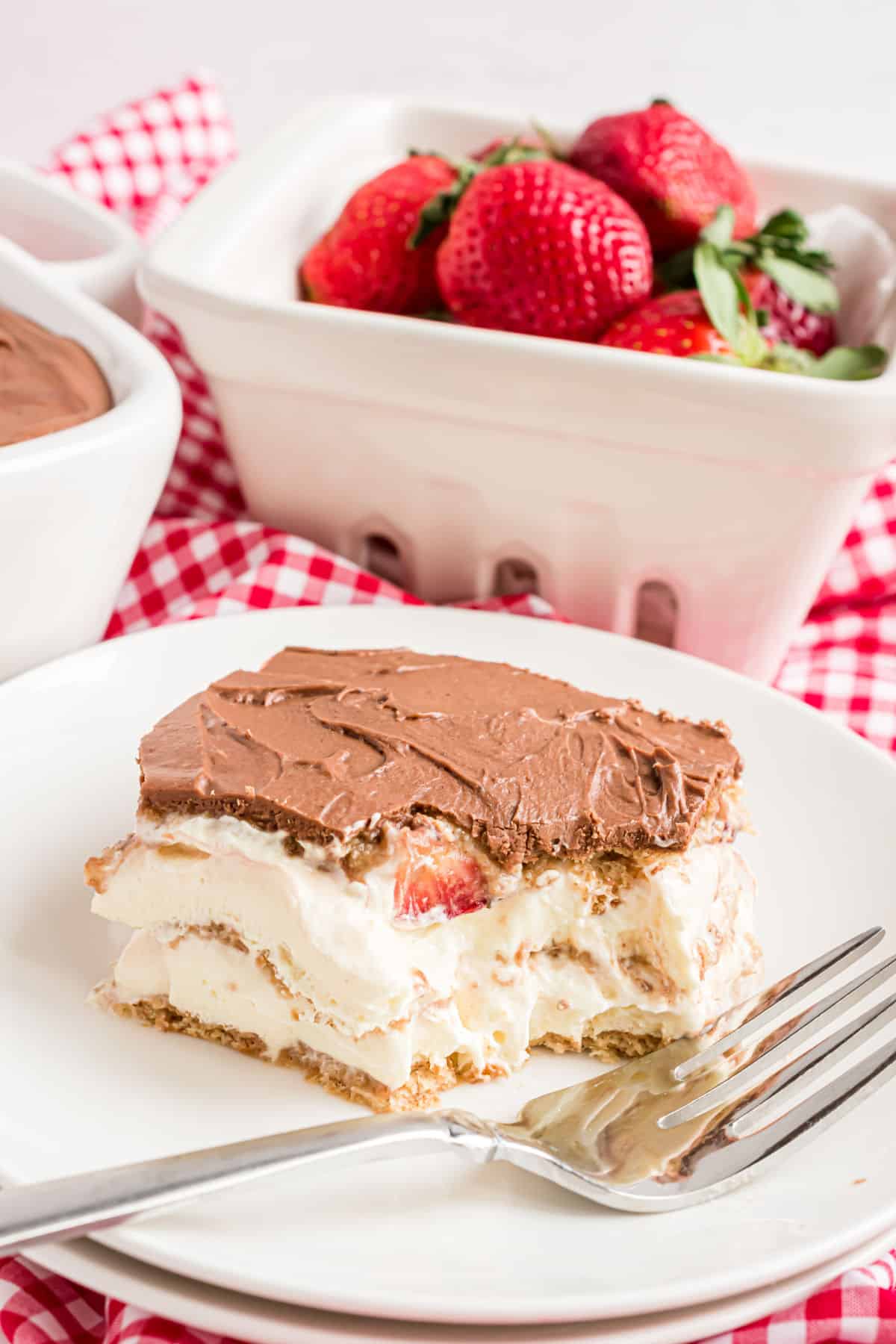 Recipe FAQs
Can I make eclair cake with other kinds of berries?
Yes, you can! Raspberries would be delicious in this chocolate eclair cake too.
How far in advance can I make eclair cake?
You can prepare this eclair cake up to several days in advance. It keeps well in the refrigerator for up to 5 days. The longer it sits though, the softer the graham crackers become.
Does it have to be instant pudding mix? Or can I use the cook and serve kind?
Instant pudding mix is key to making this an easy dessert.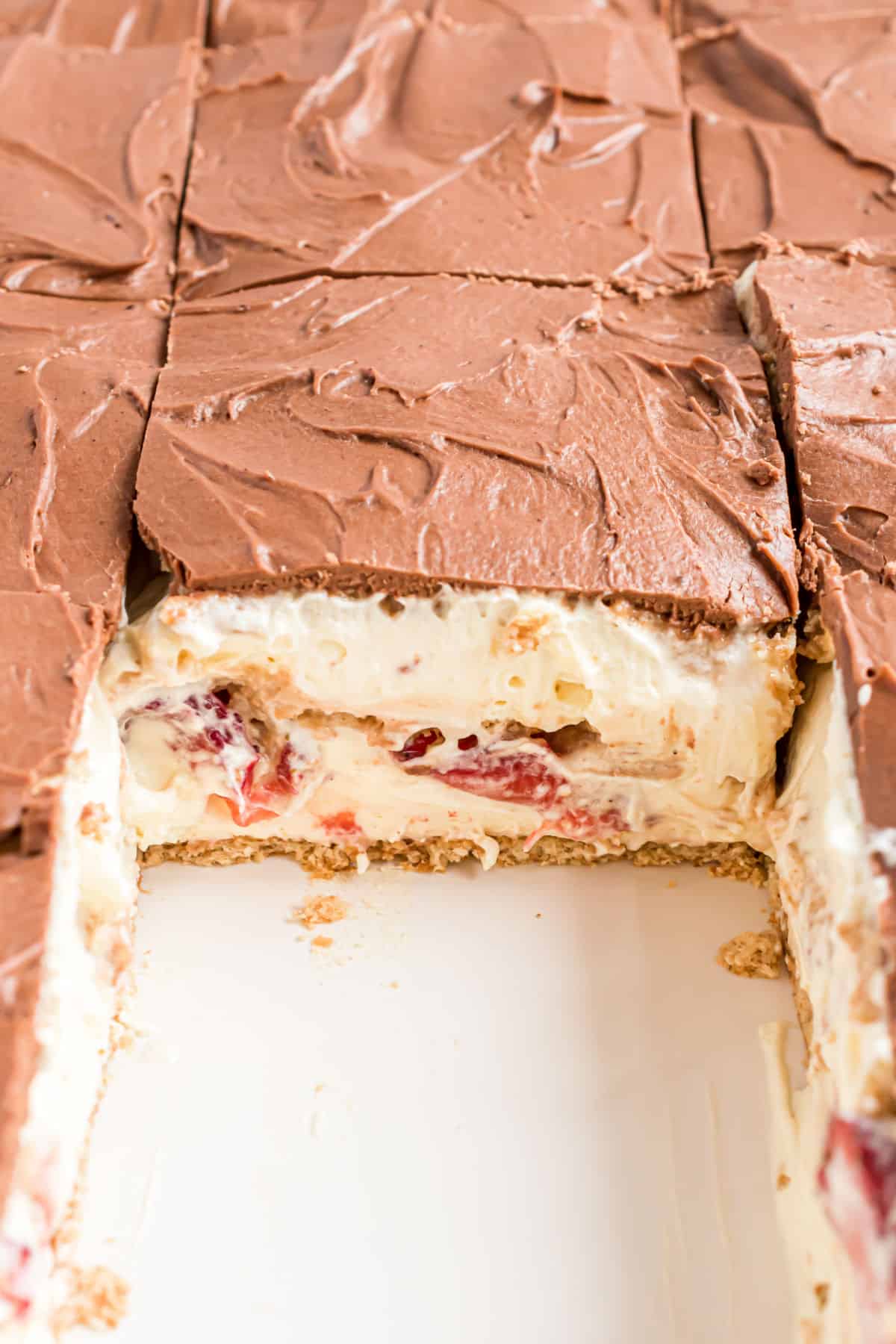 More No Bake Dessert Recipes