Layers of cinnamon graham crackers, vanilla pudding and fresh banana make this no bake Banana Eclair Cake a huge summer hit! To top it off, I literally topped it off a cinnamon glaze!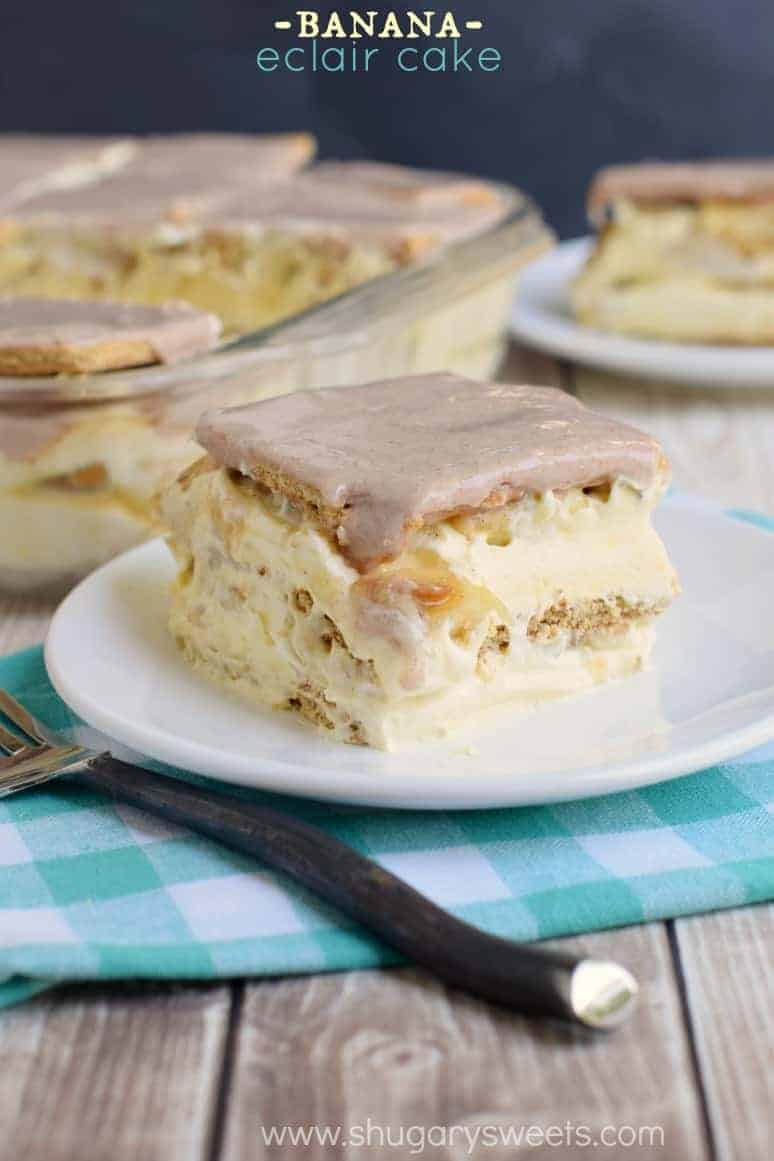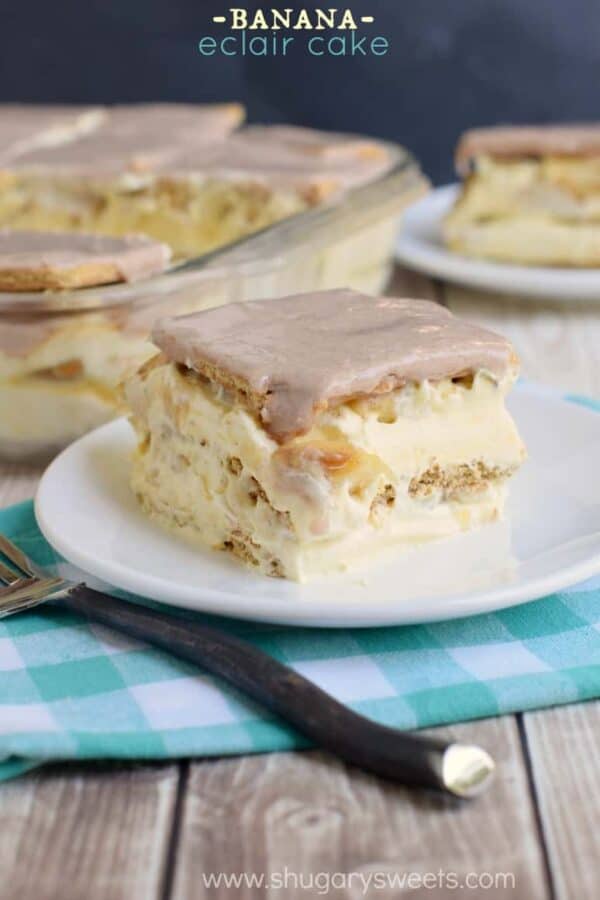 Click HERE to save recipe to Pinterest!
Sometimes my readers have some incredible recipe ideas. I love when you share those with me, whether it be via email, comments, or messages on social media.
It's no secret that I love Eclair Cakes. I've made traditional, pistachio, strawberry, and peanut butter. I had a reader inform me that she made my peanut butter eclair cake and added bananas. My mind went WHAT?!?! I love that idea.
And that's where today's version originally started out. But then I realized, we were out of peanut butter. And graham crackers. And I was craving something sweet.
My husband had picked up a box of cinnamon grahams on his last trip to the grocery store. He went on and on about how he loved these as a kid. So to save him from himself (and devouring the whole box), I decided to use them in my eclair recipe. (you're welcome Michael)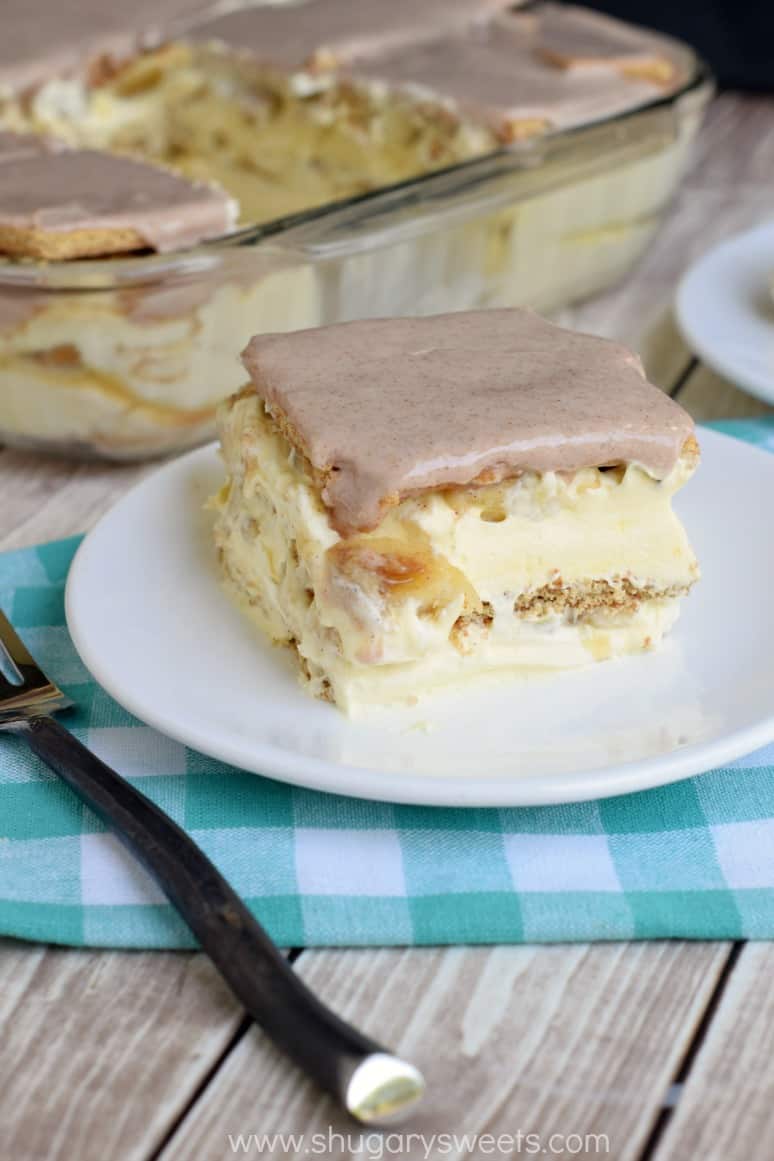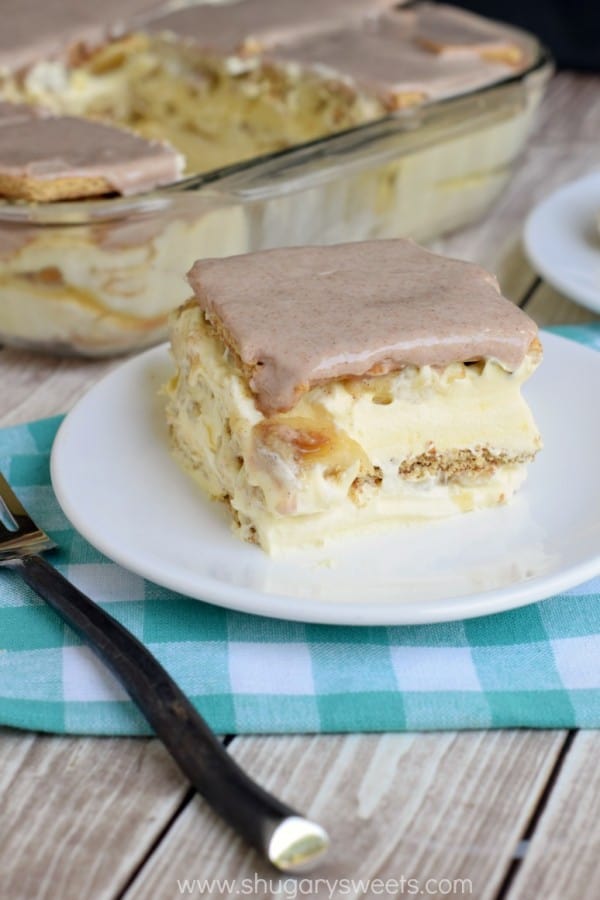 Only, in saving him, I ruined my chances of eating healthy for the day. One bite of this Banana Eclair Cake and I knew game over. I immediately texted my sister in law and offered to drop off dessert. I found this to be THAT good. The kind of dessert that I know I would take a fork to every time I opened the refrigerator (anyone else do this??).
How to make a No Bake Banana Eclair Cake:
When layering the graham cracker on top of the bananas, place them upside down so that the cinnamon sugar side of the cracker is touching the banana. As the cake chills out in the fridge, the cinnamon sugar caramelizes on the bananas. I found this out by accident. A very happy accident.
Give your cake plenty of time to chill. I suggest a minimum of 4 hours. The goal is to allow the grahams to soften. They taste better, and they CUT better once soft. You can even make this the night before!
When cutting, use a serrated knife. It helps cut through the grahams a little better. Don't expect each piece to be served in a beautiful presentation. They will slide, and fall, and it's OKAY.
So now that you have the perfect Father's Day dessert…or 4th of July potluck recipe…good luck not eating it all yourself!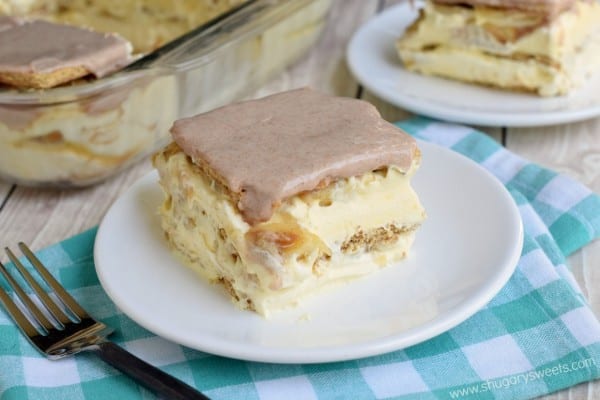 Here are a few of my favorite flavors of Eclair Cakes: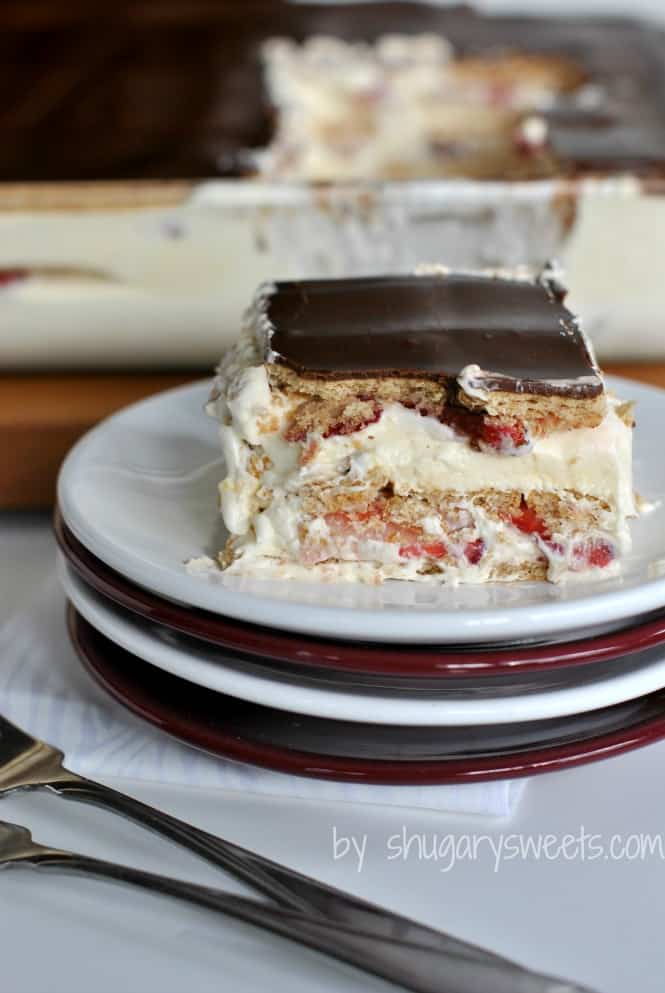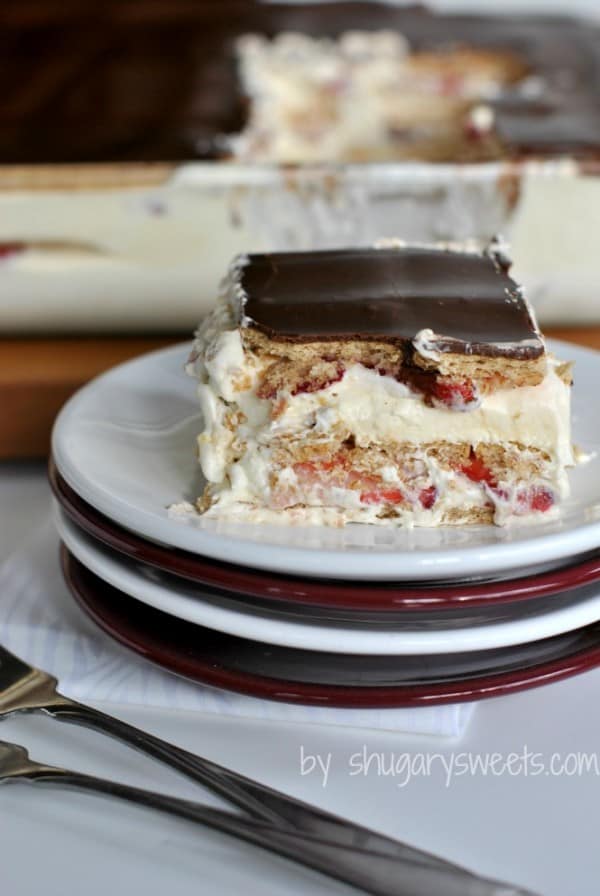 Strawberry Eclair Cake: use those fresh berries to make this seasonal dessert!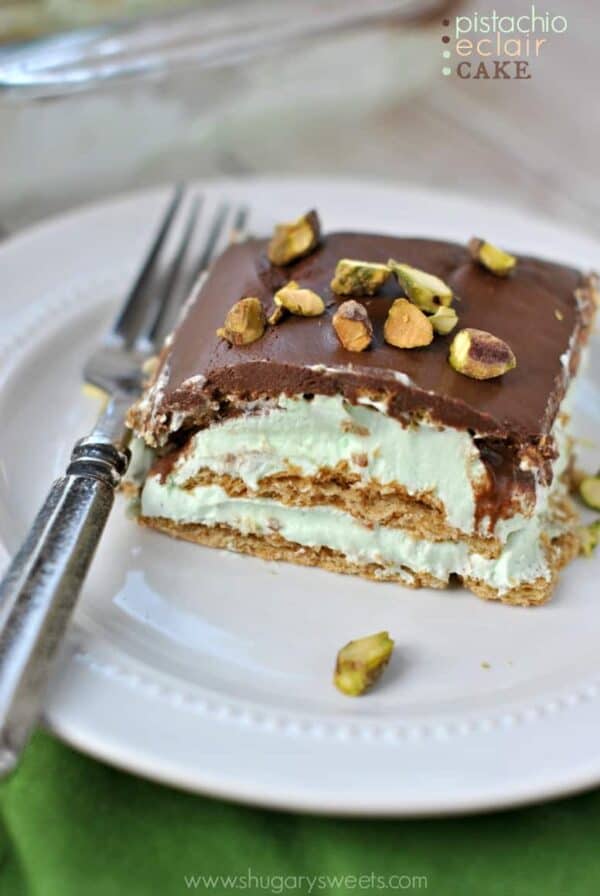 Pistachio Eclair Cake: Such a fun twist with pistachio pudding!!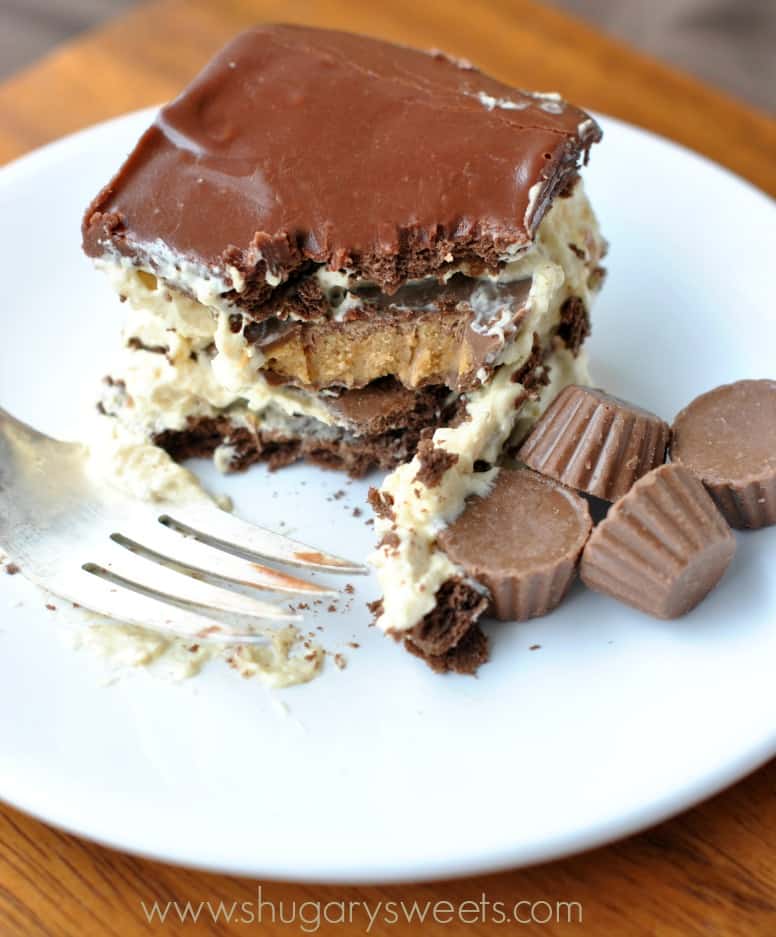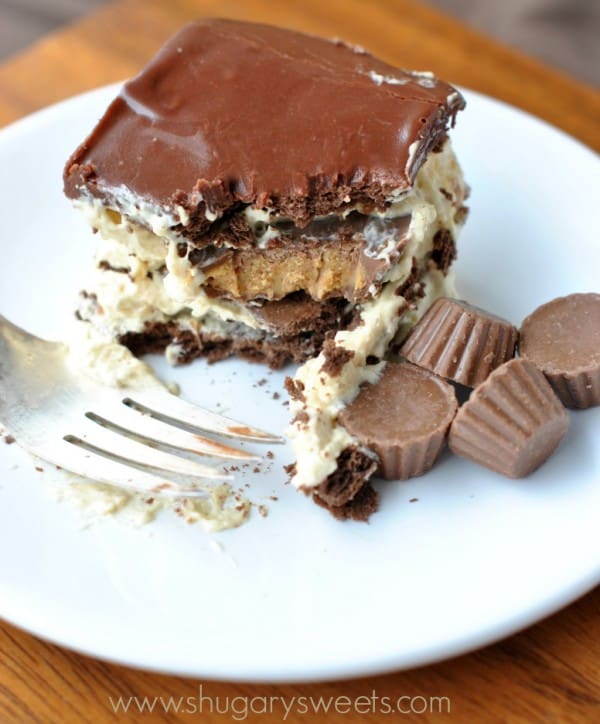 Peanut Butter Eclair Cake: made with chocolate grahams, peanut butter, and Reeses. This should solve all cravings!
Here are some more delicious Eclair Cakes from my friends:
I created a fun little group on facebook and I'd love for you to join in! It's a place where you can share YOUR favorite recipes, ask questions, and see what's new with Shugary Sweets (so that you never miss a new recipe)! If you'd like to check it out, you can request to join HERE.
Connect with Shugary Sweets!
Be sure to follow me on my social media, so you never miss a post!
Facebook | Twitter | Pinterest | instagram
No Bake Banana Eclair Cake recipe:

*Today's Banana Eclair Cake recipe was originally published on Shugary Sweets on June 17, 2015 and has been republished in June 2018.