This easy Banana Pudding Poke Cake has just a handful of ingredients! Fluffy yellow cake is bursting with a creamy banana pudding. Served chilled with a cool whip topping, it's a perfect summertime dessert!
Remember how delicious this Lemon Pudding Cake turned out? Today's recipe is just as irresistible. It's like taking our favorite banana pudding recipe and making it into a moist cake!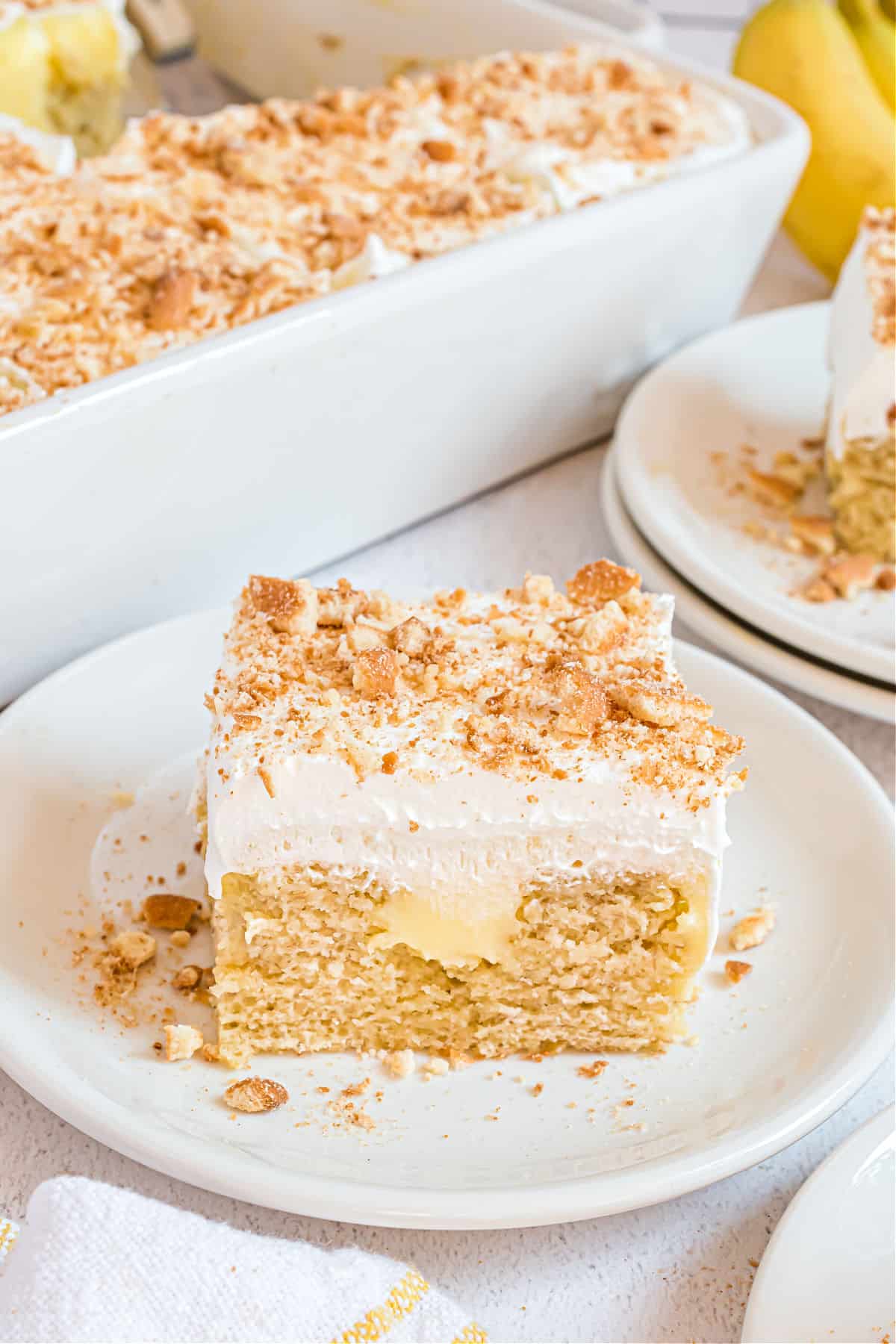 Why this Recipe is Best
Instant pudding mix is the easiest way to change up flavors everything from cupcakes to Rice Krispie Treats.
This Pudding Cake recipe starts a simple cake made from yellow cake mix and mashed bananas.
After baking the sheet cake, you poke it with holes and top it with banana pudding.
The pudding seeps into every crevice of the cake making it moist, sweet and packed with banana flavor.
After chilling for hours, the cake achieves the perfect soft texture. The cool whip topping makes it that much better!
Ingredient Notes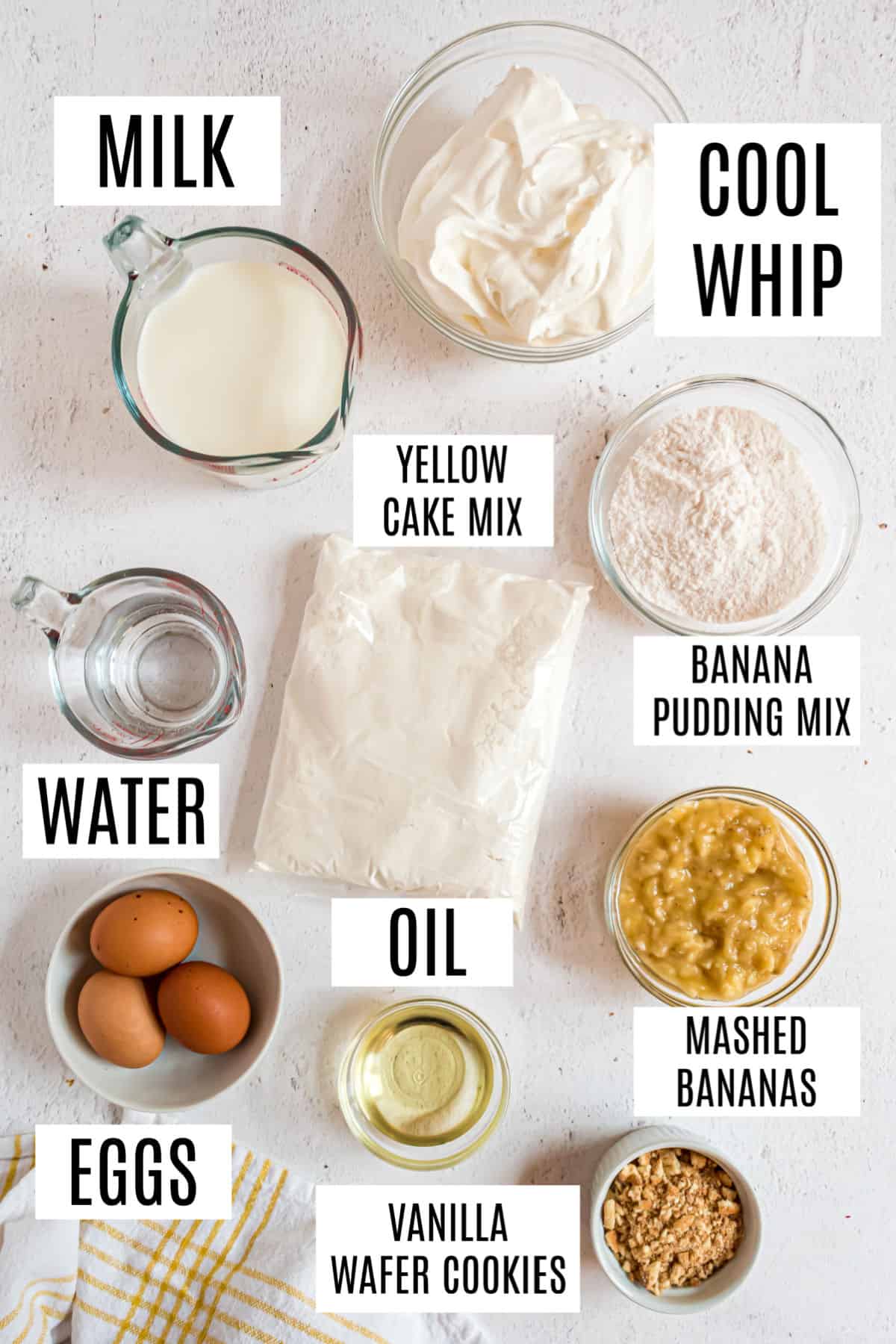 Yellow Cake Mix. Just the dry ingredients with this recipe. I haven't yet tried using my yellow cake recipe, but if you do let me know!
Bananas. Ripe to overripe bananas are best. Mash them in a separate bowl before adding them to the cake.
Banana Pudding Mix. Make sure to use the Instant powdered mix, not cook and serve pudding.
Cool Whip. Thaw the cool whip while the cake chills. Or swap it for Homemade Whipped Cream instead!
Easy Instructions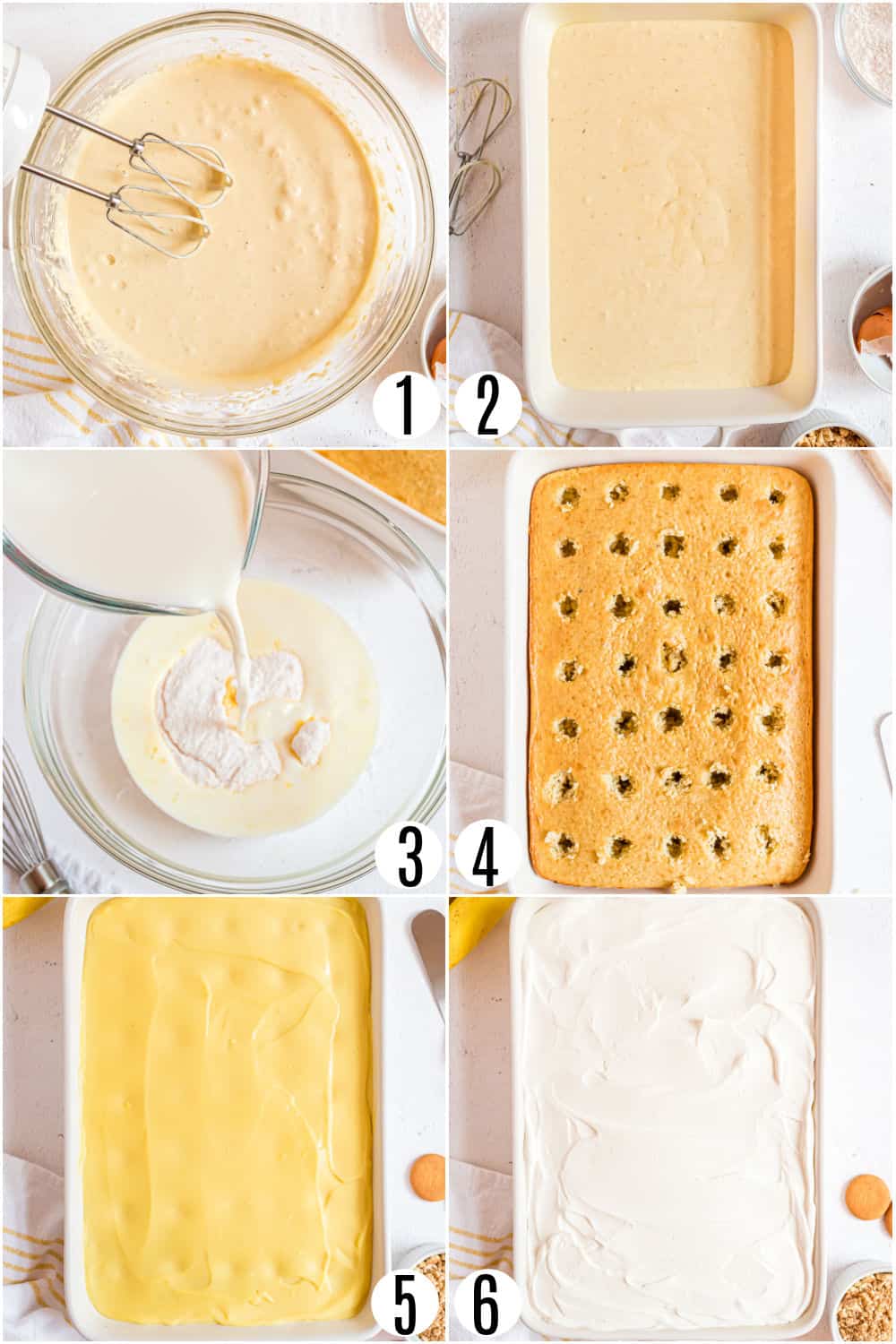 First, make the banana cake.
Combine the cake mix with bananas, water and oil. Beat in eggs.
Bake in a 13 x 9 baking dish for 30 – 35 minutes. Let cool for 15 minutes.
Poke holes in the cake.
Use the handle of a wooden spoon to poke holes all over the top of the cake.
Make the banana pudding.
Whisk pudding mix with milk. Once it's thickened slightly, pour the pudding over the top of the cake.
Chill and serve.
Cover the cake tightly with plastic wrap and chill in the fridge for at least 4 hours. Spread thawed cool whip on top when ready to serve.
Tips and Tricks
Garnish the top of the cake with crushed Nilla wafer cookies right before serving for a crunchy topping!
Make sure to use a 13 x 9 baking dish. A lasagna pan works for this cake too.
Add the pudding in two batches for best results. Let the first half of the pudding sink into the holes before slowly adding.
Be careful not to let the pudding drip off the sides of the cake. Pouring slowly helps prevent this, as the cake absorbs the pudding and softens down.
Banana Pudding Cupcakes are a fun and easy twist to this recipe!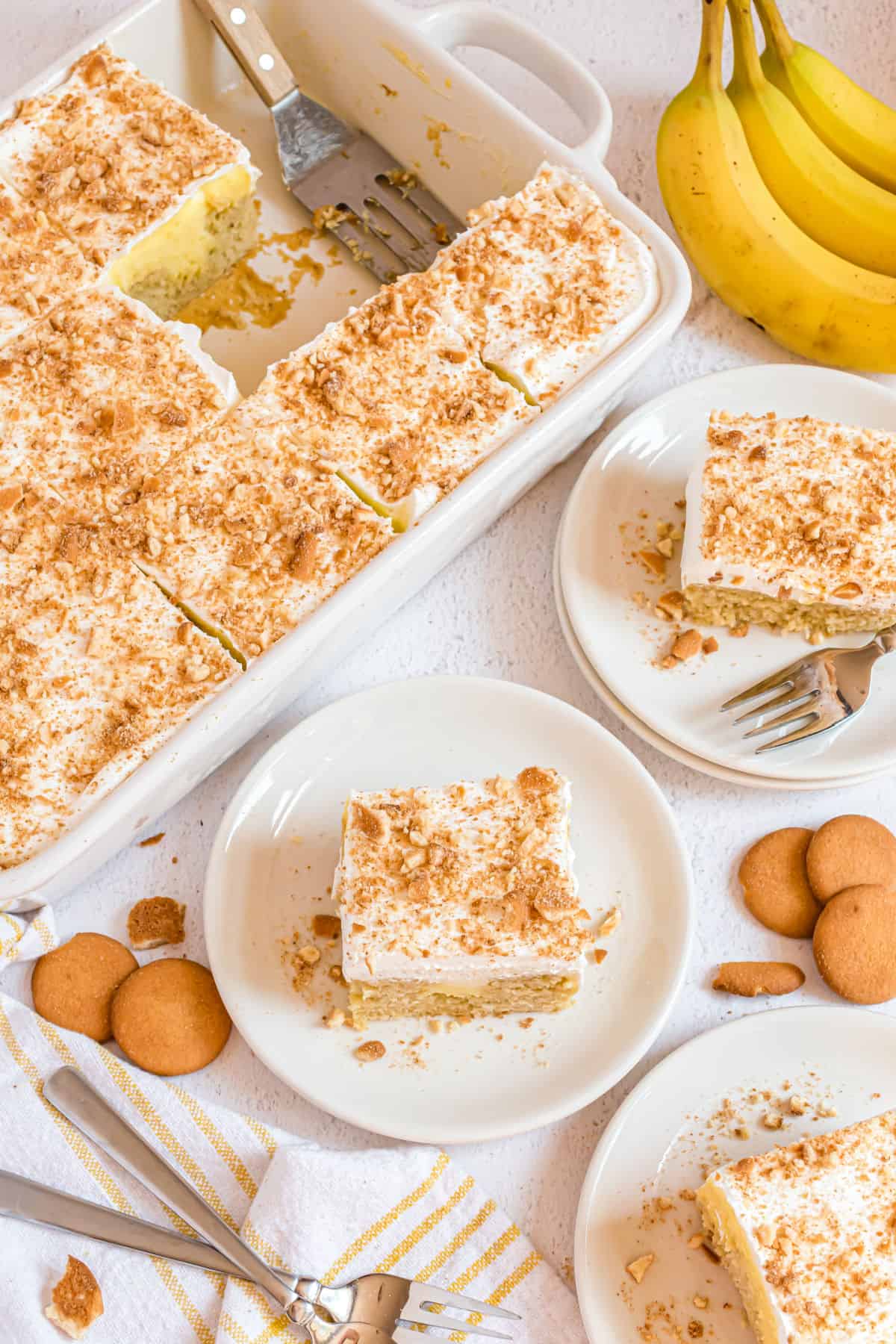 Recipe FAQs
Does banana pudding cake need to be kept in the refrigerator?
Yes, keeping the cake chilled helps it stay fresh and maintain the best consistency.
I can't find banana pudding mix. What can I use instead?
If you can't get banana flavored pudding, use vanilla instead.
Then add sliced bananas to the top of the cake before spreading on the cool whip.
How far in advance can I bake pudding cake?
I have made this cake as much as one day ahead of time. Keep it cold in the fridge and wait to add the whipped topping until just before serving.
Can I use real whipped cream instead of cool whip?
Yes, you can. My Homemade Whipped Cream would taste delicious spread over banana pudding cake.
You won't be able to get enough of this amazing Banana Pudding Cake! With simple ingredients, it's a temptingly delicious dessert that's easy to make.