Delicious no bake Pistachio Eclair Cake is the perfect dessert at the end of the day! With layers of graham cracker, pistachio pudding, and fudgy chocolate, it's an easy no bake treat!
Love no bake cakes? Our no bake cheesecake recipe is always a hit. Or give our ice cream cake recipe a try next!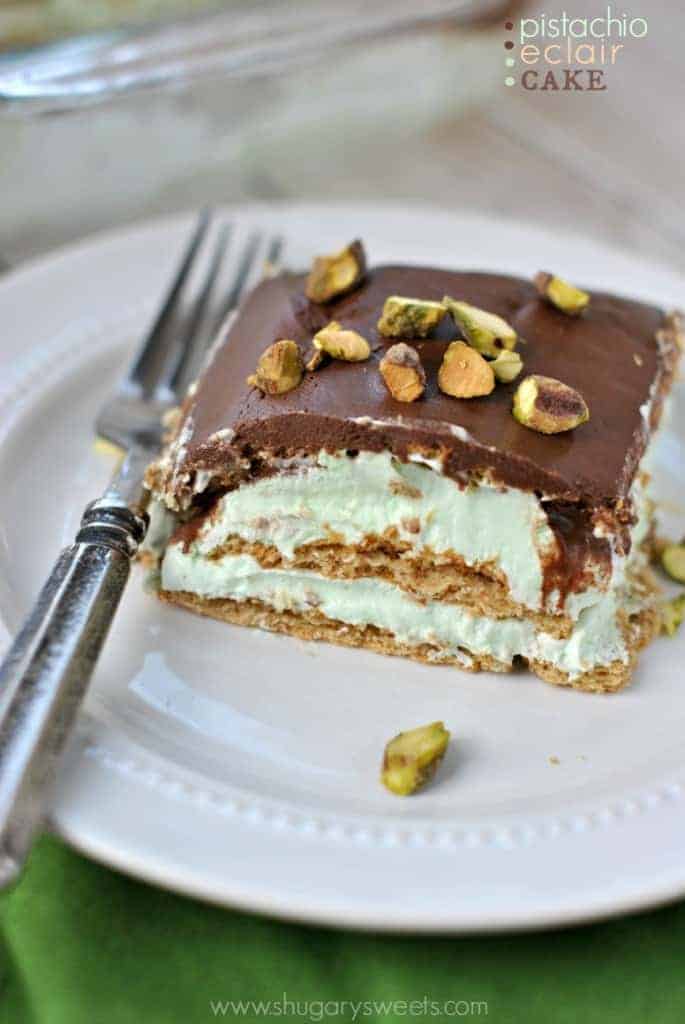 Why this Cake is Best
Today's eclair cake recipe uses pistachio pudding as the main flavor. I love to make it before going to bed then chill it overnight and enjoy it for dessert the next day!
Pistachio pudding gives classic eclair cake a flavorful twist!
It's easy to make with simple ingredients.
No baking necessary.
Covered with decadent milk chocolate frosting.
You can make the cake up to 2 days ahead of time!
However, I have totally eaten it immediately after making it too. The crunch grahams give it a completely different texture! Either way, it's delicious.
Try our strawberry eclair cake next. You'll love the flavor and texture!
Ingredient Notes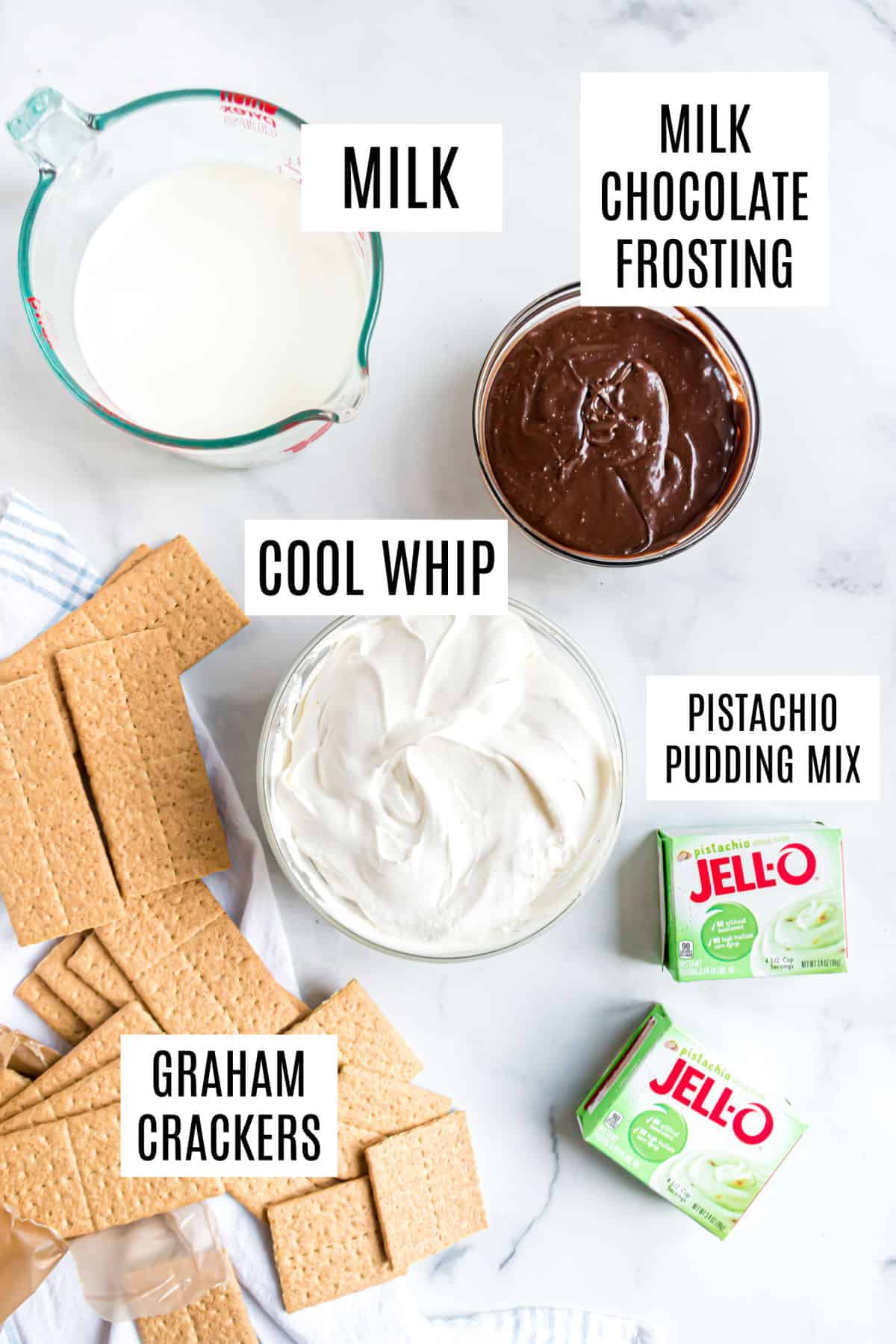 Cool Whip – Provides the base for the eclair cream filling. If you prefer not to use store bought, use this homemade stabilized whipped cream recipe instead.
Graham crackers – This recipe uses a whole box, so stock up!
Pistachio pudding mix – Make sure to use INSTANT pudding mix.
Milk – Any kind will do.
Milk Chocolate Frosting – You can use store bought or homemade chocolate frosting. Check out my tips below!
Frosting Tips
For the frosting you have a few options.
Make your own milk chocolate frosting (like I did in my original eclair cake recipe).
Spread on a can of milk chocolate frosting.
Spread on a can of MELTED milk chocolate frosting
I did option 3 for today's recipe. Normally I would make my own because homemade frosting is my favorite by far, but sometimes you don't have time or ingredients.
Spreading on a can of frosting works just fine in a pinch.
HOWEVER, taking that can of frosting and melting it in the microwave for one minutes results in a whole different texture. You get a fudgy, creamy frosting that once refrigerated takes on a rich chocolate flavor!
The catch with melted frosting is that it takes longer to set. Only use that option if you have time to chill the cake for at least three hours before eating it.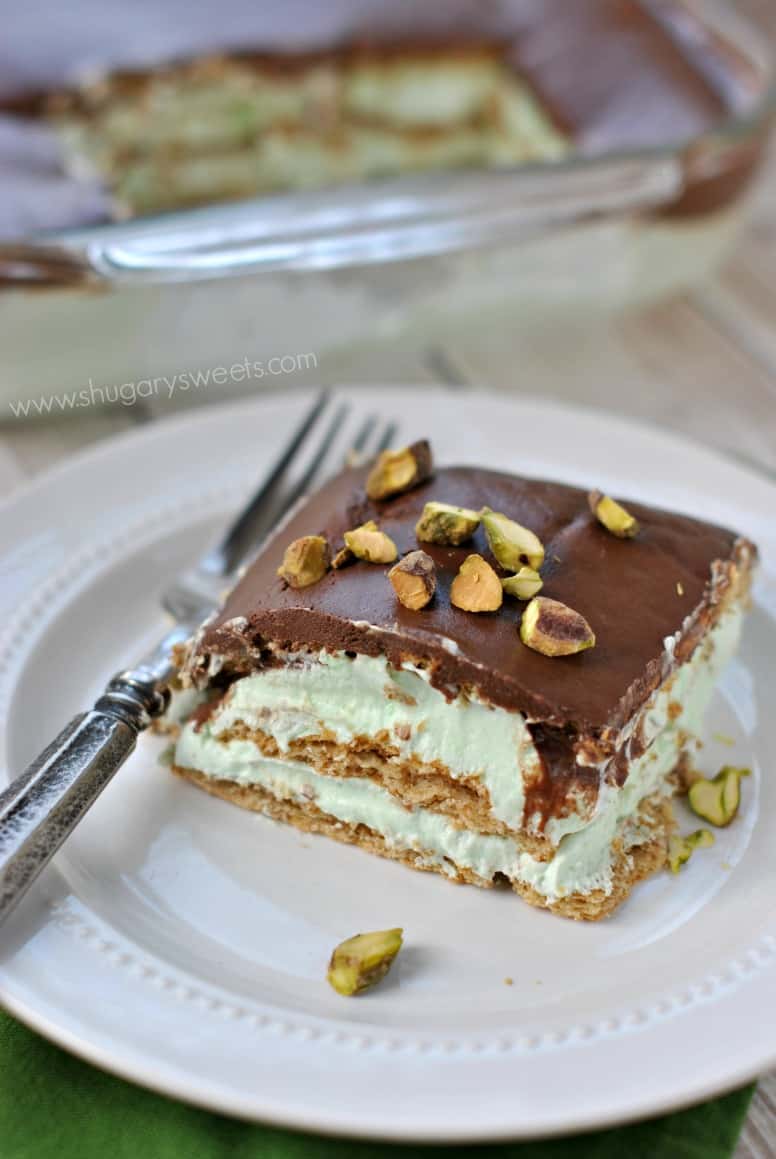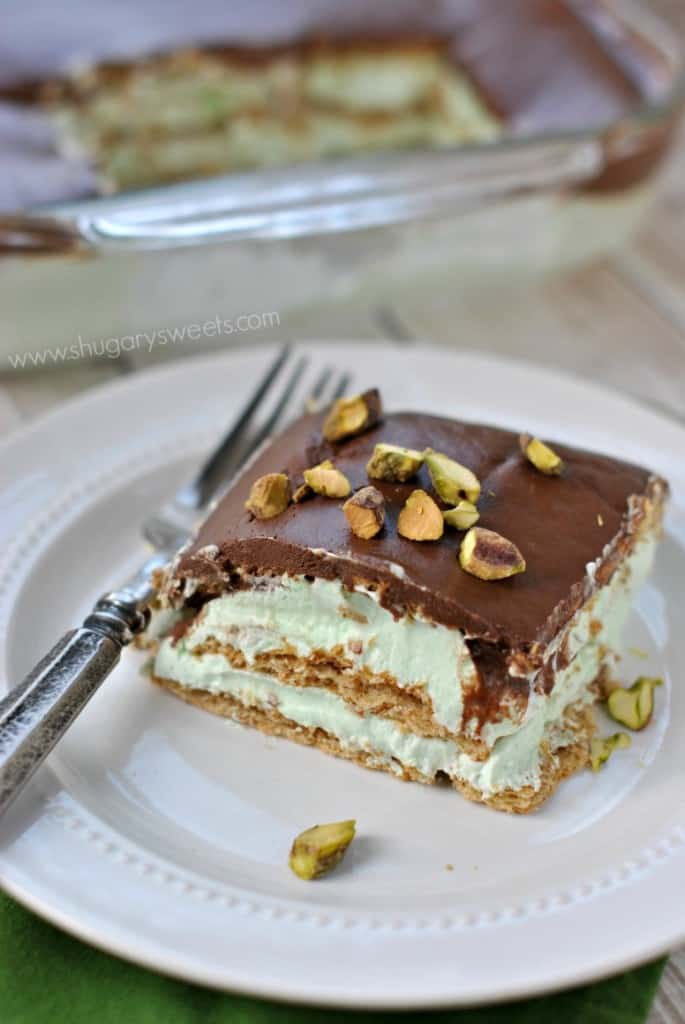 Tips and Tricks
The longer your cake sets, the softer the graham crackers will become. For crunchy graham crackers, enjoy the cake within a few hours of assembly.
For more nutty crunchy, sprinkle chopped pistachios on top of the eclair cake before serving.
Store the cake tightly covered in the refrigerator. It's best enjoyed cold straight from the fridge.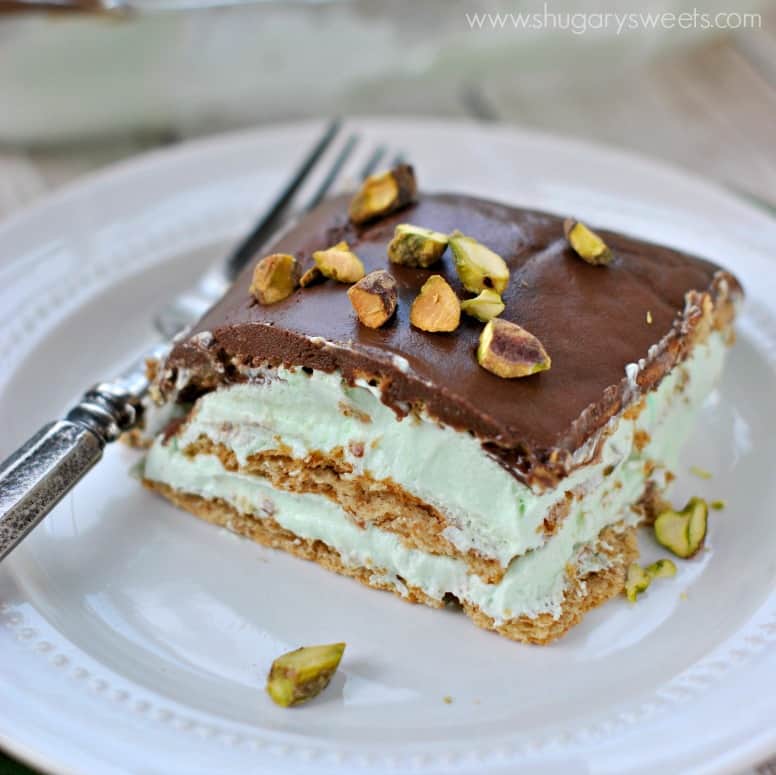 Recipe FAQs
How much frosting do I need for eclair cake?
You will need about16 ounces of frosting. That the equivalent of one can of Pillsbury's frosting.
How long does eclair cake stay good?
This eclair cake keeps well for about 5 days in the refrigerator.
Can I eat it right away without chilling?
Yes, you can! If you add canned frosting that's NOT melted, the cake can be sliced and eaten right after assembly. The graham crackers will be crunchy, not soft, for a different (but still tasty) texture!
More Cake Recipes