It's Cherry Cobbler made in the Instant Pot! Transform a can of cherry pie filling into an impressive dessert with this easy recipe. Don't forget a scoop of vanilla ice cream on top!
For a change of pace, don't forget to try my Cherry Pie recipe too! Or change up the cobbler flavor and make a quick Instant Pot Apple Cobbler instead!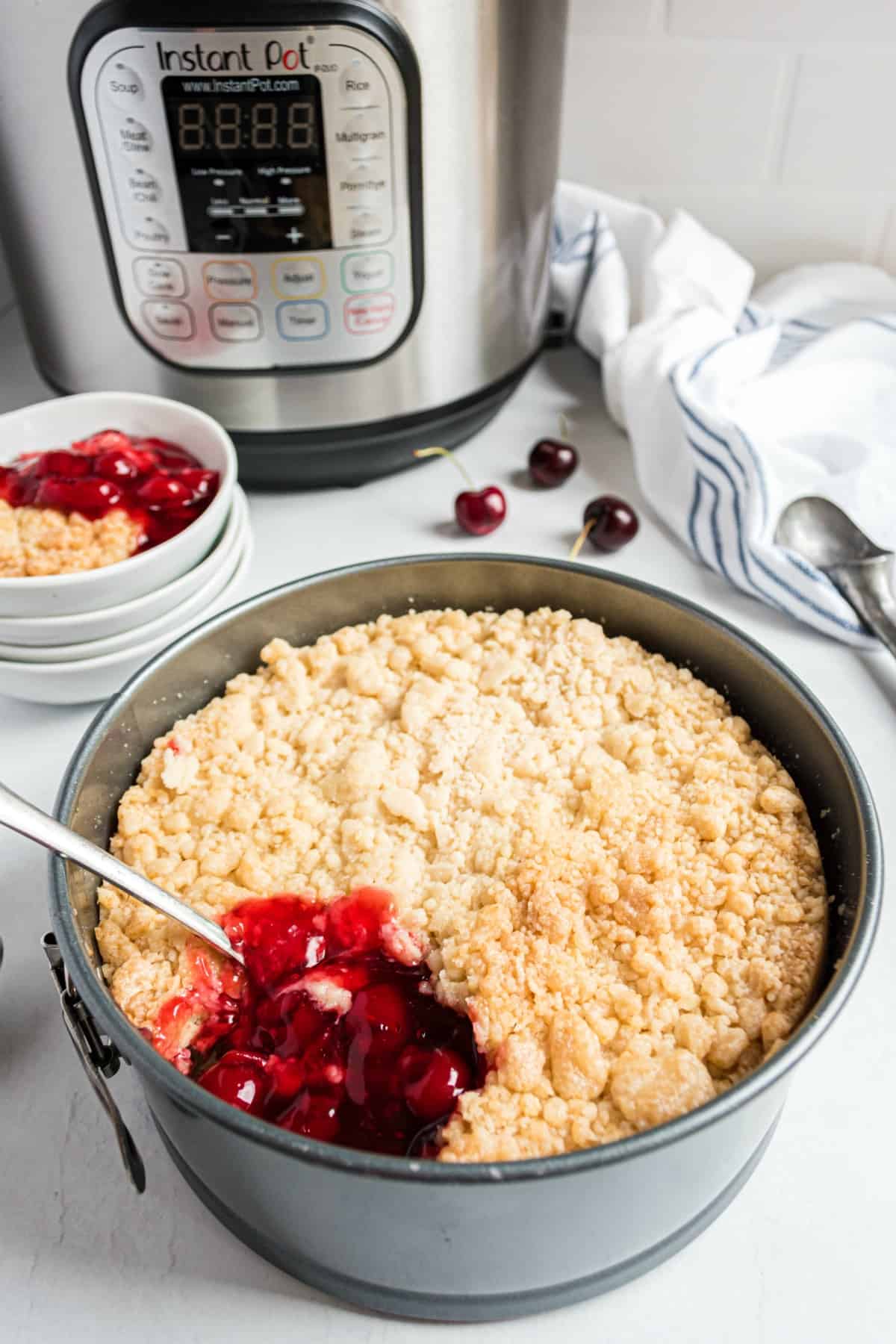 Cobblers for the win
Cobbler is the perfect summertime dessert, in my book.
Whether you use fresh peaches from the farmer's market, frozen berries or canned cherries, it seems to always come out tasting delicious.
I love cobblers of all kinds, but there's something special about Cherry Cobbler!
The tart cherries with sweet syrup and buttery crumb topping are just begging to be paired with vanilla ice cream and gobbled up on a summer evening.
When I'm craving pie, but don't want to mess with rolling out a pie crust, it's cobbler to the rescue! It's even easier to make when you put your Instant Pot to use.
Instant Pot Dessert Recipes
Oh, there are so many reasons I love making dessert in my instant pot.
No oven required. Helpful on a hot summer day or when your oven is already occupied by something else on the menu.
It's FAST. Most instant pot desserts take less time than their oven-baked counterparts.
It's Easy. Put it in, push the button and wait! With programmed cooking times, the pot will automatically stop cooking when the timer runs out. So, you can hop in the shower or help the kids with school work without having to check on the timer constantly.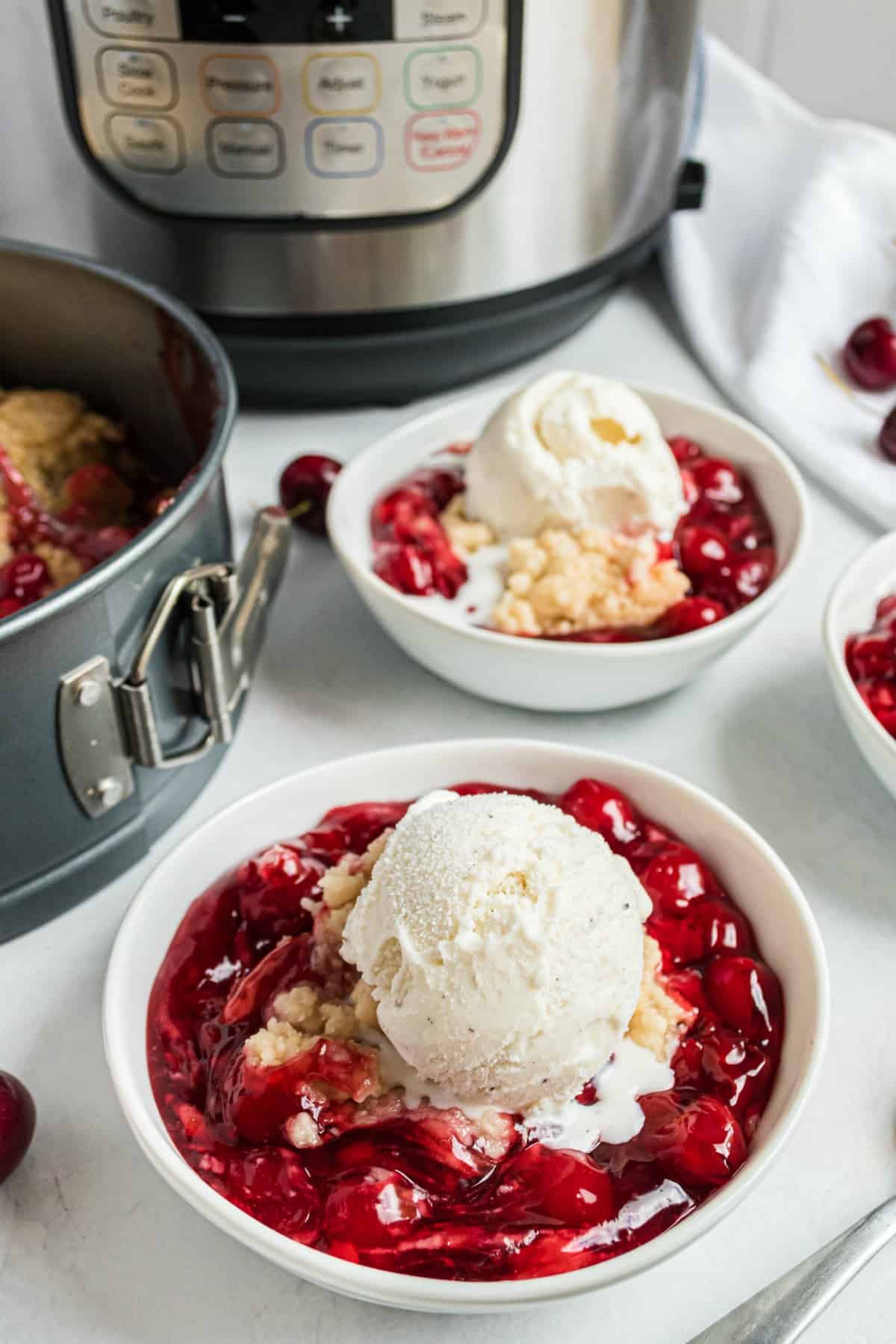 Cobbler Vs. Dump Cake
Ever wondered what the difference is between a cobbler and a dump cake?
I mean, they're both fruit baked with some kind of pastry topping, which seems like all you'd need to known. But if we want to get specific, there's one key difference.
Classic cherry cobbler traditionally has a biscuit or pie-crust like topping. In this recipe, I used a box of cake mix combined with melted butter to create flaky pastry topping.
When you make a dump cake, you don't mix the cake mix with anything; just sprinkle it right on top of the fruit and bake. Both are delicious, but I especially love the buttery taste you get with the cobbler topping. (like this blueberry dump cake)
You only need one bowl to mix the cake with the melted butter then everything is assembled right in the baking dish.
It's just one more step than a dump cake and total cherry paradise!
After you try this Cherry Cobbler recipe, give Dump Cake a shot too with my Peach Dump Cake or Pumpkin Dump Cake recipe.
Do you even want to know the differences with crisps and crumbles?
Step by Step instructions
You only need four ingredients to make this Instant Pot dump cake
Cherry Pie Filling
Unsalted Butter
Almond Extract
White cake mix
Simplicity at its finest. Here's how you make it:
STEP 1. Pour the cherry pie filling into a spring form cake pan in the bottom of your instant pot.
STEP 2. Combine cake mix with almond extract, melted butter and water, then pour this over the cherry pie filling. Cover the pan with foil.
STEP 3. Cook on HIGH PRESSURE for 25 minutes, then let it naturally release for 10 minutes once the cooking time ends. Quick release the remaining pressure.
Use a sling to remove the pan from the pot and let the cobbler cool for at least 30 minutes. It'll be HOT!
Try this easy Instant Pot Peach Cobbler for a flavor twist! Or give our Blueberry Cobbler a try!
Serving Ideas
Cherry Cobbler and Vanilla Ice Cream were made for each other. Scoop the cobbler into a bowl and plop the ice cream on top, or serve on a plate with the ice cream on the side.
You could also top your cobbler with some fresh Homemade Whipped Cream or canned whipped cream, if you prefer.
I find that this cobbler is delicious on its own too. Try the leftovers for breakfast the next day. It helps with the motivation to get out of bed, believe me.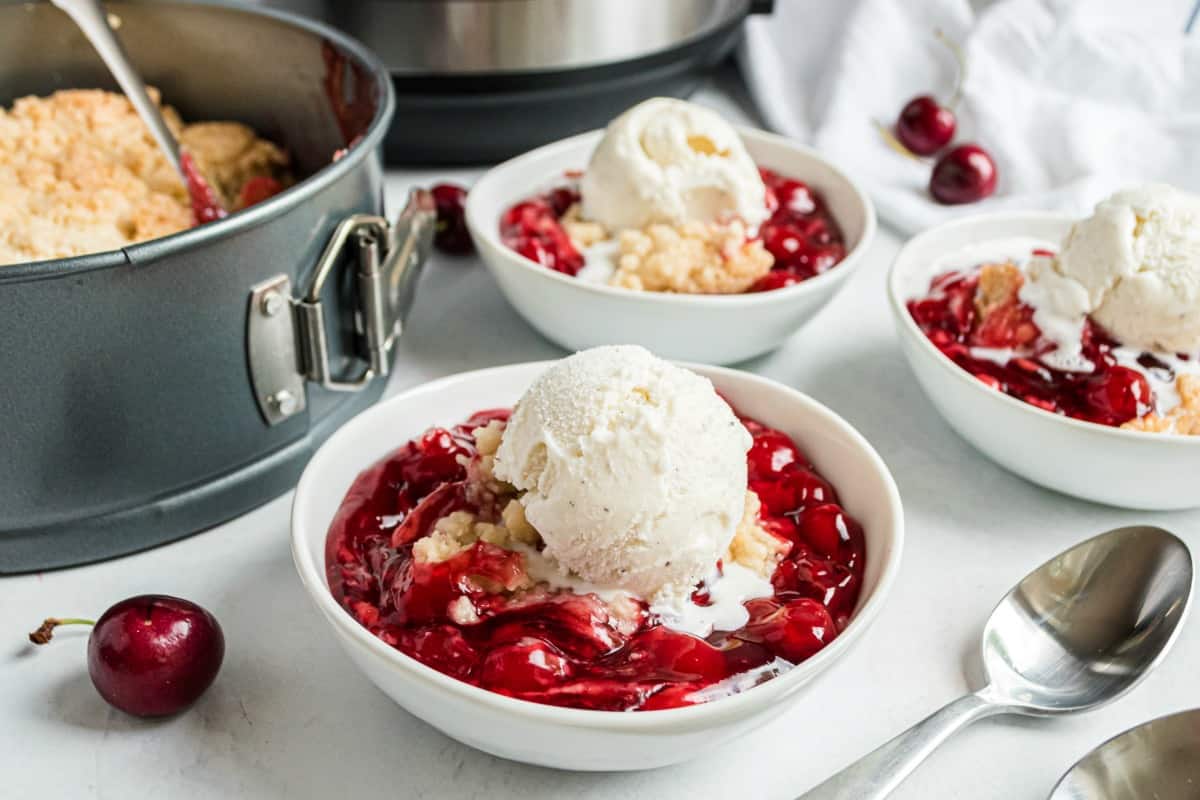 Substitution Ideas
This Instant Pot recipe is easy to adapt in all kinds of fun and tasty ways.
Mix up the mix: Try different flavors of cake mix with the cherry filling. Yellow cake mix is also delicious as a substitute for the white. If you love cherry and chocolate together, try using a boxed chocolate cake mix instead!
Pie filling: This recipe works with blueberry pie filling beautifully. I used canned filling but if you a recipe for pie filling from scratch, you can substitute equal amounts of that for the canned stuff.
Tips and Tricks
The pan of cobbler will be VERY hot when you remove it from your pressure cooker. Be sure to use the trivet or sling to remove it.
Let it cool a full 30 minutes before digging in. The cherry pie filling will hold heat for a while and you don't want to burn yourself!
Store leftovers covered in the fridge. Cobbler is delicious served chilled or at room temperature.
The recipe was tested and designed for a 6 qt instant pot.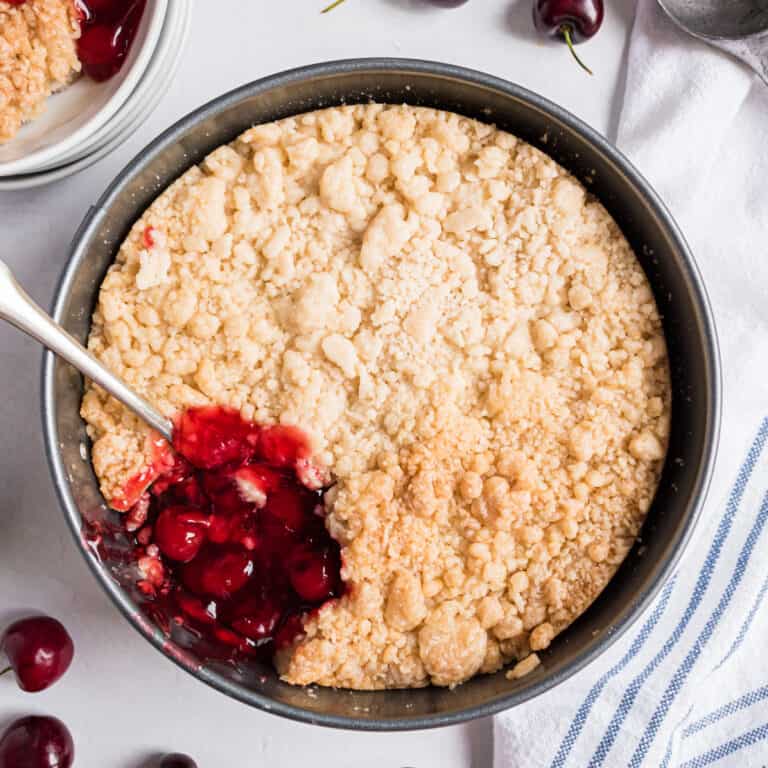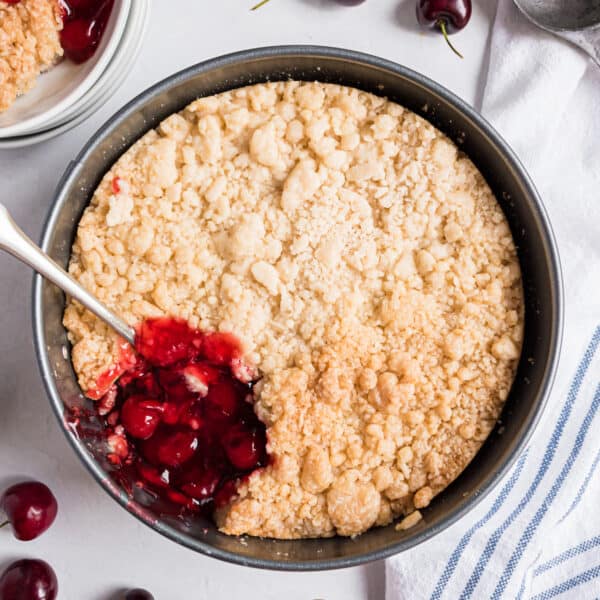 Recipe FAQs
Does Cherry Cobbler need to be refrigerated?
Fruit pies, cobblers, and crisps can be left at room temperature, but I feel last longer and have better flavor and texture when refrigerated.
Can you freeze cooked cherry cobbler?
Yes. Store cobbler in an airtight freezer safe container for up to three months. Thaw overnight in refrigerator and reheat before eating.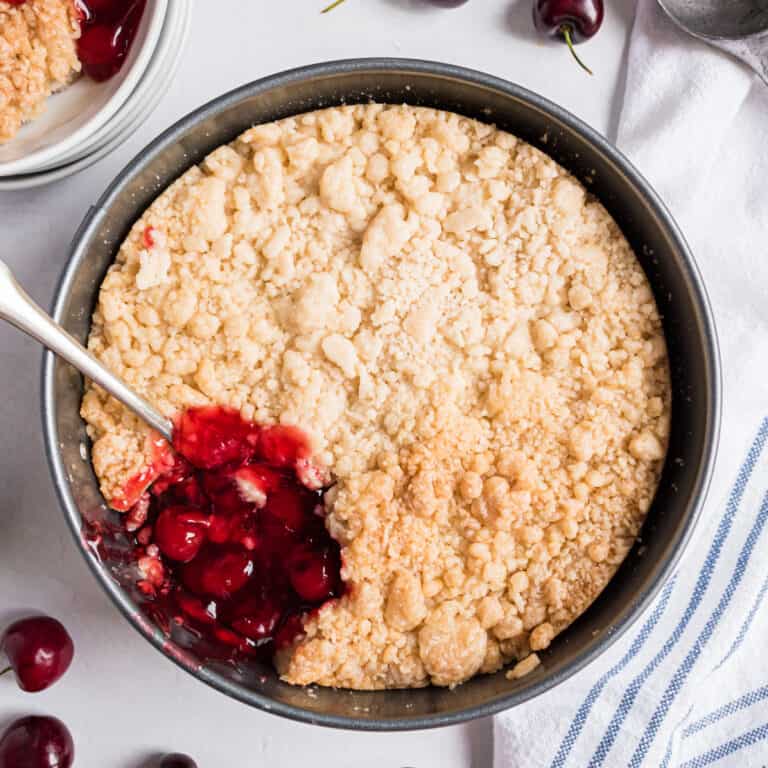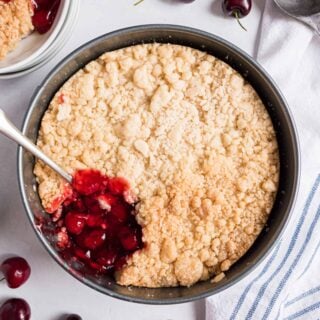 Instant Pot Cherry Cobbler
It's Cherry Cobbler made in the Instant Pot! Transform a can of cherry pie filling into an impressive dessert with this easy recipe. Don't forget a scoop of ice cream on top!
Ingredients
2

cans

cherry pie filling

21 oz

1

box

white cake mix

½

cup

unsalted butter

melted

1

teaspoon

almond extract

1 ½

cup

water
Instructions
In the bottom of a 7-inch springform pan that fits inside your Instant Pot, pour two cans of cherry pie filling in the bottom.

In a small bowl, combine dry cake mix with melted butter and almond extract. Crumble the dough over the pie filling.

Cover pan with foil.

In the bottom of a 6qt Instant Pot, add water. Place springform pan on a sling or trivet and lower into the Instant Pot.

Secure the lid on top and make sure the valve is set to SEALING. Select HIGH PRESSURE for a cook time of 25 minutes.

Allow to naturally release for ten minutes, then do a quick release of pressure by turning the valve to VENTING.

Remove from pot by lifting out with sling/trivet. Remove foil and allow to cool at least 30 minutes before eating. Serve with

ice cream

or whipped cream, if desired!
Notes
Recipe tested with 6qt Instant Pot.
Can swap cake mix for different flavor, yellow or chocolate are delicious too. Swap the pie filling for blueberry for a delicious twist.
Dump cakes use dry mix on top, whereas this cobbler is mixed with the melted butter.
Nutrition
Calories:
140
kcal
,
Carbohydrates:
11
g
,
Protein:
1
g
,
Fat:
11
g
,
Saturated Fat:
6
g
,
Polyunsaturated Fat:
4
g
,
Cholesterol:
20
mg
,
Sodium:
64
mg
,
Sugar:
6
g
Perfect Cherry Cobbler is better than ever when you make it in the Instant Pot! You're going to love this easy summery dessert.