Homemade Blackberry Cobbler has a buttery, golden brown biscuit crust, a deliciously moist interior, and is bursting with fresh blackberries. Better still, it's easy to make and only requires 15 minutes of prep time.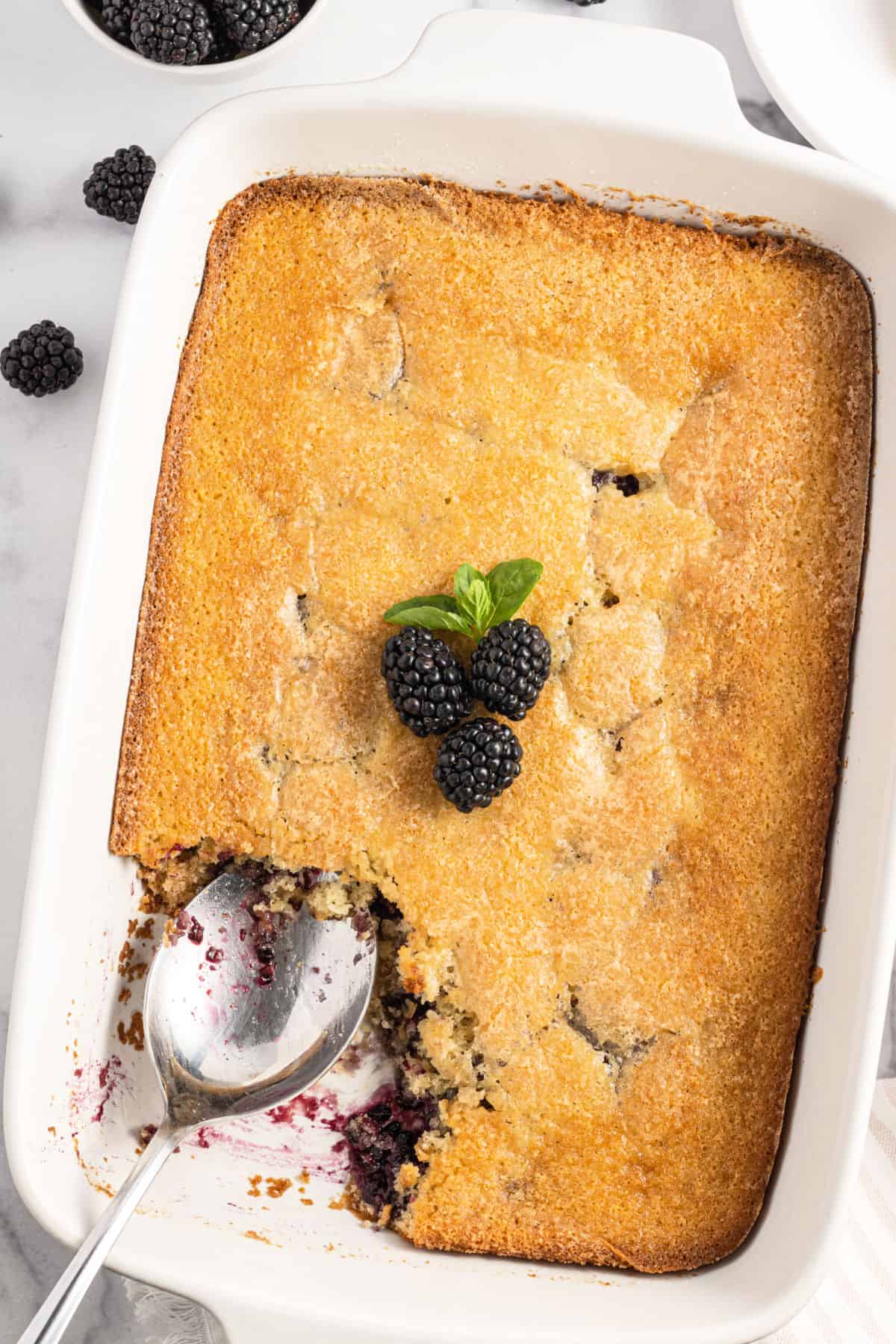 Why Blackberry Cobbler Works
Blackberries are such an underused fruit. Everyone makes Instant Pot apple cobbler, peach cobbler, and even blueberry crisp. It's time to let blackberries shine.
I've served up this delicious summertime dessert on the 4th of July, at a neighborhood BBQ, and on Mother's Day brunch.
If you're just looking for an excuse to bake with some fresh summer berries, this recipe has you covered.
Here are a few reasons why this recipe works so well,
Next to no prep. The whole recipe pretty much involves mixing all the ingredients together. It hardly takes 15 minutes of prep, and only one bowl. With an added bonus of next to no cleanup.
Better than pie. It tastes as good as a blueberry pie but is easier to make, requires less ingredients, and you don't have to deal with a finicky pie crust.
No fancy ingredients. This recipe uses the usual ingredients like berries, flour, butter, and sugar. Easy to assemble and budget friendly too.
Whip up today's treat next time you need a quick dessert. Or give our easy apple slab pie a try next. Of course our apple crumble recipe is easy and ALWAYS a hit at parties.
What You'll Need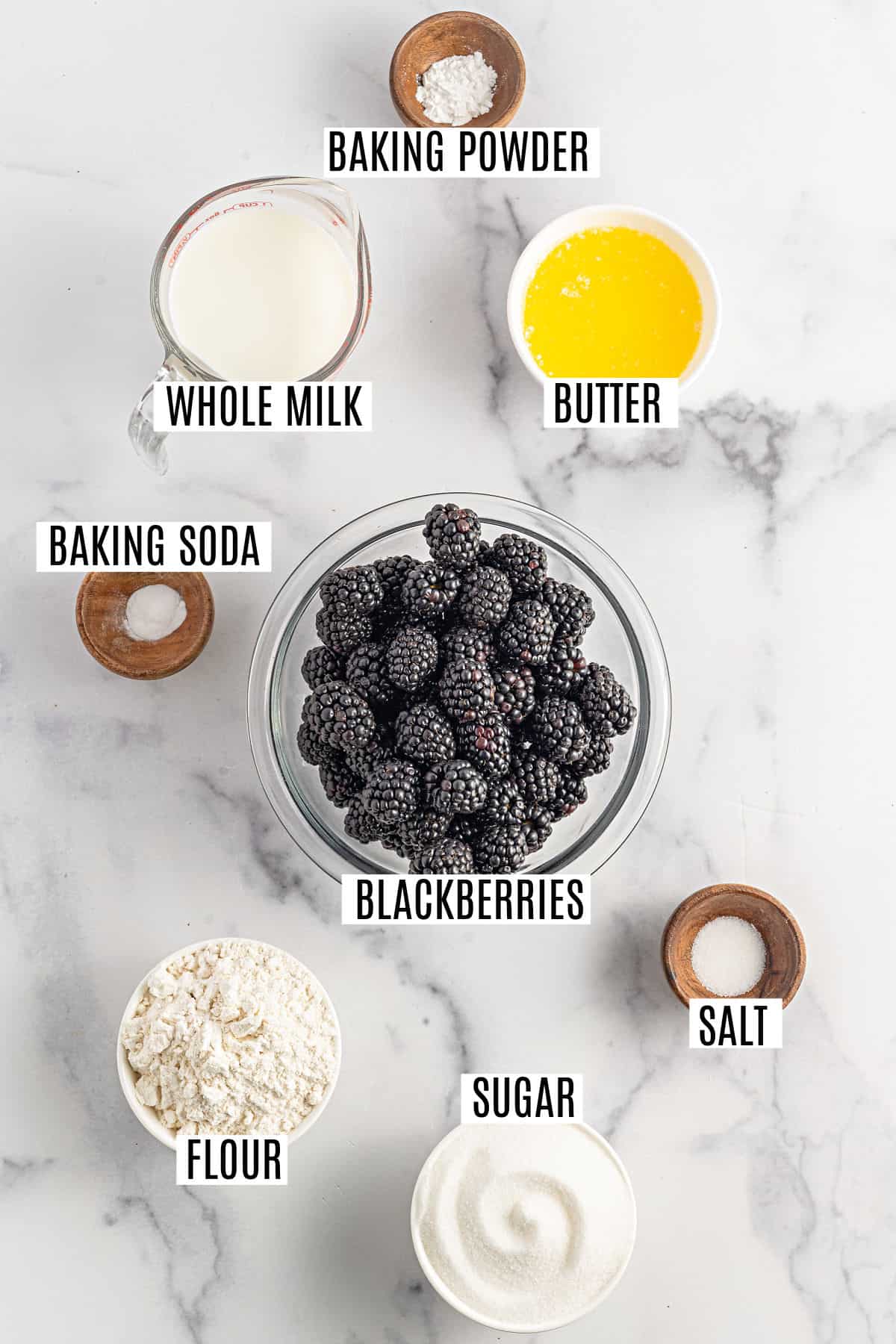 See the recipe card for full information on ingredients and quantities.
All-Purpose Flour – It gives the cobbler its classic crispy yet mouth-melting consistency.
Granulated Sugar
Baking Powder – It helps the mixture rise and get its crispy yet light consistency. So don't skip it.
Kosher Salt -learn why we use kosher salt in baking!
Baking Soda – It makes the center of the cobbler soft and light while the exterior is crisp and biscuity. So do not confuse it with baking powder.
Whole Milk – You can use 2% milk to dial down the richness of the cobbler.
Unsalted Butter – Melted butter is easy to mix with other ingredients. It adds richness and gives a biscuity consistency to the cobbler while baking.
Blackberries – Fresh blackberries work best for this recipe. But if you can't find any, use frozen ones. Just make sure you don't thaw them, and allow the cobbler to bake for an extra few minutes in the oven.
Coarse Sugar – Or granulated sugar gives the cobbler that golden brown color.
How to Make Blackberry Cobbler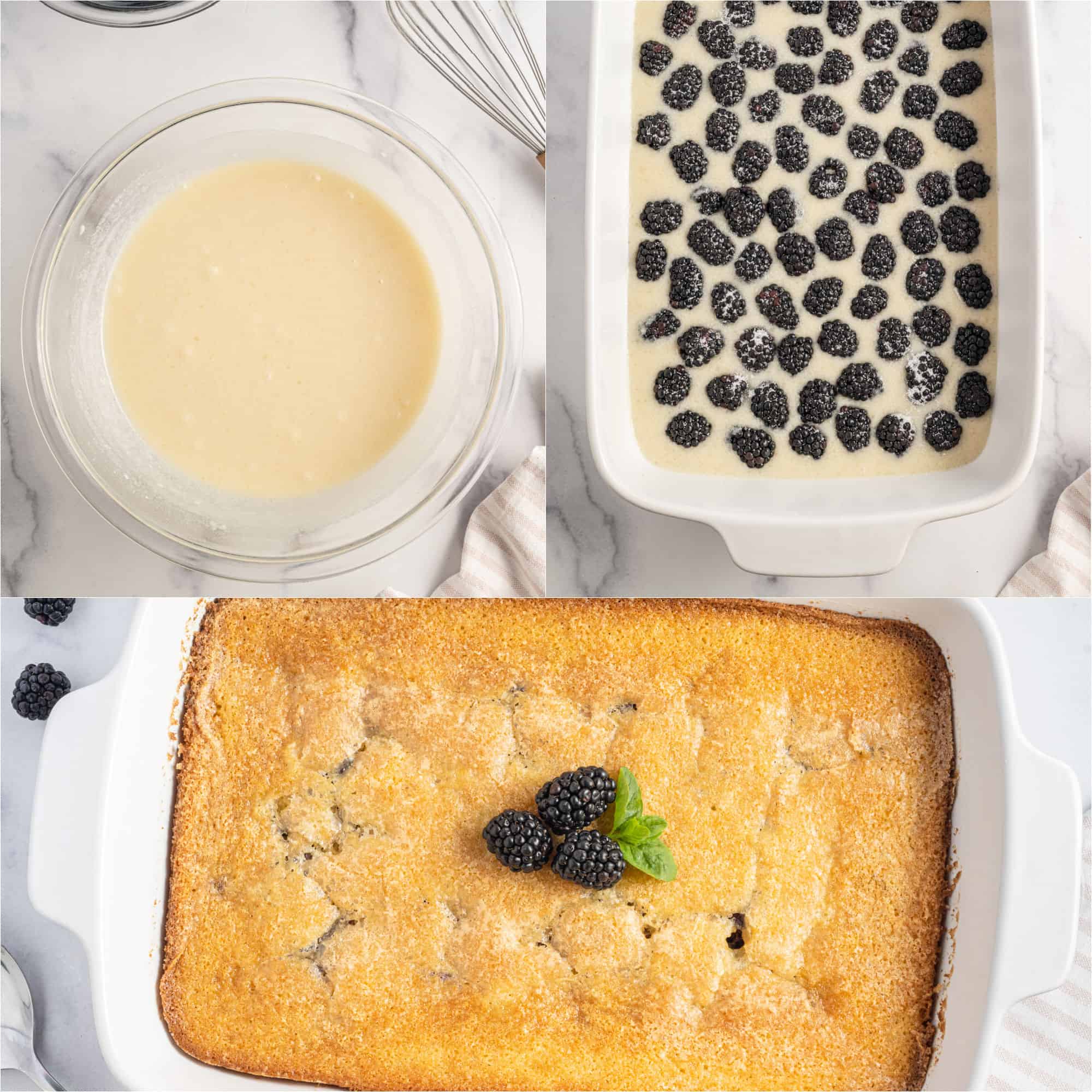 Mix the batter. In a large bowl, mix all the ingredients except fresh blackberries and coarse sugar. Then pour the batter into a prepped baking tin.
Add the blackberries. Drop the blackberries in a single layer on the batter. Sprinkle coarse sugar on the berries.
Bake and serve. Bake at 350°F for 35-40 minutes or until the top and edges are brown. Cool for about 20 minutes before serving.
Tips and Tricks
Make individual cobblers. You can bake beautiful-looking individual portions for an elegant sit-down dinner. Divide the mixture evenly among 6-8 ounce ramekins. Then bake for 25-30 minutes.
Don't overmix the batter. Mix the batter only until you stop seeing spots of dry flour. Overmixing will prevent the dough from rising and make the cobbler dense in texture.
Add some extra punch. You can dial up the flavor of this blackberry cobbler with some fresh lemon zest, pure vanilla extract, or cinnamon powder. They can really enhance the taste of the blackberries.
Coat the berries in some dry flour. If you want the blackberries to stay on the surface and not sink to the bottom of the pan, then toss them in 3-4 tablespoons of dry flour before adding them to the baking pan.
Use buttermilk instead of whole milk. Add some tartness to cut through the sweetness of the berries and sugar. Use buttermilk instead of whole milk. It also makes the dessert lighter in texture and flavor.
Serving Suggestions. You can't beat the classic combination of a Blackberry Cobbler and homemade vanilla ice cream. But if you don't have any, you can quickly make whipped cream at home.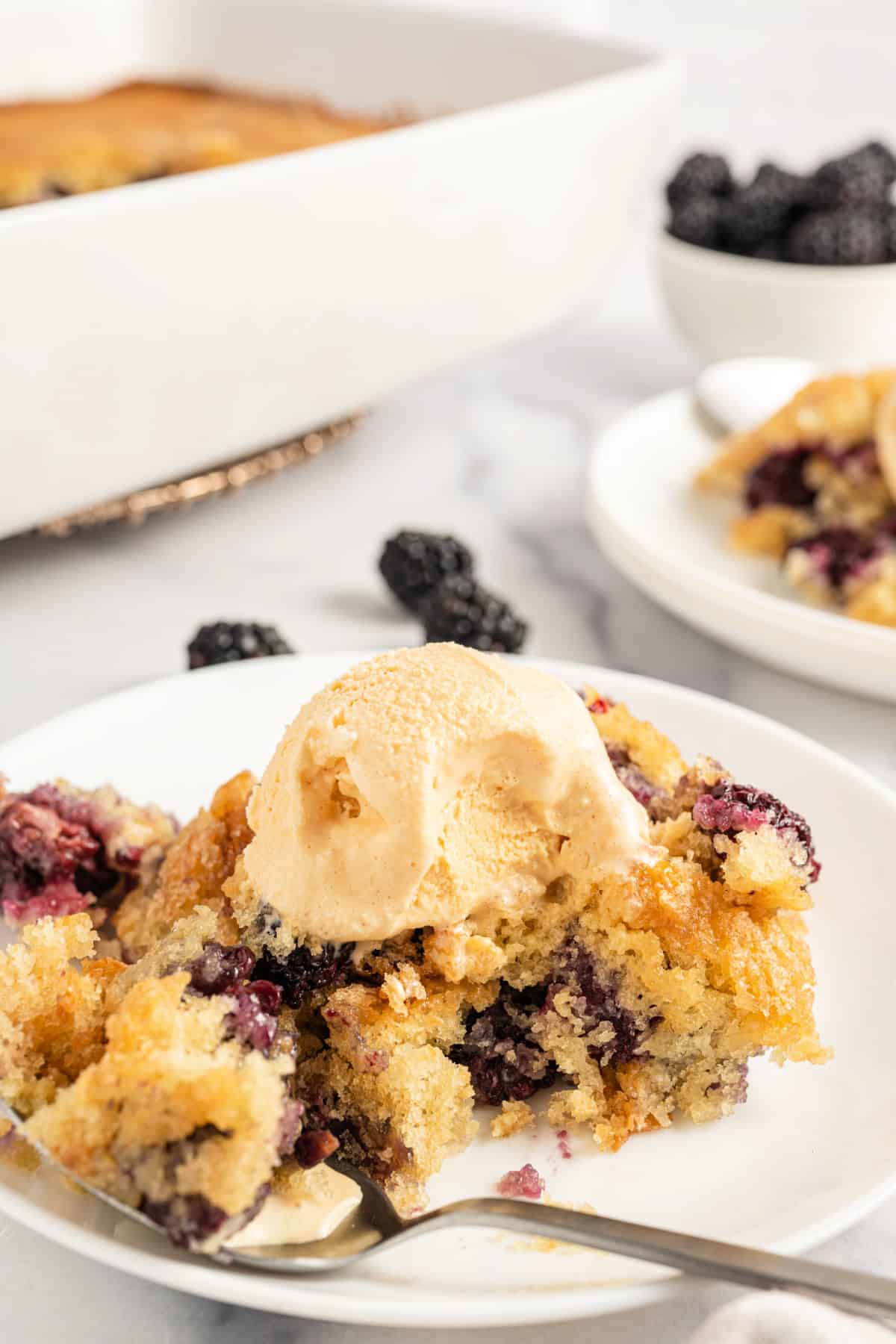 Recipe FAQs
How do I store Blackberry Cobbler?
To store the Blackberry Cobbler, make sure it has cooled completely. Then, transfer it to an air-tight container or tightly cover the baking dish with plastic wrap or aluminum foil. Refrigerate for up to 3 days.
How do I reheat Cobbler leftovers before serving?
Cover the baking pan with aluminum foil and reheat in the oven at 350°F for about 20 minutes. Make sure you bring the cobbler to room temperature before reheating to avoid keeping it in the oven for extra time. Extra time in the oven can dry it out and make it hard.
Can I freeze Blackberry Cobbler after baking?
Yes. You can freeze the baked Blackberry Cobbler. First, cover the cobbler with plastic wrap, followed by aluminum foil. Keep it in the freezer for up to 2 months. Before serving, thaw it in the refrigerator overnight, then reheat it in the oven.
Can I substitute the blackberries?
Absolutely. You can use other berries like raspberries, blueberries, or even a combination of all the berries. If you don't have berries, you can add other fruits like peaches, apricots, apples, or bananas. You can even make a mixed fruit cobbler by adding a combination of your favorite fruits.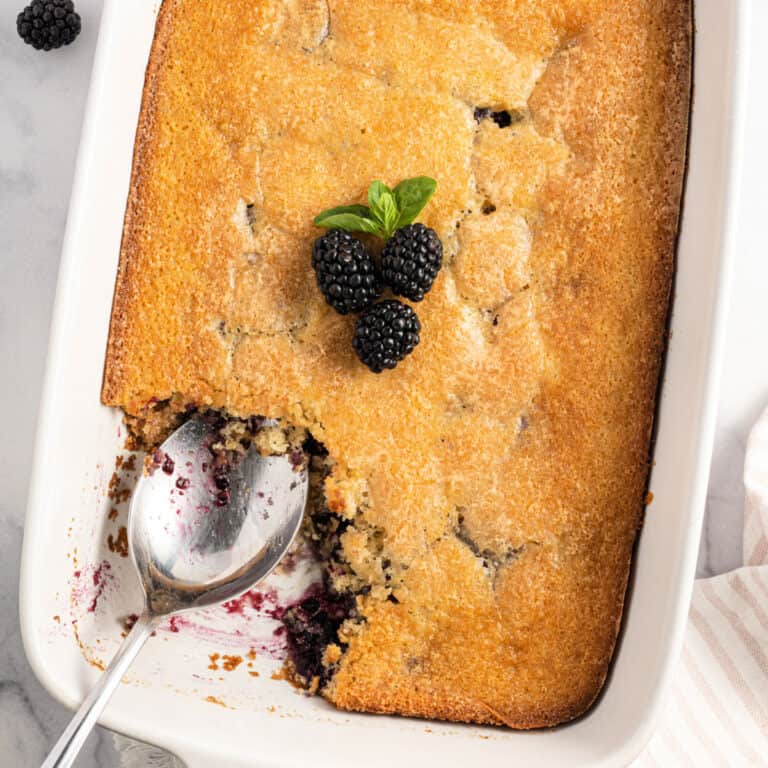 Blackberry Cobbler
Homemade Blackberry Cobbler has a buttery, golden brown biscuit crust, a deliciously moist interior, and is bursting with fresh blackberries. Better still, it's easy to make and only requires 15 minutes of prep time.
Ingredients
1 ¼

cup

all-purpose flour

1

cup

granulated sugar

1

teaspoon

baking powder

½

teaspoon

kosher salt

¼

teaspoon

baking soda

1

cup

whole milk

5

Tablespoons

unsalted butter

melted

2 ½

cups

fresh blackberries

2

Tablespoons

coarse sugar

or granulated sugar
Instructions
Preheat oven to 350 degrees F. Grease a 13×9 baking dish with nonstick baking spray, or use our

homemade cake release

. Set aside.

In a large mixing bowl, whisk the flour, 1 cup of sugar, baking powder, kosher salt, and baking soda together. Add the milk and melted butter and mix just until everything is combined (do not over mix).

Pour batter into prepared baking dish, then drop blackberries in single layer on top of batter. Keep the berries away from the edges of the pan, if possible.

Sprinkle 2 Tablespoons coarse sugar, or granulated sugar over the top of the berries.

Bake cobbler for 35-40 minutes, until the top and edges are golden brown. Cool for about 20 minutes before serving.
Notes
Serve cobbler warm with homemade whipped cream or vanilla ice cream.
Store: Keep cobbler stored in refrigerator, covered with foil or plastic wrap for up to 3 days.
Reheat cobbler in 350 degree oven (with foil on) for about 20 minutes.
Freeze: Cover cobbler with plastic wrap, then foil, and freeze for up to 2 months. Thaw in refrigerator overnight, then heat before serving.
Nutrition
Calories:
188
kcal
,
Carbohydrates:
33
g
,
Protein:
2
g
,
Fat:
6
g
,
Saturated Fat:
3
g
,
Polyunsaturated Fat:
2
g
,
Cholesterol:
15
mg
,
Sodium:
129
mg
,
Fiber:
2
g
,
Sugar:
21
g