This Rainbow Buttercream Board is a fun spin on the butter boards and dessert boards that are so popular online. Why not make this tasty and lightning-fast rainbow board to enjoy on your next festive occasion?
If you love fun Easter and Spring treats…have your tried our easy Dirt Cake recipe? Delicious for kids and adults. Or give our Easter Dirt Cake recipe a try next.
Why You'll Love This Recipe
My rainbow frosting board has it all. It starts with an array of fresh, juicy fruit.
Then it's surrounded by fun, bite-sized brownies, pastries, and candies with rich vanilla buttercream for dipping. Of course, kids will love it, but this board calls out to the kid in everyone.
Here's why I think you'll have a blast making and serving it:
Perfect for holidays and parties. Make this bright and cheery dessert board for St. Patrick's Day, Pride Day, birthdays, and potlucks.
Ready in a flash. This board is so easy to throw together, it can be ready to eat in about 15 minutes. No need to make a complicated holiday dessert!
It's customizable. Switch out the candies, cookies, and brownies for your favorite brands and flavors.
Easy to make gluten-free. Choose all gluten-free snack items to make this dessert board safe for gluten sensitivities (the buttercream and fruit are safe as-is).
Ingredient Notes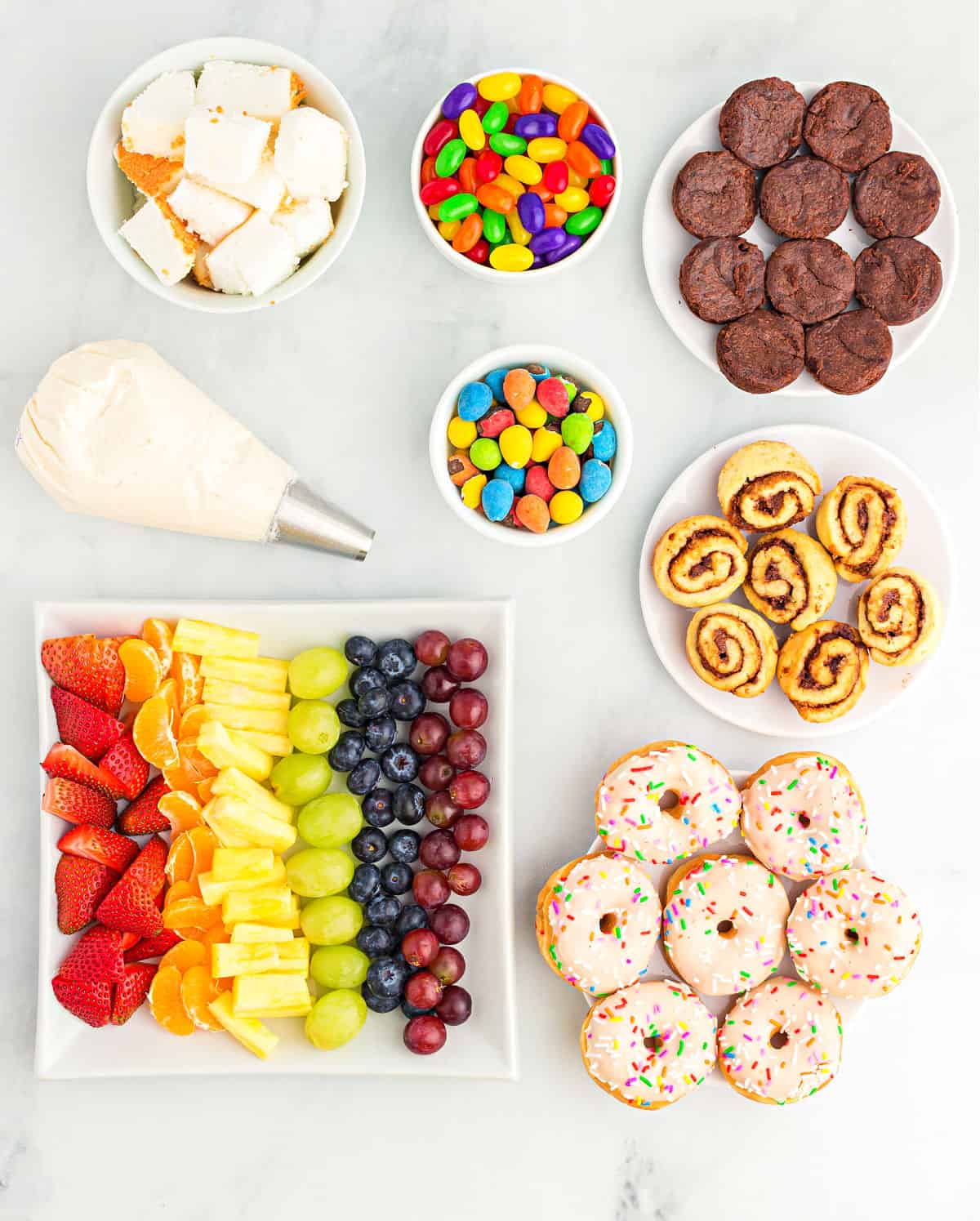 For the Frosting:
Unsalted butter – Use room-temperature butter for a smooth, creamy frosting. We've got tips and tricks on how to soften butter quickly.
Powdered sugar – Powdered sugar adds structure and sweetness to the frosting so it will hold its shape.
Vanilla extract – Adds a classic vanilla flavor to the buttercream.
For the Board:
Red strawberries – Cut strawberries into halves or quarters.
Orange slices – Satsuma mandarins are the easiest thing in the world to peel, and they're naturally sweet.
Yellow pineapple – Sliced pineapple cut into wedges looks great on this board. If you don't have it, you can use sliced yellow apples or pears tossed with a little lemon juice instead.
Green and red grapes
Blueberries – You could also use blackberries or marionberries here if you prefer.
Jelly beans
Peanut M&M's – These are my favorite, but you can also keep it nut-free by using plain M&M's or Skittles instead.
Mini cinnamon rolls – Either use our homemade cinnamon roll recipe, or pick up a pack from the local grocery store. Can also be swapped out for cinnamon roll cookies!
Angel food cake or pound cake – Homemade angel food cake or pound cake is perfect. But opting for store bought makes this dessert board even easier.
Brownie bites – These can be picked up at most grocery stores, or try making your own brownie bites!
Mini frosted donuts – I think frosted donuts look adorable on this frosting board, but feel free to use plain mini donuts (or donut holes) if you prefer.
Easy Instructions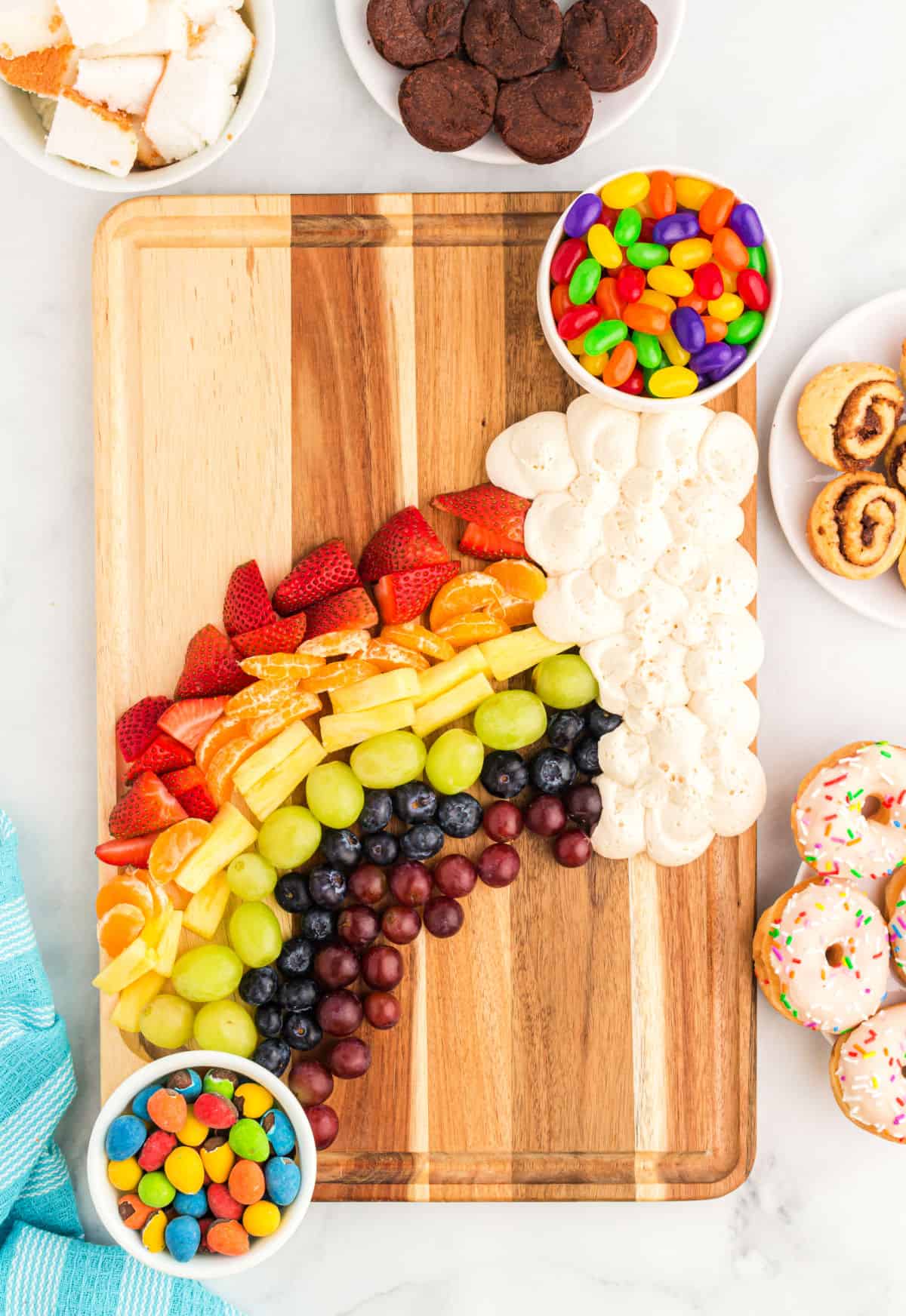 Make the frosting. Beat the butter with the sugar and vanilla extract until fluffy, about 4-5 minutes.
Pipe the frosting. Place the frosting in a Ziploc bag and cut off the tip. Pipe onto a large cutting board in the shape of a cloud.
Arrange the rest of the board. First, arrange the fruit in a rainbow arc pattern from the cloud to the other side of the board. Second, place the candies in bowls on opposite corners. Finish by filling the rest of the board with cookies, cake, donuts, and brownies.
Tips and Tricks
Make arranging easy. When arranging the board, start with the rainbow of fruit and frosting, then fill in the rest of the board.
Pick cookies that won't fall apart. The best cookies for dipping are sturdy and crisp ones. Some great ones to try are Oreos, Chips Ahoy, and shortbread.
Use a different frosting flavor. Switch up the buttercream flavor by adding fresh lemon zest, or substitute the vanilla with almond extract. You could also use my strawberry buttercream if you'd like a pink frosting cloud with a fruitier flavor.
For fancier frosting, use a piping bag. Use a piping bag with your favorite star tip to make an elegant, textured frosting cloud.
Sweet Snack Selection
The sky is the limit when it comes to choosing sweet snacks that match this recipe. Go with your favorite treats. The ones that get you excited, regardless of the recipe.
Here are a few of my personal favorites,
Rainbow candies (jelly beans, M&M's, Skittles, or gumdrops)
Mini donuts
Mini brownies
Mini cinnamon buns
Chocolate-covered cookies
Pretzels
Pound cake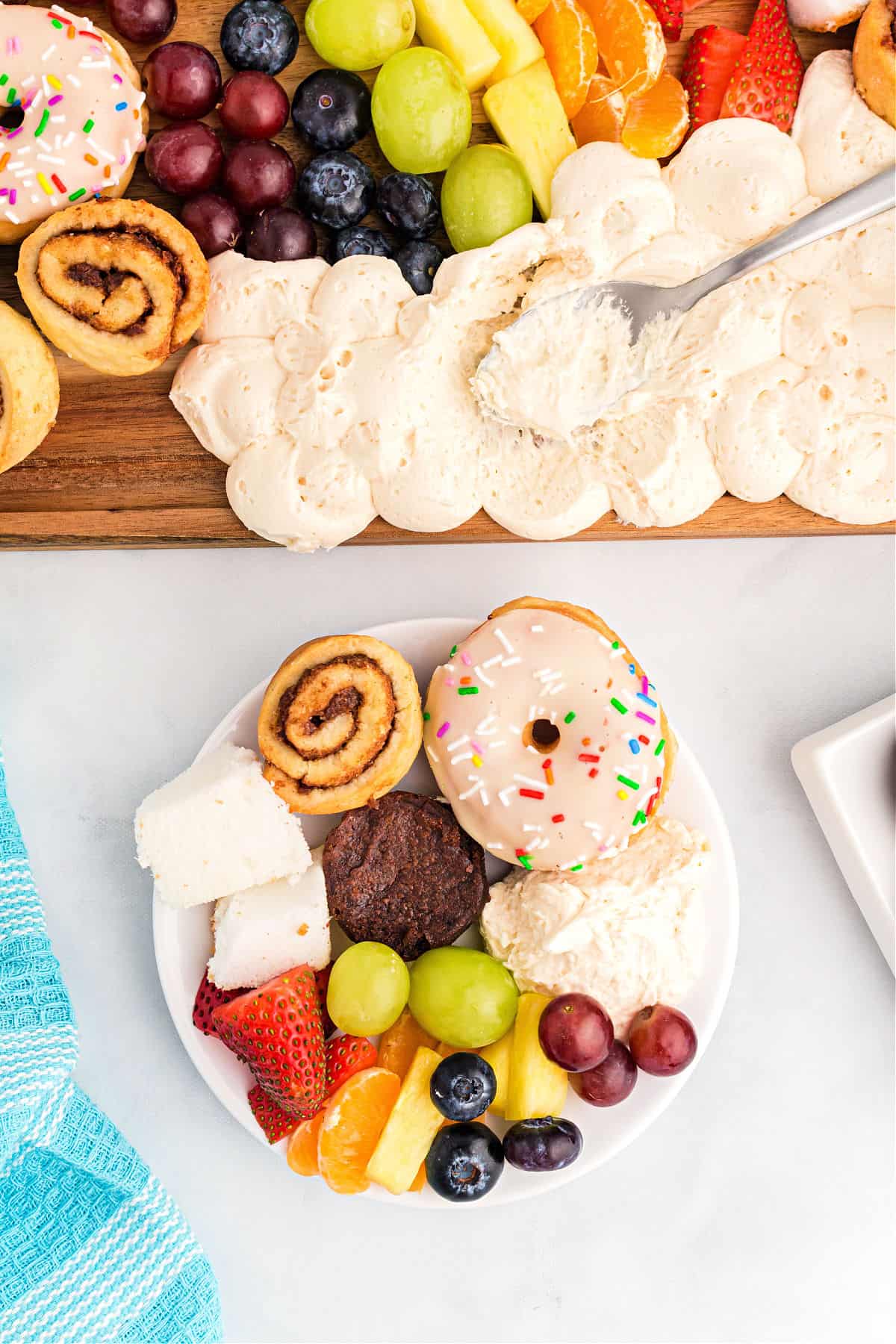 Recipe FAQs
Can I make the frosting ahead of time?
Yes. Store the frosting in a piping bag, inside an airtight container in the refrigerator. You can make it up to a week ahead of time. Allow it to come to room temperature before piping it onto the board (for lighter frosting, whip it before using).
What if the frosting on the board runs out before the other items?
On the day you're serving the Rainbow Buttercream Board, keep any extra frosting on hand in a piping bag in the fridge. This makes it easy to refill the frosting as needed.
Can I make this gluten-free?
Yes! Buy your favorite gluten-free cookies, cinnamon rolls, pretzels, and brownies to make everything gluten-free. Check the ingredient lists of each item on the board carefully before using. The buttercream and fruit are gluten-free already.
How should I store leftover frosting?
Store leftover frosting in an airtight container in the fridge for up to 7 days. Let it come down to room temperature and re-whip it before using. To store it in the freezer, place it in an airtight freezer-proof container. Use frozen buttercream within 3 months.
More Holiday Desserts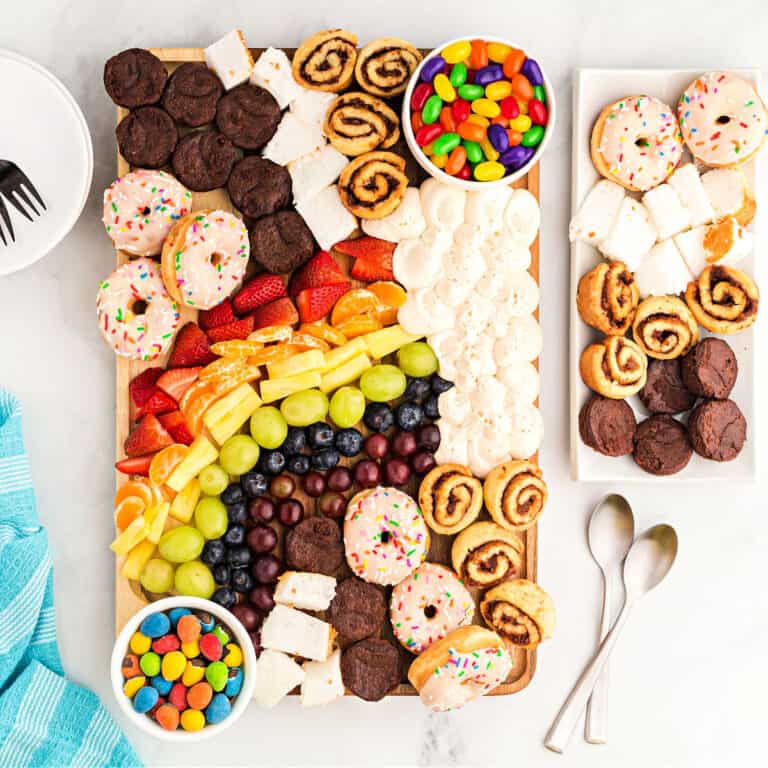 Rainbow Buttercream Board
Viral dessert boards, charcuteries, and butter boards are hitting the internet. Why not make a tasty rainbow to enjoy for St.Patricks day or any holiday this year!
Ingredients
For the Frosting
1 ½

cups

powdered sugar

½

cup

unsalted butter

softened

1

Tablespoon

vanilla extract
For the Board
Red strawberries

Orange slices

Yellow pineapple

sliced

Green grapes

Blueberries

Red Grapes

Jelly Beans

Peanut M&M's

Mini cinnamon rolls

Angel Food cake or Pound cake

Brownie Bites

Mini Frosted Donuts
Instructions
To make the frosting, beat butter with powdered sugar and vanilla extract for 4-5 minutes, until fluffy.

Use a large board (we used a cutting board that was 12-18- inches rectangular). Place frosting in ziploc bag and cut off the tip. Pipe onto board to resemble a cloud.

Arrange fruit in rainbow pattern, curving from the cloud to the opposite side of the board.

Place jelly beans and M&M's in bowls and put them in opposite corners of the board.

Fill in the remaining board with cookies, cake, donuts, and brownies.
Notes
Choose your favorites: rainbow candies (like jelly beans, chocolate coated candies, gumdrops), mini donuts, mini brownies, mini cinnamon buns, shortbread cookies, chocolate dipped cookies, ginger cookies, pretzels, chocolate covered pretzel rods, Oreos, pound cake, etc.
The best cookies for dipping are ones that will not fall apart. For instance Oreos, chips ahoy, shortbread are great options.
When arranging the board, start with the rainbow of fruit and frosting, then fill in the remainder of the board.
Store frosting in a piping bag in the refrigerator if you want to make it ahead of time. Allow to soften for about 15 minutes at room temperature before piping onto the board.
Nutrition
Calories:
237
kcal
,
Carbohydrates:
32
g
,
Protein:
2
g
,
Fat:
12
g
,
Saturated Fat:
6
g
,
Polyunsaturated Fat:
4
g
,
Cholesterol:
27
mg
,
Sodium:
120
mg
,
Fiber:
1
g
,
Sugar:
24
g