These Chocolate Caramel Brownie Bites are fudgy bite-sized treats perfect for a crowd! Chewy chocolate brownies get an extra boost of decadence from a caramel candy center and rich caramel swirled frosting.
Looking for a nutty version of a caramel brownie? I have a recipe for Turtle Brownies you'll love! Or whip up a batch of our caramel cookies instead.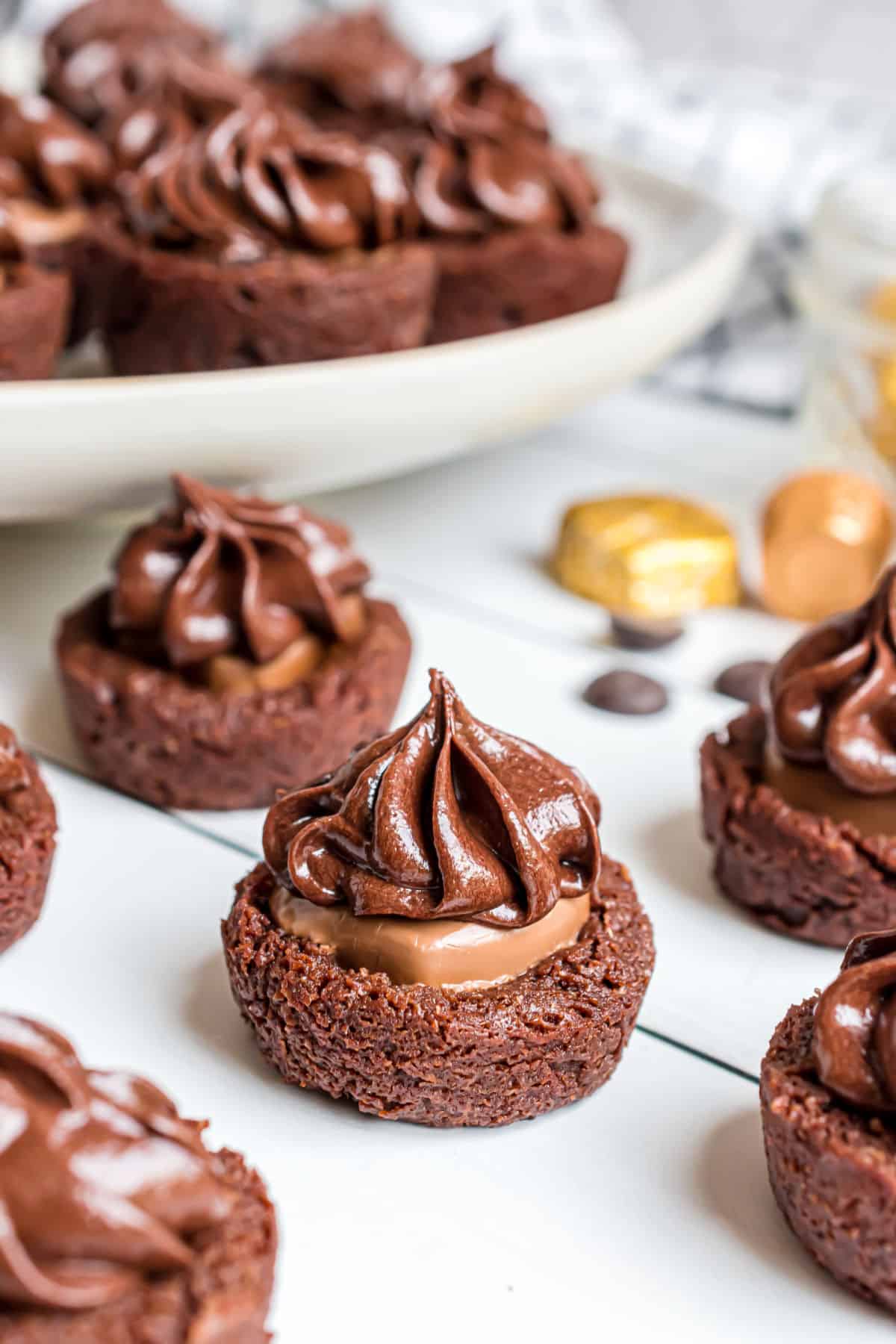 Why Make Brownie Bites
Today's Caramel Brownie Bites have a caramel filled candy pressed into the center. Every bite is full of velvety chocolate and luscious caramel and the perfect fudgy brownie taste.
Bite sized brownies so you can eat MORE!
No cutting required.
Easy to store and serve.
Perfect topped with frosting.
Caramel chocolate heaven.
Our rich chocolate frosting recipe is perfect here. Or give our ganache frosting a try instead!
Ingredient Notes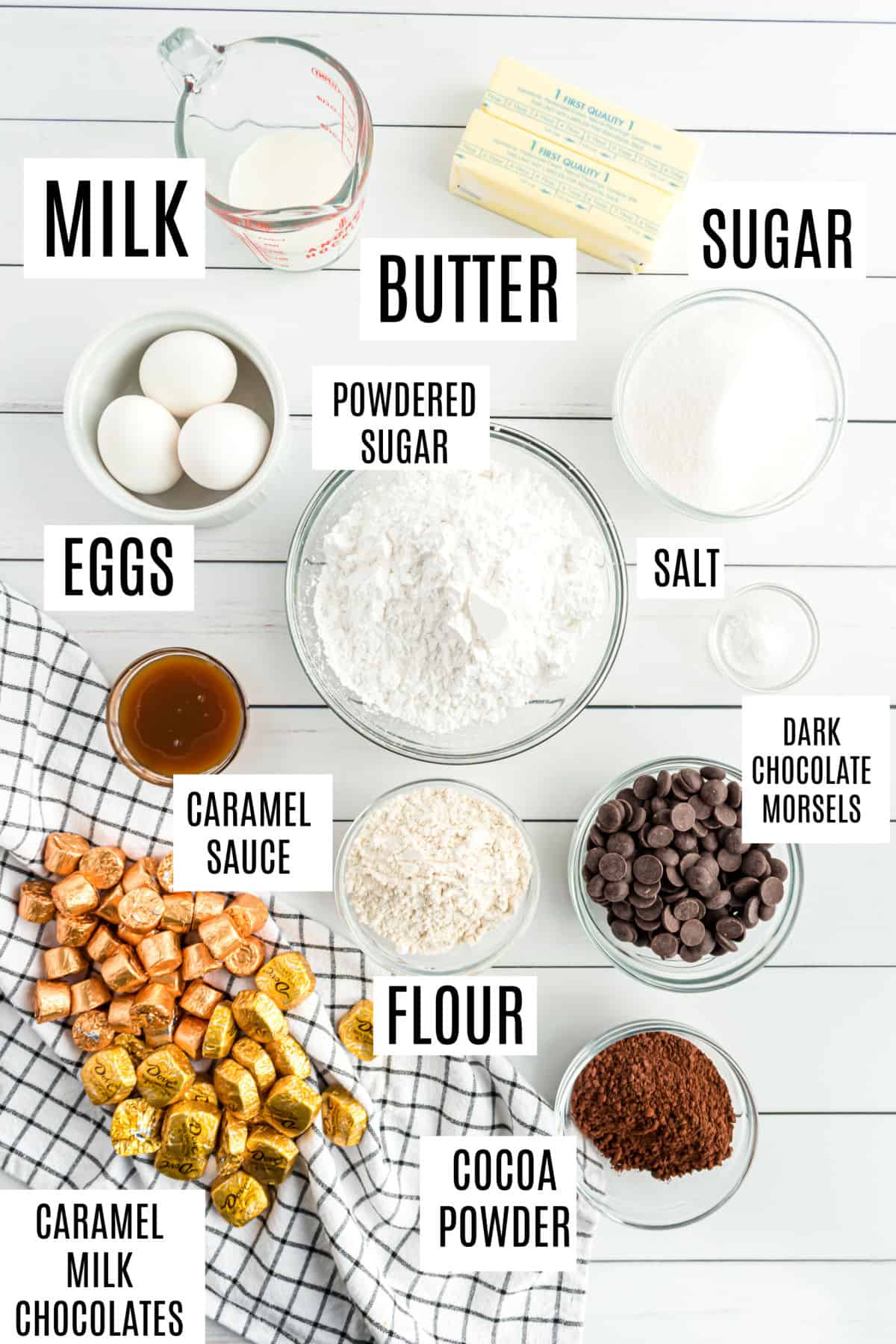 Dark chocolate morsels – We use melted chocolate chips in the batter instead of cocoa powder. It makes the brownies even fudgier and richer with a deep cocoa flavor.
Unsweetened cocoa powder – I recommend using Ghirardelli or Rodelle brands in the chocolate frosting.
DOVE® PROMISES Caramel Milk Chocolates – These are individually wrapped candies with a caramel center. Feel free to use another brand of caramel-filled chocolate candy (Rolos) if preferred. Or stuff one of our homemade caramels into the brownie for delicious flavor..
Caramel sauce – Ice cream sundae topping works well here. It adds the perfect amount of caramel flavor to the chocolate frosting.
Easy Instructions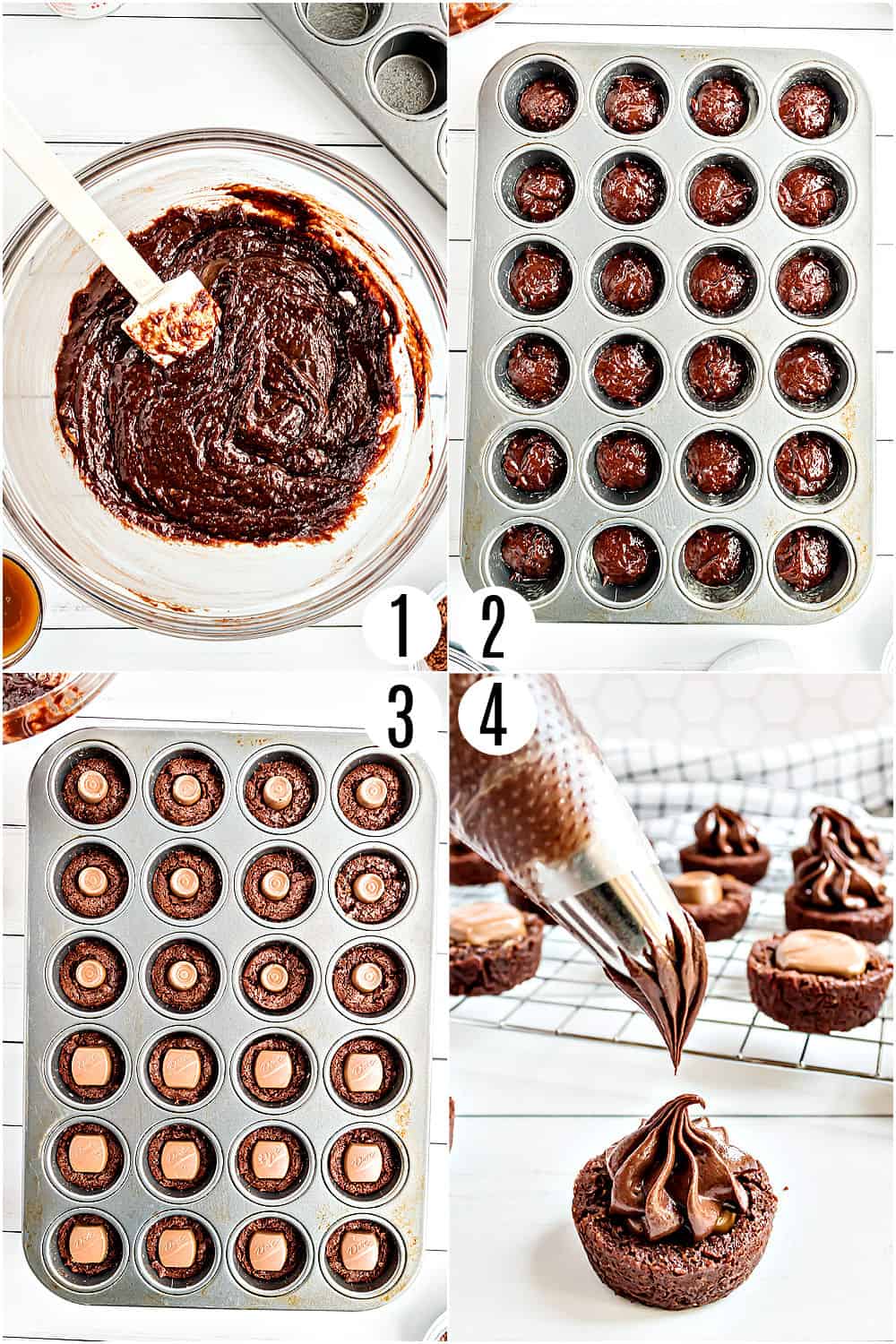 First, make the brownie batter. Spoon batter evenly into the cavities of a mini muffin pan.
After baking, immediately press an unwrapped Dove chocolate (or Rolo) into the center of each brownie bite. Let the brownies cool completely while you make the frosting.
Pipe chocolate caramel frosting onto the top of each brownie bite for a picture-perfect presentation!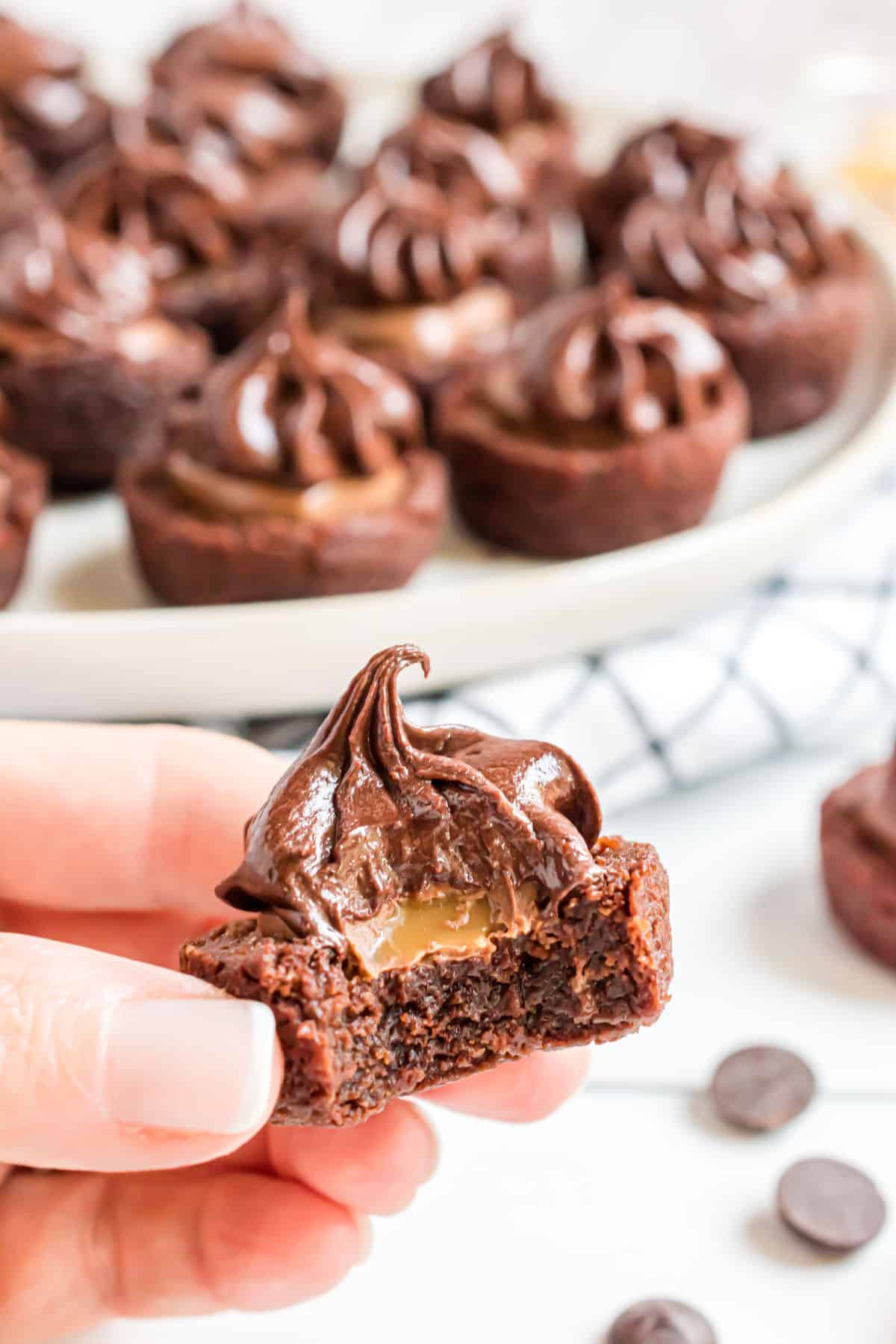 Tips and Tricks
Spray the muffin tin with baking spray before adding the brownie batter.
Fill each mini muffin cup with about 1 tablespoon of batter. I use a measuring spoon to ensure the batter is divided evenly.
Store frosted brownie bites covered at room temperature. Enjoy within 3 – 4 days for best taste.
Use our homemade caramels instead of store bought!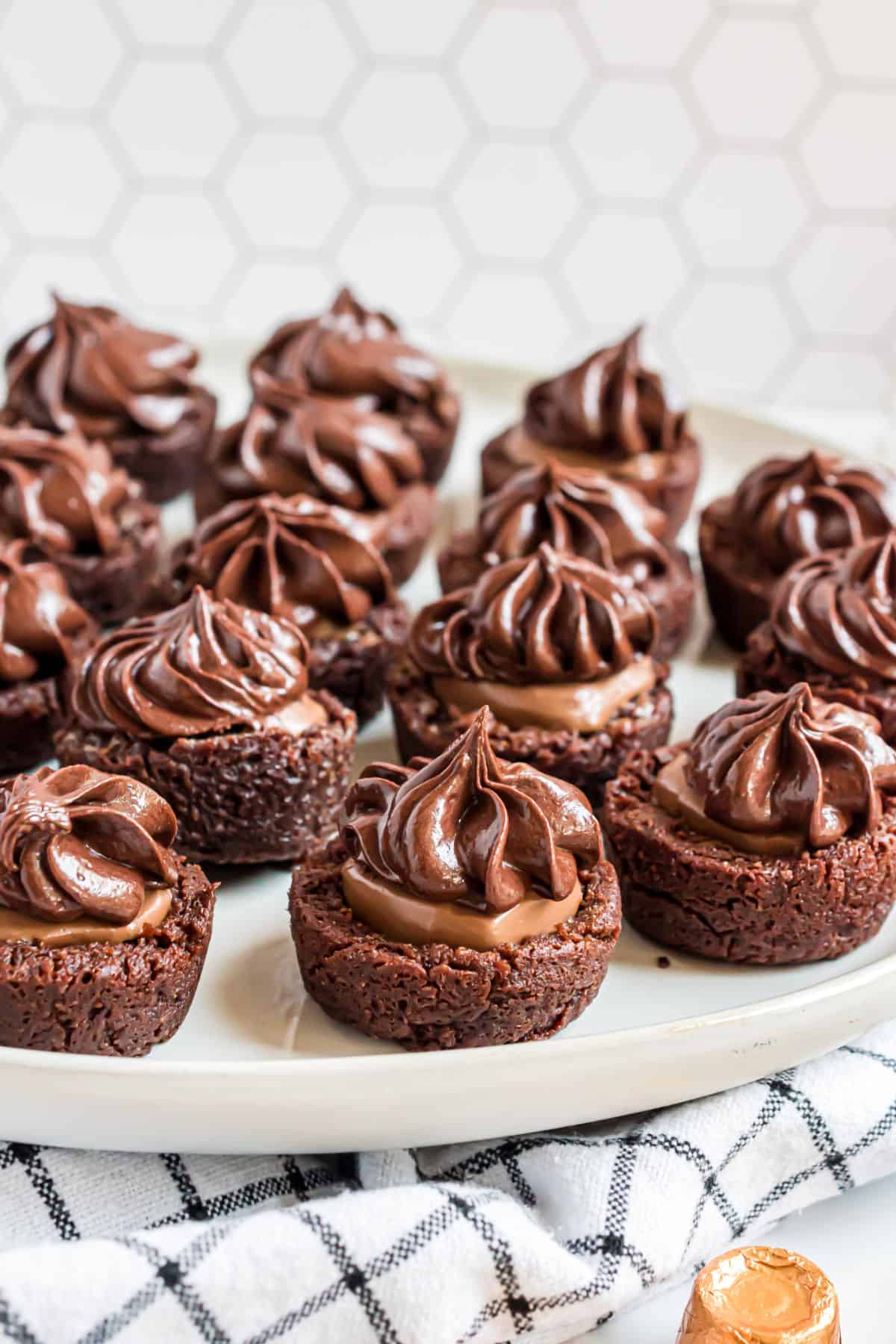 Recipe FAQs
I don't have a mini muffin tin. What else can I use for brownie bites?
You can bake the batter in a cupcake pan or regular muffin tin instead, but they will be more like brownie cups than brownie bites. Still sounds delicious to me!
How to frost brownie bites?
I used a pastry or frosting bag fitted with a star tip to frost these chocolate caramel brownie bites. If you don't have one, scoop the frosting into a Ziploc bag and cut the tip of one corner off to create your own "DIY" frosting bag.
Can I freeze these brownie bites?
Yes, you can freeze these. I would freeze them unfrosted, then pipe the frosting on after they've thawed.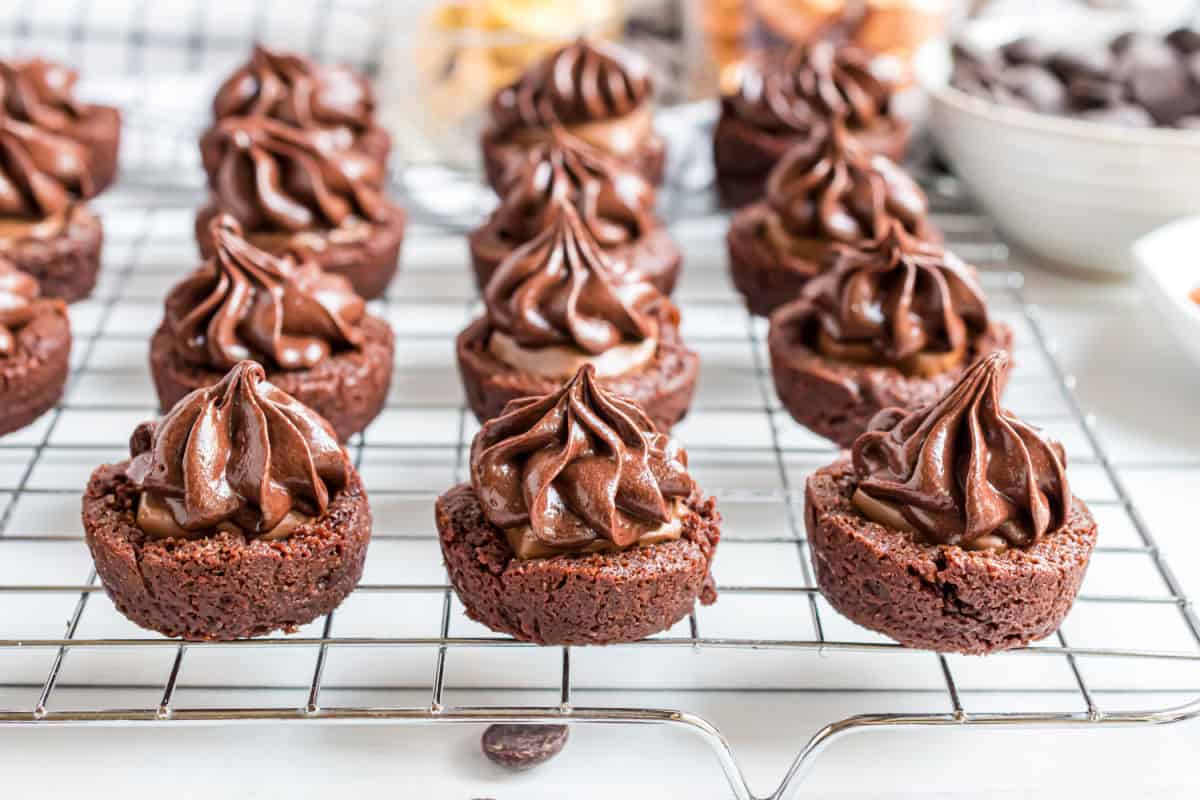 More Easy Dessert Recipes
Chocolate Caramel Brownie Bites can satisfy any sweet tooth. Simple bite-sized brownies are transformed into an ultra impressive party dessert in this easy recipe.