Sweet, vanilla M&M'S® Fudge is easy to make and packed with melt in your mouth M&M candies! A perfect homemade fudge for any holiday.
Love M&M candies? These thick and fudgy M&M'S brownies need to be on your to-bake list!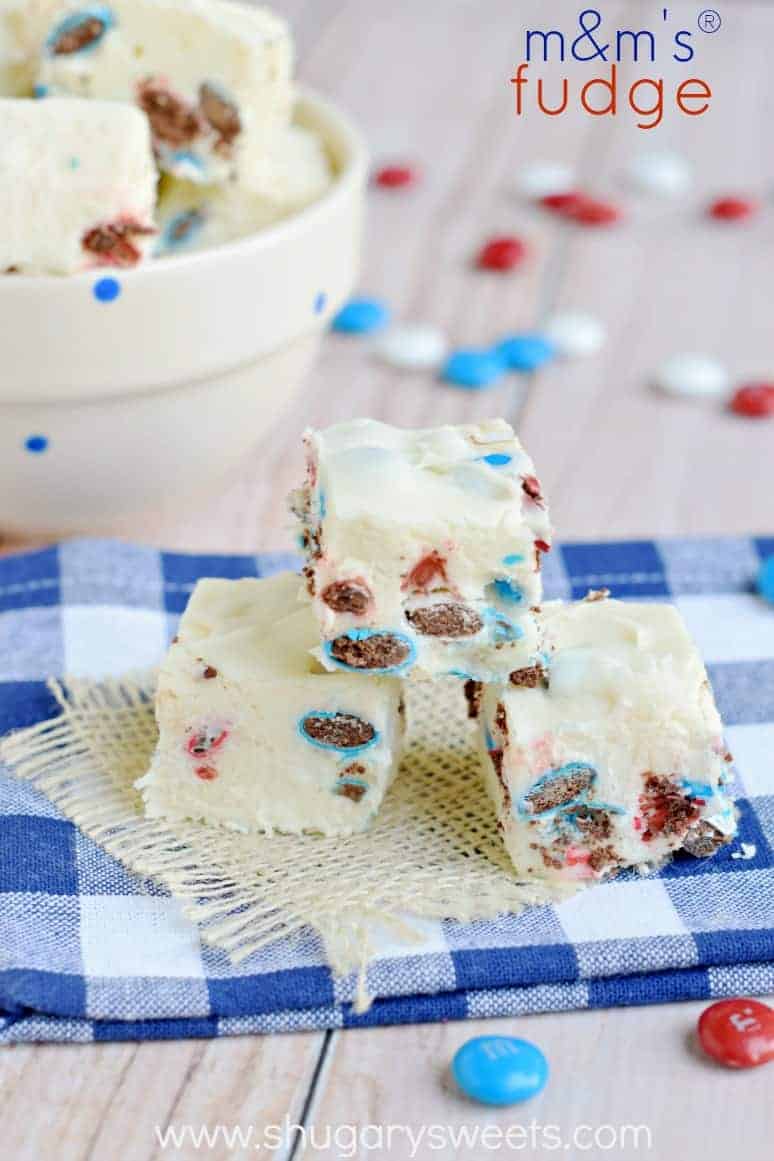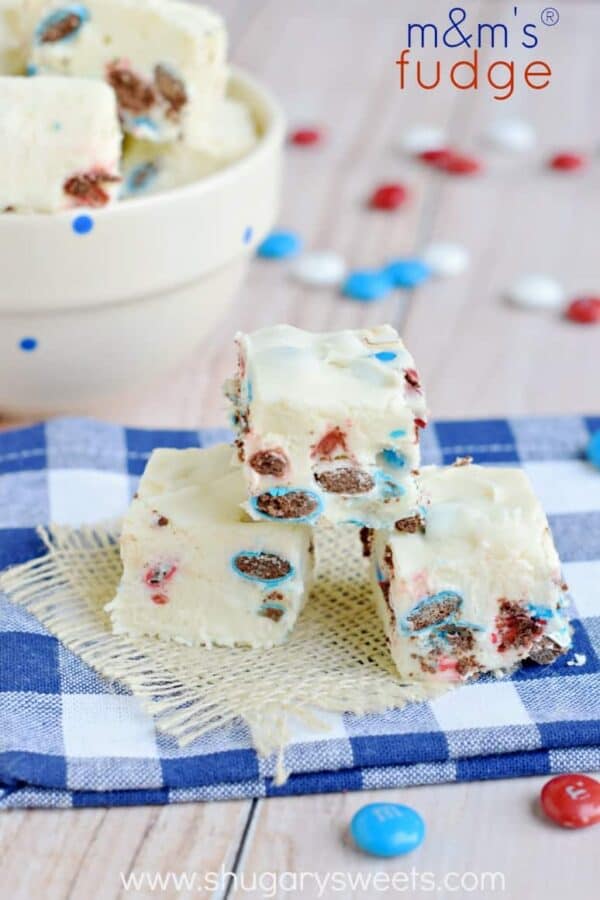 Holiday Fudge Recipe
Everyone should know how to make a couple of good homemade fudge recipes.
Lucky for us, fudge is easier to make than most recipes will have you believe! Once you learn how to make fudge, you can make just about any flavor you like.
Today's M&M'S® Fudge is one of my favorite fudge recipes for the holidays. Not just the winter holidays–ALL of them!
It has a creamy white chocolate base with milk chocolate M&M'S® mixed in.
All you have to do is change up the M&M colors you use to match the occasion.
M&M's Fudge is easy to make with no candy thermometer needed!
From Christmas to the Fourth of July, this M&M'S® Fudge makes a festive homemade treat for all your celebrations.
Ingredient Notes
You'll need our standard combination of heavy whipping cream, butter and sugar to form the liquid base of the fudge, along with these ingredients:
Marshmallow cream – Also called "fluff", it's my (not so) secret ingredient for velvety smooth fudge every time.
White chocolate morsels – Melted and mixed with fluff to give the fudge its flavor.
M&M'S® candies – Use any color you like! Or mix and match depending on the holiday season. We love red and green for Christmas, red and white for Valentine's Day, and red, white and blue for the 4th of July.
Easy Instructions
Boil the butter, sugar and cream in a sauce pan with a pinch of salt. Stir constantly at a rolling boil for 5 minutes.
Pour the bubbling mixture over marshmallow cream and white chocolate chips. Beat until the white chocolate is melted and everything is smooth and combined. Fold in the M&Ms.
Pour the fudge mixture into a baking dish. Let the fudge set for at least 2 hours.
Slice into squares and serve right away, or store your fudge for later!
Tips and Tricks
Line your baking dish with parchment paper. When the fudge is set you can grab the edges of the parchment paper and lift the fudge right out of the pan.
Keep the fudge fresh by storing it in an airtight container at room temperature. I recommend storing it in blocks and cutting off only what you will eat right away.
Holiday M&M'S® Fudge makes a wonderful homemade gift! Place squares of fudge in a mason jar and tie it with a bow. Your family and friends will love this fudge!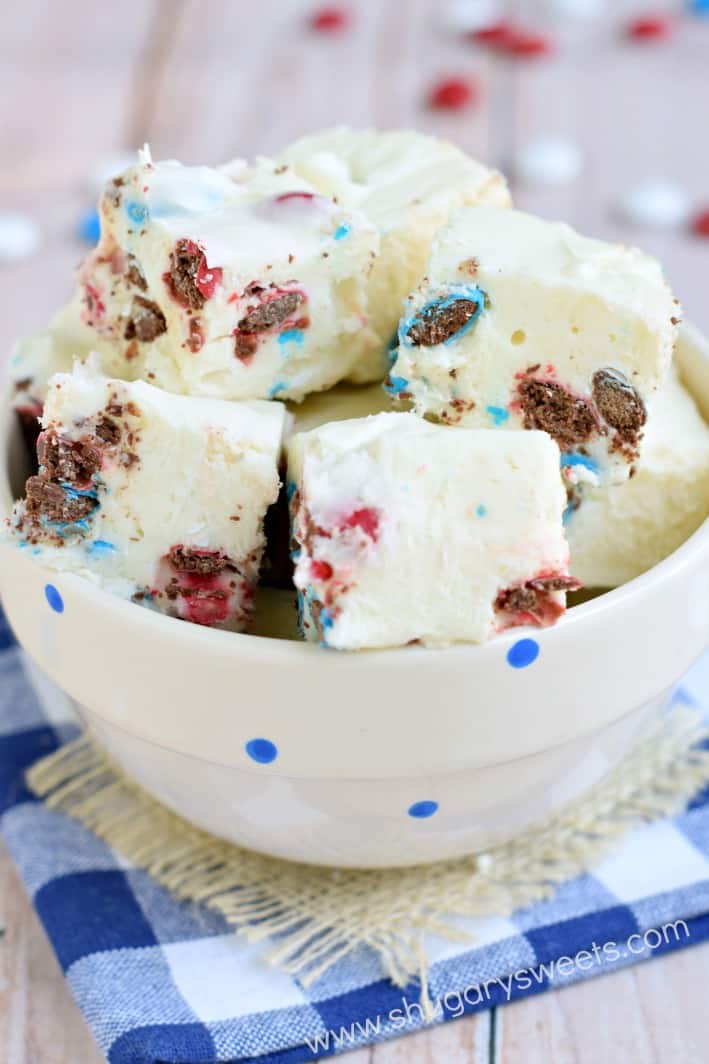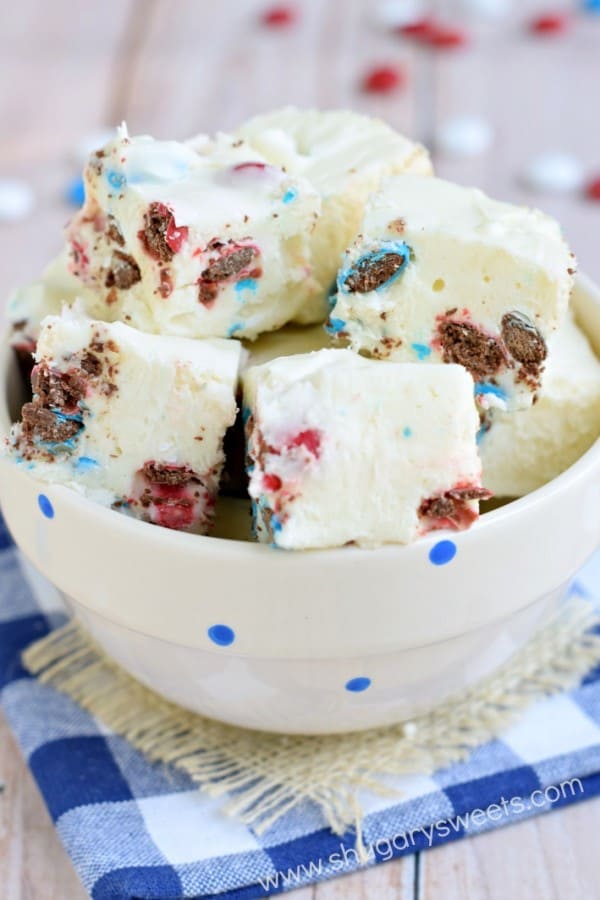 Recipe FAQs
Can I make this with different M&M flavors?
Yes! You can use any of your favorite M&M'S®candies this recipe. M&M'S® Peanut, M&M'S® Peanut Butter and M&M'S® Caramel would all be delicious options. You could even use the M&M'S® Fudge Brownie flavor for a dark chocolate flavor addition.
Can I freeze fudge with M&M'S®?
The fudge freezes well, but the candy shells tend to "bleed" color when the fudge thaws. It will change the appearance of your fudge if you freeze and thaw it.
How do I remove fudge from the pan?
The easiest way to remove fudge from the pan is by lining your pan with parchment paper first. Use a large enough square of parchment that it drapes slightly over the edge of the pan. When the fudge sets, you can lift the whole thing right out of the pan.
Leave the fudge on the parchment to slice or flip the block of fudge over and peel off the parchment.
Can I use wax paper instead?
Wax paper should not be used in place of the parchment in this recipe. The wax will stick to the warm fudge mixture making it difficult to remove once set.