Sweet, vanilla M&M'S® Fudge is easy to make and packed with melt in your mouth m&m candies! Perfect for any holiday.
Love this recipe? Sign up for my free Shugary Sweets email subscription and never miss out again!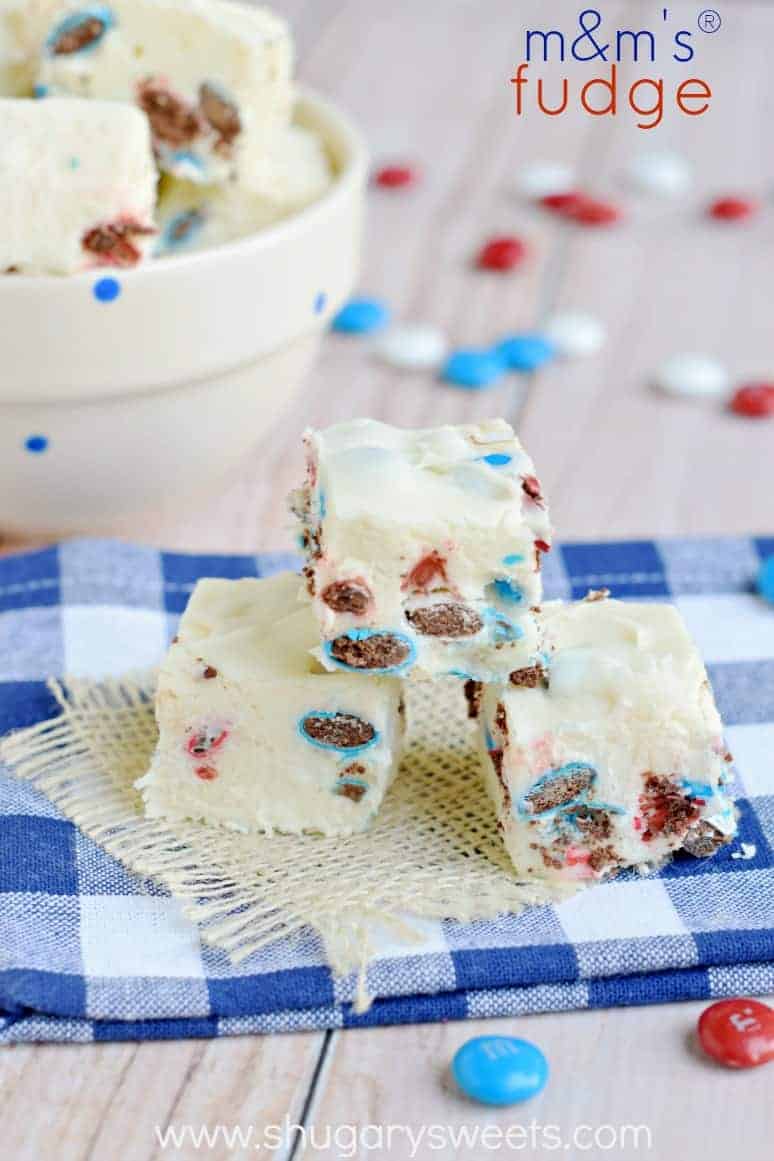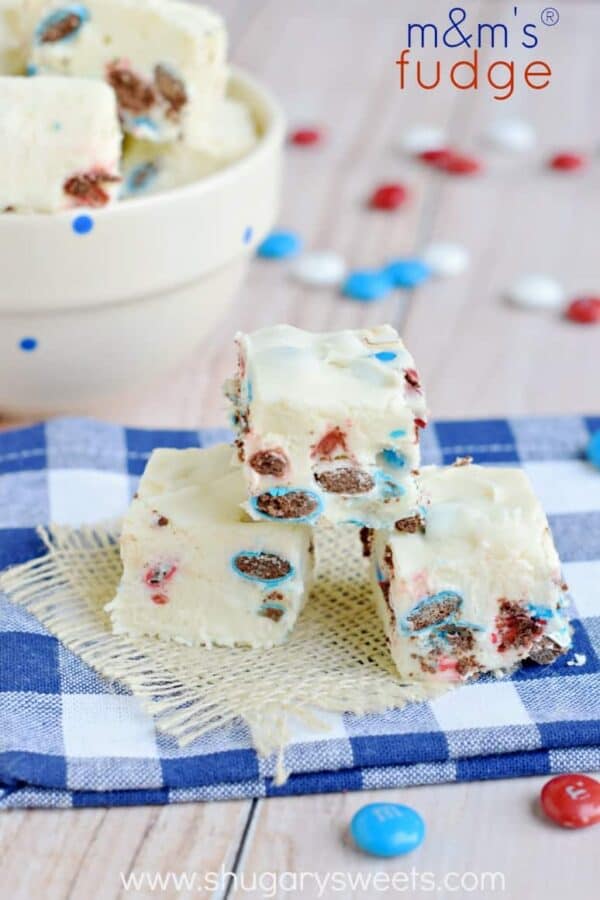 This weekend we are having a big party at our house. We're having a going away party for our son, as he will be off to the Marines in less than two weeks! And I have a confession.
I'm not cooking. I wasn't even planning on baking anything. I was going the whole store bought route.
Is that awful?
Michael (hubby) convinced me that I should bake SOMETHING. So I'll be making some flag cupcakes for the dessert table (using chocolate with blue frosting, red velvet with red cream cheese frosting, and vanilla bean cupcakes with vanilla frosting). I'll shape them into a flag like this.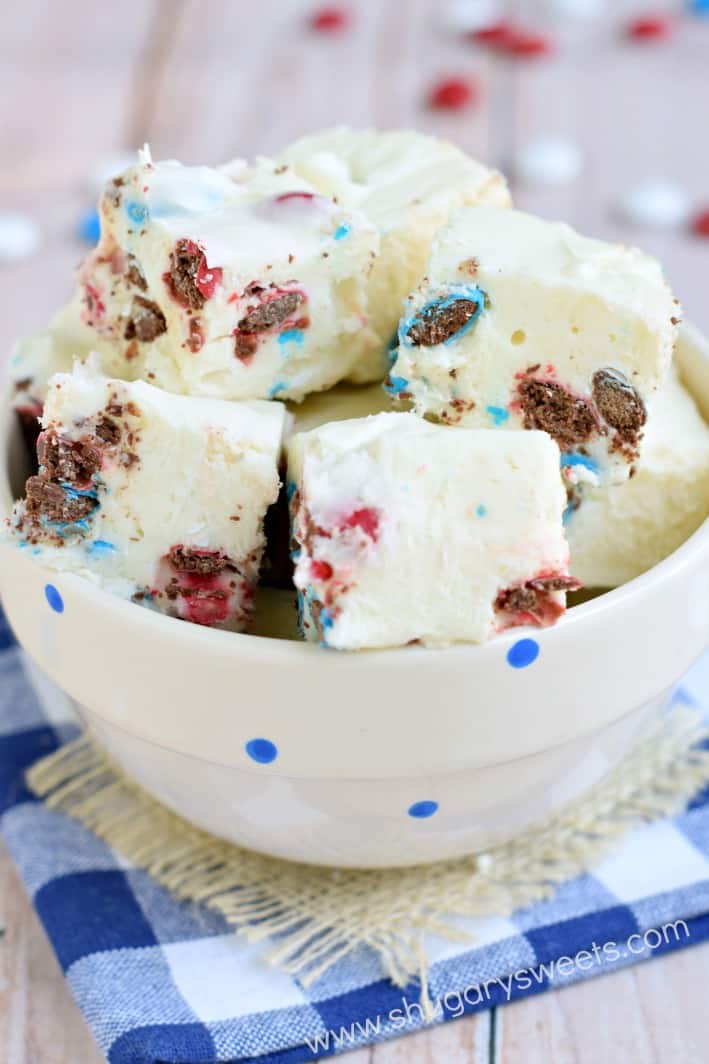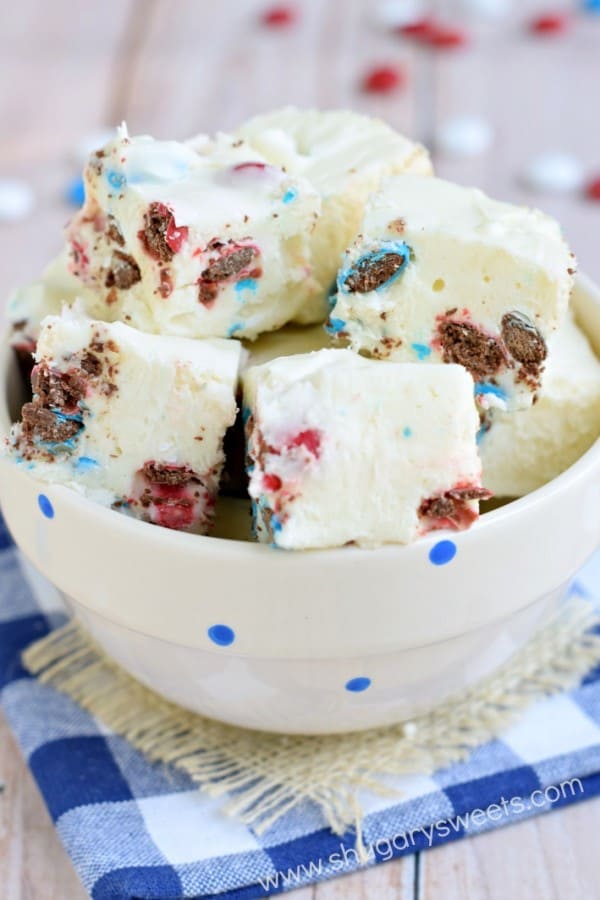 What I should have done was make some of this fantastic M&M'S® fudge! But, alas, as a food blogger, we don't often eat desserts during the right holidays. I've already got pumpkin desserts going in my kitchen as I get ready for Fall. And the Christmas desserts will start by the end of the summer.
Which is unfortunate, because the cupcakes I'm making for this weekend's party will be adorable. Maybe you can make them for Labor Day, I'll put a tutorial!
In the meantime, let's talk about today's fudge recipe. I used my favorite vanilla fudge base. Once you know how to make vanilla fudge, you can make tons of variations like this!
Once it was smooth and creamy, I gently *but quickly* folded in the m&m candies. I used the red, white and blue…but feel free to make this using any color. If you're reading this at Christmas, those red and green ones would be adorable in here!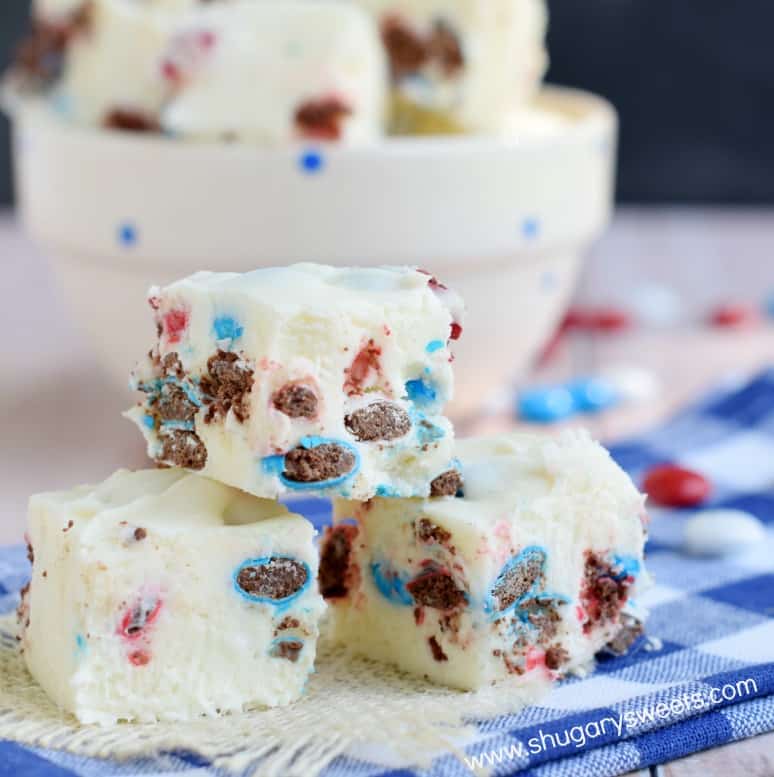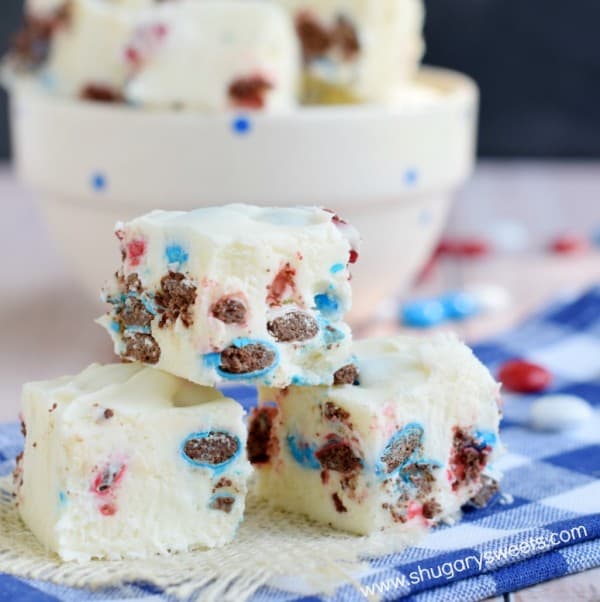 I may just have to whip up another batch of this fudge for this weekend's festivities!!
Yield: 64 pieces
M&M'S® Fudge
Prep Time
2 hours
20 minutes
Ingredients
2 cup granulated sugar
3/4 cup heavy cream
3/4 cup unsalted butter
pinch of kosher salt
1 jar (7 oz) marshmallow cream
1 pkg (11 oz) white chocolate morsels
1 bag (11 oz) M&M'S® candies, any color
Instructions
Line an 8-inch square baking dish with parchment paper. Set aside.
Prepare your mixing bowl by adding the marshmallow cream and white chocolate morsels. Pour these ingredients (unmelted) into the mixing bowl and set aside.
In a large saucepan, melt butter with sugar, heavy cream, and salt over medium high heat. Bring to a boil. Stirring constantly, boil for a complete 5 minutes. Remove from heat.
Pour hot mixture over ingredients in your mixing bowl. Using an electric mixer with whisk attachment, beat on medium for a minute until smooth and creamy, and all the white chocolate is melted. Gently fold in the candy.
Pour immediately into prepared baking dish. Refrigerate for two hours, or until set (overnight is fine too).
Remove parchment paper and cut into bite sized pieces. Store in an airtight container in the refrigerator for up to one week (if it's cut). If it's uncut, fudge will stay fresh for 2 weeks.
Love this fudge? Here are a few more delicious varieties!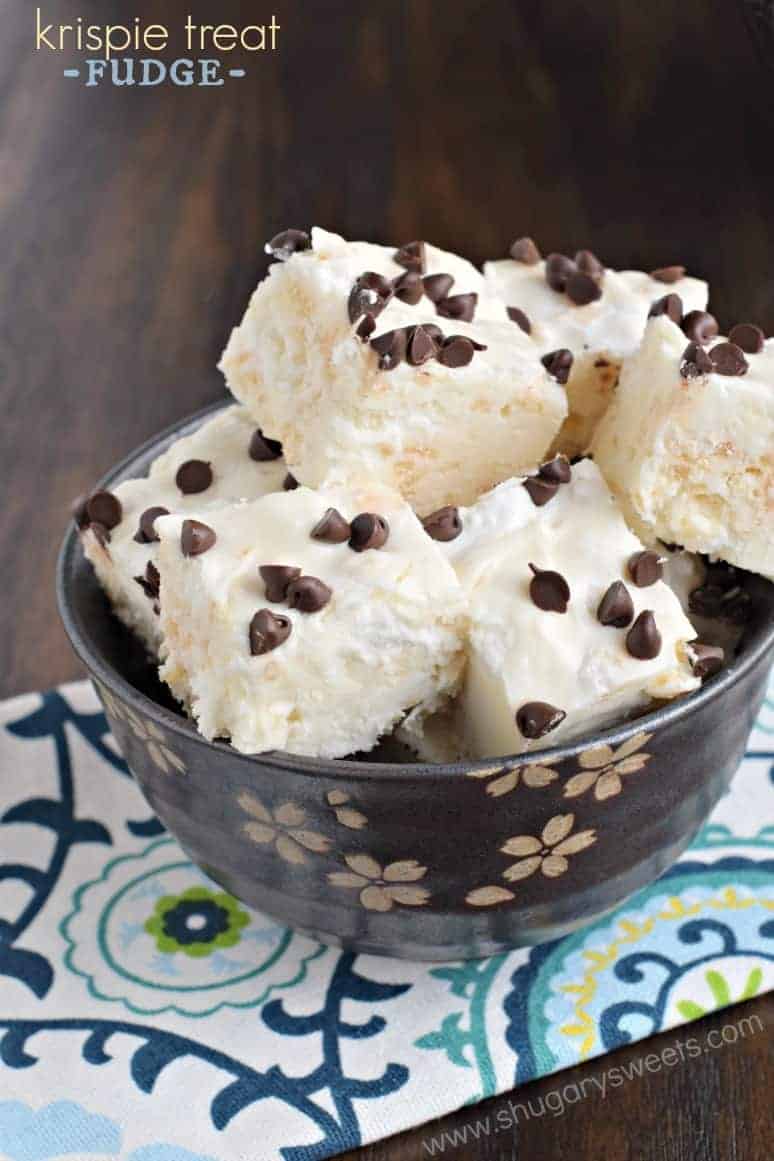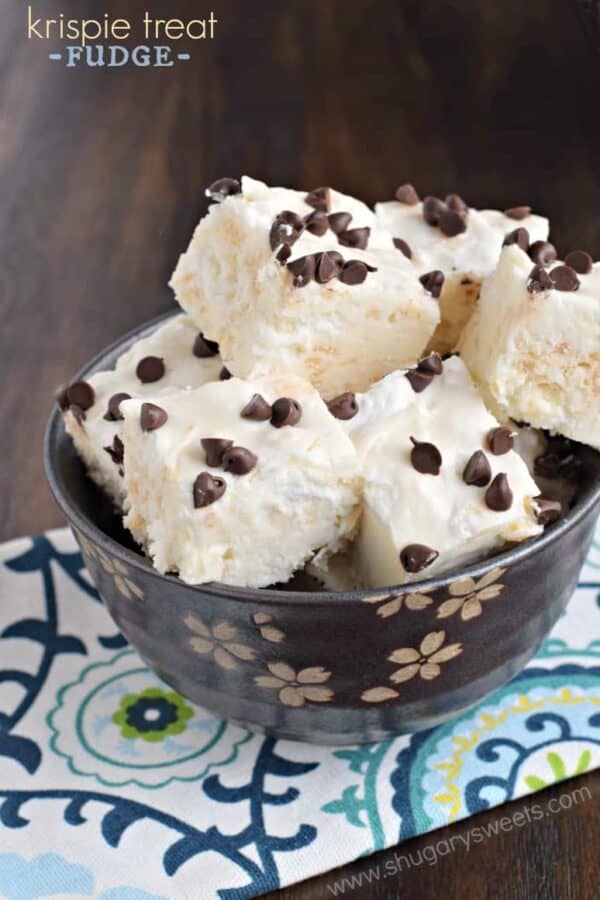 Krispie Treat Fudge: a combo of delicious creamy fudge with chewy krispie treat texture!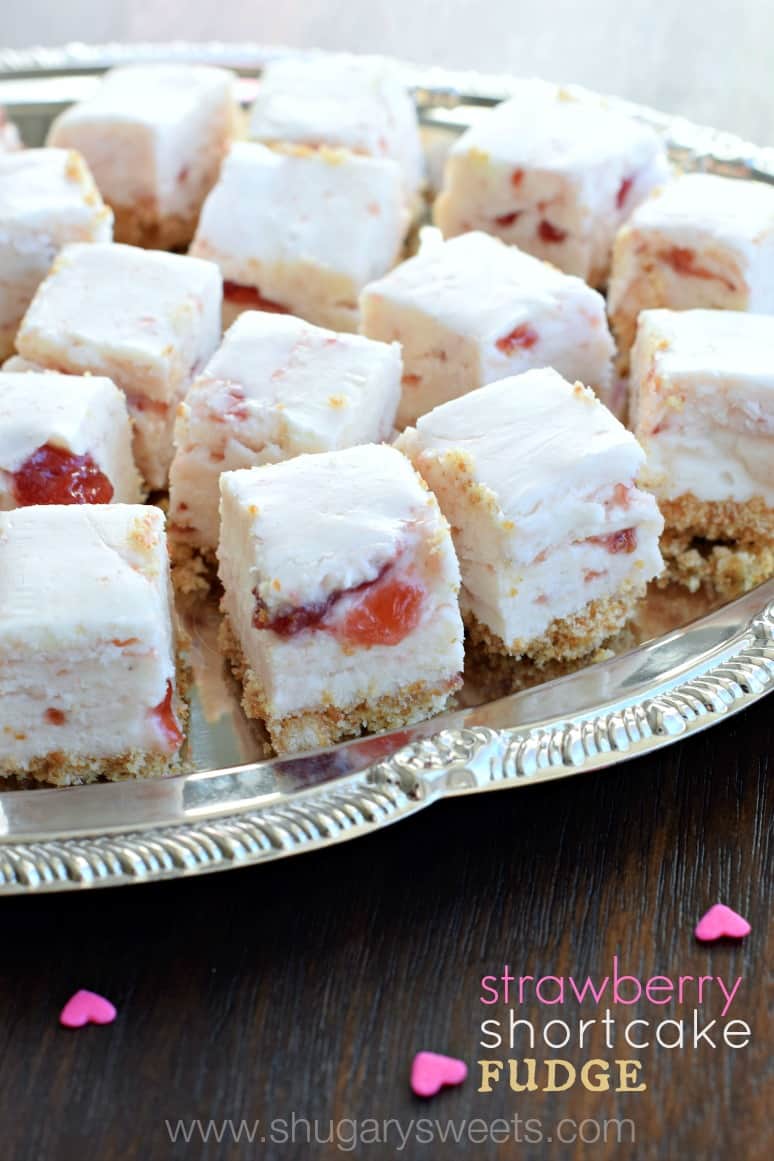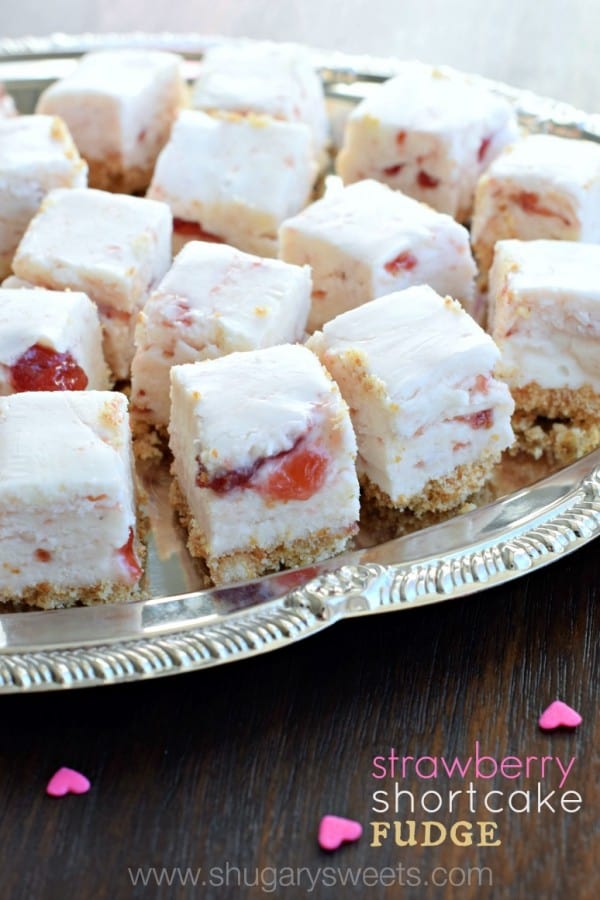 Strawberry Shortcake Fudge: creamy fudge with strawberry preserves swirled throughout. Don't forget the sweet crust!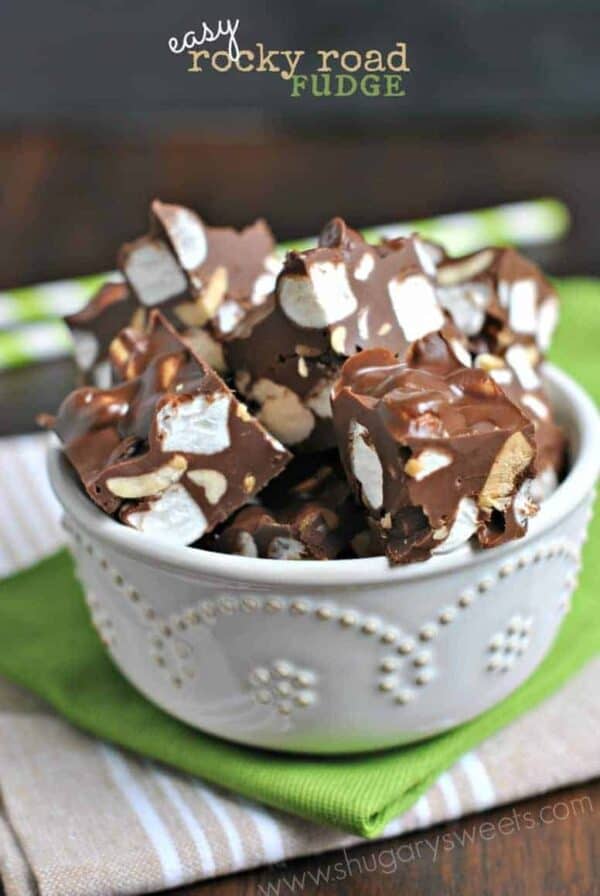 Easy Rocky Road Fudge: one of the easiest recipes, and the first fudge I ever made!
Here are some more delicious FUDGE recipes from my friends: