Krispie Treat Fudge combines the best of gooey marshmallow treats and fudge! The perfect bite-sized dessert for sharing — only they taste so good you'll want to keep them all for yourself!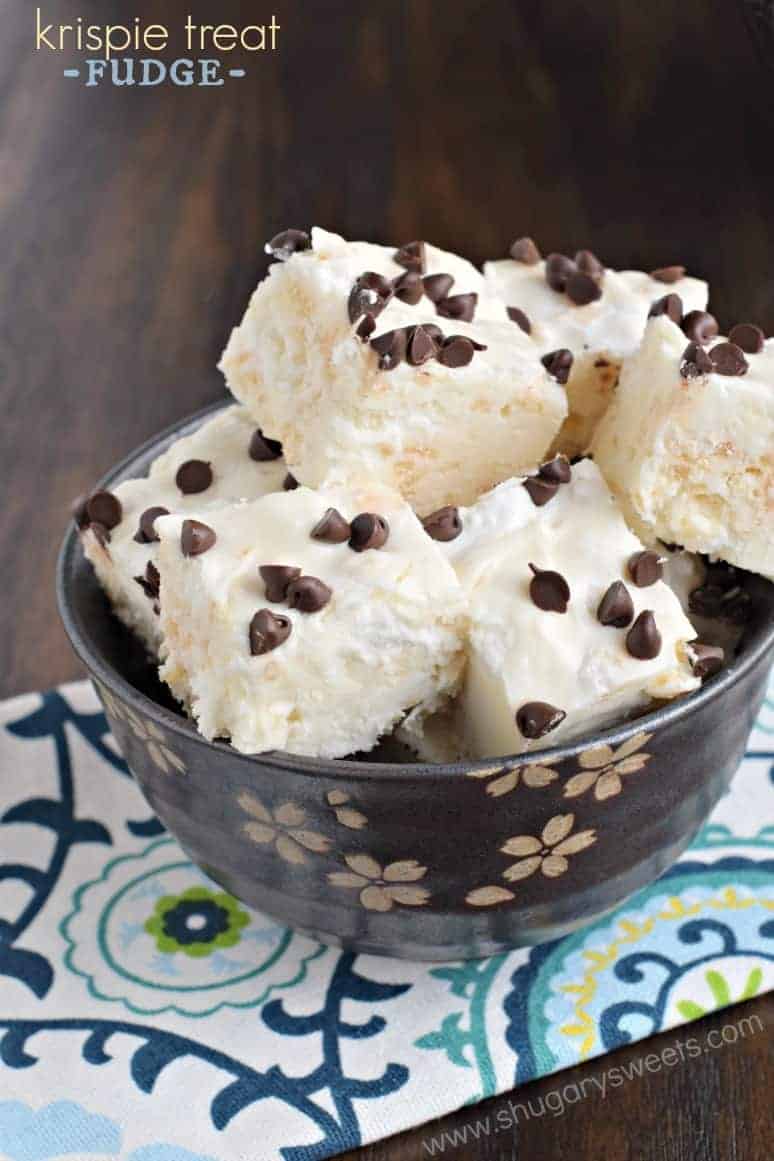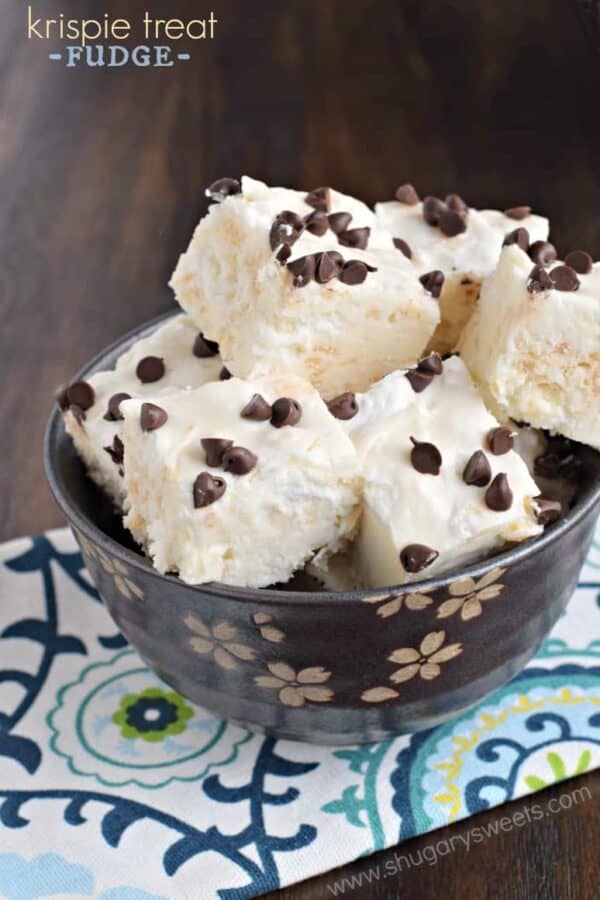 Why this Recipe is Best
Crispy rice cereal inside smooth fudge.
Delicious gooey marshmallow flavor.
Topped with chocolate chips.
The perfect size to pop into your mouth!
Today I pulled a fast one on my family. You see, they have a strict rule with me that I am no longer allowed to make Rice Krispie Treats.
It's not because I make them poorly (because my recipe is amazing).
It's because I don't share.
They are my Achilles heel, so to speak. I will fight even the smallest child for the last, Perfect Rice Krispie Treat at a potluck. (don't think I'm kidding).
I have been caught eating an entire pan, by myself, before my children even arrive home from school. Guilty.
Hey, it's not my fault that I perfected how to make rice krispie treats!
So, in an effort to get around their "rules", I created this delicious Krispie Treat Fudge.
One of my favorite versions of a krispie treat is this Avalanche recipe. It comes from Rocky Mountain Chocolate Factory. It's rich, and chewy, and mouthwatering.
I kept the peanut butter out of today's fudge recipe because I wanted the fudge to taste more like a classic krispie treat. However, adding peanut butter is on my 'to do' list for next time. And yes, there WILL be a next time!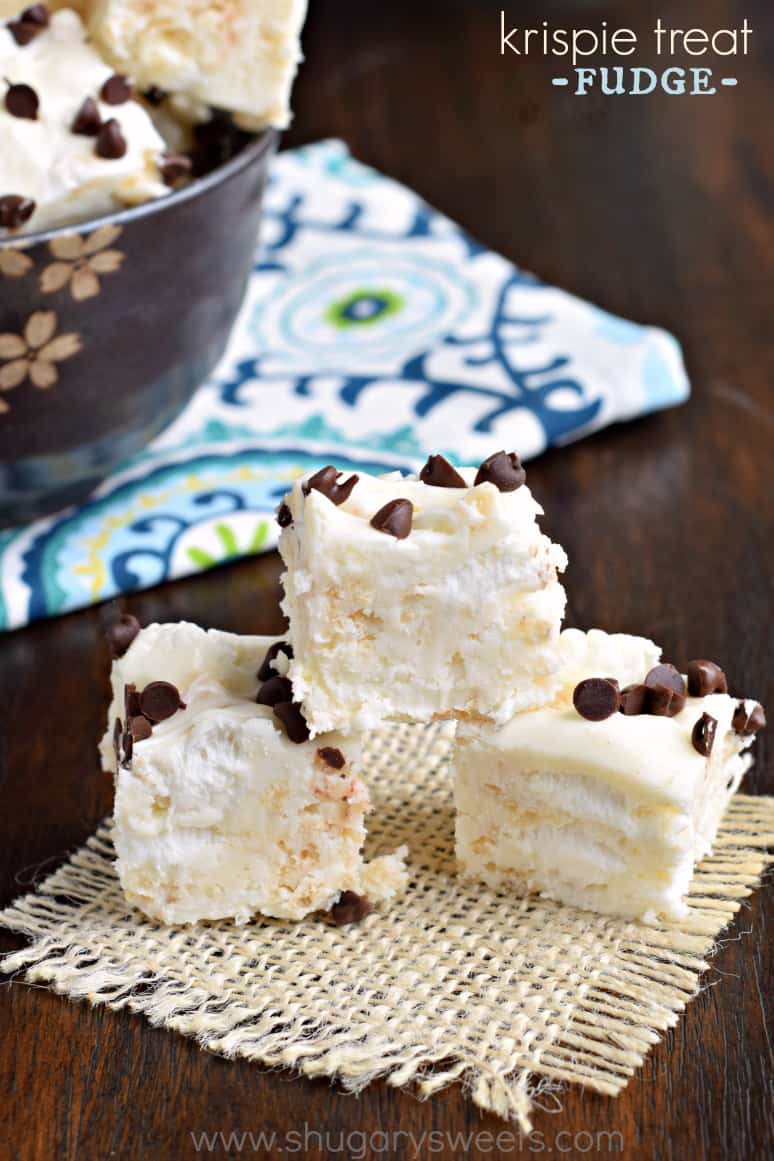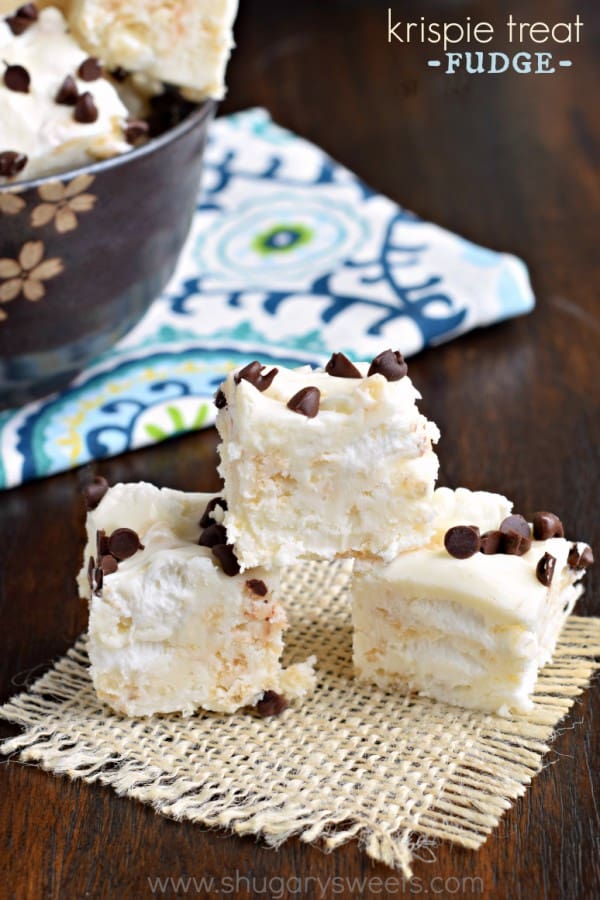 Ingredient Notes
The base for this fudge is a familiar combination of heavy cream, butter and sugar.
You'll also need these ingredients to turn it into Krispie Treat Fudge!
White chocolate – I use baking morsels. They melt quickly and easily into the other ingredients.
Marshmallow cream – It's also called "fluff" and is combined with the white chocolate to give the fudge its soft, smooth consistency.
Rice Krispies – Or use any brand of puffed rice cereal!
Mini marshmallows – For that rice krispie treat flavor.
Mini chocolate chips – Gives the fudge a tasty and eye-catching finishing touch.
Tips and Tricks
Use an electric mixer. It's the quickest and easiest way to combine the hot butter mixture with the white chocolate and marshmallow cream.
Chill the fudge mixture for 3 hours before serving. It tastes delicious cold, straight ouf of the refrigerator.
This fudge doesn't keep as long as other homemade fudge, so try to eat it within 5 days. After that, the rice cereal loses its crispiness.
Recipe FAQs
Can I freeze this fudge?
I don't recommend it. Unlike other fudge, this rice krispie treat fudge one doesn't hold up well to freezing. The cereal will get chewy and mushy in the freezer.
Can I use regular marshmallows instead of mini?
You can use regular marshmallows. Just cut them into smaller pieces before adding them to the fudge.
What other substitutions can I make?
For a peanut butter addition, swap out the mini chocolate chips for peanut butter mini morsels!
You won't be able to each just one piece of this Krispie Treat Fudge. It's just too good to resist!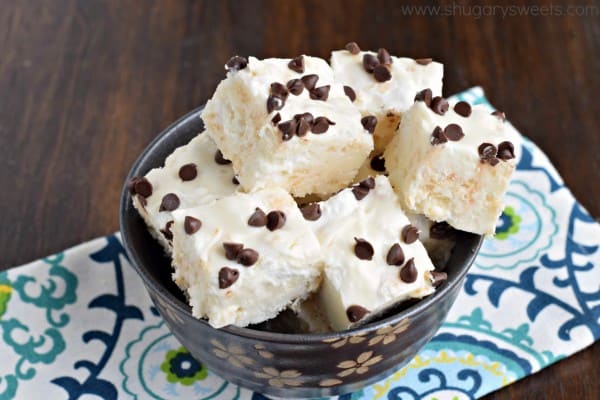 More Easy Desserts