My worlds have collided. This Krispie Treat Fudge is the best of both fudge and gooey marshmallow treats!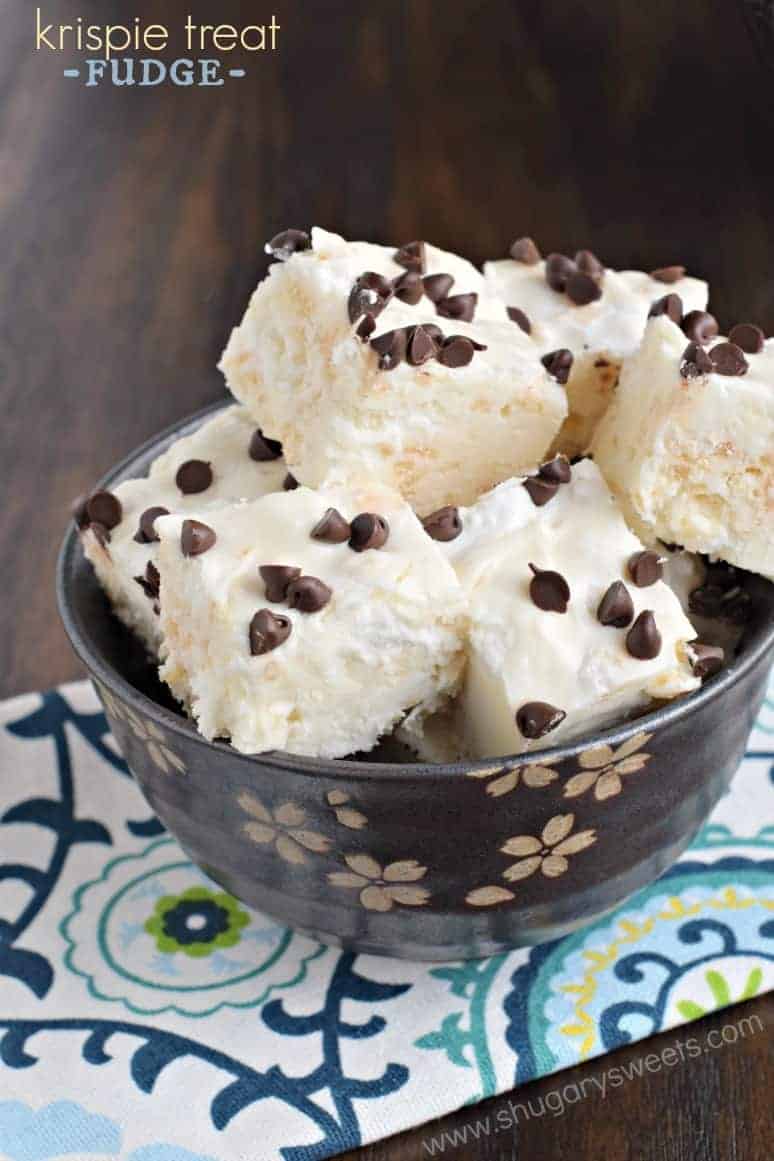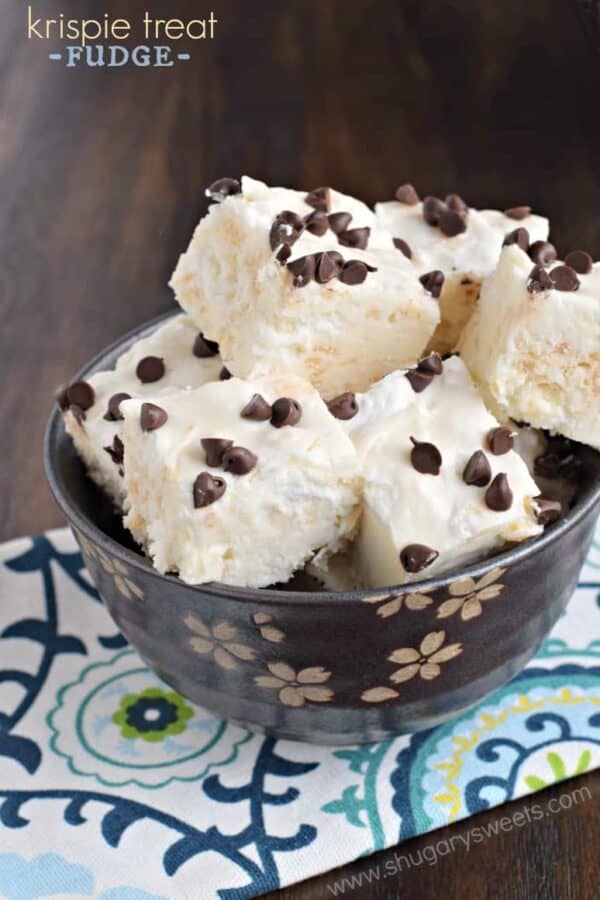 Click HERE to save recipe to Pinterest!
Today I pulled a fast one on my family. You see, they have a strict rule with me that I am no longer allowed to make Rice Krispie Treats.
It's not because I make them poorly, it's because I don't share. They are my Achilles heel, so to speak. I will fight even the smallest child for the last, Perfect Rice Krispie Treat at a potluck. (don't think I'm kidding).
I have been caught eating an entire pan, by myself, before my children even arrive home from school. Guilty.
Hey, it's not my fault that I perfected how to make rice krispie treats!
So, in an effort to get around their "rules", I created this delicious Krispie Treat Fudge. Since perfecting how to make vanilla fudge is my other superpower. And you guys, it's even better than I imagined.
One of my favorite versions of a krispie treat is this Avalanche recipe. It comes from Rocky Mountain Chocolate Factory. It's rich, and chewy, and mouthwatering.
I kept the peanut butter out of today's fudge recipe because I wanted the fudge to taste more like a classic krispie treat. However, adding peanut butter is on my 'to do' list for next time. And yes, there WILL be a next time!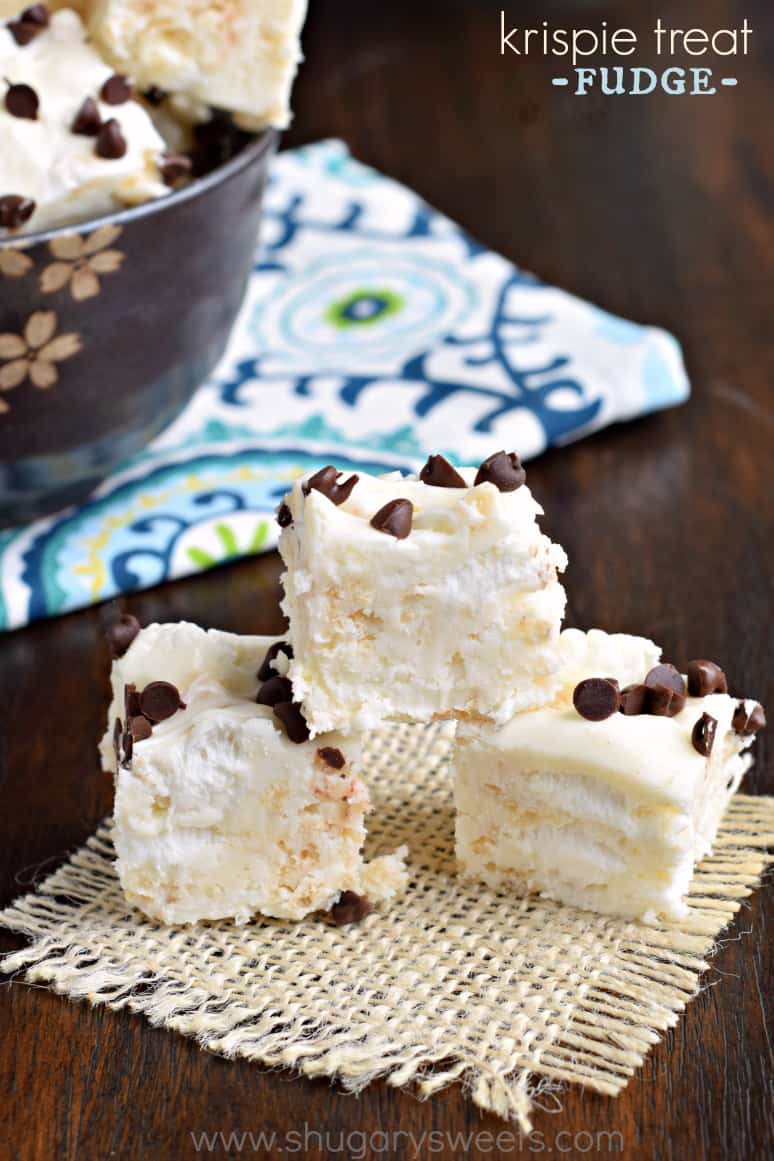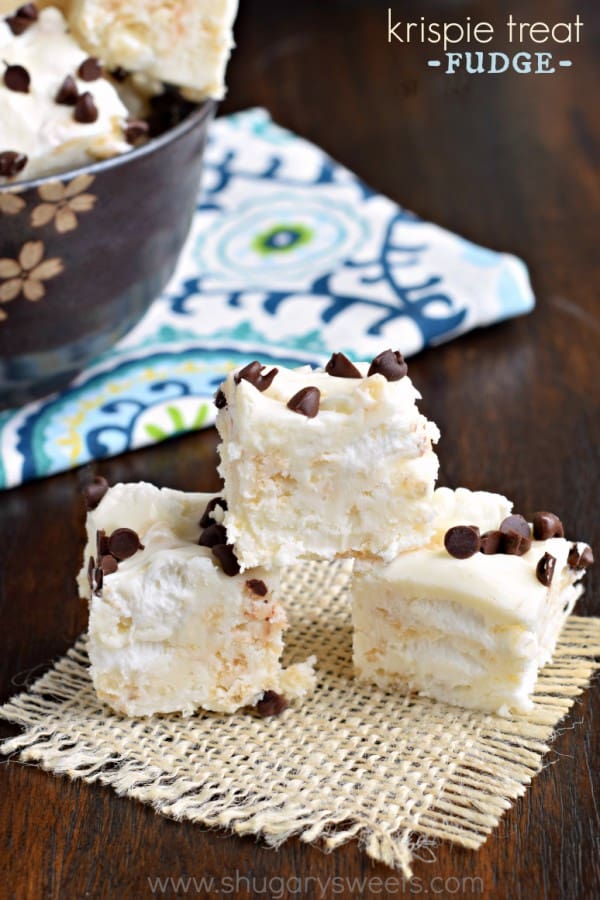 Fortunately for my family, this fudge makes a whole pan of decadent, gooey fudge…and I'm willing to share. As each piece is so rich and satisfying, I won't over indulge by eating all 64 pieces. (not to say I won't eat my fair share, because I did. And then some, but a little goes a long way).
How to make Rice Krispie Treat Fudge:
Line a 13×9 baking dish with parchment paper (not foil). It makes serving this fudge so much easier.
Boil the mixture for the full 4 minutes, stirring constantly. If you do this I won't make you use a candy thermometer.
After you have beat in the white chocolate and marshmallow cream, and your mixture is smooth. Gently (but working quickly) fold in the marshmallows and cereal. Pour immediately into your prepared dish.
Sprinkle your chocolate chips on top immediately so they stick to the warm fudge.
After allowing the fudge to cool, remove from pan by lifting by the parchment paper. Place on a large cutting board and cut into small bite sized pieces. Store in an airtight container for up to 7 days. These taste best on day one and two…after that, the krispies soften and become more chewy. Still good, but a different texture! ENJOY.
If you love today's marshmallow fudge recipe, here are some more tasty ideas:
This swirled Tiger Butter Fudge recipe is incredibly easy, and also the answer when peanut butter and chocolate cravings hit!
Rocky Road Fudge was my very first fudge making experience as a child. That's how easy it is to make!
Want another easy treat? Saltine Toffee. Family and friends will be surprised to know this all starts with a salty cracker!
I created a fun little group on facebook and I'd love for you to join in! It's a place where you can share YOUR favorite recipes, ask questions, and see what's new with Shugary Sweets (so that you never miss a new recipe)! If you'd like to check it out, you can request to join HERE.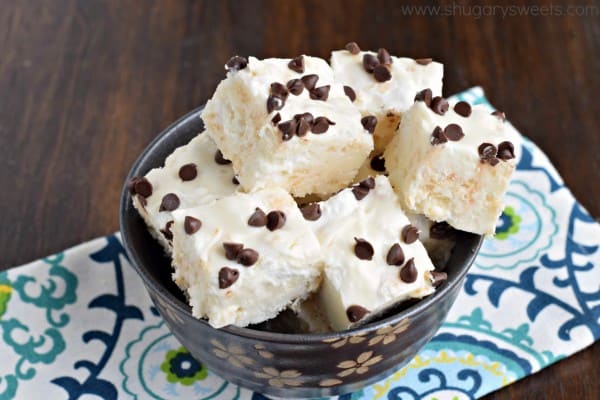 Connect with Shugary Sweets!
Be sure to follow me on my social media, so you never miss a post!
Facebook | Twitter | Pinterest | instagram
More Easy Desserts
Krispie Treat Fudge recipe:

**Today's recipe for Rice Krispie Treat Fudge was originally published on Shugary Sweets on June 11, 2015 and has been republished in May 2018.