Peanut Butter Shortbread Bars are a delicious, easy melt-in-your-mouth-shortbread. Made even better with the addition of peanut butter and candy coated peanut butter bits!
Shortbread cookies or bars are perfect for any occasion. You can enjoy them plain or with all kinds of mix-ins like these chocolate chip shortbread cookiess or my favorite butterscotch shortbread bars.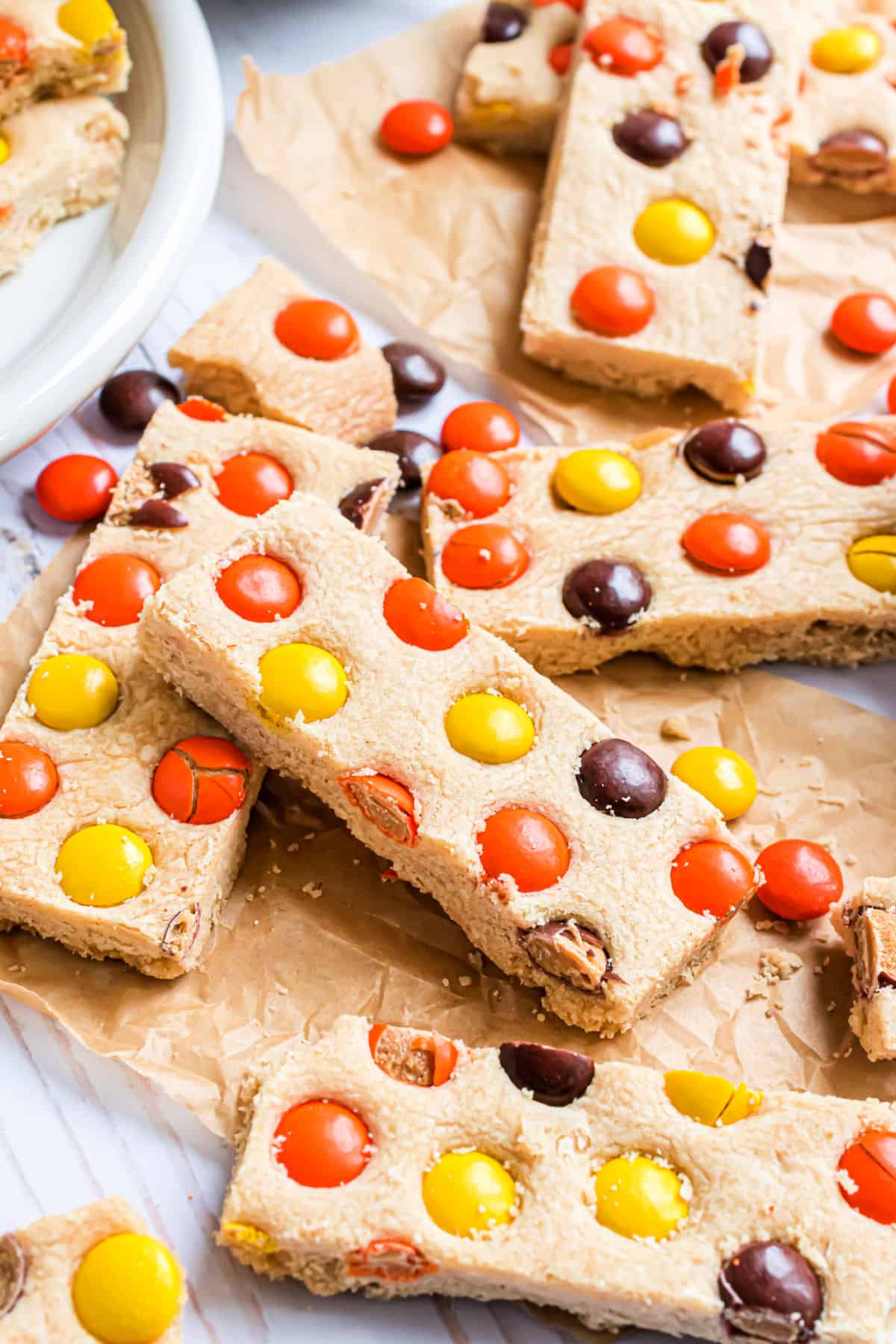 Why This Shortbread is Best
It's hard to go wrong with shortbread. The ingredients are simple and the method is easy.
I've been making shortbread cookies for years. But today, I tried something new: peanut butter shortbread!
And I didn't stop there. I pressed Reese's Pieces candies onto the shortbread before baking. The result is a shortbread that will have every peanut butter lover you know doing a little happy dance.
These shortbread bars have rich creamy peanut butter flavor in every bite.
Reese's candies add color, crunch and extra sweetness.
You can make the dough ahead of time.
An easy twist on traditional shortbread!
If you love peanut butter, try our dark chocolate peanut butter shortbread next. Perfection.
Ingredient Notes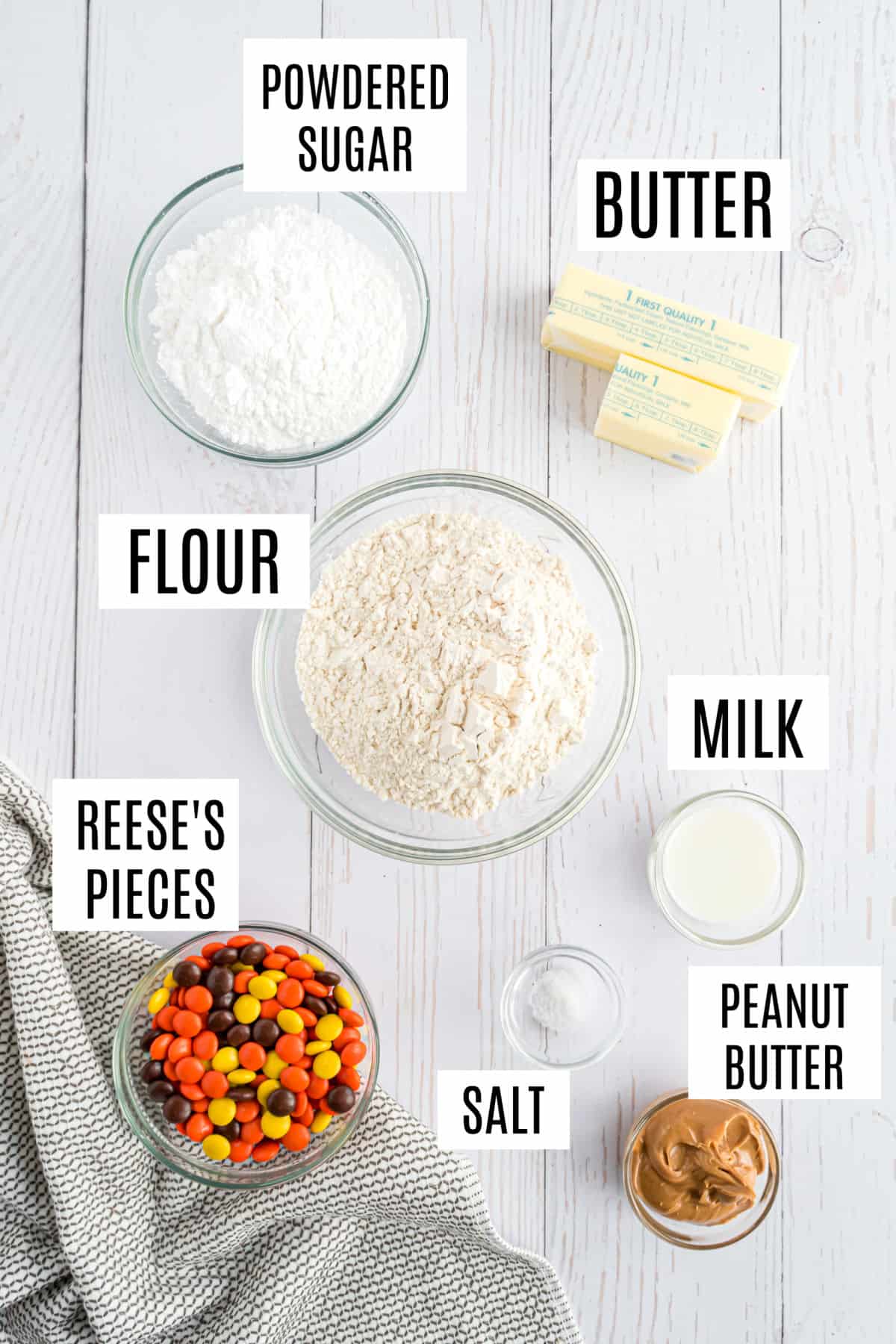 Even with the addition of peanut butter, the ingredients list for shortbread is short and sweet—like the cookies themselves!
Butter – Unsalted butter is best for shortbread. Use our tips on how to soften butter quickly in 5 easy ways!
Powdered sugar – The key to sweet shortbread that melts in your mouth!
Kosher Salt- Learn why I use kosher salt in my recipes. You can skip this if you use salted butter.
Peanut butter – Creamy shelf stable peanut butter works best.
All purpose flour – Bleached or unbleached white flour are both fine in this recipe. Be sure to check out our tips and tricks on how to measure flour so you don't result in dry dough.
Milk – To add moisture to the crumbly dough. Any kind will do!
Mini Reese's pieces – Also called Reese's baking bits. Find them in the baking aisle near the chocolate chips.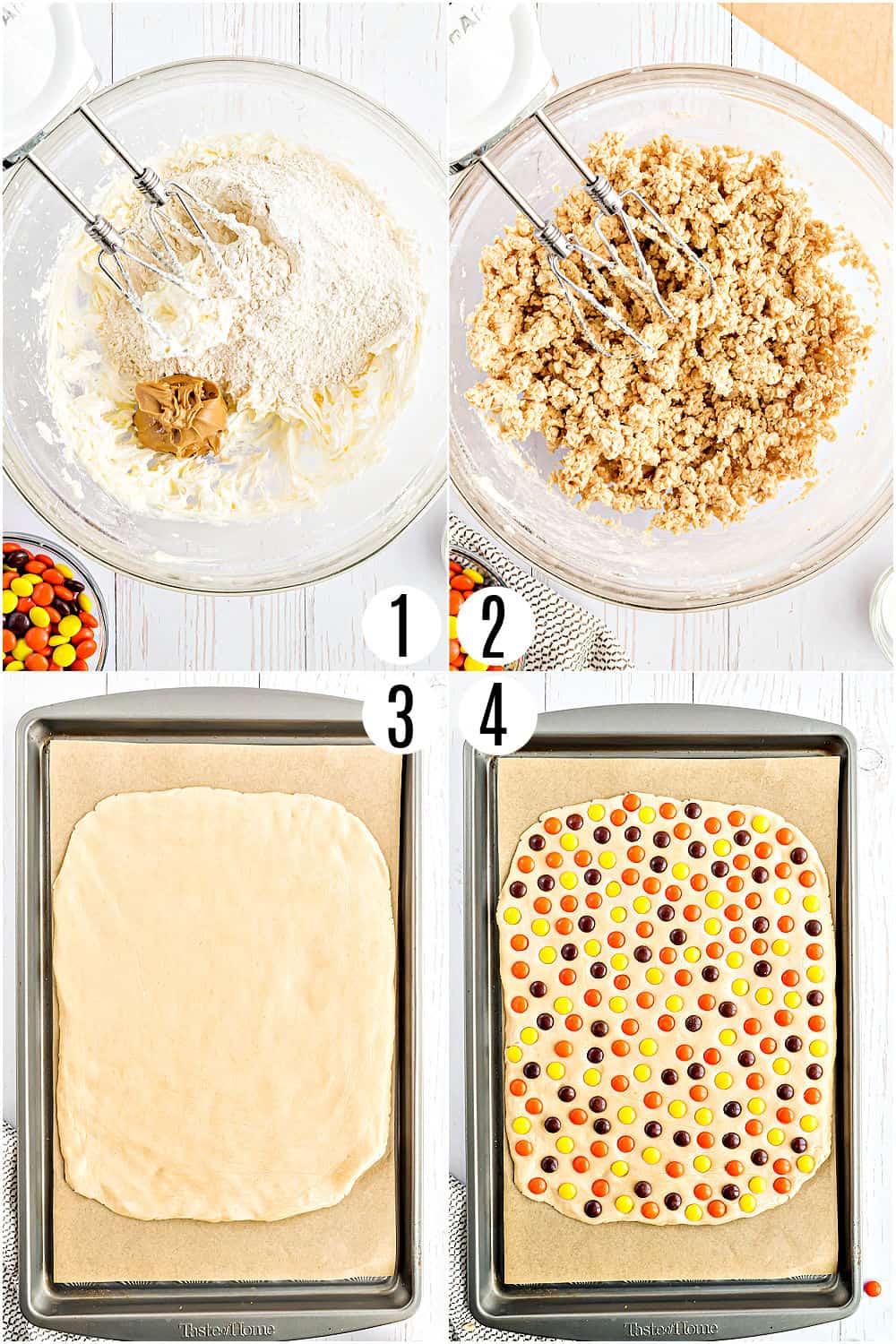 Make Ahead of Time
You don't have to chill the dough with this shortbread recipe. Unlike some other shortbreads, the dough is ready to bake as soon as its mixed together.
If you choose, you can prep the shortbread dough ahead of time and keep it chilled for later.
To make in advance:
Roll the dough into a log shape. I suggest a log about 2½ inches in diameter.
Wrap the dough in plastic cling wrap.
When you're ready to bake, slice the dough into disks, press the mini Reese's Pieces into the cookies and bake.
I can't decide whether I like this peanut butter shortbread more as bars or as round cookies. Both are delicious!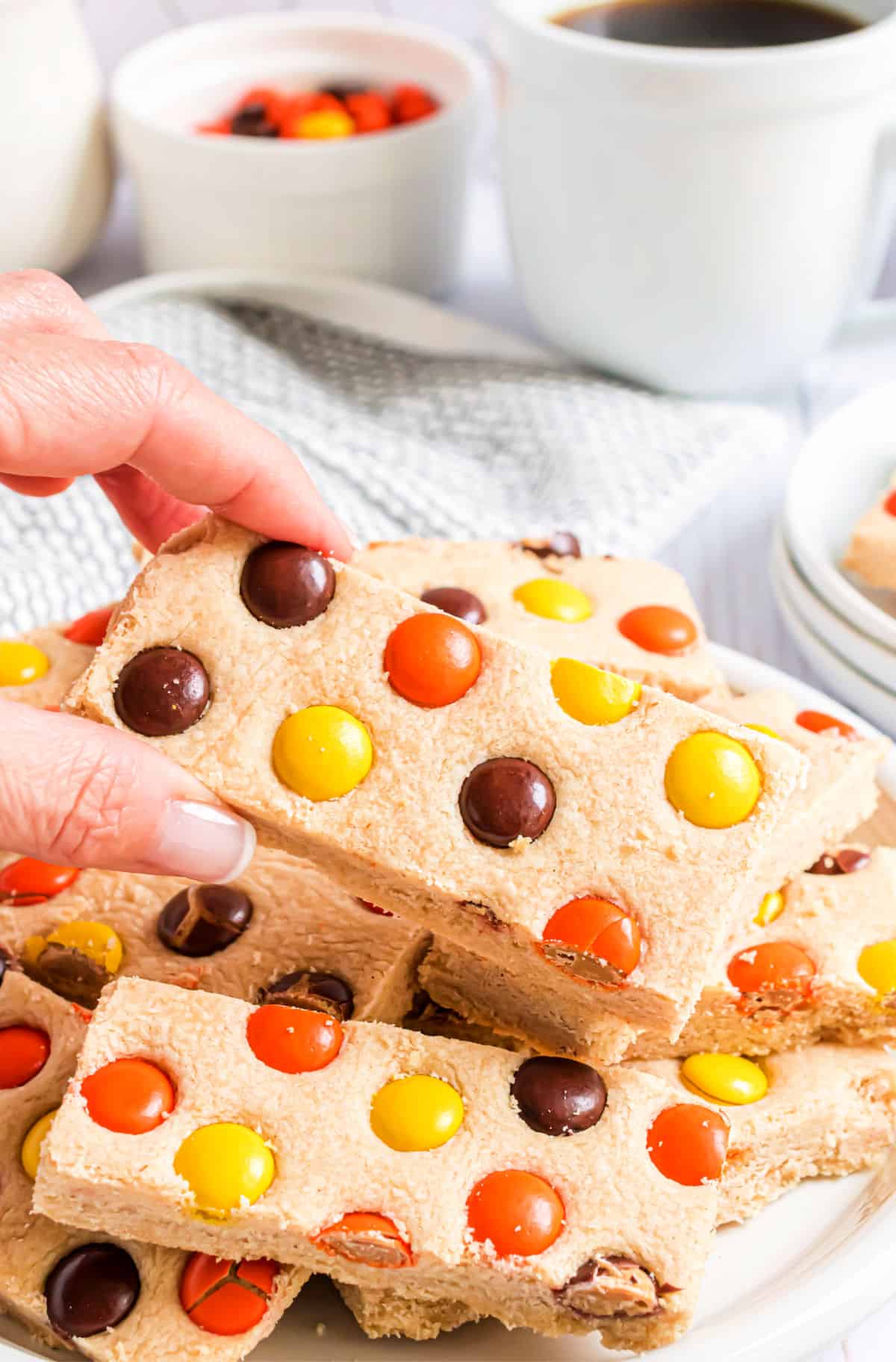 Tips and Tricks
Use your hands. The warmth of your hands helps the crumbly dough come together after adding the milk.
Line your pan with parchment: Shortbread dough has a tendency to stick to unlined pans making them difficult to remove in one piece. Parchment paper allows the bars to slide off the pan with ease. DO NOT USE WAX PAPER.
Recipe FAQs
How do I store peanut butter shortbread?
Once cooled, you can store these at room temperature in an airtight container for up to one week.
You can freeze shortbread bars too. Use our guide on how to freeze cookies for best practices. Thaw at room temperature before eating.
Can I use granulated sugar instead of powdered sugar for shortbread?
Nope, granulated sugar will alter the texture of the dough. You want the fine consistency of powdered sugar every time!
Can I use natural peanut butter in peanut butter shortbread?
I don't recommend baking with natural peanut butter in most cases. In natural peanut butter, the oil separates from the solids resulting in crumbly, greasy baked goods.
It's best to use a shelf stable peanut butter for shortbread. Think Jiff, Skippy, Peter Pan, etc.
What can I use instead of miniature Reese's Pieces?
You could replace them with any other miniature candies you like, however the flavor would be different. M&Ms baking bits make a good swap if you want to add a little chocolate to your shortbread. Or use regular Reese's pieces chopped into smaller bits.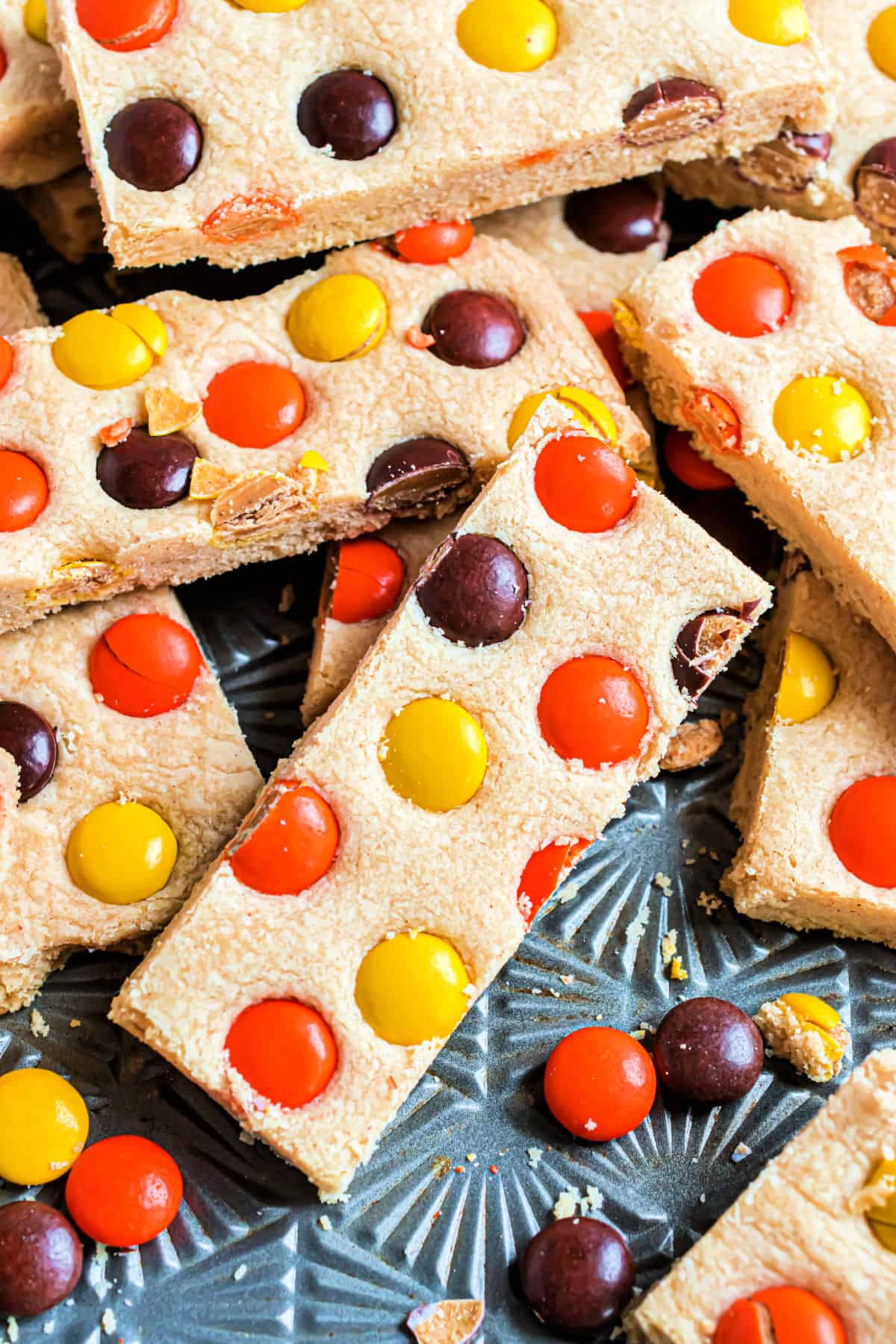 More Easy Cookie Recipes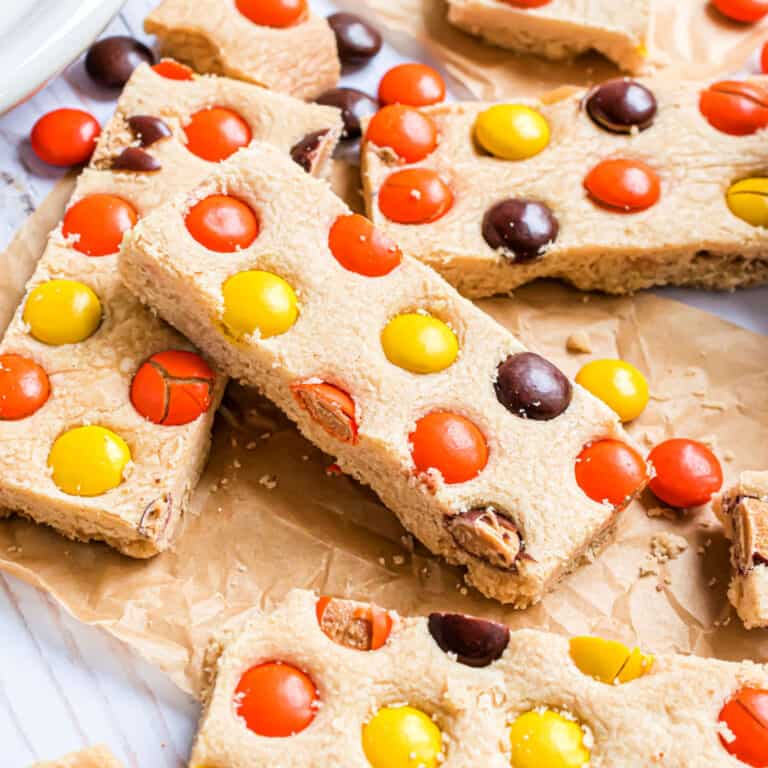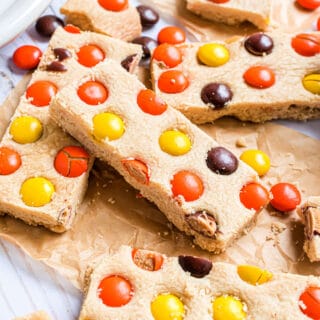 Peanut Butter Shortbread Bars
Peanut Butter Shortbread Bars are a delicious, easy melt-in-your-mouth-shortbread. Made even better with the addition of peanut butter and candy coated peanut butter bits!
Ingredients
¾

cup

unsalted butter

softened

1

cup

powdered sugar

2

cups

all-purpose flour

¼

teaspoon

kosher salt

¼

cup

creamy peanut butter

1

Tablespoon

milk

¾

cup

mini Reese's Pieces candies
Instructions
Beat butter with powdered sugar for about 3 minutes. Beat in flour, salt and peanut butter. Mixture will be crumbly. Add in milk and mix with hands.

Dump mixture (will still be slightly crumbly) and knead dough together on a piece of parchment paper. Press into a 12×10 rectangle. Slide parchment paper onto a large baking sheet. Press the candies into the top of the dough.

Bake in a 350 degree oven for 20-25 minutes. Cut immediately and allow to cool.

Separate and store in air tight container. ENJOY.
Notes
Make ahead. After combining the ingredients for the dough, roll into a log shape, about 2 1/2 inches in diameter. Wrap in plastic wrap and refrigerate until ready to bake. When ready to bake, slice log into 1/4-inch slices, press candies on top of cookie and bake as directed. These will be shaped similarly to our icebox cookies.
Nutrition
Calories:
137
kcal
,
Carbohydrates:
15
g
,
Protein:
2
g
,
Fat:
8
g
,
Saturated Fat:
4
g
,
Polyunsaturated Fat:
4
g
,
Cholesterol:
13
mg
,
Sodium:
45
mg
,
Fiber:
1
g
,
Sugar:
7
g
Peanut Butter Reese's Pieces Shortbread Bars are a peanut butter lover's favorite shortbread!