With a light crumb and buttery taste, these easy shortbread bars have real butterscotch pieces in every bite. This recipe for Butterscotch Shortbread Bars is as deliciously easy as it gets!
Butterscotch recipes get so under-represented. This Butterscotch Pudding Cake is packed with flavor and only 5 ingredients. Or try some gooey sweet Butterscotch Marshmallow Bars for a decadent but easy dessert.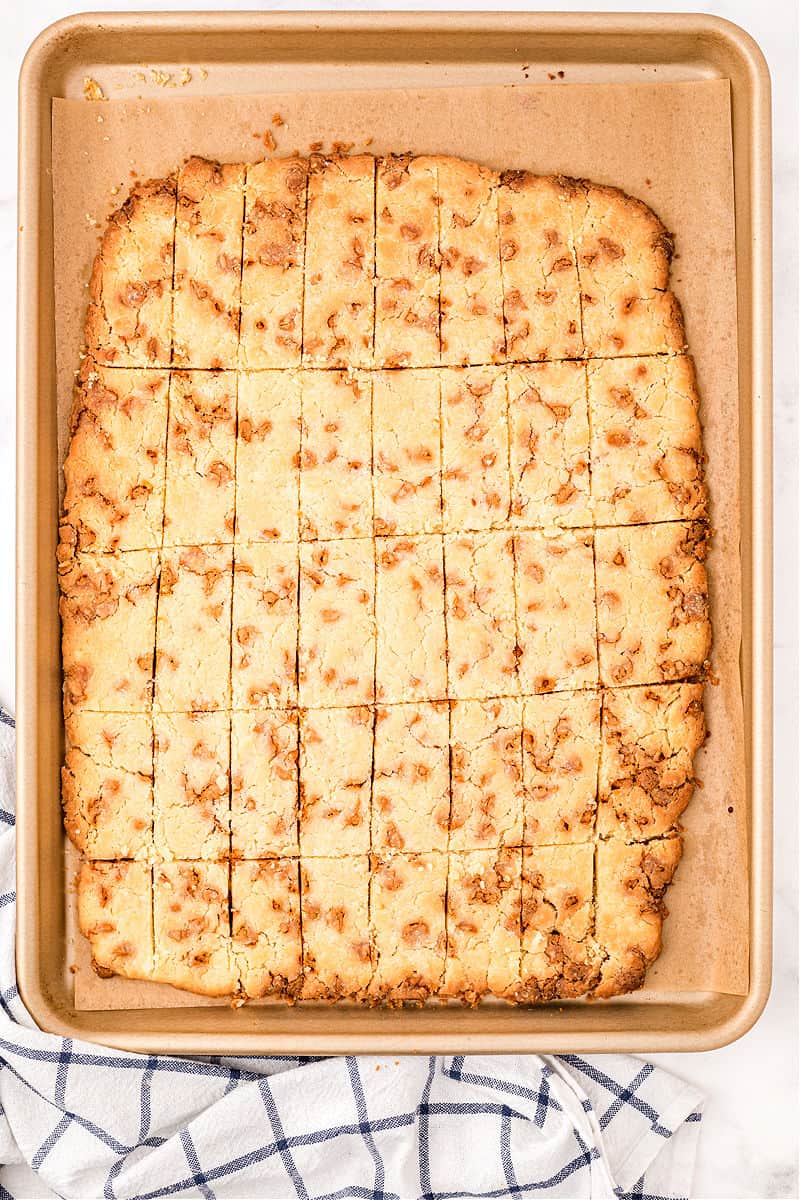 Why this Recipe Works
Shortbread cookies are one of the easiest cookies to make. The ingredient list is short, the steps are straight forward and the results always taste incredible.
But for some reason, these Butterscotch Shortbread Cookies gave me a little bit of a challenge at first.
See normally when I make shortbread, I make the dough, wrap it in saran wrap, chill it, slice and bake.
But today I wanted to change things up.
I browned the butter first (something I don't usually do when I make shortbread) because I wanted to infuse a little extra butterscotch flavor into these.
Browning the butter changed the texture of the dough, so if you're wondering why this shortbread cookie has egg, that's why!
Instead of slicing the dough into cookies, I pressed it into a pan and made bars! Even quicker and easier.
The texture is spot on and the browned butter flavor complements the rich butterscotch morsels perfectly.
I may never make another shortbread recipe ever again.
Kidding. I can't live without Apple Shortbread or Chocolate Chip Toffee Shortbread or Vanilla Bean Shortbread Cookies or. . .well, you get the idea.
Ingredient Notes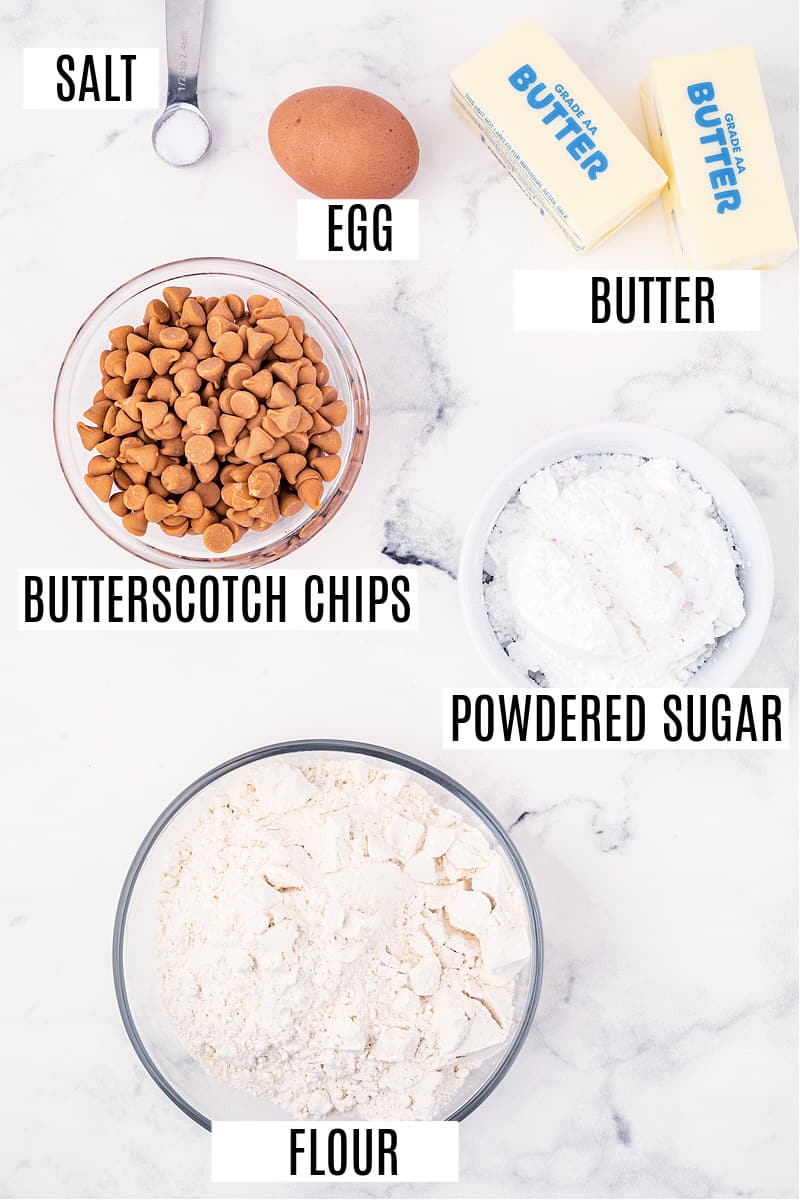 I love how few ingredients you need to make shortbread!
Butter – Unsalted butter works best in this recipe.
Powdered sugar – The key to shortbread that melts in your mouth!
Egg – I used one whole egg to help the dough stay together without becoming dense.
Kosher Salt- Learn why I use kosher salt in baking! You can skip this if you use salted butter.
All purpose flour – Bleached or unbleached white flour are both fine.
Butterscotch Morsels – find these next to the chocolate chips at the grocery store!
Easy Instructions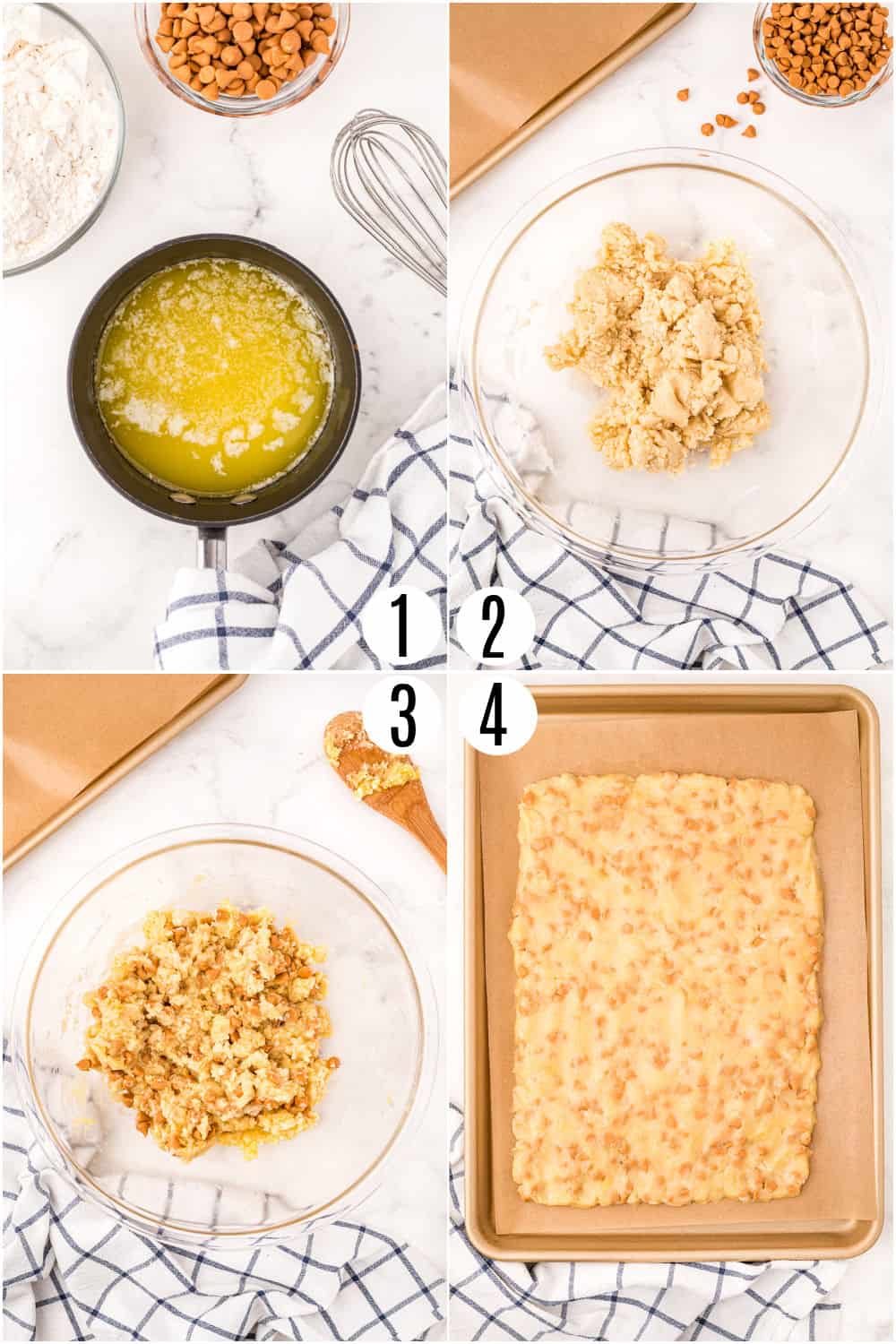 STEP 1. Brown the butter
Melt the butter, bring it to a boil and allow it to brown for a couple of minutes. Let the butter cool completely.
STEP 2. Make the dough
Combine the cooled butter with the dry ingredients to form a crumbly dough then mix in an egg and butterscotch chips.
STEP 3. Bake
Press the dough into the pan to form a rectangle. Bake until lightly browned, then let them cool for 5 minutes.
STEP 4. Cut
Cut the baked shortbread into bars and let them finish cooling completely. Separate the bars, serve and enjoy!
Tips & Tricks
Browning the Butter: Heating your butter on the stove top gives the shortbread a richer, almost toasty butter flavor. After boiling the butter, you only need to heat it for a couple of minutes, just until the butter turns golden. Be sure to let the butter cool completely before adding it to the dough!
Don't spread too thin: A 15 x 11 inch cookie sheet with rimmed edges is the perfect size for making the bars but your dough doesn't have to reach all the edges of the pan. My shortbread rectangle was about 12 x 10 inches and 1/4 inch thick.
Line your pan with parchment: Shortbread dough has a tendency to stick to unlined pans making them difficult to remove in one piece. Parchment paper allows the bars to slide off the pan with ease. DO NOT USE WAX PAPER.
Do not separate the bars too soon: Slice the dough into bars about 5 minutes after removing them from the oven but wait to separate the bars from one another until they're totally cooled.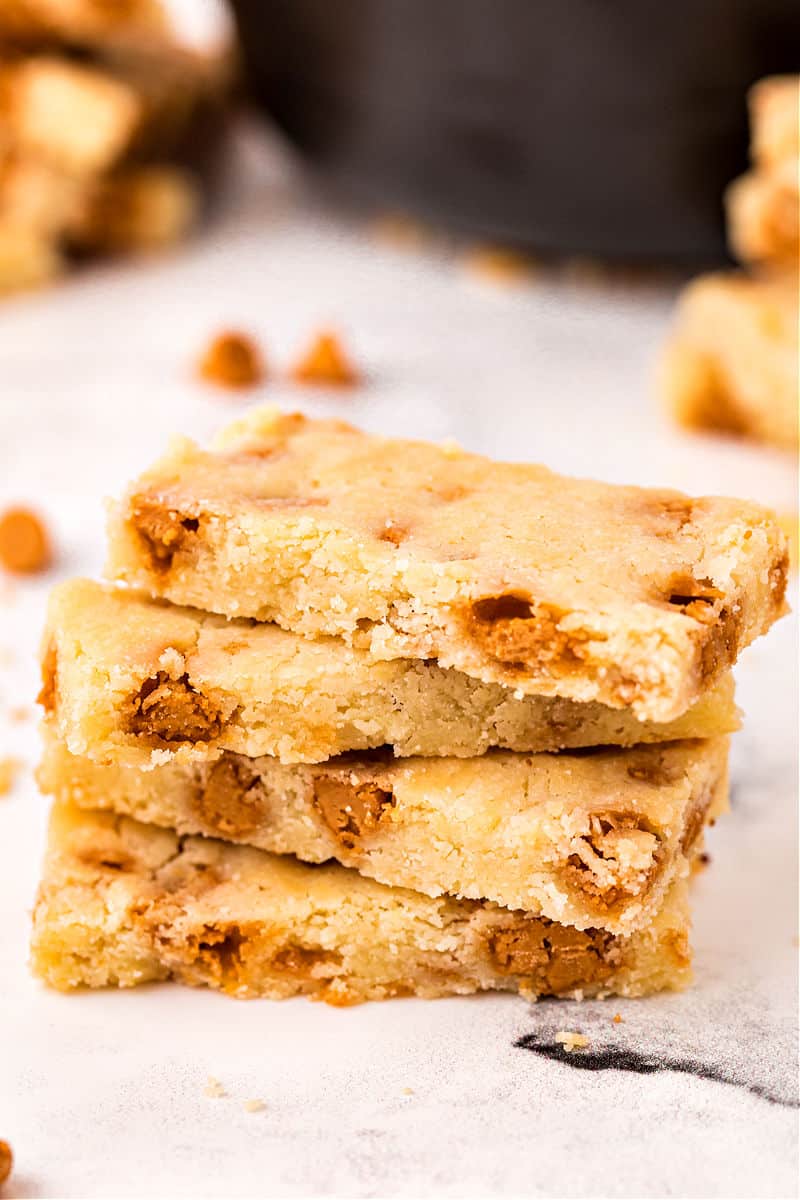 Recipe FAQs
How do you store shortbread?
Shortbread bars should be stored in an airtight container at room temperature for up to one week.
Can you make shortbread dough ahead of time?
Yes, shortbread dough freezes well for up to 3 months. Feel free to make a few batches of dough to keep in the freezer for any sudden shortbread cravings!
Can you make butterscotch cookies without browning the butter first?
Yes, you can skip the browning step if you don't want as much butterscotch flavor. However, I love the unique and deep buttery taste you get when you take the extra effort of browning the butter.
Can shortbread be made with regular granulated sugar?
No. Using granulated sugar will completely change the consistency of the shortbread dough. Powdered is the way to go!
What could be better than shortbread? Butterscotch Shortbread Bars, of course!